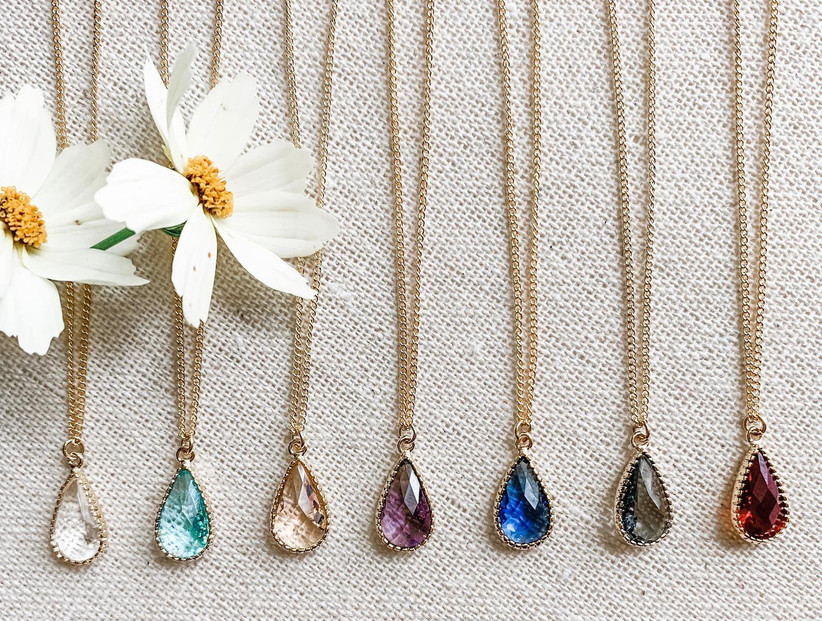 Adding the finishing touches to bridesmaid outfits can be tricky. If you're the bride, you want to stay true to your vision while also making sure your crew is happy. Similarly, if you're a member of the wedding party charged with picking out your own bridesmaid jewelry, you've got the added pressure of pleasing your soonlywed bestie. But don't worry, we're here to make shopping for day-of accessories that much easier. We've answered all the biggest FAQs below, including what type of jewelry to choose, where to buy it, and who should pay.
What jewelry should bridesmaids wear?
Ultimately, it's up to the bride to decide exactly which accessories the bridal party should wear. Jewelry can be a nice finishing touch to bridesmaid outfits, but it's important to keep in mind that it's not a necessity. Your crew certainly doesn't have to wear jewelry, whether that's because it doesn't match your vision or they'd just prefer not to. However, if you do want your bridesmaids to add some shiny accessories to their ensembles, there's a lot to think about.
Do you want them all to wear the same jewelry, or can they mix and match? Can they wear something they already own or are there specific accessories you've got your eye on? Before diving into these important questions, you'll need to decide which types of jewelry you want your squad to wear. To help you get started, we've listed the pros and cons of each right here.
Bridesmaid earrings: When it comes to bridesmaid attire, earrings will go with pretty much everything. It all comes down to choosing the right style. Opt for chandelier or statement drop earrings for a glamorous look, or stick with classic studs or huggies for something less dramatic. One thing to keep in mind: Not everyone is used to wearing earrings. Make sure your bridesmaids are comfortable with the idea before adding anything to your shopping list. You might need to look into some clip-on options for anyone who doesn't have their ears pierced.
Bridesmaid necklaces: We're big fans of finishing off a look with a stylish necklace, but it's not always easy. Necklaces can be harder to style, so you really have to take each outfit's neckline into account before deciding on anything. Generally, if your bridesmaids will be wearing a high neckline, go with a longer chain. If their attire is a little on the busy side (think: patterned or ruffled), keep things low key with a simple pendant. When it comes to lower necklines such as sweethearts or V-necks, you can afford to be a little more flashy.
Bridesmaid bracelets: Bracelets are a symbol of friendship, making them a lovely way for your bridal party to feel connected on the big day. They'll be a sweet and subtle addition to your bridesmaid outfits that won't draw too much attention from the dresses you spent hours picking out. That said, they might also go unnoticed by some guests, especially if your bridesmaids are wearing long sleeves.
Does the bride wear the same jewelry as the bridesmaids?
Traditionally, the bride wears different jewelry from the bridesmaids. That way, it's easier to pick out accessories that go with the wedding dress, jumpsuit, or whatever. Bridesmaid jewelry is usually less bridal and instead matches the wedding party's attire, for example, emerald earrings worn with dark green dresses. However, pearl jewelry has been rising in popularity recently and is a fitting option for both the bride and her entourage.
Another thing to consider is having separate maid of honor jewelry, especially if the MOH is wearing something different from the other bridesmaids. At the end of the day, it's about picking what looks best with each attendant's outfit. That means that everyone in your wedding party can accessorize differently if that's the look you're going for. Allowing bridesmaids to wear their preferred pieces is a nice gesture that'll let each person show some of their unique personality.
Who pays for bridesmaid jewelry?
Not sure who pays for what? Generally, bridesmaids buy their own wedding attire, jewelry included. That said, it's important to keep your crew's other expenses in mind when you're picking out accessories. If there's something you really want them to wear and it's on the pricey side, we suggest giving it as a bridesmaid proposal or thank-you gift. But be careful when making your decision—thank-you presents should be something thoughtful your besties will use again. Whether it's earrings, necklaces, or bracelets, whatever you choose should appeal to your squad's tastes too.
Where to Buy Bridesmaid Jewelry
Whether you're ready to start shopping or just want some inspiration, we know exactly where to find the best bridesmaid jewelry online. Check out our favorite retailers for every style and budget below.
BaubleBar: BaubleBar has a variety of gorgeous accessories available. Shop the site's fashion jewelry to give your bridesmaids' outfits a trendy finishing touch, or check out the fine jewelry for some more dainty and elegant options.
Nordstrom: We know that picking out the right jewelry for your bridesmaid dresses can be challenging. Nordstrom carries a wide selection of designers, meaning you can browse lots of different styles at a range of price points before making a decision.
David's Bridal: If you're on the hunt for affordable bridesmaid jewelry (that doesn't look cheap), David's Bridal is your best bet. You'll find a selection of necklaces, earrings, and jewelry sets for even the most glamorous gowns.
Bridesmaid Jewelry We're Loving Right Now
Want some more inspiration on your search for the perfect bridal party accessories? We've listed some of our favorite bridesmaid jewelry ideas right here.
1. Romantic heart pendant
Asking your bridesmaids to wear matching heart necklaces is a lovely way to honor the thing that's bringing you all together: love. This chic pendant has a delicate gold chain and subtle sparkle thanks to the pavé heart.
BaubleBar Freya necklace, $58, BaubleBar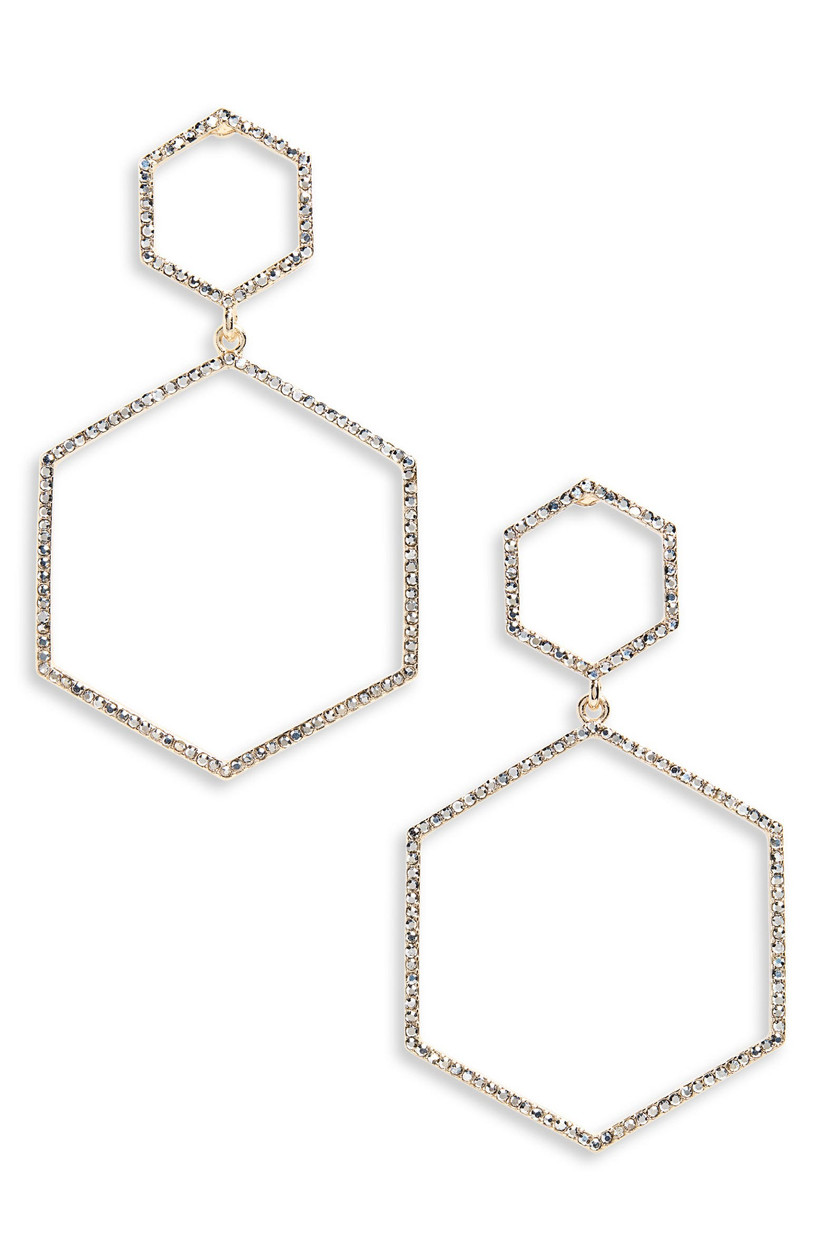 2. Sparkly statement earrings
These gorgeous crystal earrings will let your bridesmaids shine without breaking the bank. The geometric design feels both modern and sophisticated, making them the perfect statement pair for a formal event.
Panacea crystal hexagon earrings, $28, Nordstrom
3. Ornate jewelry set
Looking for something elaborate? This necklace and earring set combines pretty florals with stunning crystals—it's a match made in heaven. They'll look great with a formal bridesmaid gown that has a straight or sweetheart neckline.
Bliss Designs crystal and pearl floral necklace and earring set, $50, David's Bridal
4. Classic crystal bracelet
BHLDN isn't just a great place to pick up your bridesmaid dresses—there's a gorgeous selection of jewelry too. This romantic bracelet features round and baguette crystals on a gold-plated chain.
Serefina Pisces bracelet, $28, BHLDN
5. Dainty double huggies
This opalite and gold bridesmaid jewelry is equal parts simple and elegant, meaning it'll go with pretty much anything. The double-huggie design adds a unique twist.
Gorjana opalite solitaire double huggies, $45, Gorjana
6. Stunning gemstone necklace
There are so many directions you could take with these beautiful teardrop pendants. Pick the color that best matches your bridesmaid dresses or choose different necklaces based on each person's birthstone. You can also opt for a silver or gold chain to suit their other accessories.
Esther Rose Collection teardrop necklace dainty bridesmaid jewelry, from $14, Etsy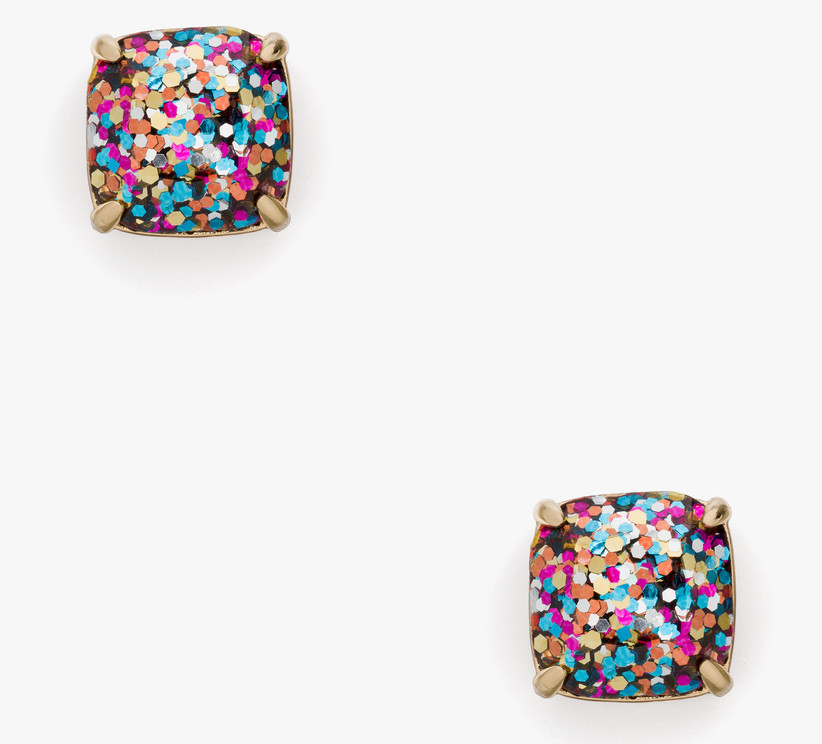 7. Colorful confetti studs
Don't be afraid to add a splash of color to your crew's accessories. These glittery earrings won't draw too much attention at the altar, but once the party lights go on, they're sure to sparkle.
Kate Spade New York small square studs, $38, Kate Spade
8. Subtle tennis bracelet
Who doesn't love a pretty tennis bracelet? This gold and crystal jewelry will add a subtle shine to your bridesmaids' wrists and they'll easily be able to wear it again.
Ten Wilde Jewelry tennis bracelet, $50, Ten Wilde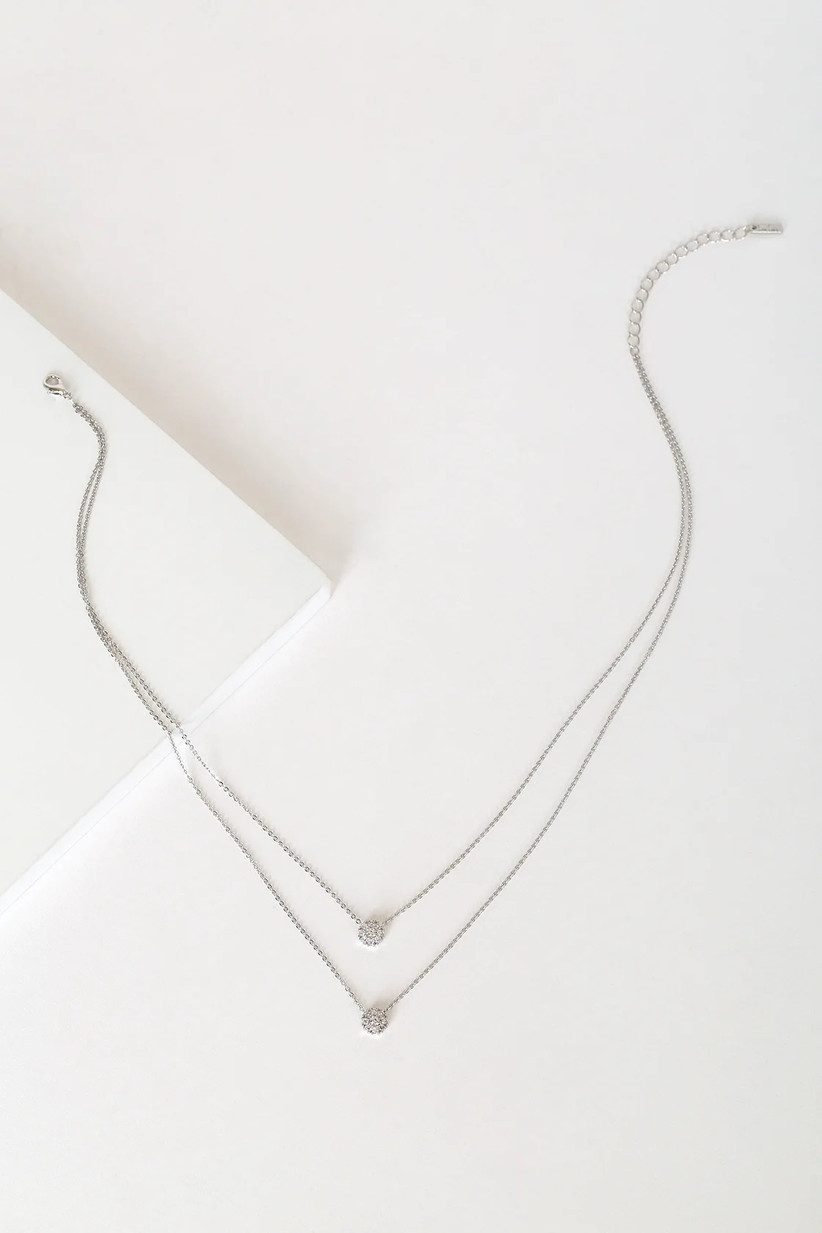 9. Pretty layered necklace
A V-shaped necklace is the perfect accessory for—yep, you guessed it—outfits with a V-neckline. This double-layered accessory offers twice the charm without feeling over the top. Choose a silver or gold finish depending on your squad's style.
Lulus Incantation rhinestone layered necklace, $14, Lulus
10. Pavé infinity earrings
We love a rose gold moment, and rose gold bridesmaid jewelry is no different. These stunning infinity earrings are just as affordable as they are meaningful.
David's Bridal infinity loop pavé rhinestone earrings, $15, David's Bridal
11. Minimalist crystal bracelet
If the dresses are already quite glamorous (think: sequins, ruffles, or any other embellishments), simple bridesmaid jewelry might be the way to go. These pretty vine-inspired bracelets are available with a silver, yellow gold, or rose gold finish.
Tom Design dainty bracelet bridesmaid gift, $18, Etsy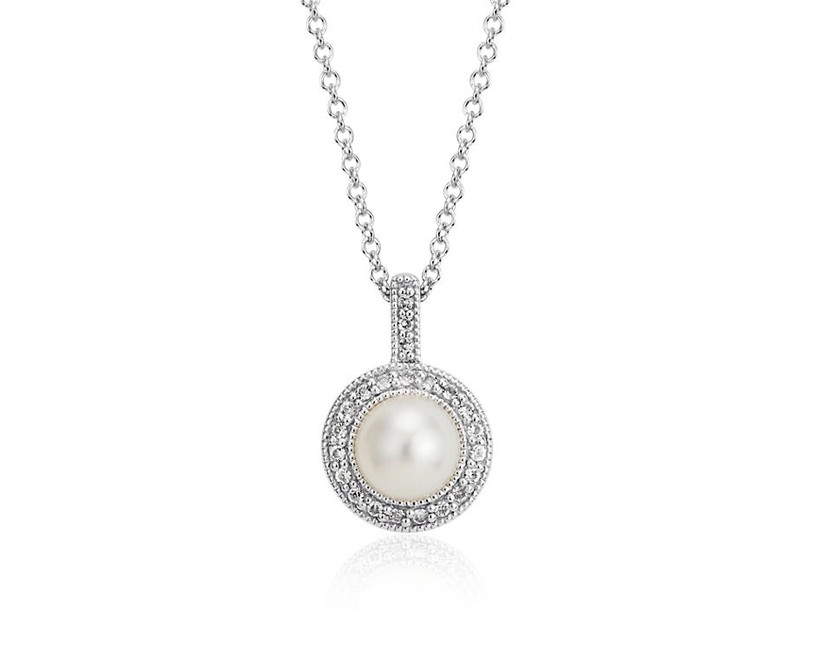 12. Vintage pearl pendant
This sterling silver bridesmaid jewelry is utterly timeless. The shiny freshwater pearl in a topaz halo setting will fit right in at a classic wedding.
Blue Nile vintage-inspired freshwater cultured pearl and white topaz halo pendant, $75, Blue Nile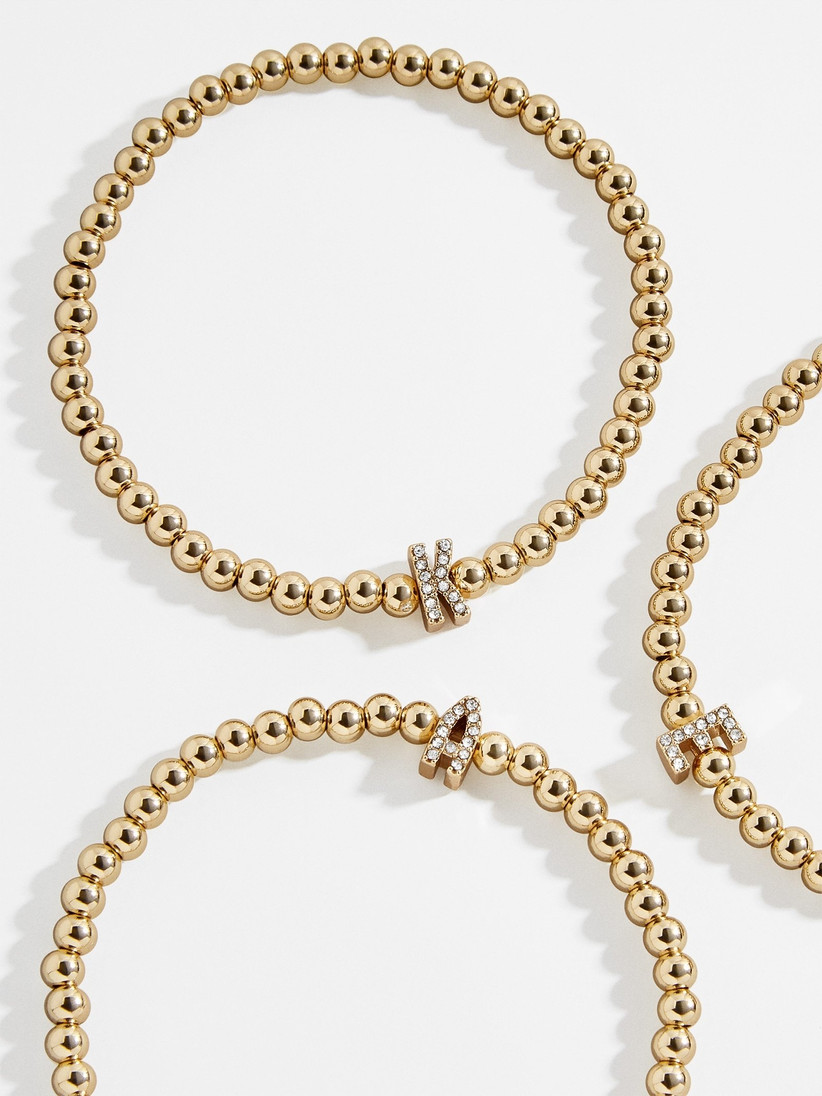 13. Bold beaded bracelet
If you don't want your bridal party's jewelry to go unnoticed, these bold matching bracelets are an excellent choice. The personalized pavé initial makes them super giftable.
BaubleBar pavé Pisa bracelet, $28, BaubleBar