Do You Need an Engagement Ring and a Wedding Ring? Here's the Difference
We break down the traditions and significance behind the engagement ring vs. wedding ring to help you decide if one or both of them are right for you.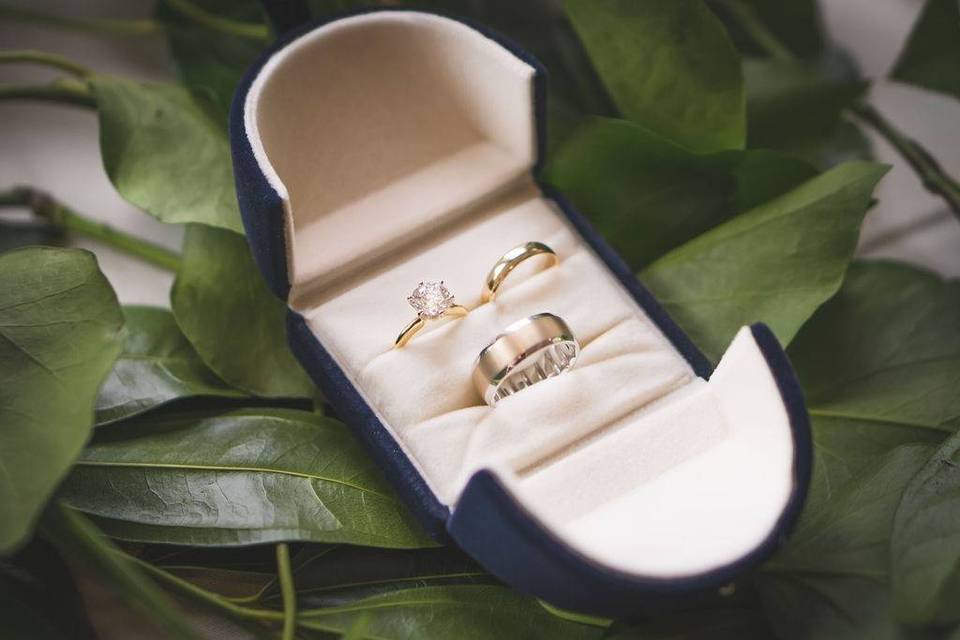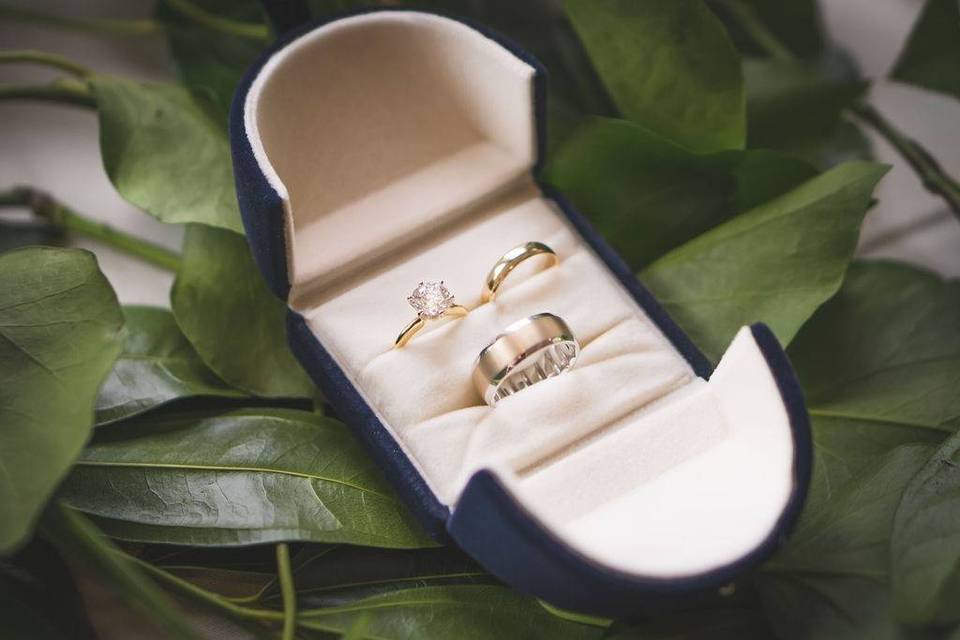 If you know anyone who's ever proposed or has been engaged, chances are you're pretty clear about what an engagement ring is. But when your turn comes to get married, you might be surprised to find out that there's actually another important piece of jewelry that you'll need: the wedding ring. The difference between your engagement ring vs. wedding ring might seem complicated at first, but once you know the basics, it's actually pretty simple! Here, we explain the difference between engagement rings and wedding rings, the meaning of each one, and whether or not you need both.
Are engagement rings and wedding rings different?
If you're debating between buying an engagement ring vs. a wedding ring, you might be wondering if you really both—and which one you're supposed to purchase first. The answer is that they are two different things, and while the engagement ring is purchased first, you may or may not end up with both. It all depends on your personal preference and relationship. While most couples choose to follow the tradition of wearing both, there's no rule that says you have to. Women wear an engagement ring and a wedding ring most often, especially if the jewelry is designed as a matching set.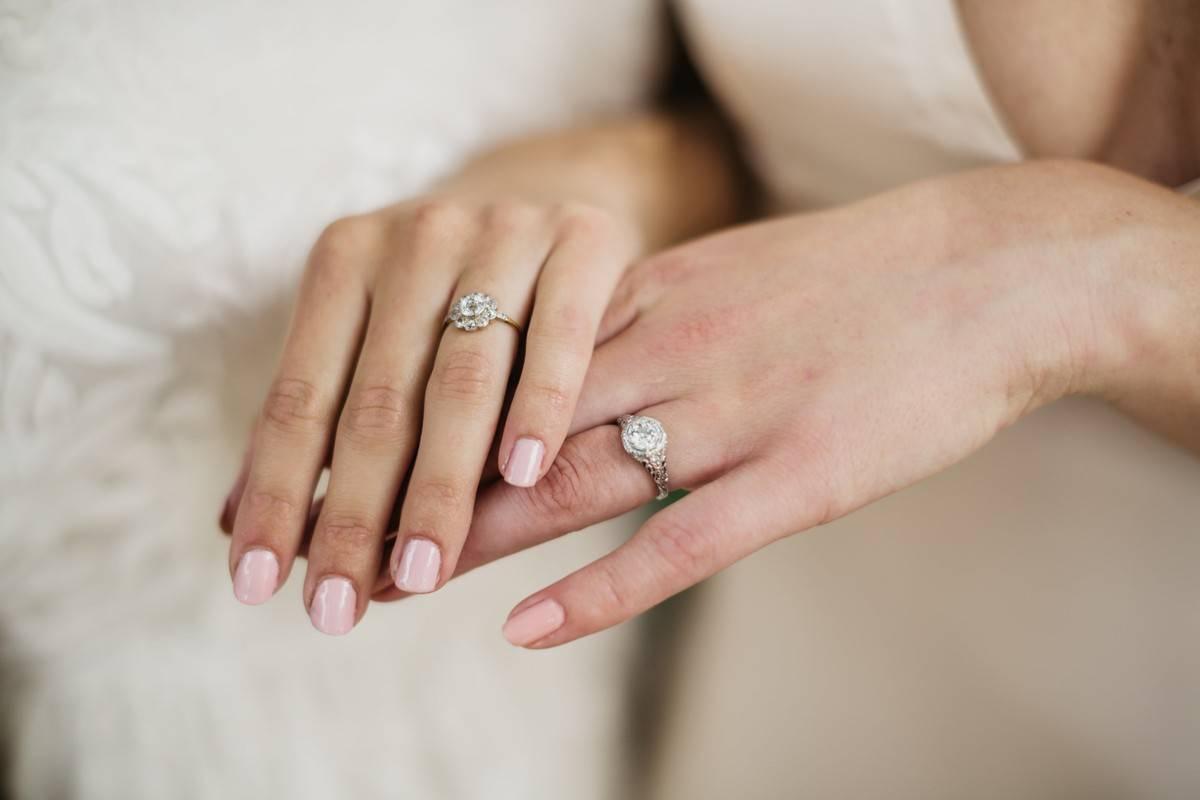 What is an engagement ring?
An engagement ring is the ring that is exchanged during a marriage proposal. It's traditionally given by the person who is proposing, although some couples decide that they'll both wear engagement rings leading up to the wedding day. In many cultures, engagement rings are worn on the ring finger (the one next to your pinky) of the left hand, but it's custom for to-be-weds in several European countries to wear their ring on the right hand. Other couples choose to wear their engagement ring on the right hand in remembrance of LGBTQ+ rights before gay marriage was legalized.
Historically, engagement rings include a diamond as the main stone. The tradition of diamond engagement rings was popularized in the 1940s and '50s during the economic expansion following World War II, with help from a marketing campaign by the famous diamond company De Beers. According to a WeddingWire study, diamonds are still the top choice for modern engagement rings, with 87% of couples opting to include the classic stone. But colorful gemstones and diamond alternatives, like morganite and moissanite, are also extremely popular—and they're even on track to be some of the biggest engagement ring trends of 2021.
What is a wedding ring?
While the engagement ring symbolizes that you are committed but not yet married, the wedding ring is worn after you have officially tied the knot. Like engagement rings, they're worn on the ring finger of the left hand in many countries, including the United States. Wedding rings, which are also commonly called wedding bands, are typically worn by both partners following the wedding ceremony. The wedding ring can be made from plain metal band, or it can include pavé diamonds or other stones depending on your personal taste. Some jewelers design matching wedding rings and engagement rings, which is called a bridal set. Mixing and matching to create your own wedding ring set is another option, especially if you're looking for something more unique (here are some ideas about how to pair engagement rings and wedding bands together).

Should you wear your wedding ring first or your engagement ring?
Once you're married, your wedding ring should be placed on the finger before your engagement ring if you're wearing both of them on the same hand. This speaks to the notion that the wedding ring will be closest to your heart, in honor of your brand-new spouse. If it's too uncomfortable to wear your wedding ring and engagement ring on the same finger (or if the styles are too different), you can wear them on separate hands.
During the wedding ceremony, consider leaving your engagement ring off or wearing it on the opposite hand so that your partner can easily put the wedding ring onto your finger. After you've exchanged your vows, you can put your engagement ring back on your left ring finger.
Can you use your engagement ring as your wedding ring?
It's absolutely okay to only wear one ring, even after you're married. While there are specific traditions surrounding engagement rings vs. wedding rings, it ultimately comes down to your own choice and what makes the most sense for you. Skipping either the engagement ring or the wedding band can give you more freedom in terms of style and budget, and it makes the most sense if you don't want to fuss over two separate pieces of jewelry.
How much should you spend on an engagement ring or wedding ring?
According to the 2020 WeddingWire Newlywed Report, which surveyed more than 27,000 recently married individuals, the current average cost of an engagement ring is $5,900. But when you're shopping for wedding jewelry, remember that there's no "right" or "wrong" amount of money you should spend.
The cost of your engagement ring vs. the wedding ring will ultimately depend on the carat weight of the center stone, the type of metal the band is made of, and most importantly, what you feel comfortable spending. The first step is finding a reputable jewelry store in your area (or a trustworthy virtual retailer if you're buying an engagement ring online). A wedding jewelry expert will help you get the most out of your budget, but they'll also help you determine which engagement ring styles and wedding bands are best for your lifestyle.
Plan to start shopping for your wedding ring(s) at least three months before the big day, or longer if you're thinking about working with a jeweler to design your own rings. This will give you enough time to browse and consider all of your options without feeling rushed, plus it leaves enough time for resizing your bands or making other customizations. And while you're at it, take the opportunity to give your engagement ring a deep professional cleaning to get it ready for its wedding day closeup—it's also your chance to replace damaged stones or any smaller diamonds that have fallen out.