The Biggest 'Bachelor' Engagement Rings of All Time
They said "yes" to the final rose—and an accompanying ring. But whose Bachelor ring is the largest? We round up the biggest Bachelor engagement rings in the franchise's history.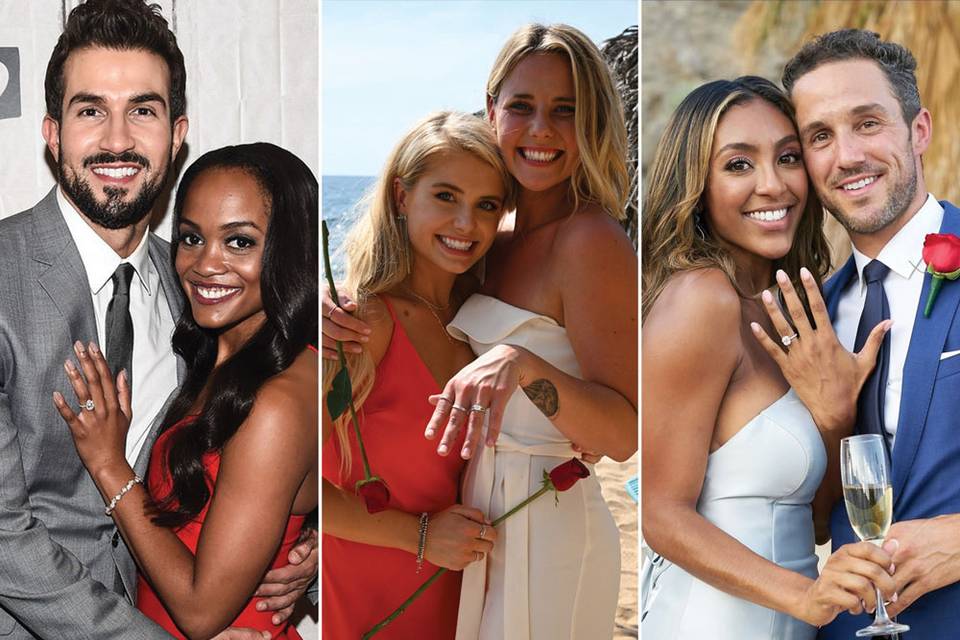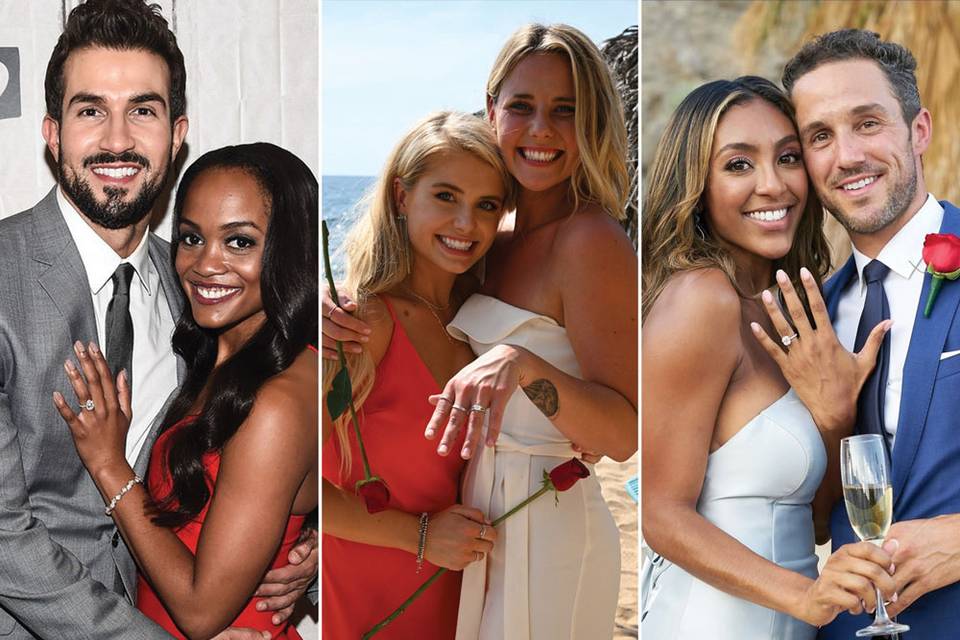 First comes the final rose, then comes the engagement ring. The Bachelor franchise has aired plenty of swoon-worthy engagements in its 19 years on the air, most of which have included dazzling jewels. And while not every relationship stands the test of time, the Bachelor engagement rings do. ABC's hit reality series has showcased plenty of eye-catching rocks throughout the seasons, but some are simply unforgettable. If you've ever wondered who wore the biggest (and most expensive) diamonds, you're not alone. Here, we break down everything to know about the best Bachelor engagement rings.
Who Pays for the Engagement Ring on The Bachelor?
Jeweler Neil Lane has been a mainstay on the show since 2009, offering contestants a variety of ring options before the proposal. But who actually pays for the engagement ring on The Bachelor? The rules are complicated. It's unclear who covers the cost, but it's likely paid for by ABC or Lane. In an interview with Entertainment Weekly, Harrison revealed that couples who stay together get to keep the ring—but those who split have to give it up. "There's some rule, after a certain number of years, you get to keep it anyway," he explained. "But after months… it goes back."
The fate of rejected Bachelor engagement rings is unknown, though former Bachelorette Becca Kufrin once joked about a "ring graveyard." In an interview with StyleCaster, Lane said he doesn't resell or redesign the old rings. "I make rings hoping that people stay together forever, but after they get the ring, I don't have a say in it, and what happens after that, I don't know," he explained. "Where the ring goes, I have to say, I don't really know. I just say it goes to ring heaven."
The price of Bachelor engagement rings varies each season, though most are estimated to cost between $45,000 and upwards of $100,000. The exact carat size is different for each couple too—though some Bachelor engagement rings will always be remembered for their size and sparkle. So, who received the biggest baubles? Find out below.
The Biggest Bachelor Engagement Rings of All Time
Kaitlyn Bristowe
Size: 5.09 carats
Kaitlyn Bristowe is the proud owner of the biggest Bachelor engagement ring of all time. The Canadian podcast host originally appeared as a contestant on Chris Soules' Bachelor season before landing the coveted spot as The Bachelorette in 2015. She left the show engaged to Shawn Booth, but they called it quits after three years together. Bristowe then began dating franchise alum Jason Tartick in 2019, who appeared on Becca Kufrin's Bachelorette season. Tartick popped the question in May 2021 during a disguised podcast taping. He proposed with a 5.09-carat oval diamond set on a thin gold band. "I had an idea of the kind of cut she wanted, but other than that, it was kind of just, like, go," Tartick told Entertainment Tonight of the ring design process with Paris Jewellers. "They are great owners and they put so much effort into [making it]. They even took designs from Kaitlyn's dresses, and red carpets, to see what she likes, like working lace in."
Craig Sjodin/ABC via Getty Images
Clare Crawley
Size: 4.5 carats
Season 16 Bachelorette lead Clare Crawley accepted a proposal in record time. Just four episodes into the season, Crawley got engaged to frontrunner Dale Moss after they revealed they were both in love—but the abrupt proposal wasn't a total surprise. On the first night, Crawley said she "met my husband" after meeting the former NFL player (who also received the first impression rose). Even amid the fast-paced relationship, Neil Lane was able to supply a diamond. Moss proposed with one of the biggest Bachelor engagement rings from the show's history: a 4.5-carat three-stone diamond with a radiant-cut center stone flanked by two shield-shaped diamonds. The ring is set on a platinum band and encrusted with 145 smaller diamonds. Crawley opened up about the engagement on Instagram, writing, "It's official!! Love wins!!!!" Though Moss announced their split on Instagram two months after the proposal aired on TV, the two have since rekindled their romance and are engaged once again.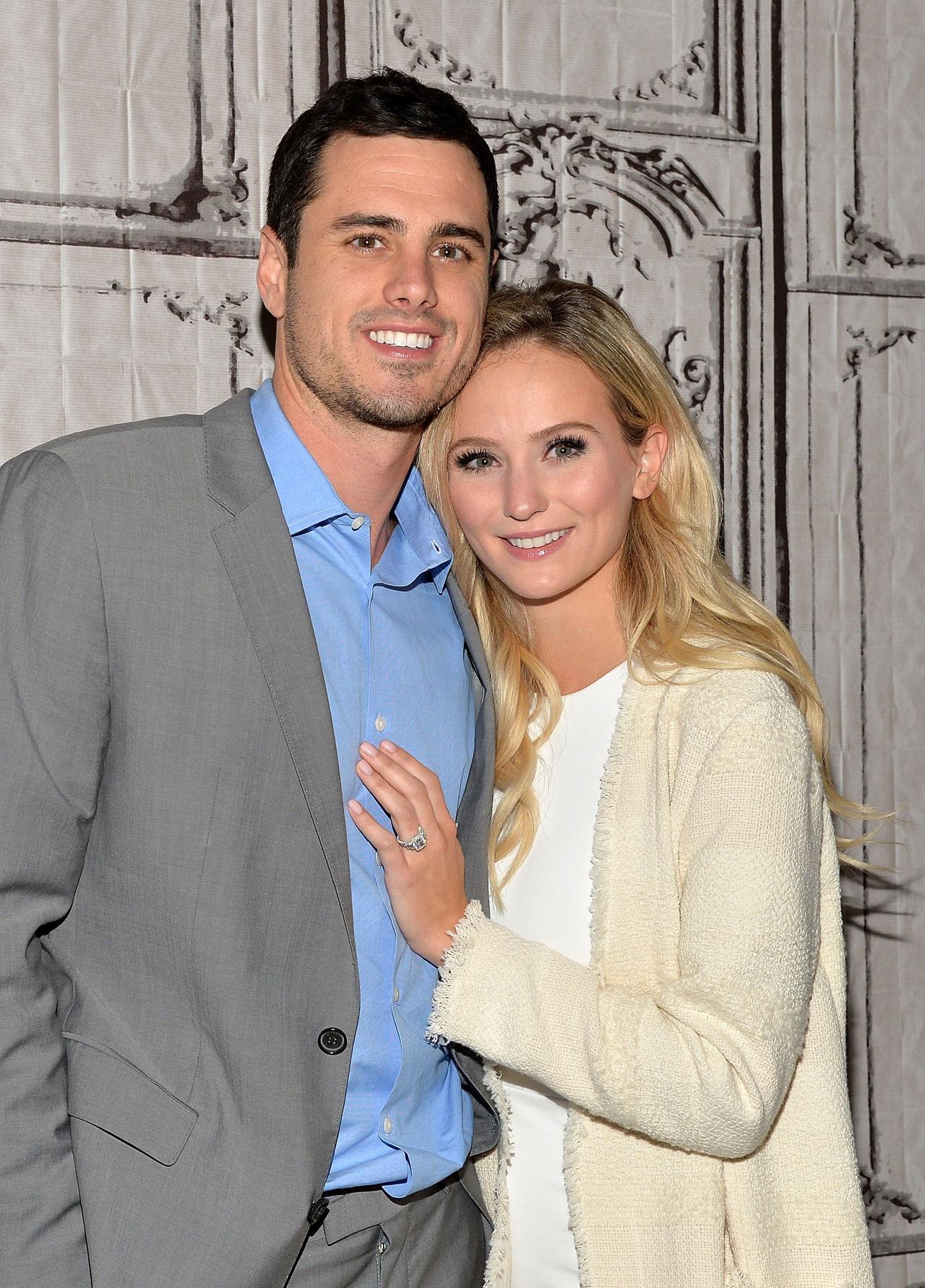 Lauren Bushnell
Size: 4.25 carats
Lauren Bushnell was once the owner of one of the biggest Bachelor engagement rings. Bushnell was a contestant on Ben Higgins' season of The Bachelor in 2016. The former flight attendant made it to the final week, along with future Bachelorette JoJo Fletcher. Higgins infamously told both women he loved them before the finale, but ultimately proposed to Bushnell. Higgins chose an Art Deco-style ring, which was a whopping 4.25 carats. It had a central radiant-cut diamond and was surrounded by over 240 round- and baguette-cut diamonds. Higgins worked with Lane to design the sparkler himself, and was so emotional during the process he had to briefly leave the room, according to People. After the engagement, the couple landed their own spinoff series on Freeform: Ben and Lauren: Happily Ever After? The show ran for one season, and the couple ended their engagement in May 2017. Bushnell went on to marry country singer Chris Lane in 2019, while Higgins is currently engaged to entrepreneur Jessica Clarke.
Whitney Bischoff
Size: 4 carats
Prince Farming didn't get his happily ever after, but he did propose with one of the biggest Bachelor engagement rings. In 2019, Season 19 lead Chris Soules proposed to fertility nurse Whitney Bischoff with a dazzling 4-carat rock. It had an emerald-cut center stone surrounded by 20 round brilliant-cut diamonds, which were accented by two tapered baguettes. The platinum band was encrusted with 92 smaller round diamonds. "I just picked what I thought I liked the most—what I felt was the prettiest ring I could find," Soules told ABC News at the time. "We have a lot of things in common, in a way, and I just picked out what I thought was the most beautiful ring that kind of represented her sense of style as well." Ultimately, the relationship only lasted two months after the finale premiered. Bischoff went on to marry boyfriend Ricky Angel in 2017, and the couple welcomed a son in 2019.

Becca Kufrin
Size: 3.76 carats
After a tumultuous run on Arie Luyendyk's season of The Bachelor (which resulted in an engagement that was broken on camera), Becca Kufrin landed her own season on The Bachelorette in 2018. Winner Garrett Yrigoyen proposed with a three-stone engagement ring set in yellow gold. "I wanted to make a ring that was totally different than anything I had done for the show before," Lane told People of the nearly 4-carat engagement ring. "It's a whole different concept—it has three oval stones, which helps celebrate both of them as a couple and the third diamond represents their future together." The ring also had a diamond-encrusted band and diamonds under the gallery setting. "I wanted it to be elegant and to look effortless," he explained. After two years together, the couple ultimately ended their engagement in August 2020.
View this post on Instagram
Vanessa Grimaldi
Size: 3.75 carats
Bachelor veteran Nick Viall appeared on multiple seasons and spin-offs—so when the time came to select a ring on his season of The Bachelor in 2016, it wasn't his first time working with Lane. (Viall previously selected rings for Bachelorettes Andi Dorfman and Kaitlyn Bristowe, though he was sent home during the finale on both seasons.) The Season 21 lead selected a massive design for Vanessa Grimaldi, who he proposed to on the season finale. Grimaldi's 3.75-carat ring included a round-cut diamond in the center with a halo of smaller diamonds, as well as 164 smaller round-cut and two larger baguette-cut diamonds. "I just closed my eyes and just envisioned her beautiful face," Viall told People at the time. "I knew immediately which one was perfect for her." The engagement was short-lived, though. The pair split a year later, and Grimaldi is now engaged to boyfriend Josh Wolfe.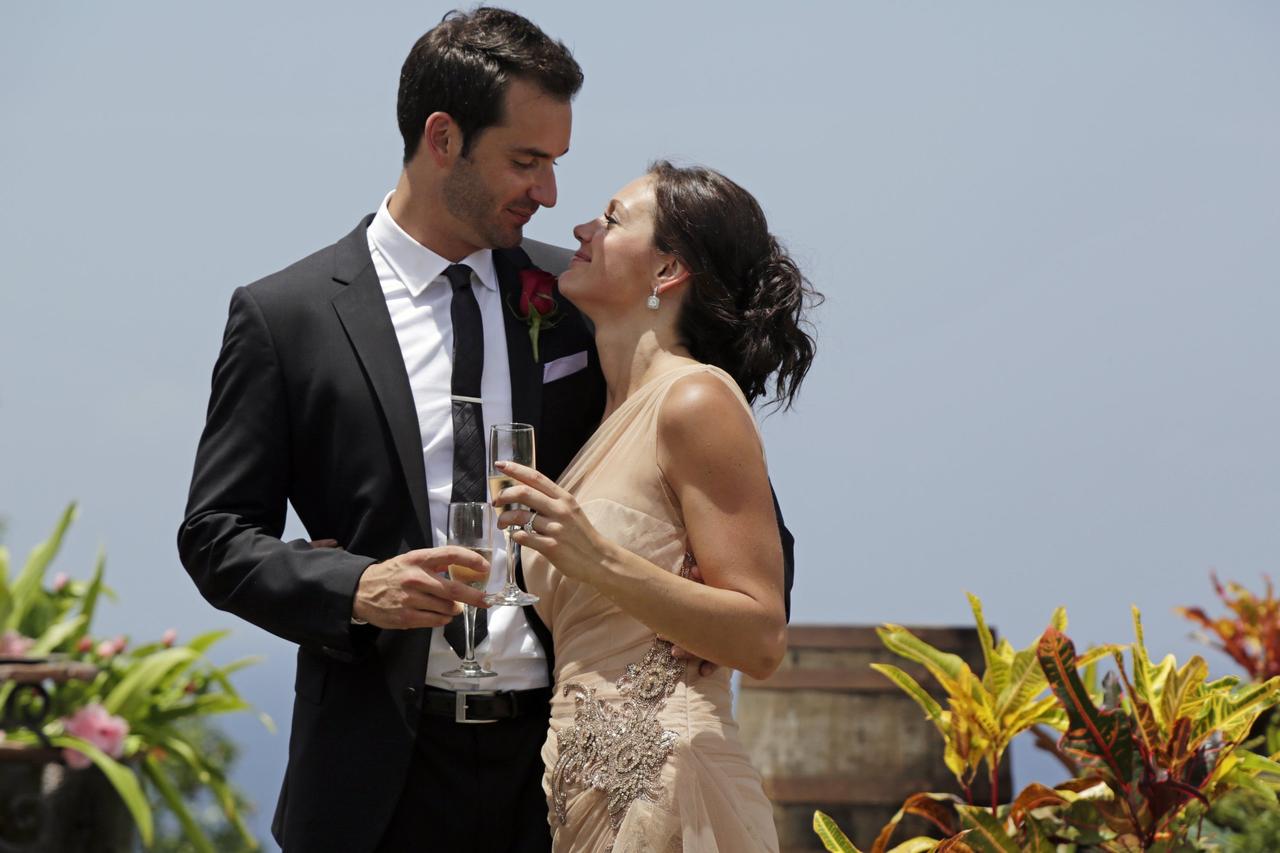 Desiree Hartsock
Size: 3.7 carats
Former Bachelorette Desiree Hartsock is one of the series alums still with her pick from the show. Hartsock accepted a proposal from Chris Siegfried on Season 9 in 2013. The former professional baseball player selected a 3.7-carat cushion-cut diamond surrounded by 204 round-cut diamonds on a rose gold and platinum band. The couple got married in January 2015 and share two sons.
View this post on Instagram
Lauren Burnham
Size: 3.65 carats
After Arie Luyendyk Jr. proposed to Becca Kufrin on the finale of his Bachelor season, he changed his mind weeks later. Following his breakup with Kufin, Luyendyk asked runner-up Lauren Burnham for a second chance. The two dated discreetly as the season aired in 2018, and Luyendyk proposed on the recap special After the Final Rose. Burnham accepted a brand new ring from Neil Lane. The 3.65-carat sparkler features a cushion-cut center stone in a halo of diamonds, as well as 170 smaller round brilliant diamonds and two baguette diamonds on a platinum band. The couple got married in Hawaii in January 2019, and five months later welcomed a daughter. That same year, they renewed their vows as a family of three in Las Vegas. In late 2020, they announced that their family was growing again as they're expecting twins due in June 2021.
View this post on Instagram
Tayshia Adams
Size: 3.25 carats
In one of the most emotional franchise proposals, Bachelorette Tayshia Adams accepted a 3.25-carat emerald-cut engagement ring from winner Zac Clark. The impressive design is set in a halo of 27 round diamonds, and the band is accented with an additional 67 diamonds. Though Adams admitted to falling in love with multiple suitors, it was the 36-year-old New Jersey native who won the final rose. The two bonded over having been previously married, and their relationship strengthened when Clark opened up about his previous struggles with addiction, which led him to open three recovery centers in New York. The engagement featured a sweet nod to Clark's makeshift "hometown date" to New York (which took place at the filming resort due to COVID restrictions). After professing their love for each other, the fiances got in a cardboard taxi with "Just Engaged" scrawled on the back. "My ride or die," Clark wrote on Instagram after the news broke. "I love you, Tayshia!"
View this post on Instagram
Catherine Giudici
Size: 3.1 carats
Sean Lowe and Catherine Giudici are one of the most iconic couples in Bachelor nation. Lowe, who was the Season 17 lead, proposed to Giudici with a 3.1-carat cushion-cut engagement ring in 2013. Set on a diamond pavé split shank band with 164 smaller round diamonds, the Neil Lane design is worth an estimated $80,000. The couple's wedding was televised 2014, and they're still together today. In 2019, the Lowes welcomed their third child, a daughter, who joined two sons born in 2016 and 2018.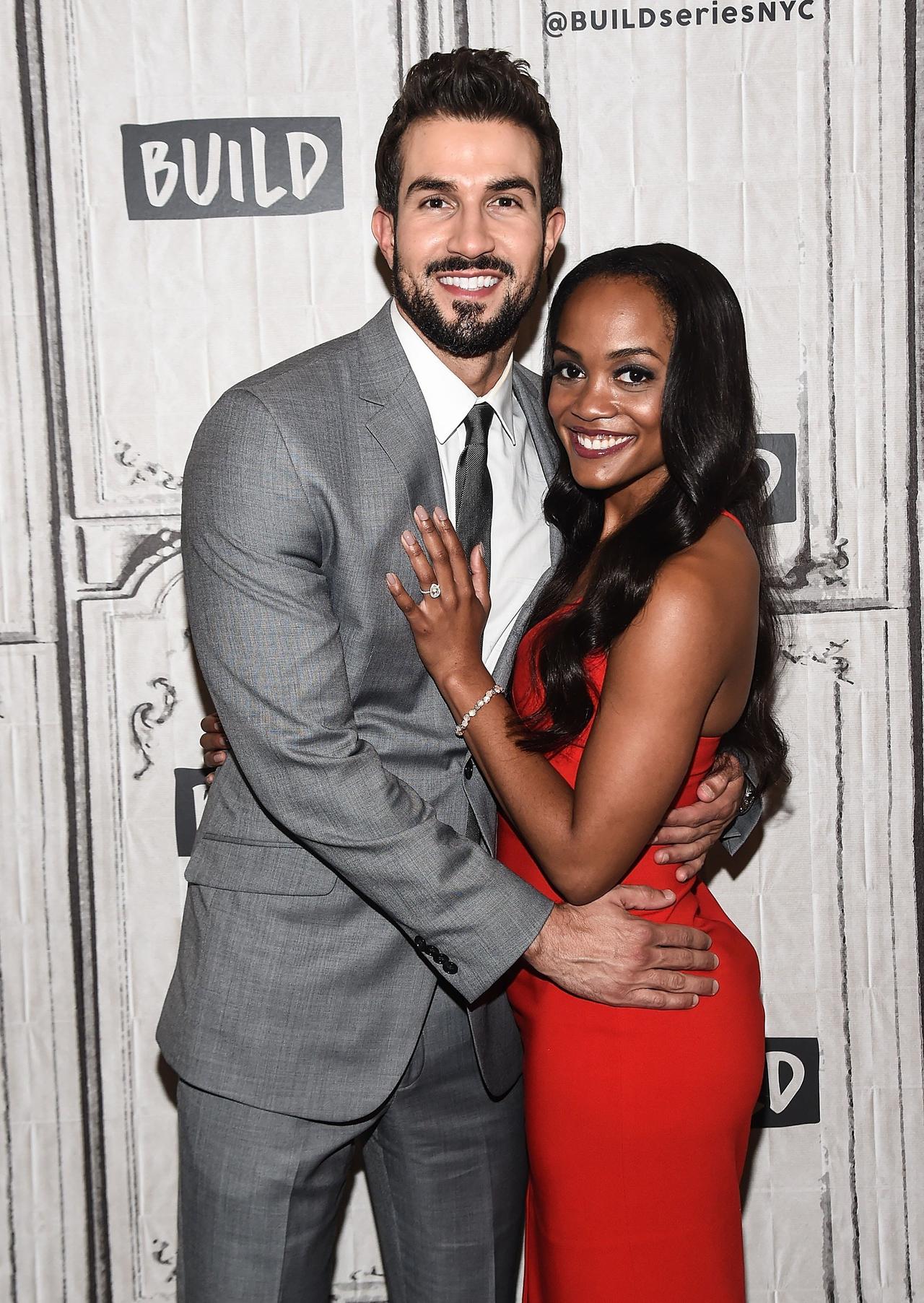 Rachel Lindsay
Size: 3 carats
Rachel Lindsay received one of the most unique Bachelor rings in franchise history. The attorney, who starred on Season 13 of The Bachelorette, gave her final rose to Bryan Abasolo (who also received her first impression rose on the first night). Abasolo proposed with a 3-carat pear-cut engagement ring. The trendy bauble includes a diamond halo and 80 smaller diamonds on the platinum band. Another pair still together today, they wed in Mexico in August 2019.
View this post on Instagram
JoJo Fletcher
Size: 3 carats
After finishing as the runner-up on Ben Higgins' season, JoJo Fletcher landed the coveted Bachelorette role for Season 12. She gave her first impression rose to sports analyst Jordan Rogers, who ultimately proposed on the season finale. Rogers gave Fletcher a 3-carat oval-cut diamond on a platinum band set in a diamond halo. In 2019, though, Rogers upgraded his fiancée's stack with a 5-carat oval-cut diamond from Ring Concierge. Set on a gold band with a hidden halo, the second design was more than just an upgraded gem. "I always wanted to re-propose, with no cameras, no producers, no drama...just us," Rogers explained on Instagram. "Our first engagement was so real, and meant so much to us both, but… I wanted to do it all over again, OUR WAY! So I bought a new ring, made a plan (that almost fell apart multiple times), and got down on one knee all over again." After postponing their wedding multiple times due to the coronavirus pandemic, the couple is set to wed in 2022.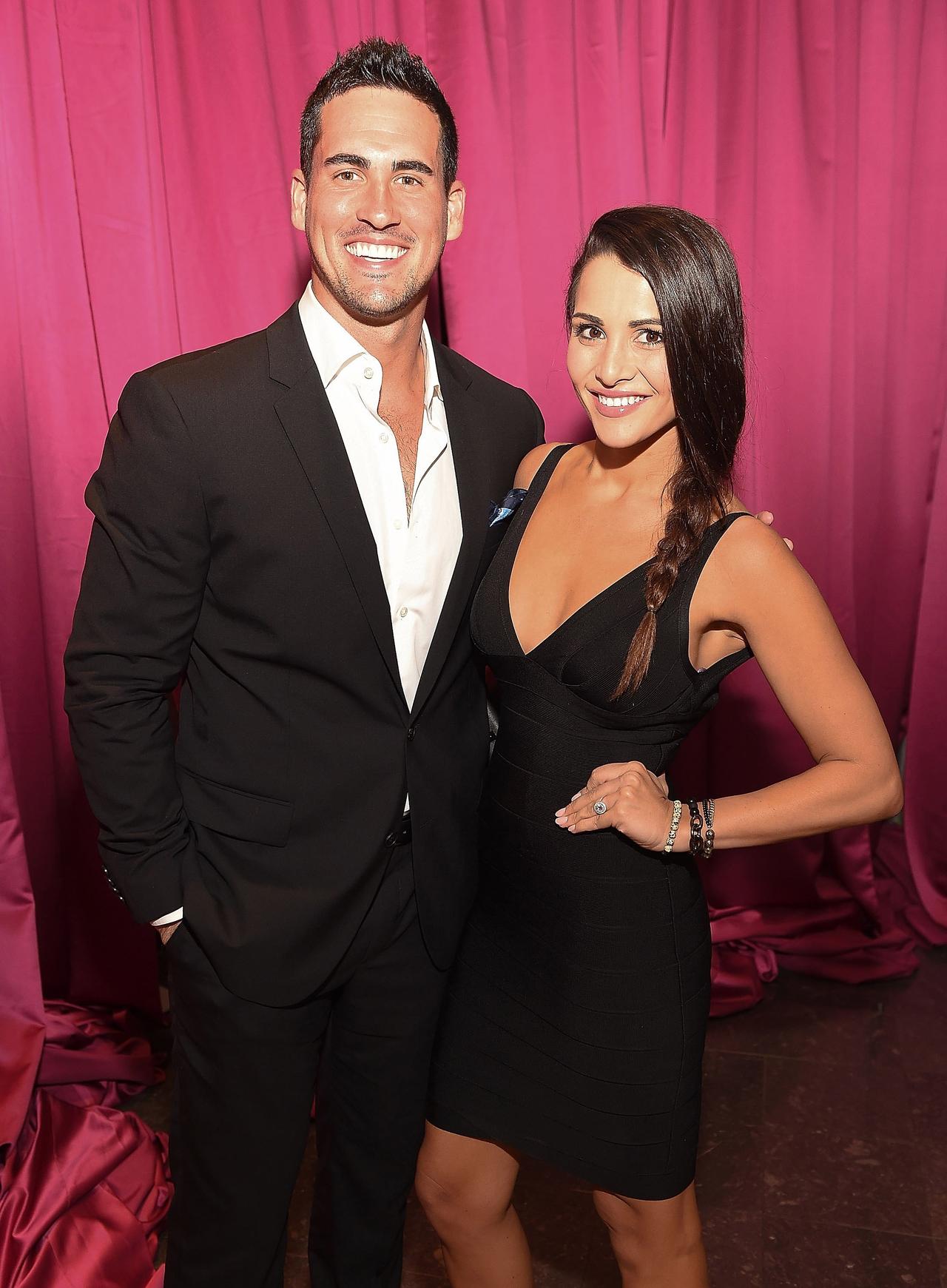 Andi Dorfman
Size: 3 carats
Andi Dorfman had an explosive exit on Juan Pablo's season of The Bachelor, which led to her securing Bachelorette status in 2014. Josh Murray proposed with one of the best Bachelor engagement rings: a 3-carat oval in a double halo on a platinum band. While Dorfman loved the ring she got, it wasn't a total surprise. She revealed the two discussed engagement rings during their fantasy suite date before the proposal. "It's a pretty big deal," Dorfman told ABC News of the ring. "I might as well tell him [what I want] if we're getting engaged!" Added Murray: "I wanted to make sure it was the perfect ring for her." Ultimately, the engagement only lasted a few more months. They announced their breakup in January 2015. Murray later appeared on Season 3 of Bachelor in Paradise, where he proposed to franchise alum Amanda Stanton—though the two parted ways shortly after.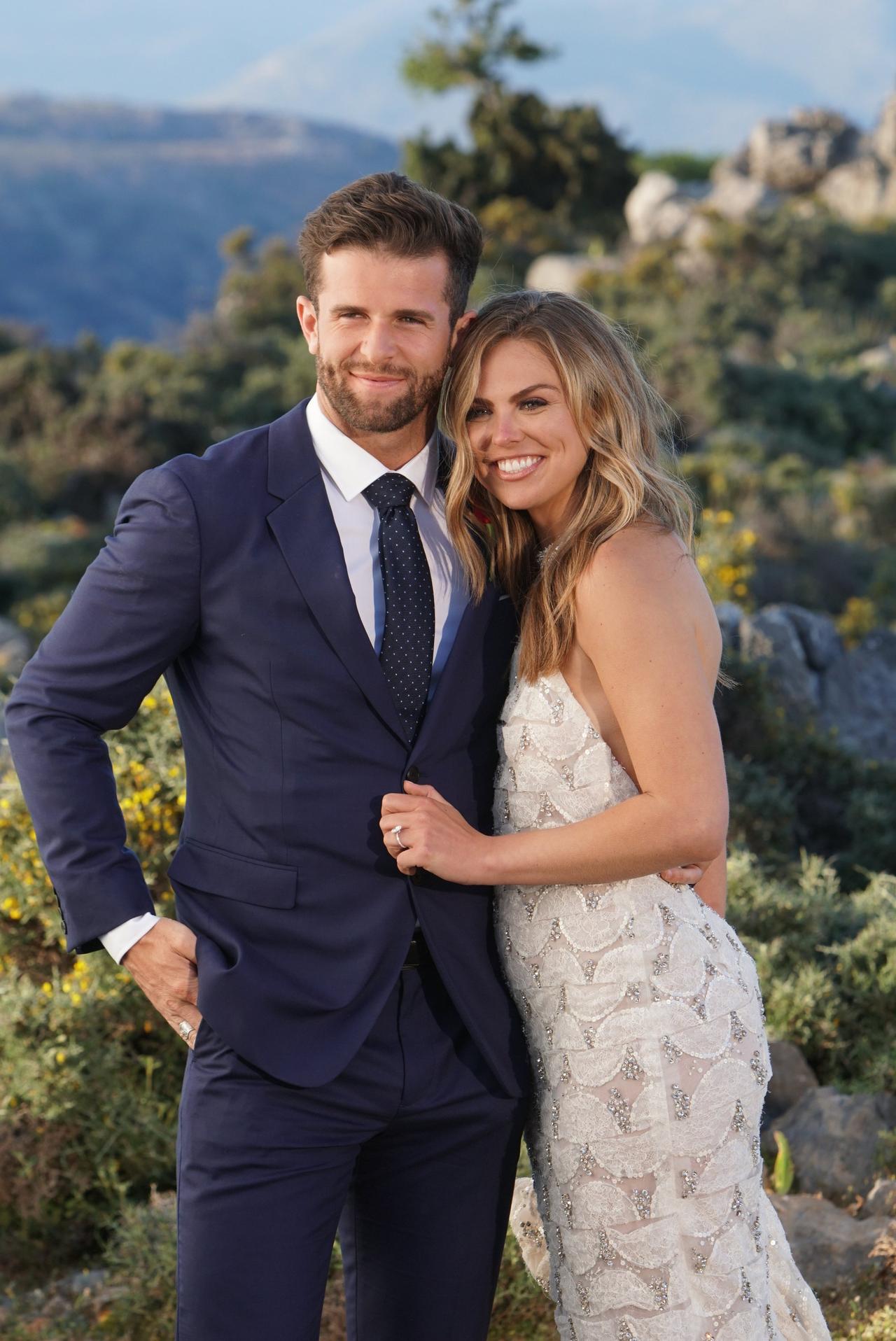 Hannah Brown
Size: 3 carats
Despite receiving a stunning 3-carat design from Jed Wyatt, Hannah Brown's Bachelorette engagement ring never saw the light of day after filming wrapped. The Season 15 star broke up with Wyatt after cheating allegations broke as the show was airing in 2019. Similar to other Bachelor engagement rings, Brown's featured an oval-cut center stone in a halo of 89 smaller round diamonds set on a platinum band. Lane opened up to People about the fate of the ring after the finale. "I did my part and created a ring that was meant to change lives forever and symbolize a loving union forever," he said. "Once they pick out the ring, it's not mine anymore no matter what happens—at that point I can only hope it brings the couple happiness."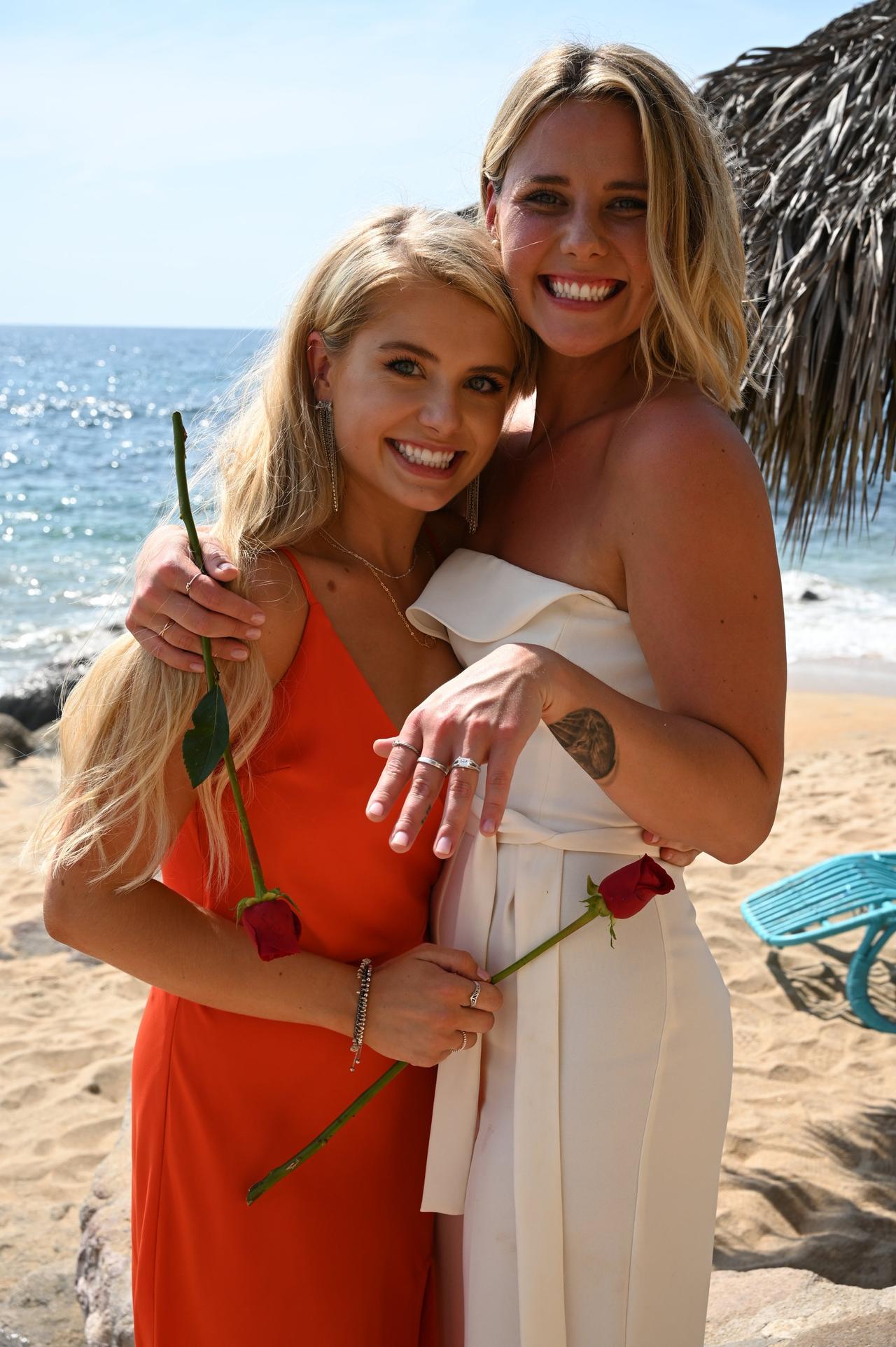 Kristian Haggerty
Size: 2 carats
Kristian Haggerty once owned one of the biggest Bachelor in Paradise engagement rings. Fan-favorite Demi Burnett appeared on Season 6 of the spin-off—but a few weeks into the season, she revealed that she previously dated Haggerty (who wasn't a member of Bachelor nation) before accepting the offer to join the cast in Mexico. Producers arranged for Haggerty to join the series mid-season, and Burnett proposed during the season finale. She chose a trendy east-west emerald-cut diamond on a split-shank band with 48 smaller round diamond accents. Haggerty later proposed to Burnett on the BiP reunion. She gave her fiancée a 2.25-carat diamond-studded ring featuring a square-cut brilliant stone and set with over 100 smaller diamonds on all three sides of the platinum band. The engagement didn't last, though, and the couple announced their split in October 2019.