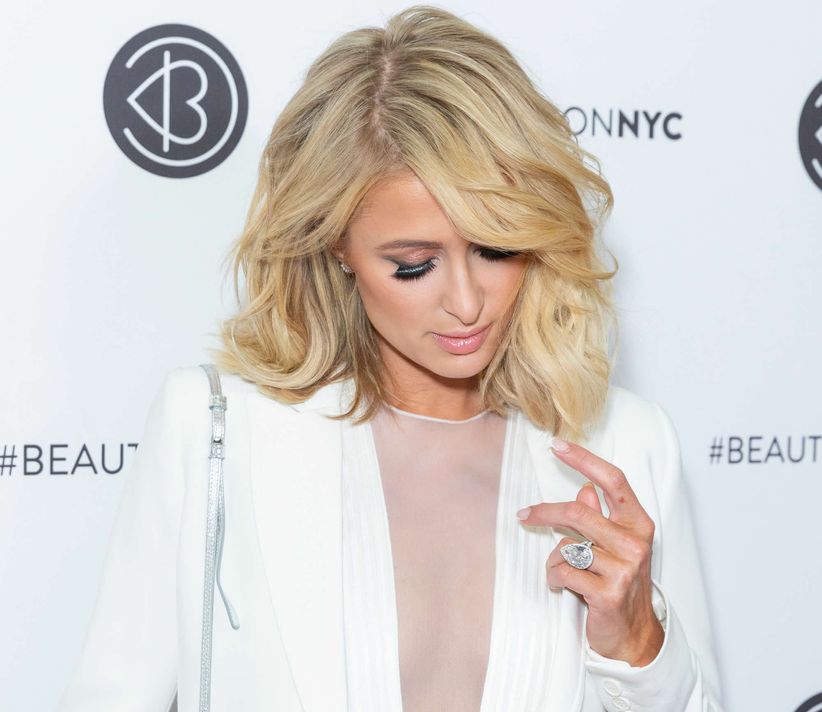 2018 was a big year for Hollywood proposals, and most importantly, for wow-worthy celebrity engagement rings. It felt like news outlets were always covering the latest jaw-dropping sparkler, from Hailey Baldwin's secret engagement ring to Priyanka Chopra's Tiffany & Co. beauty, celebrity engagement rings were front and center this year. While these celebrity engagement rings are of interest to those who follow pop culture, they're also especially relevant to anyone who thinks their own proposal is around the corner. That's why we decided to round up some of the best 2018 celebrity engagement rings to fantasize over. We all can dream, right?
You will totally fangirl over these extra AF celebrity engagement rings.
Thank you ALL for your sweet wishes! ❤️🤗 So happy to share this news with you, I am feeling like the happiest girl in the world. Thank you for your love and support, it truly means the world to me. pic.twitter.com/ZvkRaFufUD

— Karlie Kloss (@karliekloss) July 25, 2018
Karlie Kloss
Cushion-cut diamond in a platinum solitaire setting with a diamond pave band
Model Karlie Kloss became engaged to multi-millionaire Joshua Kushner over the summer and they made it official with a private wedding in update New York. The ring, which Kloss shared on Twitter, has been driving fans crazy due to its massive size. Her dazzling cushion-cut diamond has been speculated to be at least seven carats and worth about half a million dollars — casual, right? The blinding cushion-cut rock is then set in a classic solitaire setting accessorized with a delicate diamond pave band. It's a gorgeous and timeless piece that definitely matched Kloss' overall classic wedding-day style.
View this post on Instagram
Paris Hilton
Pear-shaped diamond in a platinum, split-shank halo setting
Former reality star and hotel heiress, Paris Hilton, has been flaunting an unbelievable sparkler since announcing her engagement to actor Chris Zylka. The center rock is said to be over 20 carats and definitely suites the socialites flashy style — who could forget those rhinestone tracksuits? The engagement ring features a huge pear-shaped diamond (similar to Hilton's mother's ring), accessorized in a platinum, split-shank halo setting, which basically has everyone saying: "That's hot".
View this post on Instagram
Hailey Baldwin
Oval-cut diamond with a yellow gold band
Another gigantic celebrity engagement ring is Hailey Baldwin's sparkler given to her by pop star Justin Bieber. Baldwin had been spotted wearing an oval-cut stone and finally debuted the roughly $500,000 ring on the cover of Vogue Mexico. The gorgeous oval diamond has exceptional length and is accessorized with a classic yellow gold band. We especially love how the rock stands alone and isn't set with an elaborate design. It's truly a killer piece and is totally making future brides-to-be wish for an oval-cut engagement ring.
View this post on Instagram
Kamaro Brown
Black and silver engraved David Yurman bands
Queer Eye's Kamaro Brown is engaged to director Ian Jordan and they each wear matching black and silver David Yurman bands. Brown proposed to his long-term partner at Jordan's surprise birthday party surrounded by family, friends, and of course, the rest of the Fab Five. The matching engagement rings also have a sentimental touch, since the Netflix star got each band engraved (insert Jonathan Van Ness meme "Can you believe?").
View this post on Instagram
Meghan Markle
Cushion-cut diamond flanked with two diamond side stones set in yellow gold
Designed by Prince Harry himself, Meghan Markle's iconic trio of diamonds is definitely the engagement ring of the year. The center stone features a beautiful cushion-cut diamond which comes all the way from Botswana, a country that the couple visited early on in their relationship. The smaller diamonds, which flank the primary cushion-cut stone, were from Princess Diana's collection making the ring even more meaningful. It's set in a yellow gold band (Markle's favorite!) and is a gem that won't be forgotten anytime soon.
View this post on Instagram
Priyanka Chopra
Cushion-cut diamond set in platinum
Actress Priyanka Chopra showed off her engagement ring this summer from heartthrob Nick Jonas and it caught everyone's attention. The Tiffany & Co. cushion-cut sparkler is said to weigh about four carats and it was reported that Jonas shut down the entire Tiffany store to purchase the ring. The cushion-cut appears to be flanked with two smaller baguette diamonds, which adds even more twinkle and shine to the otherwise gorgeous ring.
View this post on Instagram
Emily Ratajkowski
Tear-drop and princess-cut diamond on a gold band
We think model and actress Emily Ratajkowski didn't want to choose just one diamond cut for her engagement ring and instead opted for two center stones. Her now-husband, filmmaker Sebastian Bear, didn't have a ring at the time of their proposal and decided to use a paperclip as a placeholder. He then upgraded the paperclip (TG!), to an extravagant and modern ring, which features both a princess-cut and pear-shaped diamond on a gold band. #swoon.
View this post on Instagram
Lea Michele
Radiant-cut diamond in a halo setting
Actress Lea Michele announced her engagement to boyfriend Zandy Reich this year with a stunning sparkler. The four-carat radiant-cut diamond is in a halo setting and is definitely a sight to see. Similar to an emerald-cut the rectangular shape of the stone gives off a brilliant shine while also evoking a vintage ring style. The radiant-cut diamond is also encircled by a collection of diamonds which helps enlarge the rock for an even bigger statement.