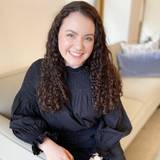 Sarah is an associate digital editor at WeddingWire. After joining the team in 2019, she developed special focuses in fashion content, pop culture news and Millennial and Gen Z wedding trends. As a child, she dreamed of becoming a big time magazine editor in New York City thanks to her obsession with cheesy rom-coms. While her current role served as her introduction to the wedding industry, she likes to think her time spent watching TLC wedding shows paid off in the long run. A Pennsylvania native, Sarah currently resides in Manhattan. When she's not writing about weddings, you can probably find her live-tweeting her favorite reality shows, scrolling through TikTok or scoping out the best brunch spots in the city.
Experience
Sarah began her professional career as a social media and editorial intern at TULA skincare. While there, she assisted the social and marketing teams by facilitating influencer outreach and partnerships, creating branded editorial content, organizing frequent social media giveaways, and introducing a Pinterest strategy to grow the brand's online presence. (She also gained an immense knowledge of probiotic-based skincare products.)
In 2018, Sarah joined Bravo TV at NBC Universal as a digital editorial intern. On the team, she indulged in her reality TV obsession by recapping Bravo episodes, covering important "Bravolebrity" news and writing e-commerce style roundups inspired by the most iconic Real Housewives. After her year-long internship ended, she continued her role on the team as a freelance writer for the site's fashion vertical. Her first foray into the wedding industry began when she joined WeddingWire. Sarah also regularly writes wedding content for The Knot.
Education
Sarah is a proud 2019 graduate of Hofstra University. She earned her Bachelor of Arts in journalism from the Lawrence Herbert School of Communication, with a minor in writing studies. In college, Sarah was the editor-in-chief of Hofstra's chapter of Her Campus, an online magazine for college women. She also contributed to her school's newspaper, The Hofstra Chronicle, and reported on campus news and politics for the weekly news show Hofstra Today.
WeddingWire Q&A with Sarah
What is your ideal wedding style?
If I had to narrow down my wedding style, it would be a blend of whimsical romance and timeless elegance. Think: lush florals, light pastels and lots of candles. Or, if all else fails, I'd love to just recreate the wedding from Crazy Rich Asians.
Dream honeymoon location?
My dream honeymoon is a Mamma Mia-inspired tour of the Mediterranean with stops in Santorini, Positano and Cannes.
What was (or would be) your first dance song?
While I'm not married, I have done plenty of thinking about my first dance song. Even though it changes by the day, I currently love the idea of dancing to "You Are In Love" by Taylor Swift.
Favorite celebrity wedding look?
It's so hard to pick just one, but something about Kate Middleton's wedding look still fills me with pure joy to this day. I'll never forget staying home from school and waking up early to watch her arrive at Westminster Abbey!
Articles published by Sarah Hanlon