Every Single 'Bachelor' Couple That's Still Together Today
What happened after the final rose? We break down how many Bachelor couples are still together today.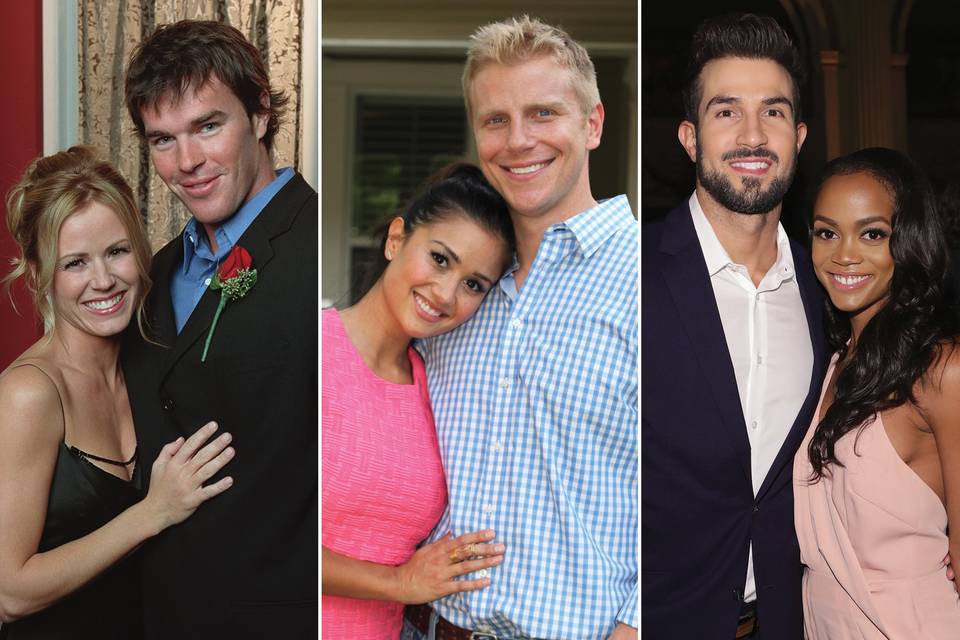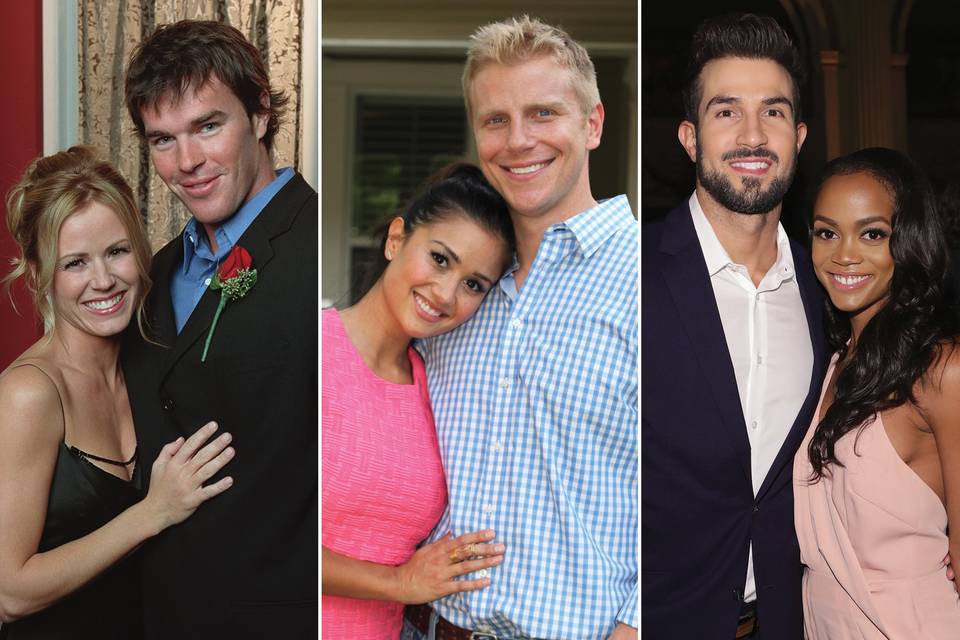 The Bachelor franchise has chronicled countless relationships in its 19 years on air. With over 30 seasons of The Bachelor and The Bachelorette, as well as a number of spin-off shows, the ABC reality series has created quite a few love stories—though not all of them continue once the camera stops rolling. While it may seem like long-lasting relationships are few and far between in the Bachelor mansion, the show has been successful for some lucky contestants. It can be hard to keep up with all the Bachelor couples that are still together—after all, nearly two decades of television has resulted in plenty of engagements and marriages (and a few love triangles too). While the franchise is notorious for explosive fights, tearful breakups, and meme-worthy moments, there have been plenty of lasting romances as well. So, how many Bachelor couples are still together today? Here, we round up who all stayed together after the final rose.
View this post on Instagram
1. Trista Rehn and Ryan Sutter
Arguably the franchise's biggest success story, Bachelorette Trista Rehn and final pick Ryan Sutter are still married today. After becoming the runner-up on Season 1 of The Bachelor, Rehn was the very first Bachelorette in 2003. The former NBA dancer gave Sutter her final rose on the finale, which was followed by a proposal. The couple's wedding was chronicled on a three-part TV special later that year. Today, they have two kids together and live in Colorado.
View this post on Instagram
2. Jason Mesnick and Molly Malaney
Bachelor host Chris Harrison traditionally calls each season the most dramatic yet, but that accolade likely belongs to Jason Mesnick. The real estate agent first appeared on Deanna Pappas' Bachelorette season, going so far as to propose during the finale before he was rejected. Mesnick was later named the Season 13 lead in 2009, when he fell in love with Melissa Rycroft and Molly Malaney. The Bachelor proposed to Rycroft and sent Malaney home—but during the bombshell After the Final Rose finale special, Mesnick revealed he changed his mind. He broke up with Rycroft on camera before bringing Malaney back for a second chance. She accepted, and they got engaged in October 2009. Their February 27, 2010 wedding was documented on ABC. Malaney now shares custody with Mesnick's son, Ty, from a previous relationship, and in 2013 the couple had a daughter of their own. Today, the entire family lives in Washington, where Mesnick continues to work as a real estate agent and Malaney is a radio talk show host.
View this post on Instagram
3. Holly Durst and Blake Julian
After appearing on different seasons of The Bachelor and The Bachelorette, Holly Durst and Blake Julian eventually found love with each other. Durst lasted a few weeks on Matt Grant's season of The Bachelor, while Julian was a contestant on Ashley Hebert's Bachelorette season. They both went on to compete on Season 2 of Bachelor Pad, a short-lived spin-off series featuring rejected contestants from past seasons. Durst got engaged to contestant Michael Stagliano, and together they won the season. They ended their engagement before the finale, though, and Stagliano was blindsided on camera when he learned Durst got engaged to Julian. Despite their complicated start, Durst and Julian are still married today. After publicly chronicling their infertility struggle, the couple adopted a daughter in 2019.
View this post on Instagram
4. Sean Lowe and Catherine Giudici
Sean Lowe became an instant fan-favorite when he vied for Emily Maynard's final rose on The Bachelorette. He placed third and later became the Season 17 Bachelor lead. Lowe's faith played a pivotal role in the season, and he infamously used the overnight fantasy suite dates to explore his emotional connections with the women—not physical. Lowe proposed to Catherine Giudici on the finale, and they got married during a live TV special on January 26, 2014. After a variety of TV appearances on shows like Celebrity Family Feud, Who Wants to Be a Millionaire and Celebrity Wife Swap (with Jason Mesnick and Molly Malaney), the couple now resides in Dallas, Texas with their three kids.
View this post on Instagram
5. Desiree Hartsock and Chris Siegfried
After placing fourth on Sean Lowe's season, bridal stylist Desiree Hartsock got a second chance when she became The Bachelorette. The ninth season aired in 2013 and ended with Hartsock getting engaged to Chris Siegfried. Despite finding love on national television, the couple kept their nuptials private. They got married on January 18, 2015 in Palos Verdes, California. The couple has since related to Seattle, where they live with their two kids.
View this post on Instagram
6. Jade Roper and Tanner Tolbert
Which Bachelor in Paradise couples are still together? Of all the romances from the spin-off series, Jade Roper and Tanner Tolbert have one of the most memorable love stories. As the first major success story from Paradise, Roper and Tolbert serve as inspiration for contestants who travel to Mexico to compete for a second shot at love. Roper first appeared on Chris Soules' Bachelor season, while Tolbert had a brief stint on Kaitlyn Bristowe's. The duo quickly paired up on Paradise, and Tolbert proposed during the final episode. They got married in early 2016, and their nuptials were documented on Season 20 of The Bachelor. They've since welcomed three children together: Emmy, Brooks and Reed.
View this post on Instagram
7. JoJo Fletcher and Jordan Rogers
Was it love at first impression rose? Bachelorette JoJo Fletcher gave Jordan Rogers the first rose of Season 12, and the former pro-football player was a front-runner for the rest of the show. Fletcher accepted Rogers' proposal during the finale, and the couple embarked on a long-term engagement. They spoke openly about their decision to not rush marriage, instead focusing on their foundation off-camera. The pair were set to wed in 2020, but have postponed multiple times due to the coronavirus pandemic. They've since rescheduled their tentative date to 2022.
View this post on Instagram
8. Rachel Lindsay and Bryan Abasolo
Despite receiving Nick Viall's first impression rose on Season 21 of The Bachelor, Rachel Lindsay was eliminated just before the finale. Given her fan-favorite status, the attorney then landed the Bachelorette role on Season 13. Like some of the leads before her, Lindsay's first impression rose recipient later became her fiancé. Almost immediately, Lindsay sparked a connection with chiropractor Bryan Abasolo. He received the first and last roses of the season and proposed during the finale in 2017. Two years later, the duo got married in Mexico—and now, they reside in Miami, Abasolo's hometown.
View this post on Instagram
9. Arie Luyendyk Jr. and Lauren Burnham
In a dramatic twist, Arie Luyendyk Jr.'s Bachelor season was reminiscent of Jason Mesnick's. The racecar driver joined the franchise in 2012 when he vied for Emily Maynard's heart. He returned six years later as the lead, and first proposed to Becca Kufrin. Despite getting engaged, Luyendyk had a change of heart and ended his engagement on-camera after revealing his feelings for runner-up Lauren Burnham. He asked Burnham for a second chance, and the two dated discreetly as the season aired. He proposed during the After the Final Rose recap special, and the two got married in Hawaii in January 2019. Five months later, Burnham gave birth to their daughter. Later that year, the couple renewed their vows in Las Vegas as a family of three. In late 2020, they announced their family was expanding once again with twins due to arrive in summer 2021.
View this post on Instagram
10. Raven Gates and Adam Gottschalk
After unsuccessful runs on The Bachelor and The Bachelorette, Raven Gates and Adam Gottschalk fell in love on Bachelor in Paradise. The two won the fourth season by leaving the show in a relationship, though Gottschalk didn't propose. The couple dated for two more years before getting engaged in May 2019. While they planned to get married in 2020, they postponed their date three times due to the coronavirus pandemic. The couple finally said "I do" in April 2021 at a minimony in Dallas, Texas.
View this post on Instagram
11. Ashley Iaconetti and Jared Haibon
It took a few tries, but Ashley Iaconetti got the happy ending she dreamed of with Jared Haibon. After an unsuccessful stint on Chris Soules' Bachelor season, Iaconetti had her sights set on Haibon, who was previously on Kaitlyn Bristowe's season. The two crossed paths on Season 2 of Bachelor in Paradise, and it was love at first sight for Iaconetti… but not for her beau. The pair went on dates off-screen, and reunited again on Season 3 of the spin-off. After another failed try, Iaconetti started dating Kevin Wendt on Bachelor Winter Games in 2018 while Haibon filmed Bachelor in Paradise: Australia. Finally, it was on a trip with Jade Roper and Tanner Tolbert when Haibon realized his feelings for Iaconetti. They went public with their relationship in May 2018, and Haibon proposed one month later in Mexico. Iaconetti finally got the wedding she dreamed of when they got married on August 11, 2019.
View this post on Instagram
12. Kevin Wendt and Astrid Loch
Shortly after his breakup with Ashley Iaconetti, Kevin Wendt gave love another try on Season 5 of Bachelor in Paradise. (The Canadian previously won the first season of The Bachelorette Canada, though his engagement ended shortly after the show aired.) In Mexico, Wendt met Astrid Loch, who was briefly on Nick Viall's season. Despite their strong connection in Mexico, the two broke up just before the show's culmination. They reconnected off-screen, though, and got engaged on August 28, 2019. Like other Bachelor couples, the pair planned to wed in 2020 but have since rescheduled due to COVID-19. The couple then announced that they were expecting a baby in May 2021.
View this post on Instagram
13. Dean Unglert and Caelynn Miller-Keyes
After a tumultuous run on Bachelor in Paradise, Dean Unglert and Caelynn Miller-Keyes have since reconciled. Unglert, who first appeared on Rachel Lindsay's season, found a quick connection with Miller-Keyes, who competed on Colton Underwood's season. The two hit it off on a date in Mexico and become one of the strongest pairings. A few weeks into the season, Unglert shockingly ended the relationship and left paradise. He came back a few weeks later to reconnect with Miller-Keyes, and they left the show together without an engagement. The pair then traveled the world in Unglert's infamous van while teasing a secret proposal. The couple hasn't officially confirmed the status of their relationship, but sources say the two hosted a commitment ceremony in early 2020. Later that year, the couple opened up to Chris Harrison about their promise rings, with Unglert saying he didn't need the "husband" title to be committed to the relationship.
View this post on Instagram
14. Kaitlyn Bristowe and Jason Tartick
Kaitlyn Bristowe and Jason Tartick are one of the most unexpected Bachelor Nation pairings. Bristowe originally found love on her season of The Bachelorette. The Canadian got engaged to Shawn Booth, who received her first impression rose on the first night. The two were engaged for three years before their fall 2018 breakup. Following the split, Bristowe took her podcast, Off the Vine, on the road to Seattle, where she interviewed franchise favorites Olivia Caridi and Tartick. (Caridi appeared on Ben Higgins' season, while Tartick was on Becca Kufrin's.) At the time, Tartick recently lost the chance to become The Bachelor to Colton Underwood. Bristowe even campaigned for Tartick to get the role too, but their friendship turned romantic shortly after meeting. The couple went public with their relationship in January 2019. Tartick ultimately proposed in May 2021 during a disguised podcast taping (where he presented her a whopping 5-carat engagement ring, the biggest in Bachelor nation history).
View this post on Instagram
15. Hannah Godwin and Dylan Barbour
Dylan Barbour began pursuing Hannah Godwin almost immediately on Season 6 of Bachelor in Paradise. The model, who finished second on Colton Underwood's season, ended up in a love triangle with Barbour and Blake Horstmann. After multiple dramatic dates, Godwin chose Barbour (who previously appeared on Hannah Brown's season). They got engaged during the finale, which aired in September 2019. Though they paused their wedding planning process due to the coronavirus pandemic, they plan to move in together in San Diego.
View this post on Instagram
16. Tayshia Adams and Zac Clark
Tayshia Adams made her long-awaited debut as The Bachelorette after replacing Clare Crawley in late 2020. The fan-favorite first appeared on Colton Underwood's Bachelor season in 2019. Despite making it to the final three, their connection didn't last, and Adams later appeared on season six of Bachelor in Paradise. She had a short-lived relationship with franchise alum John Paul Jones before landing the coveted Bachelorette title. Despite falling for multiple suitors, Adams ultimately gave her final rose to Zac Clark. The two had a strong connection from the start, and Clark's proposal featured a sweet nod to his makeshift hometown date weeks prior. "I love you, Zac Clark," Adams declared during the emotional engagement. "And I'll do absolutely anything to keep that huge smile on your face."
View this post on Instagram
17. Clare Crawley and Dale Moss
Are Clare Crawley and Dale Moss together? Despite a tumultuous romance, the two are still an item. The couple left The Bachelorette just a few weeks into the season after Moss proposed in record time. A few months later, though, Moss announced their split on Instagram. The couple sparked rumors of a reconciliation after being spotted traveling together, and eagle-eyed fans also noticed Crawley wearing her engagement ring again in a few social media posts. In May 2021, both shared photos of each other on social media, indicating their relationship was once again Instagram-official. As of July 2021, sources confirmed they're engaged once again.
View this post on Instagram
18. Matt James and Rachael Kirkconnell
After being cast on Clare Crawley's season before it was postponed due to COVID-19 complications, Matt James was tapped as the first-ever Black Bachelor lead in March 2021. He ultimately fell for Rachael Kirkconnell, though photos of her past participation in antebellum parties—themed celebrations of the Antebellum-era south and of the Confederacy—sparked controversy as the season played out. While the two left the show in a relationship, differences in values led them to separate by the After the Final Rose finale special. On the show, Kirkconnell apologized for her actions and spoke about her anti-racism work. After time apart, the two have since gotten back together, as confirmed in multiple interviews. "I think the best way to put it is that we can have critical conversations about being in this relationship and what I need in a partner—especially if that woman isn't Black—to understand what comes with me and my life and being Black," James told WSJ Magazine in May. "It's on people who care about being allies to do the work to be truly antiracist. And I think it's unfair to leave people without the ability to unlearn and be better."
View this post on Instagram
19. Katie Thurston and Blake Moynes
It was a happy ending for Bachelorette Katie Thurston, who got engaged to Blake Moynes on the final episode of her summer 2021 season. Some say it was fate that brought the two together, as Moynes was previously a contestant vying for both Clare Crawley and Tayshia Adams. Despite showing up midway through Katie's season, she allowed him to stay and their connection quickly strengthened. And, after an emotional goodbye with fellow contestant Greg Grippo, Katie ultimately said "yes" to Moynes' proposal. "My best friend. My confidant," Thurston wrote on their first Instagram post together. "We are just two weirdos laughing our way through life together. Cheers to the upcoming adventures!" she added, noting that the two plan on moving to Moynes' native Canada in the coming months.