10 Ideas to Create Your Own Festive Holiday Traditions as a Couple
From the tree lighting to the menorah lighting, make this festive season your own.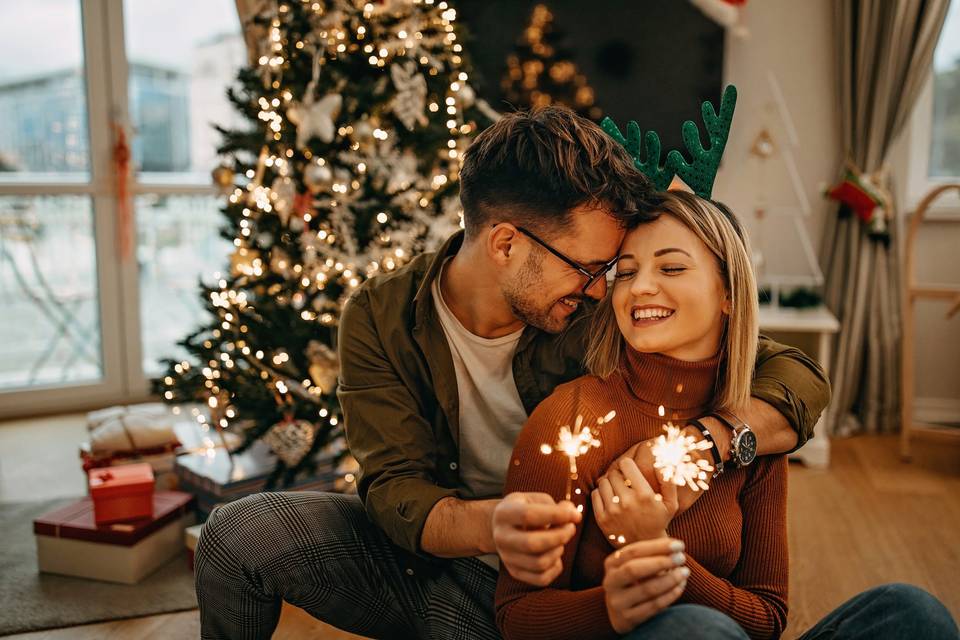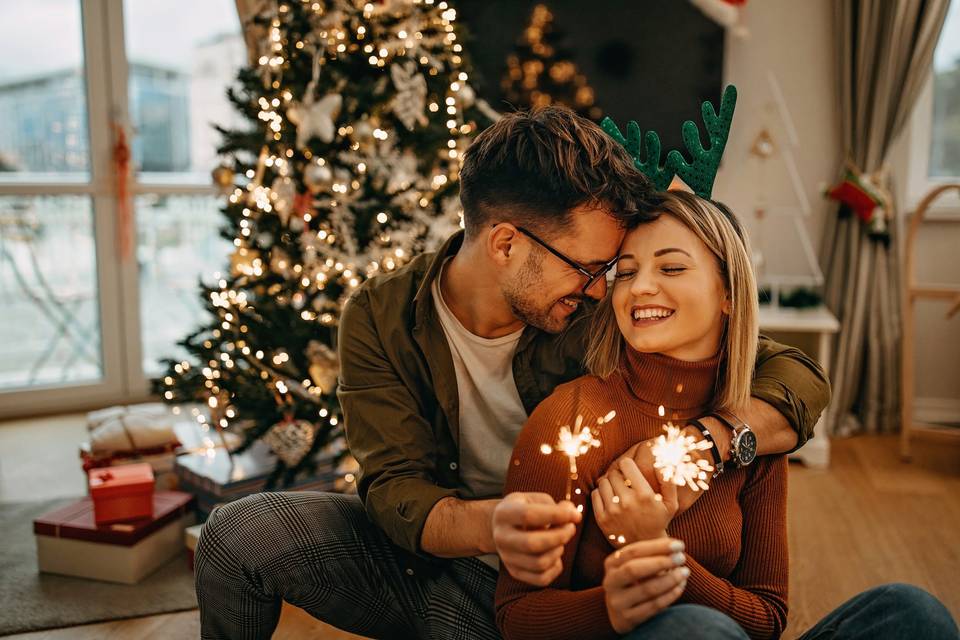 Navigating the holidays as a couple is exciting, tricky and full of so much opportunity! This is the time when you can discover more about your partner, their childhood, and the traditions that defined their holiday experience. It's when you bond with each other's families and learn whether they're Elf on the Shelf people or The Night Before Christmas fans. You'll learn how you both handle presents and pajamas on Christmas morning and whether your plans for decorating the tree are more DIY or Hallmark sentimental.
And, with all of these exciting new discoveries come the chance to make your own traditions, beyond those you've celebrated with your whole family for decades.
Why You Should Create Your Own Holiday Traditions as a Couple
What were your favorite holiday traditions as a child? Maybe you went over to your grandparents' home to make latkes and eat sufganiyot on the first night of Hanukkah. Perhaps you spent Christmas Eve caroling with your neighbors before watching Christmas movies well past midnight. You may have never questioned where these traditions came from yet they became an integral part of your childhood. That's why Michaela Bucchianeri, PhD, tell us, "We tend to think of 'traditions' as practices that are passed down to us."
But, those traditions started somewhere! Bucchianeri continues, "The truth is, creating new traditions of your own can be a great way to individuate yourselves from your parents and celebrate your relationship as a couple."
Callisto Adams, Ph.D., dating and relationship expert and coach, explains that by creating these holiday season traditions as a couple, you're establishing your place as a family unit. "Creating traditions gives you a sense of togetherness, a sense of home and a sense of family. These are things that will resonate with your family only and that helps in building a sense of team in the family. It also helps bring excitement and joy during the process of building your traditions."
How to Start the Conversation About Holiday Traditions
If you grew up assuming the magic of this time of year just happens (spoiler: it was your parents working hard behind the scenes!), then you might be at a loss of where to start when it comes to creating your own holiday season traditions. Bucchianeri recommends, "A good first step is asking yourselves, "What's important to us?" This will help you decide which elements of your families' traditions to incorporate into the new ones you're creating together."
Michelle Mouhtis, a relationship coach and licensed therapist, suggests getting into the particulars of your respective experiences. Ask, "What did you enjoy about your family traditions? What didn't you enjoy? What was it about the parts of your family traditions that you did and didn't enjoy and why?"
And, Sandra Myers, relationship expert and certified matchmaker, has a heartwarming tip to bring in family, particularly if you're concerned they may be put off by the idea of new traditions. She says, "Ask your parents for advice on how they navigated holidays when they were newly married. Turning to them for parental advice will make them feel like they are still valued and appreciated!
Holiday Tradition Ideas for a Festive Season
As you look to get into the holiday spirit and discover your own holiday traditions, Mouhtis says, "Get creative! Don't feel like you have to stay in a box. Maybe that means going on vacation for the holidays instead of spending it with family, or having a hybrid of what feels good for both of you. There's no right or wrong!" If you need a little inspiration, however, here are 10 classic holiday tradition ideas to get you started.
Plan a small town or big city getaway.
If you live in a small town, you dream of the iconic big city Christmas trees, cheerful (and crowded!) shopping and shiny ribbons on city blocks. If you're in the big city, you fantasize about the twinkly small town charm, picturesque tree farms, candlelit windows and Christmas carolers. So, plan a trip! Spend one night each holiday season taking in all that's magical about celebrating in a new place.
Set aside a night for a movie marathon.
We love a snuggly night in PJs watching Love Actually and The Holiday, and, before you know it, you've embarked on a holiday movie marathon tradition! Watch the same ones year-after-year, or pick a theme (Hallmark romances? Old-school comedies?) and discover new-to-you titles.
Get dressed up for a night at the ballet.
Bring back sugarplum dreams with an evening spent reliving The Nutcracker. It's an excuse to get dolled up and enjoy one of the most iconic Christmas traditions.
Host an annual holiday party.
Bring together family, friends and loved ones for an annual holiday celebration. You could host a cookie exchange, a gingerbread house decorating extravaganza, a Christmas day brunch or a New Year's soiree. Whatever it is you decide on, host it this year and again next year –– before you know it, it will become the party you two are known for.
Put together an end of year playlist.
As the year comes to an end and everyone downloads their Spotify Wrapped, take this opportunity to create a playlist that commemorates the year you had together. Pull together a countdown of your favorite songs and the ones that bring you back to all of the year's memories.
Cozy up with hot cocoa.
Never underestimate the ability of hot chocolate topped with marshmallows to take you right back to childhood nostalgia. A warm mug on a cool evening is a tradition in and of itself. Pop in a candy cane for a timeless taste of the holidays.
Collect sentimental ornaments.
Whether you commemorate the years you've been together or pick up a new ornament on every vacation, this tradition turns putting up the Christmas decorations every year into a trip down memory lane.
Spend an evening listening to holiday music and stamping holiday card envelopes.
Getting out the annual holiday card can be a tedious task, so turn it into a tradition. Turn on a holiday playlist, pour a festive cocktail, and make an evening of it.
Delight in your town's holiday lights.
No matter how small or large your hometown is, it's bound to have a Christmas lights or Hanukkah menorah display. Plan a Hallmark-inspired date night tradition where you tour the lights, then go out to a festive bar for dinner and a drink.
Bake cookies.
This is a great tradition to bring in extended family members! Invite over your nieces and nephews for a kid-friendly afternoon of baking cookies, trying out both new cookie recipes and family favorites and telling stories of past holidays. And, as Anna Marchenko, LMHC, Ed.M, M.A, says to keep in mind, "If you have a growing family, the traditions you create now could turn into cherished memories for kids as they grow up, or your kids could even be the reason a new family tradition starts."