15 Celebrities From Your Childhood You Didn't Know Are Married Now
Ready for a blast from the past? You won't believe how many former child stars from your favorite shows and movies are married today.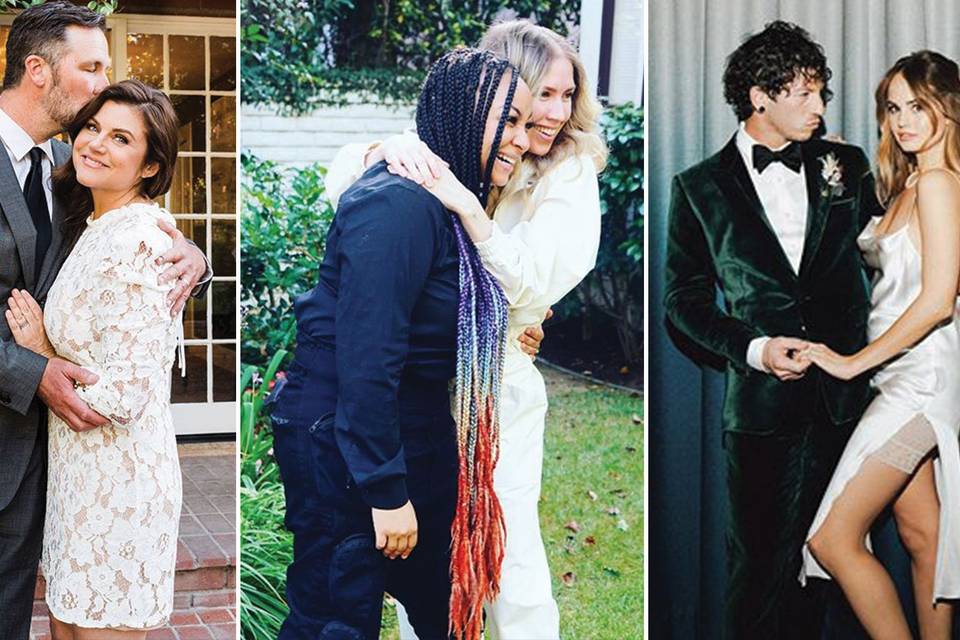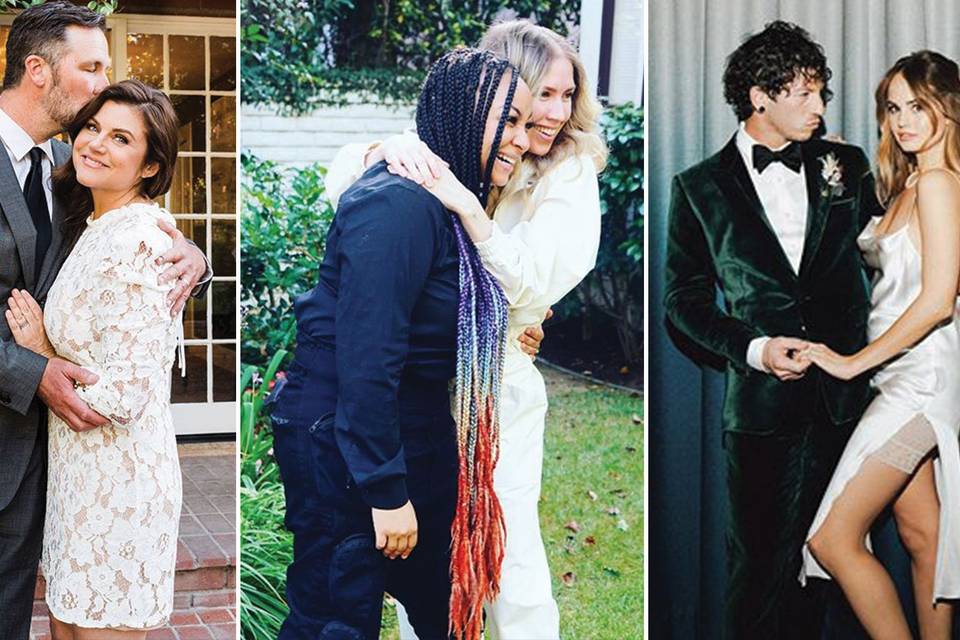 Back in the day, you probably had a lineup of TV shows and movies that defined your childhood. Whether you were a self-proclaimed Disney kid or you preferred movie classics like Spy Kids or Harry Potter, you likely have fond memories of your favorite child stars. But have you ever wondered where they are now? Some child stars have remained in the public eye, allowing fans to keep up with their lives decades after they rose to fame. Others have traded the spotlight for a low key life with their families—but that doesn't mean all the details are under wraps. If you feel like taking a nostalgic walk down memory lane, catch up with some of the most popular celebs from your childhood.
Here, we round up 15 child stars you might not know are married today.
View this post on Instagram
Alexa PenaVega
You probably remember Alexa Vega from the Spy Kids movie series, which rose to popularity in the early 2000s. She also had notable roles in the teen movie Sleepover, as well as the ABC Family series Ruby & The Rockits. After rising to childhood fame, the actress went on to marry fellow teen star Carlos Pena, a member of the band Big Time Rush (which had a corresponding TV show on Nickelodeon).
The two met at a bible study in Los Angeles, and by 2013 they were engaged. They had a destination wedding in Cabo San Lucas, Mexico, on January 4, 2014. As a nod to their partnership, they fused last names, both taking PenaVega after the wedding. Since then, they've used their talents on-screen together. The pair famously competed against each other on Dancing With the Stars in 2015 (and while neither won, Carlos lasted one week longer than his wife). They've also starred as love interests in several Hallmark Channel movies. Beyond acting, the two share a YouTube channel called "LexLovesLos" where they document their lives, including parenthood to sons Ocean King and Kingston James.
View this post on Instagram
Ashley Tisdale
Ashley Tisdale became a household name thanks to her role as Sharpay Evans in the High School Musical movie series, though she also had roles on popular Disney shows like The Suite Life of Zack and Cody and Phineas and Ferb.
In 2012, she was linked to musician Christopher French. The pair got engaged on top of the Empire State Building in New York City in August 2013. Exactly a year and one month later, they married at a bohemian wedding ceremony in Santa Barbara, California. (Tisdale's High School Musical co-star Vanessa Hudgens served as a bridesmaid.) Days after their sixth anniversary in 2020, the couple announced that they were expecting a baby with matching Instagram posts.
View this post on Instagram
Bridgit Mendler
Bridgit Mendler's lead role as Teddy Duncan on Good Luck Charlie led to near-instant Disney fame. Before that, though, she appeared in movies like The Clique, Alvin and the Chipmunks: The Squeakquel and Lemonade Mouth.
While Mendler famously dated her Good Luck Charlie co-star Shane Harper, the two called it quits in 2015. While the actress kept details of her relationship out of the public eye, she announced her engagement to boyfriend Griffin Cleverly in 2019. Later that year, they got married at a beachside ceremony. The wedding served as a small reunion for the Good Luck Charlie cast, who attended the nuptials. "Still riding the high of the weekend," Mendler wrote on Instagram. "Thank you to everyone for the abundance of love that you showered on griff and I. We are so excited for this new chapter."
View this post on Instagram
Candace Cameron Bure
Have mercy! DJ Tanner is a married woman—and she's been with her S.O. for longer that you might have realized. Candace Cameron Bure is best known for her role as the oldest Tanner sister on Full House (which she reprised for the remake, Fuller House), though she's also gone on to star in a number of Hallmark Channel original movies. The actress also participated on Dancing With the Stars, where she came in third place, and had a brief stint as a co-host of The View from 2015 to 2016.
Off-camera, the former child star has been married to NHL player Valeri Bure since 1996. In fact, it was fellow Full House star Dave Coulier who introduced the two at a charity hockey game in 1994. They share three kids together, all of whom inherited their parents' skills. Both of their sons went on to play hockey, while their daughter competed on The Voice in 2016.
View this post on Instagram
Corbin Bleu
Corbin Bleu is yet another High School Musical star who's married today. The actor, who also starred in Jump In! alongside Keke Palmer, married fellow Disney Channel alum Sasha Clements (who starred in the 2014 movie How to Build a Better Boy.)
Given their Disney roots, it's no surprise they have a fairytale love story. Clements revealed she met Bleu at a grocery store in 2011. Then, after three years of dating, they got engaged at Disney World. Clements' dress shopping experience was later chronicled on TLC's Say Yes to the Dress. On July 23, 2016, the pair got married in front of 160 guests in Santa Susana, California. Bleu opened up about his marriage on their second anniversary in 2018. "Thank you for being all the things," he wrote on social media. "My best friend, my comfort, my lover, my support, my muse, my happiness, my soulmate. Everyday has meaning because of you, and I continue to look forward to the rest of our lives together."
View this post on Instagram
Danica McKellar
As one of the most recognizable '90s child stars, Danica McKellar grew up in front of the camera. She landed her breakout role as Winnie Cooper on The Wonder Years from 1988-1993. She's also starred in animated films and Hallmark Channel movies in the years following her childhood fame—and beyond acting, she wrote six non-fiction books about math.
McKellar first married composer Michael Verta in 2009 after dating for eight years. Though they divorced in 2012, they had a son, Draco, together in 2010. She met her second husband, Scott Sveslosky, through fellow parents at Draco's school. They got married on November 15, 2014 at an exclusive destination wedding in Hawaii. "Five years ago, at 6:30am as the sun was rising over the mountains of Kauai, I married the love of my life, surrounded by just 17 family members," McKellar wrote on their fifth anniversary. "Scott, thank you for being the most wonderful husband—so supportive & understanding with my crazy movie/book schedule, and eternally romantic. I'm so grateful for you, my real-life Hallmark hunk!"
View this post on Instagram
David Henrie
You might remember David Henrie for his role alongside Selena Gomez in the Disney series Wizards of Waverly Place. In addition to starring in other Disney Channel original movies, he also had a recurring role on How I Met Your Mother.
In 2017, he announced his engagement to former Miss Delaware Maria Cahill. In an interview, the actor opened up about his extravagant proposal, which included a private helicopter ride and a surprise celebration with family and friends after. The couple got married on April 21, 2017—and Henrie's former on-screen siblings, Gomez and Jake T. Austin, were in attendance. In addition to welcoming a daughter in 2019, the couple announced they were expecting again in June 2020.
View this post on Instagram
Debby Ryan
Child star Debby Ryan started her career in show business on Barney and Friends in 2006, but her big break came two years later on Disney's The Suite Life on Deck, a spinoff of The Suite Life of Zack and Cody. In addition to also landing the titular role on Disney's Jessie, she appeared in teen movies like The Suite Life Movie and Radio Rebel. Years later, she starred on Netflix's series Insatiable.
Off-screen, Ryan started dating Twenty One Pilots drummer Josh Dun in 2013. Dun announced their engagement on Instagram in December 2018, and they secretly wed on December 31, 2019. Five months later, Ryan revealed the news to Vogue, noting that they planned their New Year's Eve party in just 28 days. "It didn't feel important to wait anymore, to stop being busy, or for things to line up perfectly—intending to do things is not nearly as powerful as doing, as we aren't promised tomorrow," she said.
View this post on Instagram
Elizabeth Gillies
Today, Elizabeth Gillies is best known for her role on The CW's Dynasty. But before she landed a spot on the soap opera reboot of the 1980s series, she was a Nickelodeon child star. Gillies starred on the network's show Victorious, where she famously made her singing debut alongside Ariana Grande.
Gillies began dating music producer Michael Corcoran in 2012, though the two knew each other for much longer. After getting engaged, they set a wedding date for April 25, 2020—but they ultimately postponed due to the coronavirus pandemic. As a result, they planned a smaller microwedding for August 8, 2020. Gillies later opened up to Vogue about pivoting their plans in the midst of the pandemic. "It has been such a long road for us, and at times [it] felt like a total impossibility that it was hard to believe we'd actually gotten to that moment where it was really happening," she said. "Once we were exchanging vows, it hit me that my dad was marrying us and our loved ones were there, and I think I turned to Michael and mouthed, 'Oh, my God, we actually did it.' We were so happy."
View this post on Instagram
Jamie Lynn Spears
Yes, your favorite Pacific Coast Academy alum is a married woman. Jamie Lynn Spears is well-known for her role as Zoey Brooks on the popular Nickelodeon show Zoey 101. But before she rose to fame for that role, she made her acting debut alongside her sister, Britney Spears, in the 2002 drama Crossroads. Spears starred as the lead role for three years before leaving the show after announcing her pregnancy with then-boyfriend Casey Aldridge. After a brief engagement, the two ended their relationship in 2009.
In 2011, she began dating businessman Jamie Watson. They announced their engagement in 2013, and in 2014 they got married in New Orleans, Louisiana. In April 2018, Spears welcomed her second daughter (and first child with Watson).
View this post on Instagram
Josh Peck
Josh Peck was half of the dynamic duo on Nickelodeon's series Drake & Josh, which aired from 2004 to 2007. Alongside Drake Bell, Peck achieved mainstream success from the series. He went on to appear in a number of other films and TV shows, most notably Fox's comedy Grandfathered (where he acted alongside John Stamos). Beyond acting, though, Peck became a popular social media figure on apps like Vine and YouTube.
He openly documents his life online, including his relationship with longtime love Paige O'Brien. The two got engaged in Paris in March 2016, and over a year later they were married in Malibu, California. The entire wedding planning process was documented on YouTube, including the ceremony and reception. In 2018, they welcomed a son, Max and have since chronicled their journey into parenthood as well.
View this post on Instagram
Matthew Lewis
Sorry, Harry Potter fans—teen heartthrob Neville Longbottom is off the market. The British actor married American blogger Angela Jones in 2018, and their love story is nothing short of spectacular. In fact, they partly owe their relationship to the mystical book and movie series. The two met at an event at The Wizarding World of Harry Potter theme park at Universal Studios in January 2016, where Jones was working as an event planner. Just five months later, they got engaged underneath the Eiffel Tower in Paris, France.
The couple got married on May 28, 2018 in Portofino, Italy. Shortly after the ceremony, Jones shared a photo of their wedding rings on Instagram. "Our adventure has only just begun, my love," she wrote.
View this post on Instagram
Nathan Kress
Best known for his role as Freddie Benson on Nickelodeon's iCarly, Nathan Kress began his acting career at age four. He had a number of small roles on popular shows like The Suite Life of Zack and Cody and Drake & Josh before landing his breakout role on the popular Nickelodeon series, which aired from 2007 to 2012. In 2014, he starred in his first feature length film, Into the Storm, where he met his future wife, London Elise Moore.
Kress proposed in May 2015, and the couple got married just six months later. The wedding was attended by some of Kress' iCarly castmates, including Miranda Cosgrove, Jennette McCurdy and Jerry Trainor. "It's already been one month of wedded bliss with this woman," Kress wrote after their nuptials. "I can't wait for the hundreds upon hundreds of months to come." In 2017, the couple welcomed a daughter, Rosie Carolyn Kress.
View this post on Instagram
Raven-Symoné
That's so marriage. In 2020, Disney child star Raven-Symoné announced that she married girlfriend Miranda Pearman-Maday. Best known for her roles in The Cheetah Girls and That's So Raven, she actually got her start in show business on The Cosby Show in 1989. She briefly retired in 2013 to focus on a fine arts degree, though she returned to the business in 2015 to co-host The View.
The actress announced her marriage on June 18, 2020. The couple hosted an intimate minimony in actress Debbie Allen's backyard due to the coronavirus pandemic. "I got married to a woman who understands me from trigger to joy, from breakfast to midnight snack, from stage to home," she wrote on Instagram. "I love you Mrs. Pearman-Maday!"
View this post on Instagram
Tiffani Thiessen
Tiffany Thiessen earned her role as a teen idol of the '90s thanks to her roles as Kelly Kapowski on Saved By The Bell and Valerie Malone on Beverly Hills, 90210. Despite a number of high profile romances throughout the late '90s and early 2000s, she ultimately married fellow actor Brady Smith on July 9, 2005.
In honor of their fifteenth anniversary in 2020, Thiessen planned a surprise recreation of their wedding with their original planner. "Last night I surprised my husband with a special 15 year anniversary gift," she wrote on Instagram. "I recreated [an] 'at home' version of our wedding. From the table, to the flowers, to the decor and even the menu beautifully re-created by my dear friend @maili_halme who did our wedding. It was a memorable night to say the least...and I think I blew my husband's socks off."