The Best Wedding Movies to Watch During a Planning Sesh
Tackling your to-do list for the big day? Here are the best wedding movies to watch if you're looking for some comedic relief or a sweet love story while you multitask.
We have included third party products to help you navigate and enjoy life's biggest moments. Purchases made through links on this page may earn us a commission.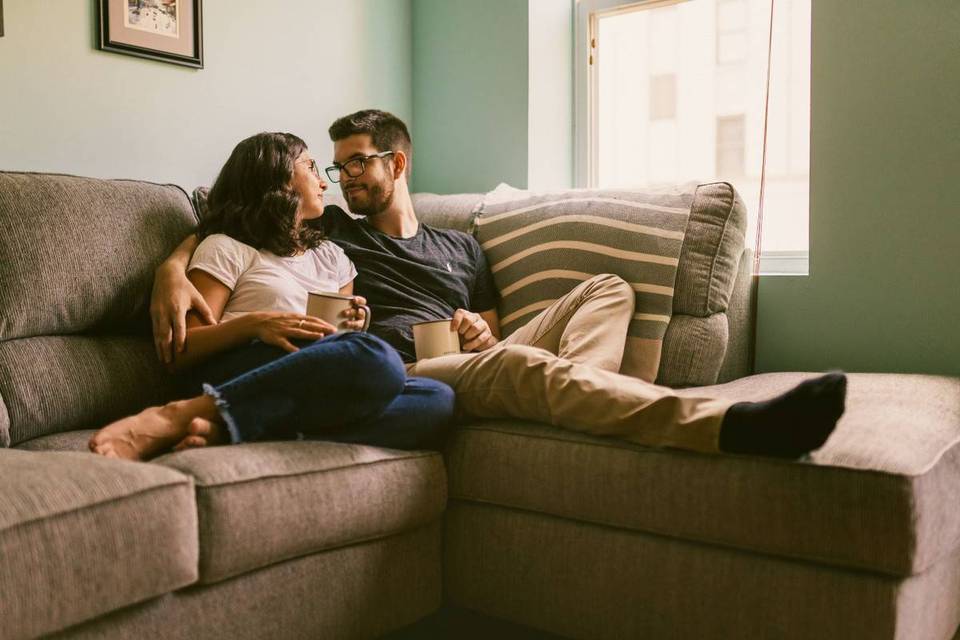 We will always support taking a break from your busy wedding planning schedule—or at least putting on a good movie (or two) to help you get through some of those tedious tasks, like cutting your guest list or going through RSVP cards. We've narrowed down some of the top wedding movies to watch while you're planning your special day, including some classic rom-coms and newer releases you might not have seen yet. Keep reading for our list of the best movies to watch on Netflix, Hulu, and Disney+ right now (updated May 2021).
Best Wedding Movies to Watch on Netflix
If you don't already subscribe to Netflix, plans range from $8.99 to $17.99 per month. New movies and shows, including exclusive Netflix originals, are added weekly.
My Best Friend's Wedding
This late '90s film is a wedding classic, and it's one of the best movies to watch while tackling your to-do list even if you've already seen it. If nothing else, Julia Roberts' voluminous curls are #goals. My Best Friend's Wedding also stars a young Cameron Diaz, and the throwback bridal fashion is entertaining to say the least (although we have to admit that purple bridesmaid dresses are making a comeback!).
Loving
Based on a true story, Loving is an emotional, powerful wedding movie about the fight for interracial marriage. Set in the 1960s—just over 50 years ago—the movie follows the relationship of Richard and Mildred Loving, who were prosecuted for their interracial marriage and banned from the state of Virginia. Their story ultimately led to a U.S. Supreme Court case, Loving vs. Virginia, paving the road for marriage equality and other civil rights decisions today.
To All the Boys: Always and Forever
If you've seen the previous two movies in the To All the Boys series, then you'll love the happy ending of this third installment in Lara Jean's story. We won't spill the beans, but there is a wedding involved, along with a magical reception tent that will give you plenty of decor inspiration.
Always Be My Maybe
This comedic Netflix original tells the story of two childhood friends who grow apart, literally and figuratively, as their lives change. They reconnect years later—and wonder whether or not the spark they had as kids is still there. The rom-com stars comedian Ali Wong, Randall Park (from Fresh Off the Boat and Veep), and Keanu Reeves.
The Perfect Date
Fans of To All the Boys I've Loved Before should add this Netflix original to the top of their must-watch list. The Perfect Date stars Noah Centineo as Brooks Rattigan, a high school senior who poses as a boyfriend-for-hire as a way to make money to attend his dream university, Yale. Along the way, he ends up falling in love when he least expects it. The feel-good movie, which also stars Camila Mendes, is easy to watch while you're multitasking.
Love Wedding Repeat
Love Wedding Repeat is a British wedding comedy—need we say more? This cheeky rom-com stars some familiar faces, including Sam Clafin (Me Before You), Olivia Munn and Freida Pinto. The story follows the characters as they repeat different versions of the same day, from difficult guests crashing the wedding to an accidental sleeping pill incident. It's debatably cheesy, but isn't that half the fun?
A Christmas Prince: The Royal Wedding
Whether or not you're having a Christmas wedding, the real-life wedding planning scenarios in this Netflix original movie are so relatable. The main character, Amber, struggles to balance all of the royal wedding traditions and family protocols with her own wishes for a small, understated wedding. Sound familiar? If you've ever dealt with opinionated in-laws, this lighthearted movie will definitely resonate.
Crazy, Stupid, Love.
Technically, there isn't a wedding in this romantic comedy, but the star-studded cast never fails to provide comedic relief when we need it the most. The movie follows Cal and Emily Weaver, played by Steve Carell and Julianne Moore, as a middle-aged couple going through a divorce—there's a happy ending, we promise!—while simultaneously chronicling the growing relationship between Hannah (Emma Stone) and perpetual bachelor Jacob (Ryan Gosling).
Best Wedding Movies to Watch on Hulu
Hulu subscriptions start at $5.99 a month and include ad-free streaming, original series, and optional add-ons such as live TV or premium channels. Love movies? Consider bundling Hulu with Disney+ for $12.99 a month, with HBO Max for $14.99 per month, or with live TV starting at $64.99 a month.
Guess Who
If you've ever been nervous to introduce your partner to your family, you'll relate to this hilarious throwback from 2005. Zoe Saldana, Ashton Kutcher, and Bernie Mac bring the laughs in this charming movie, with Kutcher's character being put through the ringer by his future father-in-law to prove his loyalty.
The Wedding Planner
Arguably one of the most iconic wedding movies ever made, we'll never get tired of watching this 2001 masterpiece, starring Jennifer Lopez and Matthew McConaughey. The opening montage of JLo saving the day as a wedding planner may be slightly dramatized (we'd never recommend giving your dad a sedative right before the wedding ceremony, by the way), but it's all part of the movie's charm.
Palm Springs
Combine bad wedding speeches, relationship drama, and a time loop, and you'll get Palm Springs. This wedding movie is centered around two wedding guests (played by Cristin Milioti and Andy Samberg) who become trapped in a vortex and are forced to re-live the same day again and again. Is it an Oscar-worthy plot? Maybe not, but it's an entertaining movie to have on in the background while you tackle wedding to-dos.
Four Weddings and a Funeral
If you have a large group of friends who are all getting married around the same time, you'll relate to this classic wedding movie. Charles, played by Hugh Grant, is the best man at a wedding where he meets an American girl named Carrie. Over the next year, they continue to see each other at other weddings in their friend circle, teasing the age-old question—will they or won't they get together?
Sex and the City: The Movie
Haute couture fashion, cheeky jokes, and a main character being (rightfully) smacked in the head with a bouquet of roses are just a few of the many things that make this one of our favorite wedding movies to watch on repeat. And it turns out that Carrie Bradshaw really is just like us—throughout the movie, she struggles with cutting her guest list, dealing with unsolicited opinions, and finding the perfect wedding dress.
Wedding Crashers
Actual wedding crashers could be your worst nightmare on the big day, but this rom-com gives us hope that they might not be so bad after all. If you need a good laugh, Vince Vaughn and Owen Wilson are comedic gold in this iconic wedding movie, which also stars Rachel McAdams, Bradley Cooper, Isla Fisher, and Christopher Walken.
27 Dresses (HBO Max add-on)
Anyone who's ever been a bridesmaid knows that it takes a lot of work. Now, imagine being a bridesmaid 27 times—on top of helping each friend plan their wedding. We're not sure we'd be up to the task, but we'll gladly watch Katherine Heigl, who plays Jane, try to make it happen. If nothing else, you'll get a laugh from all of the over-the-top themed weddings that Jane has to attend.
Sweet Home Alabama (HBO Max add-on)
Melanie Smooter, a Southern-belle-turned-New-York-City-fashion designer, gets engaged and tries to keep her not-so-glamorous past from catching up with her. This wedding movie starring Reese Witherspoon and Patrick Dempsey is known for its romantic proposal scene at Tiffany & Co. and the popular love quote: "Why would you want to marry me for, anyhow? So I can kiss you anytime I want."
My Big Fat Greek Wedding (HBO Max add-on)
Chances are, you've already seen My Big Fat Greek Wedding at some point, but the relatability reaches an entirely new level when you're engaged. From the overbearing relatives to the wedding-day zits, this is one of the best movies to watch if you're in the mood for a laugh (and a reminder that family is often what matters most in the end).
The Wedding Date (HBO Max add-on)
Here's another movie to watch if you're in the market for a good old-fashioned rom-com. The Wedding Date stars Debra Messing and Amy Adams, who play sisters. Kat (Debra Messing) is single for her sister's wedding, so she secretly hires an escort (played by Dermot Mulroney) to pose as her boyfriend—but it quickly becomes way more complicated than that. The whole thing takes place in London and the surrounding English countryside, which only adds to the movie's charm.
The Wedding Singer (Live TV add-on)
Before they co-starred in 50 First Dates, Adam Sandler and Drew Barrymore gave us this famous wedding movie. Set in the 1980s, Sandler plays a newly single bachelor named Robby who spends his time singing gigs at wedding receptions and bar mitzvahs. He befriends Julia, played by Barrymore, and eventually realizes that he'll have to take drastic action to win her heart.
Bridesmaids (Live TV add-on)
Since Bridesmaids was released in 2011, this wedding movie has become an endless source of gifs, punchlines, and reminders of exactly what NOT to do when planning your special day. Maya Rudolph and Kristen Wiig play BFFs and give us plenty of relatable moments throughout the movie—but there's one plot detail we have to question: does anyone really ask their partner's boss' wife to be a bridesmaid IRL?
Father of the Bride (Live TV add-on)
Perhaps the most iconic wedding movie of all time, Father of the Bride is a heartwarming, funny option if you're looking for something to lift your spirits or get the happy tears flowing. The original version, starring Elizabeth Taylor, was released in 1950. Steve Martin stars in the famous 1991 remake opposite Diane Keaton, as they play parents who have very different viewpoints of how their daughter Annie's wedding should go down. And we can't forget about Franck Eggelhoffer (played by Martin Short), the eccentric wedding planner who, for some reason, thinks that choosing a cake is the very first wedding task you should tackle (it's not).
The Proposal (Live TV add-on)
What do you get when a corporate executive convinces her assistant to pretend to be her fiancé, in order to avoid deportation when her U.S. visa expires? Watch The Proposal to find out. Thanks to an all-star cast, including Sandra Bullock, Ryan Reynolds, and Betty White, this wedding movie will provide some much-needed comedic relief whenever you're feeling stressed.
Best Wedding Movies to Watch on Disney+
Starting at $7.99 per month, you'll have access to everything Disney+ offers, including exclusive shows, documentaries, and all your childhood favorites. As a reminder, you can bundle Disney+ with Hulu and ESPN+ to pay less than you would separately for all three streaming services.
The Princess Bride
This '80s movie has a cult following, so it's worth a watch if you haven't already seen it and are into fantasy or adventure films. It's filled with quirky comedy and stars a handful of big names, including Cary Elwes (Stranger Things) and Robin Wright (House of Cards). Wright, who plays the princess, is kidnapped and must be rescued by her one true love.
Disney's Fairy Tale Weddings
This 2017 special has since been turned into a recurring series, but if you can't get enough of Disney wedding inspiration, it's one of the best movies to watch on Disney+. The 90-minute special follows couples throughout their engagement as they plan their weddings at various Disney locations, from Disneyland to Disney cruises.
Cinderella
There are three versions of this classic wedding movie, and they're all available to watch on Disney+. Whether you love the original animated version from 1950, the 1997 version starring Brandy, or the most recent Cinderella remake staring Lily James and Helena Bonham Carter, there's plenty of fairytale inspo to go around.
The Princess Diaries 2: Royal Engagement
As the newly crowned Princess of Genovia, Mia (Anne Hathaway) must find a suitor to marry before she can become queen. Make a movie night out of it by watching The Princess Diaries 1 and 2 back-to-back.