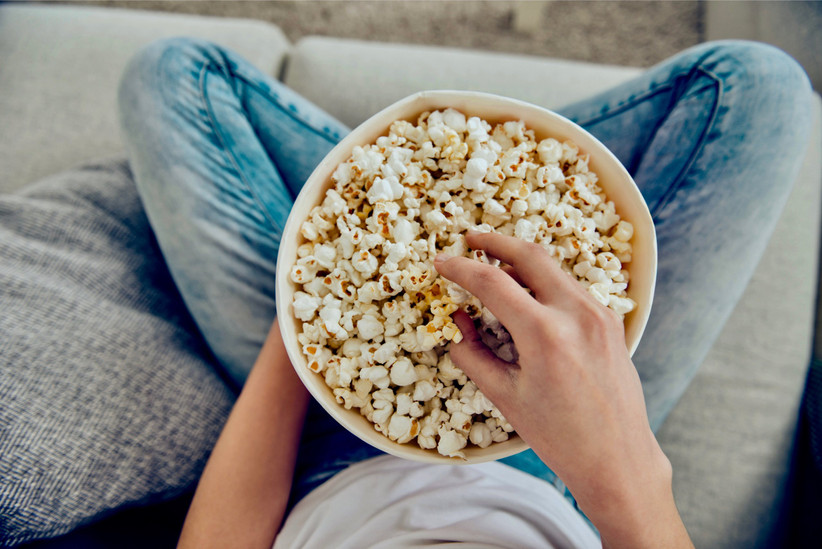 We will always support taking a break from your busy wedding planning schedule—or at least putting on a good movie (or two) to help you get through some of those tedious tasks, like cutting your guest list or going through RSVP cards. We've narrowed down some of the best movies to watch while you're planning your wedding, including some classic rom-coms and new releases you might not have seen yet. Not all of them are wedding themed, but we think they'll boost your mood regardless.
Check out our list of the best movies to watch on Netflix, Hulu, Amazon Prime Video, and Disney+.
View this post on Instagram
Best movies to watch on Netflix
If you don't already subscribe to Netflix, plans range from $8.99 to $15.99 per month. New movies and shows, including exclusive Netflix originals, are added weekly.
This 2000s movie doesn't have anything to do with weddings, but it's definitely worth watching if you have time to spare. Starring a mix of professional ballerinas-turned-actors and household names (like Zoe Saldana), the movie follows a group of students as they compete for a coveted spot in the American Ballet Company, based in New York City. We like to think of it as the original Step Up. Don't be surprised if you get the sudden urge to take a dance class (or switch to a ballet wedding theme) after finishing the movie.
This comedic Netflix original tells the story of two childhood friends who grow apart, literally and figuratively, as their lives change. They reconnect years later—and wonder whether or not the spark they had as kids is still there. The rom-com stars comedian Ali Wong, Randall Park (from Fresh Off the Boat and Veep), and Keanu Reeves.
If you were ever nervous about introducing your partner to your family, you'll relate to this hilarious throwback from 2005. Zoe Saldana, Ashton Kutcher, and Bernie Mac bring the laughs in Guess Who, with Kutcher's character being put through the ringer by his future father-in-law who wants to test his loyalty.
Fans of To All the Boys I've Loved Before should add this Netflix original to the top of their must-watch list. The Perfect Date stars Noah Centineo as Brooks Rattigan, a high school senior who poses as a boyfriend-for-hire as a way to make money to attend his dream university, Yale. Along the way, he ends up falling in love when he least expects it. The feel-good movie, which also stars Camila Mendes, is easy to watch while you're multitasking.
Love Wedding Repeat is a British wedding comedy—need we say more? This cheeky rom-com stars some familiar faces, including Sam Clafin (Me Before You), Olivia Munn and Freida Pinto. The story follows the characters as they repeat different versions of the same day, from difficult guests crashing the wedding to an accidental sleeping drop incident. It's debatably cheesy, but isn't that half the fun?
View this post on Instagram
Best movies to watch on Hulu
Hulu subscriptions start at $5.99 a month and include ad-free streaming, original series, and optional add-ons such as live TV or premium channels. Love movies? Consider bundling Hulu with Disney+ for $12.99 a month.
Chances are, you've already seen My Big Fat Greek Wedding at some point, but the relatability reaches an entirely new level when you're engaged. From the overbearing relatives to the wedding-day zits, this is one of the best movies to watch if you're in the mood for a laugh (and a reminder that family is often what matters most in the end).
Here's another movie to watch if you're in the market for a good old-fashioned rom-com. The Wedding Date stars Debra Messing and Amy Adams, who play sisters. Kat (Debra Messing) is single for her sister's wedding, so she secretly hires an escort (played by Dylan McDermott) to pose as her boyfriend—but it quickly becomes way more complicated than that. The whole thing takes place in London and the surrounding English countryside, which only adds to the movie's charm.
This late '90s film is a wedding classic, and it's one of the best movies to watch while tackling your to-do list, even if you've already seen it. If nothing else, Julia Roberts' voluminous curls are #goals. My Best Friend's Wedding also stars a young Cameron Diaz, and the throwback bridal fashion is entertaining to say the least (although we have to admit that purple bridesmaid dresses are making a comeback!).
If you're obsessed with Tiffany & Co., we think you'll find this documentary equally fascinating and entertaining. The film gives you an inside look at the history of the brand, from the era of Breakfast at Tiffany's (which is also available to stream on Hulu) to the jewelry design process, celebrity favorites, and those iconic blue boxes.
Can't escape to Italy for real? Satisfy your travel bug by watching Under the Tuscan Sun instead. Starring actress Diane Lane lives out our fantasy of moving to the Italian countryside to fix up an old estate—all while managing to find love and giving us major wardrobe inspiration in the process.
View this post on Instagram
Best movies to watch on Amazon Prime Video
Amazon Prime Video is automatically included with any Amazon Prime account, but if you aren't already subscribed, you can sign up starting at $12.99 a month.
Sometimes, there's nothing more cathartic than a good cry. Lily Collins and Sam Clafin star in this romantic dramedy about lifelong best friends and what they would—or wouldn't—do for true love.
Lighten the mood with this comedy about a sassy talk show host (Emma Thompson) who hires a female staff writer (Mindy Kaling) for the first time in her show's history. Throughout the movie, the two women don't always see eye to eye, resulting in plenty of laugh out loud moments. Oh, and there's Hugh Dancy.
Comedy queen Taraji P. Henson stars in this hilarious movie about a woman who can suddenly read men's minds after waking up from a head injury. She uses her newfound gift to get ahead in her career and impress a potential love interest, but at what cost? The plot is loosely based on the 2000s flick What Women Want, and the numerous celebrity cameos will keep you on your toes.
They don't make 'em like this anymore. Audrey Hepburn is at her best (she won an Academy Award for the role) in this movie from the golden age of Hollywood. Hepburn plays a runaway princess trying to blend in with the crowd in order to hide from her royal guardians during a trip to Rome. The events that follow are a charming mix of romance, comedy, and all the vintage fashion inspiration you could ever want.
The plot of The Photograph centers around Mae, who finds a picture of her late mother and embarks on an investigation for the true story behind the photo. Her search reveals a few groundbreaking revelations about her past and eventually leads her to a dramatic romance. Side note: After watching this movie, we want to know every detail of Issa Rae's skincare routine because she is *glowing*.
View this post on Instagram
Best movies to watch on Disney+
Starting at $6.99 per month, you'll have access to everything Disney+ offers, including exclusive shows, documentaries, and all your childhood favorites. As a reminder, you can bundle Disney+ with Hulu and ESPN+ to pay less than you would separately for all three streaming services.
This '80s movie has a cult following, so it's worth a watch if you haven't already seen it and are into fantasy or adventure films. It's filled with quirky comedy and stars a handful of big names, including Cary Elwes (Stranger Things) and Robin Wright (House of Cards). Wright, who plays the princess, is kidnapped and must be rescued by her one true love.
If you haven't seen the live-action remake of this childhood classic, now is your chance. This lovable story will instantly put you in a feel-good mood (c'mon, cute dogs eating spaghetti), but you might also want to keep a few tissues close by.
Disney's Fairy Tale Weddings
This 2017 special has since been turned into a recurring series, but if you can't get enough of Disney wedding inspiration, it's one of the best movies to watch on Disney+. The 90-minute special follows couples throughout their engagement as they plan their weddings at various Disney locations, from Disneyland to Disney cruises.
The Princess and the Frog
We couldn't resist including at least one animated Disney film on our list. The Princess and the Frog focuses on the story of Tiana, an ambitious waitress who is determined to start a restaurant of her own someday. Instead, she meets a prince who has been cursed to become a frog and after kissing him, accidentally transforms into an amphibian herself. In a race to break the voodoo spell cast over them, they travel all over New Orleans and the Louisiana bayou, meeting some interesting characters along the way. Will they fall in love?
Disclosure: This post contains affiliate links, some of which may be sponsored by paying vendors.