30 Iconic Celebrity Wedding Dresses We Still Think About Today
Of all the celebrity wedding dresses we've ever seen, some are simply unforgettable. Here, we look back on the most iconic celeb dresses of all time.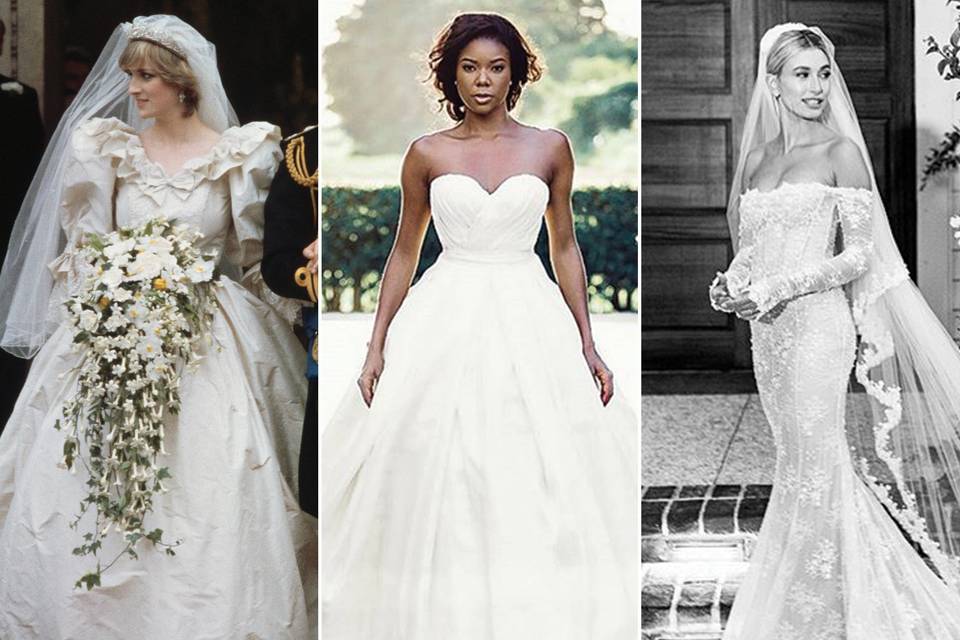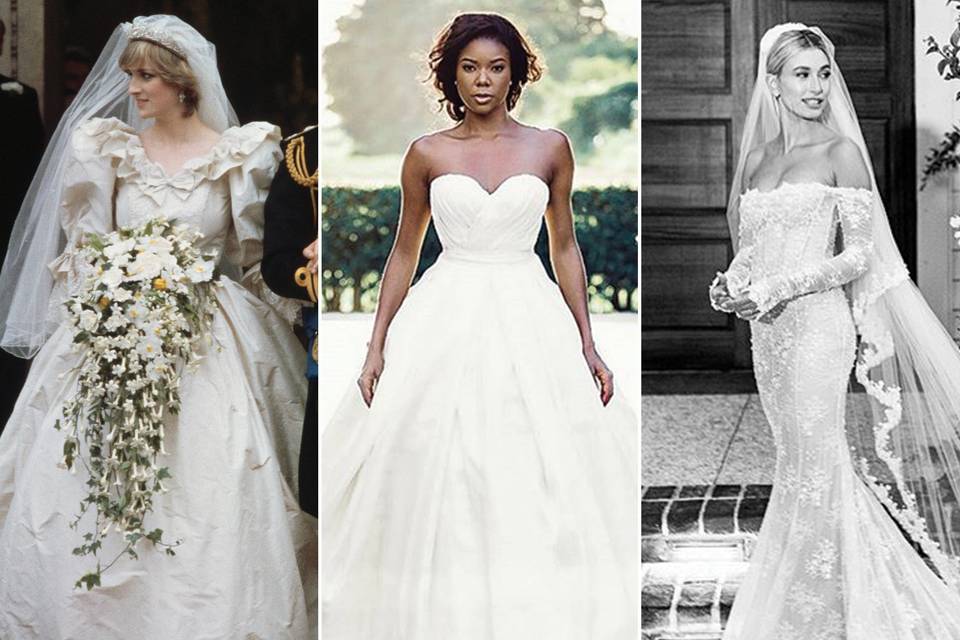 Some celebrity wedding dresses are simply unforgettable. From Princess Diana's extravagant ball gown to Hailey Baldwin's signature veil, iconic wedding moments are etched in history. Celebrity wedding outfits often garner worldwide attention, and it's not hard to see why. With massive fanfare surrounding the nuptials of royals and Hollywood A-listers, it's no surprise that fans and brides-to-be fawn over the dress details for years to come.
While it's hard to narrow down the best celebrity wedding dresses of all time, some stand out more than others. Whether you need wedding dress inspiration or you simply want to relive some of the most lavish weddings, turn to some of the biggest celebs throughout history. Not only do these celebrity wedding dresses stand the test of time, they continue to be emulated today.
Here are 30 celebrity wedding dresses that are so iconic, we'll never stop thinking about them.
Hulton-Deutsch Collection/CORBIS/Corbis via Getty Images
Queen Elizabeth II
It's no surprise that Queen Elizabeth II's gown is one of the most iconic wedding dresses of all time. Then a princess when she married Prince Phillip, her dress was symbolic in more ways than one. Their November 1947 nuptials served as an escape in the UK after World War II—and according to Royal Collection Trust, the future queen's dress was meant to symbolize "growth and rebirth." Designer Sir Norman Hartnell was given the responsibility of creating the gown, which Elizabeth paid for with her own ration coupons.
The long sleeve ivory silk design was embellished with crystals and 10,000 seed pearls. The 15-foot train included an intricate star pattern, inspired by the Renaissance painting of Primavera by Botticelli. As a surprise, Hartnell also stitched a four-leaf clover on the left side of the skirt for good luck so her hand could rest on it during the ceremony.
The extravagant dress took 350 women over seven weeks to make. On November 20, Her Majesty paired the gown with satin heels, a tiara and veil. Even royals aren't immune to fashion blunders though—the crown broke just before the ceremony, though it was repaired right before the princess walked down the aisle to say her vows.

Jackie Kennedy
Jackie Kennedy's portrait neckline ball gown was a stunning choice for her Rhode Island wedding, but it's the untold story of the designer that truly stands out. The gown was created by couturier Ann Lowe. For months leading up to Jackie's September 1953 nuptials to then-junior Senator John F. Kennedy, Lowe and her team worked overtime to create the gown. But just 10 days before the ceremony, a pipe burst in the design studio, ruining the wedding dress and bridesmaids gowns.
In the remaining time, Lowe created the look we know today: an elegant ball gown with a portrait neckline, fitted bodice and full skirt with 50 yards of silk ivory taffeta. The bride accessorized thoughtfully as well. In addition to a thin pearl choker necklace and diamond bracelet, the future First Lady also wore a rosepoint lace veil that belonged to her grandmother, Lee.
Ernst Haas/Ernst Haas/Getty Images
Audrey Hepburn
Audrey Hepburn had memorable wedding looks in blockbuster hits like Funny Face and Roman Holiday, but her personal bridal outfits were just as notorious. The famed actress had three wedding dresses in her life (though the first, a mid-length, boat neck silk dress, never made it down the aisle due to a broken engagement).
The dress she wore on September 25, 1954 to marry Mel Ferrer is most recognizable. Shortly after rising to fame for her role in Roman Holiday, Hepburn enlisted Pierre Balmain to design her flared, tea-length satin dress. Complete with ball gown sleeves, a high neckline and elbow-length gloves, the quirky look perfectly fit the whimsical wedding in Switzerland.
Ultimately, Hepburn and Ferrer divorced in 1968. When she married Andrea Dotti at a town hall in January 1969, she opted for a demure wedding dress. The style icon paired her pale pink long sleeve Hubert de Givenchy mini dress with a headscarf, white tights and white flats.
Mondadori via Getty Images
Grace Kelly
Considering her big day was dubbed "The Wedding of the Century," Grace Kelly's gown needed to be a showstopper—and it was. The American actress wed Monaco's Prince Rainier on April 18, 1956, and her design continues to influence wedding dress styles decades later. Metro-Goldwyn-Mayer costume designer Helen Rose made the dress, which had a high neckline, long antique lace sleeves and multiple petticoats. In total, it included over 400 yards of fabric which was embellished with small pearls.
The princess even wore a flower crown at the altar. Instead of a tiara, Kelly accented her dress with a lace cap that matched the design of her dress. The wire framework was given a crown-like effect with a wreath of wax orange blossoms, pearl leaves and floral lace.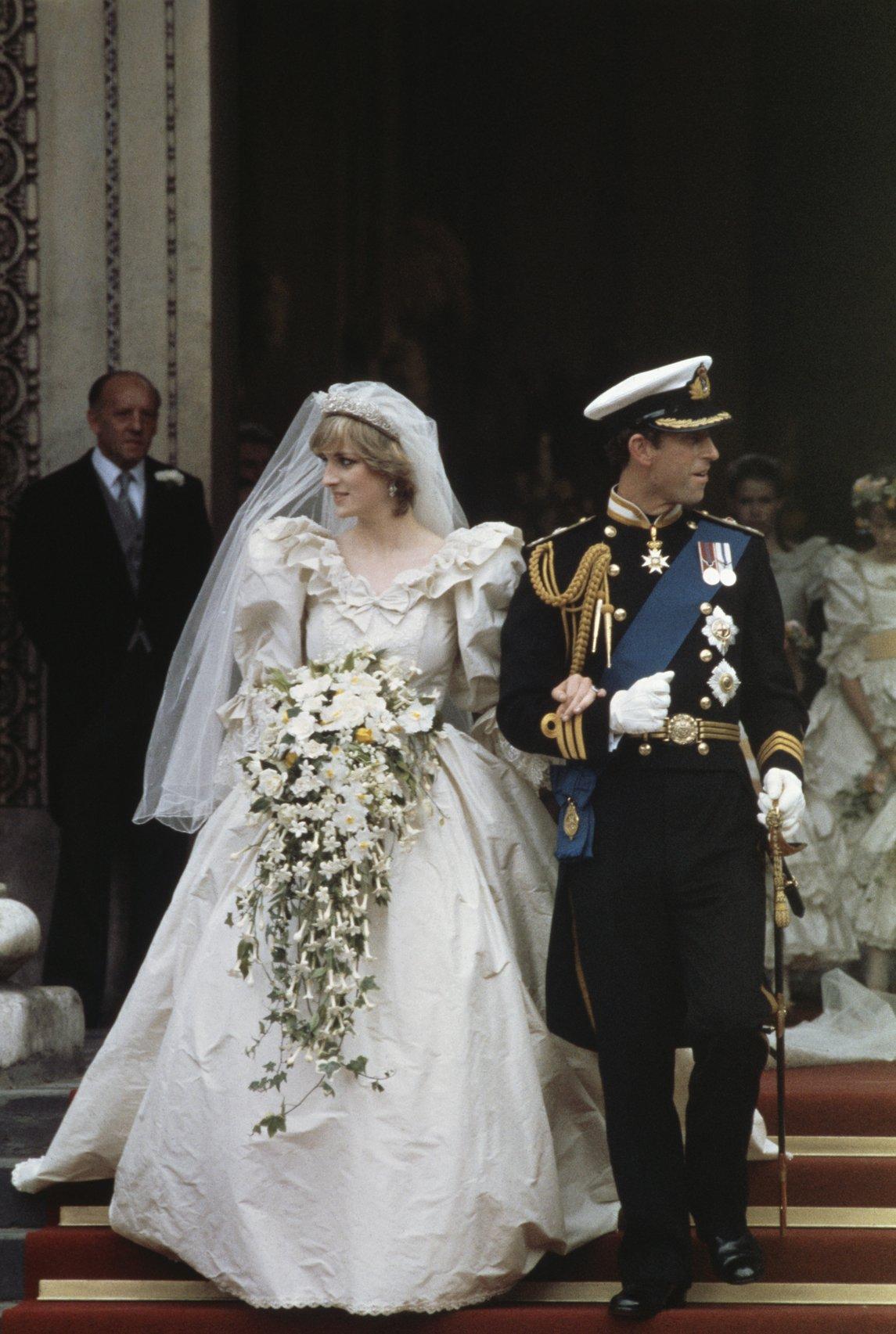 Princess Diana
Perhaps one of the most recognizable celebrity wedding dresses of all time, Princess Diana's look was anything but subdued. The future royal captivated the world when she arrived at St. Paul's Cathedral on July 29, 1981 to marry Prince Charles. Given that it was one of the biggest-kept fashion secrets in history, onlookers anxiously awaited their first glimpse of the bride's dress—and they weren't disappointed. Diana stepped out of her carriage to reveal an ivory silk taffeta and antique lace gown, which had a shocking 25-foot train and 153-yard tulle veil. It was embellished with hand embroidery, sequins and 10,000 pearls that created a heart motif. And, for good luck, an 18-karat gold horseshoe was stitched into the petticoats.
Diana personally selected David and Elizabeth Emmanuel to design the dress. Trying to get any sort of glimpse of the dress, photographers consistently waited outside their studio and looked through trash bins for discarded fabrics or sketches. In fact, the Emmanuels even designed a second option in case details of the first dress leaked before the wedding. Their plan worked, though, and the big reveal almost went off without a hitch. The designers forgot to account for how much space the train and veil would take up in the carriage, and the fabric was slightly wrinkled as she made her way up the steps. Not to worry, though—Princess Diana's wedding dress continues to be one of the most beloved.
View this post on Instagram
Michelle Obama
Unsurprisingly, Michelle Obama's wedding dress perfectly encapsulated '90s style. The Obamas said "I do" on October 3, 1992. While not much is known about their wedding, the former First Lady shared a few details on Instagram in 2018—including a look at her dress. In the throwback photo, the newlyweds are pictured at their wedding reception. Michelle wore a white portrait neckline dress with structured puff sleeves, stockings and white heels; Barack kept it classic in a black tuxedo.
"You can't tell it from this photo, but Barack woke up on our wedding day in October, 1992 with a nasty head cold," she captioned the photo. "Somehow, by the time I met him at the altar, it had miraculously disappeared and we ended up dancing almost all night. Twenty five years later, we're still having fun, while also doing the hard work to build our partnership and support each other as individuals. I can't imagine going on this wild ride with anybody else."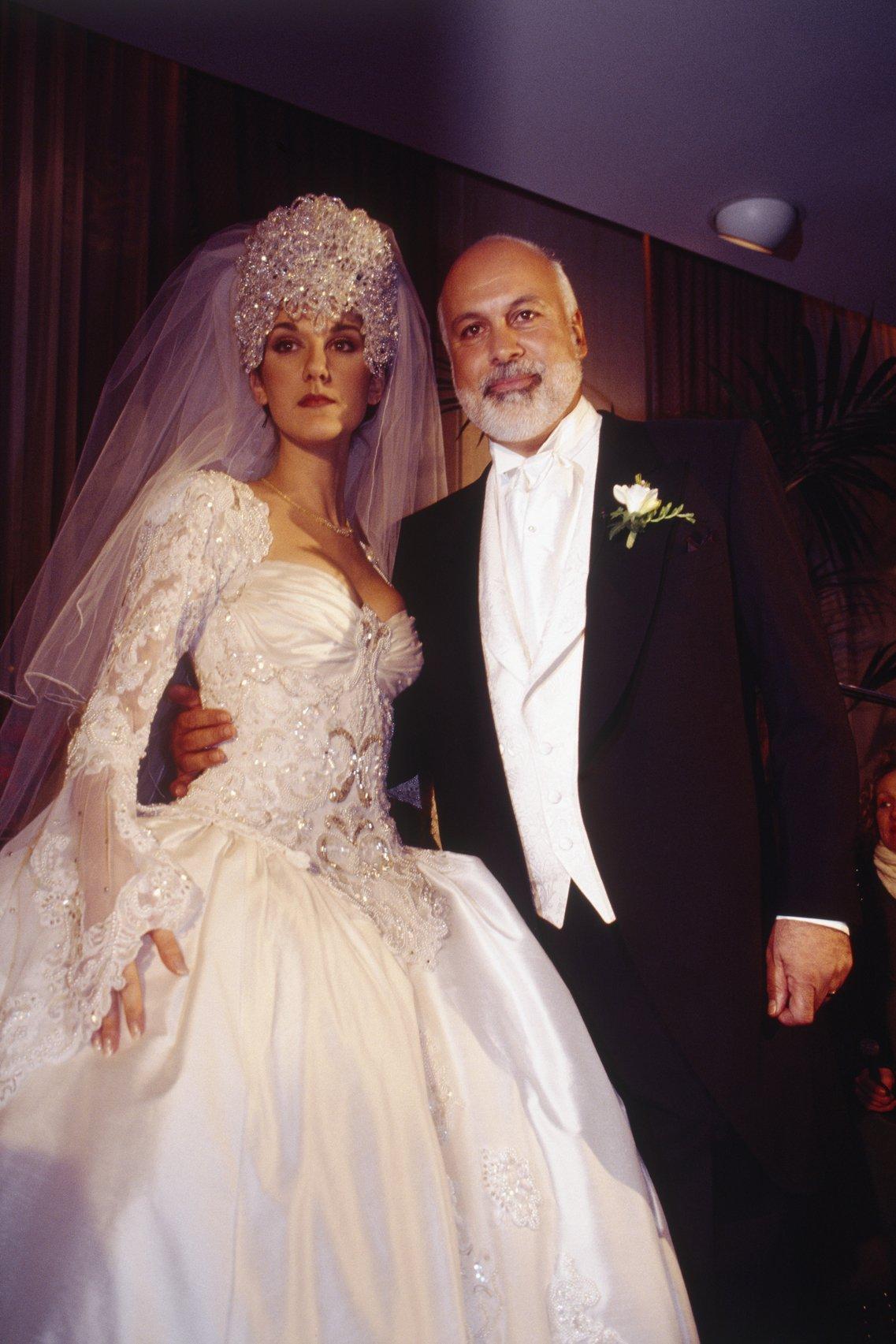 Céline Dion
Our hearts will always go on for Céline Dion's wedding dress. The legendary singer married manager René Angelil at Notre-Dame Basilica in Montreal on December 17, 1994. Dion's extravagant ball gown was designed by Mirella and Steve Gentile. The intricate creation included a fitted bodice, long sheer sleeves with lace and sparkling embroidery and a full skirt with a nearly 20-foot train. What really stood out, though, was her Swarovski crystal headpiece. Weighing just over six pounds, the headdress had to be sewn into place to keep from moving
View this post on Instagram
Victoria Beckham
No surprise here: Victoria Beckham's wedding dress was as posh as you'd imagine. The Spice Girls singer married soccer icon David Beckham on July 4, 1999 in a champagne-colored Vera Wang ball gown. The strapless dress had a sculpted neckline that led into a super-fitted ruched bodice and full ball gown skirt (with a 20-foot train). And, because they exchanged vows at the Luttrellstown Castle just outside of Dublin, Ireland, Posh Spice completed her bridal look with a regal tiara.
View this post on Instagram
Beyoncé
Beyoncé kept the world waiting for a glimpse of her wedding dress—nine years, to be exact. The singer quietly married rapper Jay-Z on April 4, 2008. Not many details are known about the couple's first wedding since it was extremely private. In the years after the big day, Beyoncé shared brief wedding clips in music and tour videos, but none were substantial enough to reveal major details. It was Beyoncé's mom, Tina Knowles, who shared the first photo of the singer's wedding dress on their ninth anniversary in 2017. The black-and-white picture shows the exuberant newlyweds celebrating at the altar just after their ceremony. Beyoncé wore a strapless fit-and-flare dress with a ruched bodice and pickups on the skirt. "9 years already??? Congratulations to the Carters on their Anniversary," she captioned the photo.
View this post on Instagram
In 2018, the couple renewed their vows in honor of their 10th anniversary. Beyoncé later shared a video montage with clips from the wedding, including a clear look at her second wedding dress. This time, she wore a form-fitting design from Galia Lahav. The dress, named "Thelma," is from the brand's "Victorian Affinity" collection of gowns inspired by Queen Victoria. The off-the-shoulder style includes sheer panels on the skirt, as well as Swarovski crystals and pearls throughout.
View this post on Instagram
Portia de Rossi
Portia de Rossi wasn't afraid to embrace color for her 2008 wedding to Ellen Degeneres. The actress wore a backless halter-top dress by Zac Posen, who also designed Degeneres' ivory suit. But the standout feature wasn't the unique neckline or the back—it was the dusty pink tulle skirt. De Rossi skipped a veil and accessorized her bridal look with a simple diamond headpiece.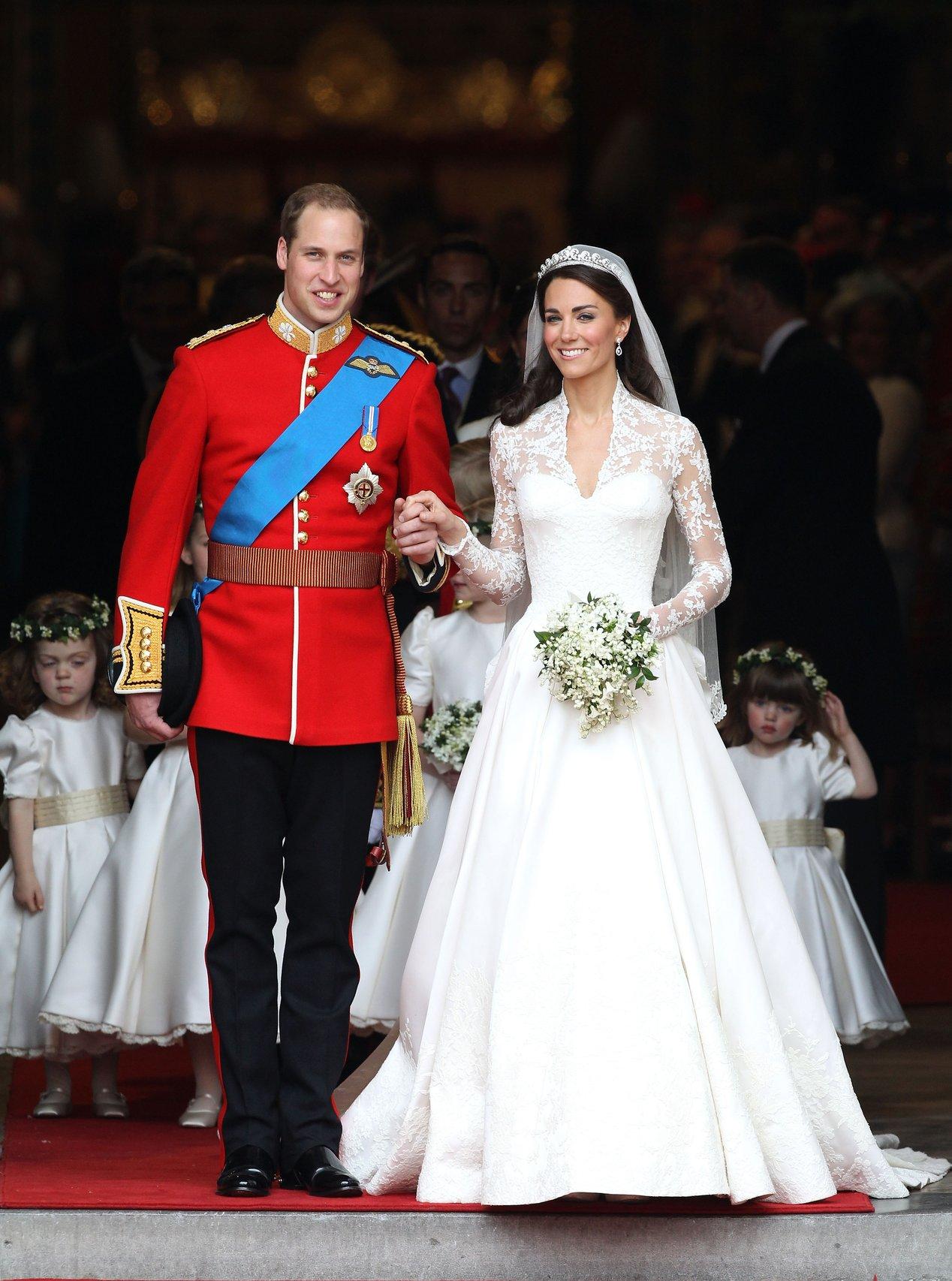 Kate Middleton
Kate Middelton's wedding dress is another design that will go down in history. The Duchess of Cambridge enlisted Sarah Burton, creative director of Alexander McQueen, to design the gown for her 2011 wedding to Prince William. Much like Princess Diana's wedding dress, there was much speculation as to what the future Queen would wear at Westminster Abbey.
On the wedding day, the palace released a statement about the design process. "Miss Middleton wished for her dress to combine tradition and modernity with the artistic vision that characterises Alexander McQueen's work. Miss Middleton worked closely with Sarah Burton in formulating the design of her dress."
And the design is one that's frequently recreated today. The bride wore a Victorian-inspired dress with a narrow waist padded midsection (a staple of Alexander McQueen designs). The sweetheart bodice had English and French Chantilly lace overlay, which created a deep V-neckline and extended into long lace sleeves as well. The A-line skirt's train was nearly nine feet, and had 58 buttons down the back. Her "something borrowed" was the Queen's Cartier Halo tiara, while her "something blue" was a ribbon sewn into the dress.
Middleton wore a second dress too. After the ceremony, she changed into another Sarah Burton design: a strapless satin gown with an embellished waist, which she accented with a white shrug.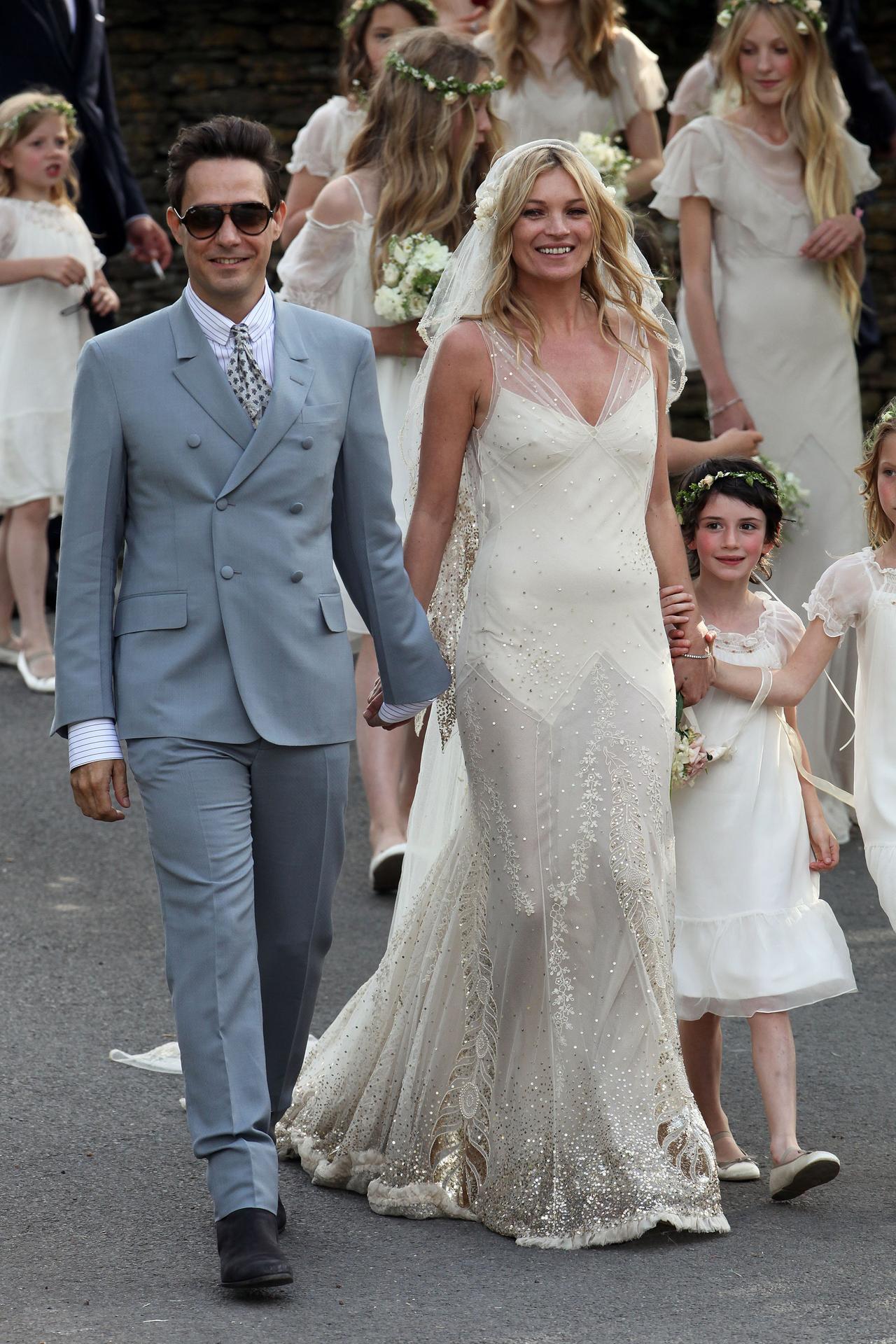 Kate Moss
What does a supermodel wear to a wedding? Turn to Kate Moss. When she married musician Jamie Hince in July 2011, she wore a bias-cut John Galliano dress that inspired plenty of dupes. Moss' dress had a sheer overlay on the neckline and sheer panels throughout the skirt. The top layer was adorned with sequins, crystals and lace that got denser toward the bottom. The hemline featured an intricate beading pattern of simmering gold and silver appliques, as well as a slight ruffle trim around the very bottom.
View this post on Instagram
Kim Kardashian
If you've kept up with the Kardashians, you'll remember Kim Kardashian's iconic wedding dress from 2014. The reality star married singer Kanye West on May 24 at Fort di Belvedere in Florence, Italy. The highly-publicized wedding was a lavish, star-studded affair to remember (and the entire experience was documented on Season 9 of Keeping Up With the Kardashians).
Of course, Kardashian's dress was nothing less than spectacular. She opted for a Givenchy design given her close friendship with the brand's creative director, Ricardo Tisci. The gown was a snug fit-and-flare silhouette with sheer long sleeves and sharp cutouts on her back, which extended to the front of the dress too. Tisci also designed West's sleek black tux.
View this post on Instagram
Gabrielle Union
It doesn't get more classic than this. Gabrielle Union's wedding dress was a romantic design custom-fit to her fairytale-themed wedding to NBA star Dwyane Wade. She even worked directly with designer Dennis Basso to bring her vision to life. On August 30, 2014 she walked down the aisle in a strapless, sweetheart-neckline ball gown and classic veil. Wade opted for white as well—his tuxedo included a white shirt, suit jacket and bow tie.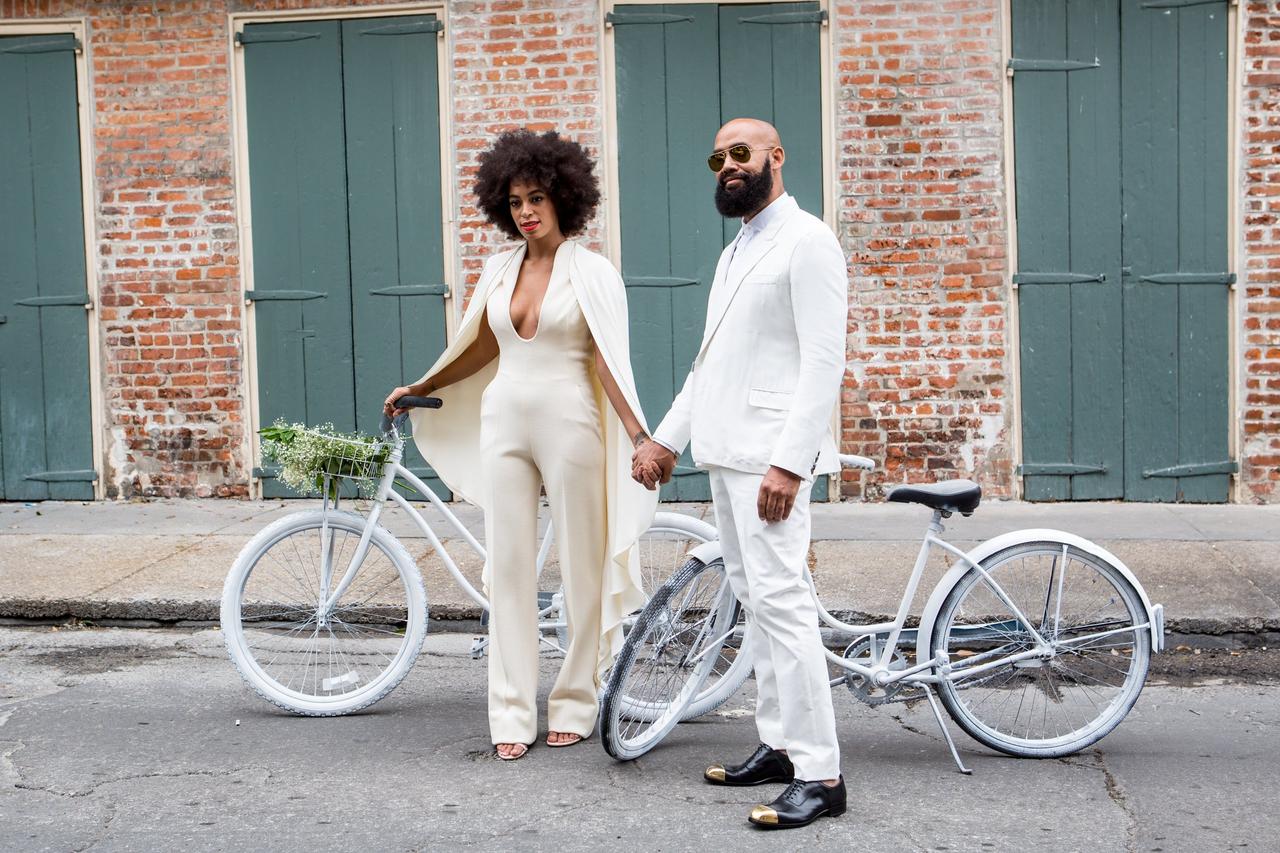 Solange Knowles
Why have one wedding outfit when you can wear two? Solange Knowles opted for two bridal looks, but it's her structured jumpsuit we still think about today. The singer wore a chic column dress with a structured cape by Humberto Leon for Kenzo for her official wedding portraits. But when she arrived (via a bicycle) to the ceremony in New Orleans, she was wearing a chic ivory jumpsuit by Stephane Rolland. Complete with a plunging neckline and wide pant legs, this look also had a statement cape attached to the back.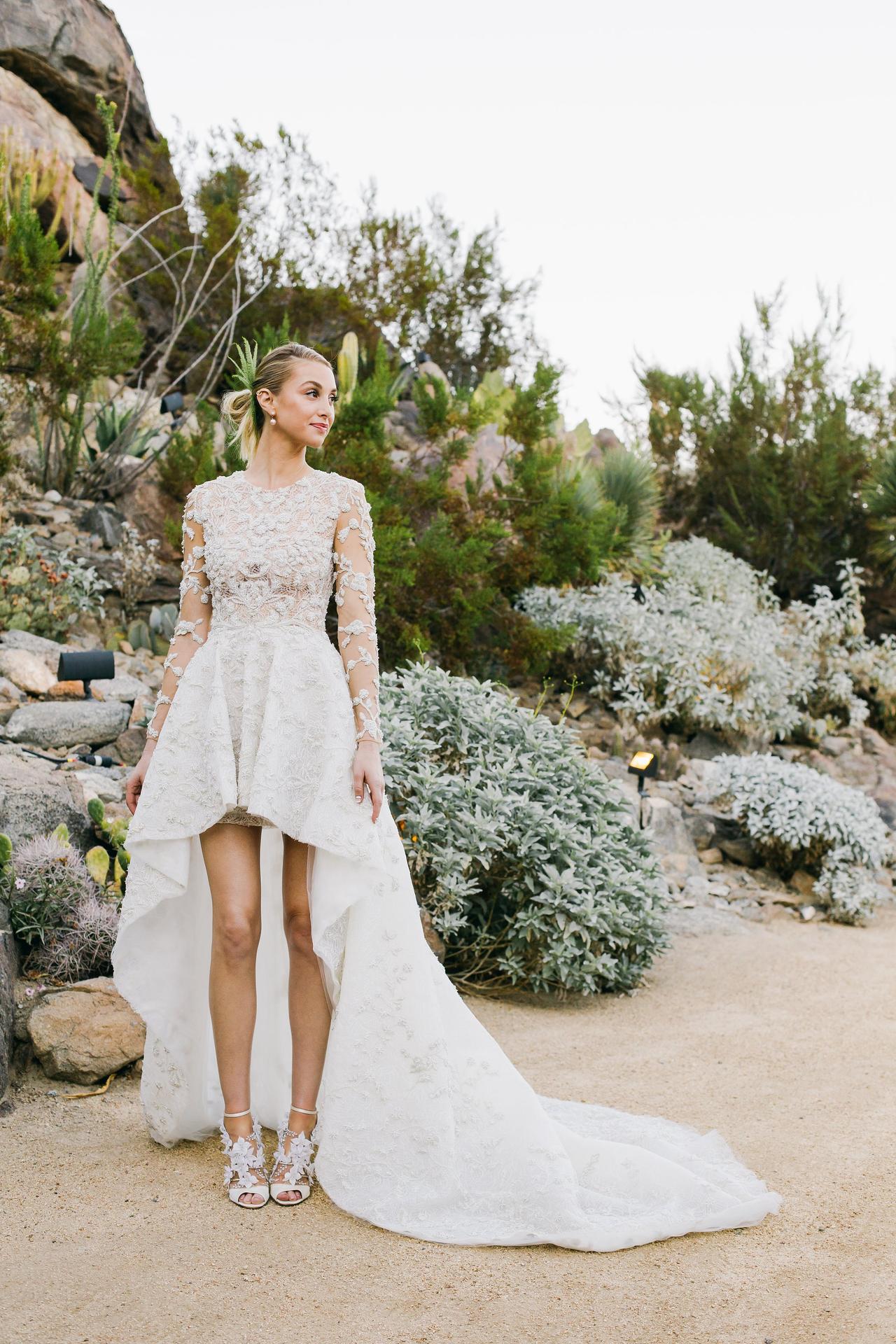 Whitney Port
2015 was the year of the high-low skirt, so reality star Whitney Port wore the trendy silhouette for her wedding. The Hills alum married longtime boyfriend Tim Rosenman in Palm Springs, California. The desert-chic wedding was full of tropical and whimsical touches—and her dress perfectly encapsulated the theme.
The author wore a custom lace dress that she designed with Ashi Studio. Intricate floral lace appliques covered the bodice and long sheer sleeves, as well as the skirt. And since she had a high-low hemline, her statement Paul Andrew heels were on full display. The bold shoes had 3D floral embellishments that matched her dress to create a cohesive bridal look we still think about.
View this post on Instagram
Ciara
A fairytale wedding requires a fairytale wedding dress, and that's exactly what Ciara wore. The singer married football player Russell Wilson at Peckforton Castle in Liverpool, England on July 6, 2016. Given the regal location, the bride turned to Roberto Cavalli designer Peter Dundas to create a gown fit for the day. Dundas told W Magazine that the castle was the main inspiration for the dress. "She wanted to enjoy wearing the dress as much as possible, so I made it into something that transformed—there was a dress base and then there was a half skirt that went on top of it that we took off after the ceremony so she could move and dance."
After four fittings that took place in three countries, the duo finalized the gown. Ciara's wedding dress had a plunging neckline, long sheer sleeves and a full ball gown skirt. The layers of tulle silk were heavily embellished with beads, pearls and embroidery in patterns of flying birds and butterflies—Dundas even added the couple's initials on the back for a personal touch.
View this post on Instagram
Miranda Kerr
Even celebrities are influenced by other A-listers. Miranda Kerr, for example, drew inspiration from Grace Kelly for her wedding look. The model married Snapchat founder Evan Spiegel on May 27, 2017 in a gown that was heavily influenced by the Princess of Monaco. The bride worked with Maria Grazia Chiuri, artistic director of Dior, to create the custom gown.
As a Victoria's Secret model, Kerr preferred a wedding look that was completely different from her runway attire. The result was exactly what the bride wanted: a long sleeve satin ball gown with buttons at the wrists and floral lily of the valley appliques throughout the bodice and skirt. With a floral headpiece and long, cascading veil, there's no denying the similarities between these two celebrity wedding dresses.
View this post on Instagram
Serena Williams
Serena Williams traded her signature tennis skirt for something a little more grand on her wedding day. The star athlete married Reddit co-founder Alexis Ohanian on November 16, 2017 in the heart of New Orleans. (The date, which was Ohanian's late mother's birthday, held special significance to the couple.) In total, Williams wore three dresses throughout the day. Her ceremony dress was exceptionally memorable. She worked directly with Sarah Burton of Alexander McQueen to create the belted ball gown silhouette, which she accessorized with an embellished cape that fastened around her neck.
For the reception, she changed into her second look: a trendy beaded and feathered dress from Versace. According to Vogue, Donatella Versace revealed the design process required over 1,500 hours of work from five embroiderers. Her final look of the night was another Versace design, this time with a short skirt for dancing.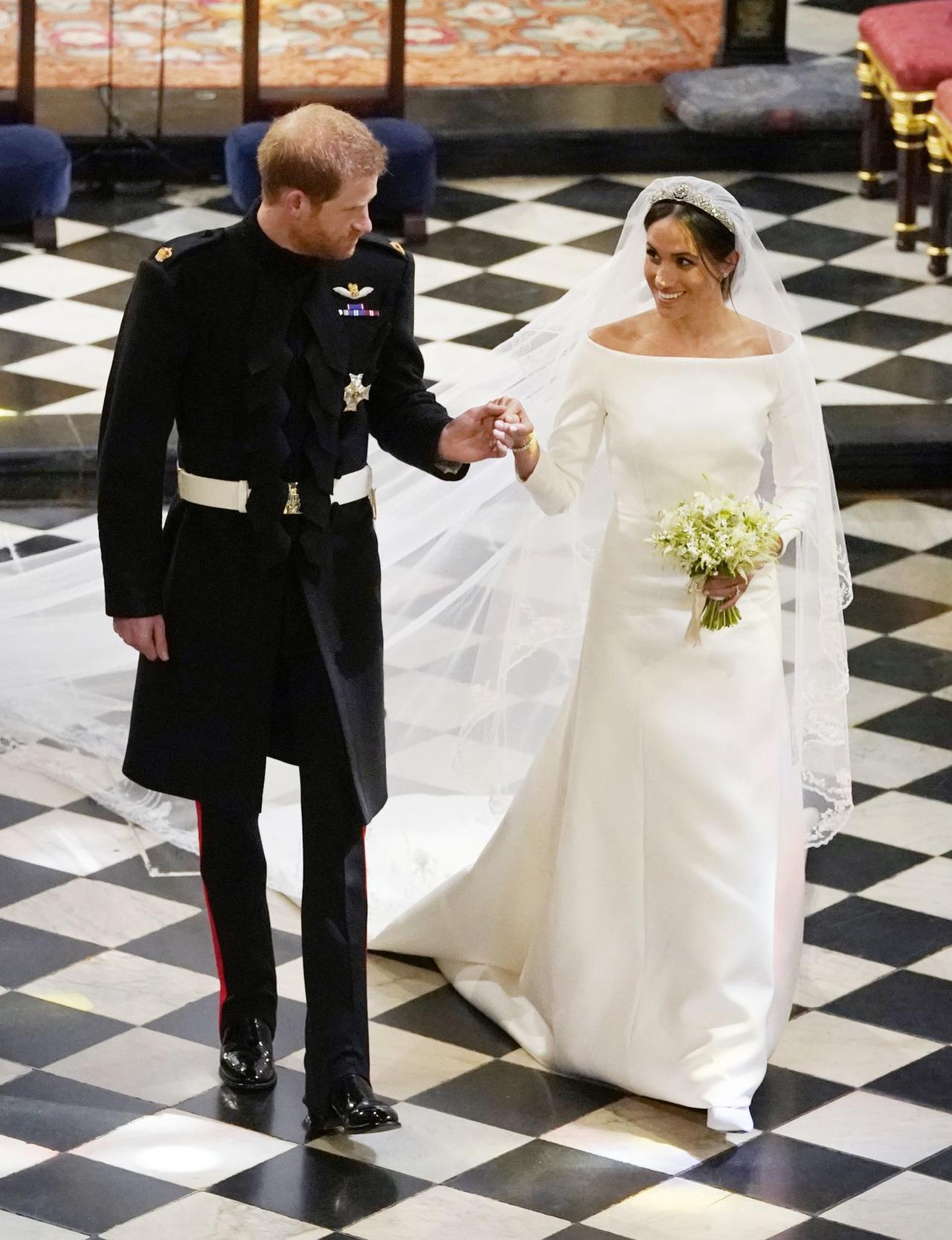 Meghan Markle
Much like royal brides before her, Meghan Markle's wedding dress garnered worldwide attention. Royal watchers and super fans made designer and silhouette predictions for months leading up to her May 19, 2018 nuptials to Prince Harry. When she arrived at Windsor Castle, she proved many predictions wrong. Her demure gown was designed by former Givenchy creative director Clare Waight Keller—and it was simpler than most anticipated. The Duchess of Sussex wore a minimal silk crepe gown with a bateau neckline and three-quarter length sleeves. The sculpted waistline fell into a skirt made of silk organza.
Her veil was a standout aspect of the wedding look. It included embroidery of 53 flowers, which represented the Commonwealth and its 53 countries. Perhaps one of the most thoughtful details, though, was her "Something Blue." In an interview with ITV, Markle revealed she had fabric from the blue dress she wore on her first date with Prince Harry sewn into the veil. And since no royal wedding look is complete without a crown, Markle borrowed Queen Elizabeth II's Queen Mary Bandeau Tiara.
Before the reception, the bride changed into a sleek Stella McCartney dress for her second look. The high-neck frock was sultrier than her wedding dress, and she accented it with a signature loose bun.
View this post on Instagram
Chiara Ferragni
Super-influencer Ciara Ferragni's wedding was the definition of Instagram-worthy. The blogger wed Italian rapper Federico Leonardo "Fedez" Lucia in a lavish Italian ceremony on September 1, 2018, complete with a weekend full of extravagant parties. Like Miranda Kerr, Ferragni worked with Dior's Maria Grazia Chiuri to create a custom, Grace Kelly-inspired look. The bride's modern gown included a long sleeve lace romper with a wraparound tulle skirt overtop. For a classic finish, she wore a cathedral-length veil. According to Vogue, the bride took "personal branding" to another level with custom shoes that had "J'adore" and "Chiara" printed on the soles.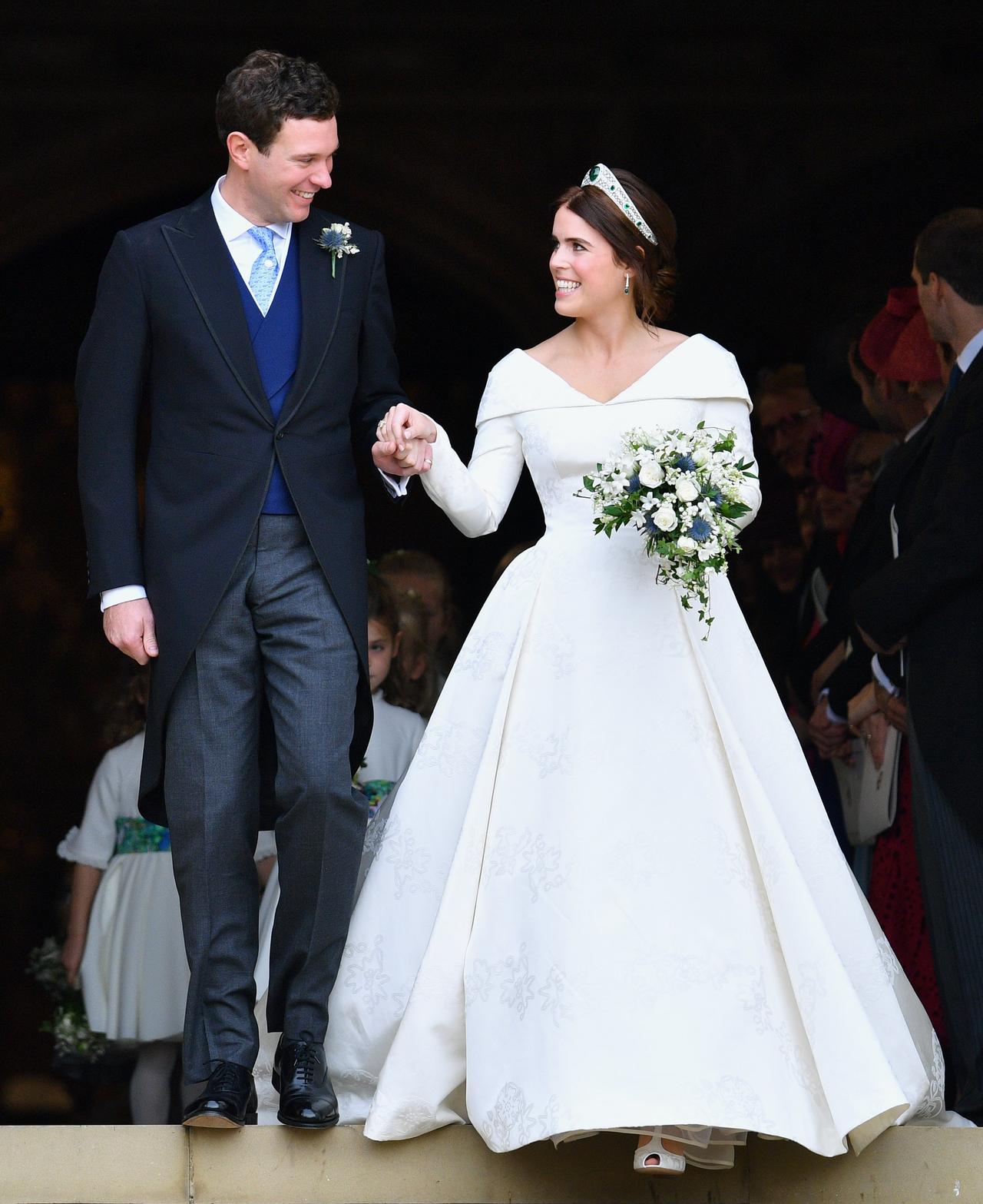 Princess Eugenie
Perhaps one of the most thoughtfully designed celebrity wedding dresses, Princess Eugenie's bridal look resonates for a special reason. The royal underwent corrective scoliosis surgery at age 12, and she specifically wanted a wedding dress that showed off her scar. To bring her vision to life, Eugenie worked with designers Peter Pilotto and Christopher De Vos to create a corseted long sleeve ball gown with a full pleated skirt. The neckline folded around the shoulders and back to frame her scar.
The dress also featured thoughtful symbols that represented Eugenie and her longtime love, socialite and wine merchant Jack Brooksbank. According to Vogue UK, stitching on the gown included "a thistle to acknowledge the couple's fondness for Balmoral, a shamrock as a nod to the bride's roots, and a rose and ivy to represent the couple's home." For a pop of color, the bride wore the Greville emerald Kokoshnik tiara, lent to her by Queen Elizabeth II.
View this post on Instagram
Karlie Kloss
Karlie Kloss married Joshua Kushner on October 18, 2018 in upstate New York in front of just 80 guests. The model's dress was another custom Dior design courtesy of Maria Grazia Chiuri. Kloss documented the entire design process on her YouTube channel a year after her nuptials.
The fairytale-inspired dress had a belted A-line silhouette with a straight neckline. The bodice included a delicate lace overlay that led into three-quarter length sleeves. To finish the classic look, she wore a cascading cathedral veil
"It's like this is everything I ever dreamed of and more," she said in the video. "Way beyond more."
View this post on Instagram
Mandy Moore
Mandy Moore ditched tradition in favor of a quirky blush pink dress for her wedding. The actress, who married musician Taylor Goldsmith at a private backyard ceremony in Los Angeles in November 2018, chose a Rodarte frock for the big day. With an accordion ruffle neckline, tiered skirt and pink embellishments, her look was heavily influenced by trends of the '60s and '70s. She even wore a matching veil to add even more pink to her ensemble.
View this post on Instagram
Priyanka Chopra
If you kept up with Nick Jonas and Priyanka Chopra's wedding events, you'll know the famed duo had an extensive lineup of parties and ceremonies. In fusing their cultures, they hosted a number of religious wedding events like the Puja, Mehndi party and Sangeet. Then, they hosted traditional Christian and Hindu ceremonies, which were followed by three receptions. As to be expected, Chopra's wardrobe was nothing less than spectacular.
View this post on Instagram
For the Hindu ceremony, the bride wore a sparkling red lehenga with a matching sari, which she accented with stacks of bangles and traditional Henna tattoos. She then enlisted Ralph Lauren to design her Christian ceremony dress. The design was exquisite—it had sheer long sleeves, a high neckline, button detailing down the front and Swarovski crystal embellishments throughout. As if that wasn't enough for a wow-factor, she also wore a 75-foot veil to complete the look.
View this post on Instagram
Katherine Schwarzenegger
Katherine Schwarzenegger and Chris Pratt both donned Armani for their June 8, 2019 wedding in Montecito. While the groom wore a classic suit with an ivory tie, the bride stunned in a fitted strapless dress with a lace skirt. According to sketches released on the brand's Instagram page, the wedding dress appeared to have a lace overskirt attached to the back to add more length.
Schwarzenegger wore a second Armani dress to the reception. Sketches show that she opted for a romantic, cowl-neck dress with cold-shoulder sleeve details.
View this post on Instagram
Zoë Kravitz
Six months after her Parisian wedding to Karl Glusman, Zoë Kravitz revealed photos of her unique wedding dress. Seemingly inspired by Audrey Hepburn's dress from Funny Face, the tea-length gown had a scoop neckline, drop waist and full tulle skirt. Her look was custom made by Alexander Wang, who also designed the skirt-and-top set she wore to the reception.
View this post on Instagram
Hailey Baldwin
Hailey Baldwin's gown was one of the most anticipated celebrity wedding dresses of 2019, and it didn't disappoint. After she and singer Justin Bieber legally married in 2018, the duo hosted a second ceremony on September 30 in Bluffton, South Carolina. The bride's custom, long-sleeve lace mermaid gown was designed by Virgil Abloh of the brand Off-White. For a fun pop of personality, her veil had "TILL DEATH DO US PART" stitched in Abloh's signature font across the bottom.
Baldwin changed into a slinky high-neck Ralph & Russo dress for the reception, which also had a high slit. At the end of the night, she threw on a custom leather jacket with "Wifey" scrawled on the back.
View this post on Instagram
Hilary Duff
When designing her wedding dress, Hilary Duff wanted something unexpected. So, she turned to Jenny Packham (a favorite of Kate Middleton) to create a custom, fashion-forward look that was minimal and clean. The result was a stunning, fitted gown with structured shoulders and cape sleeves, as well as a keyhole cutout in the back.
The actress, who married producer Matthew Koma, accessorized with Anita Ko earrings and a diamond-and-pearl headband from Jennifer Behr. "When we were coming up with the design, it was important to me that it was striking but simple," Duff told Vogue. "I couldn't imagine wearing a big fluffy dress."
View this post on Instagram
Princess Beatrice
While the coronavirus pandemic resulted in Princess Beatrice hosting a minimony instead of the garden ceremony she planned on, she didn't sacrifice style on her big day. In fact, she found her vintage wedding dress in her grandmother's closet. She wore a dress from designer Norman Hartnell, which she modified by adding sheer puff sleeves. The ivory gown had intricate beading on the bodice and top of the skirt.
According to a report from People, Beatrice didn't originally plan to wear her grandmother's dress to marry property developer Edoardo Mapelli Mozzi. But after a change of heart shortly before the wedding day, she requested to borrow the gown and the queen approved. "It was touching for both of them," a source said.