How to Shop for a Wedding Dress Like a Total Pro
Here's a crash course in how to shop for a wedding dress you truly love, from finding inspiration to saying "yes" to your dream dress.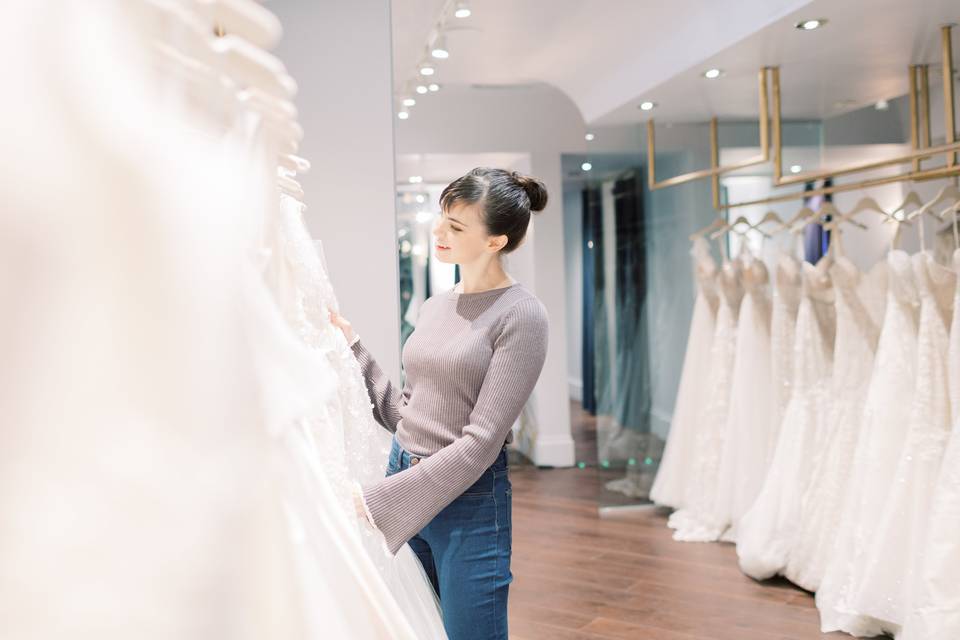 Figuring out how to shop for a wedding dress can be quite the process. From knowing when to actually start wedding dress shopping to deciding which salons to visit, there is a ton of crucial information and details brides-to-be need to know in order to be well-informed shoppers. While you might want to jump right in and head to the bridal salon ASAP, there are a few steps you'll need to take before checking out all of those gorgeous wedding gowns. Wondering how to shop for a wedding dress like a total pro? Consider this your crash course to wedding dress shopping 101.
Here's how to shop for a wedding dress — from start to finish.
Know the basics
Your date
Are you getting married in the hot summer or are you planning a winter soiree? One of the first steps of wedding dress shopping 101 is setting a date so you can find a gown that's appropriate for the season. For example, you'll likely want a light and airy gown—like one made with chiffon—if you're marrying in warmer weather, while heavier fabric, such as satin, is best for colder temps.
Your venue
Your venue plays a big role in how to shop for a wedding dress because your overall bridal look should be cohesive with your venue style. For example, a crystal embellished mermaid gown would suit a glamorous ballroom, while a simple, flowing sheath dress would be the ideal ensemble for remote "I dos" on a sandy beach.
Your budget
The last thing you'll want to do is fall in love with a wedding dress that is way over budget. On average, brides allot nine percent of their wedding budgets to their wedding attire. So come up with a number that you're willing to spend and stick to it. That way you can tell the bridal salon right away how much you're able to spend on that dream wedding dress.
Your silhouette
Decide which wedding dress silhouette you're looking for before you step into any bridal salons. Think about what styles look best on you, and which ones you prefer—form-fitting trumpet gowns, or more forgiving A-lines? Having your preferred silhouettes and shapes in mind before your appointments will really allow you to shop for a wedding dress like an expert.
Do your homework
Don't procrastinate.
If you're wondering how to shop for a wedding dress, here's an important piece of advice: Start early! It can take up to six to twelve months to get your wedding dress after you've placed the order in the salon, so the sooner you start the less stress you'll feel. Stay ahead of the game and get a jump start on finding your gown shortly after your engagement.
Start browsing.
Browse online and read up on the latest wedding dress trends to get inspired. Create your own inspiration board of designers and dresses you like. All this prep work will prove super helpful once you actually meet with a stylist at a salon. Along with the type of silhouette you prefer, you can give the salon an idea of any embellishments you like, as well as your overall vibe—are you a bold and glam bride, or more into simple and relaxed looks?
Research salons.
Make sure the salons you shop in not only have great reviews, but also house wedding dresses that fit your style. One of the easiest ways to find information about a vendor is by not only reading their reviews online (ahem, on WeddingWire), but also by checking out their websites.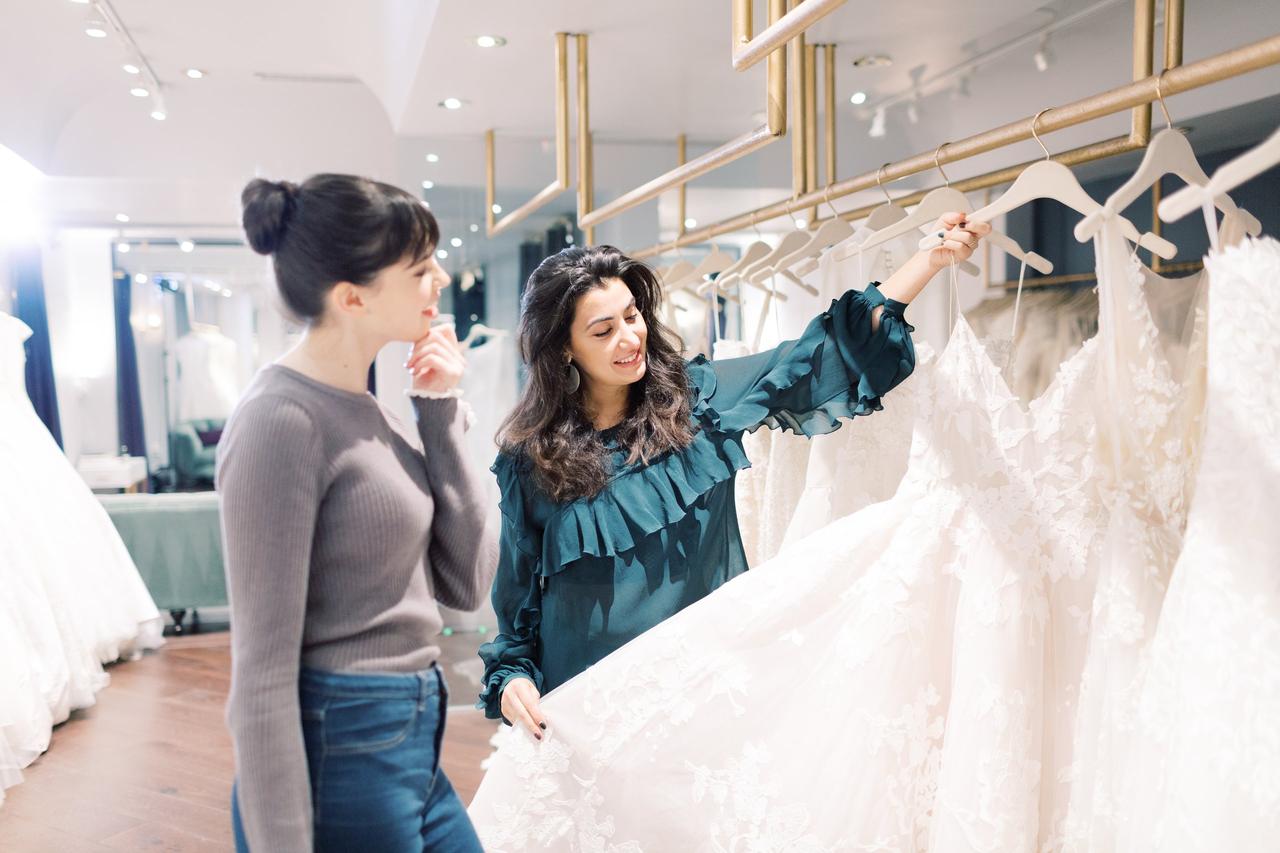 Ask the right questions before your appointment
Do you carry my designer?
If you have a particular designer in mind and really want to try on one of their wedding dresses, make sure to call the salon before stepping into the shop. A lot of salons carry specific designers, so if you know who you want to wear, double check with the salon that they have those designers available before you book an appointment.
What sample sizes do you carry?
Wedding dress sizes can be very confusing to someone who doesn't know how to shop for a bridal gown, so make sure and ask your salon about the types of sizes they carry. Remember not to get discouraged over the size of a gown. Wedding dress sizes are typically completely different than those of your everyday clothing.
What is your payment process?
Don't be afraid to ask the salon about its payment process. Most stores require a deposit and then ask for the rest of the payment after alterations. You'll want to know exactly how the bridal salon deals with payment so you can factor it into your budget.
Do you handle fittings and alterations?
Find out how the salon handles alterations and fittings. The wedding dress you purchase will most likely be a sample size and will therefore need adjustments, so find out if the salon does alterations in-house. Then you can figure out how many weeks your alterations will take and what the costs will be.
Make the appointment
Create your bridal salon list.
Narrow down a list of the top five bridal salons you want to visit. Any more than that can leave you with too many options. Then ask yourself how they handled your questions — did you feel at ease in their responses, and like their answers? Don't waste your precious bridal time hitting up stores that gave you uneasy vibes over the phone.
Start booking appointments.
You have to make an appointment with each salon you wish to visit. Many salons don't allow walk-ins, so booking appointments for at least an hour guarantees that you'll be catered to and seen. We suggest booking your appointment about two weeks in advance. Remember, Saturdays are always busier than weekdays, so if you can, try and be flexible when scheduling.
Don't forget the essentials.
Have your preferred day-of shoes and accessories in mind before you go wedding dress shopping. Even if you don't have your final bridal shoes, at least know how high of heels you'll be wearing (or if you're wearing flats) so alterations can get underway. And don't forget to bring any shapewear or undergarments you plan to wear under your wedding dress.
Choose an entourage.
When you go wedding dress shopping, avoid bringing a huge posse—that's basic wedding dress shopping 101. All those comments, questions and suggestions from a million different people will just confuse and frustrate you. Instead, choose a few very close family members and friends whose judgement you trust.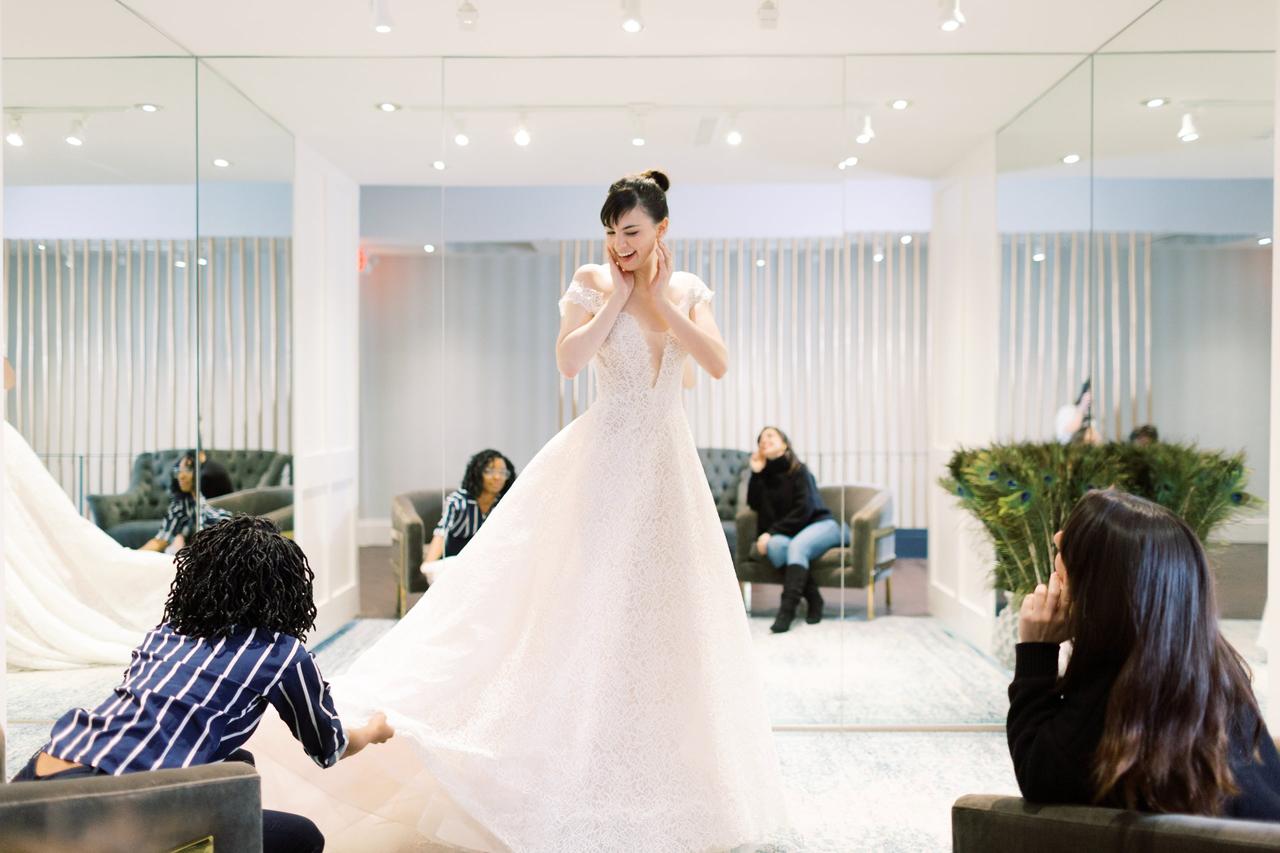 Trust your instincts
Don't over-shop.
One of the toughest parts of how to shop for a wedding dress is actually knowing when you've found "the one." If you try on a wedding dress and you have an overwhelming good feeling right away, stop shopping! You don't have to keep trying on dresses just because you think you should. It's better to try on a few that you love rather than ending up torn and confused because you tried on too many.
You don't have to cry.
Remember not every bride cries once they put on their dream wedding dress—and that's perfectly okay! Every bride's dress shopping experience is different, which means your reaction may be not be what you expect. As long as you have a good feeling about the wedding dress (and can picture wearing it down the aisle!), you shouldn't worry about shedding tears.
Look the part.
One of the easiest ways a bridal stylist can determine your sense of style is by how you present yourself at your appointment. Don't try and overdress (or underdress!)—just wear your typical every day attire so the stylist can get an idea of which dresses might be the right ones for you. That being said, we also recommend getting a little dolled up prior to your appointment—a little makeup, maybe the wedding-day hairstyle you're considering—so that you can feel confident and beautiful while trying on gowns.
Be your own advocate.
If you don't love a dress, but your bridal entourage is pushing you toward it, speak up! Don't feel pressured into a gown you don't truly love. Instead, be vocal about what you like (and what you don't), so your stylist can easily nix dress options and move on to finding "the one".