How to Choose a Bridal Shop That's Right for You
Before you begin the hunt for your dream gown, read up a few rules to keep in mind while you're shopping.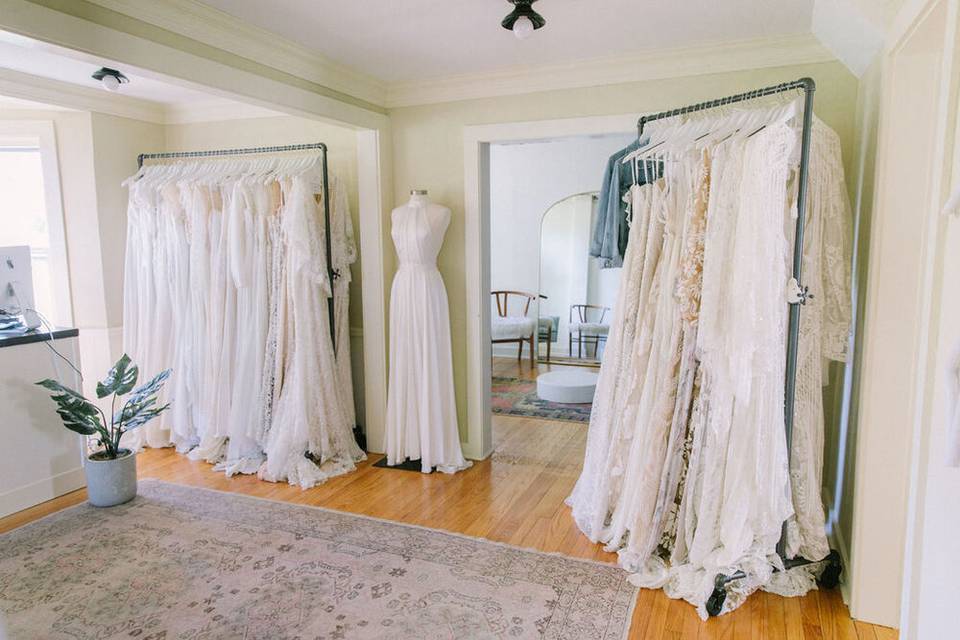 Learning how to choose a bridal shop can have a big impact on your wedding dress shopping experience. You'll want to find a wedding dress store that makes you feel comfortable and at ease while sifting through the dozens (or hundreds!) of dresses to find that perfect gown. But with so many wedding dress stores out there (seriously, there are a lot!), how do you choose a bridal shop that's right for you?
Here's how to choose a bridal shop that will lead you toward your dream wedding dress.
Ask friends and family
If you're on the hunt for a trustworthy wedding dress store, ask your married friends and family members where they went. Find out why they liked that particular bridal shop by asking for the inside scoop. Did they like their stylist, and why? What types of wedding dresses did the salon house? Did they make wedding dress shopping a fun, exciting experience?
Read reviews
Read reviews for bridal salons in your area. See what real brides had to say about their experiences to help you make an informed decision on which ones you should visit. Most salons will also have information about their hours and appointment policies listed alongside their reviews, making it a one-stop shop for all the crucial information you need.
Do your research
Browse the latest wedding dress trends to figure out which designers you like best (and which ones are in your price range), then find out what stores in your area carry those designers. Most bridal shops have a list of the designers they carry on their websites, so it's smart to consult that before shopping. If you have your heart set on a certain designer, and are writing off a well-reviewed, reputable bridal shop because they don't carry that brand—still check it out! You might end up loving a dress by a designer you never expected, so give the store a chance.
Be mindful of your budget
Before you choose a bridal shop to visit, make sure you have a price point that you want to stick to in your head. Certain stores may not have gowns within your price range, so again, be sure to check their website or call in advance. If only some of the dresses at the store are within your budget, make sure you let your stylist know your maximum spend before trying on anything. The last thing you want is to end up modeling a gown that's over budget, so honesty is the best policy.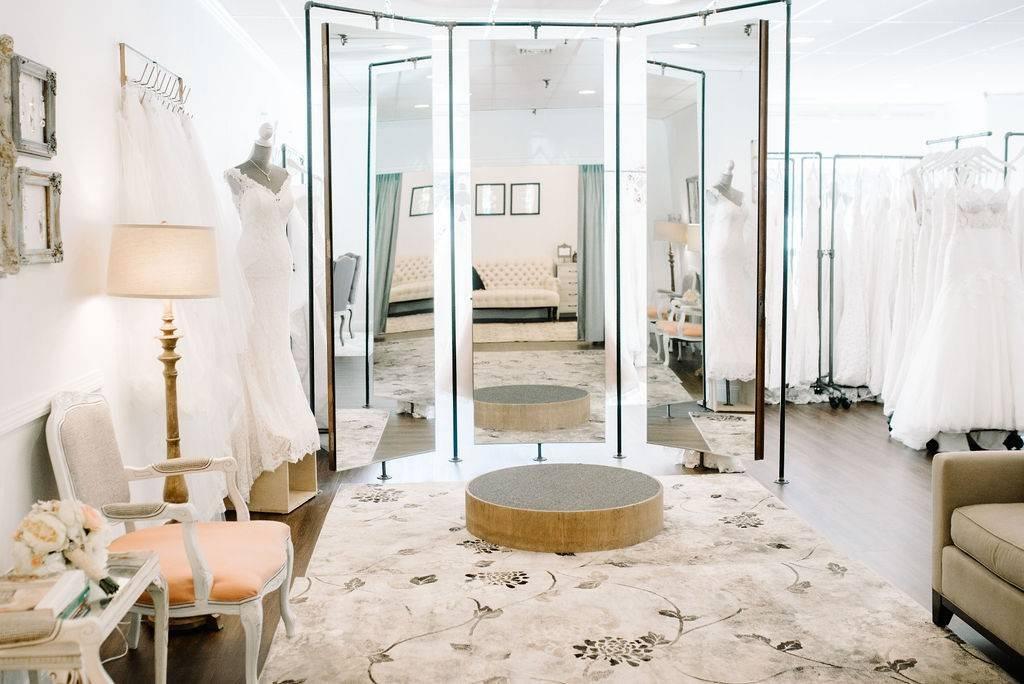 Visit multiple dress stores
Don't feel like you have to limit yourself to shopping at just one bridal salon, even if you found a dress you love on your first appointment. According to a WeddingWire survey 50 percent of brides visit anywhere from two to five stores. You never know what styles you'll end up loving, and every store is different. From their selection of gowns to the bridal stylist's advice, it's important that you experience a few different bridal shops before deciding on a gown. If you visit a certain dress store that houses specific designers, go to a second bridal shop with a few different ones so you can try on a variety of styles and really hone in on what you want.
Think about dress alterations
Does the dress store you're considering offer in-house alterations or will you have to go somewhere else to get the gown fitted? Almost every bride has to get their wedding dress adjusted, so consider whether or not in-house alterations are important to you. The upside of alterations being done on-site is that the tailors are very familiar with the specific gowns and designers that the store carries.
Pick the right location
Picking the right location is a must for learning how to choose a bridal shop, in that you'll want to choose somewhere that's accessible to you. If you buy your dress while visiting your hometown but you live across the country, that might not be the most convenient place—especially if that's also where your alterations are being done. Because your wedding dress will have to be fitted and altered (plan for two or three dress fittings), consider a location that's close-by.
Find out how their process works
How does that dress store's shopping experience work? Do you have to call ahead to make an appointment or are walk-ins okay? Do you get the whole store to yourself or will other brides be shopping at the same time? Keep in mind that due to space constraints, some stores only allow the bride to bring a certain number of guests. Knowing this kind of information before choosing a bridal shop will make the dress shopping process that much smoother.
Don't stress if you leave empty-handed
If you leave your first few appointments without buying a dress, don't feel discouraged! You're not alone—50% of brides try on anywhere from three to 10 dresses before finding the one, according to a WeddingWire survey. Shopping for a wedding dress isn't a speedy process, which is why you should start seven to eight months before your wedding (and be extra picky about how you choose a bridal shop). If you're feeling apprehensive about a wedding gown you tried on, walk away and come back another time when you're feeling less stressed. You want to feel amazing when you find the dress you love! And don't worry, the stores won't be offended if you don't buy your dress the day you come in—they just want you to find a wedding gown that makes you feel like your best self.