The Top 8 Wedding Dress Shapes and Silhouettes, Defined
Decide which gown silhouette works best for your body type and style by brushing up on the most common wedding dress shapes.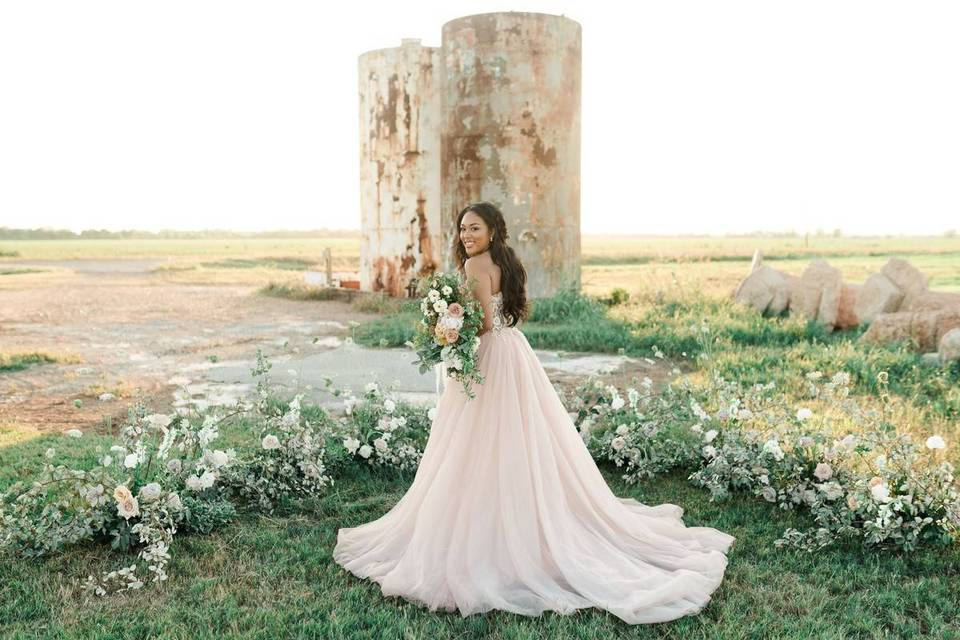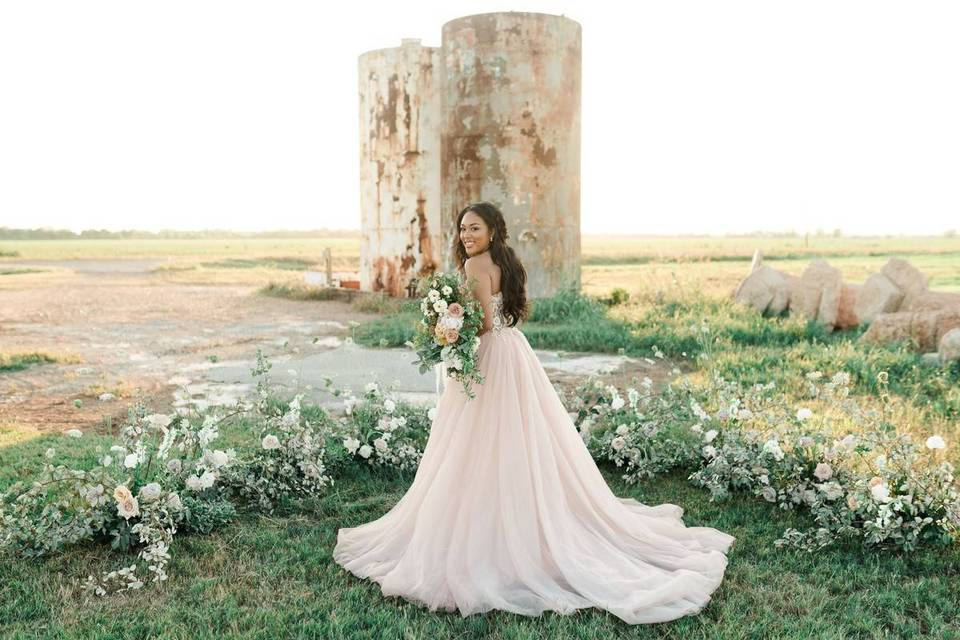 During your wedding dress appointment, one of the first things you'll be asked by the bridal stylist is which type of wedding dress shape or silhouette you'd like to wear. You might already have an idea of how you want your dress to look—comfortable and flowy, curve-hugging, etc.—but knowing exactly how to describe your dream gown can go a long way when working with your stylist. We've created this glossary explaining the differences between eight popular wedding dress shapes you'll definitely want to know, including the best wedding dresses for your body type and the benefits of each silhouette. Most importantly, once you've narrowed it down to one or two dress shapes, we recommend trying on at least one dress that's the total opposite, just to be sure!
Here's what you need to know about wedding dress shapes and silhouettes.
1. Ball gown wedding dress
If you've ever dreamed of having your own fairytale moment, then this is the silhouette for you. Ball gowns are one of the most classic wedding dress shapes and will instantly give you the Cinderella effect on the big day. A ball gown features a fitted bodice (often with a corset) and a wide, full skirt, most often achieved by using crinolines or layers of tulle. Since the full skirt glides over your lower torso, this silhouette is great for brides who want to cinch in their waist, prioritize bust support, or create the illusion of wider hips. The ball gown is one of the most regal silhouettes—the Duchess of Cambridge, Grace Kelly, Jackie O, and Princess Diana all wore ball gowns for their weddings.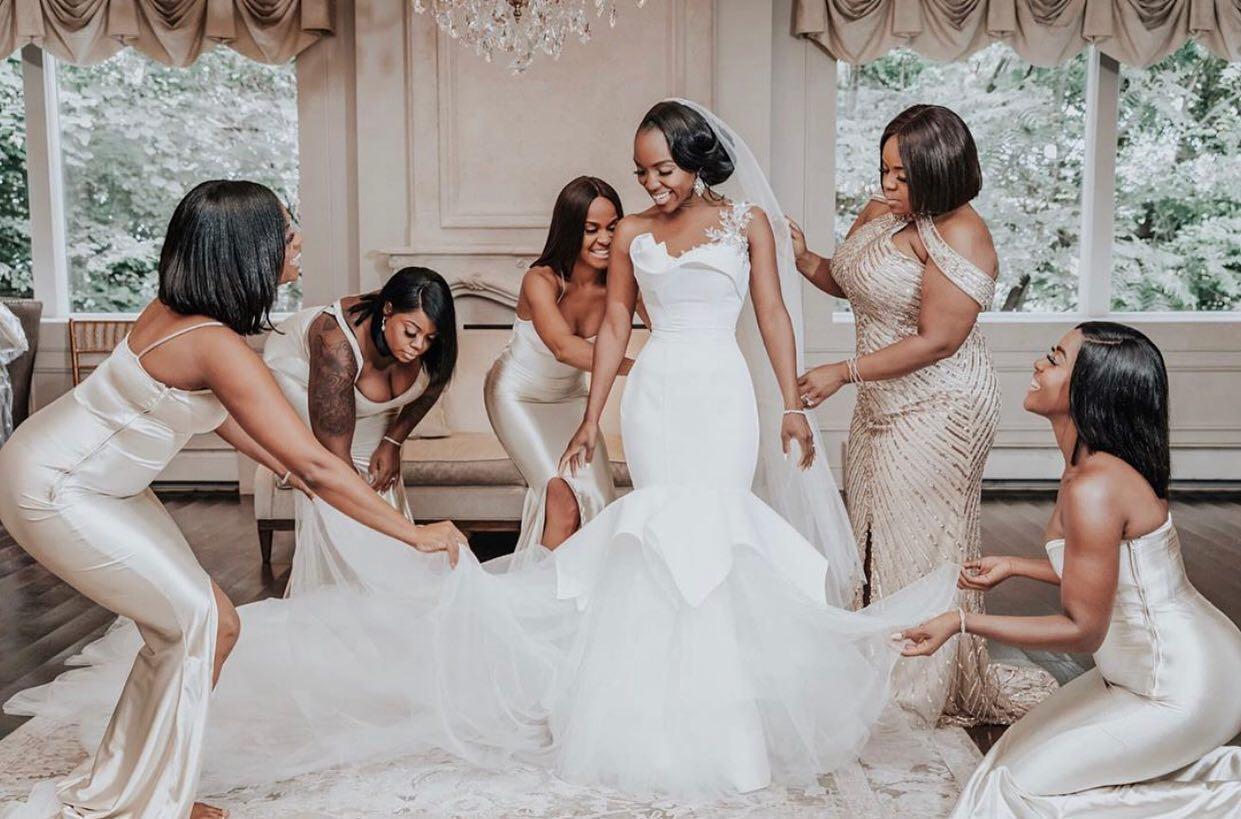 2. Mermaid wedding dress
The mermaid wedding dress shape is known for being one of the most flirtatious silhouettes, since it's extremely fitted throughout the bust, waist, and hips—almost like shapewear. If you want Beyoncé-worthy curves for your wedding day, look no further! A mermaid gown will enhance whatever your mama gave you, or it will create the illusion of an hourglass figure if you're naturally slim. This attention-grabbing silhouette flares out at the knees and is often paired with tulle, ruching, or ruffled skirts for added wow factor. It's considered to be one of the more restrictive wedding dress shapes, since your legs won't be able to move as freely, but it's guaranteed to give you a red carpet-ready look.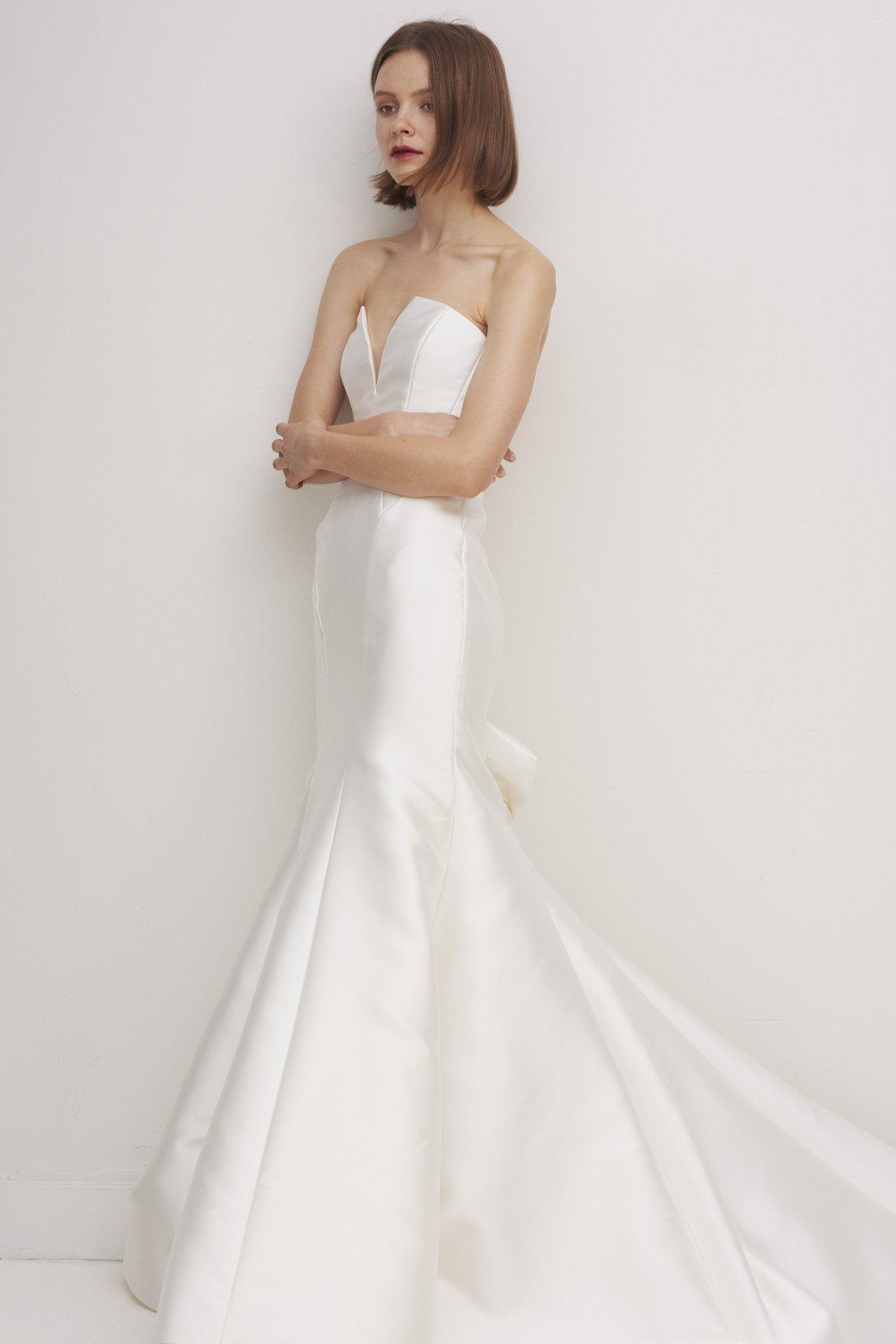 Dress by Rivini by Rita Vinieris
3. Trumpet wedding dress
On first glance, the trumpet wedding dress shape looks very similar to the mermaid silhouette, but there are a few subtle differences. For starters, pay close attention to where the skirt begins to flare out. The trumpet silhouette is less fitted through the hips and gradually gets wider at the lower thigh, while the mermaid silhouette doesn't flare out until just above or at the knees. As a result, a trumpet wedding dress gives you a little more freedom to move around while still creating a dramatic look. This is another silhouette that's ideal for creating or enhancing curves, no matter your body type.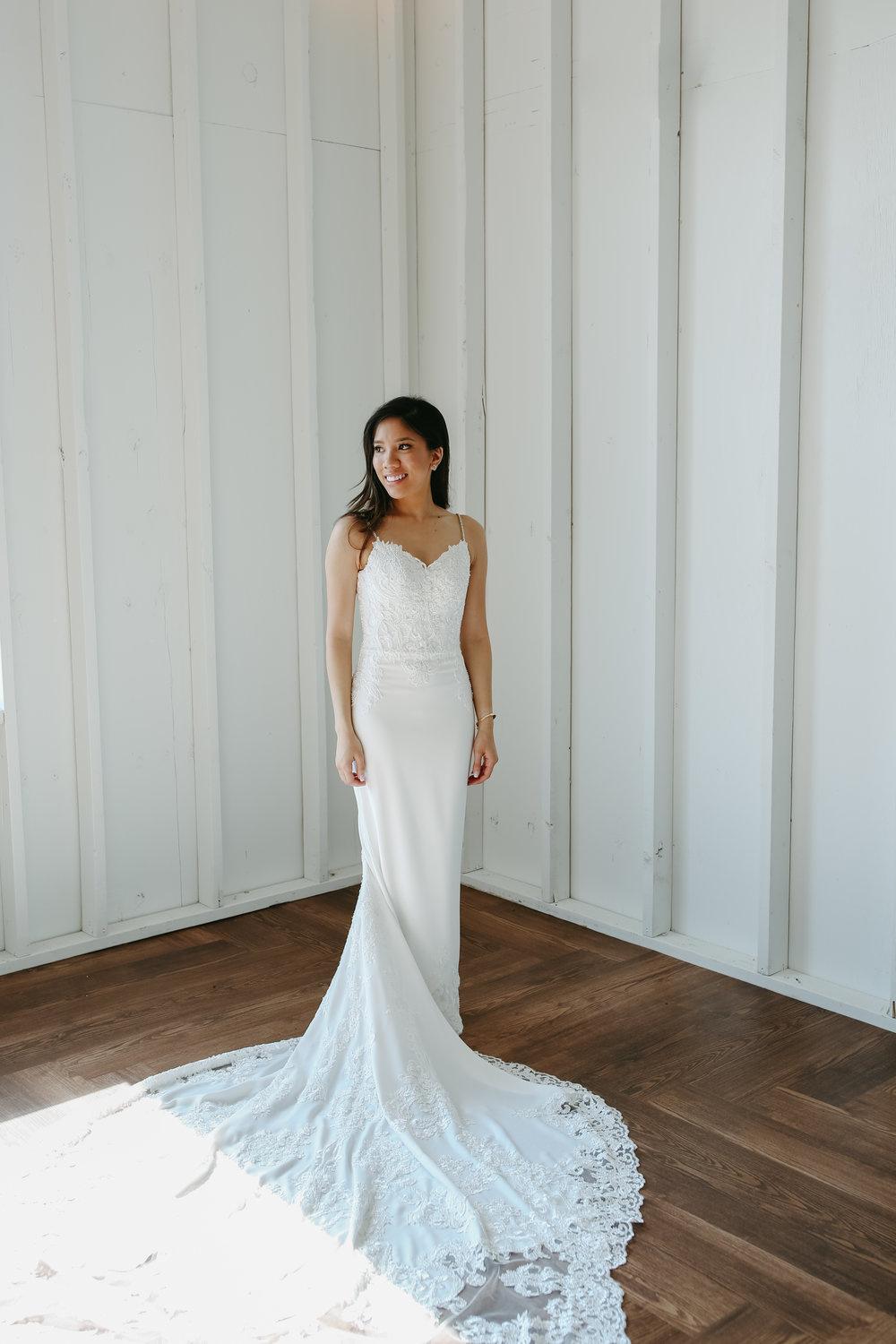 4. Sheath wedding dress
A sheath wedding dress is fitted in the waist and falls straight to the floor below your hips, with a very minimal flare. This wedding dress shape is perfect for brides who want an effortless gown, since it requires less fabric and layering than other silhouettes (and is therefore very easy to move around in!). While you can find sheath wedding dresses with long trains, they're often designed without them. What this silhouette lacks in volume, it makes up for with its versatility—the sheath silhouette works well with nearly every type of fabric, from beaded materials to lace, satin, and stretch crepe. Sheath wedding dresses are a flattering option for hourglass figures, or slim and petite brides who don't want to be overpowered by their gowns.
5. A-line wedding dress
Consider the A-line as a halfway point between sheath and ball gown silhouettes. An A-line skirt, which is named for the way it creates an "A" shape on the body, flares out from the waist more than you'd see on a sheath gown, but not as dramatically as the ball gown. This universally-flattering silhouette is ideal for all body types and wedding styles, whether yours is bohemian, classic, beachy, or something in between. A-line wedding dresses often feature organza, lace, or tulle, but you'll also see them made from structured fabrics, such as Mikado silk.

Dress by Daalarna
6. Tea-length wedding dress
Midi dresses and tea-length dresses are popular options for pre-wedding events, like engagement parties and bridal showers, but they look just as chic when worn for your actual wedding. This wedding dress shape is longer than cocktail dresses and mini dresses—the skirt stops mid-calf, about six inches above the ankles. Shorter hemlines have long been the go-to for elopements, civil weddings, and minimonies, or for brides who simply don't want the fuss of a floor-length gown. Tea-length wedding dresses are retro and playful, and flattering for curvy and petite brides alike. (Plus, everyone will get to see your amazing wedding shoes, which would otherwise be hidden when wearing a longer dress).

7. Fit-and-flare wedding dress
Brides who want to show off their figure without committing to the dramatic mermaid or trumpet silhouettes should consider a fit-and-flare wedding dress instead. This toned-down version still hugs your body through the bust and waist, while being a little more forgiving through the hips, bottom, and thighs. The skirt flares out mid-thigh, giving you plenty of freedom to walk, sit, and dance as you please. Fit-and-flare gowns are flattering on many different body types, which is why they're among the most popular wedding dress shapes. This silhouette looks incredible when paired with a sweetheart or deep V-neckline.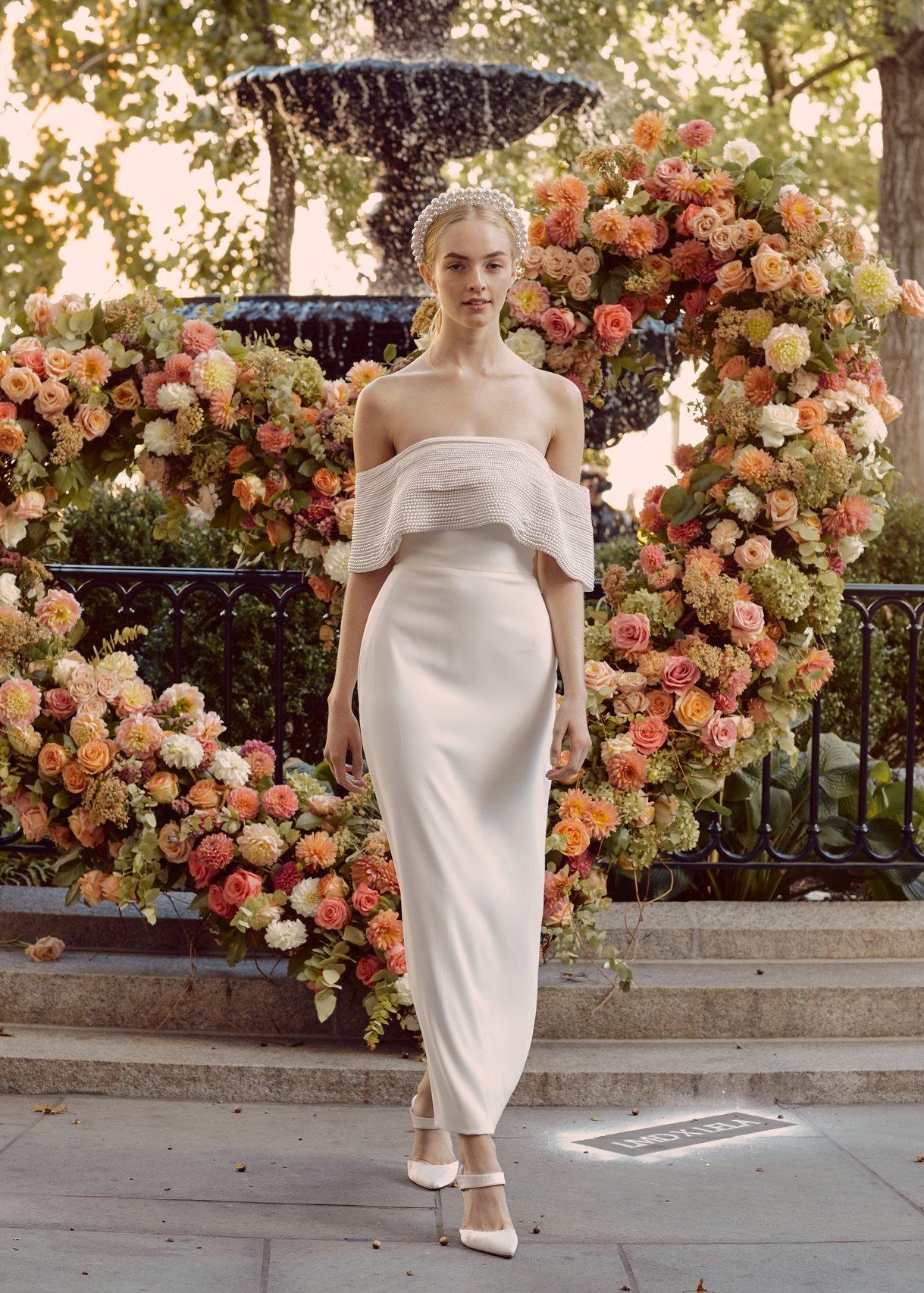 Dress by Lela Rose
8. Column wedding dress
This sophisticated wedding dress shape is similar to the sheath, but the opening at the bottom is more narrow and structured. Column wedding gowns can be slightly fitted or loose at the waist and fall straight to the floor without any flare, creating a straight up-and-down look (hence the name!). These types of wedding dresses are ideal for petite brides, since the minimal amount of material won't overwhelm smaller figures. They're typically made from sturdier, thicker fabrics, such as silk charmeuse, crepe, or beaded satin.
No matter which wedding dress shape you choose, the gown should be one that makes you feel confident, beautiful, and comfortable—don't worry about being trendy or only choosing the silhouette that's "right" for your body type. The dress you choose might end up being different than what you originally envisioned or what you thought you would like, and that's perfectly okay, too! The best approach when shopping for your wedding dress is to understand enough of the basics to know what you're looking for, while also keeping an open mind.