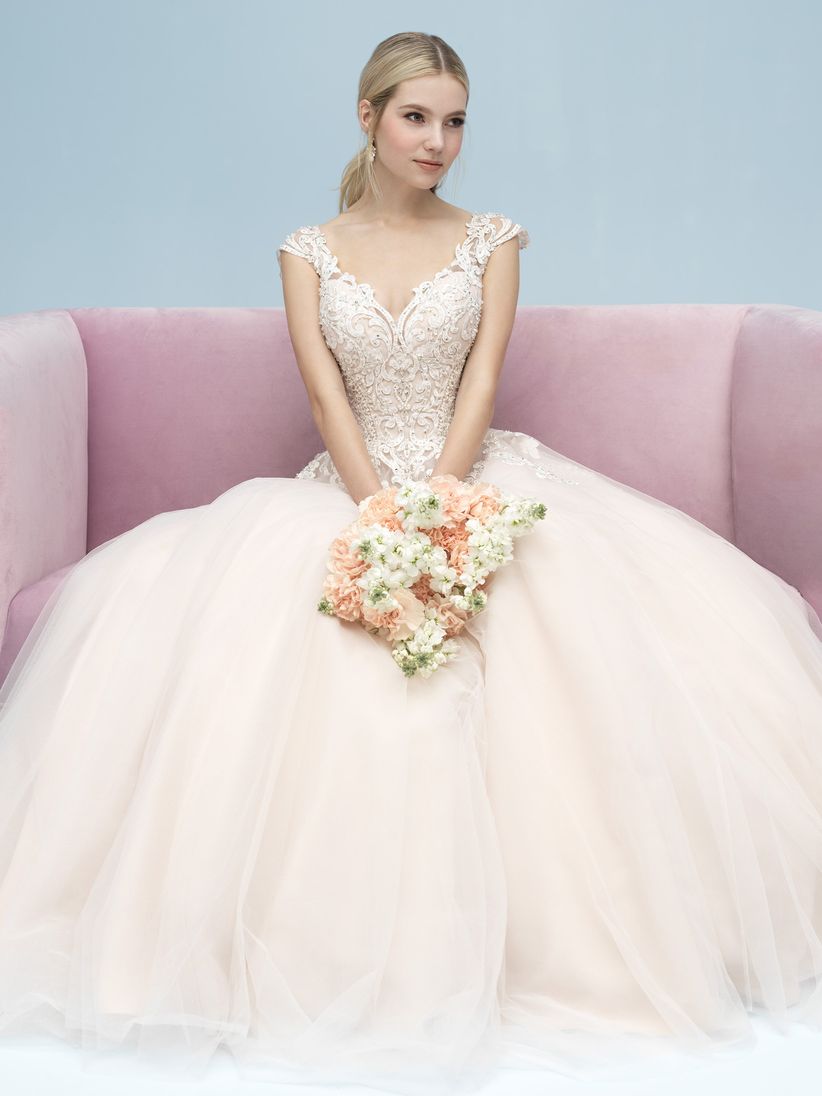 Fabric plays a major role when it comes to finding a wedding dress that's just right for you. The fabric can affect your dress silhouette, how formal the dress is (or isn't), and even the cost of the dress, so it's helpful to start your search with a basic understanding of your options. Are you drawn to crisp, smooth fabrics, or does intricate lace sound more like your style? We've created this wedding dress fabrics guide featuring gowns from Allure Bridals to help you get an idea of what you do or don't like, so that you feel confident and informed when you arrive at your bridal shop appointment. And who knows — with all this knowledge under your belt, you might even impress your bridal stylist by dropping some wedding dress terminology!
Before you try on that first gown, take a minute to familiarize yourself with these popular wedding dress fabrics.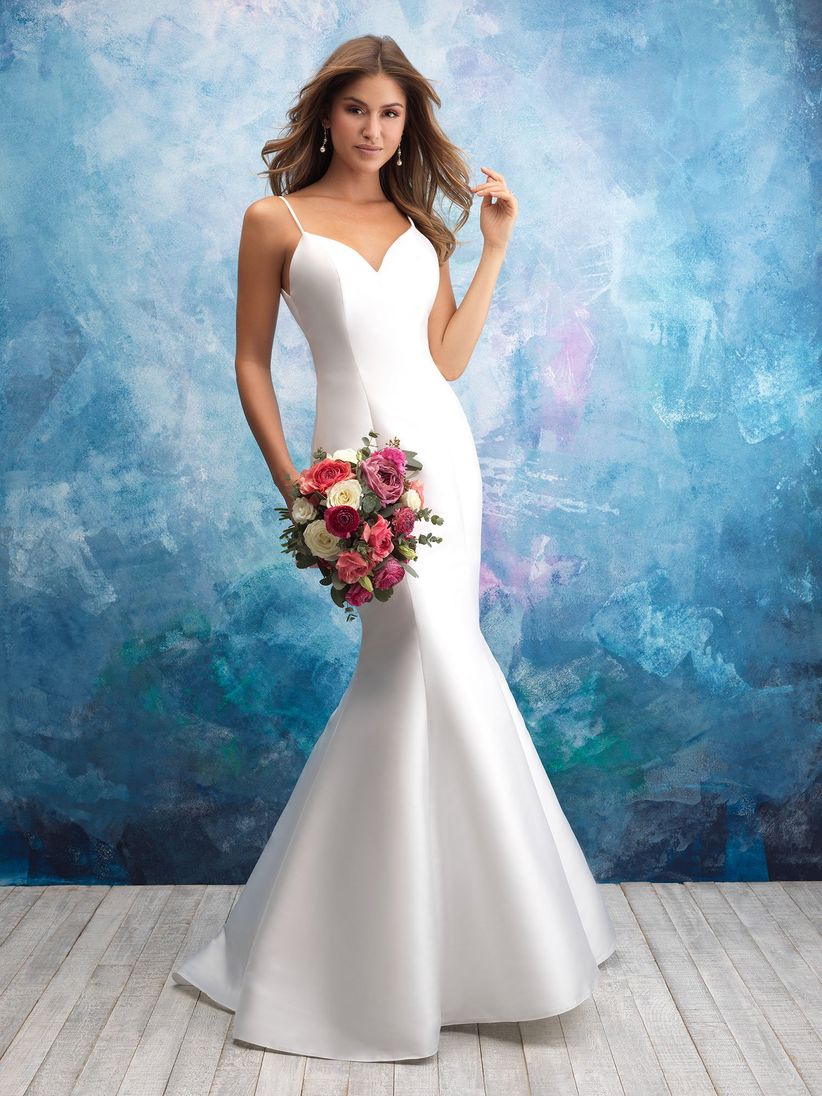 Mikado
Mikado is a type of silk. It's thicker than other silk blends, such as chiffon or satin, making it perfect for the bride who wants a structured gown that will hold its shape. This wedding dress fabric is a popular choice for fit-and-flare or A-line silhouettes — we're loving this chic gown featuring a trumpet skirt (Style 9558). Mikado is also excellent for formal dress codes, since it has a slight luster that gives it a glamorous look.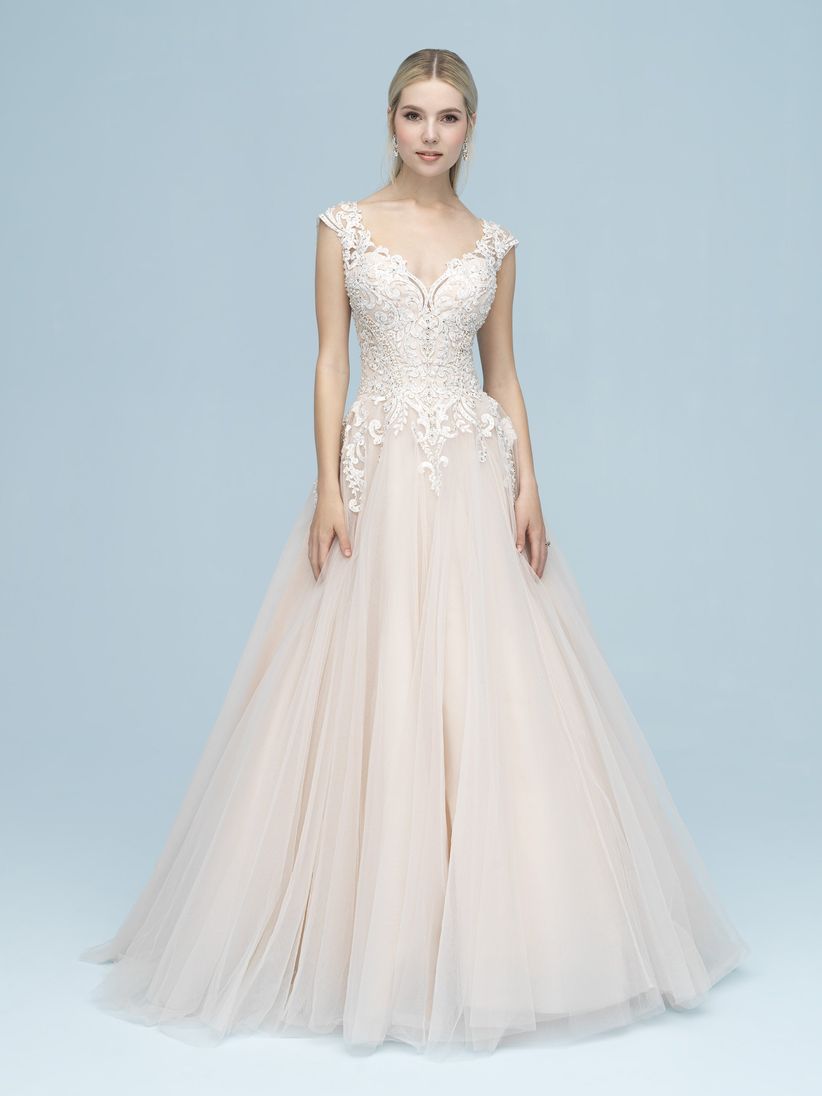 Tulle
This wedding dress fabric is a stiff, transparent netting made of either nylon, silk, polyester, or a blend of fibers. Layers of tulle create a voluminous, fairytale-inspired look, making this wedding dress fabric a perfect option for ball gowns and mermaid silhouettes. Tulle skirts are often paired with lace, sequins, beading, horsehair trim, or worn underneath the dress to add fullness. Colored tulle is another gorgeous option, as proven by this romantic champagne tulle ball gown (Style 9609).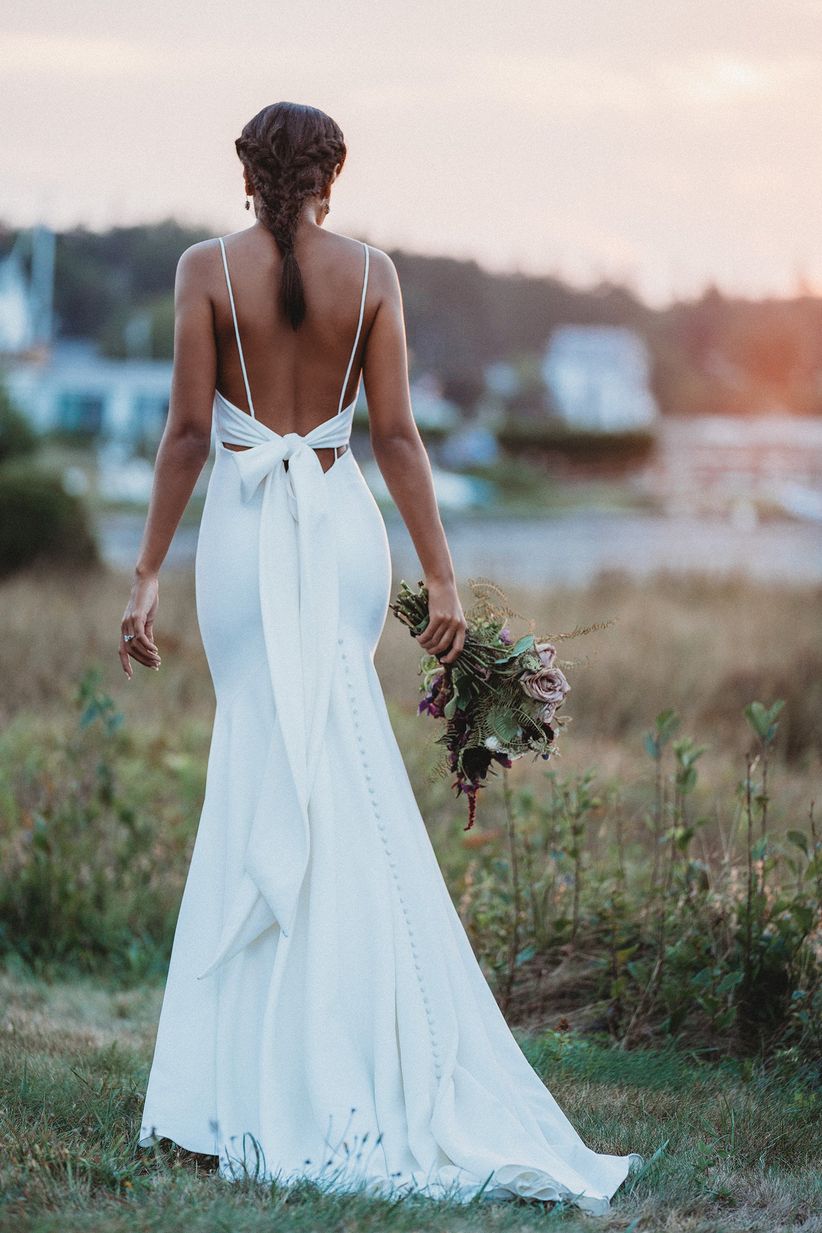 Crepe
Crepe is a mid-weight silk fabric that clings to the body and drapes beautifully, making it an excellent choice for brides who want to flaunt their curves. It's most commonly used for sheath or fit-and-flare silhouettes — plus non-traditional bridal options, like jumpsuits! Brides who want an understated, minimalistic look should consider crepe for their gown, since this wedding dress fabric looks crisp and sleek. Details like bows and buttons, as seen on this matte crepe dress (Style 9603), instantly turn an unembellished gown into a statement piece.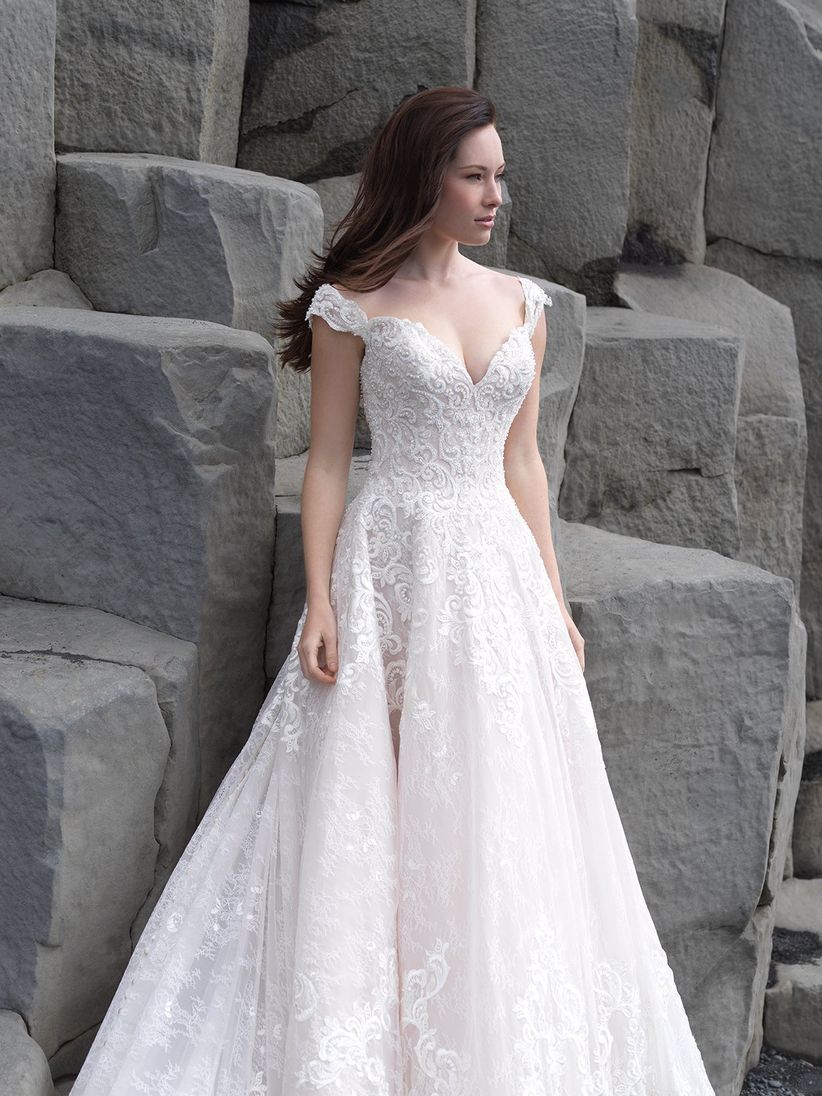 Organza
A sheer fabric that's similar to tulle but not quite as stiff. Organza is traditionally made from woven silk, creating a soft, lightweight wedding dress fabric that moves with you. Slimmer skirts with only a few layers of organza are breezy and effortless, while adding more layers of organza will create volume and drama without too much weight. Organza is sometimes embroidered or decorated with appliqués and beading, as seen on this dreamy ball gown (Style C461). It can also be used for overlays on skirts, allowing other fabrics (lace, tulle, satin, etc.) to peek through from underneath.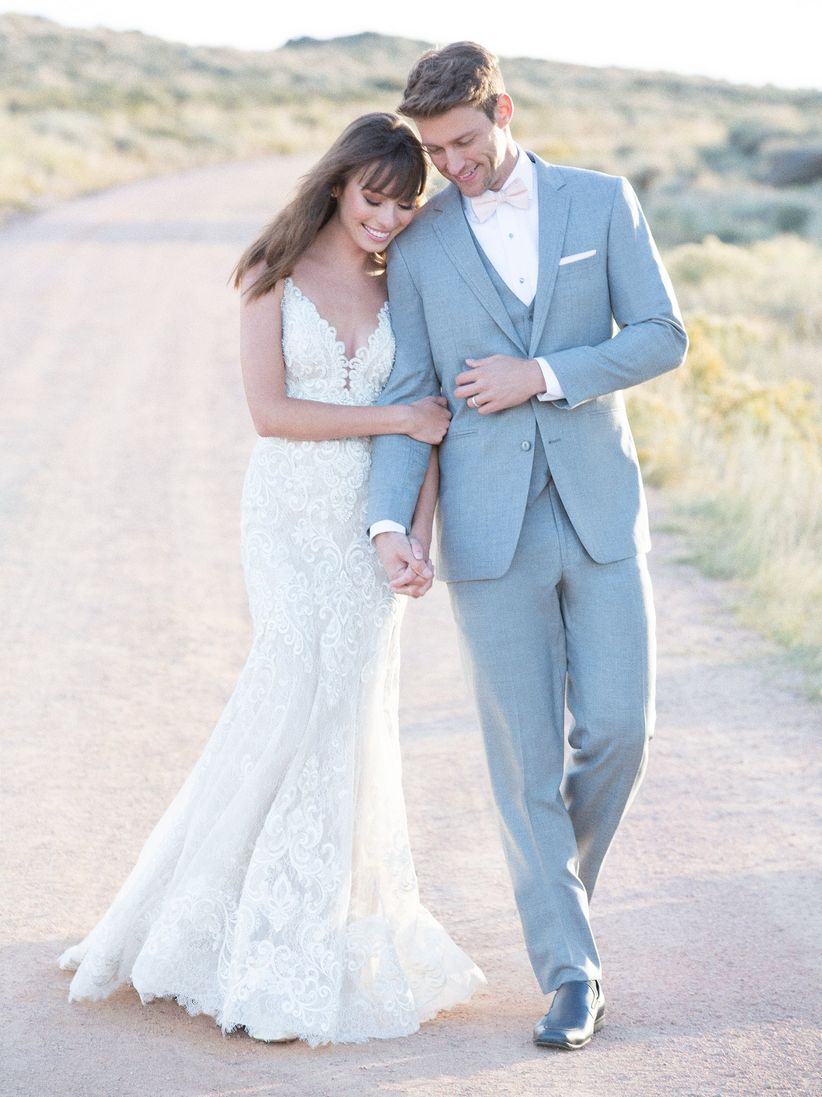 Lace
As one of the most popular and most recognizable wedding dress fabrics, you probably already know what lace looks like, but did you know that there are actually dozens of types of lace? From Chantilly and Guipure laces to Alençon, laser-cut, point d'esprit, and even cotton, each type of lace has unique characteristics that will bring a different look to your wedding dress. Whichever type of lace you choose, this fabric is undeniably timeless, and it's an ideal choice for brides with classic style. Lace is often accented with sparkly beading to create a modern yet romantic design, like this stunning sheath gown (Style 9501).