The Best Beach Wedding Cakes for 2020
There's more to it than seashells and anchors—this year's trendiest beach wedding cakes are all about tropical accents, bright colors, and water-inspired details.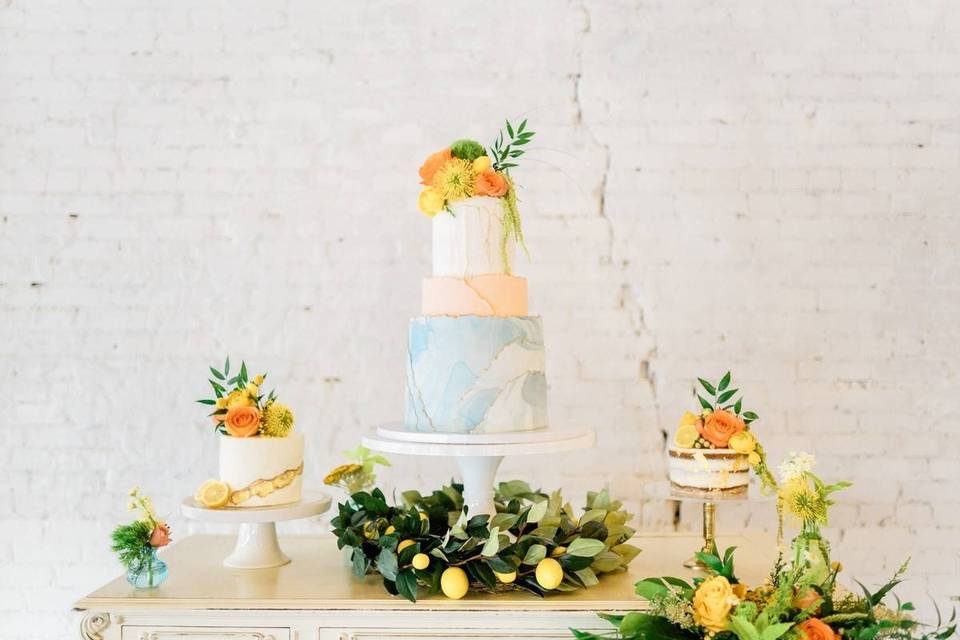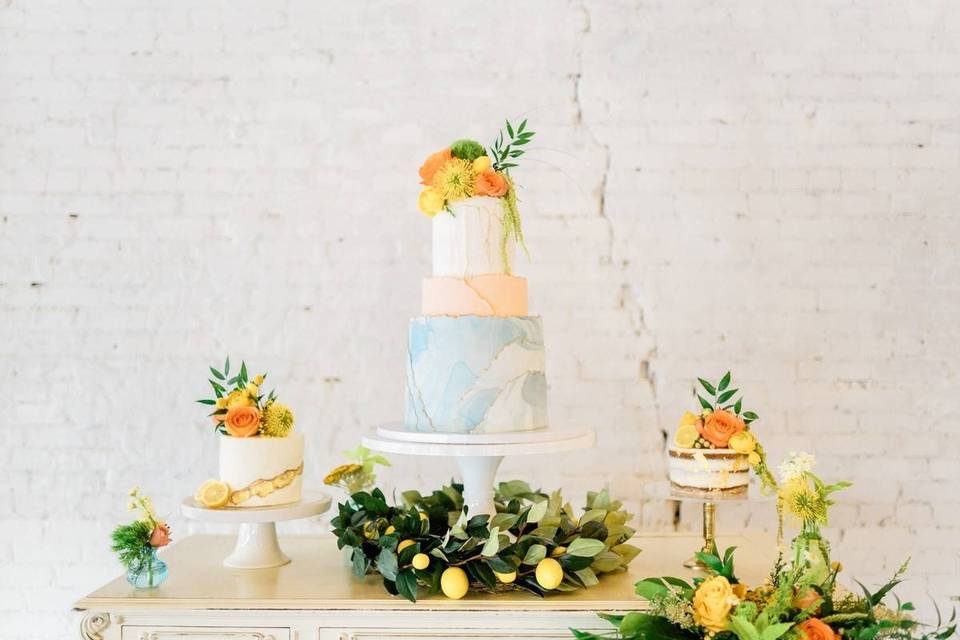 When you think of beach wedding cakes, you're most likely to envision seashells, starfish, or "sand" that's actually made from sugar. And while these are all fitting elements for any beach-inspired cake, they're not your only options! The first rule of thumb: you don't have to take the beach theme so literally when you're working with your wedding cake baker to design your cake. These days, beach wedding style can mean anything from a classic wedding with nautical undertones, to an eclectic, tropical-inspired wedding that takes place on a faraway island. Whatever your beach wedding style, these modern cakes are a fun way enhance your reception decor while keeping the laid-back vibes going.
Take a look at these trendy beach wedding cakes to get ideas for your own seaside dessert display.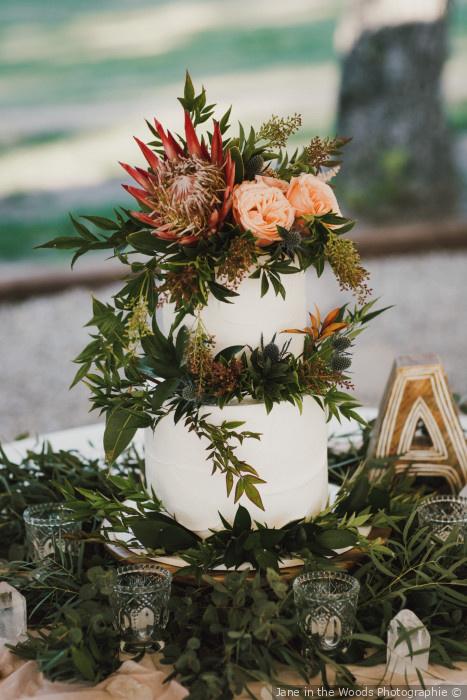 Proteas
It only takes one or two bold protea flowers to instantly transform your wedding cake. Add lush greenery to a smooth fondant cake for a tropical-meets-bohemian effect.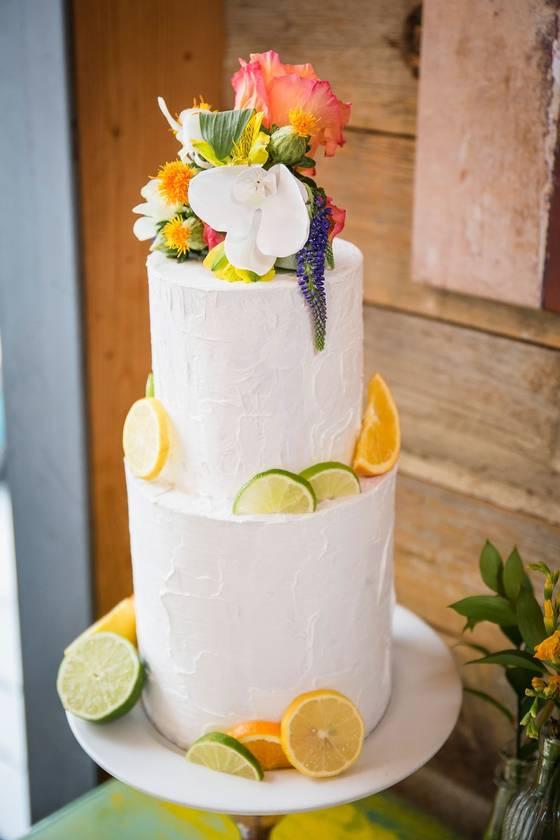 Lemon and lime slices
Fresh fruit is one of the easiest ways to take a plain wedding cake to the next level. Citrus fruits, such as limes, lemons, grapefruits, and kumquats, are perfect for a beach wedding theme, thanks to their bright colors and refreshing taste—floral cake topper optional!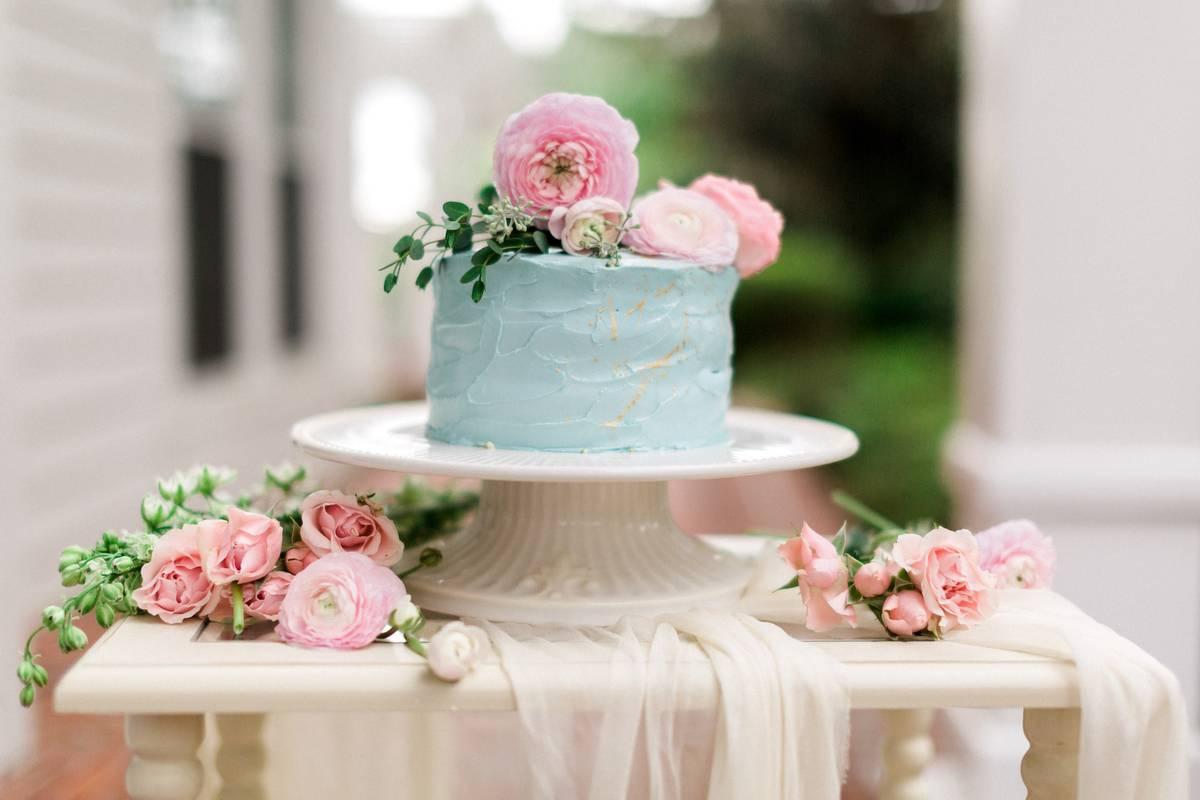 Light blue buttercream
This sky blue color is a spot-on choice for a summer color palette or a beach wedding venue. Decorate a blue buttercream wedding cake with pink ranunculus, gold lustre dust, and greenery for a confection that's airy and romantic.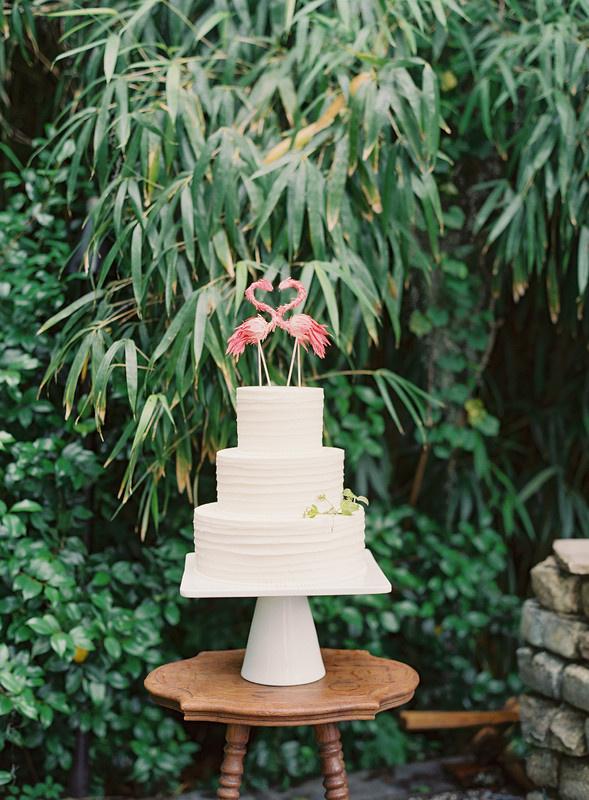 Flamingo topper
A plain white buttercream cake is versatile enough to complement any wedding style, but when you add a flamingo topper, it immediately becomes beach-wedding ready.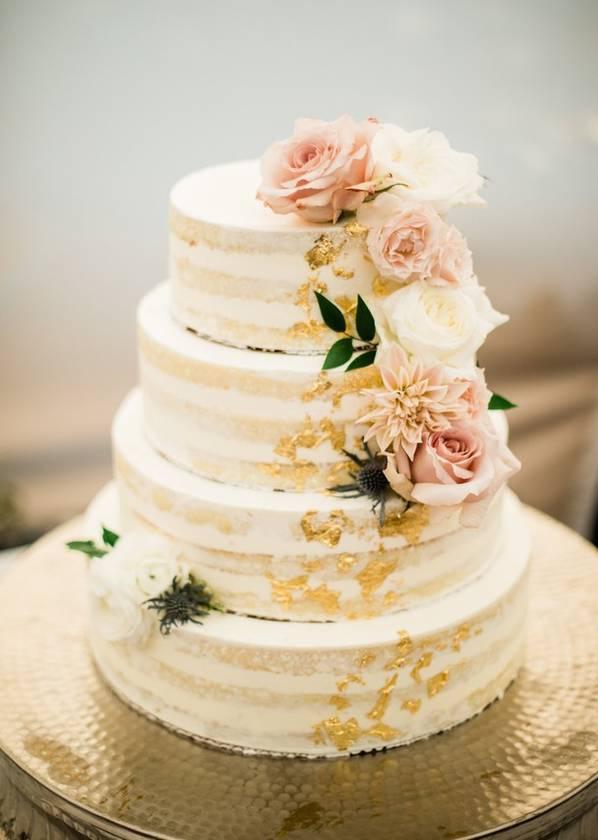 Edible gold leaf
Hot temperatures can do a number on frosting, so one way to combat a melting cake if you're having a summer wedding is to avoid frosting altogether. Luckily, semi-naked frosting is not only trendy, it's practical—the less frosting you have, the less there is to melt! Instead, you can decorate your beach wedding cake in other ways, like edible gold leaf and fresh flowers.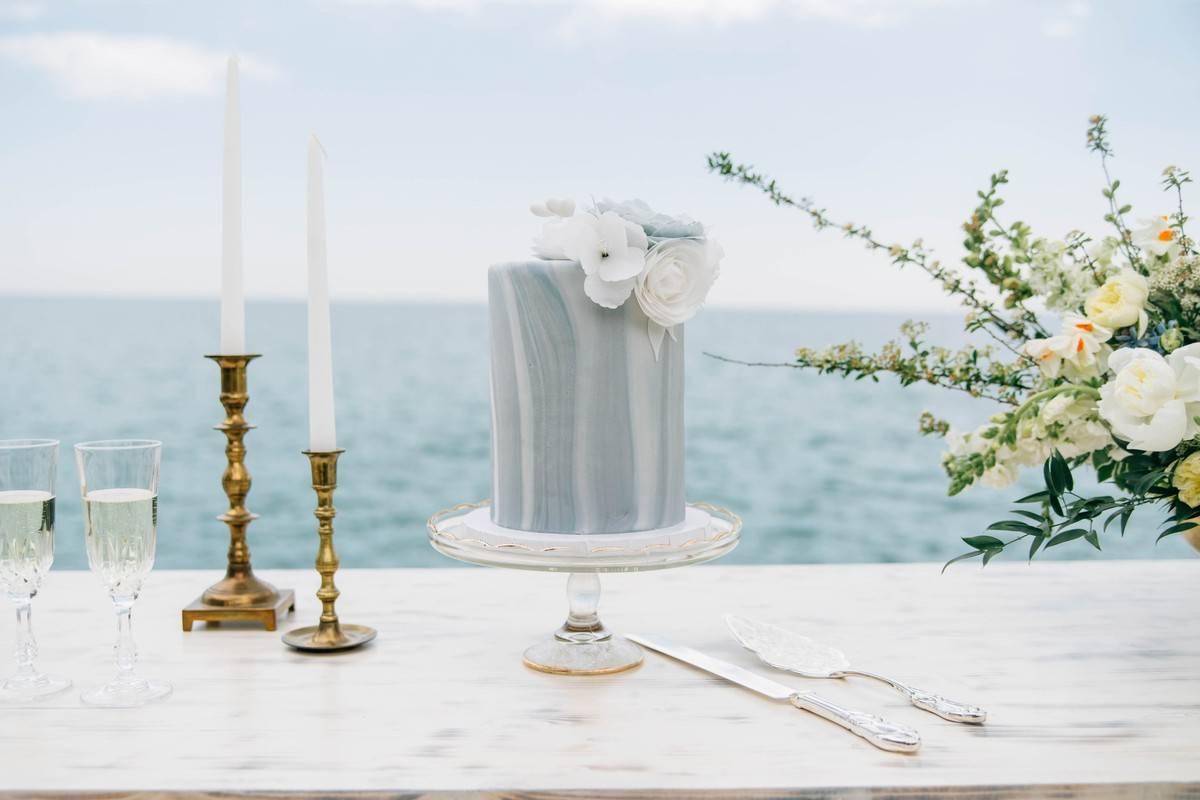 Marbled fondant
A blue marbled fondant cake reminds us of the ocean. It's a modern option for your beach wedding cake, especially when you add soft white flowers, trendy taper candles, and an elongated tier design.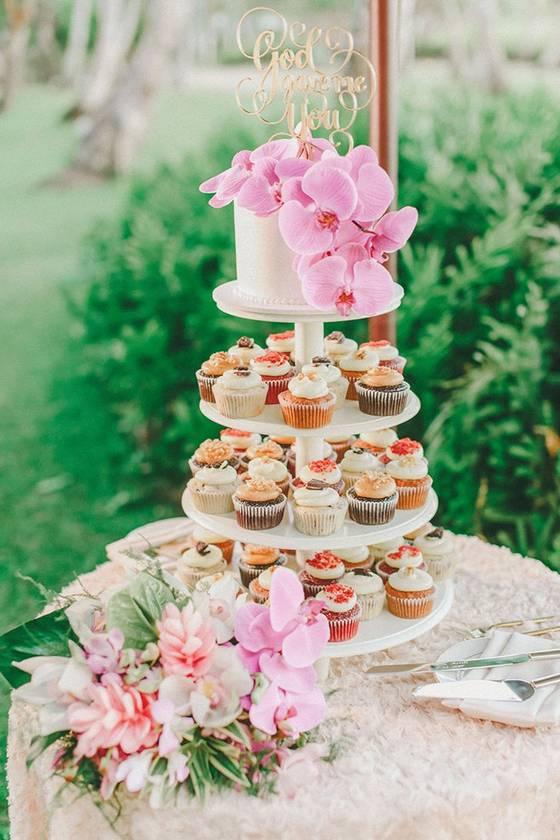 Cupcake tower
If you're having a laid-back wedding, a cupcake tower is a yummy replacement for a traditional beach wedding cake. You can still have the traditional cake cutting moment by adding a small one-tier cake at the very top—decorate it with bright pink phalaenopsis orchids for an island-inspired vibe.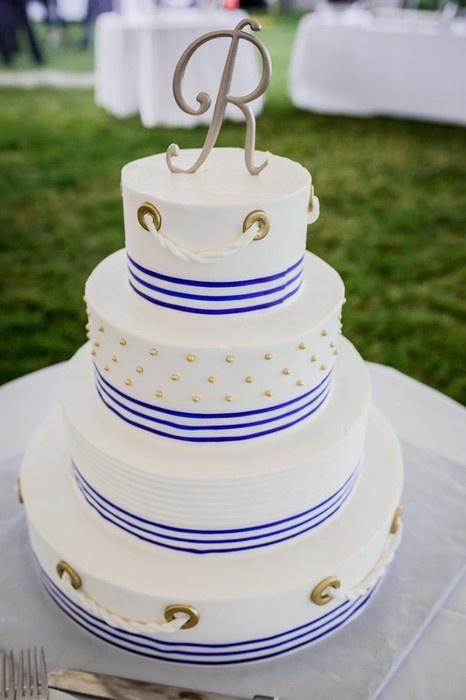 Nautical details
Getting married by a lake or an ocean yacht club? Consider a nautical wedding theme. Design your cake to match the occasion by adding details like sugar ropes, gold portholes, and navy blue stripes.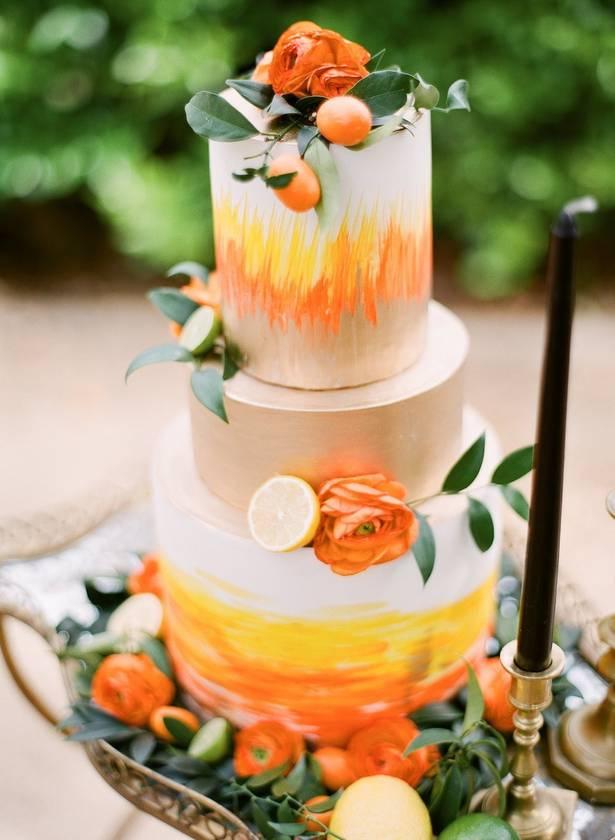 Abstract brushstrokes
Impressionist details are trending for 2020 wedding cakes, and you can easily adapt this look for a beach wedding theme. Use vibrant colors, like orange and yellow, to paint abstract strokes on a fondant cake. Add metallic gold accents and zesty citrus fruits for a colorful, artistic confection.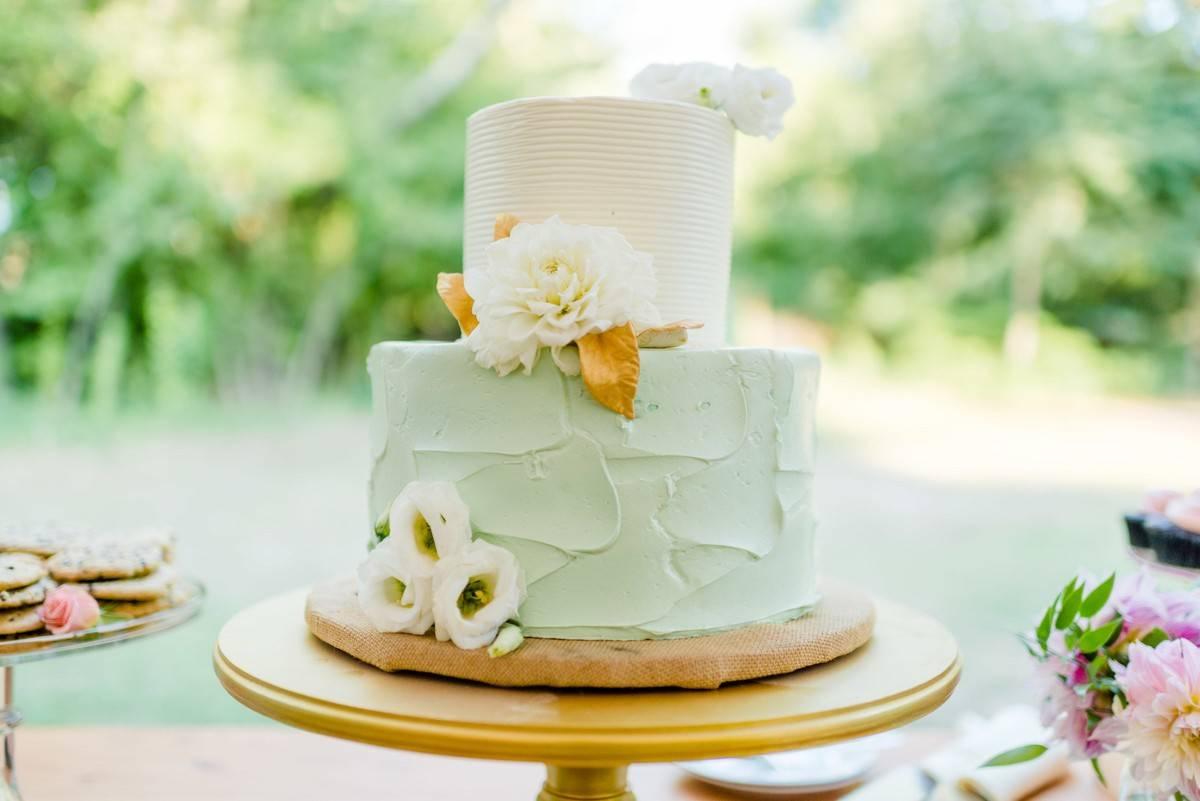 Seafoam green
Not all beach wedding cakes have to be elaborate, multi-tier confections. Transform a simple two-tier cake into a beach-appropriate dessert by adding seafoam-colored buttercream and hardy summer flowers, such as lisianthus, that can withstand sunshine and humidity.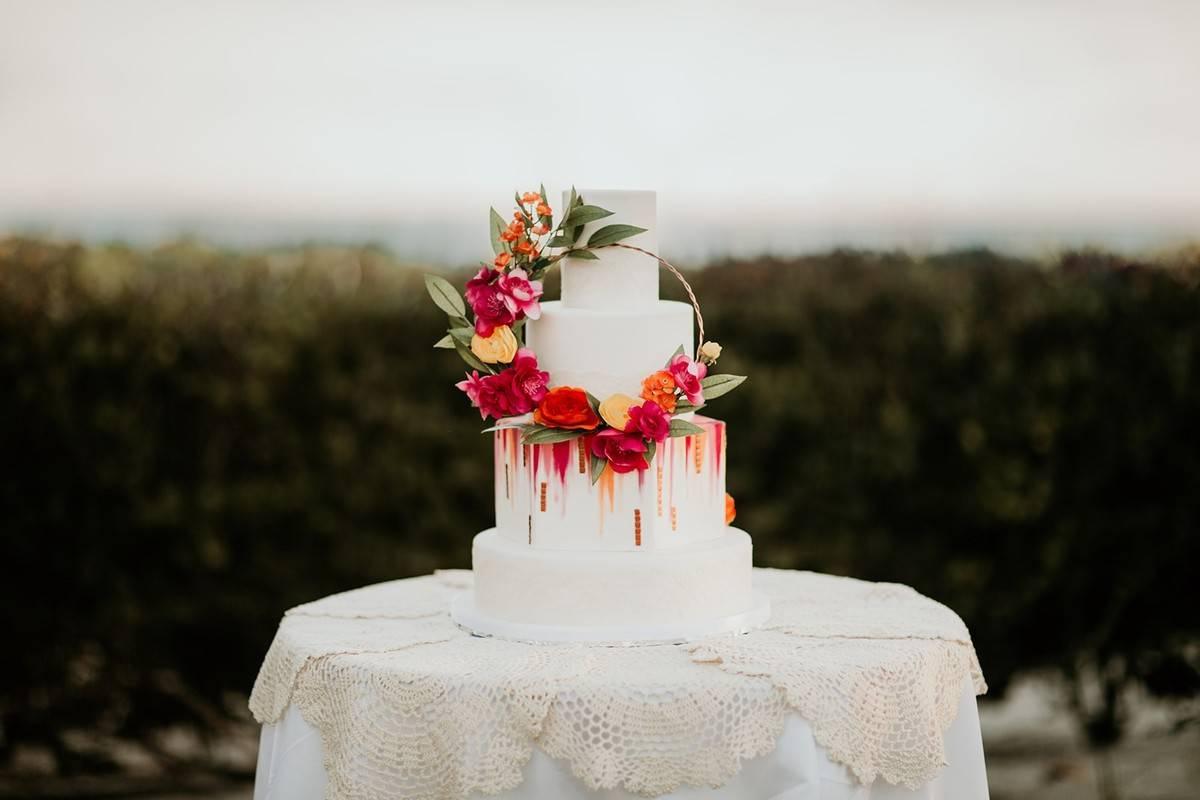 Floral hoop
If you want a wedding cake that makes a statement, why not decorate yours with a trendy floral hoop? This detail is best showcased against a white fondant cake, which you can jazz up with colorful edible paint. For the flower hoop, you can sub in sugar flowers or paper flowers if you don't want to use fresh blossoms.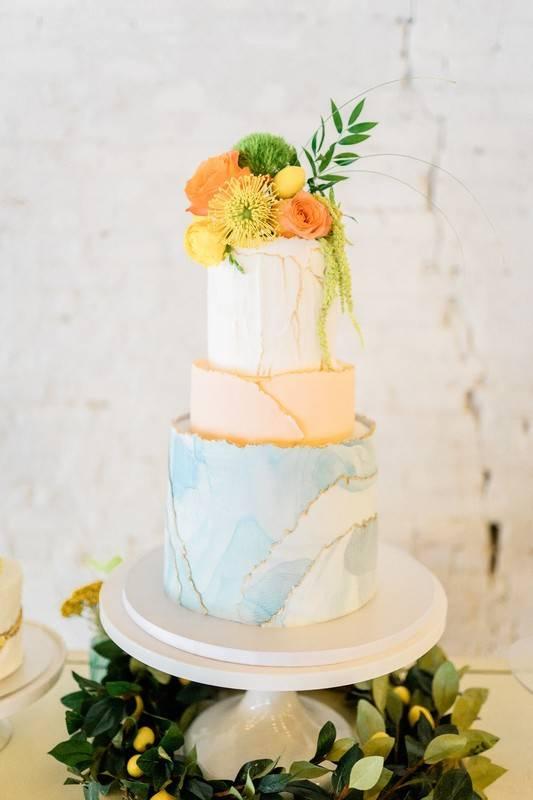 Sherbert color palette
This cheerful sherbert-inspired color palette of pale blue, melon orange, lemon yellow, and shimmery gold instantly puts us in a summer state of mind. If these colors don't work with your wedding theme, you can easily recreate the marbled fondant and deckled edges with a different palette.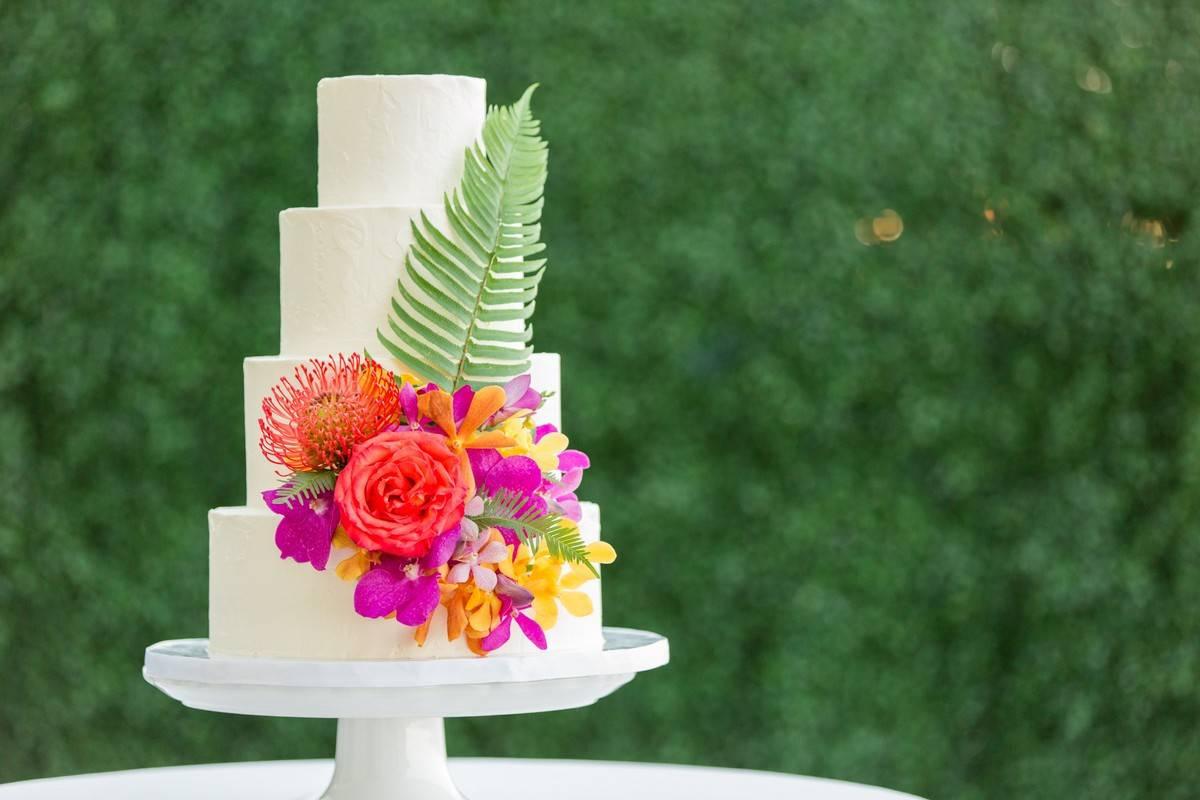 Tropical flowers
Vibrant tropical flowers, like vanda orchids, pincushion proteas, and plumerias, are an easy way to add a bit of island spirit to your beach wedding cake (even if you're getting married at a landlocked wedding venue!).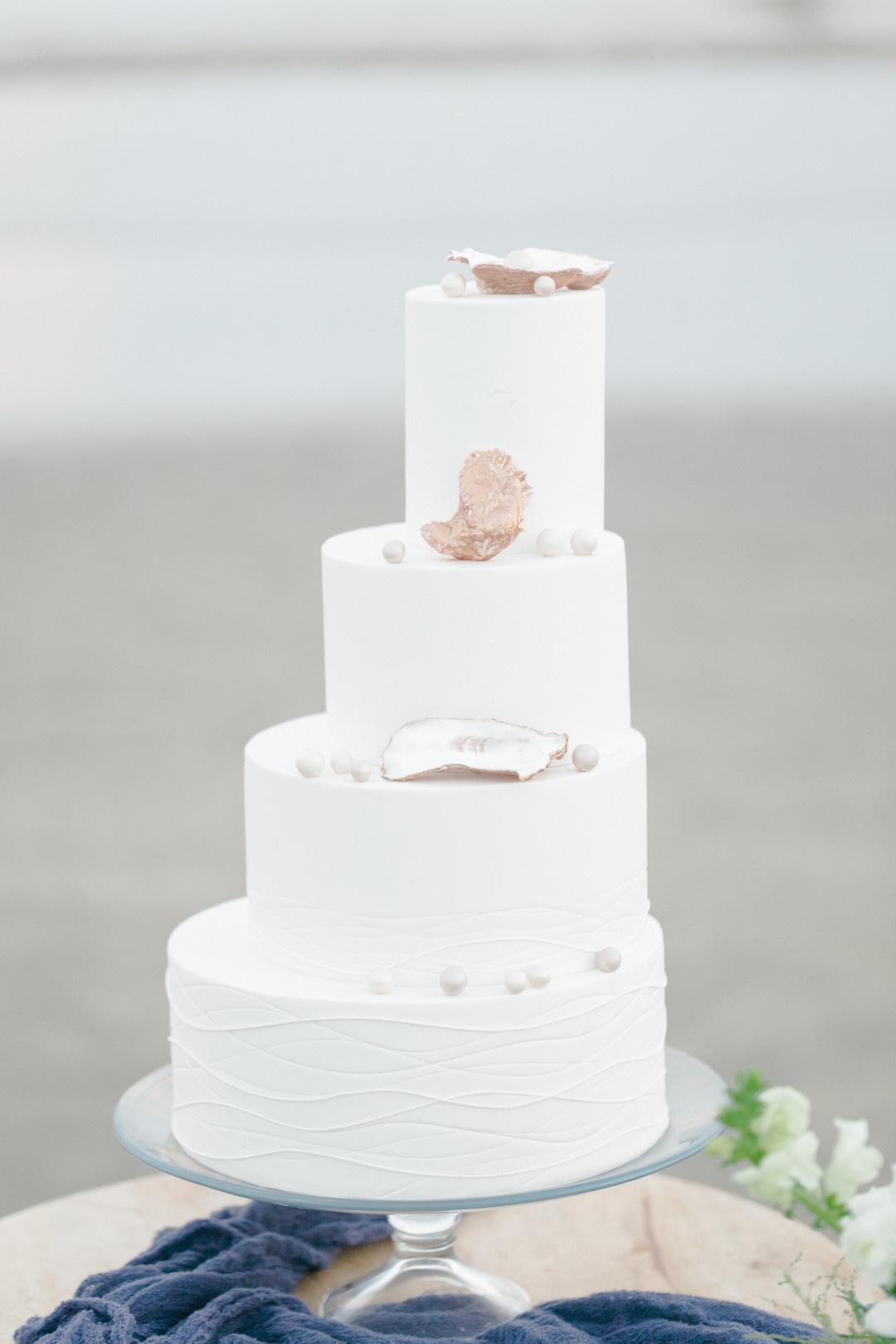 Sugar seashells
Carry out your wildest mermaid wedding dreams by decorating your cake with sugar seashells and pearls. Pair them with a streamlined white fondant backdrop for the most contemporary look.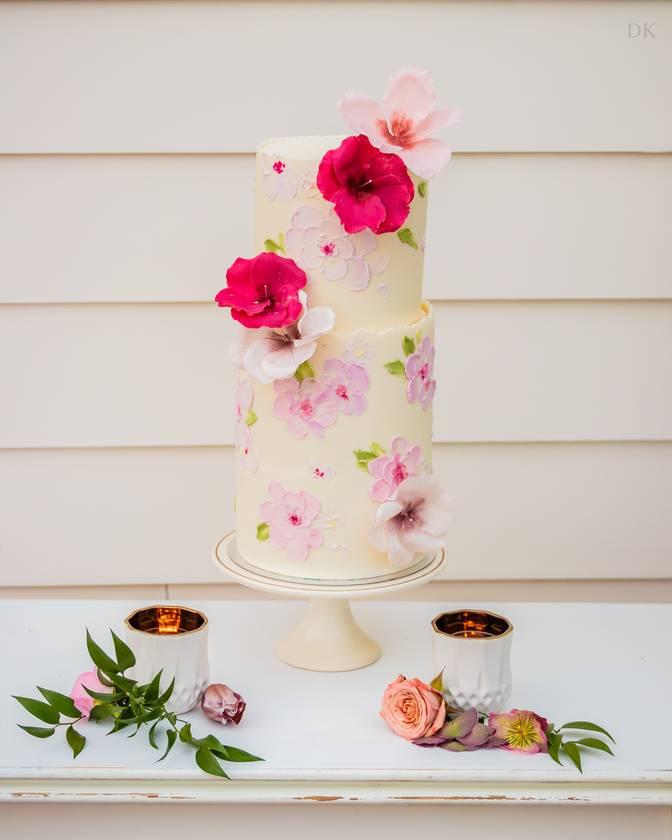 Hand-painted hibiscus
Work with your wedding florist to decide what types of flowers would work well on your beach wedding cake, and then use that to inspire the overall design. We're so into this two-tier cake featuring hand-painted hibiscus flowers alongside live hibiscus blossoms that tie the design together.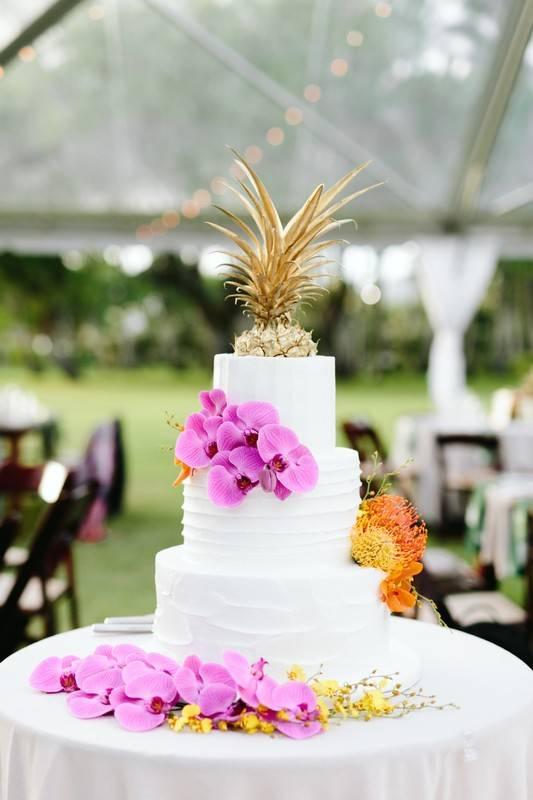 Golden pineapple
Pineapples are a worldwide symbol of hospitality and friendship, but they also happen to make excellent cake toppers, especially for beach wedding cakes! Cut off the top of a pineapple (also called the crown), paint it gold, and you'll have the perfect tropical cake topper in no time.