The Tropical Wedding Colors Blowing Up in 2019
Get ready to live on island time with these tropical wedding theme ideas showcasing one of our favorite palettes from the Pantone Color Institute.
Bright wedding colors are back, people, and they're better than ever. To prove it, the Pantone Color Institute has created 'Paradise Found,' a vibrant wedding color palette inspired by an escape to the tropical islands. If you've been envisioning a tropical wedding theme for your big day, we think this palette is a perfect fit! (See the rest of the wedding color palettes here). But whether you're having a destination wedding on the beach, getting married in a hotel ballroom, or hosting a whimsical wedding in the countryside, 'Paradise Found' is all about bringing the islands to you, wherever that may be!
We couldn't wait to put our own spin on this paradise-inspired palette, so we created a styled shoot filled with all the ideas you'll need for a tropical wedding theme. Expect to see a mix of details that work for both casual and modern styles, gorgeous botanical decor, and island-style refreshments, natch.
See how we brought 'Paradise Found' to life with these tropical wedding theme ideas.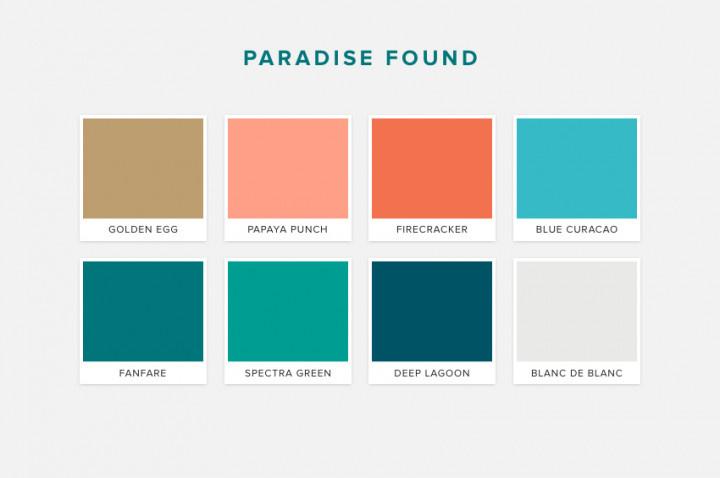 'Paradise Found'
Guaranteed to make you feel like you're on a dreamy island getaway, 'Paradise Found' pairs soothing blues and greens — Blue Curacao, Fanfare, Spectra Green, Deep Lagoon — with zesty orange hues — Firecracker and Papaya Punch — for a tropical-inspired palette. Two shimmering neutrals, Golden Egg and Blanc de Blanc, are reminiscent of sandy beaches and white-capped waves.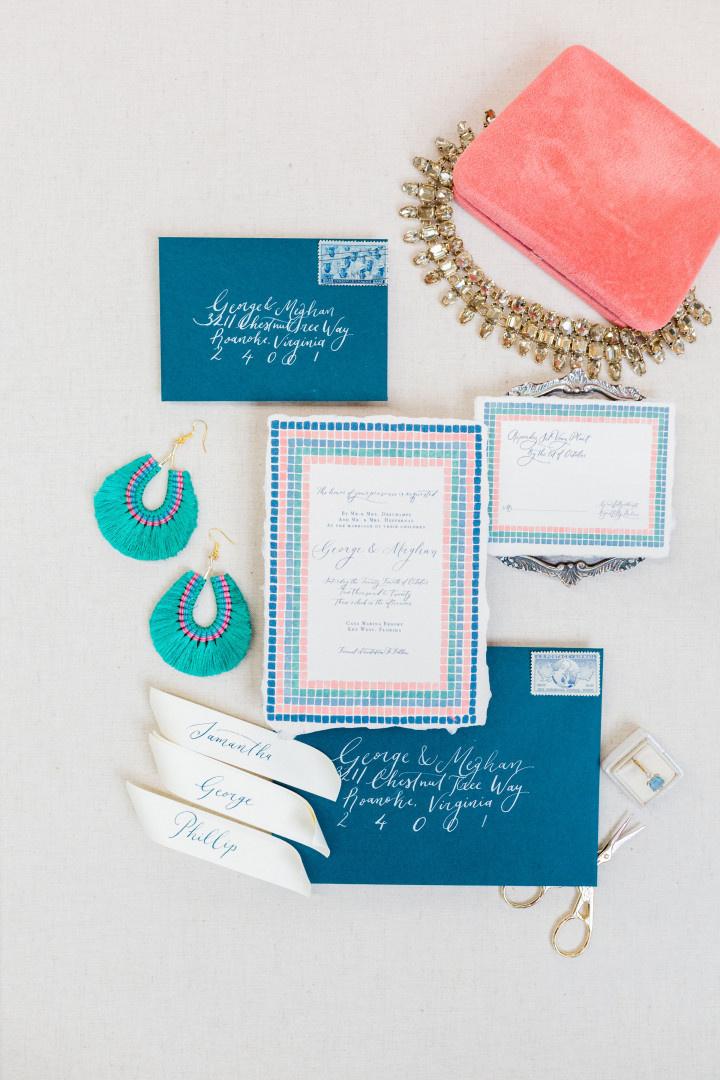 Wedding stationery
Your stationery suite is one of the easiest ways to showcase your wedding colors. Plus, if you're using a bright color palette (like 'Paradise Found,' for example!) it's the perfect chance to set an upbeat tone for your wedding and capture your guests' attention with spunky details. The great thing about having a tropical wedding theme is that it allows you to break the mold and incorporate unexpected elements that wouldn't always work for more traditional events.
This stationery suite feels playful and lively, thanks to the watercolor squares bordering the calligraphy. Vintage postage stamps, torn paper edges, and colored envelopes like the ones on this invitation suite are just a few ways you can tweak your own wedding stationery to make it more personal.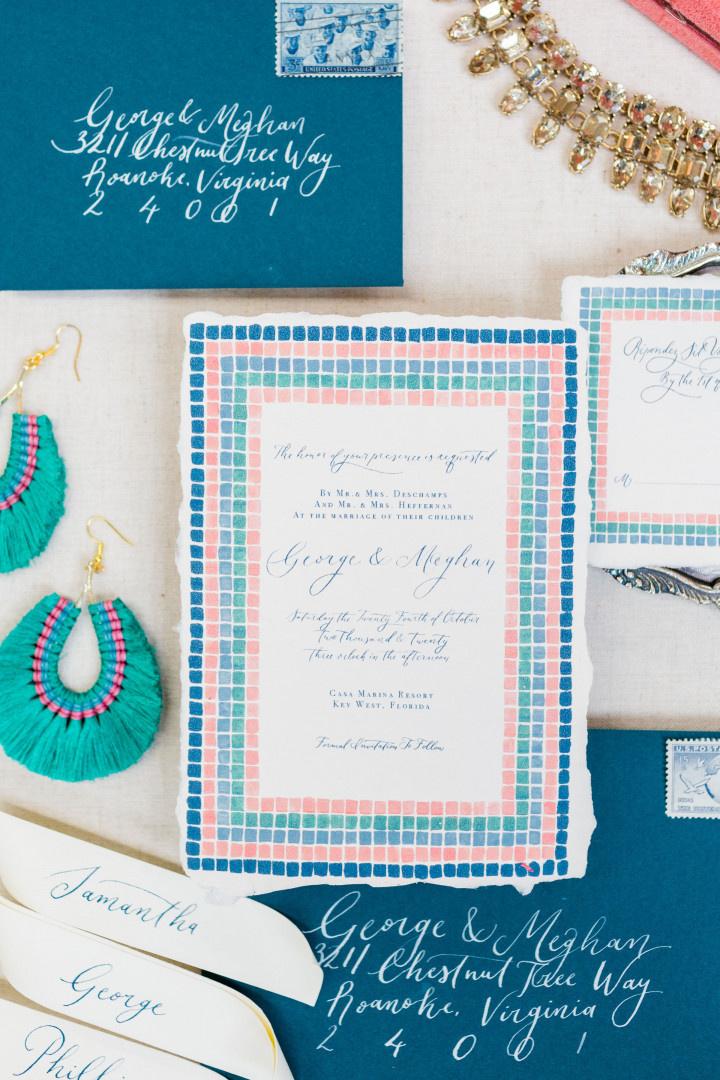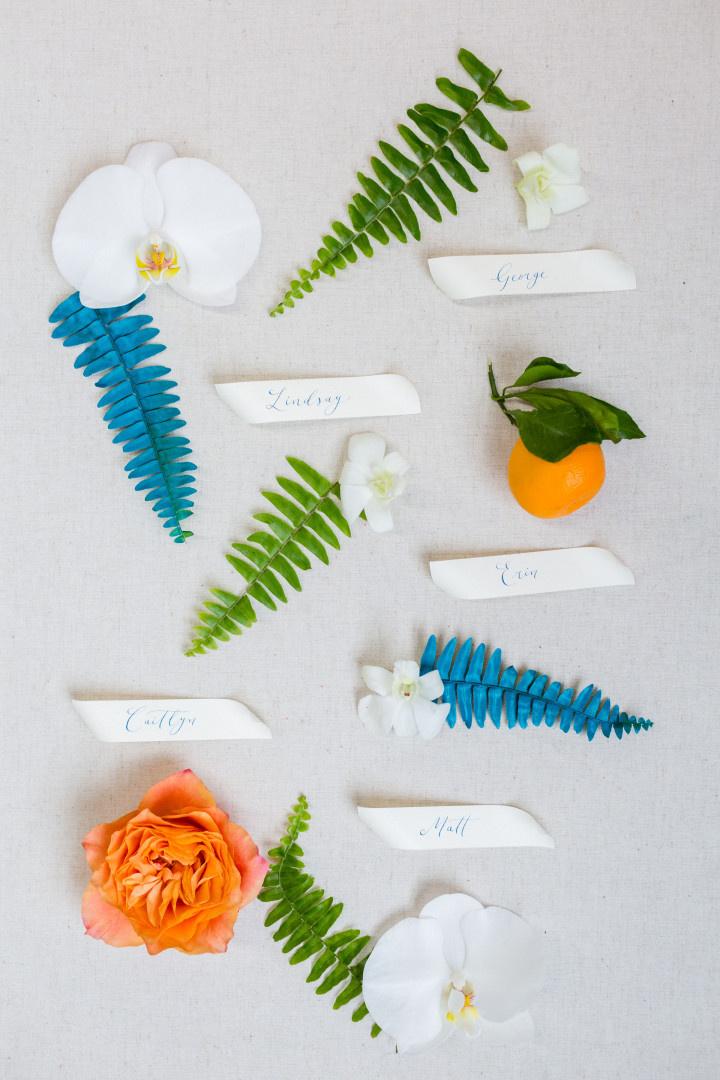 Place cards
Place cards can play an important role in helping your guests find their seats at the reception. These small-but-mighty details are sometimes overlooked until the last minute, but they truly add to the ambiance of your tablescapes and overall wedding aesthetic. We love when couples get creative with their wedding place cards, but if you have a vibrant color palette, opting for more simplistic place cards will keep you from going into decor overdrive. These miniature parchment scrolls make lovely place cards and showcase the color palette with teal calligraphy ink.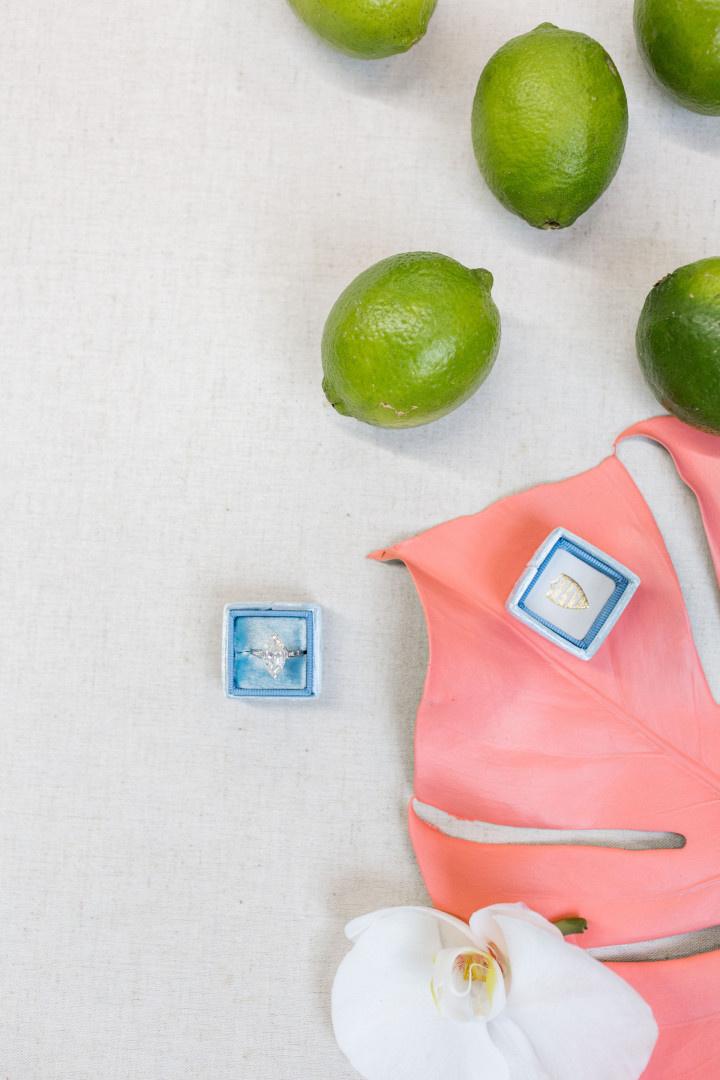 Engagement ring box
Ring boxes have come a long way in the last few years, and we are totally on board. These days, you can find decorative engagement ring boxes in nearly every color— like this blue one from The Mrs. Box — giving you another way to tap into your wedding color palette. And if you want your photographer to take detail shots of your engagement ring on your wedding day, a fancy ring box can make all the difference!
Look for a box that you can personalize with a monogram, or consider a glass or vintage style (you can find these online or at antique shops) for a unique look. Later on, the box can be used as an heirloom piece that you pass down through your family.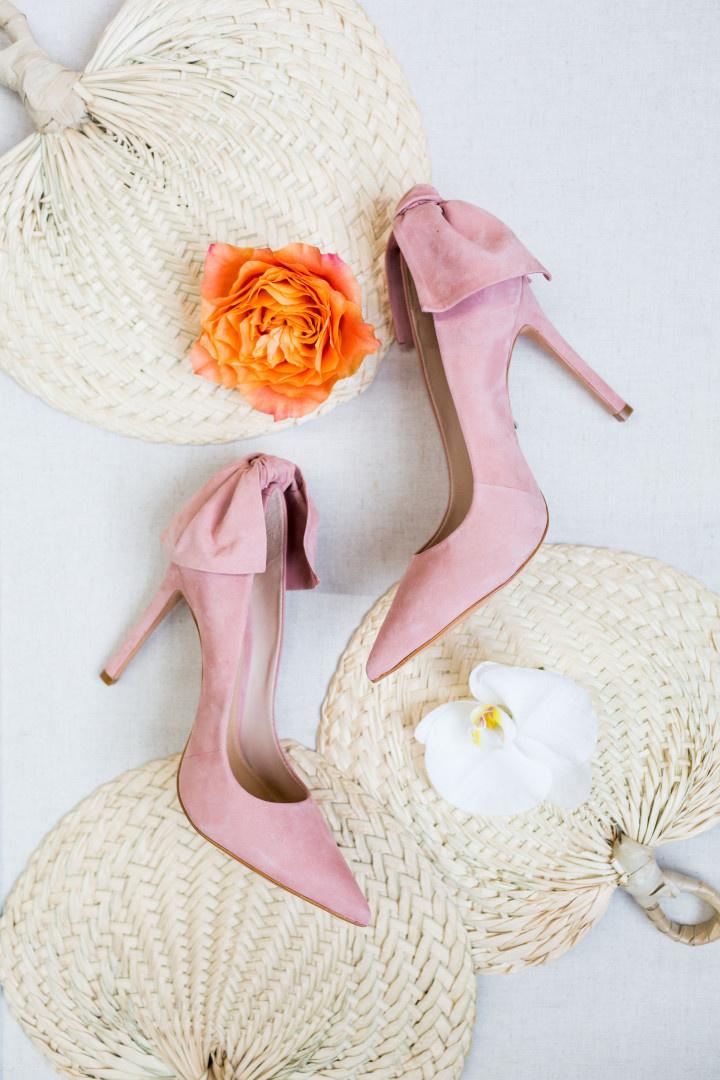 Shoes
What's the point of a rocking your dream wedding dress if you don't have amazing wedding shoes to go with it? Bridal shoes aren't just limited to white satin heels anymore — they're another way to showcase your personality and wedding colors. Whether you go for glitter-encrusted stilettos to match a metallic wedding color palette, chic pink heels (like this style inspired by 'Papaya Punch'), or comfortable flats, your wedding shoes should be an expression of your individual style. They're an easy way to accessorize your look, regardless of your budget or venue.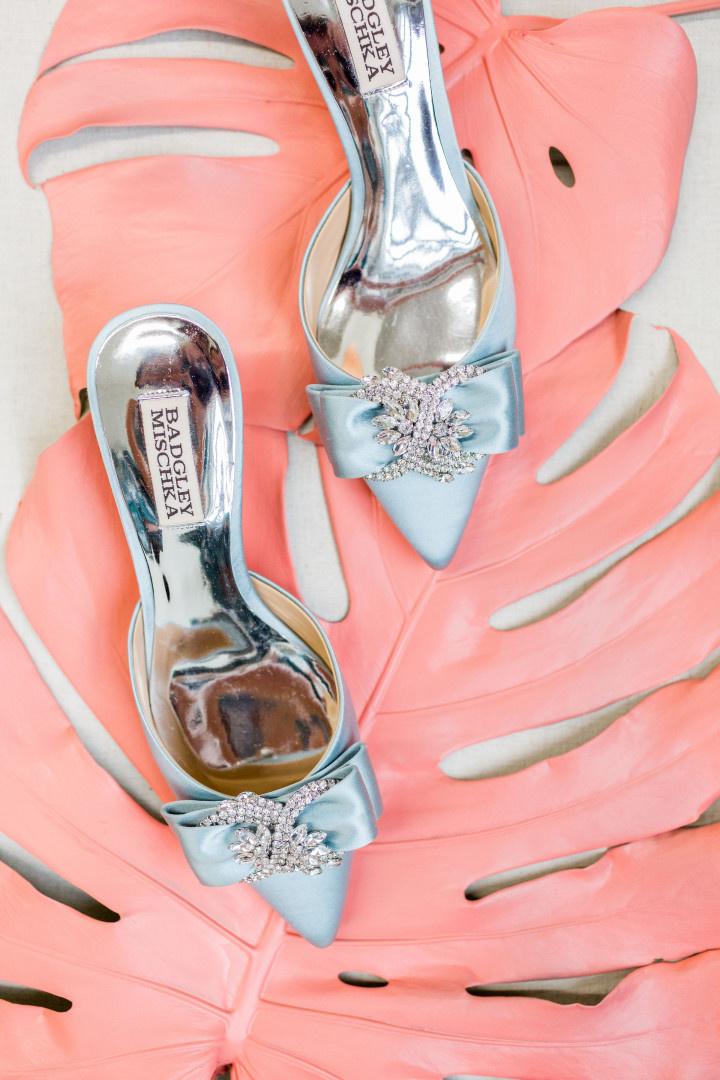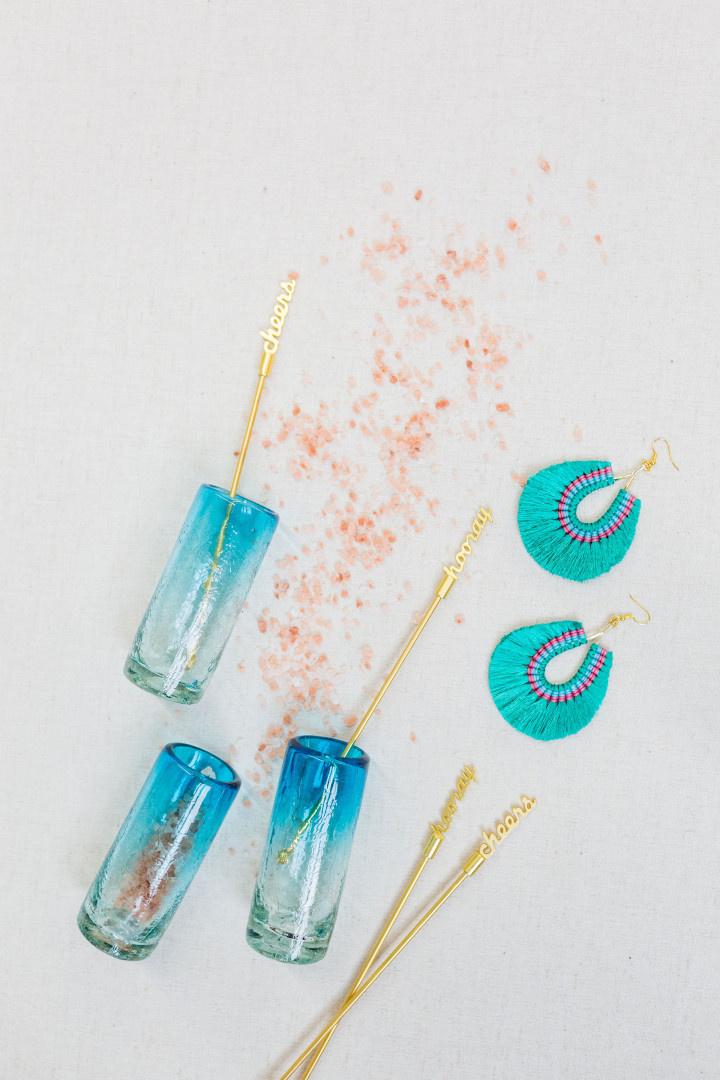 Jewelry
Just like shoes, wedding jewelry is breaking the status quo. A tropical wedding theme is a prime opportunity to embrace colorful jewels, like these turquoise-and-pink fringe earrings! They're an unconventional choice (and a far cry from classic pearl studs), but that's why we love them for any bride who wants to make a statement on the big day. If you're on the fence about bold jewelry, consider wearing something more toned-down for your ceremony and then switching up your accessories for the reception.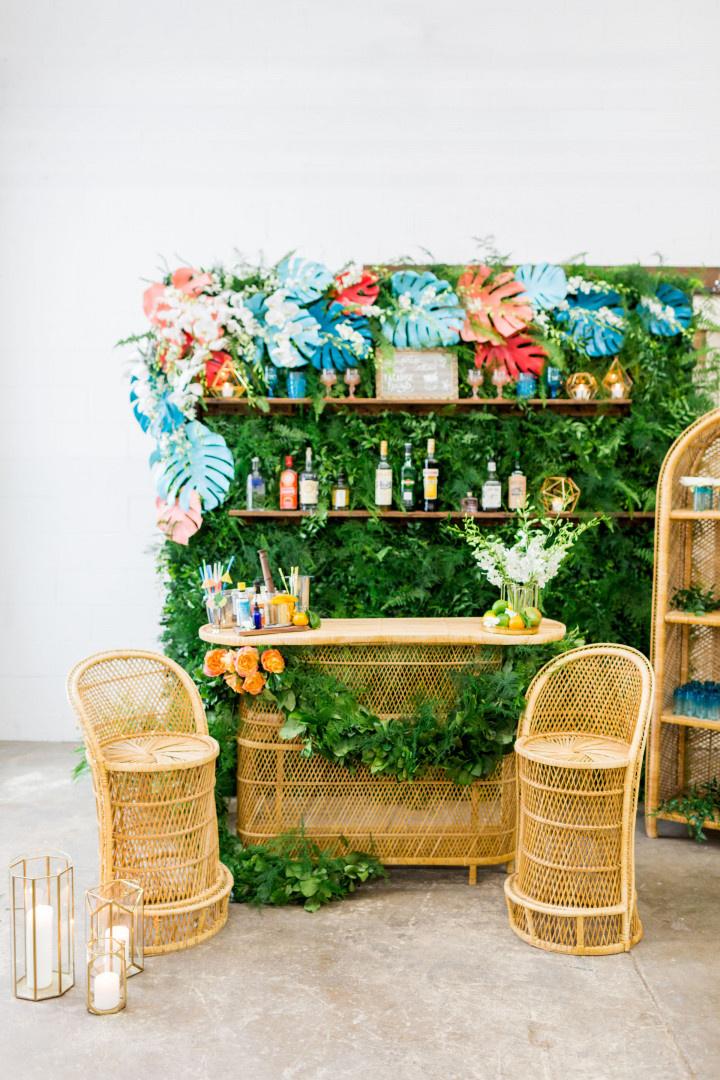 Cocktail bar
Every tropical wedding needs a fabulous cocktail bar, and this one has all the paradise-inspired colors you could ever want. Start with rattan furniture (one of our fave 2019 wedding decor trends) and then add a greenery backdrop wall. From there, brighten up the space with monstera leaves — we painted these to match our color palette! Finish it off with bar top accessories that complement the tropical wedding theme, like umbrella straws, citrus fruits, colored glassware, and gold stirrers.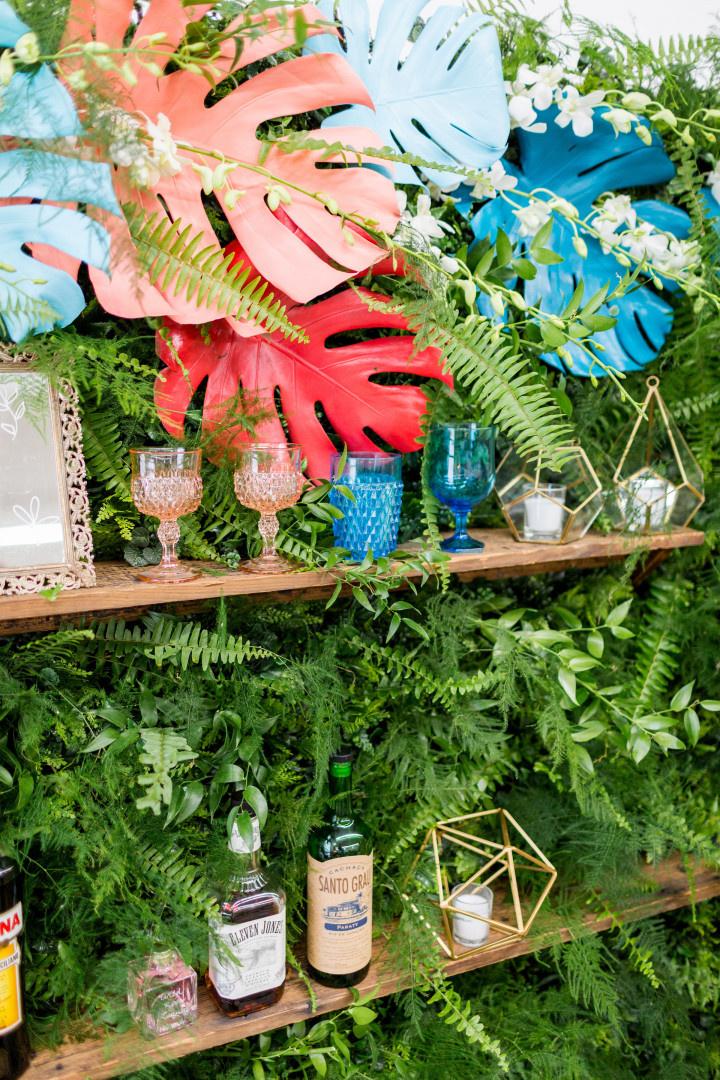 Greenery wall
While they look incredible, greenery walls also run the risk of costing a pretty penny. A secret trick? Look for a wedding rental company that offers a faux-greenery wall and then have your florist add fresh greens (ferns, seen here, are a great option) to give it a realistic spin. We guarantee you won't be able to tell the difference, and you'll get an Instagram-worthy backdrop in the meantime.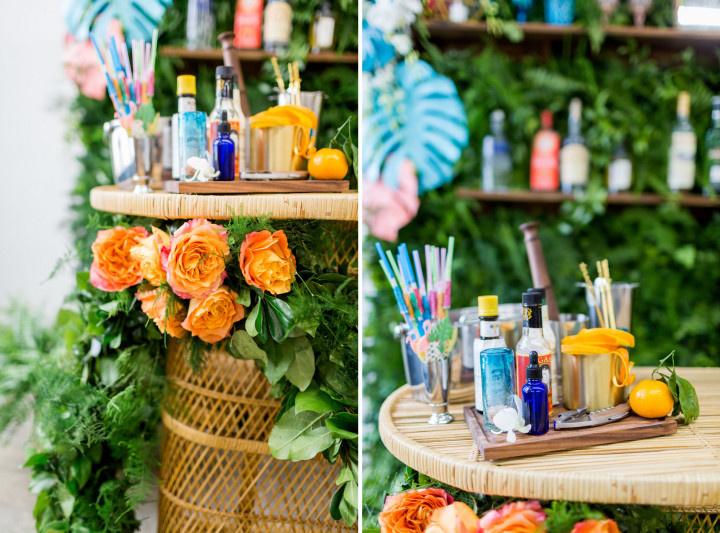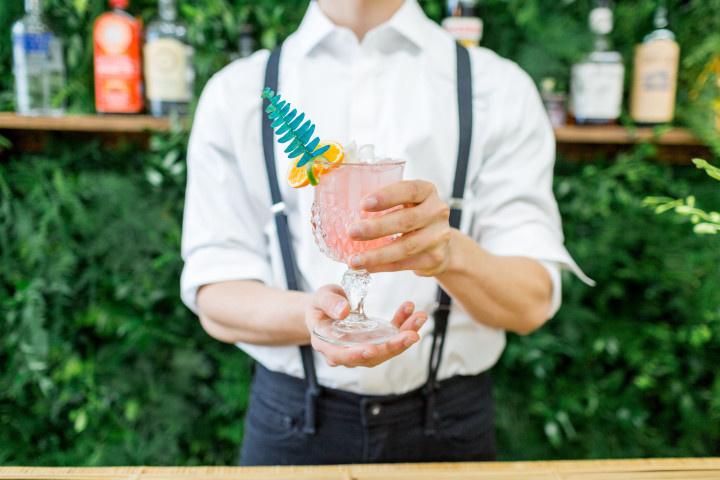 Signature drink
Colorful cocktails are a must for a tropical wedding theme. Drinks with refreshing, fruity flavors will have your guests feeling like they've been whisked away to paradise, even if that's hundreds or thousands of miles away in reality. Margaritas, piña coladas, sangria, and rum punch are always crowd pleasers, but you can also ask your bartender to create a custom cocktail to serve as your signature drink. A splash of colored liquor or juice, along with citrus slice garnish, will instantly make the drinks feel like vacation in a glass.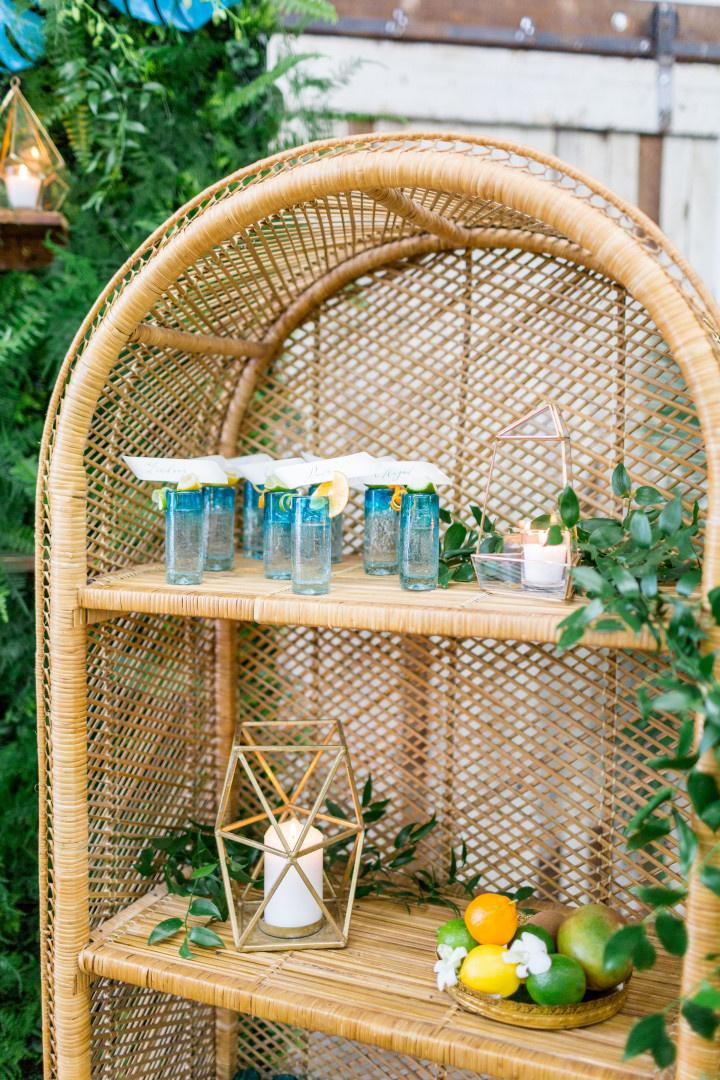 Escort cards
Use your tropical wedding theme as an excuse to incorporate elements that will kick the festivities up a notch. These shot glass wedding escort cards are a perfect example! We used hand-blown shot glasses from Bed Bath & Beyond in a turquoise color to match the 'Paradise Found' palette. You can serve your shot glasses pre-filled to quickly get the party started, or use them purely for display purposes by leaving them empty for your guests to keep as favors. For underage guests, pair the escort cards with non-alcoholic fruit punch or miniature tropical smoothies so that everyone can get in on the fun.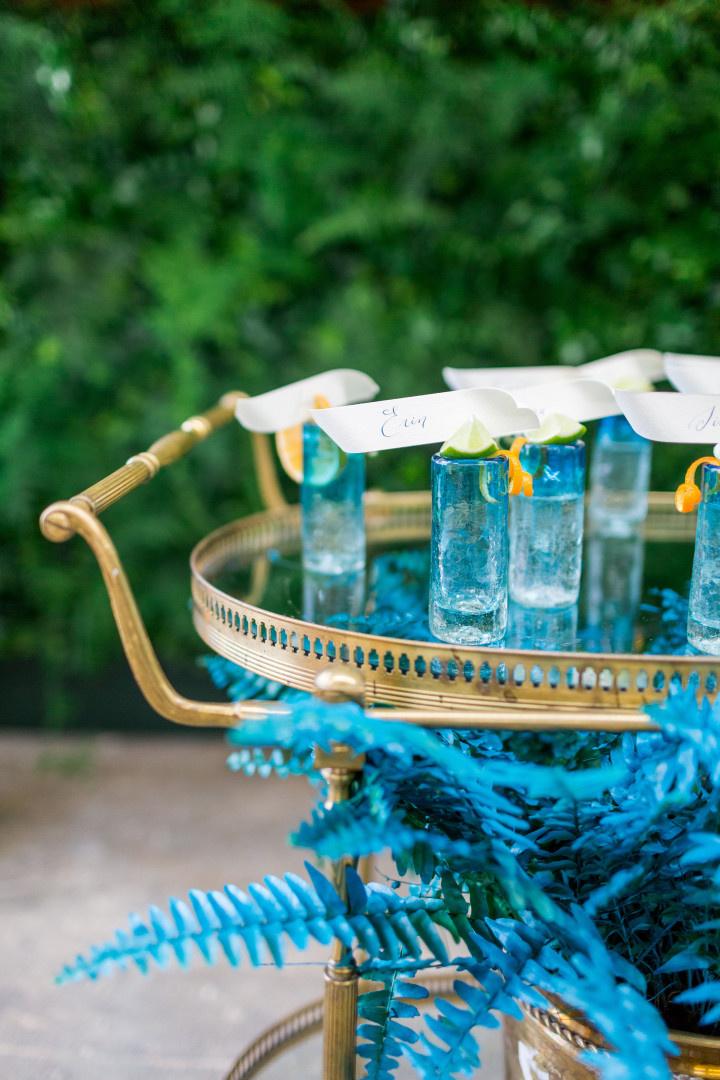 Bar cart display
Two of the coolest 2019 wedding trends are interactive bars and food displays. These trends are all about the presentation — showcasing food and drinks in creative, artistic ways that go beyond simply placing the items on a table. To display our shot glass escort cards, we used a rattan shelf and a vintage gold bar cart, which was accented with painted ferns to bring in the tropical wedding colors. You can source accent furniture from a wedding rental company or ask your venue if there's anything onsite that you can use to customize the space.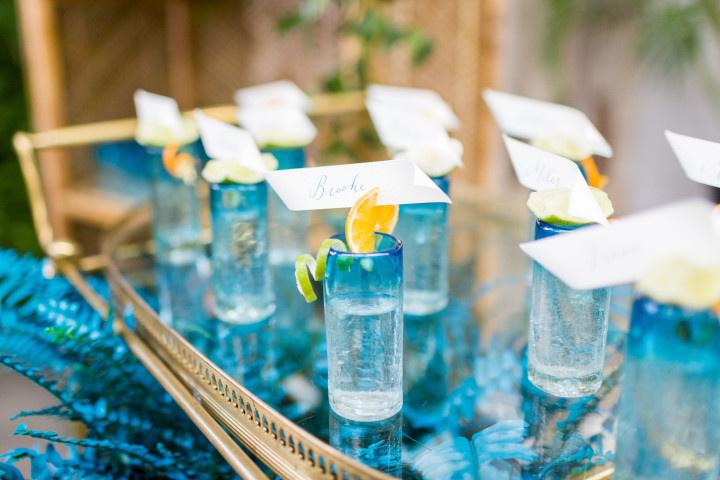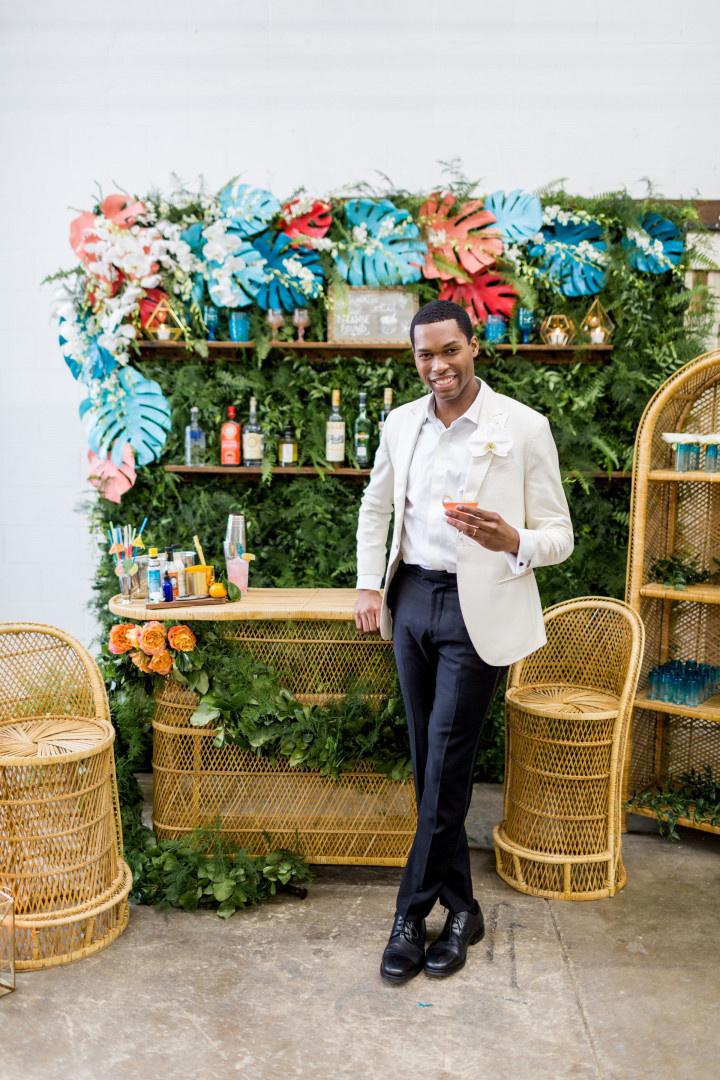 Semi-casual attire
Rule number one when dressing for a tropical wedding theme: skip the actual tropical attire. While Hawaiian shirts and flip flops might be your vacation mode go-tos, we think that your wedding day is worth getting dressed up for. Even if you're opting for a casual dress code, there are ways to pull it off without giving the impression that you just came from the beach!
Regardless of where your tropical wedding is taking place, the types of fabrics you wear will be key in creating a more laid-back look. If you're wearing a suit, opt for a lightweight linen or cotton jacket and skip the tie. Slim black pants and basic pair of black dress shoes are great for a modern tropical wedding, but other options include chinos and loafers for an even more dressed-down vibe.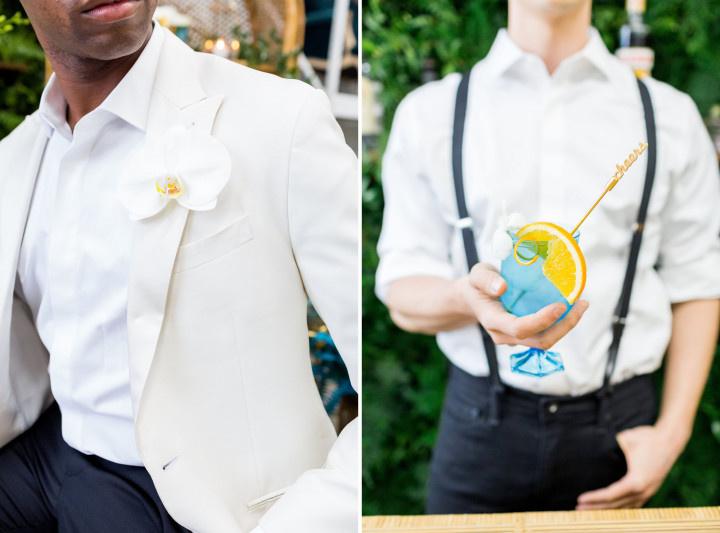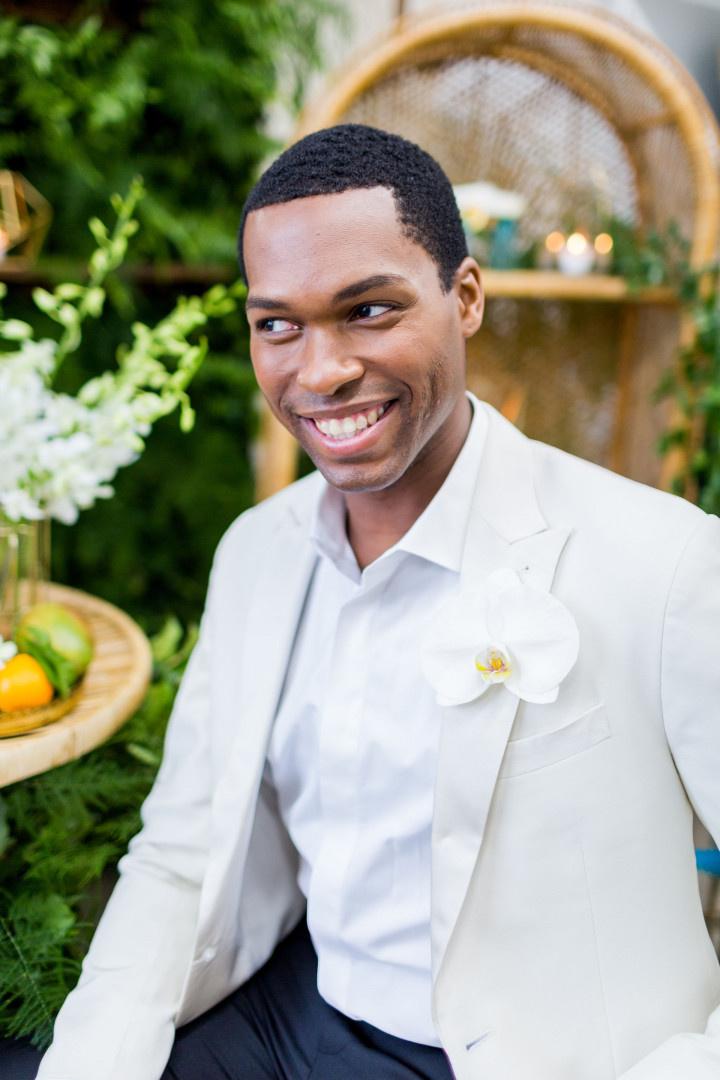 Orchid boutonniere
Searching for another way to shake up your tropical wedding attire? Put a twist on the ordinary groom's boutonniere by sporting a single flower instead of several. Choose a large, structured blossom like this phalaenopsis orchid to really make a statement. Some of our favorite flowers for a tropical wedding theme include orchids, anthurium, proteas, and ginger torch.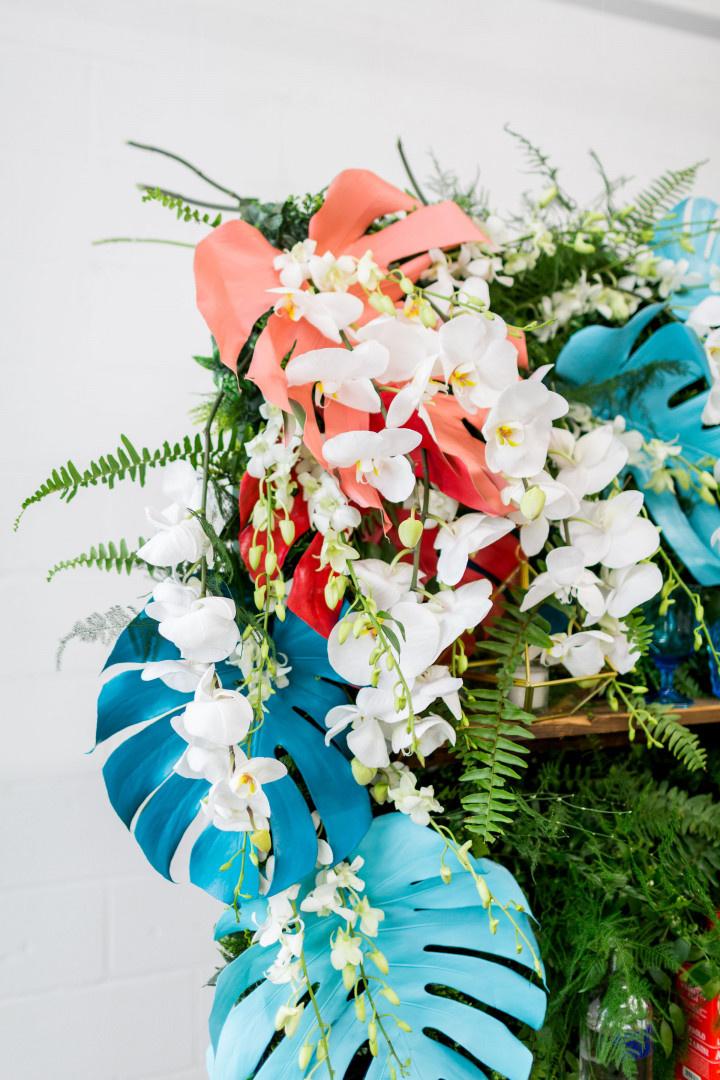 Photography: Kir2Ben | Styling: Sincerely Pete Events | Stationery: Calligraphette & Co. | Floral Design: The Rosy Posy | Rentals: Something Vintage Rentals | Barware: Bed Bath & Beyond | Men's Attire: The Black Tux