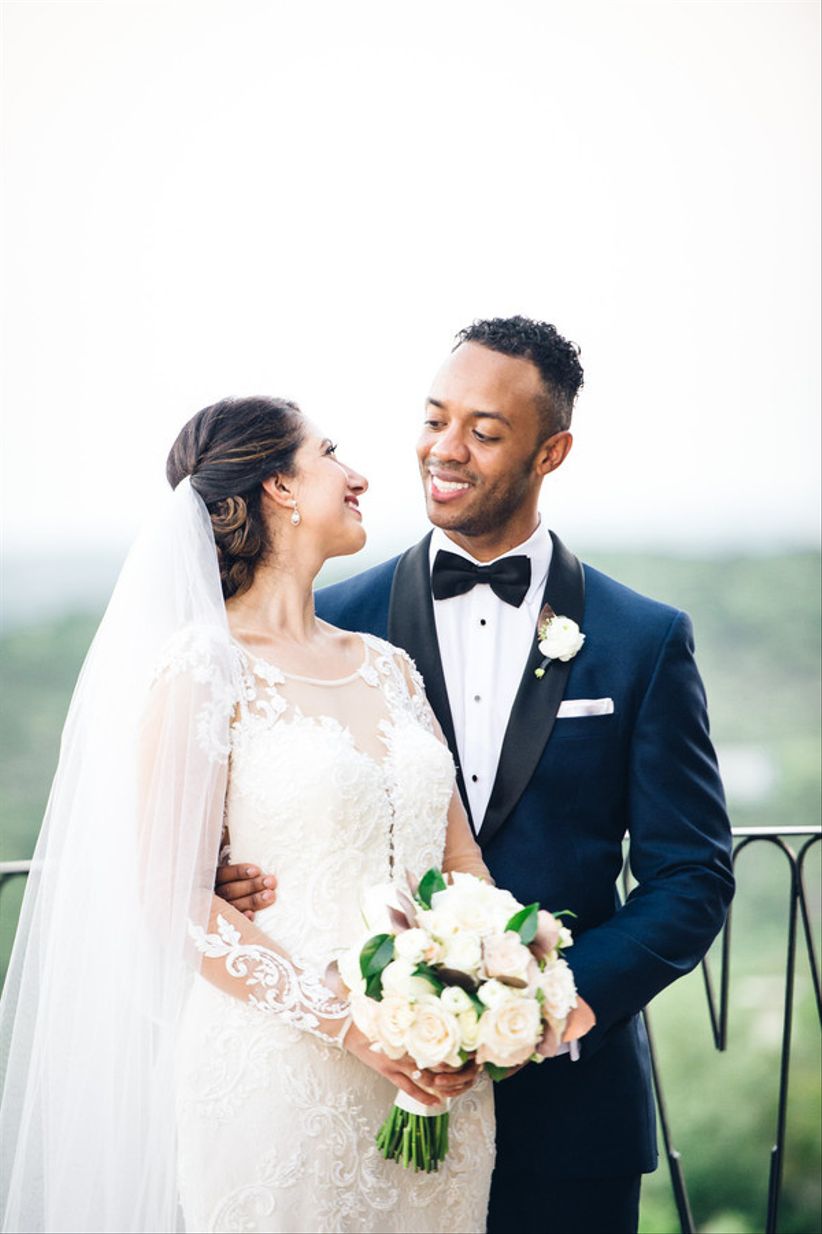 Before you go shopping for wedding tuxedos or wedding suits, you want to decide on a few important details, specifically wedding theme, personal style, budget, and timeline. All of these factors will not only impact what menswear or department stores you look into, but also what styles of wedding suits and wedding tuxedos to consider — like formal vs. casual, outdoor attire vs. indoor, color, etc. You'll also want to have a firm idea of how much money you're willing to spend on your wedding tuxedo or wedding suit, as well as how much time you have before your walk down the aisle.
Find Your Wedding Suit Style
Whether looking for wedding suits for men or women's tuxedos, it's important to consider your own personal style as well as the style and theme of the wedding. Meaning, a classic black tuxedo might not necessarily be the best choice for a casual backyard or beach wedding. Since most weddings are reflections of the couple's personal style, finding a wedding suit or wedding tuxedo shouldn't be the hardest decision. Talk with your fiancé(e) before going shopping at menswear stores or department stores and try to do some research ahead of time.
For black tie weddings, go with a tuxedo. You'll look your best and definitely put the formal in formal wear. That doesn't mean that the wedding tuxedo has to be the traditional black. Blue and gray wedding tuxedos are becoming more popular, but if you're looking to add some flair, think outside the box. Wedding tuxedos for men and women's tuxedos can be in any color including white. And if you can't wear white on your wedding day, when can you?
Wedding suits also come in a variety of colors, prints, and fabrics. For a summer or spring wedding, consider going with a lighter color and linen, cotton, or seersucker. You'll look amazing and stay cool.
If you're having a fall wedding, consider incorporating colors from the world around you into your menswear. Burgundy, olive, or charcoal will add a fun flair and you're sure to feel super cozy. For winter weddings or if you're just getting married in a part of the world that's always cold, think about going with a wool or tweed wedding suit. It's all about staying warm and comfortable through the ceremony and reception.
Decide Whether to Buy or Rent the Wedding Suit or Tuxedo
There seems to be an age old debate on whether or not wedding suits and wedding tuxedos should be rented or bought. Many people will say that the only way to go is to buy; it's a good investment and you can always wear it again.
Unless you're the kind of person who has plenty of occasions to dress in tuxedos, then you probably won't be wearing your wedding formal attire again. Take some time to think if you really want to spend a few hundreds or thousands of dollars on your wedding attire.
This is also the best time to think about your wedding budget and how much of it can be spent on attire. Many couples will pick a few details of their day to splurge on. If formal wear is your splurge item, go all out. Find what makes you feel like a million bucks. If not, there are rental options for wedding suits and wedding tuxedos as well as women's tuxedos.
Just remember to stick with your budget and set it early in the process — this helps in every aspect of the planning process, not just deciding what to wear.
Make Your Wedding Tuxedo or Suit Fit
The argument many people will make against wedding suit or wedding tuxedo rentals is that you can't tailor a rented suit. This is true, but that doesn't mean you can't look good in rented wear. Just make sure the rental company takes the time to measure and find the wedding suit or wedding tuxedo that has the best fit. This may take some time, but it will be worth it.
If you're one of the people who wants to buy their wedding tuxedos or wedding suits, the retailer will likely provide alterations from their tailor. Depending on how many suits they have to tailor, your suit or tuxedo could take a few days or a few weeks.
Start Shopping Early
While alterations for wedding suits or wedding tuxedos don't usually take as long as wedding dress alterations, you still don't want to wait until the last minute to start your formal wear search. Not starting the process early can lead to a rushed decision, rushed tailoring, and not looking your best on your wedding day.
Starting early also allows for more in-depth research on wedding suit and wedding tuxedo vendors as well as finding the best tailor. You'll save yourself a lot of stress by being on top of your wedding planning schedule.