Wedding Tuxedo & Suit Rental 101: Everything You Need to Know
Before you make a final decision on your wedding day attire, brush up on all things menswear rentals with this helpful guide.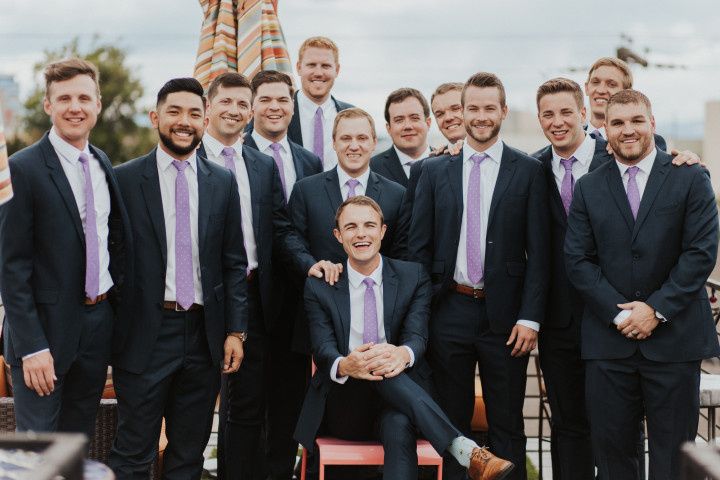 Sponsored by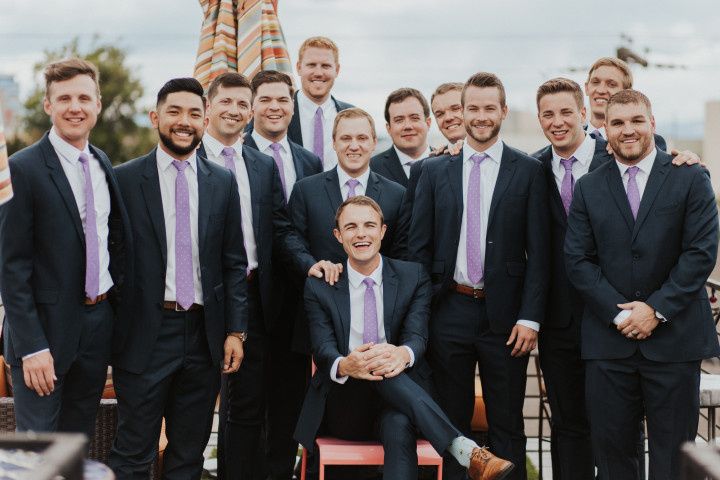 Thanks to online tuxedo and suit rental services, looking good on your wedding day has never been easier. But if the last time you rented a suit or tux was for your high school prom, it's probably time for a quick refresher on the process. We've partnered with Generation Tux to bring you the low-down on wedding suit and tuxedo rentals, including when and how to rent, what to consider during the process, and some of the awesome perks you'll enjoy when renting your attire online.
Ready to suit up? This guide will get you up to speed on everything you need to know about wedding attire rentals.
Perks of renting your wedding attire
If you're torn between buying or renting your wedding day attire, we feel you. Both options have their perks — buying a new suit or tuxedo will add an investment piece to your closet, while renting often gives you a little more flexibility (and can sometimes help you save money in the process). Ultimately, you should think about your everyday lifestyle. How often do you actually wear a suit or attend high-end events that require you to wear a tuxedo? If your wedding day is a rare occasion when you're going to be dressed to the nines, then renting your attire might make more sense than purchasing it.
Gone are the days of one-size-fits-all rental suits and tuxedos. The latest rental services offer styles that are more personalized and tailored than ever, which means you'll get all the benefits of a custom look without the commitment. Online rental companies like Generation Tux are making it even easier to shop for your wedding attire — you can browse styles, find your measurements, and place your order in less than an hour (and more importantly, without ever having to leave your house). Your suit or tuxedo will be delivered right to your door 14 days before the big day, and once the wedding is over, you simply box everything up and send it back. Not only does this eliminate the need for multiple trips to a brick-and-mortar menswear shop, but online rental services are extremely convenient if you're trying to outfit a group of people who aren't all in the same location.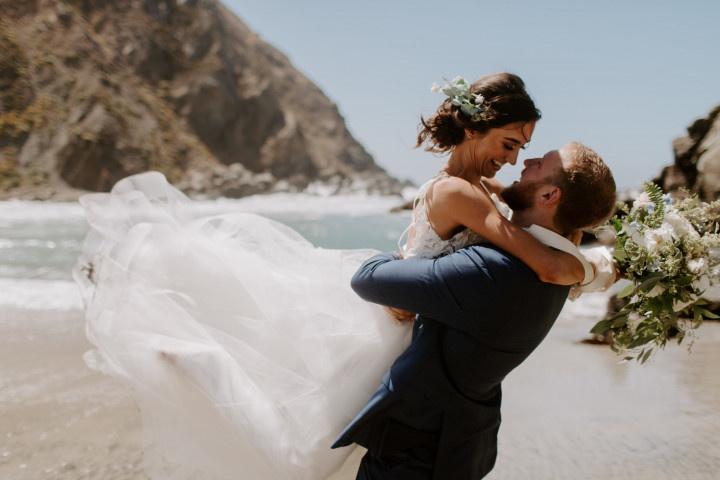 How suit and tuxedo rentals work
When you rent from a local menswear store, you can plan on visiting the shop at least two or three times in person — once to get measured and find your look, another time to pick up and try on your rental, and a third time to return the clothes after the wedding is over. Shopping in-person means you'll get personal suggestions from the menswear experts at the store, and you'll be able to see all of your options firsthand (helpful if you're trying to match specific colors or fabrics).
Renting online is a more streamlined process, but that doesn't mean you have to sacrifice quality or customer service. Most online rental brands offer interactive tools so you can mix and match pieces to create your perfect look, whether that means pairing different vests and jackets together or deciding which color bow tie to rock with your tuxedo. To help you choose the right colors and fabrics, Generation Tux offers complimentary swatches for their suits, tuxedos, and accessories.
What about proper fit and size?
If you're worried about an ill-fitting rental suit or tuxedo — or have absolutely no clue how to go about measuring yourself — hear us out. Thanks to good ol' technology and home try-ons, it's totally possible to find something that fits perfectly, without even having to break out your tape measure. Generation Tux uses a special algorithm called eTailor that creates a "fit profile" based on your age, weight, height, build, and shoe size. The algorithm predicts which size is the most accurate for you, but if there are any issues once your order arrives, they've got you covered. You'll receive your order 14 days before your wedding, leaving plenty of time for Generation Tux to expedite a size replacement if necessary (P.S.: it's completely free!). Need more time to make sure that everything looks and fits exactly like you want it to? Check out Generation Tux's home try-on service, which pairs you with a personal stylist and lets you test drive two different looks at no cost before you place an order.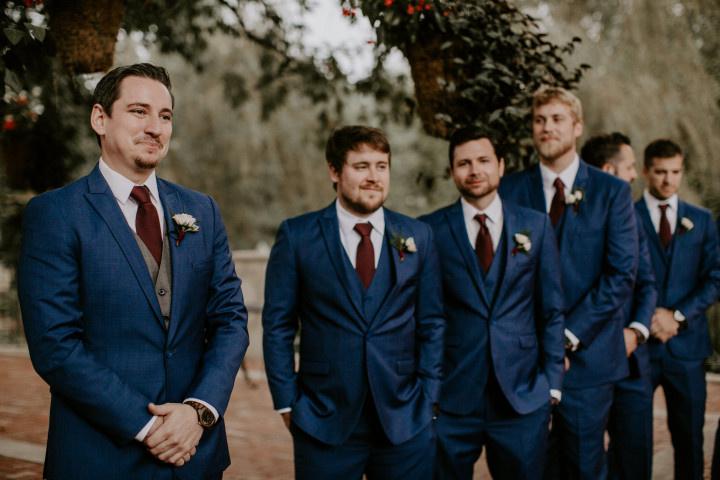 When to order your suit or tuxedo
While most menswear rental services offer rush options, we definitely don't recommend waiting until the last minute to decide what you're going to wear on the big day. You should start browsing for your attire at least five or six months before your wedding. This goes for both the groom and the groomsmen, especially if you have a larger wedding party — you'll appreciate having that extra time to make sure that everyone gets their orders squared away. Another perk for planning ahead? You'll often receive discounts for ordering all of your attire at the same time, and you might even qualify for a free rental depending on the number of people in your wedding party (Generation Tux offers a free groom's suit or tux for groups of five or more).
What else can you rent?
Once you've got your suit or tuxedo locked down, it's time to think about accessories. The majority of menswear rental companies also offer shoes, ties, suspenders, dress shirts, and more to help you complete your look and get everything in one place.
You'll also want to think about anyone else who will need to rent attire for the wedding, whether it's your groomsmen, ring bearer, or family members (dad needs to look his best, too). We love the Generation Tux event management tool where you can design your group's attire, add your groomsmen, and even track their individual order progress — that means no last-minute surprises, like finding out that the best man waited too long to order his suit.