4 Ways Grooms Can Choose the Right Suit
If you want to find the right wedding suit but don't know where to start, read ahead for our suggestions.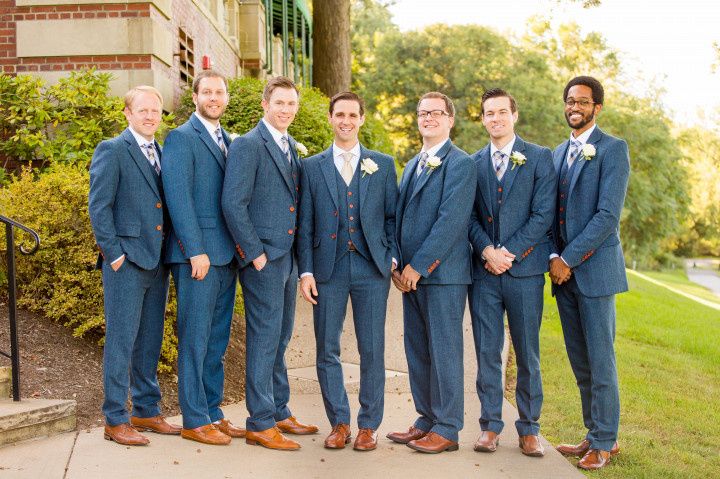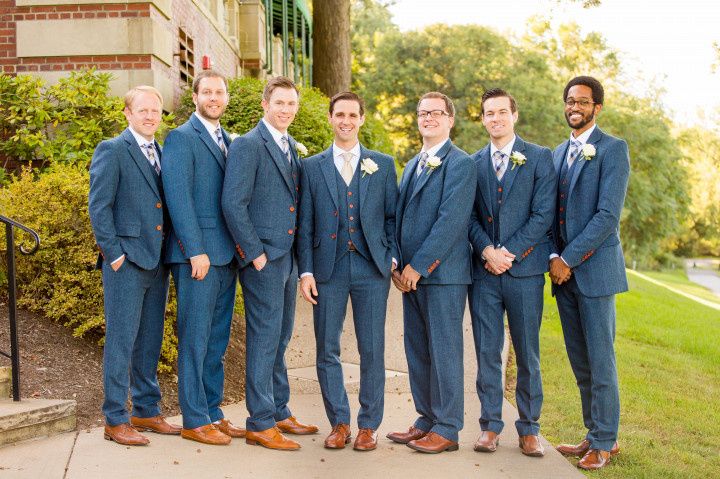 When it comes to wedding preparation, the quest for a great suit doesn't get much attention. The wedding dress always tends to be top priority, and men are basically expected to show up wearing the right color tie and an outfit that doesn't have stains on it. There's a reason no one is lining up to watch a show called Say Yes to the Suit.
But unlike a wedding dress, a quality suit has uses that go far beyond the day of the wedding. It can serve as professional attire, formal wear or even just an outfit for special occasions like anniversaries and date nights.
Here are four easy tips to help you find the best wedding suit for your style and budget.
Go to a tailor
One of the biggest reasons men choose to buy a suit instead of renting a tux is the fit. A tailored suit will always look better than a tux rented off the rack.
Even if a suit fits well in store, the groom should strongly consider getting it tailored before the big day. A tailor can turn an acceptable-looking suit into a dynamic article of clothing that will turn heads every time you wear it. Alteration costs vary based on the tailor and what you need to have done. As a general rule, expect to spend between $10 and $150.
If you have a strict budget, choose a less expensive suit and spend more on professional tailoring. People will usually notice a suit's fit more than the quality of fabric and stitching
Spend a bit more
Everyone wants to save money on their wedding, but unlike the flowers or cake, your suit will last for years after the ceremony is over. Instead of choosing a suit based on price, find the best value. It might require spending a little more than you originally thought, but it's better to pay $400 for a suit you'll wear a few times a year than $200 on one that will sit in your closet.
This can be a tough concept for younger men to embrace. When you're in your 20s, you're typically unaccustomed to shelling out big bucks for an article of clothing. But if you invest in a decent suit early on, you'll be prepared for any formal events and business functions you attend for years—and look amazing the whole time. You may not care about the quality of a suit at that age, but the people conducting your interviews and deciding who gets promoted probably do.
Don't just consider the wedding
When you're buying a suit for the wedding, you probably imagine wearing it while saying your vows, listening to speeches and getting down on the dance floor.
But have you imagined wearing it at a dinner party, a funeral or another friend's wedding? Is your suit versatile enough to handle a variety of situations, or will it only be appropriate in rare circumstances?
Gray and navy suits are a good compromise between a traditional black suit or tux. Tan and white suits might be popular for summer weddings, but won't work well for a networking event. The suit should also match the bride, fellow groomsmen and bridesmaids, so don't ruin the aesthetic of your wedding over practicality—just try to find a reasonable middle ground.
Plan your accessories
Nick True got married three years ago and still wears his wedding suit several times a year to other weddings, holiday parties and date nights. He recommends not only finding a suit you'll want to don again, but accessories, too. If you're buying a new tie, belt and pair of shoes for the wedding, make sure to find something you'll want to wear again.
"Get shoes that look good with the suit but also with a more casual outfit," True said. "Take a pair of nice slacks or jeans with you in addition to suit pants to try them out. Consider a reversible belt that has both brown and black depending on shoes and tie."