These Indoor Ceremony Backdrops Will Make You Pray for Rain
Whether by design or because of bad weather, hosting your wedding indoors does have it perks—namely, the ability to display these stunning ceremony backdrops.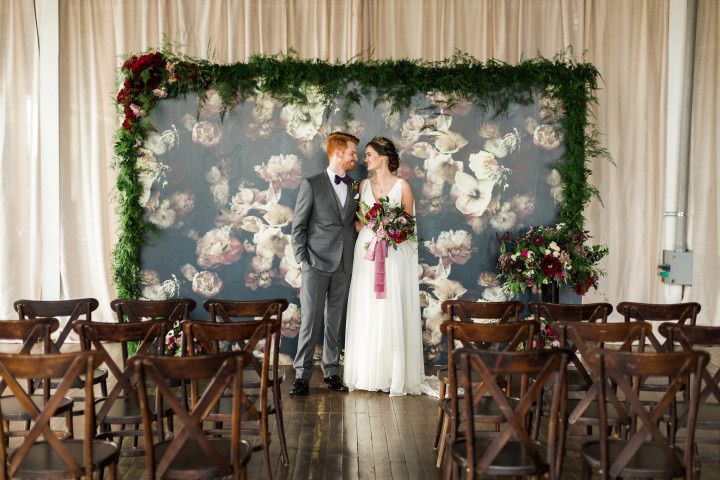 Nothing makes quite the statement at a wedding ceremony like an eye-catching backdrop. It helps set the tone for the occasion and exemplifies your and your partner's personalities and style. Whereas outdoor nuptials often come with a picturesque background of Mother Nature, indoor weddings often have walls that need a bit of dressing up. Fabric and curtains are a no-fail option for a touch of romance, colorful paper or canvases create a bit of whimsy, and geometric pendants or metal frames bring a modern, industrial feel.
These indoor ceremony backdrop ideas will have your inspiration running wild.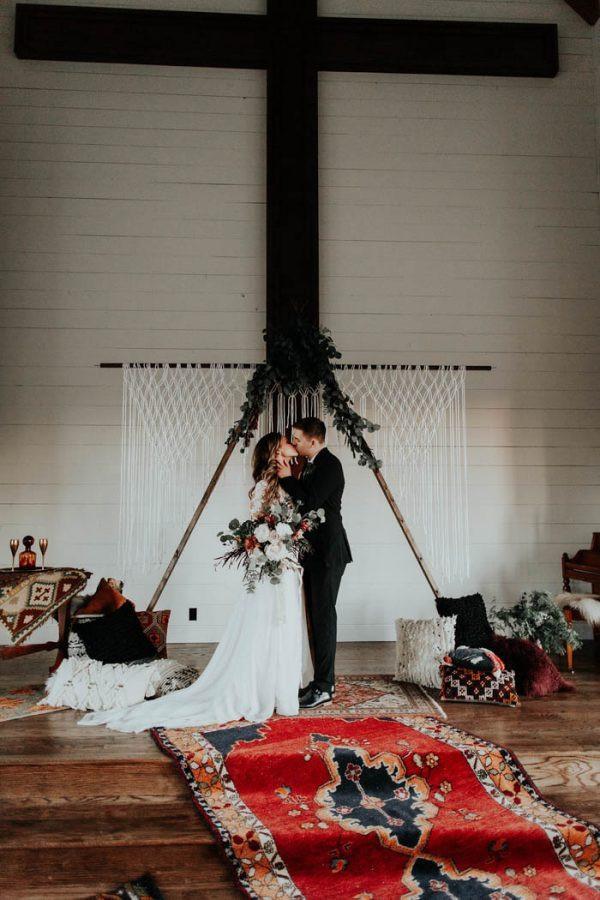 Seriously, what's more bohemian chic than macramé, especially when dangling from a teepee-like frame topped with greenery? Complete this earthy look with a mix of Persian and Moroccan rugs, framed by patterned throw pillows. Deep jewel tones carry an autumnal vibe.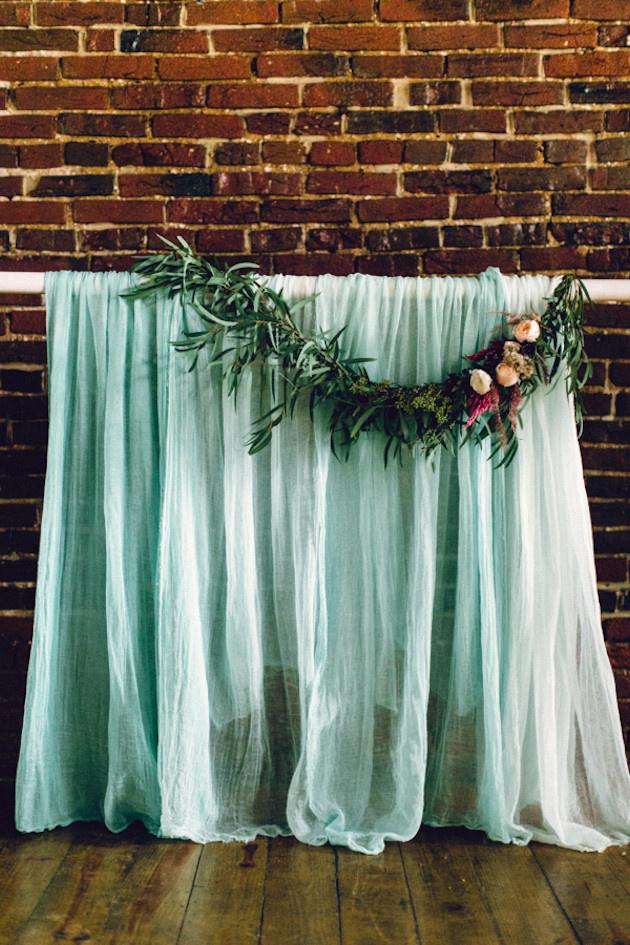 Gauzy turquoise fabric brings the feel of a light, summer wedding indoors, adding an airy vibe to the edginess of exposed brick. Top it with a swag of greenery to keep things from being too simple, while still achieving a subtle touch.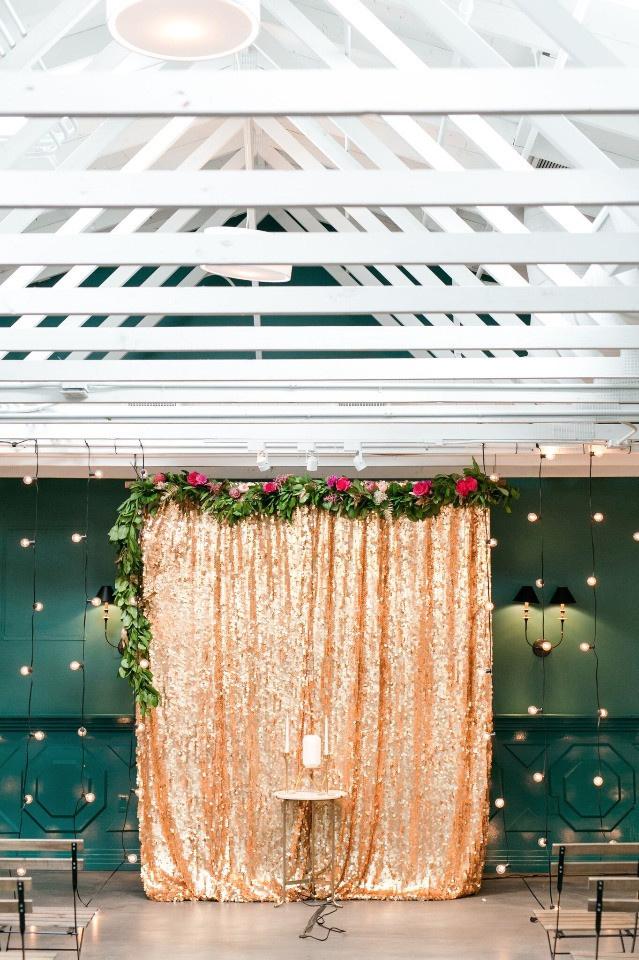 This glam gold sequined backdrop is a showstopper. It's all about the shimmer here, framed with a garland to bring natural to the glitz. Curtains of lights are the perfect complement on each side, adding even more shine. It's every couple's Hollywood moment.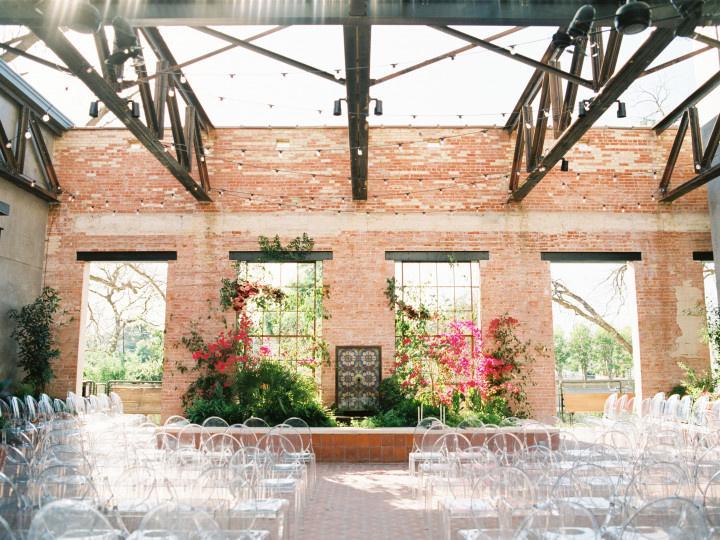 Who says you can't have flowers at an indoor ceremony? Bring the outdoors indoors with lavish greens and crawling florals. If your venue comes with an indoor garden, add to it with blooms that match your wedding style. If it doesn't, create your own garden!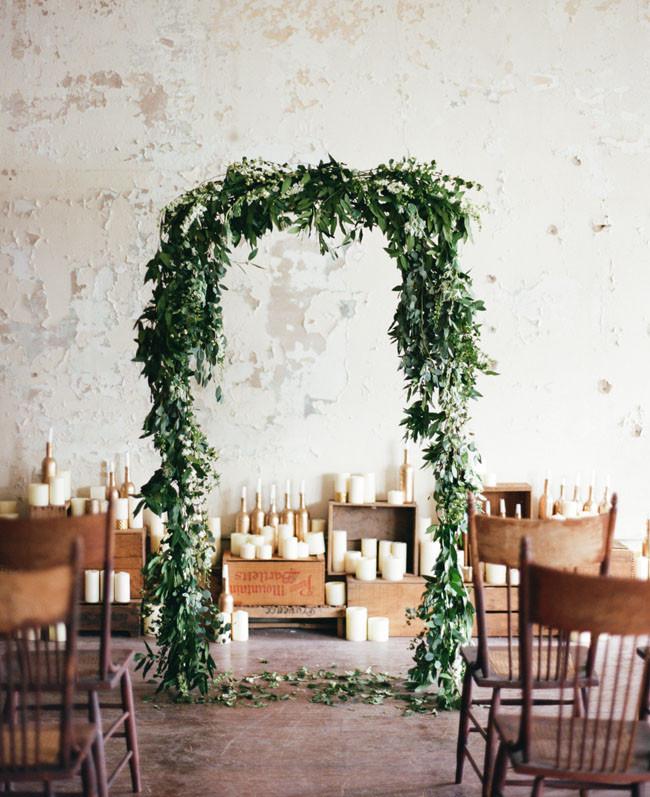 An arch of greenery is all about organic romance, and when set in front of a weathered wall, it immediately gets an old world feel. Crates of ivory candles and gilded vases add the final touch.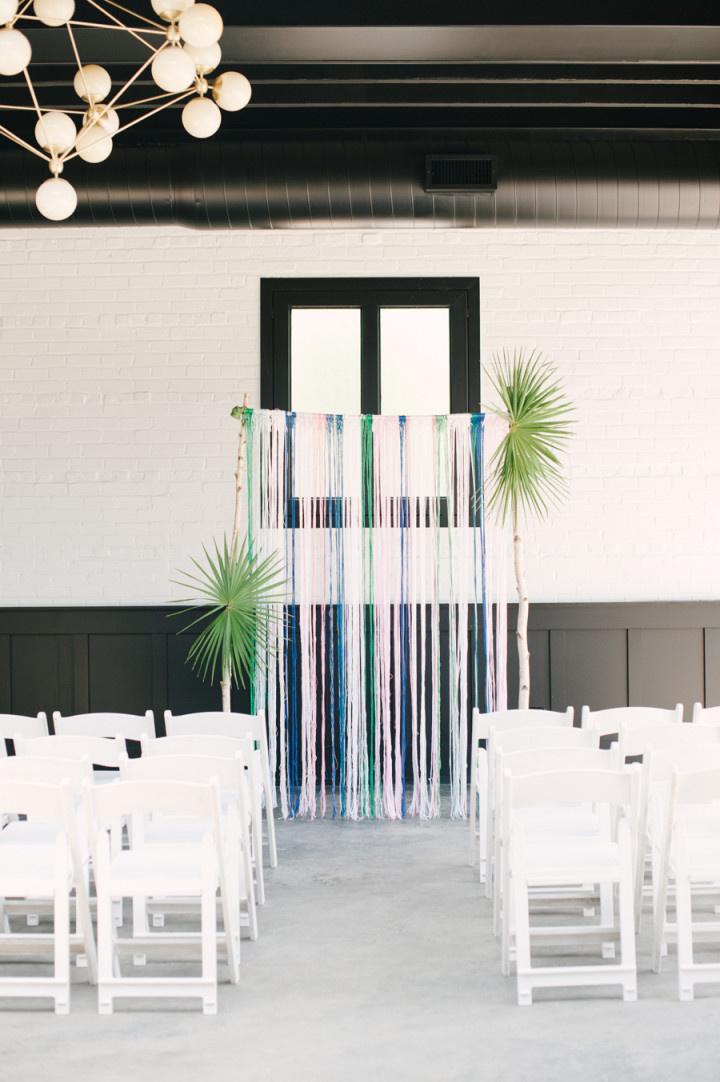 This simple, whimsical piece is exactly what this stunning monochromatic venue needed. Colorful ribbons in pastel hues are strung between two branch poles adorned with palmetto leaves. The look is tropical meets modern.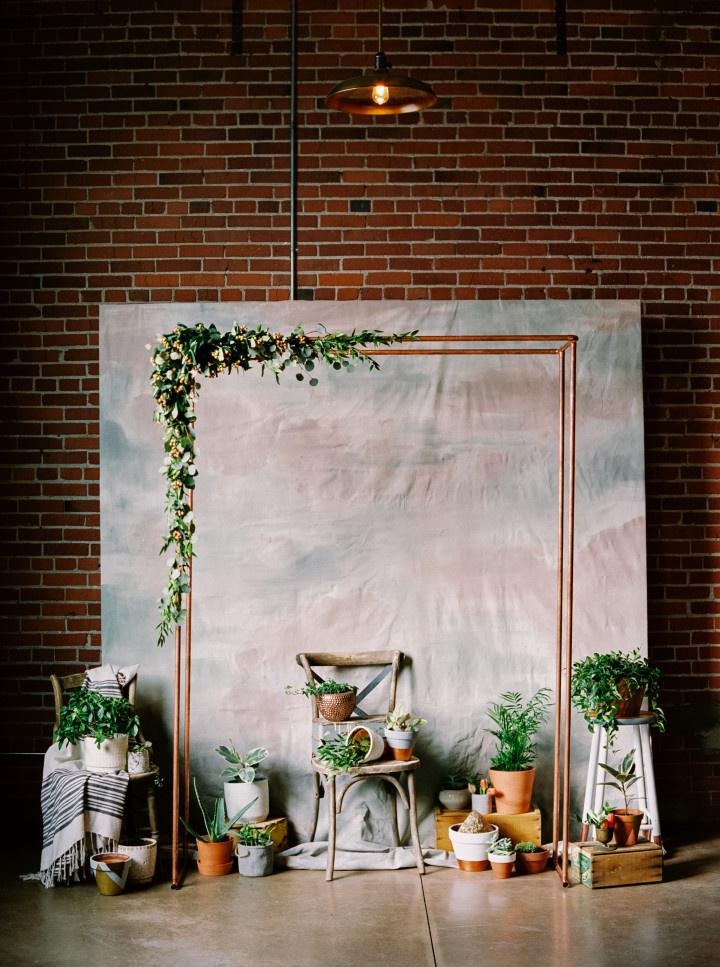 This ceremony backdrop is just what the contemporary hippie bride ordered. A watercolor canvas takes a tie-dye approach, while succulents and plants arranged along the edge bring in vibrant garden vibes and a copper metal frame acts as a modern altar.
Can anyone say rock-n-roll chic? This hanging chain installation is unlike any we've ever seen before, creating one edgy altar. It makes quite the statement by itself, but gets a softer touch with wispy greenery and an elegant row of candles.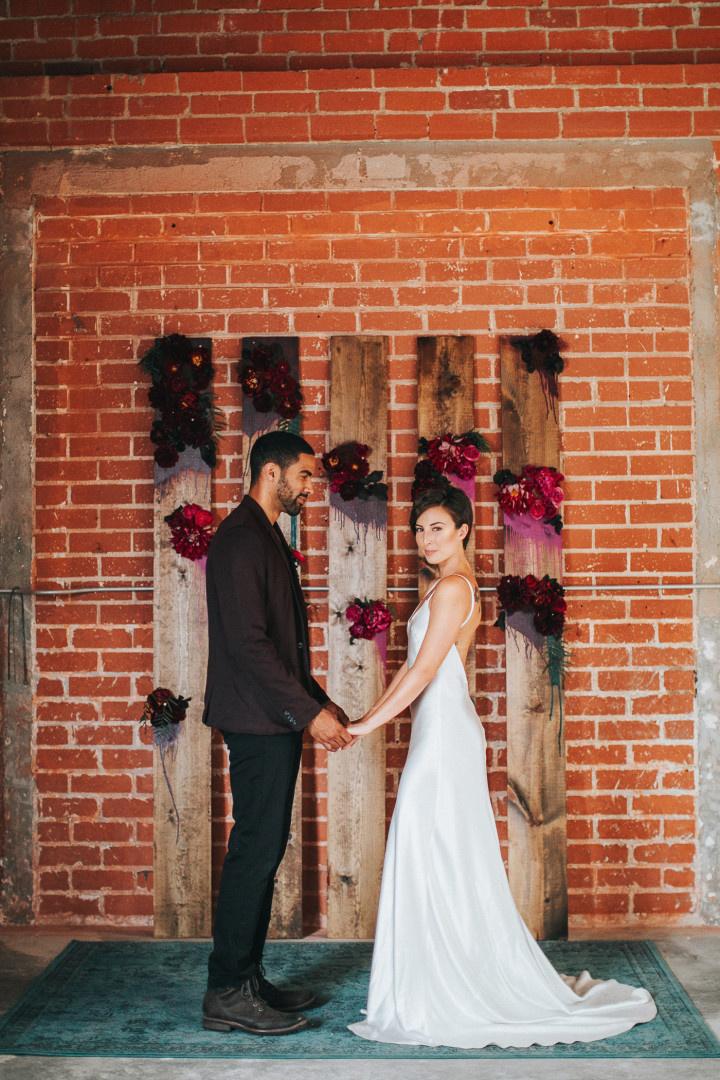 This artsy backdrop designed by Corie from Foxtail Florals is a bit of a masterpiece. She spray painted wooden pallets and nailed fresh flowers on top of the dripping paint, resulting in an eclectic and stunning look that merges urban and rustic.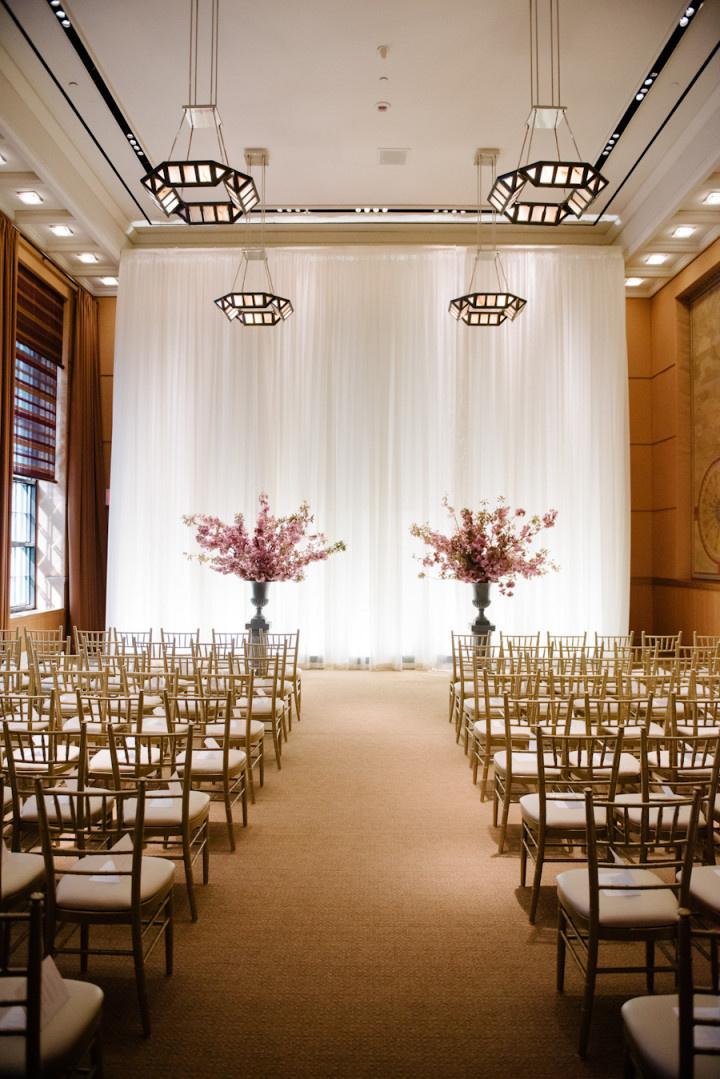 If you're after classic and elegant, you can't go wrong with massive white drapery. Just look at how it towers over this stunning ceremony! Cast white uplighting behind to give it a magical glow and frame it with two looming vases of flowers to frame you and your partner as you exchange vows.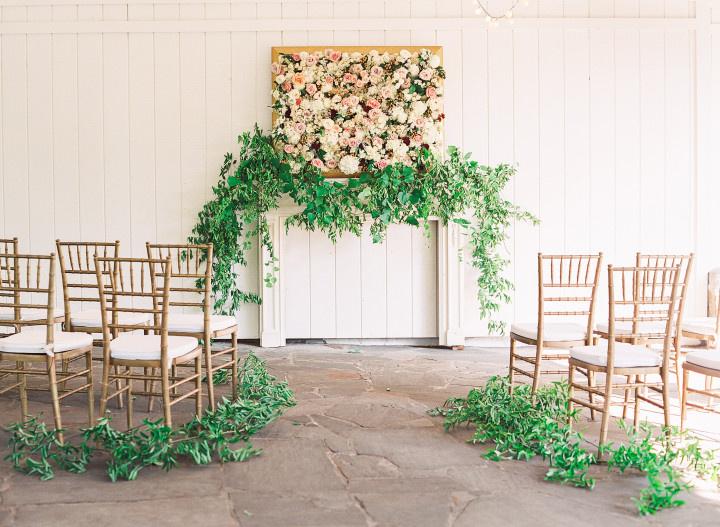 A dramatic floral installation is beautiful in its drama and femininity. While this one boasts linear blush astilbe, ruscus and dusty miller, hydrangeas, berries, roses, ruby dahlias, and chocolate cosmos, you can tweak this with your own combination of flowers and foliage.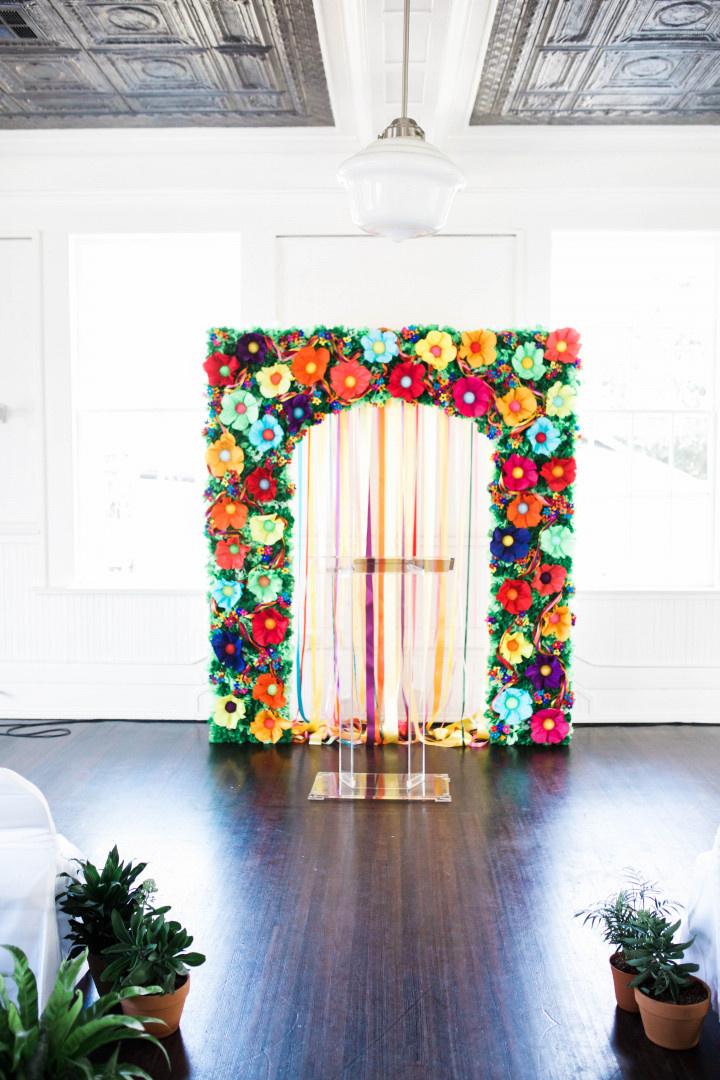 Playful and fun, a vibrant arch of paper flowers and ribbon is perfect for the couple with a lot of personality. It puts an unexpected twist on wedding florals in a bold way, with a color palette that takes cues from a Mexican fiesta.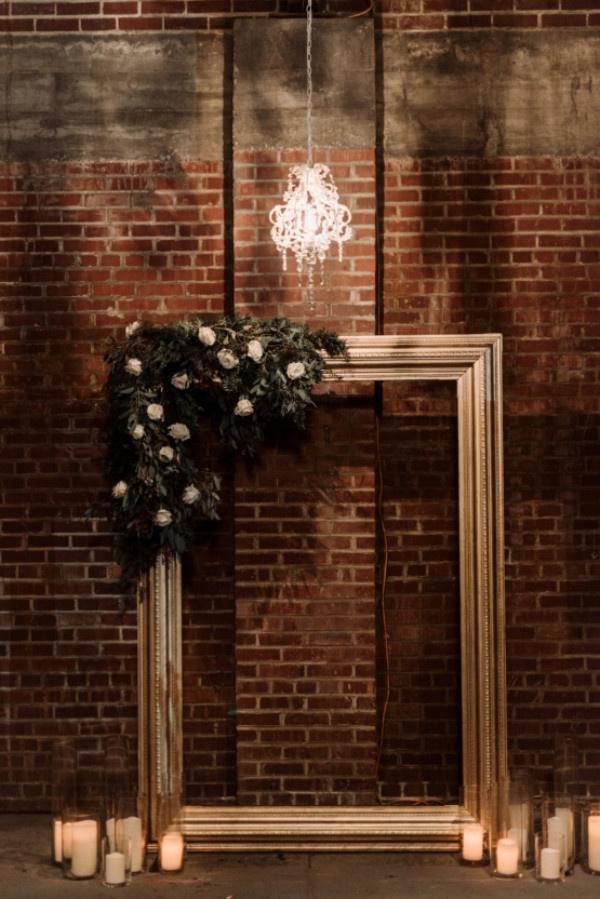 An oversized gilded frame adorned with thick forest green foliage and white roses in one corner has a moody winter feel, enhanced by the soft glow and warmth emitting from the floor candles and lone chandelier. You could fill the frame with fabric, flowers, or ribbon, but we love how it opens up to the exposed brick for an industrial vibe.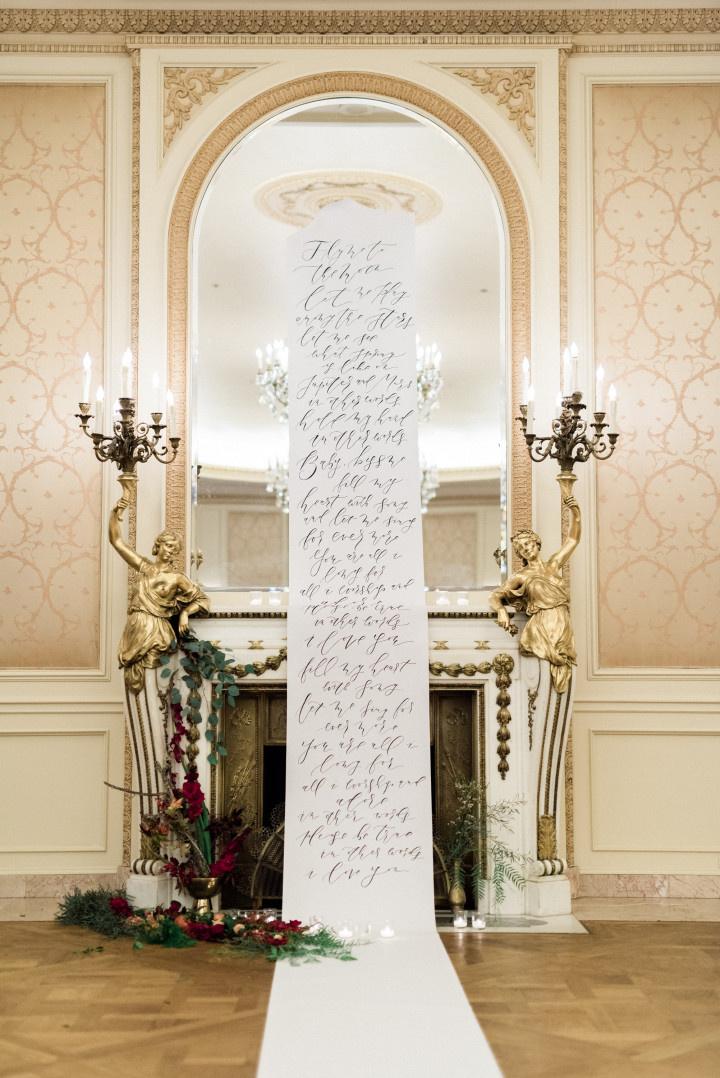 You can't get much more romantic than a long scroll of parchment with elegant calligraphy as your backdrop. Have your calligrapher write your vows, favorite book passage, meaningful quote, or first dance lyrics on it. Burgundy florals and gold statuesque candelabras add an ornate, European touch.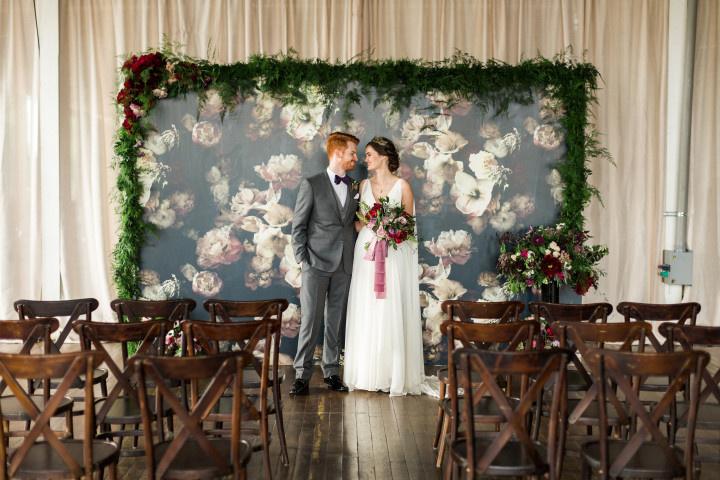 Big, bold, and beautiful is written all over this ceremony backdrop. A wallpaper canvas of a husky-hued floral pattern against a black background has an almost gothic feel that stands out against the ivory curtained walls and richness of the wood floors and matching chairs. It's stunning enough to set the tone for the whole wedding.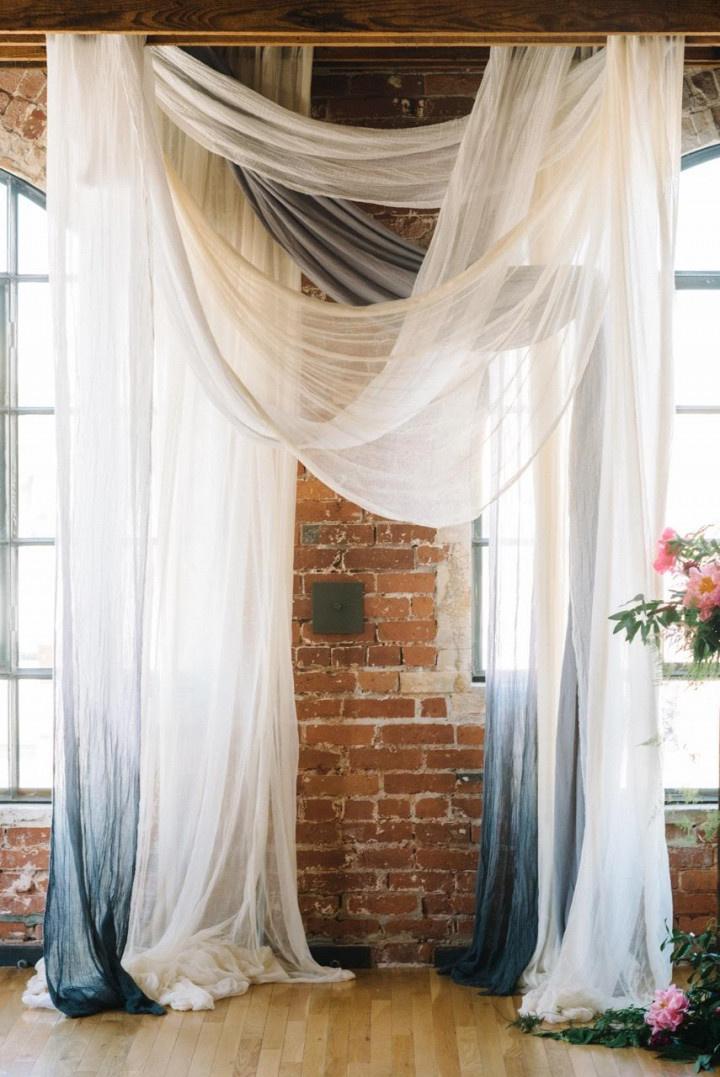 Cascading layers of diaphanous fabric in ombre tones of white and blue call to mind the beauty of the sea. Swooping at the ceiling and pooling at the floor, they evoke nothing else but ethereal romance.
Moroccan gets a sophisticated and glamorous bent. A Moroccan wedding blanket of taupe tones and sequins acts as a tapestry and the focal point of the ceremony, inspiring the brass tapers, patterned jugs, and air plants surrounding it. The result is pure enchantment.
Gold letter balloons bring the fun to this rustic set-up, contrasting against a linen curtain and old wine barrels for a bit of whimsy. While we love that they spell out "love," you could also consider spelling out your last name(s) or first initials for a cute punch.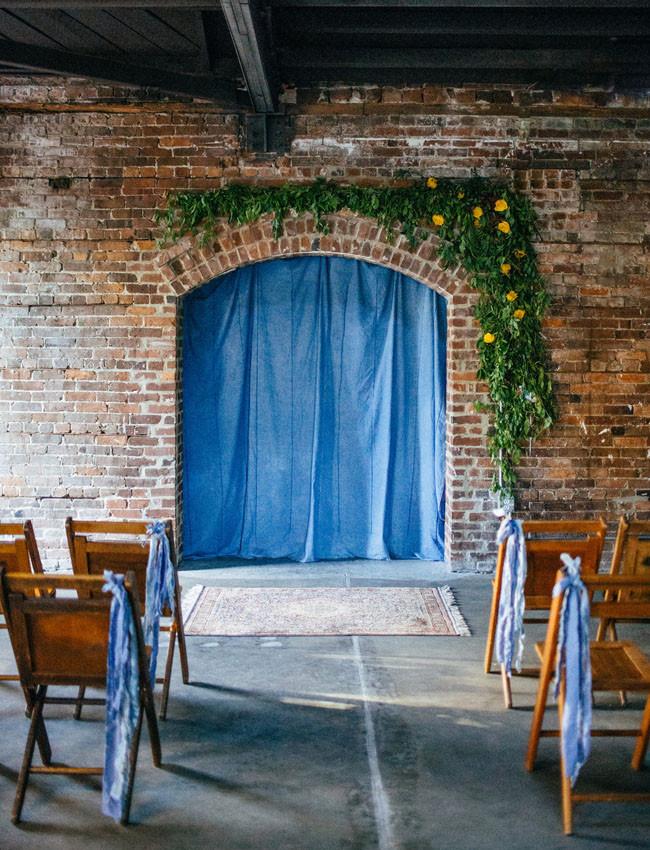 Whether you have an archway to cover up, or just a plain wall, a bold hue like cobalt blue is an effortless tweak that has a big impact. Frame it with rich greenery peppered with yellow blooms for a bit more color. Bonus — tie in backdrop with the rest of the ceremony by including matching ribbons on chairs as aisle markers.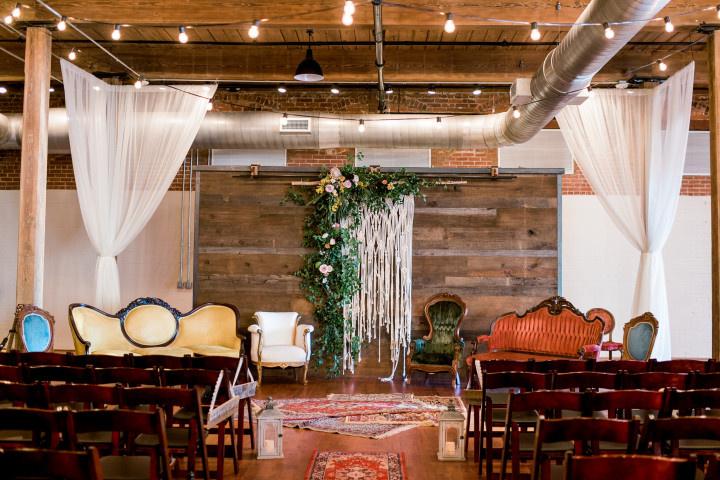 Ever notice how mix-and-match settings just seamlessly weave together? A bohemian wooden backdrop boasting overflowing, luscious greenery and hanging macramé manages to look at home in an industrial space and next to a fusion of vintage chairs.