20 Ways to Decorate the Aisle for an Outdoor Wedding Ceremony
Set the scene for a beautiful vow exchange on your big day with these oh-so-pretty outdoor wedding aisle decor ideas.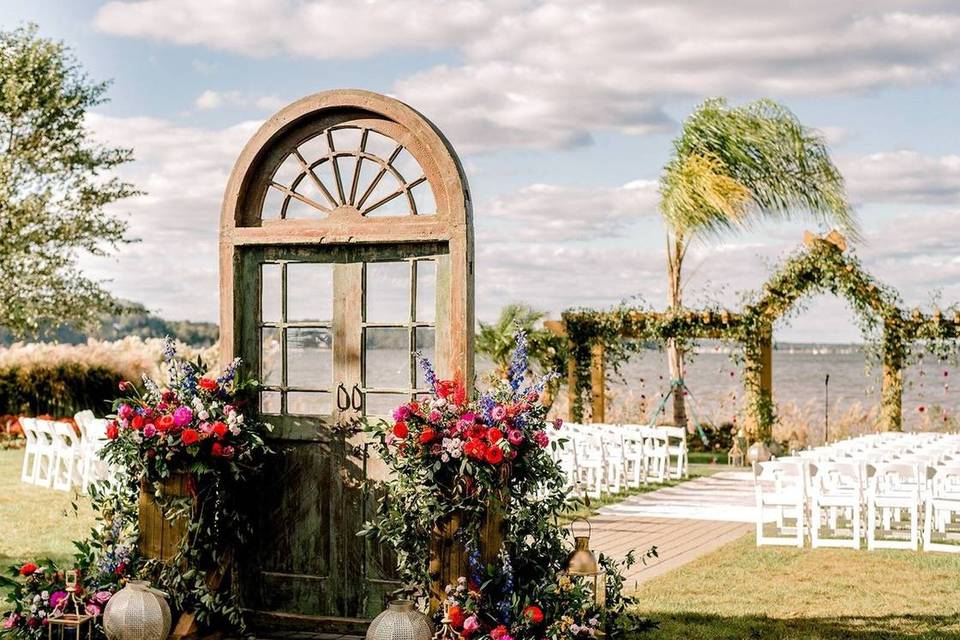 If you're having an outdoor wedding, chances are your wedding venue already has a good amount of natural beauty—but even the prettiest outdoor spaces can use a decorative boost sometimes. That's where these outdoor wedding aisle decor ideas come in. Aside from your wedding arch or other ceremony backdrop, you can use aisle markers, floral arrangements, and other decorative accents to personalize your ceremony aisle and turn it into the outdoor space of your dreams. To get those creative wheels turning ahead of your wedding day, we've rounded up 20 of our favorite wedding aisle decoration ideas for a range of themes, seasons, and venue types.
What are aisle markers?
Whether you're getting married indoors or outdoors, aisle markers are one of the most popular ways to enhance your ceremony space. Traditionally, aisle markers are small flower arrangements that are often accompanied by ribbons or candles. They're placed along the entirety of the aisle at the inner end of each chair row (or pew if you're getting married in a house of worship). Tying the aisle markers to chairs or pews with ribbons is the most common way to display aisle markers, but depending on the type of arrangement, they can also be suspended from shepherd's hooks or placed directly on the floor. If you don't want aisle markers running the entire length of the aisle, you can limit your ceremony decor to two aisle markers displayed at the aisle entrance. Looking for something out of the ordinary? Alternative aisle markers can include anything from paper cones filled with flower petals, to signage, fabric sashes, tree stumps, seashells, or vintage knickknacks.
Outdoor Wedding Aisle Decor Ideas We Love
Now that you've brushed up on the basics, check out these ceremony decor ideas to start planning your own wedding aisle.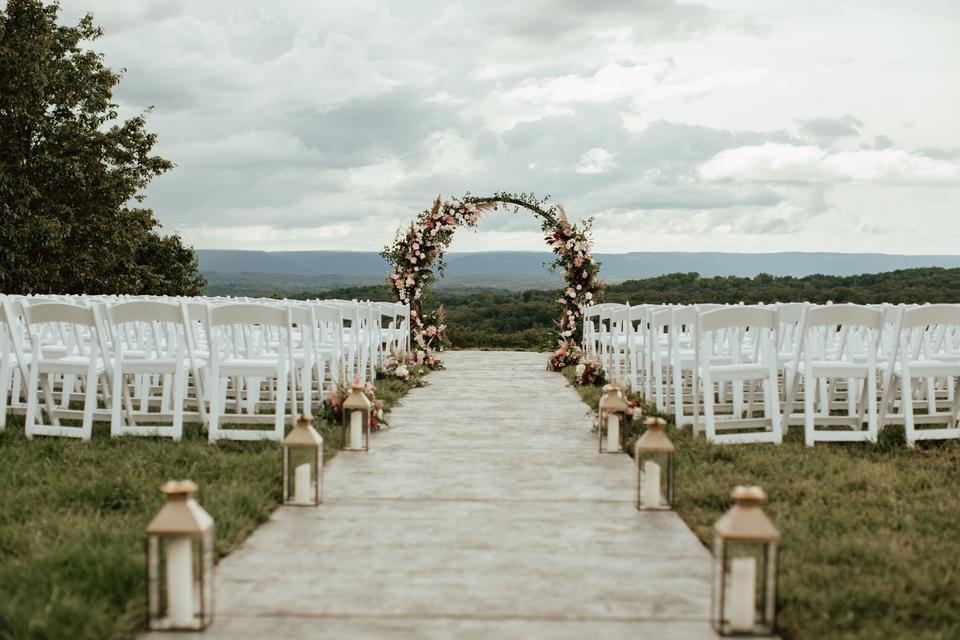 Hurricane lanterns
This simple idea is the perfect option if you don't want to distract from the views at your ceremony location. Use glass hurricane lanterns and candles (battery-powered ones are just as pretty if your venue doesn't allow flames) to adorn the aisle in a chic, understated way.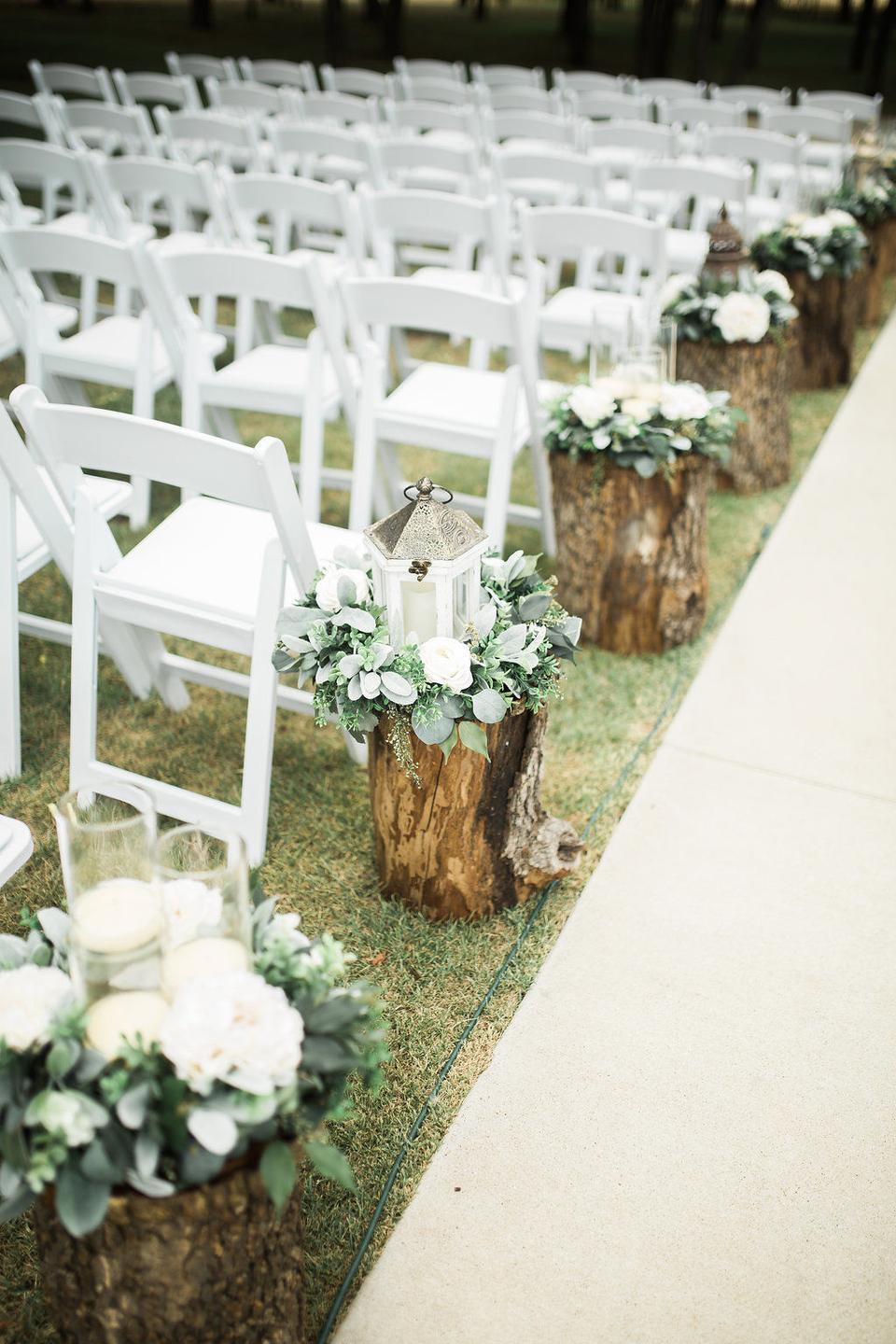 Tree stumps
Play up a rustic wedding theme by using tree stumps to display flowers or fresh greenery, like these eucalyptus bunches. Floating candles and vintage lanterns are optional if you want to add an elegant farmhouse vibe.
Ribbons on chairs
Sometimes, your outdoor wedding aisle decor can be as simple as tying ribbons or tulle sashes around the backs of chairs. Choose fabric in a hue that matches your color palette and contrasts with the chairs and the rest of the outdoor surroundings.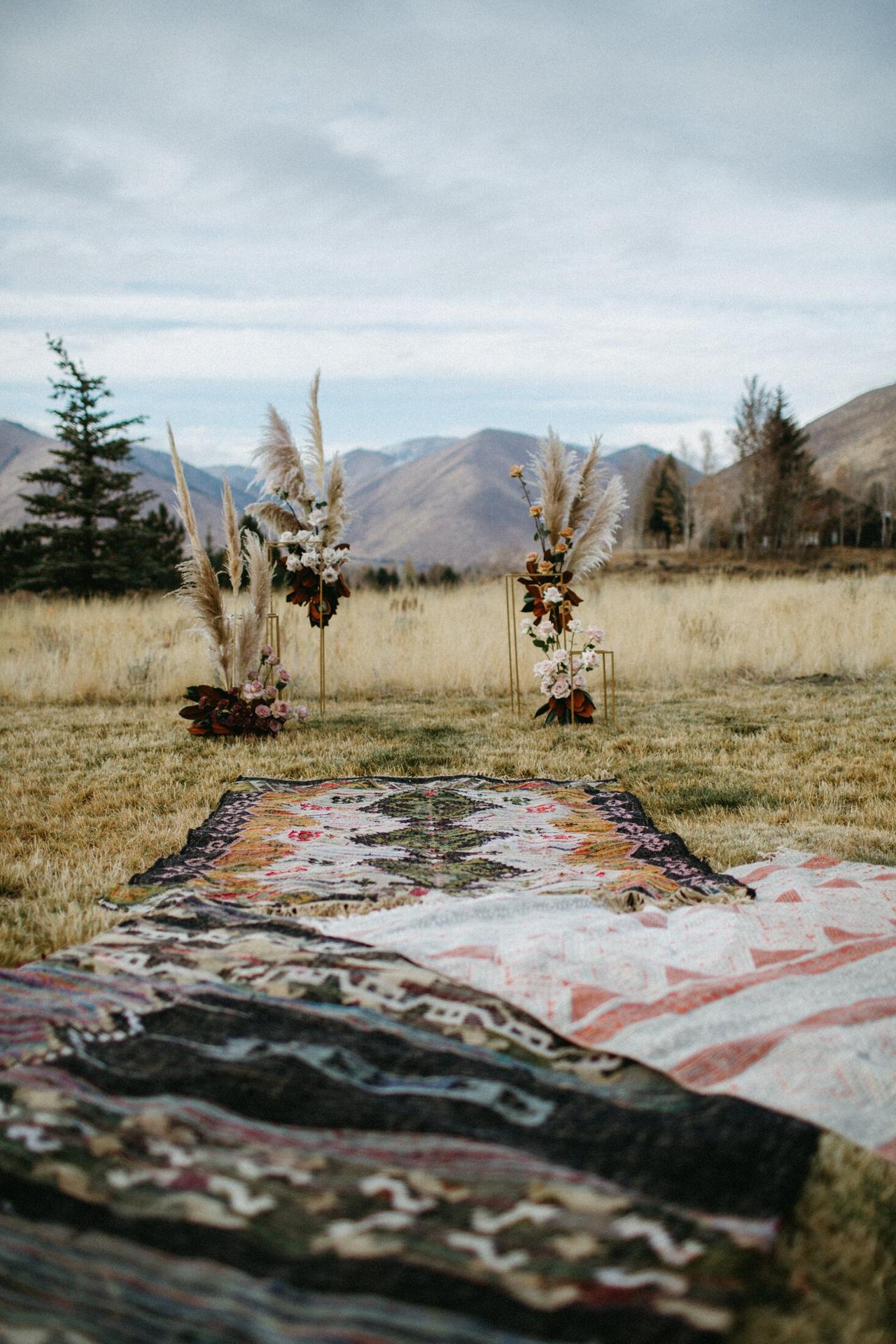 Vintage rugs
We're obsessed with this idea if you're having a boho wedding theme. Rent vintage rugs from a wedding decor vendor or source them from thrift stores, then layer them along your aisle for a truly one-of-a-kind look. Bonus: the rugs will make it easier to walk down a dirt path or grassy aisle!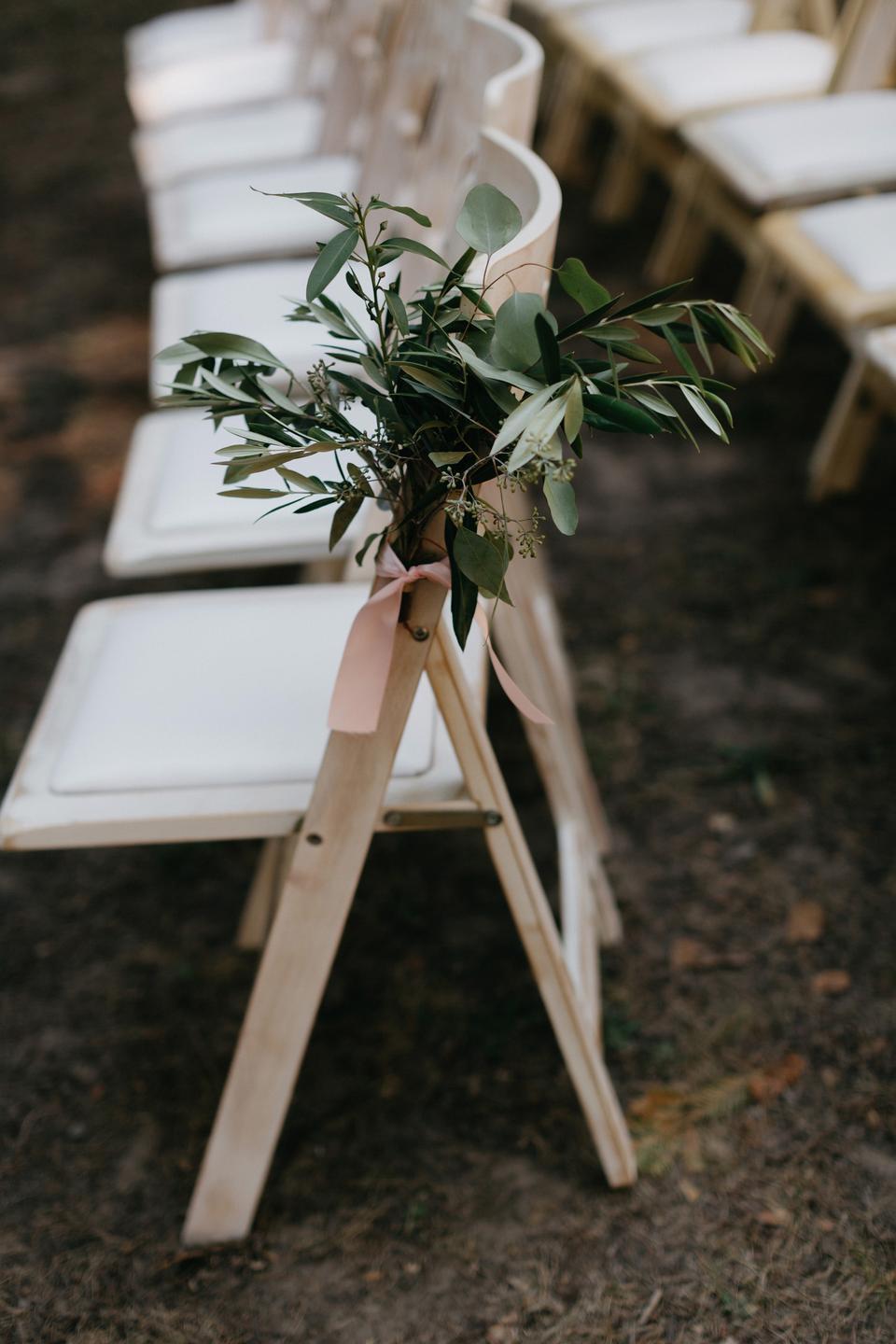 Greenery bunches
For outdoor wedding aisle decor that's quick and easy (without sacrificing style), you can tie bundles of fragrant eucalyptus to the sides of chairs using colorful ribbon.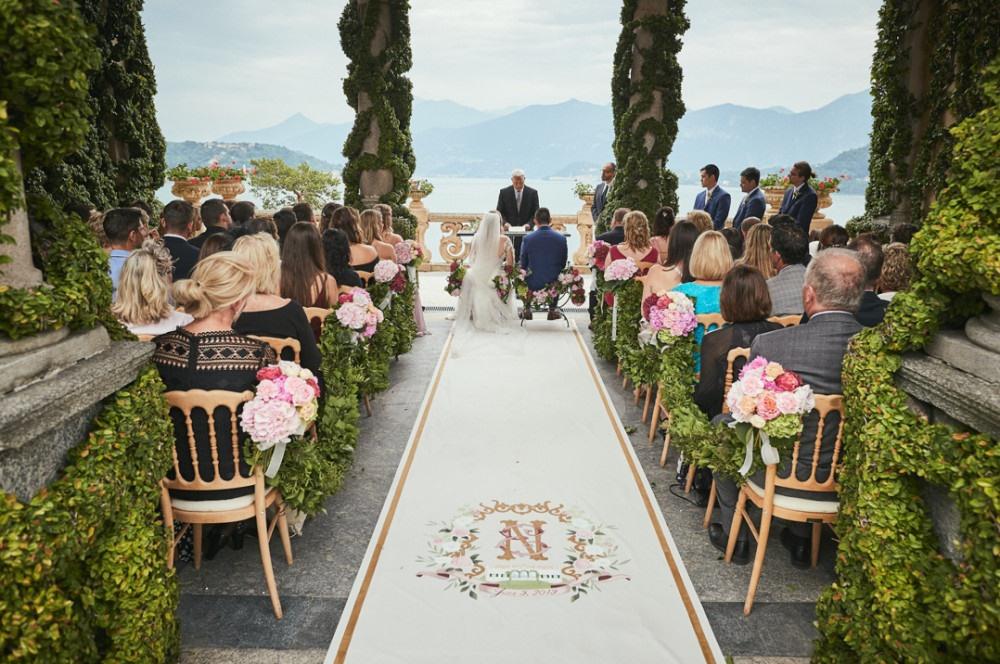 Custom aisle runner
Looking for outdoor ceremony decor that will really wow your guests? Complete your aisle with a custom runner, like this hand-painted design featuring a monogrammed wedding crest.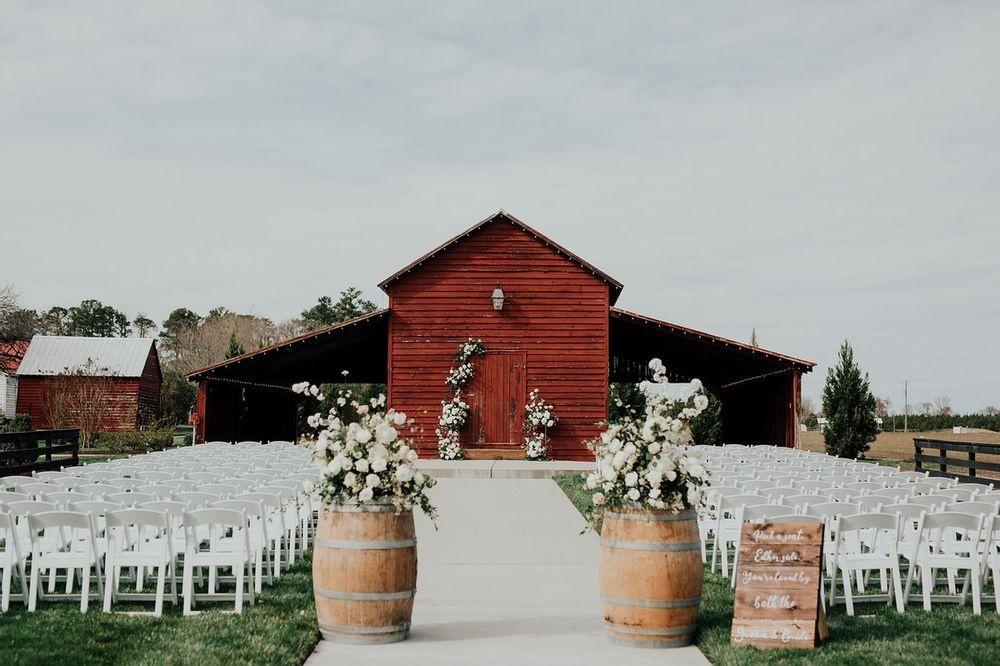 Wine barrels
Wine barrels are just one of the ways you can display gorgeous floral arrangements at the entrance to the aisle. We'd suggest this idea if you're having a fall wedding or getting married at a vineyard, naturally.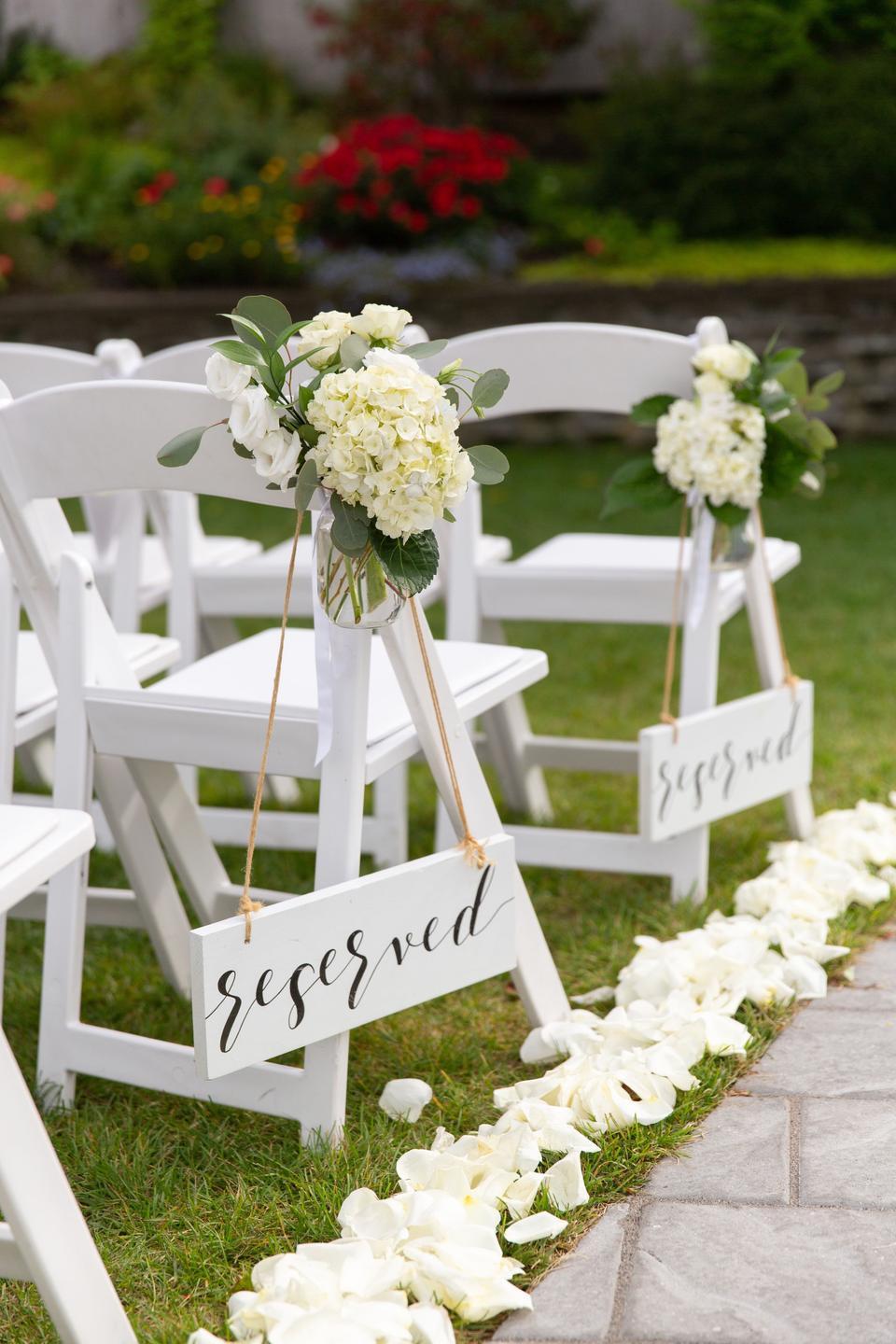 Reserved seating signs
Designate VIP seats (for parents, grandparents, and other close relatives) at your ceremony with "reserved" signs placed on the first two rows of chairs. Complete the look with small jars of flowers and rose petals scattered along the aisle.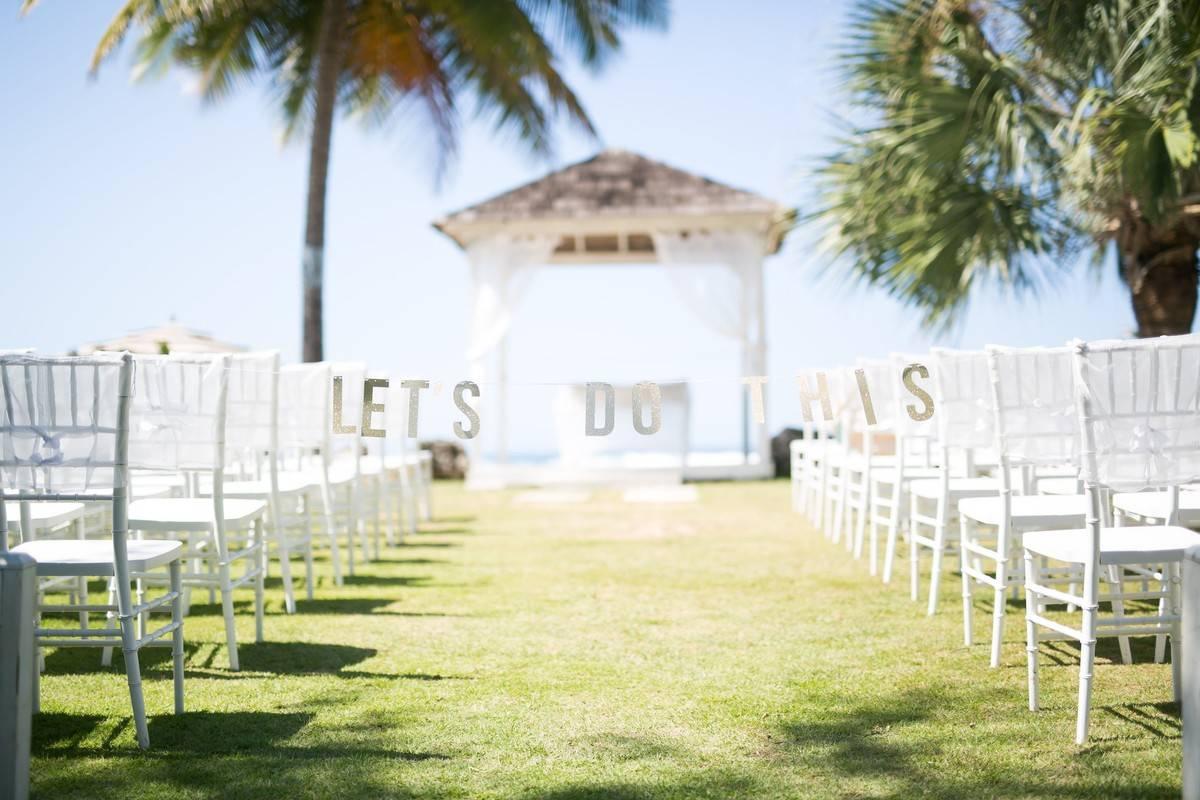 Playful banner
Want to keep it super simple? A playful banner stretched across the aisle is perfect for beach weddings and other ceremony locations where you may not have a lot of time to decorate.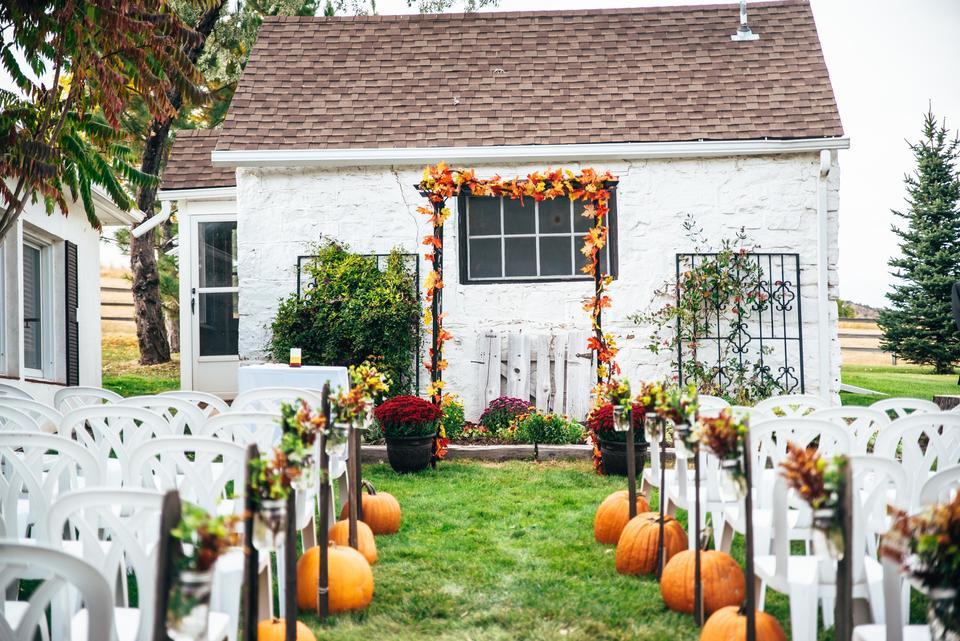 Pumpkins
Bright orange pumpkins make a statement when you use them as aisle markers for a fall wedding or Halloween-themed wedding. If orange isn't your color, you can still get seasonal with your decor by using white pumpkins instead.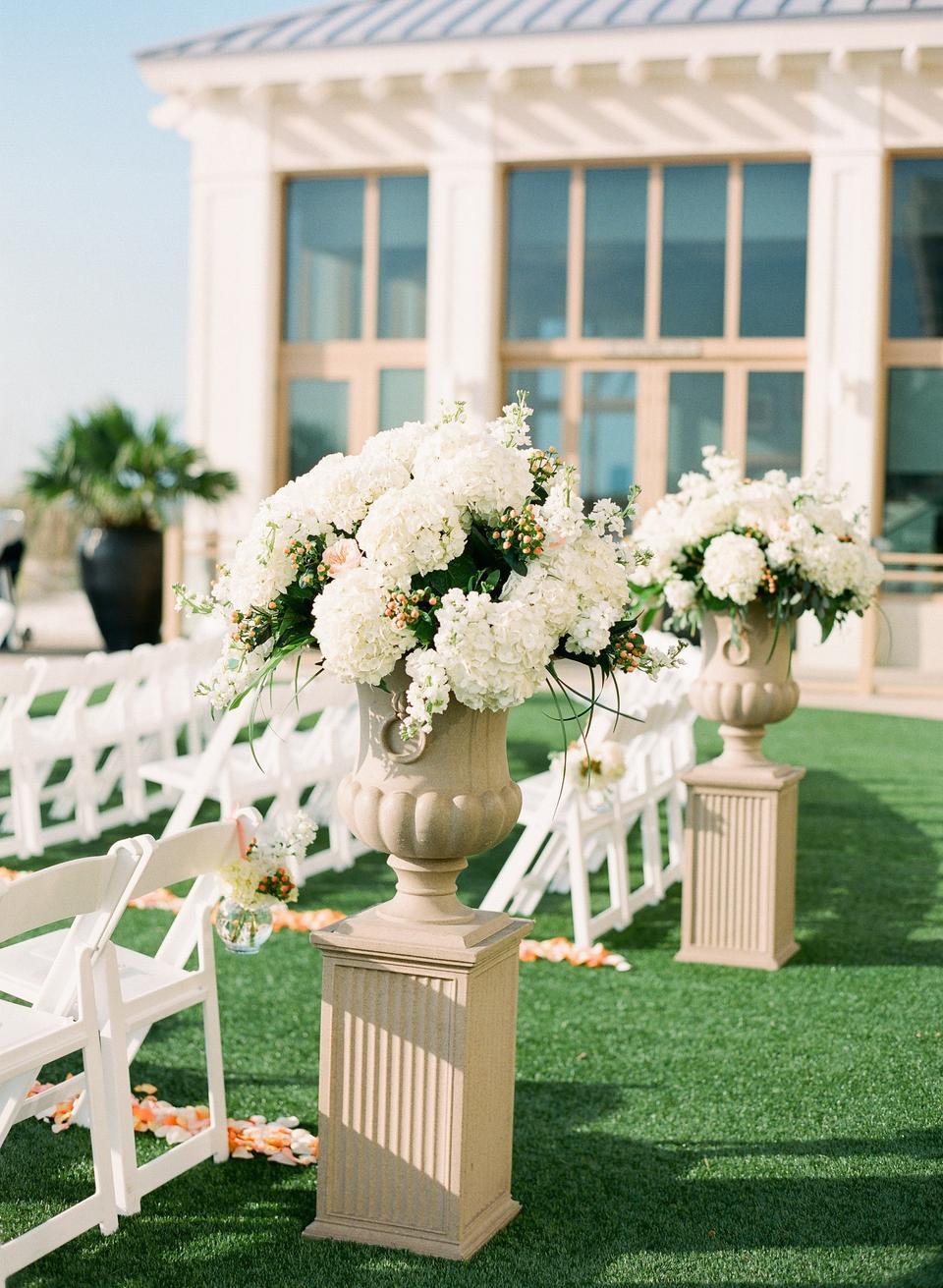 Floral pillars
If you're going for a classic approach with your outdoor wedding aisle decor, you can't get more timeless than these white hydrangea arrangements showcased atop stone pillars. Display one on each side of the aisle to create a grand entrance.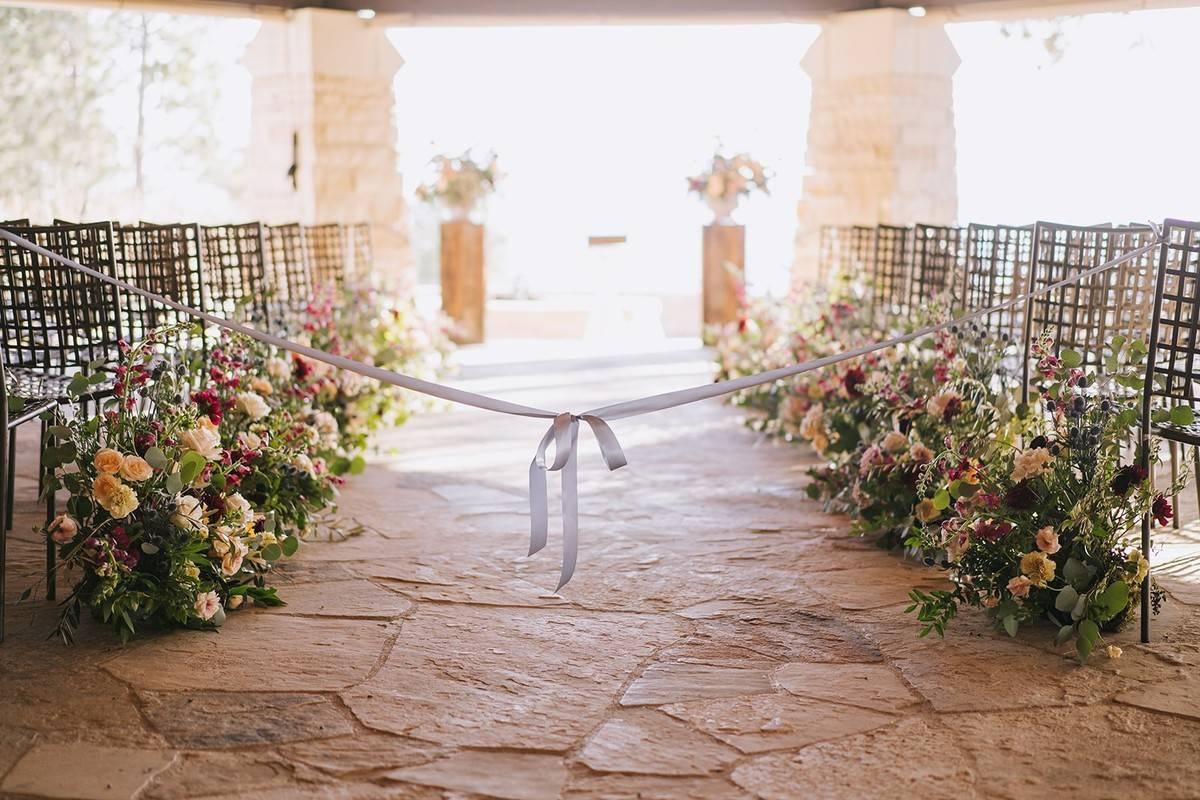 Planted aisle
This is one of our favorite ideas for a garden wedding theme or botanical venue. Your wedding florist will design arrangements that create a "planted" effect as they line the aisle, making it look like you're walking through a garden of wildflowers and greenery.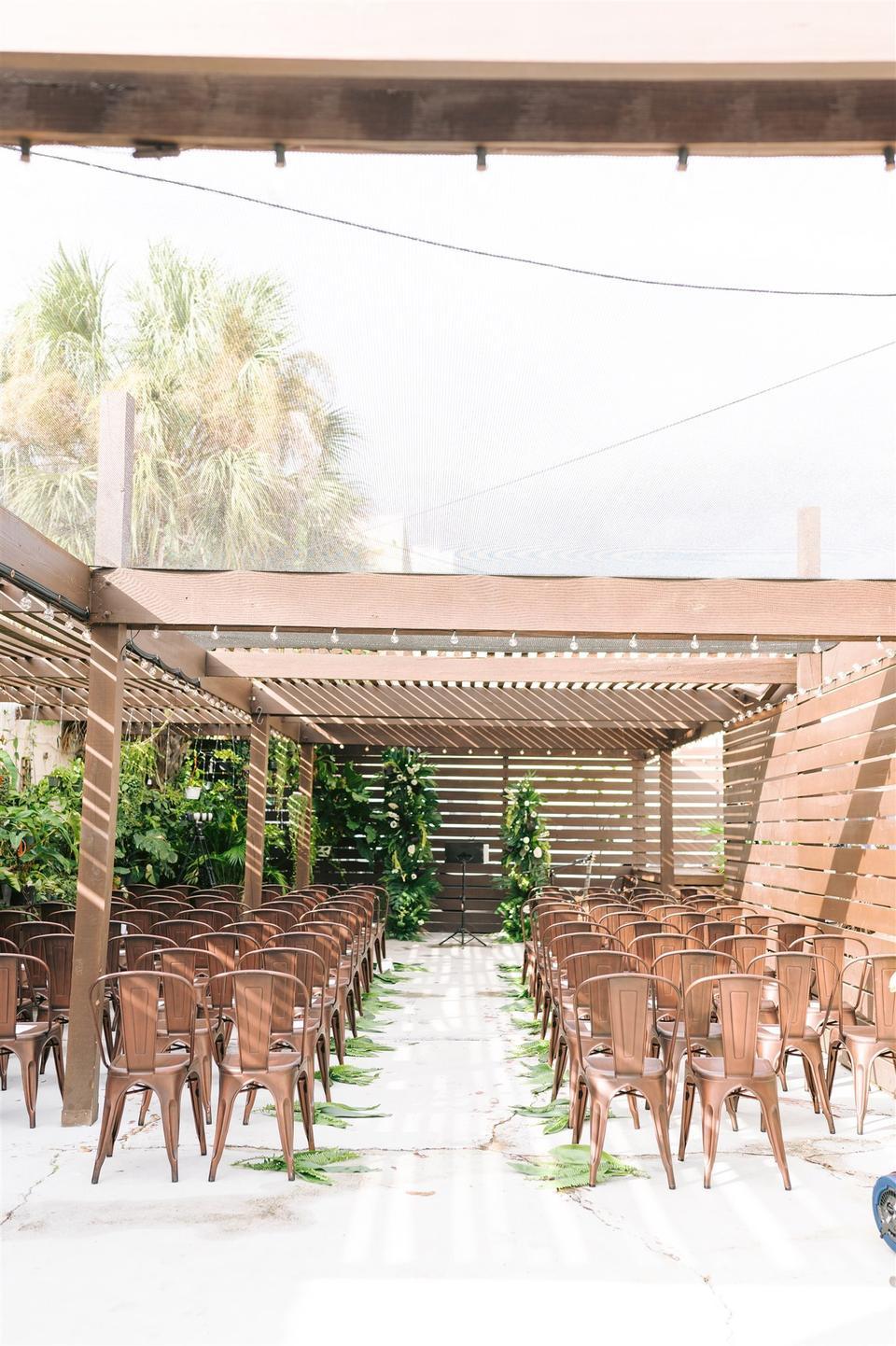 Tropical leaves
For a modern tropical aesthetic, all you need are fresh palm leaves or ferns. Cluster them at the foot of your wedding chairs to instantly spruce up a beach ceremony venue—or bring the island vibes to you no matter where you're marrying.
Pomanders
Pomanders are floral spheres that are hung or carried with ribbons. They'll add whimsy to your ceremony decor and can be repurposed for your wedding reception by hanging them on shepherd's hooks or using them in your wedding centerpieces. Pomanders are also popular alternatives to flower girl bouquets, since the ribbon makes them much easier for tiny hands to carry.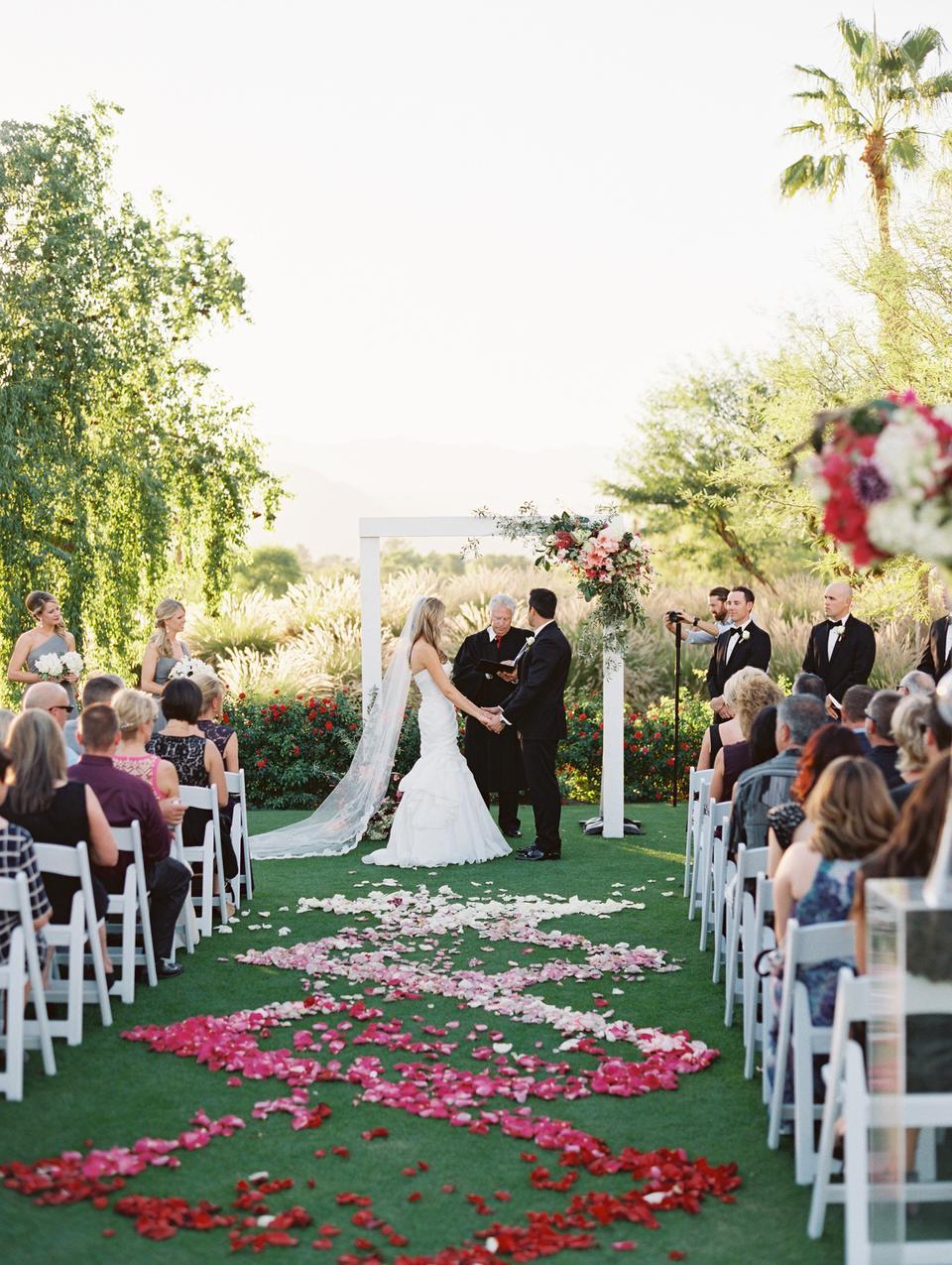 Ombré flower petals
This glam outdoor wedding aisle decor idea looks just as eye-catching in photos as it does in person. This ombré swirl starts out with dark red rose petals and gradually transitions to pastel pink for all the romantic vibes.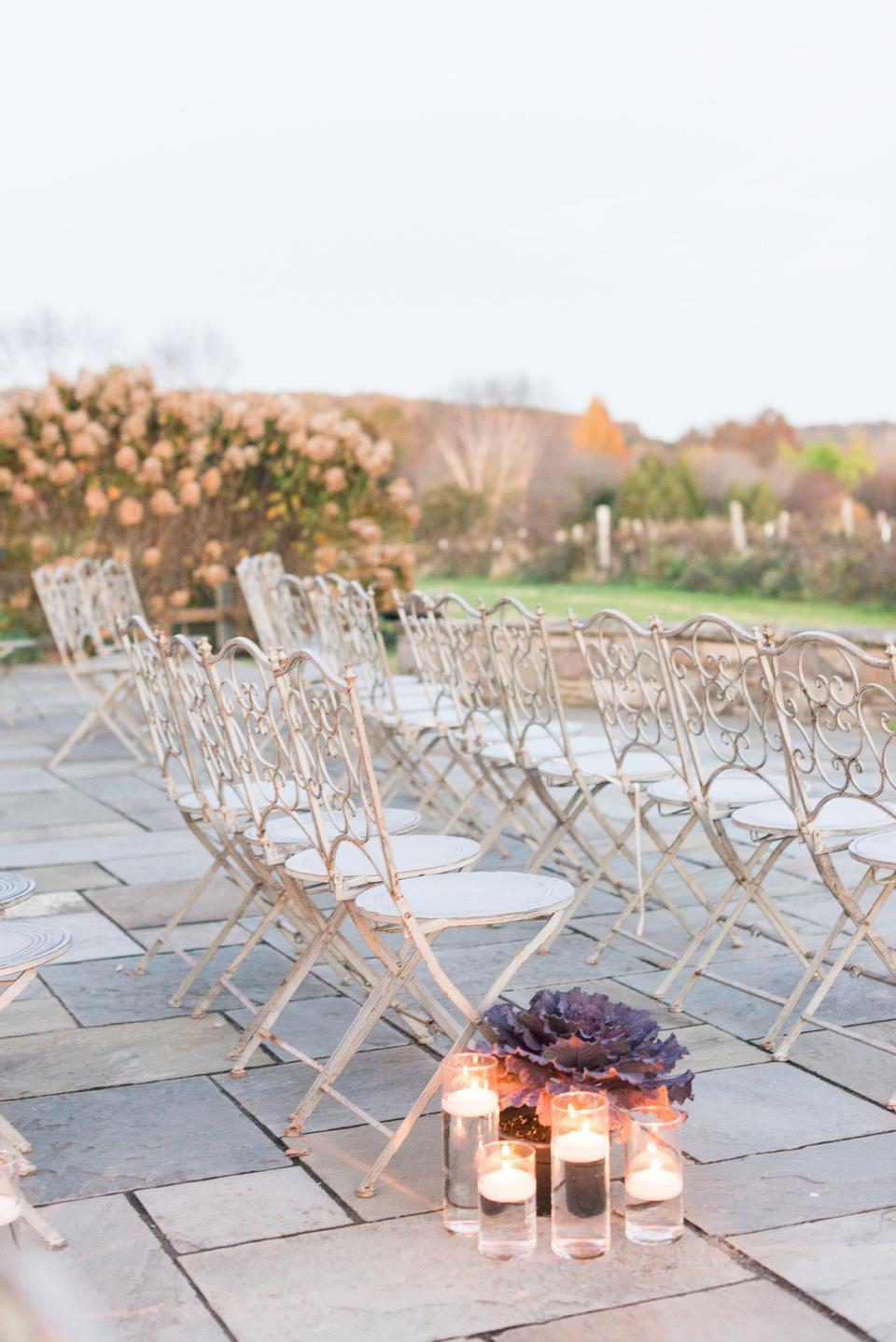 Floating candles
Having a sunset ceremony? Floating candles in glass cylinder vases will instantly set the mood.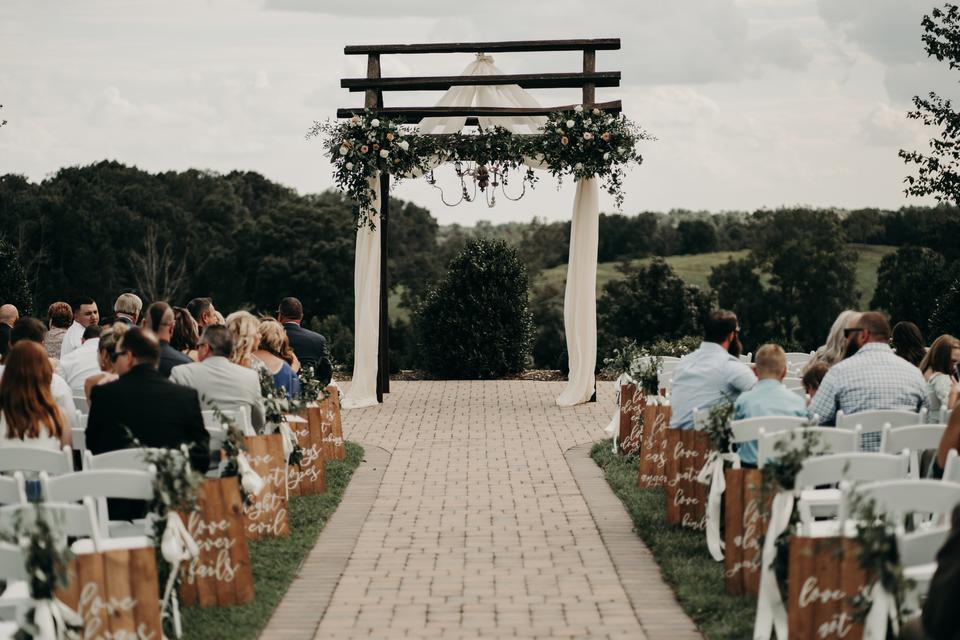 Quote signs
Use wedding signs to decorate the aisle while also showcasing your favorite love quotes, like these bible verses from 1 Corinthians 13:4-8.
Barn door entryway
A set of reclaimed doors gives you the "pinch-me" moment of making a grand entrance at your ceremony venue. Plus, they'll frame your wedding backdrop beautifully.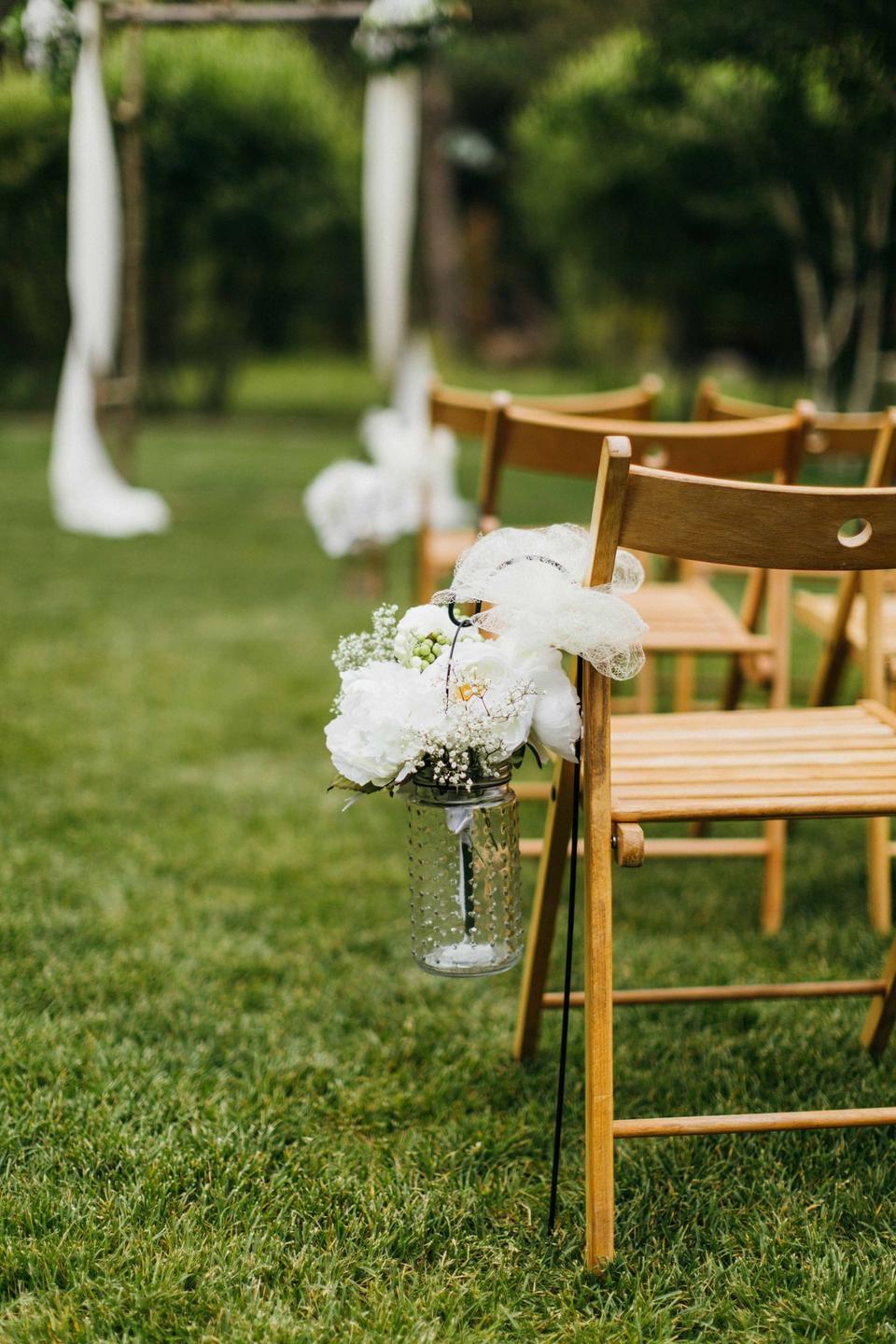 Mason jars
You can't go wrong with glass jars of baby's breath and white flowers for a summer wedding.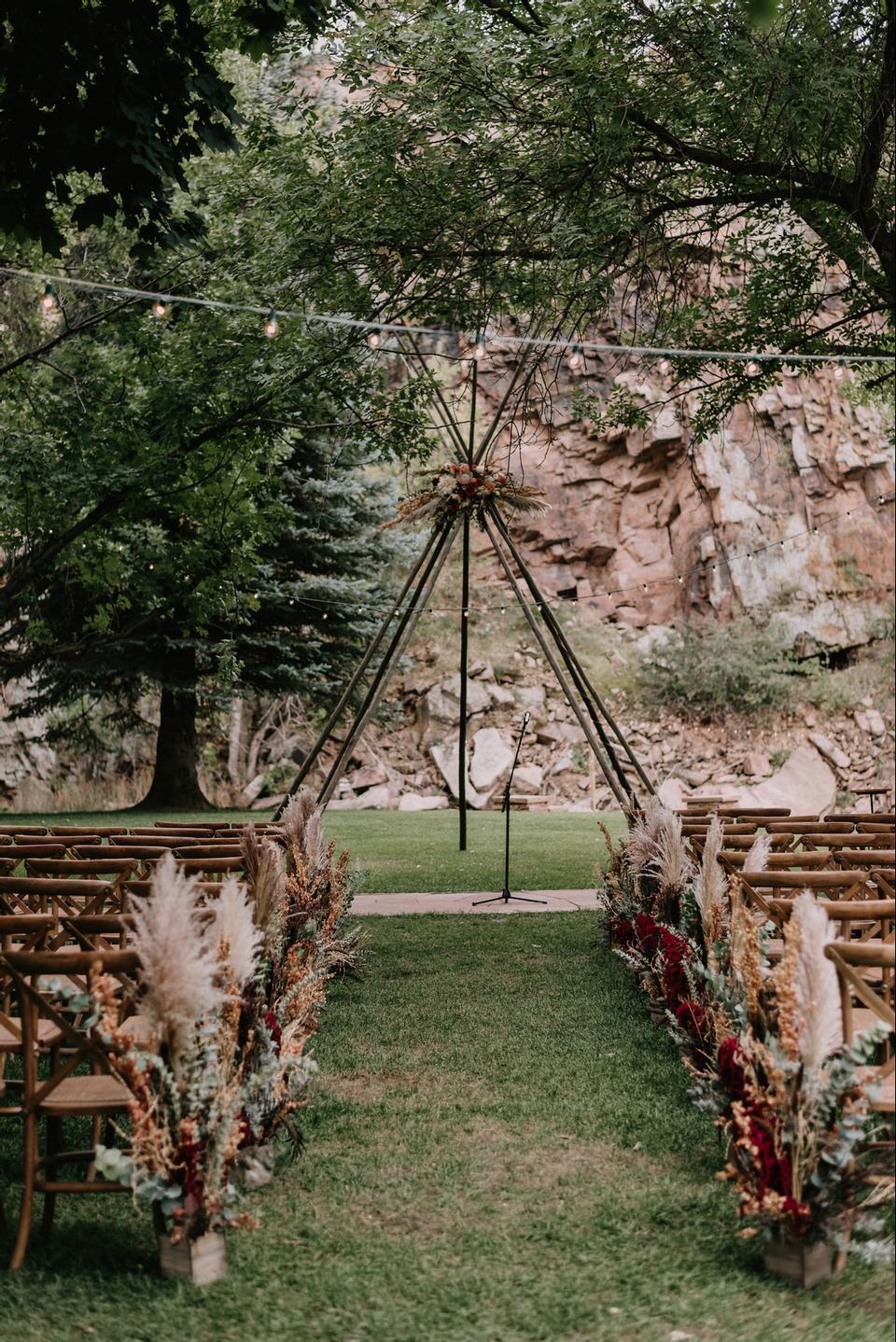 Pampas grass
Love bohemian style? This decorative accent instantly gives your wedding flowers a laid-back, free-spirited look.