26 Garden-Themed Wedding Ideas That Are Right Out of a Fairytale
Can't stop watching Bridgerton? Us either. Pull off a celebration that's worthy of Lady Whistledown's approval—and impress the people of the ton—with these garden-themed wedding ideas.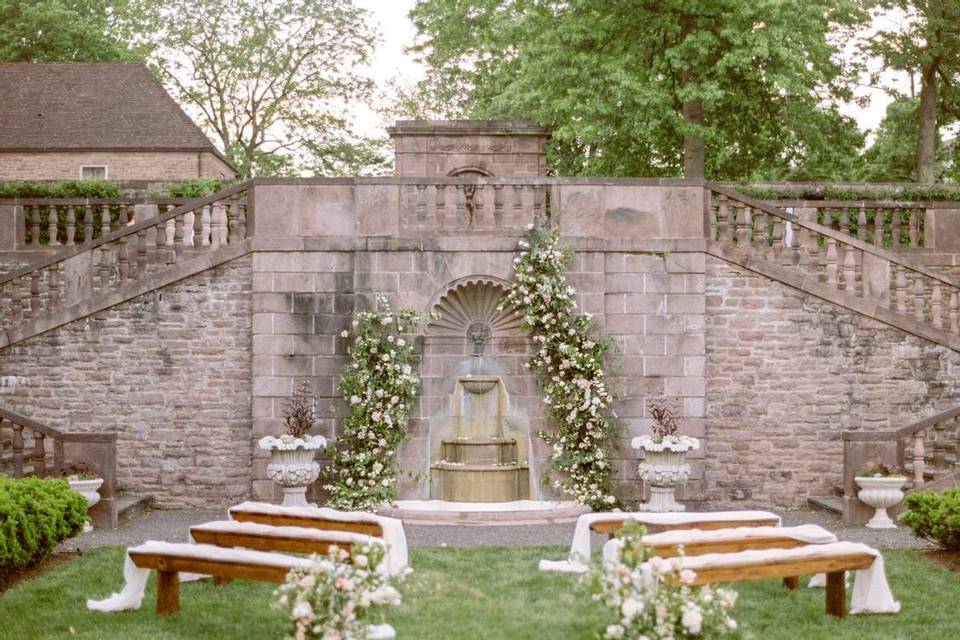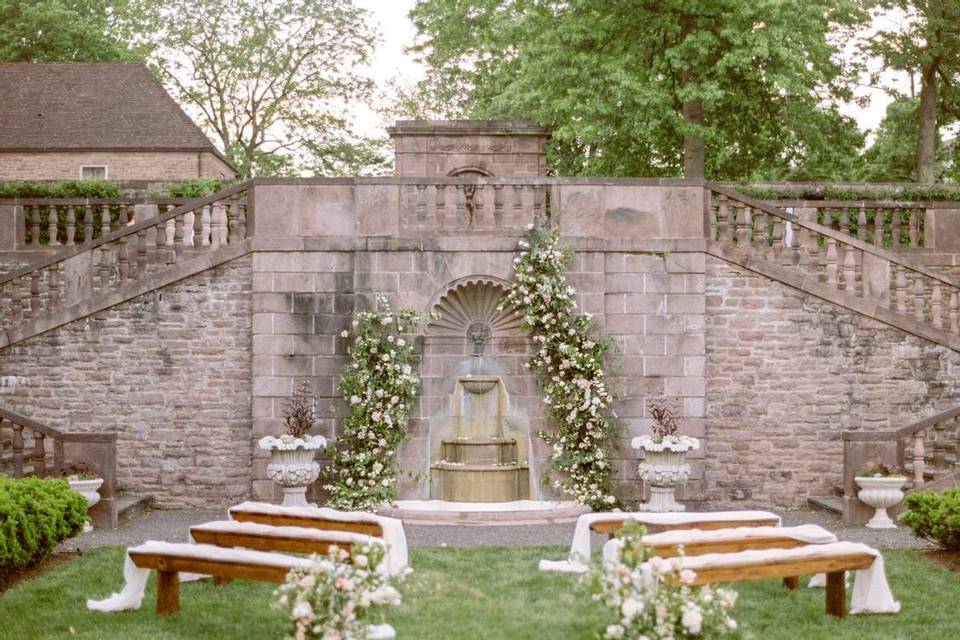 A garden is the perfect place to get married if you're dreaming of a classic fairytale wedding. There's a lot that goes into planning a garden-themed wedding, since it is one of the more formal decor styles, but this elegant aesthetic is well worth it in the end. Keep reading for all of the basics and how to create your very own enchanted garden wonderland.
What is a garden-themed wedding?
This wedding decor theme is all about creating a romantic, dreamy aesthetic that's reminiscent of a fairytale—one filled with plenty of fresh flowers, of course! Garden-themed weddings and garden party weddings almost always take place outdoors, including venues like historic estates, charming bed and breakfasts, botanical gardens, conservatories, and even castles (yes, really). To pull off a secret garden wedding theme, you'll want to focus primarily on using antique and traditional decor, like gold candlesticks, chandeliers, calligraphy signs, and anything else you would likely see in a movie that's based on a Jane Austen book.
Like any other outdoor wedding, you'll need to plan ahead in case Mother Nature has inclement weather in mind on the big day. Luckily, structures like sailcloth tents and clear-top tents complement a garden theme perfectly while also providing shelter for you and your guests.
Garden Wedding Colors
Your color palette plays a huge role in setting the tone for your wedding day. Achieve a gorgeous garden wedding aesthetic by using pastel colors, like blush pink, dusty blue, lilac, sage green, and pale yellow. Add a darker version of one of your wedding colors if you want to give your palette a little more substance and impact.
Garden-Themed Wedding Ideas
Now for the fun part. If you're ready to start finalizing your garden wedding decor, here are some of our favorite ideas.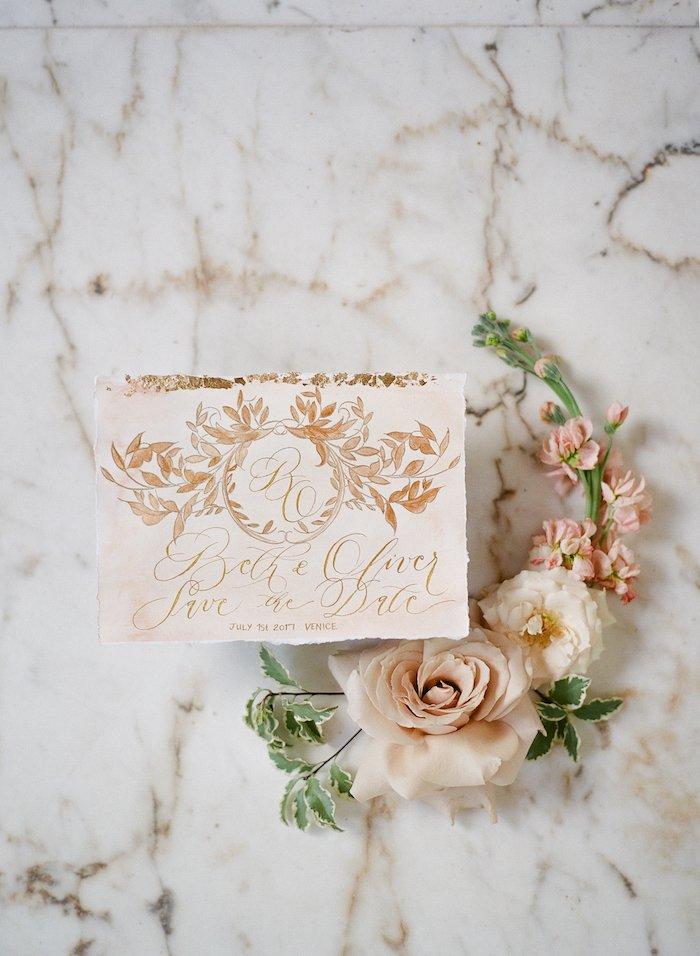 Stationery by Crimson Letters
Watercolor save-the-dates
Give your guests a glimpse of your garden wedding theme by mailing pretty watercolor save-the-dates featuring calligraphy and botanical motifs. A touch of gold foil adds extra decadence and glitz to the stationery.
Calligraphy wedding invitations
Your guests will feel like royalty upon receiving such a fancy wedding invitation suite. Details like handwritten calligraphy, vellum envelopes, and wax seals are all reminiscent of Old World-inspired stationery, and they're perfect for a garden-themed wedding.
Wedding dress by Claire Pettibone
Lace wedding dress
Look the part on your special day by wearing a romantic lace wedding dress. This classic, feminine wedding dress fabric adds to the fairytale element and is beautiful in portraits. If pure white lace feels too traditional, opt for ivory or tea-colored lace instead—or choose a lace gown that's embellished with colorful details, such as this Claire Pettibone two-piece adorned with pink velvet and gold embroidery.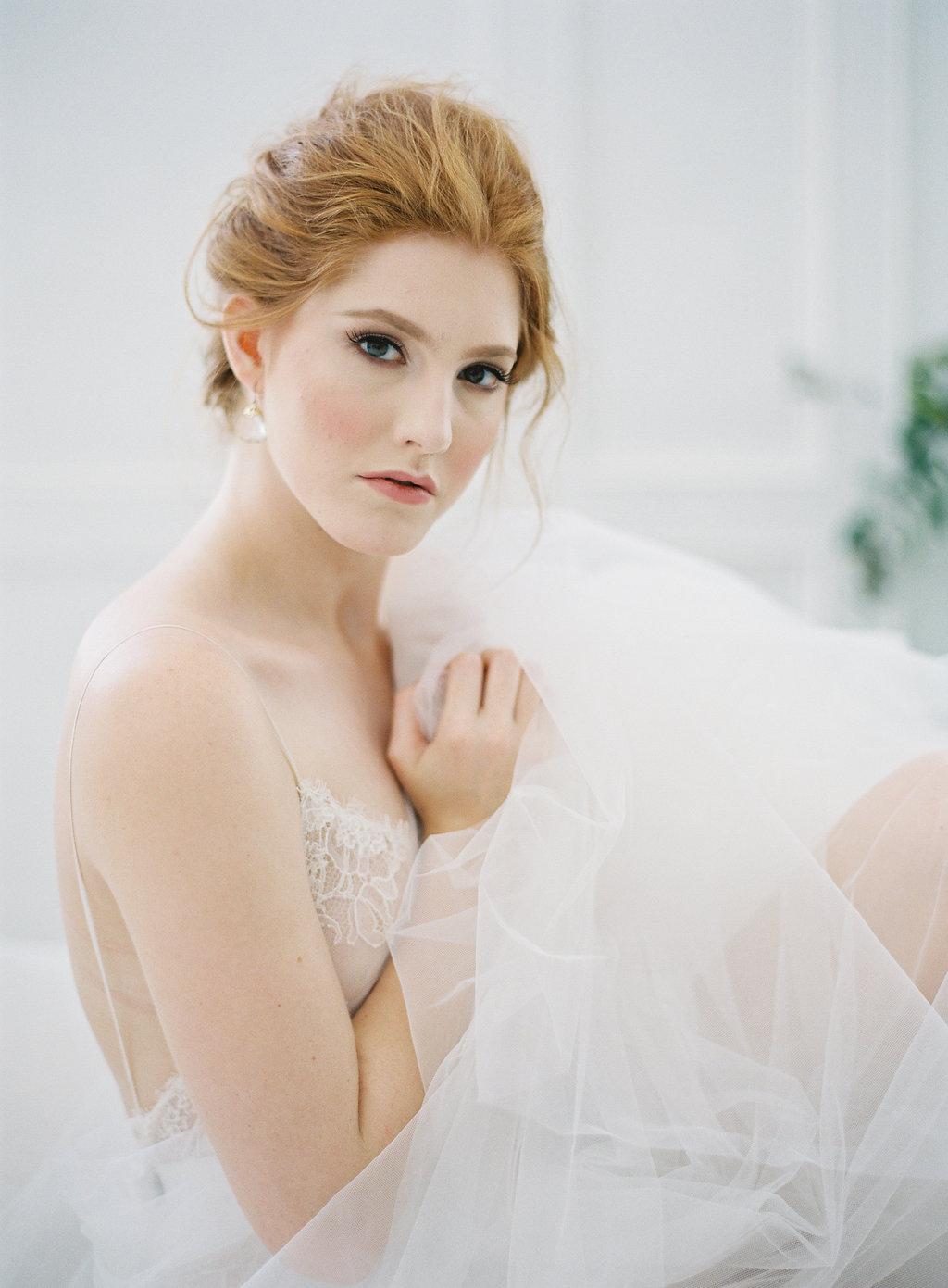 Angelic bridal makeup
For a garden wedding, we recommend keeping your bridal makeup look light and airy. Let your natural skin show through by using an airbrush foundation or CC cream in place of heavier formulas. Then, complete the look with flushed pink cheeks, neutral lipstick, iridescent eyeshadow or highlighter, and just enough mascara to make your lashes pop.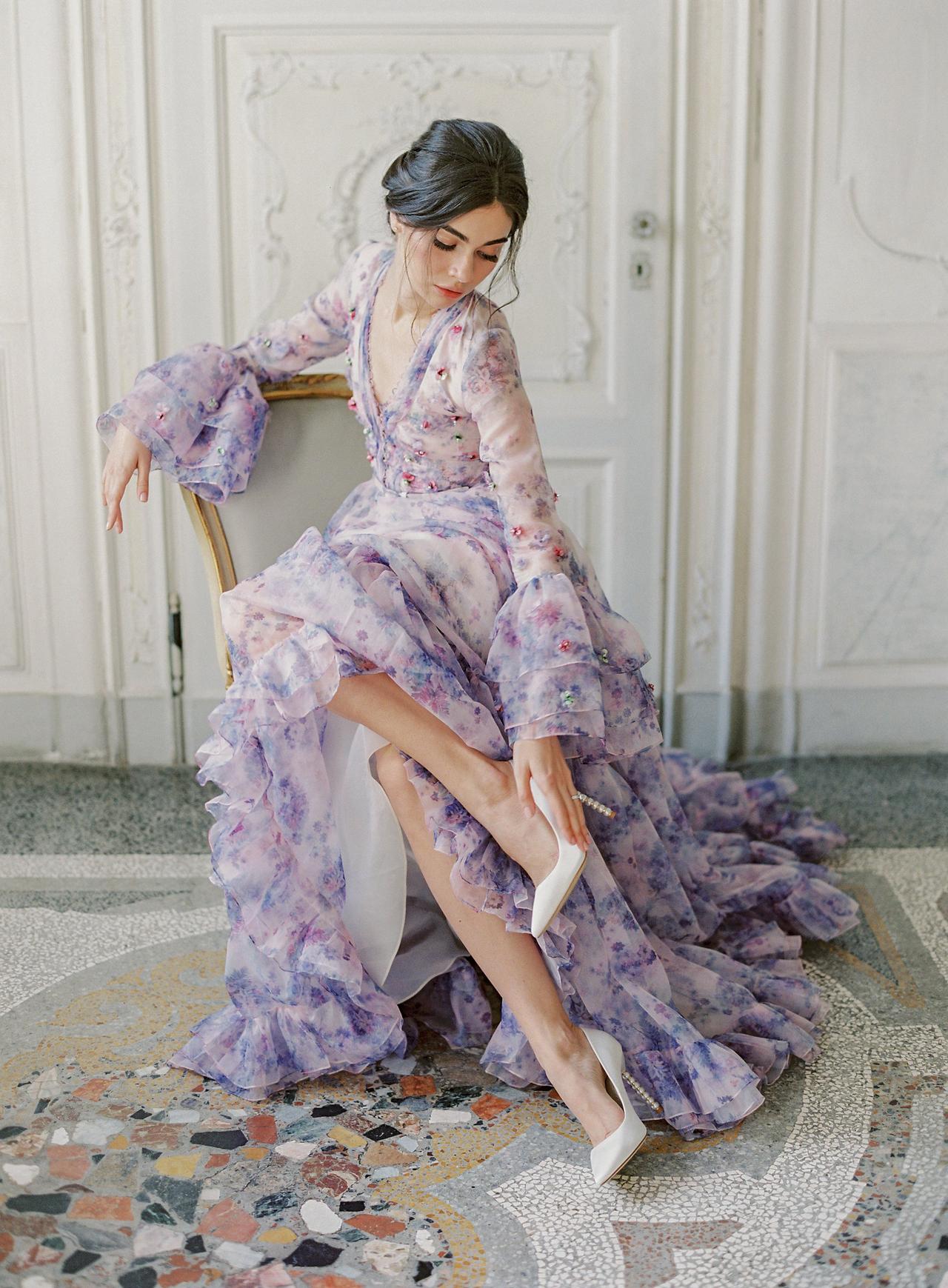 Floral wedding dress
Want to go all out with your garden-themed wedding attire? Wear a gown that's quite literally covered in flowers! Not only will it make a fashion statement, but it will tie the whole aesthetic of the day together.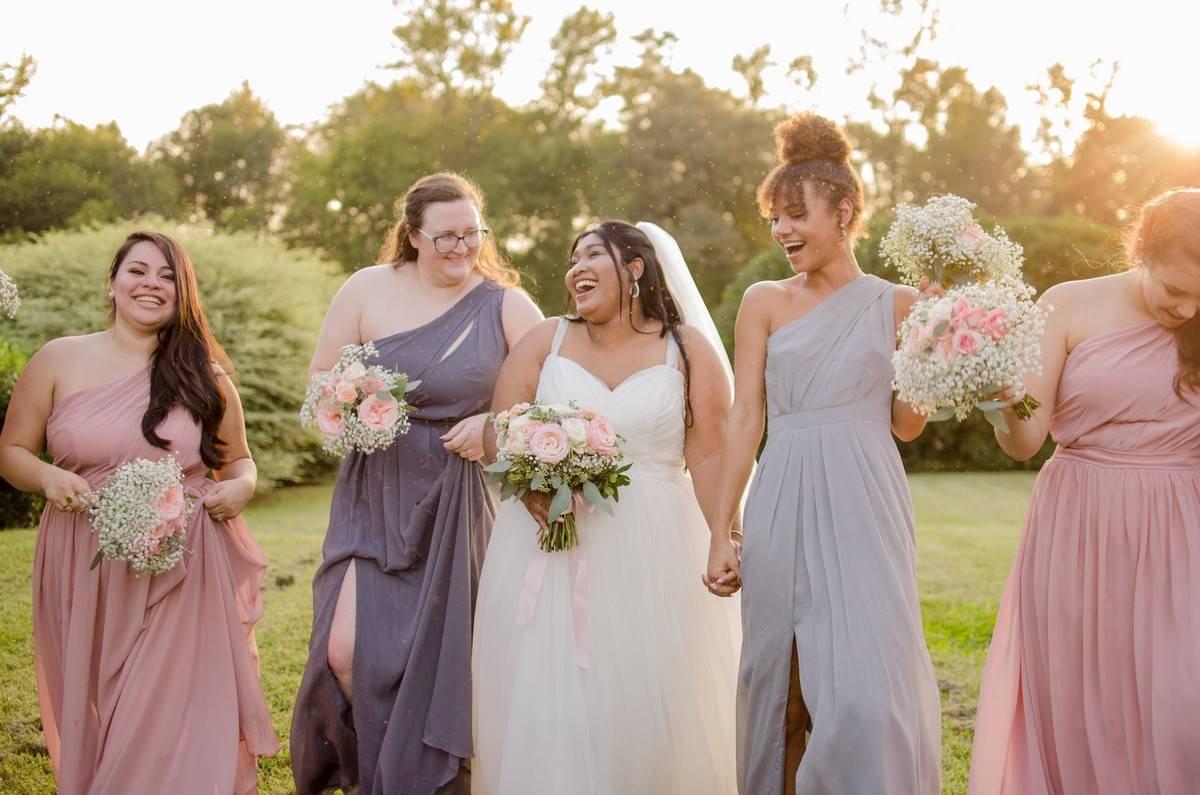 Pastel bridesmaid dresses
If you're having bridesmaids stand by your side on the big day, it's important that they look and feel their best, too. Pastel bridesmaid dresses are a popular option for garden-themed weddings, especially when you mix two or three colors together. To keep the group looking cohesive even when you're incorporating multiple colors, have your bridesmaids wear similar gowns like these one-shoulder styles.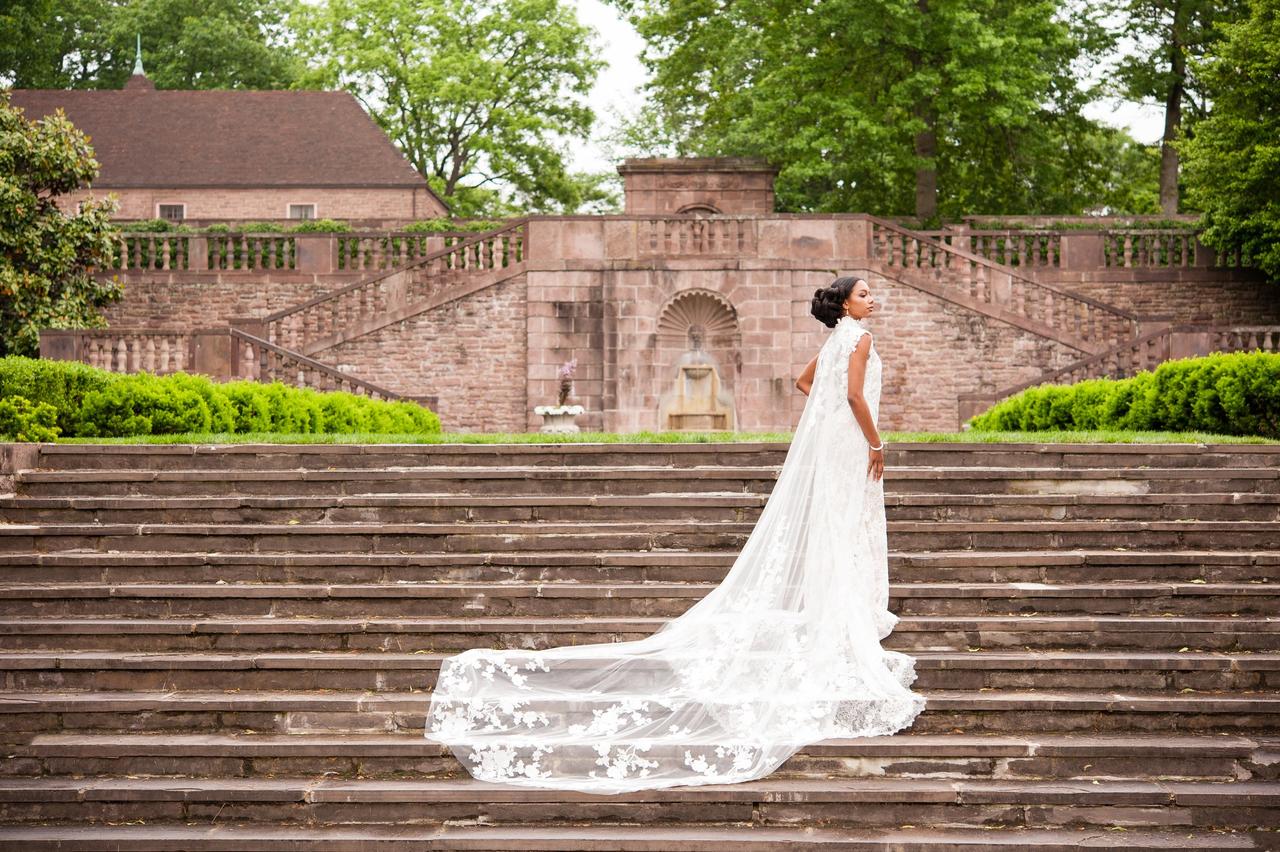 Long bridal veil or train
No fairytale or secret garden wedding theme is complete without a dramatic bridal train or veil. Not only is this one of the few chances you'll have to ever wear something so regal, but long veils and trains were made for breathtaking wedding portraits.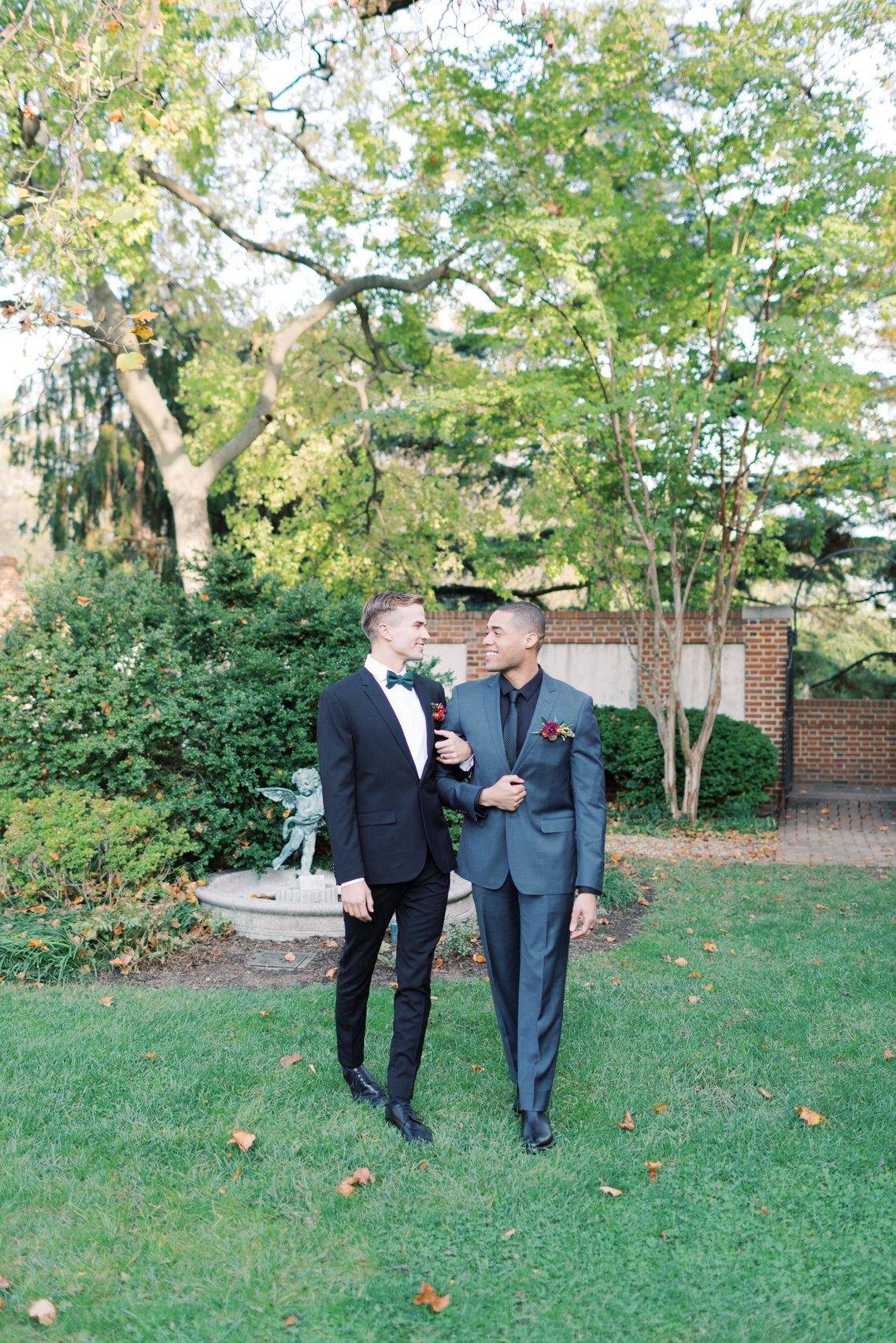 Tuxedos
Semi-formal and black tie dress codes are both appropriate for grooms and groomsmen to wear at a garden wedding. A simple black tuxedo will give you the most traditional look, but if you're feeling more fashion-forward, try a navy blue tuxedo or one made of an unexpected fabric, such as velvet.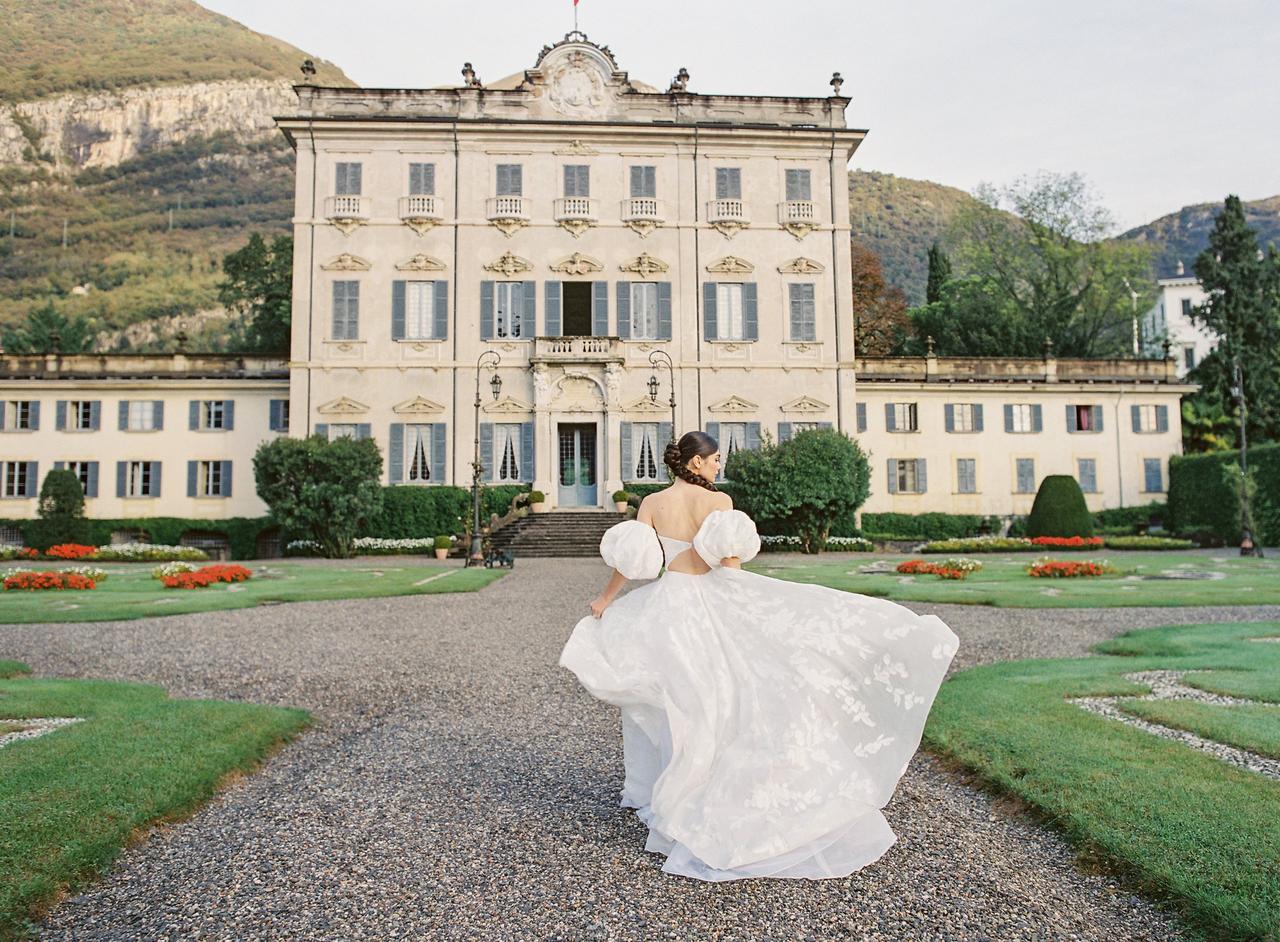 Historic estate wedding venue
Your wedding venue is one of the most important details of a garden-themed wedding. Locations like historic homes or museums, private villas, and botanical gardens are some of our favorite settings for this theme.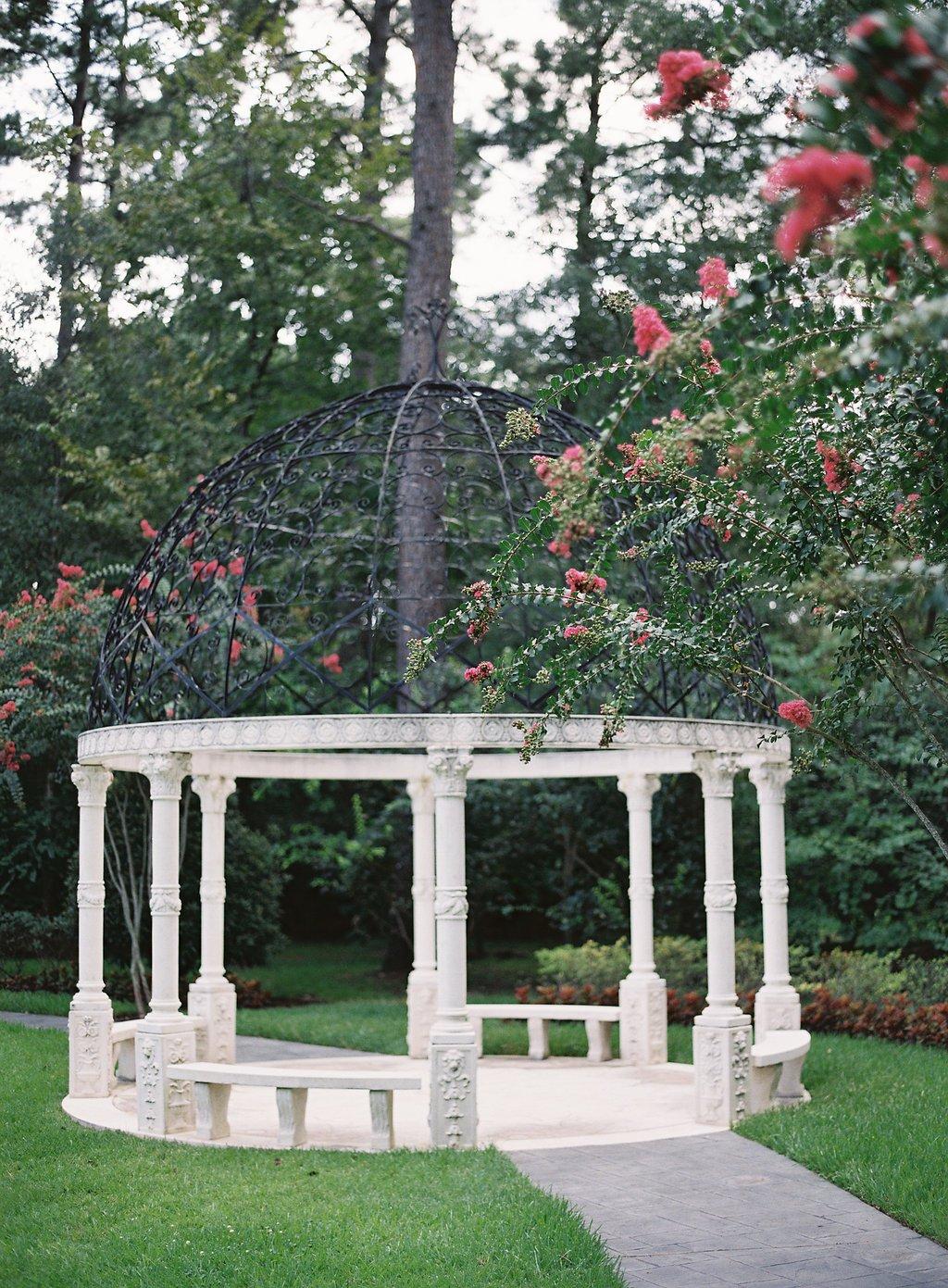 Wedding ceremony gazebo
Many garden wedding venues will have gazebos, pergolas, or trellises already on their property—if not, you can always add your own with the help of an event rental company. Decorate the structure with flowers, fabric, or string lights to create an enchanting backdrop.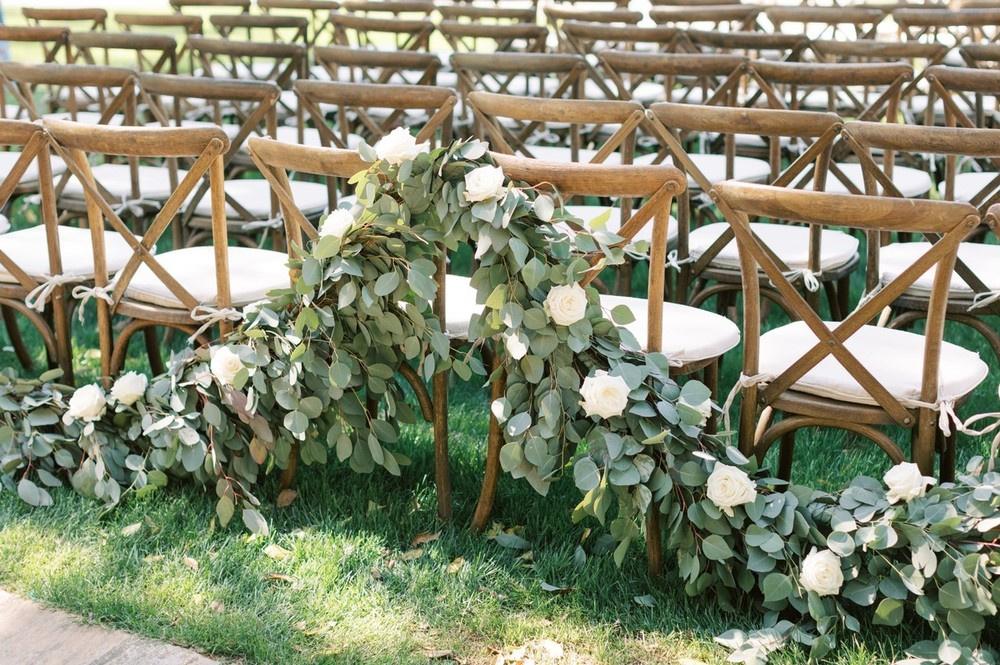 Greenery garland decor
Dress up your wedding chairs with simple greenery garlands for an effortless and beautiful detail. These cross-back chairs are a staple garden wedding trend—not only do they look pretty, but they're available in a variety of colors, from dark mahogany to whitewashed wood.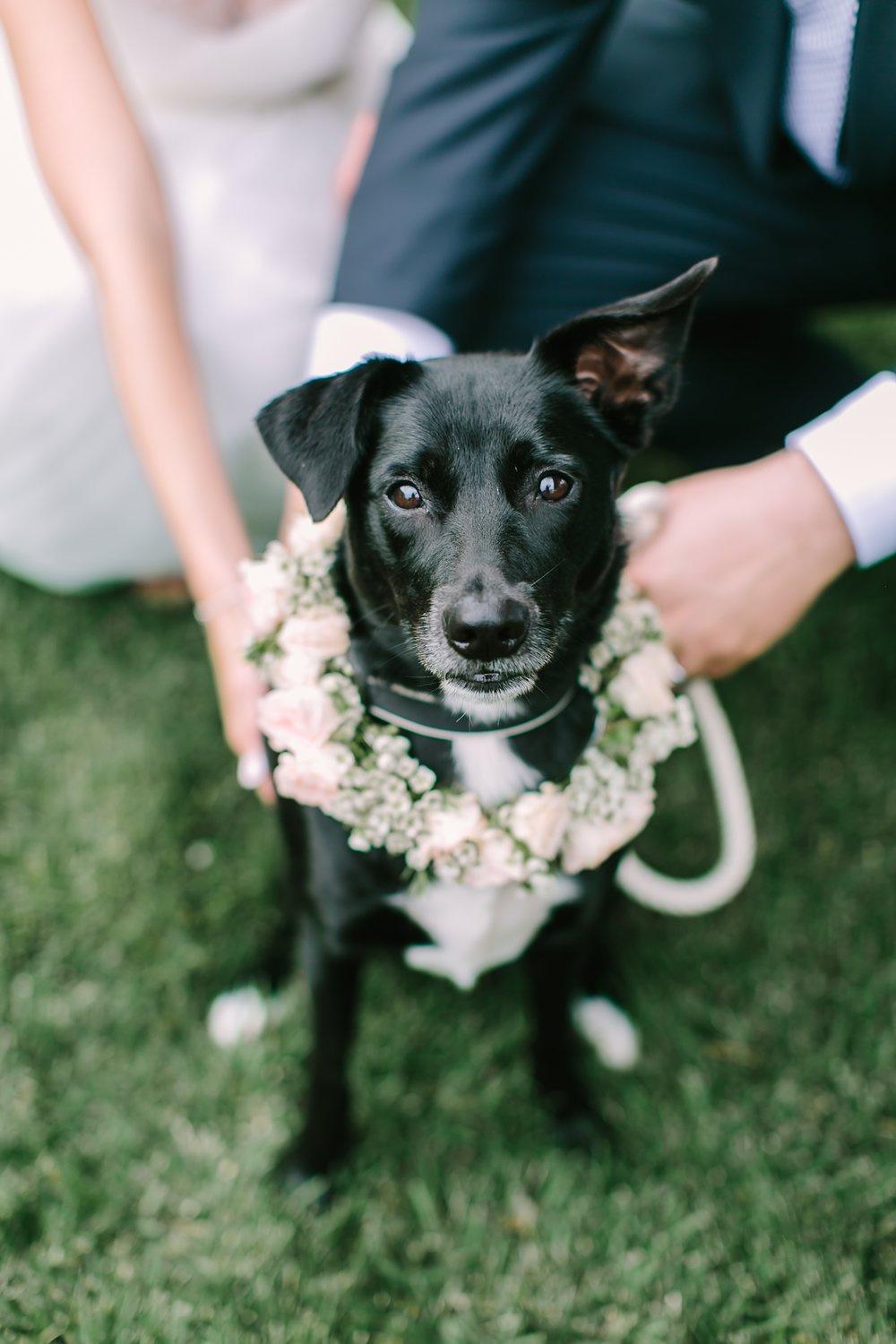 Floral dog collar
If you're including your pup or other furry friend in the festivities, dress them up for the occasion with a custom floral collar from your wedding florist.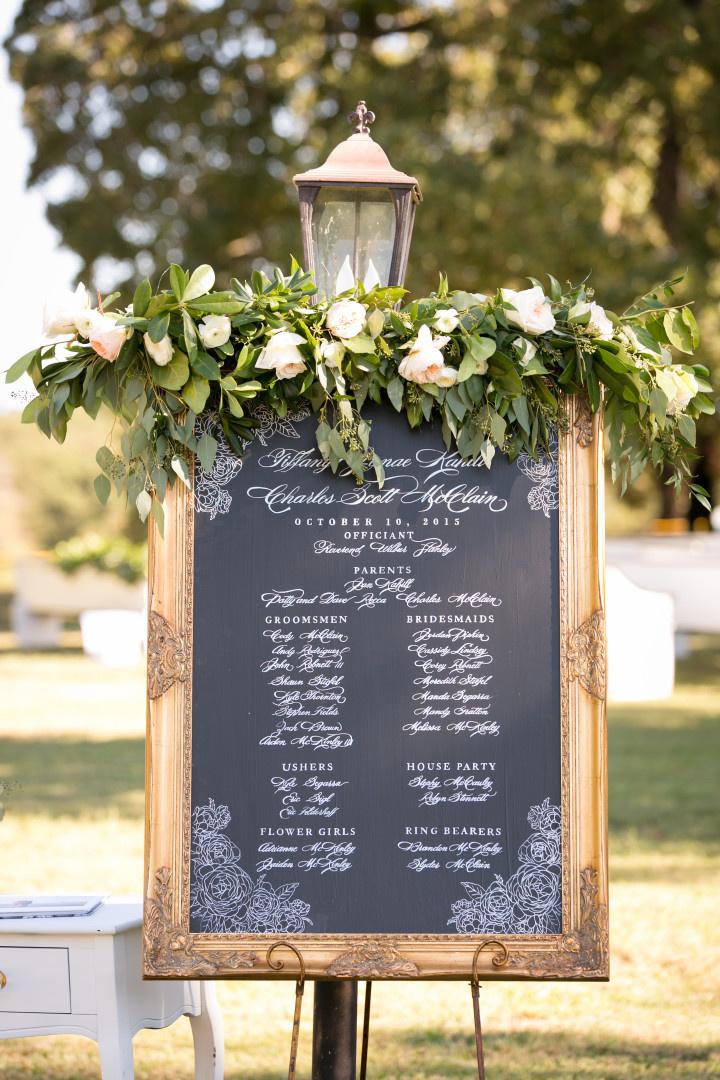 Ceremony program sign
Display the names of your wedding party with a custom sign. Calligraphy signs are a gorgeous addition to any garden-themed wedding, and the elegant lettering, gold frame, and flowers on this one have us swooning.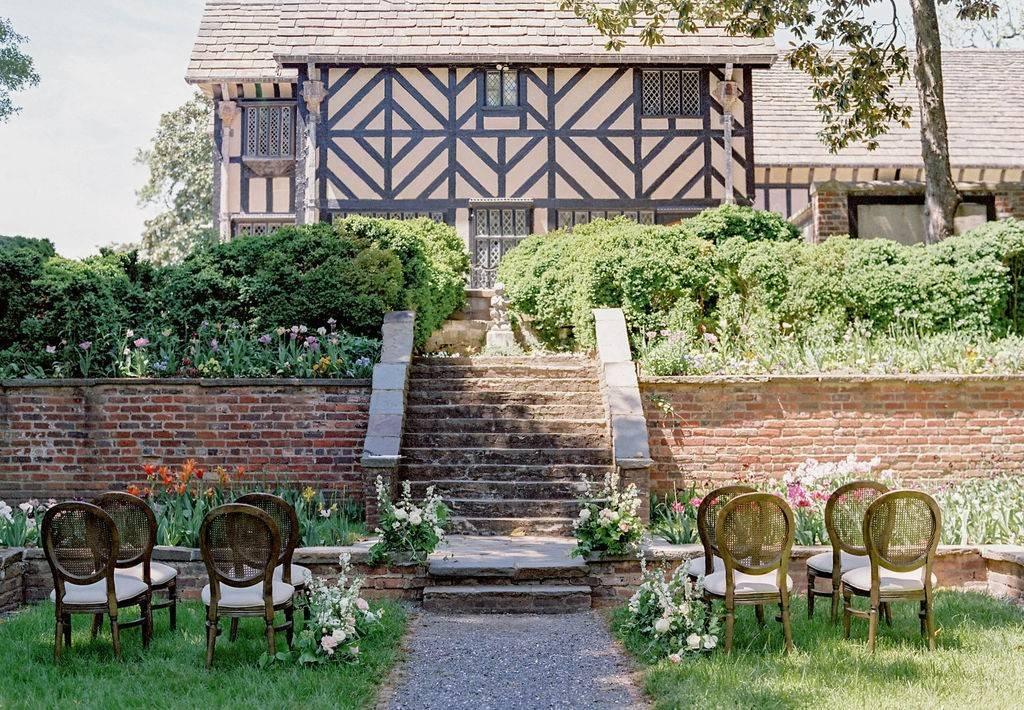 Wedding aisle decor
Dress up an outdoor ceremony space with floral aisle markers, like these "planted" arrangements that look like wildflowers growing up from the ground. Garden weddings are also the perfect opportunity to experiment with non-traditional vessels for your flower arrangements, such as small baskets or even vintage watering cans.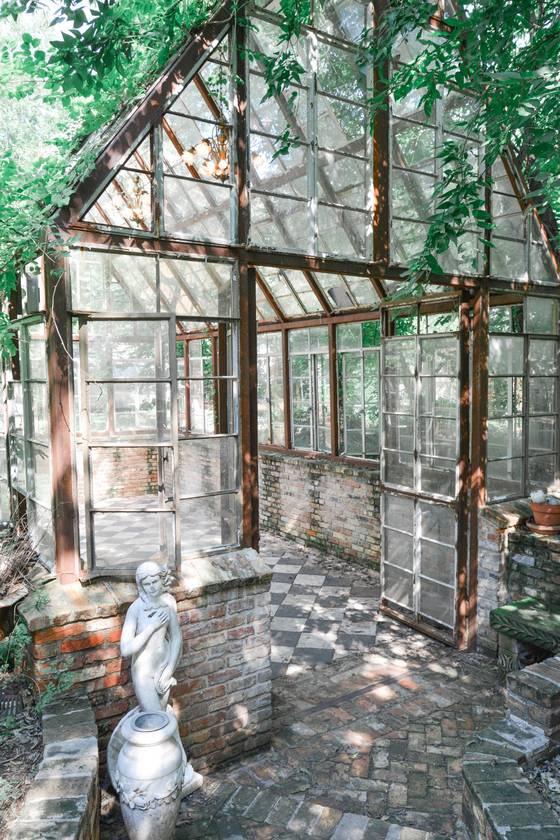 Greenhouse backdrop
If your wedding venue has a greenhouse or conservatory on its property, ask about using it as a photo backdrop or the setting for your cocktail hour or reception dinner.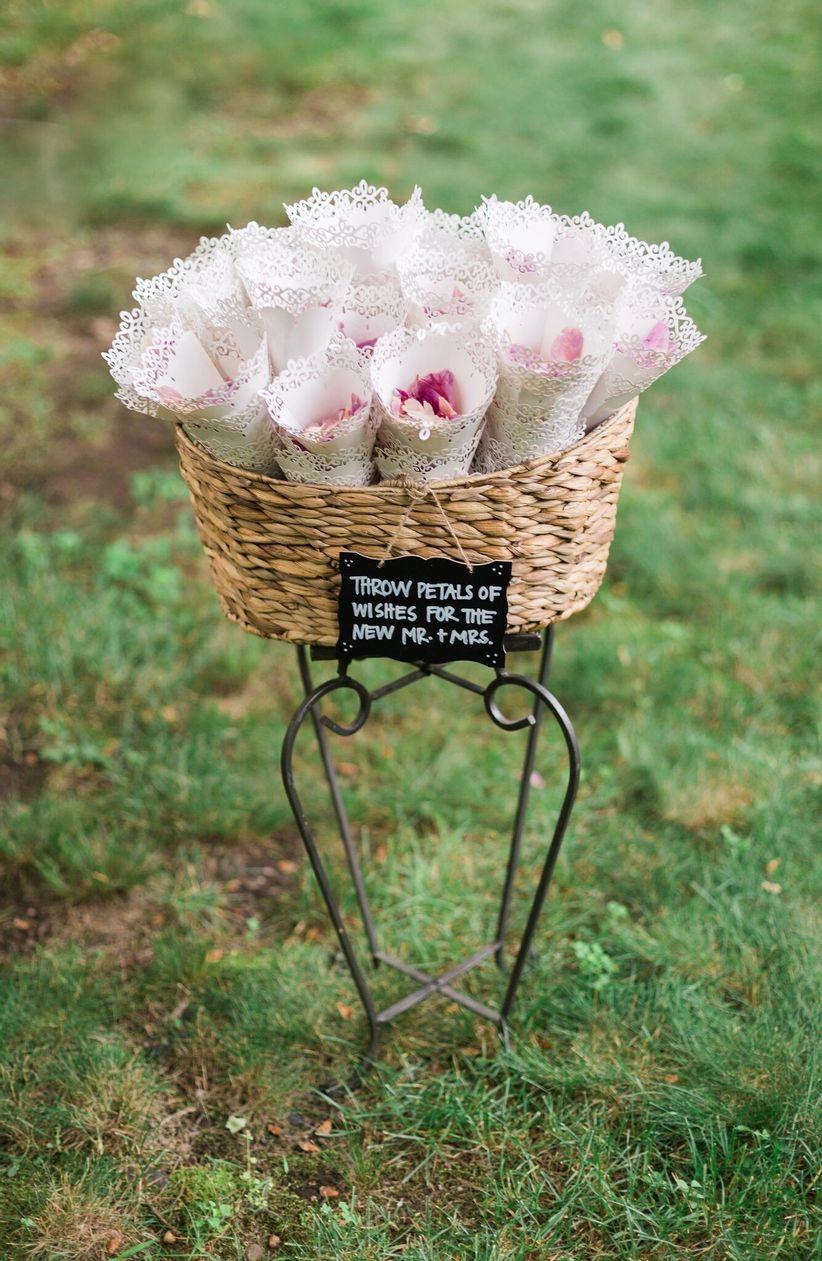 Flower petal toss
End your garden ceremony with a celebratory petal toss! Fill paper cones with petals and display them in a cute basket at the entrance to the aisle for your guests.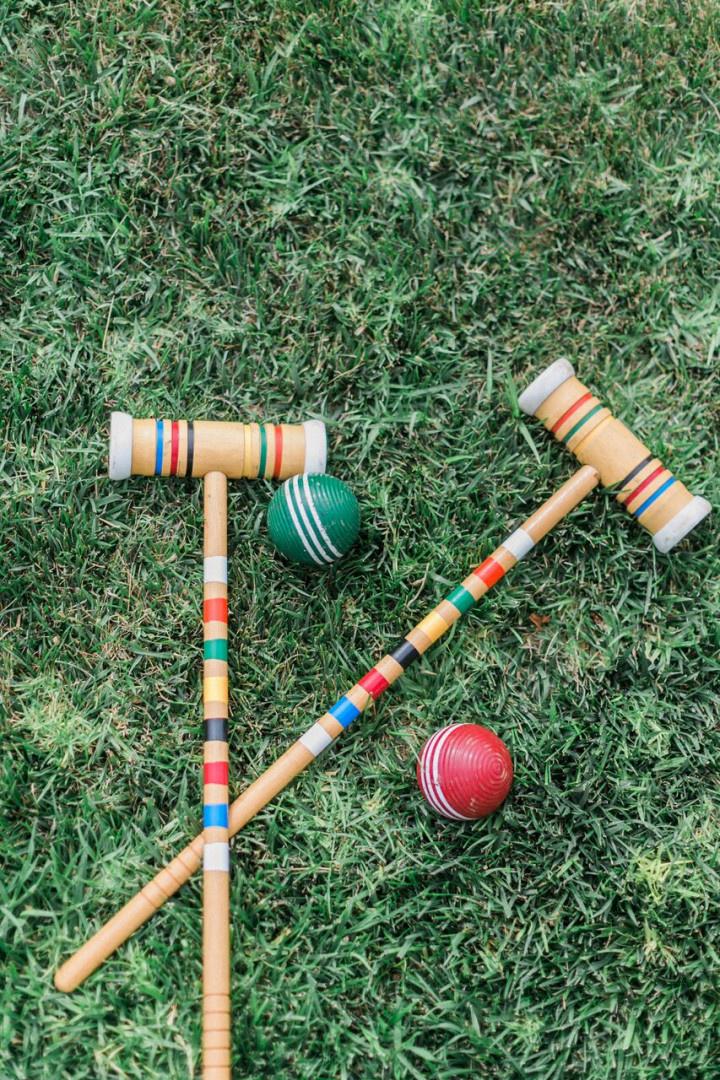 Croquet
Entertain your guests with lawn games, which are a must for any garden wedding. Croquet is one of our favorite options. Search antique stores and flea markets to see if you can find a vintage set. The added charm will be worth it!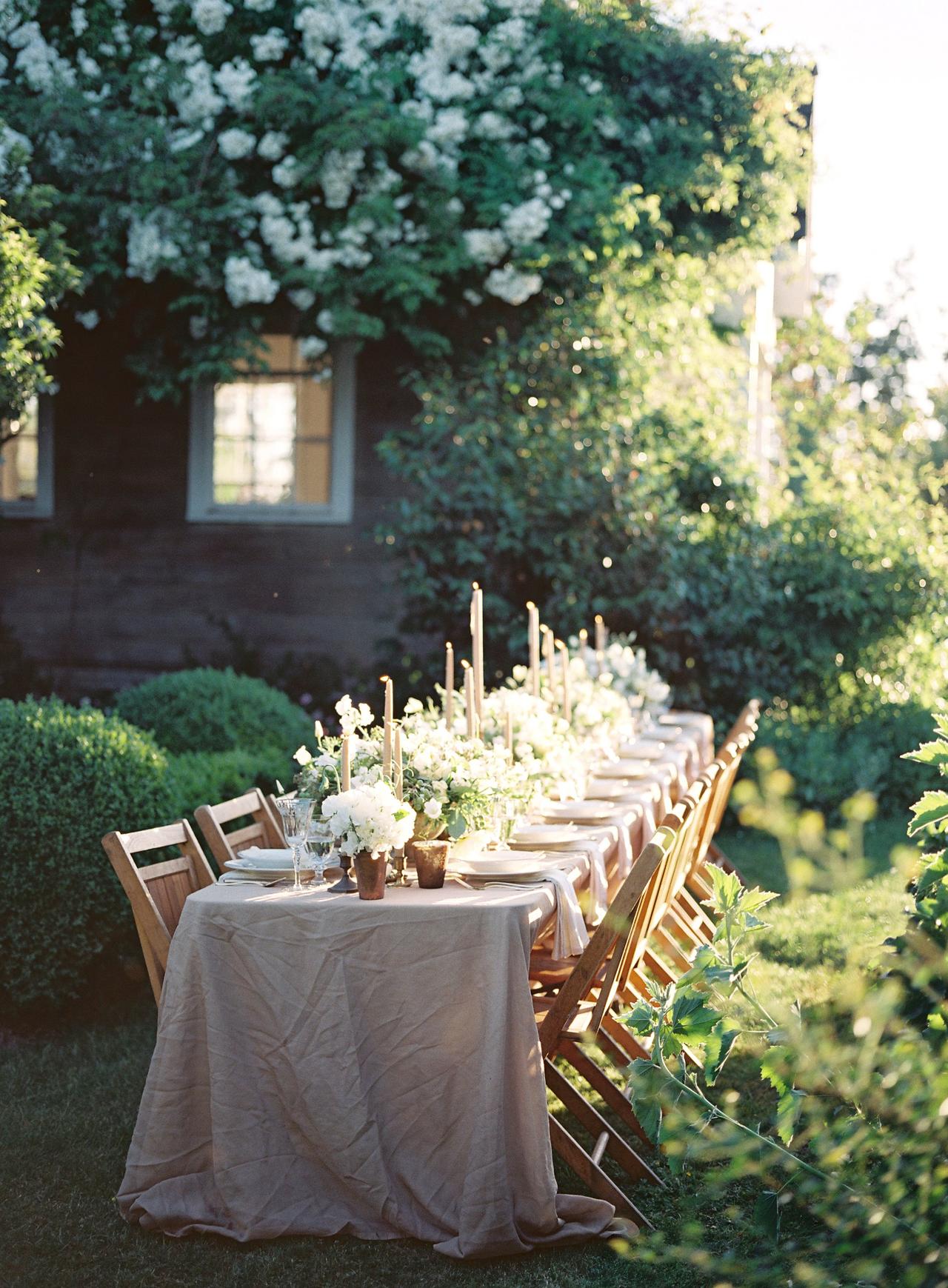 Long banquet tables
Instead of the traditional round or square reception tables, seat your guests at long banquet tables. This creates an inviting atmosphere and encourages everyone to mix and mingle! Finish the look with low wedding centerpieces and a fabric runner.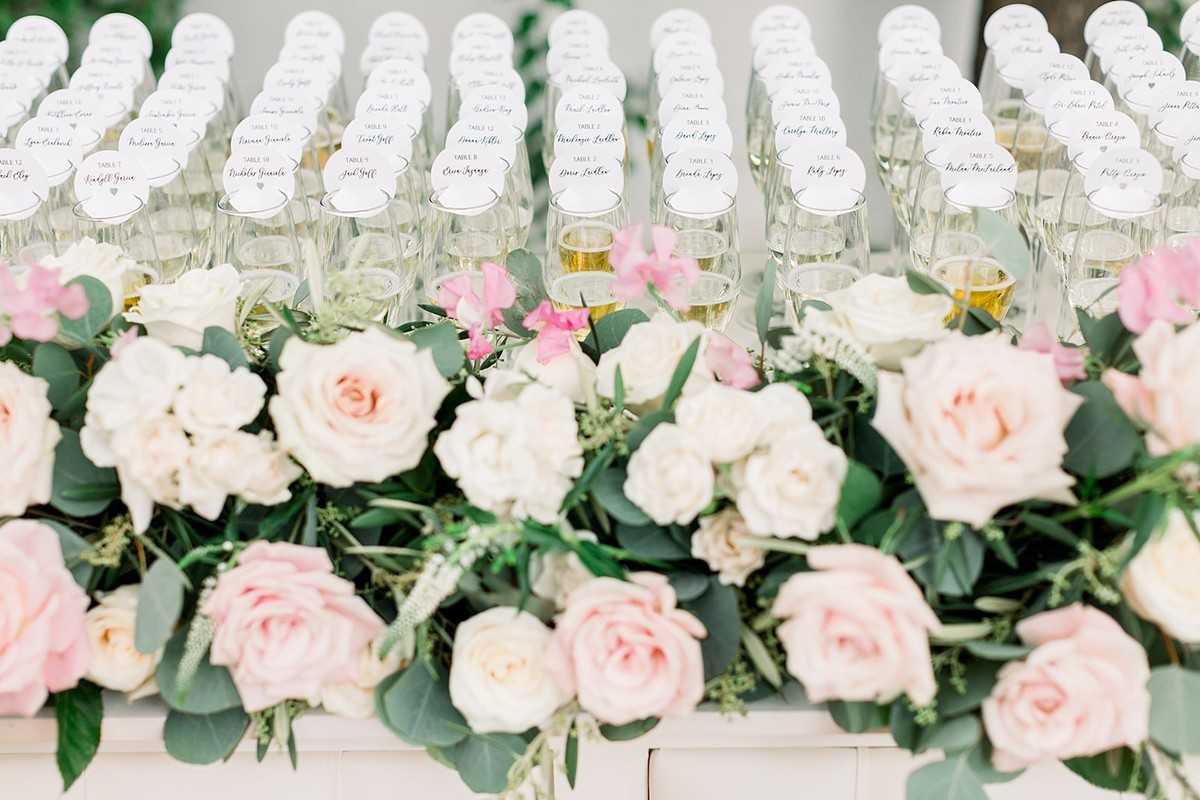 Champagne wedding escort cards
Only the fanciest of refreshments will do for a fairytale-inspired wedding. Greet your guests at the wedding reception with glasses of champagne or sparkling wine to kick off the party. Add tiny with seating assignments to turn the beverages into drinkable escort cards.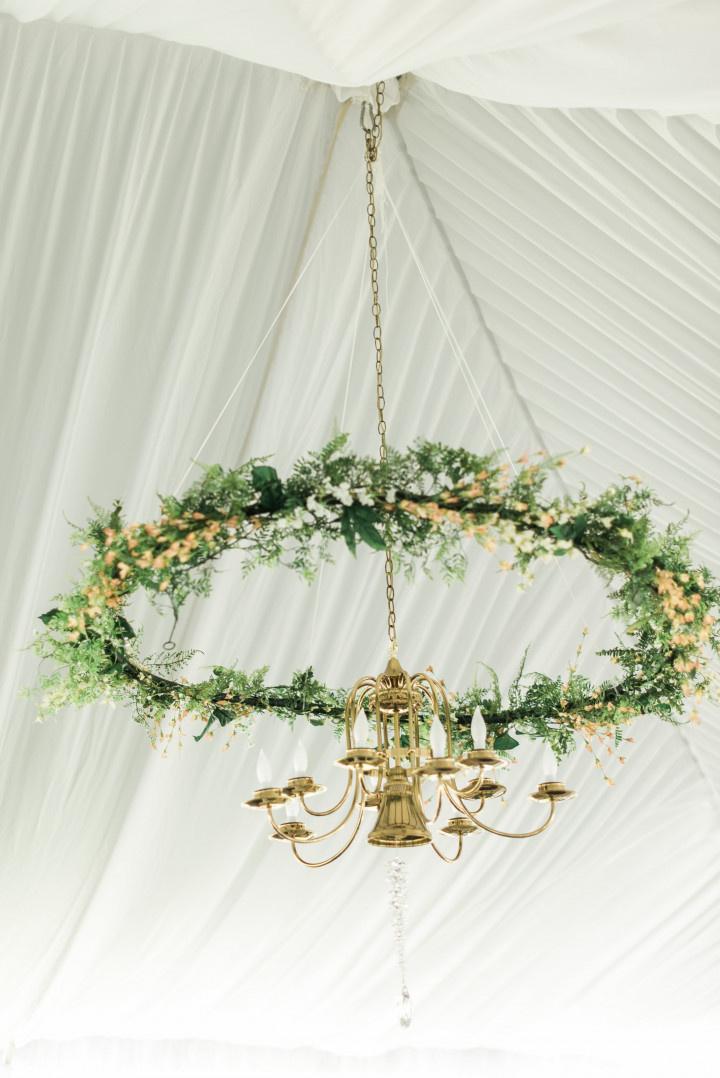 Floral chandeliers
Wow your guests with a greenery or floral chandelier. Hang it above the dance floor in your reception tent to create a focal point that's a total attention-grabber.
Vintage French-style settee
Provide a lounge area or additional seating for your guests to relax and mingle together when they're not at their tables or on the dance floor. We love the idea of renting vintage furniture, such as upholstered settees and sofas upholstered in French-style fabrics.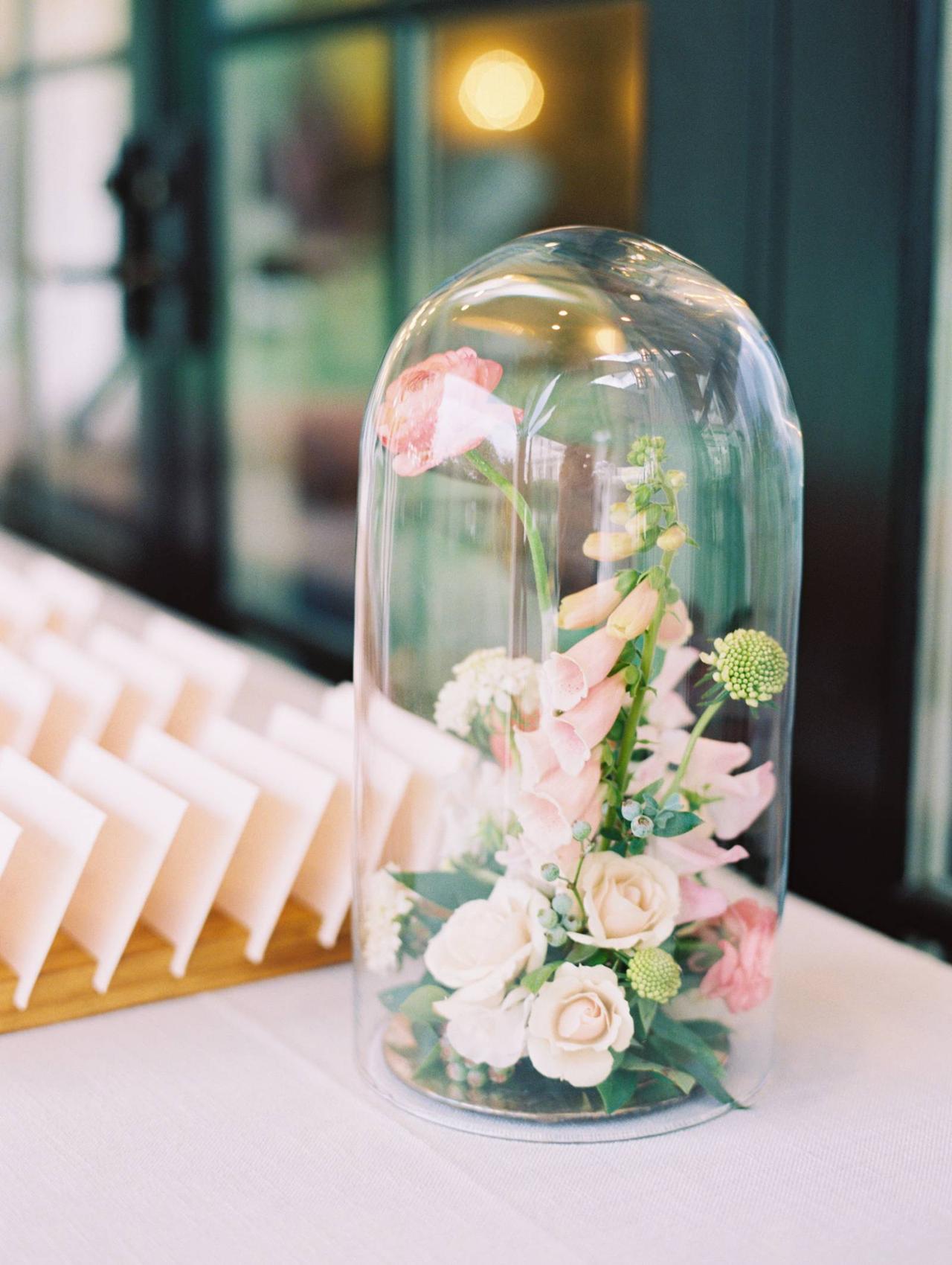 Bell jar centerpieces
Encased floral arrangements are one of the top wedding flower trends of 2021, and this bell jar centerpiece is proof of just how uniquely pretty they are.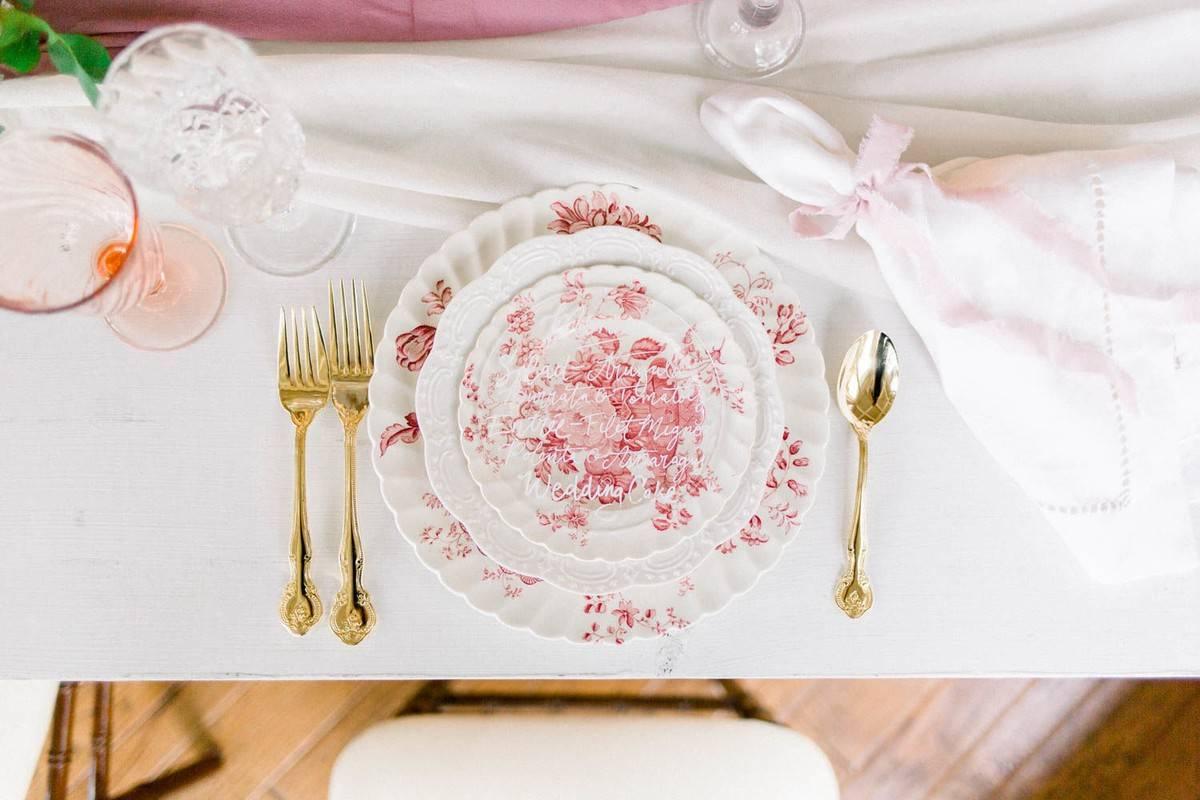 Toile and chinoiserie plates
Patterned china will bring a whimsical touch to your reception tables. Add vintage cutlery, colorful glassware, and acrylic place cards to round out the glam yet playful garden wedding aesthetic.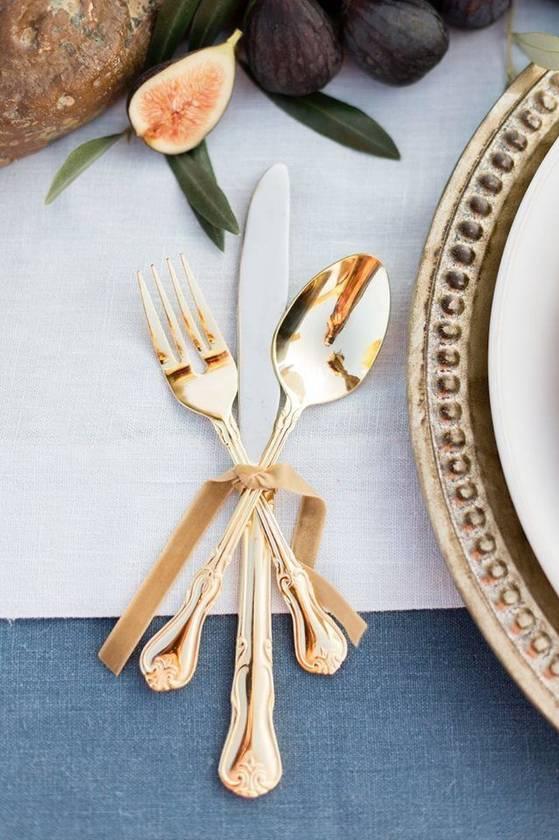 Gold flatware bundles
Achieving the perfect wedding decor is all about giving attention to the smallest of details, like this flatware bundle tied with a thin velvet ribbon. It's a simple but impactful way to elevate your guests' place settings.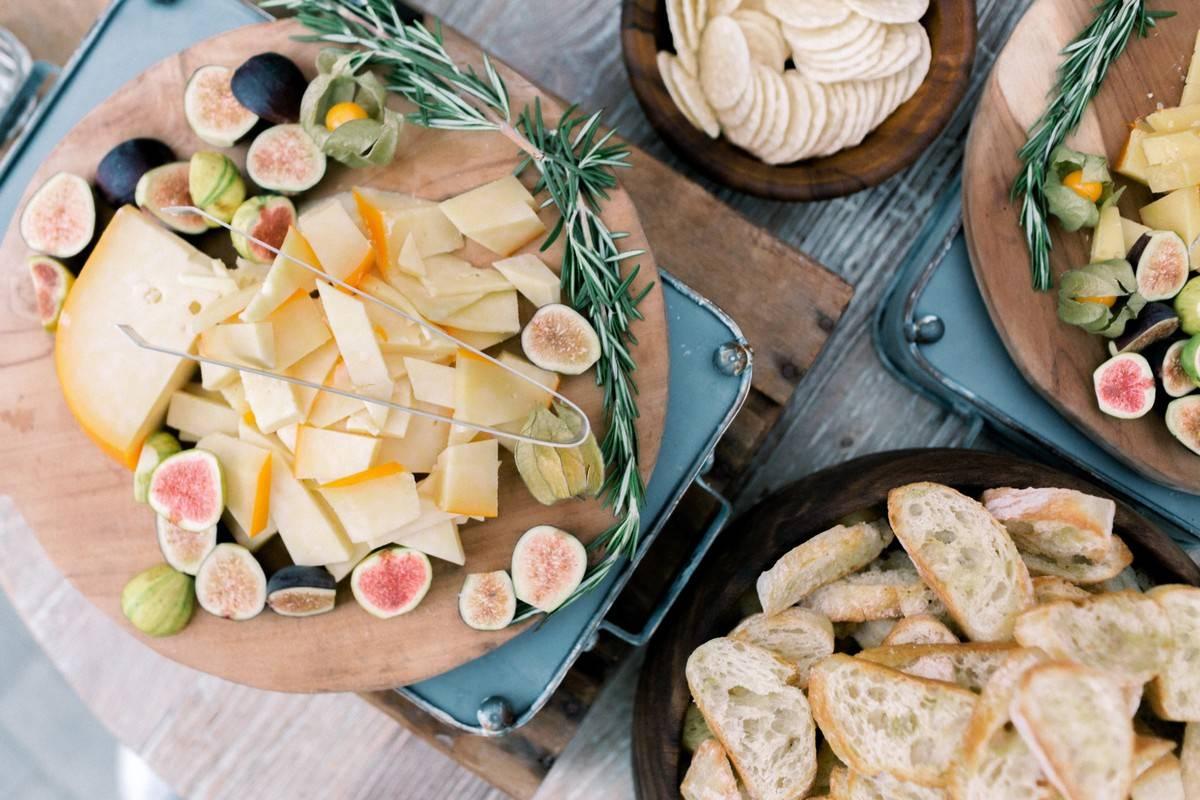 Decadent hors d'oeuvres
Light fare, such as cheese, crostini, and fresh fruit will tide your guests' appetites over during cocktail hour. Plus, a decadent spread of charcuterie and other hors d'oeuvres looks great on display at a garden wedding.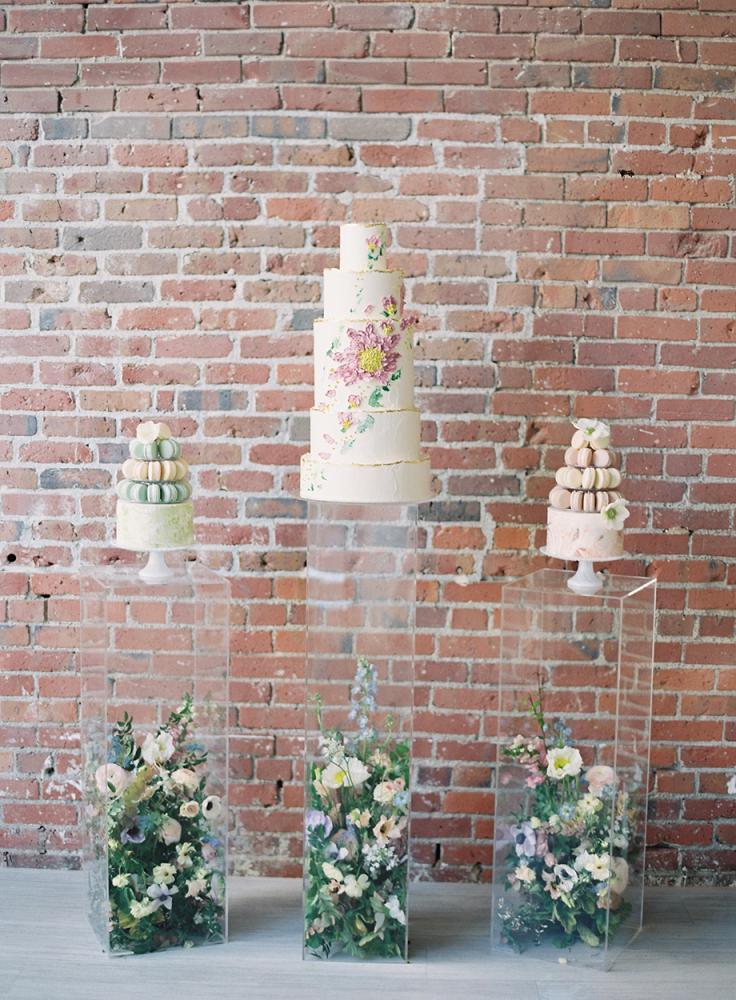 Elaborate wedding cake display
Fresh flowers are one of our favorite ways to transform a simple wedding cake, but painted flowers are an equally stunning option. Showcase your wedding cake and other treats (for example, macarons) atop clear acrylic pillars for a dessert display that will have everyone talking.