While past years have brought us a constant stream of soft greenery and airy, ethereal arrangements, the 2018 wedding flower trends are all about a return to boldness and vibrancy. This year, we'll be obsessing over flowers that don't hold back, from sultry color combinations to surprising and eye-catching details, like wreaths, asymmetrical centerpieces and bohemian mandalas. Ready for more?
Take a look at these must-see 2018 wedding flower trends.
Apricot Orange & Butter Yellow
Get ready for a surge of yellow and orange flowers being used in all types of arrangements, from whimsical summertime bouquets to minimalist fall centerpieces. Specifically, we're expecting to see flowers that showcase the softer side of these bright sunshine colors. If you love blush or salmon pink, try "apricot orange" instead — it's a peachy hue that feels like a pastel but also packs a punch. "Butter yellow" is inviting and unexpected, not to mention that it's like a dose of instant happiness for your decor. Peonies, Icelandic poppies, Juliet roses, chrysanthemums, carnations, and ranunculus are some of our faves for this color combination.
Wreaths & Hoops
Hands-down one of the most popular 2018 wedding flower trends will be wreaths. Circles are taking over in every way, shape and form — from Olympic-style rings suspended above a ceremony altar to bridesmaids carrying wreaths in place of traditional bouquets. We've even seen couples incorporate giant circular backdrops for their wedding, which is a total statement-maker. The great thing about this trend? It's so easy to personalize, whether you want a dainty ring of flowers or a boho-inspired greenery wreath.
Moss Details
We're calling it now: moss is the new greenery. A bold statement, we know, but we're expecting to see moss replace the lush and fluffy greenery leaves that we've seen everywhere in the last few years. We love moss because it brings a certain fairytale element to your wedding flowers, and you can use it in almost every way that you might use typical greenery (and then some!). Just check out this gorgeous moss-covered tablescape that would be perfect for a woodland theme wedding. For a simpler look, use a moss wall as an indoor ceremony backdrop, place it as a runner down the center of a long banquet table, or display your wedding monogram with a tasteful moss cutout.
Anthuriums
If you love proteas, anthuriums are the next big thing. We're calling this tropical wedding flower "the new protea" because even adding just one to your wedding bouquet or centerpiece makes a statement. Anthuriums are a natural fit for bohemian or beach wedding arrangements, but you can also pair them with traditional flowers, such as roses and lisianthus for a classic-meets-modern look.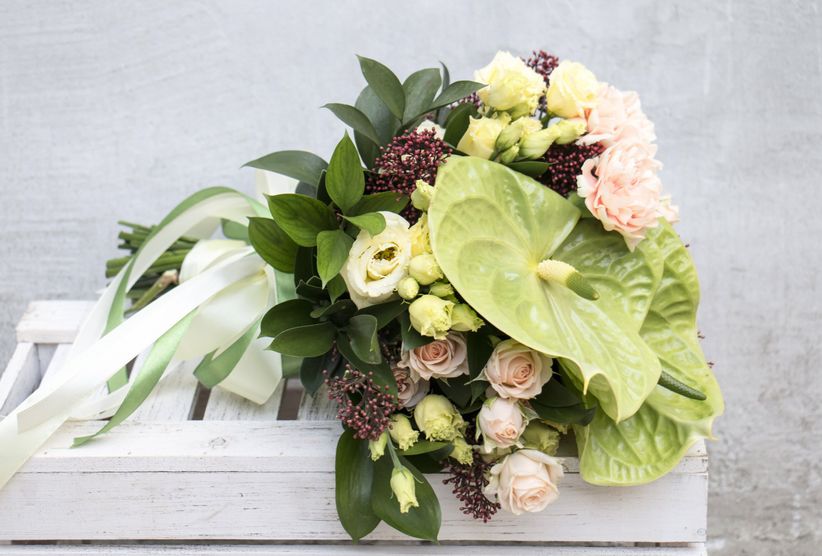 Moody Hues
See you later, pastels and neutrals. One of the 2018 wedding flower trends that we're most excited about is the return of color. Pantone's color of the year for 2018 is Ultra Violet, so naturally, we're expecting to see a lot of flowers in deep purple tones, like burgundy and plum. We especially love how these darker colors look when paired with abundant greenery and nature-inspired accents, like succulents, pampas grass, curly willow, and even feathers. Add flowers in lighter purple and pink shades, such as mauve and nostalgia rose, to create an arrangement that feels dramatic, edgy and a little bit mysterious.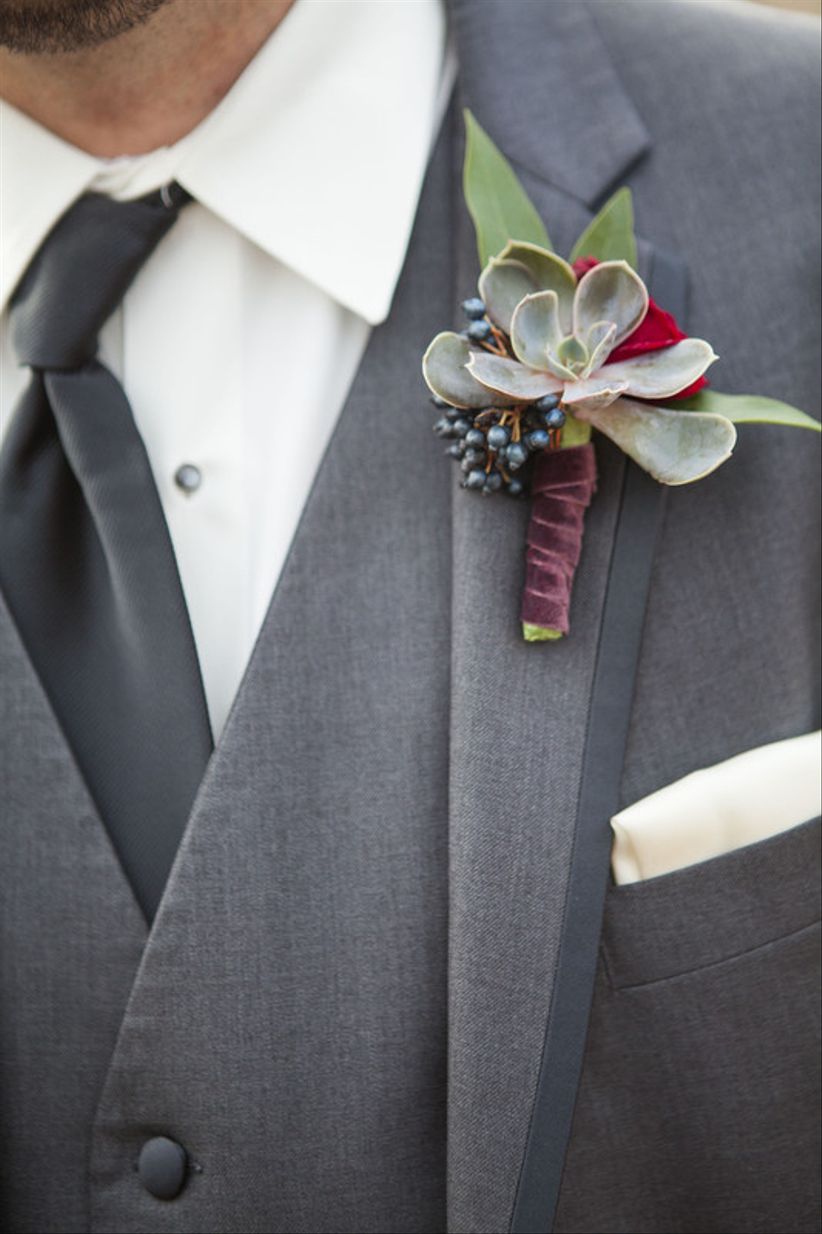 Foraged Flowers
Say hello to floral arrangements that include elements sourced directly from nature, a.k.a. vines, leaves, branches, and anything that your wedding florist can find on their own, without having to resort to a greenhouse or wholesale service. We're obsessed with this new approach to floral design and think it's one of the coolest wedding flower trends 2018 couples can incorporate right now. This style takes the greenery trend to an entirely new level, and it definitely isn't for those who love symmetry and perfection, but we'd argue that these undone (and slightly overgrown) arrangements are completely gorgeous in their own right.
Mandalas
Last but not least on our list of 2018 wedding flower trends are mandalas. These gorgeous creations are made by placing flowers, individual petals and other decorative pieces into symetrical, round patterns for a look that is artistic and free-spirited. Mandalas are traditionally used as symbolic (and sometimes spiritual) creations in everyday life, and we love the idea of creating one specifically for your wedding. Not only will it help foster good energy on the big day, but it will make for a stunning photo opportunity. This tabletop mandala is gorgeous, or you can build a giant mandala at your altar to surround you and your spouse as you say "I do."