While past years have brought us a constant stream of soft greenery and airy, ethereal arrangements, the 2020 wedding flower trends are all about a return to vibrancy and color, complete with big, bold details. If you're getting hitched this year, prepare for some major wedding flower inspo ahead!
Check out our must-see 2020 wedding flower trends below.
Floral design by Supposey
Sun palms
Say hello to the new statement floral. We're predicting that sun palms will be one of the top 2020 wedding flower trends, whether you're going for a bohemian look or something more tropical. These fan-shaped palms come in almost any color you can imagine, including their natural grayish hue, which makes them easy to incorporate into a range of wedding styles and color palettes. If you already love monstera leaves and pampass grass, don't be surprised if you notice sun palms becoming just as popular in floral arrangements over the next several months.
Floral design by Wildflowers by Design
Deconstructed designs
Another wedding flower trend for 2020 is floral arrangements that actually don't look like much of anything. Let us explain: instead of large, elaborate arrangements, single-stem flowers are being displayed in "deconstructed" designs. Think of roses individually displayed in a row of bud vases, groups of similarly colored flowers clustered together by type, peonies arranged atop vintage flower frogs that are intentionally left exposed, or long-stem flowers, like stock and delphinium, strung side by side to form a floral curtain backdrop.
Dress by Marchesa Notte Bridesmaids
Blooming jewelry
Why carry your flowers when you can wear them instead? Okay, so maybe traditional bouquets aren't going anywhere quite yet, but we've noticed that floral jewelry—everything from floral necklaces and cuff bracelets to statement earrings made with live flowers—are on the rise. If you have bridesmaids in your wedding party, this is a unique alternative (or addition) to bouquets, and it's a fashion-forward take on the standard corsages and boutonnieres that are typically worn at weddings. Pair your floral jewelry with a floral print dress (like this stunner from the Marchesa Notte Bridesmaids Spring/Summer 2021 collection) for serious garden party goals.
Floral design by Florals by Kimberly
Bleached greenery
If you think having greenery that's been bleached white (instead of, you know, remaining green) would defeat the purpose of adding it to your bouquet, we're here to convince you otherwise. Floral designers and wholesalers have started bleaching leafy plants—Italian ruscus being one of the most popular choices—for an entirely new approach to the greenery trend. The washed-out look, which is already on track to be one of the biggest 2020 wedding flower trends, is equal parts bohemian and ethereal. The end result gives you the free-spirited look of a loose arrangement without the overload of color that greenery can sometimes create.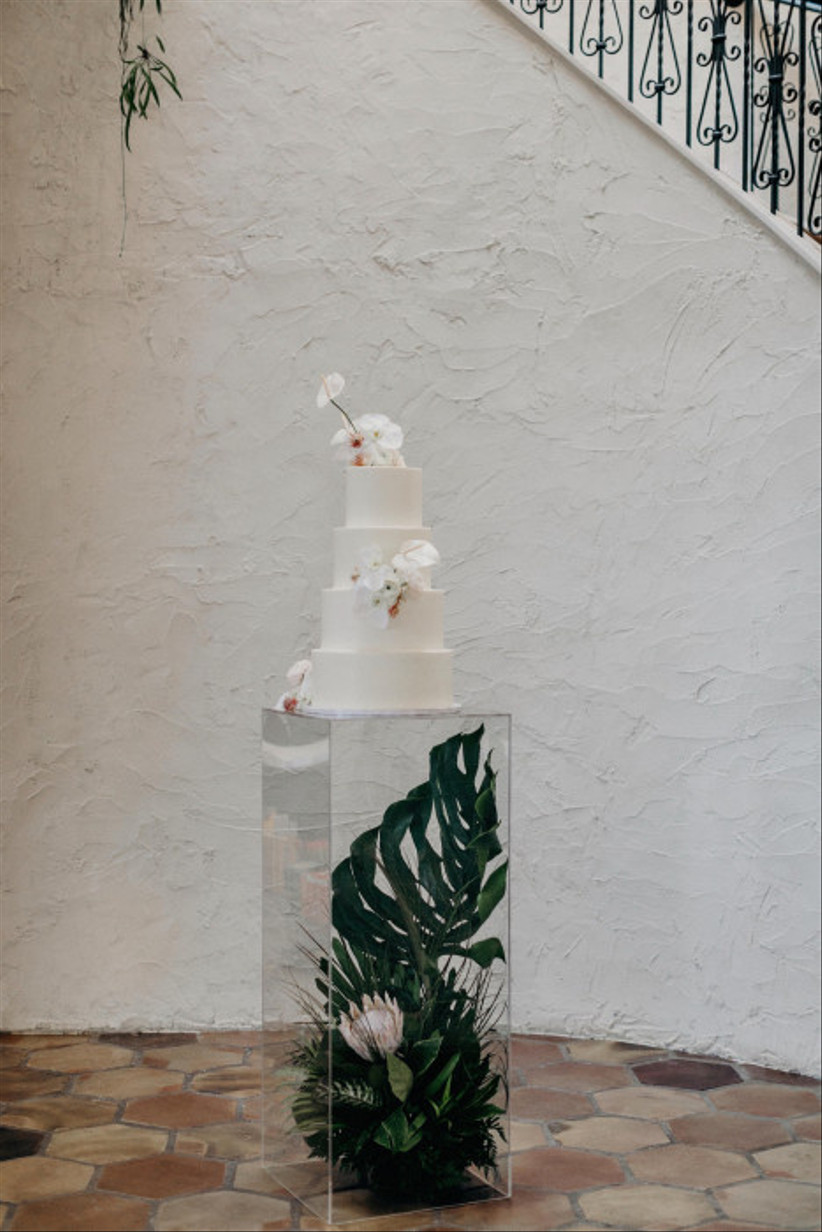 Encased arrangements
Your wedding flowers are already going to be the statement pieces of your day, but you can transform the floral arrangements into literal works of art by displaying them in cases, like this modern acrylic box. The end result is a total attention-grabber and is reminiscent of a sculpture you'd see in a museum, making this 2020 wedding flower trend a perfect option if you really want to wow the crowd. Use one of these arrangements to create a focal point and show off your wedding cake, display your welcome sign, or dress up the cocktail bar.
Sustainability
As the trend shifts toward thinking about the bigger picture in everyday life, couples are becoming more conscious about their wedding flowers, too. In 2020, the overall mindset for wedding flowers will be "quality vs. quantity" and repurposing the flowers throughout the day—for example, reusing ceremony backdrops at the reception or transforming bridesmaid bouquets into centerpieces. Seasonal and locally sourced flowers are other ways that couples are tapping into this eco-friendly practice. By using in-season flowers, especially those that are grown relatively close to your venue and don't require extensive shipping, you can cut down significantly on cost and unnecessary waste. Many florists are also foraging their own decorative accents, like autumnal branches, wildflowers, and vines of greenery, to give their arrangements a garden-inspired—and environmentally friendly—feel.
Floral design by Bleached Butterfly Floral & Home
Monochromatic palettes
Couples will be skipping multicolored florals in favor of monochromatic arrangements instead. Think of it like color blocking for flowers! For the richest effect, use flowers in various shades of the same color (like three or four shades of pink, for example) and add greenery or different-sized blooms to boost visual interest.
Floral design by The Garden at Good Humus
Dried flowers
Dried flowers are another up-and-coming detail that we expect to see more of in 2020. Once reserved for vintage and rustic wedding styles, dried flowers are gaining traction when it comes to bohemian, minimalistic, and even classic aesthetics. Dried lavender, baby's breath, and daisies are just a few options you can use to dress up your floral arrangements. Another way to jump on board with this trend? Collect and press flowers throughout your engagement, then use the dried blooms as decorative accents on your stationery, escort cards, or table numbers. The best part is that since your wedding flowers will already be preserved, you can easily hold onto them as keepsakes after the big day.