30 Summer Wedding Bouquets That Are Filled With Color
If you're planning an outdoor wedding, don't miss these summer wedding bouquets filled with vibrant flowers and seasonal greenery.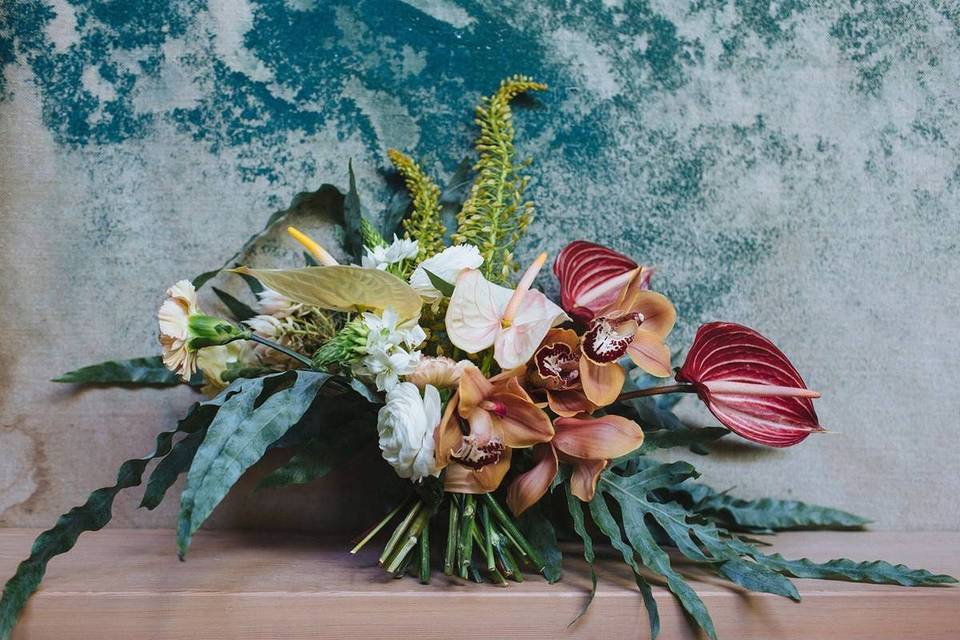 Wedding or no wedding, the summer season is one of the best times of the year for flowers, since so many of them are naturally in bloom between May and September. While your exact wedding flowers will depend on your budget, your wedding florist, and your wedding style, it never hurts to start looking at inspiration! In the meantime, we're sharing these summer wedding bouquets to help you figure out what you do and don't like, so you can share your vision with the pros later on. (Reminder: we suggest hiring your wedding florist at least 10 months before your special day.) Here are 30 summer wedding bouquets for any style.
What are the best summer wedding flowers?
Peonies: Arguably one of the most in-demand wedding flowers, peak peony season is typically between May and June, making these beautiful flowers perfect for an early summer wedding bouquet.
Garden roses: Roses thrive in the sunshine, which makes them really pop during the summer months. While you can source roses year-round, summer is ideal for the most naturally fragrant and colorful varieties, like cabbage roses and heirloom roses.
Lavender: While lavender will add a fragrant element to your summer wedding bouquet, this sun-loving flower is also popular for wedding centerpieces, boutonnieres, or even lavender-infused cocktails and foods (it's edible!).
Hydrangeas: Hydrangeas are a classic summer flower—chances are, you'll see them almost everywhere from early spring through early fall. They grow in a handful of colors, from green and white to blue, purple, and pink, depending on the type of soil.
Delphinium: As one of the only naturally blue flowers to exist, delphinium is especially pretty for a summer wedding bouquet, especially if you want a long-stem presentation bouquet. It looks similar to larkspur, which blooms in different colors including white and pink.
Summer Wedding Bouquet Inspiration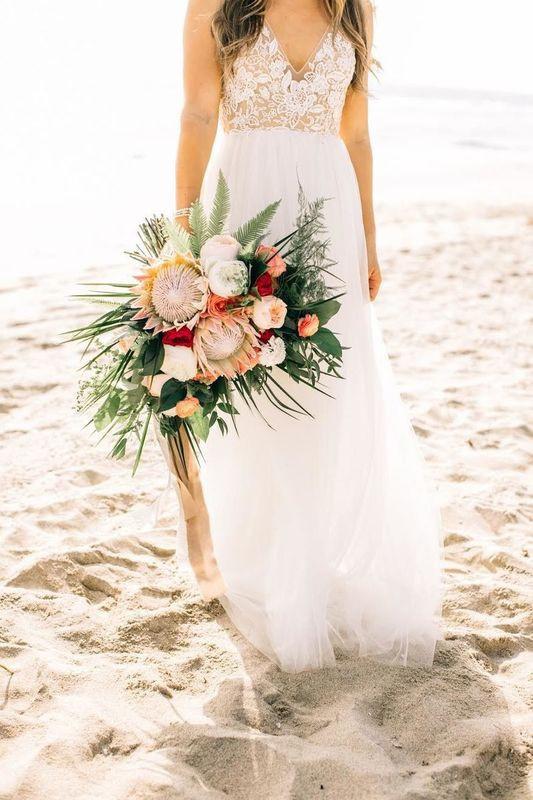 Oversized wedding bouquet with proteas
Huge king proteas can't be missed. Use these dramatic flowers in your bouquet if you want a trendy, bohemian arrangement.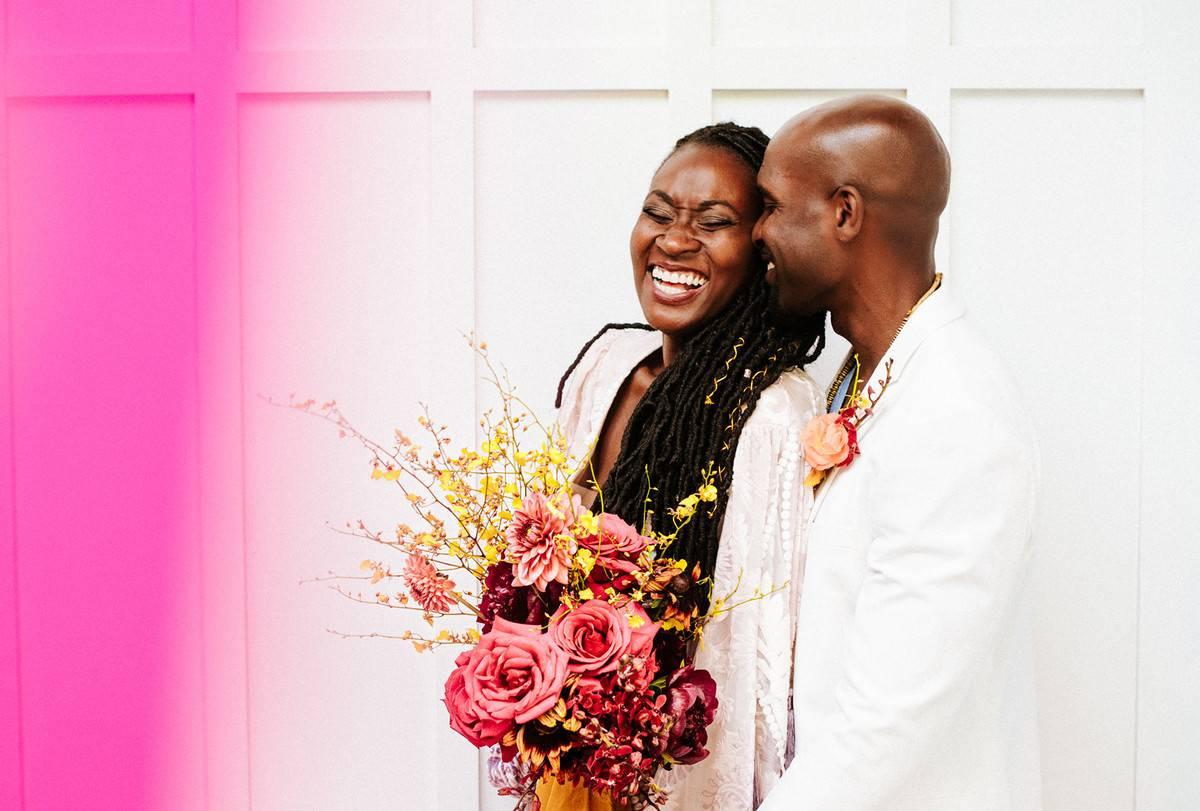 All-pink wedding bouquet with foraged branches
This bouquet reminds us of strawberry lemonade in flower form. Bright yellow forsythia branches and sunflowers break up the otherwise pink palette of this bouquet featuring roses, peonies, and dahlias.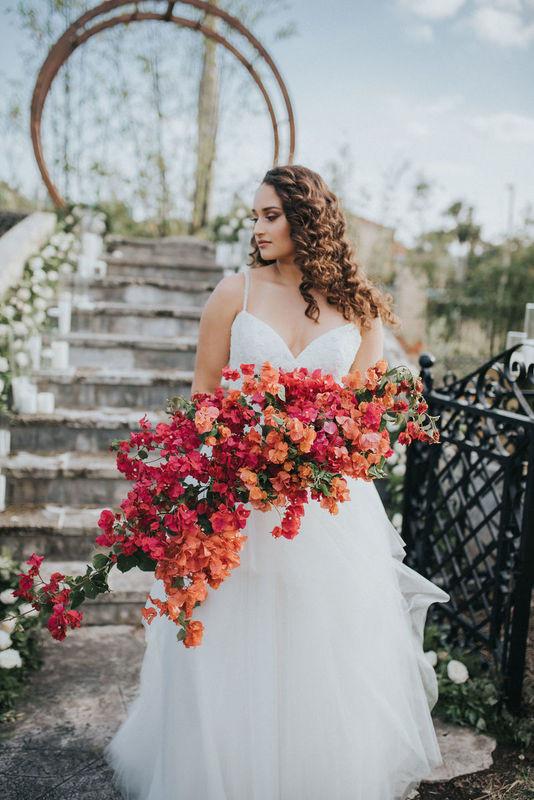 Bougainvillea wedding bouquet
For brides getting married on the West Coast or in the Southwest, an orange and pink bougainvillea summer wedding bouquet is a gorgeous, locally inspired option.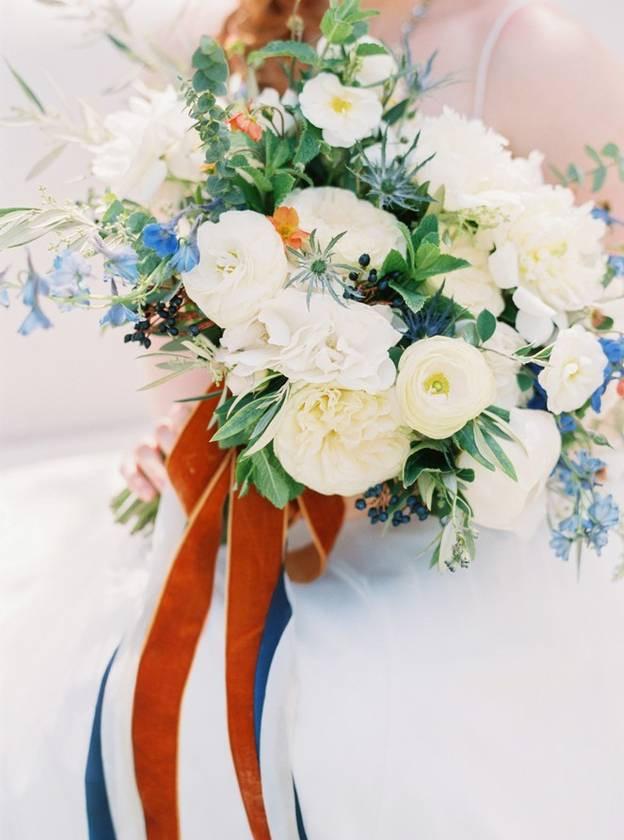 Red, white and blue wedding bouquet
If you're having a Fourth of July wedding, this white and blue bouquet is perfectly on-theme. Add red ribbons for a patriotic finish.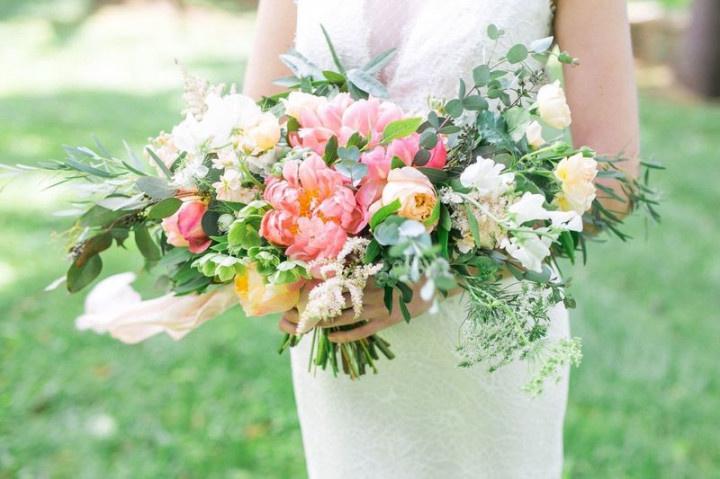 Coral charm peony wedding bouquet
Coral charm peonies are a perfect match for yellow roses and overflowing greenery.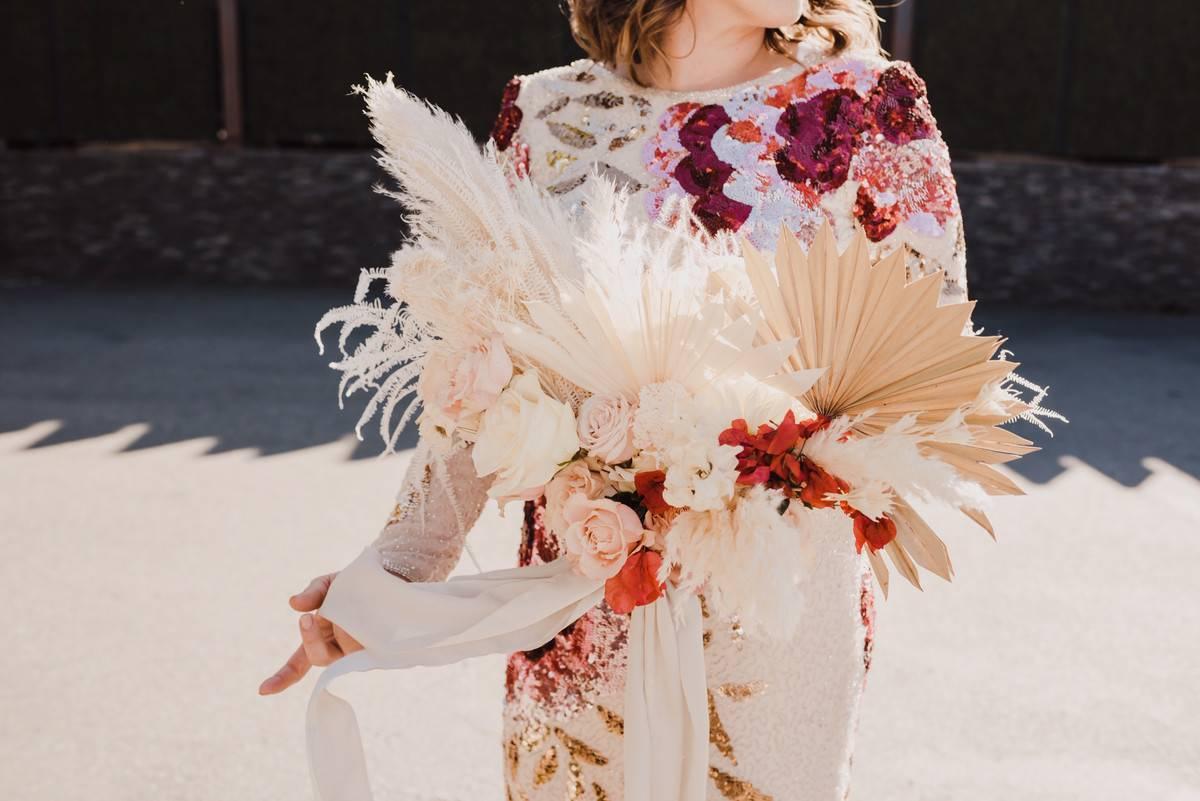 Dried palm leaves wedding bouquet
If you're going for a boho vibe, then dried palm leaves and grasses are must-haves for your summer wedding bouquet. The mix of neutral tones in this arrangement is offset with blush roses and orange bougainvillea.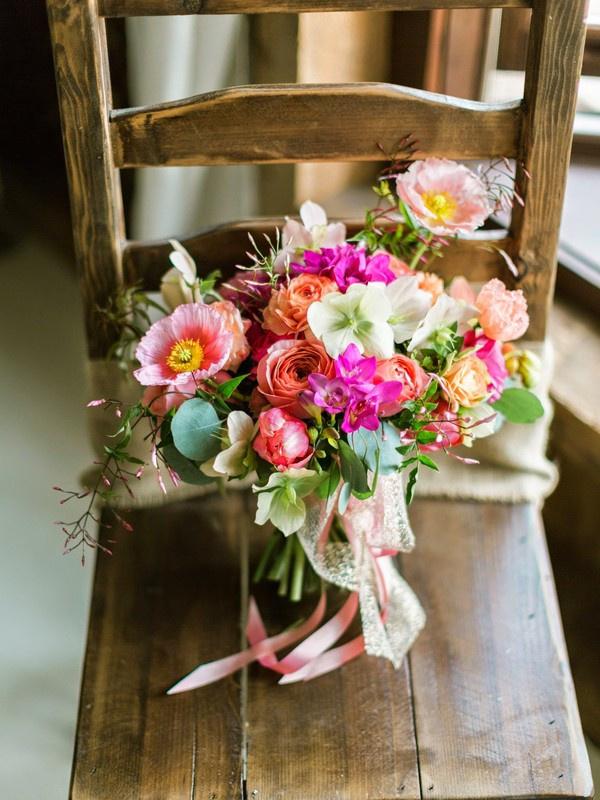 Whimsical pink and orange wedding bouquet
Combine pink, orange, and fuchsia flowers, such as these poppies and roses, to brighten up your ensemble in a summery way.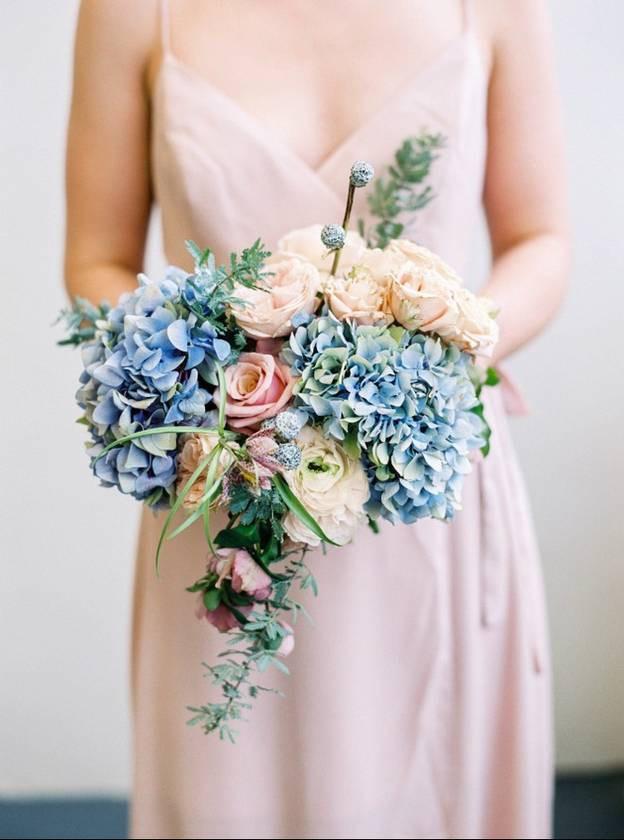 Pastel hydrangea wedding bouquet
A blush and blue color palette is classic summer style, especially when hydrangeas are involved. A few asymmetric pieces give the bouquet a more modern look.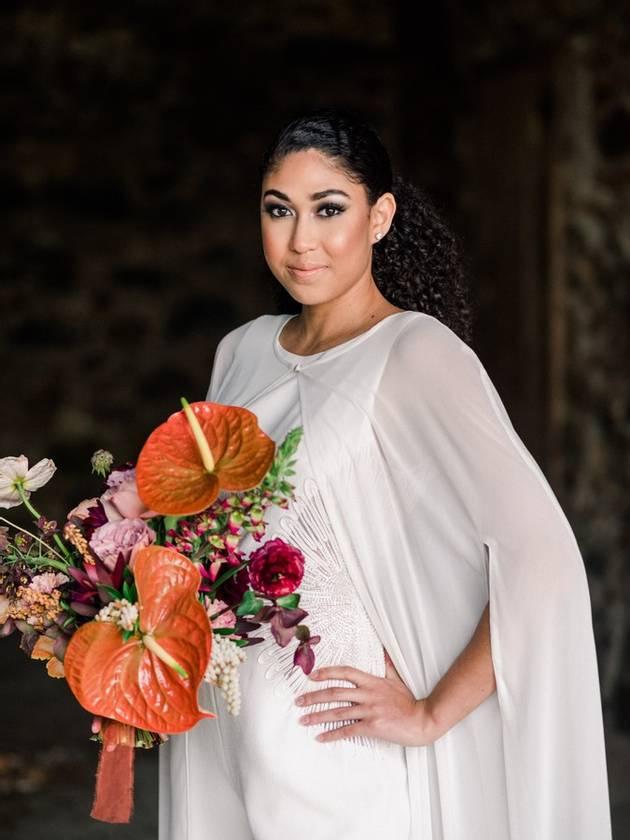 Orange anthurium wedding bouquet
Spiky anthuriums are having a moment right now, and they're a natural fit for summer wedding bouquets. These tropical flowers bloom in a variety of colors to match the rest of your decor, including white, pink, red, green, and bi-color varieties.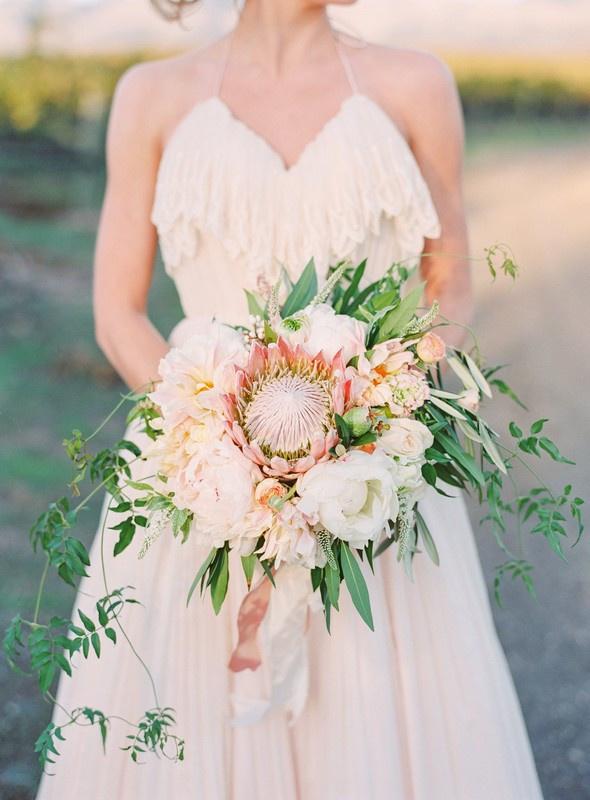 Protea wedding bouquet with cascading vines
Tone down a statement-making protea by pairing it with trailing vines, peonies, and dahlias in soft blush and ivory colors.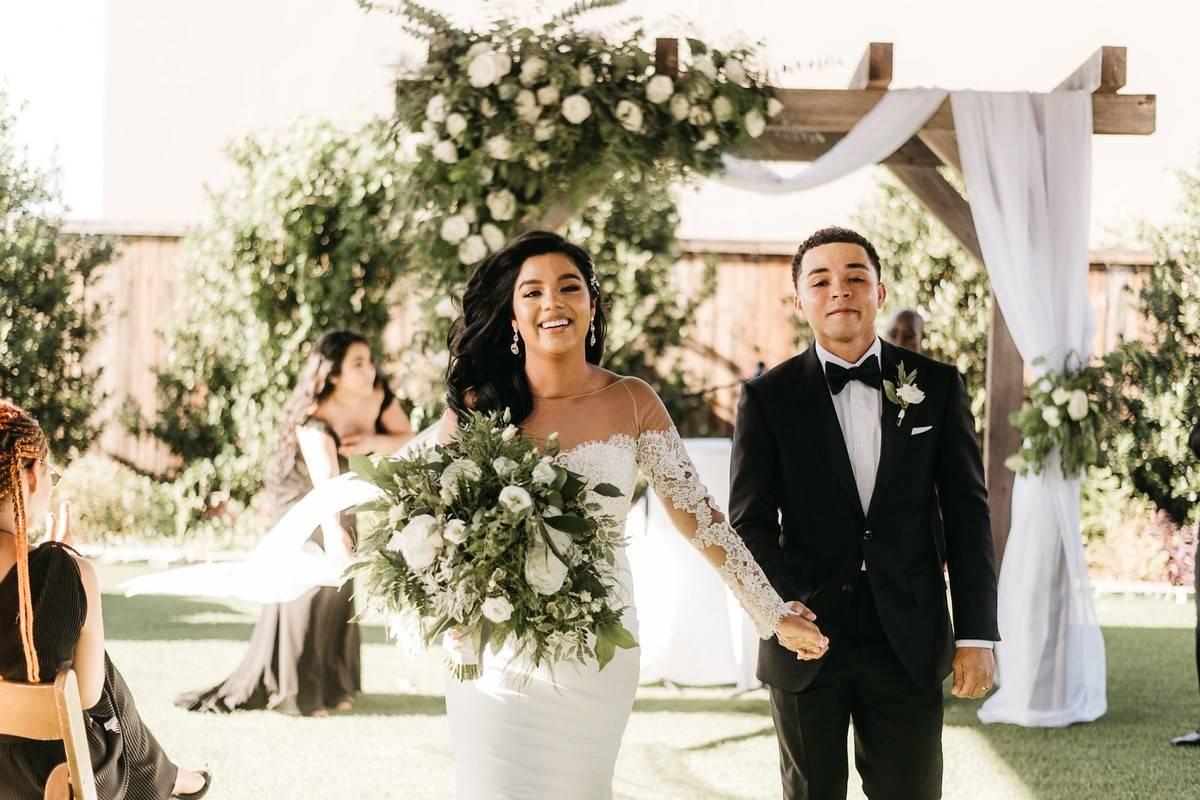 Greenery and white wedding bouquet
For a modern elegant look, you can never go wrong with a summer wedding bouquet of white flowers and greenery. This bride's lush oversized arrangement is filled with lisianthus, ferns, and peonies.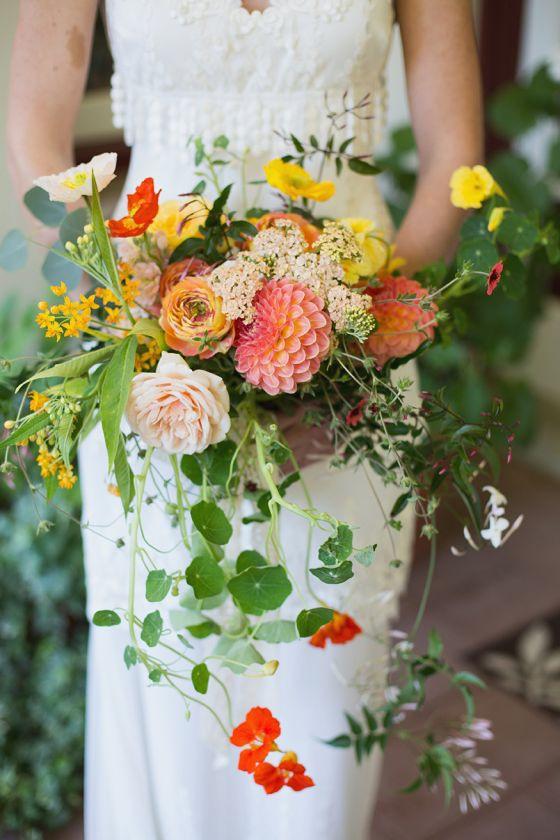 Colorful farm-to-table wedding bouquet
This bouquet of dahlias, poppies, nasturtiums, jasmine vine, and roses is giving us farm-to-table wedding vibes—it looks like they were just picked from the garden.
Sword fern wedding bouquet
You've seen popular types of greenery like eucalyptus, monstera leaves, and dusty miller, but sword ferns are an unexpected option if you're looking for something slightly more bold.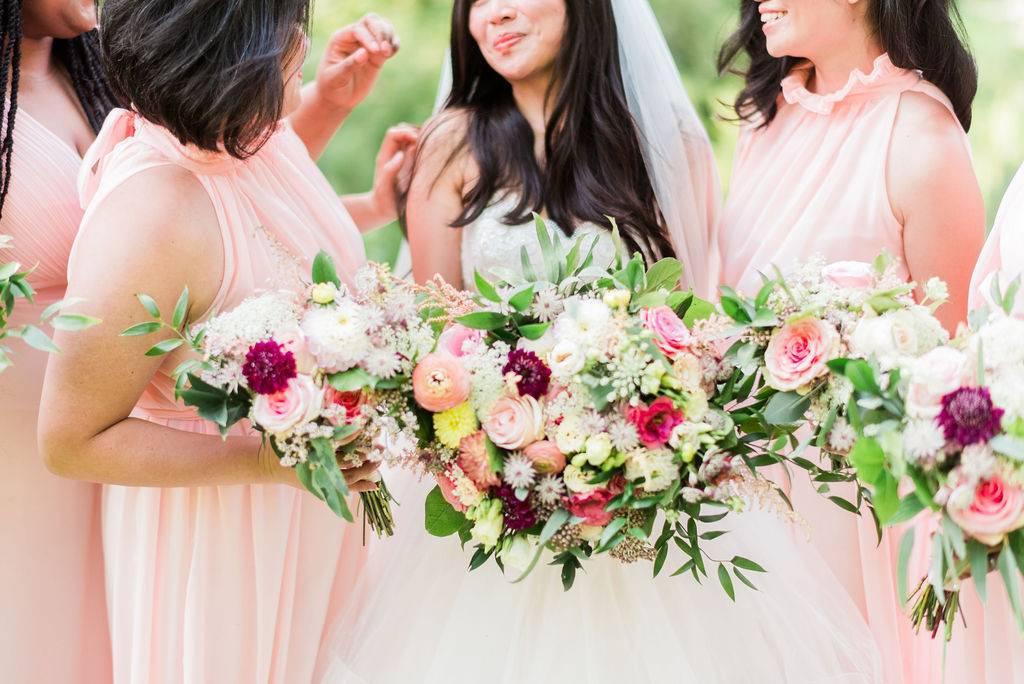 Pink and purple wedding bouquets
Summer weddings are all about embracing bold colors. These matching bride and bridesmaid bouquets are the perfect balance of whimsy and elegance thanks to their mix of white, yellow, peach, and dark purple blooms.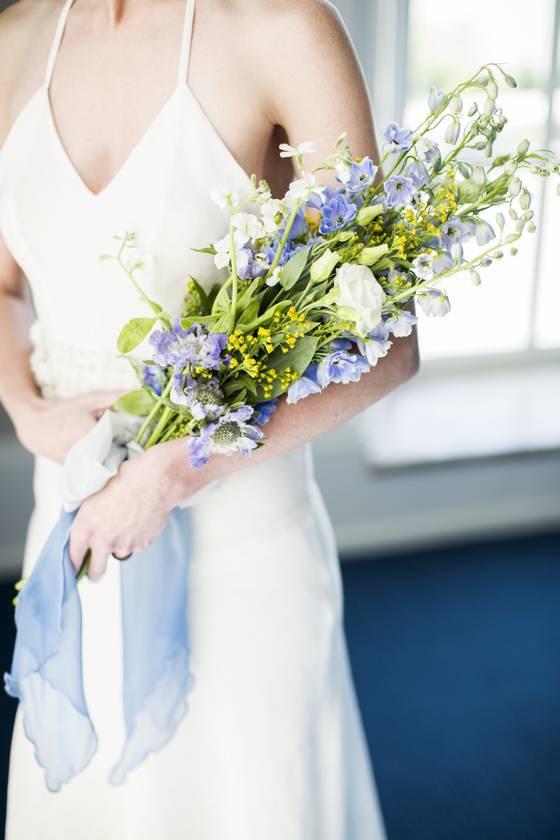 Delphinium presentation wedding bouquet
A presentation (or pageant) bouquet full of long-stem blooms is a unique option if you're looking for something that will stand out.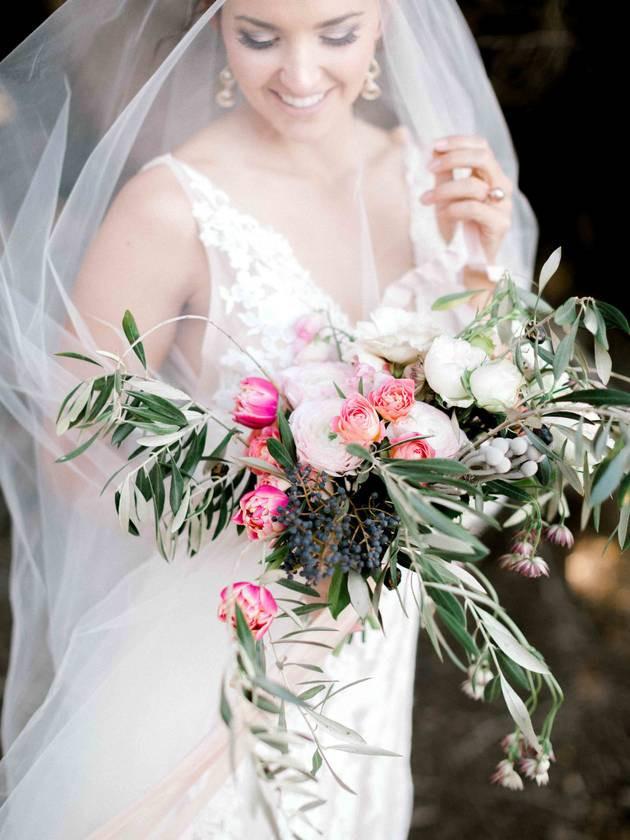 Asymmetrical olive branch bouquet
Brides who love ethereal style should try an oversized, asymmetrical bouquet filled with olive branches and other foraged pieces, like berries. Pick flowers in bright colors (like these bright pink spray roses and tulips) to make sure they stand out in the arrangement.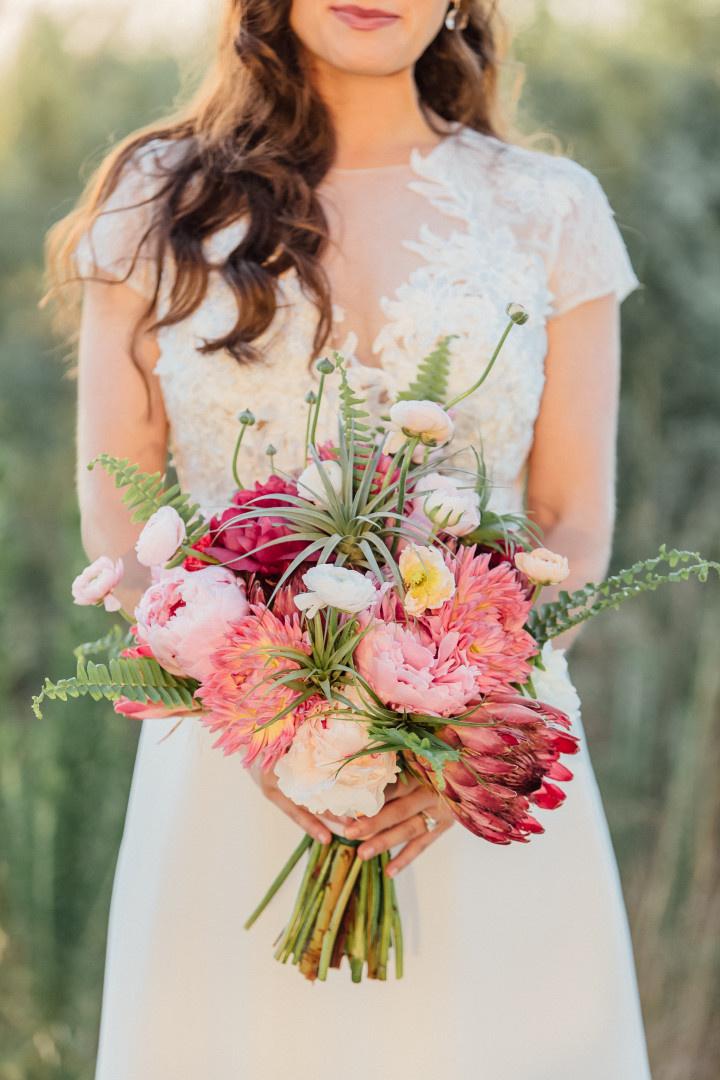 Pink and green wedding bouquet
Group earthy greens (think air plants and fern leaves) with exotic pink ice proteas for a combo that's beautifully boho-chic.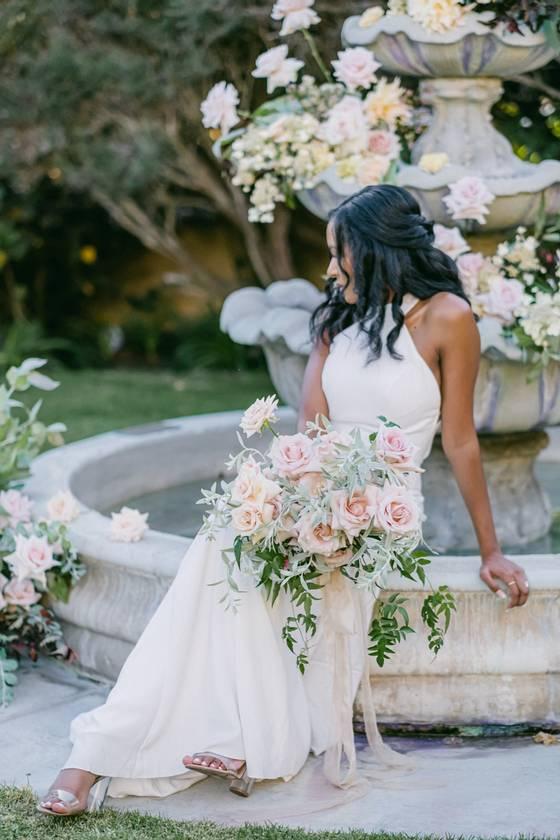 Romantic garden rose wedding bouquet
For ultimate fairytale wedding vibes, carry a summer wedding bouquet that's overflowing with soft blush and cream roses accented by cascading smilax vines.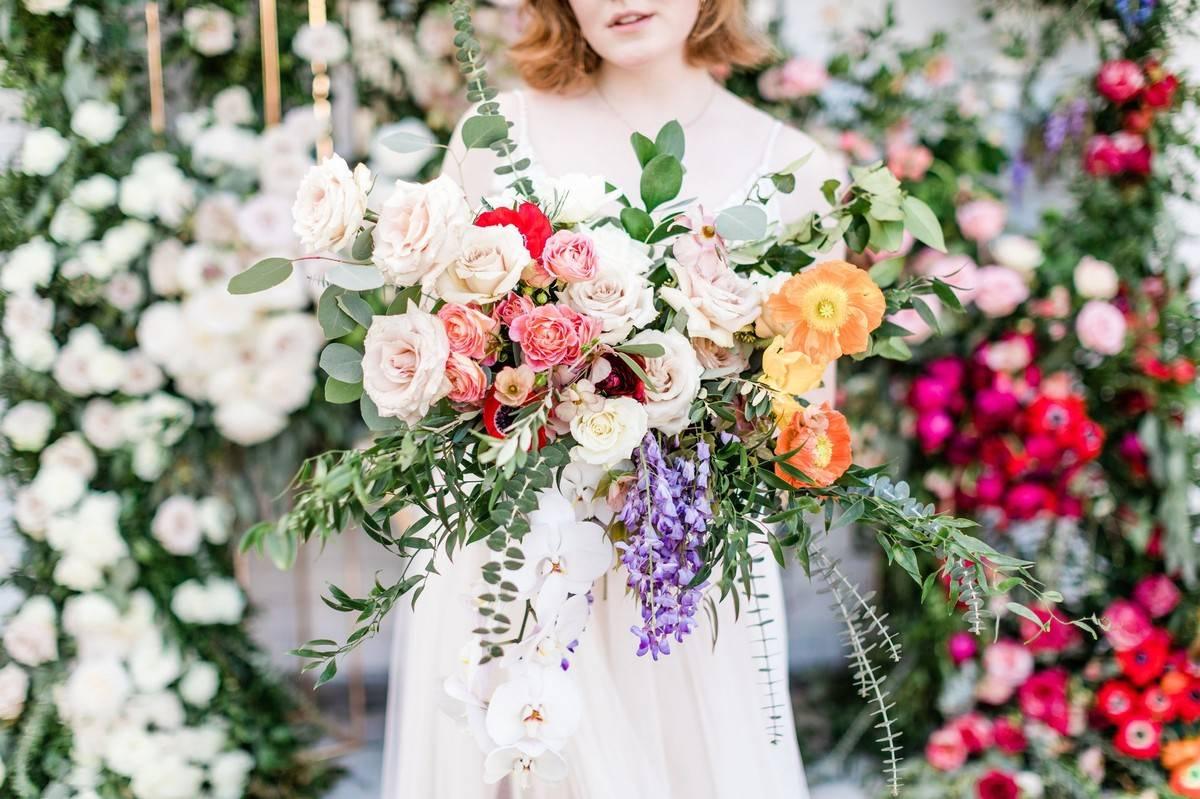 Rainbow wedding bouquet
Can't choose just one color? Choose them all! This vibrant pink, purple, orange, and yellow bouquet would fit right in with a rainbow wedding theme.
English ivy wedding bouquet
Hello, garden goddess. Long ivy vines cascading down the front of the arrangement will make your summer wedding bouquet look like it was plucked straight from a Jane Austen romance.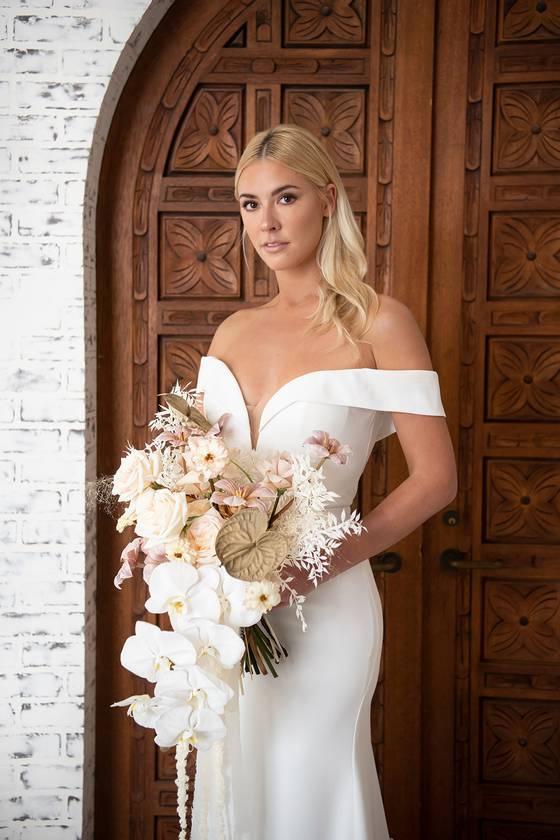 Modern orchid wedding bouquet
Your wedding bouquet doesn't need a lot of color to make a memorable impression. Case in point: this trendy arrangement of anthurium, bleached greenery, phalaenopsis orchids, and roses in muted ivory and blush tones.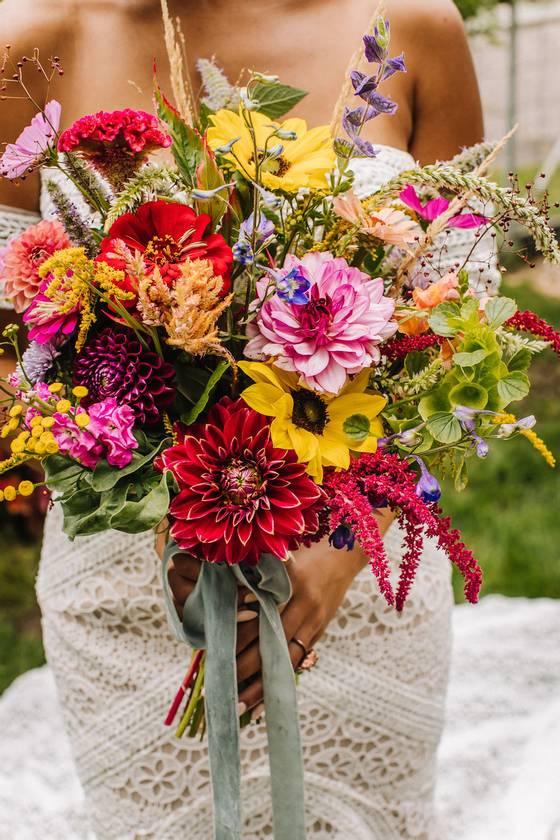 Wildflower-inspired wedding bouquet
Choose a bouquet filled with wildflowers, like zinnias, goldenrod, daisies, larkspur, and cosmos, for a rustic arrangement that's cheerful and colorful.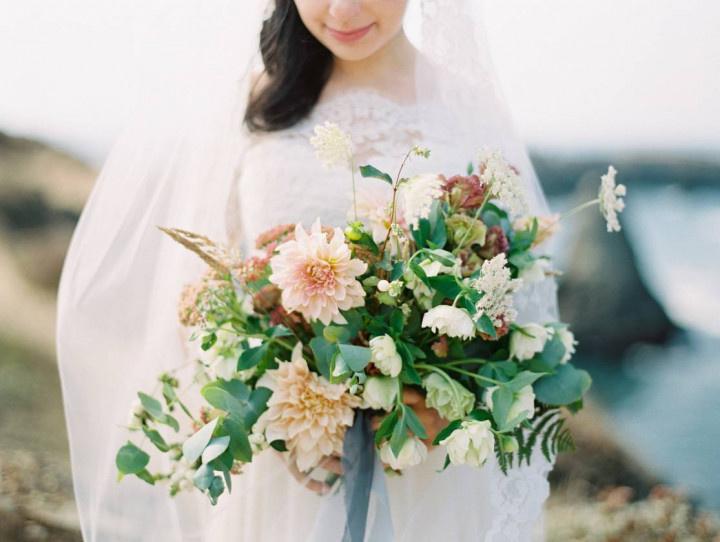 Muted colors wedding bouquet
Neutral colors are just as pretty for the summer months if you don't like vibrant tones. Soft dahlias and greenery are a gorgeous pairing and give off moody wedding vibes.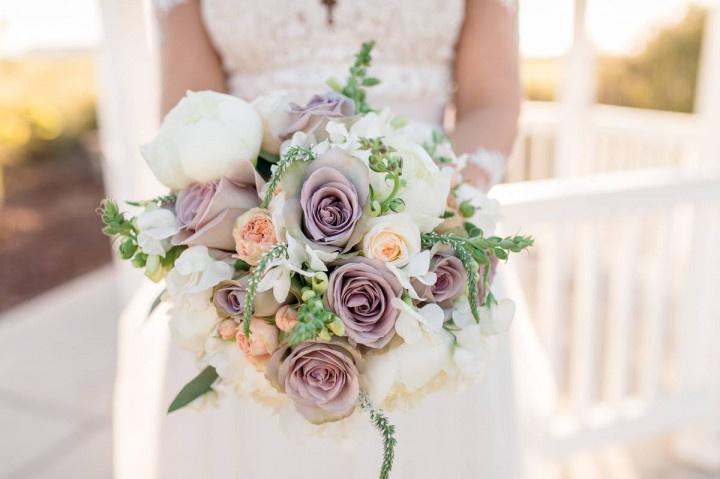 Mauve and peach wedding bouquet
You can't go wrong with a bouquet comprised entirely of roses. Combine different varieties (tea roses, spray roses, and antique roses) in white, mauve, and peach for a chic result.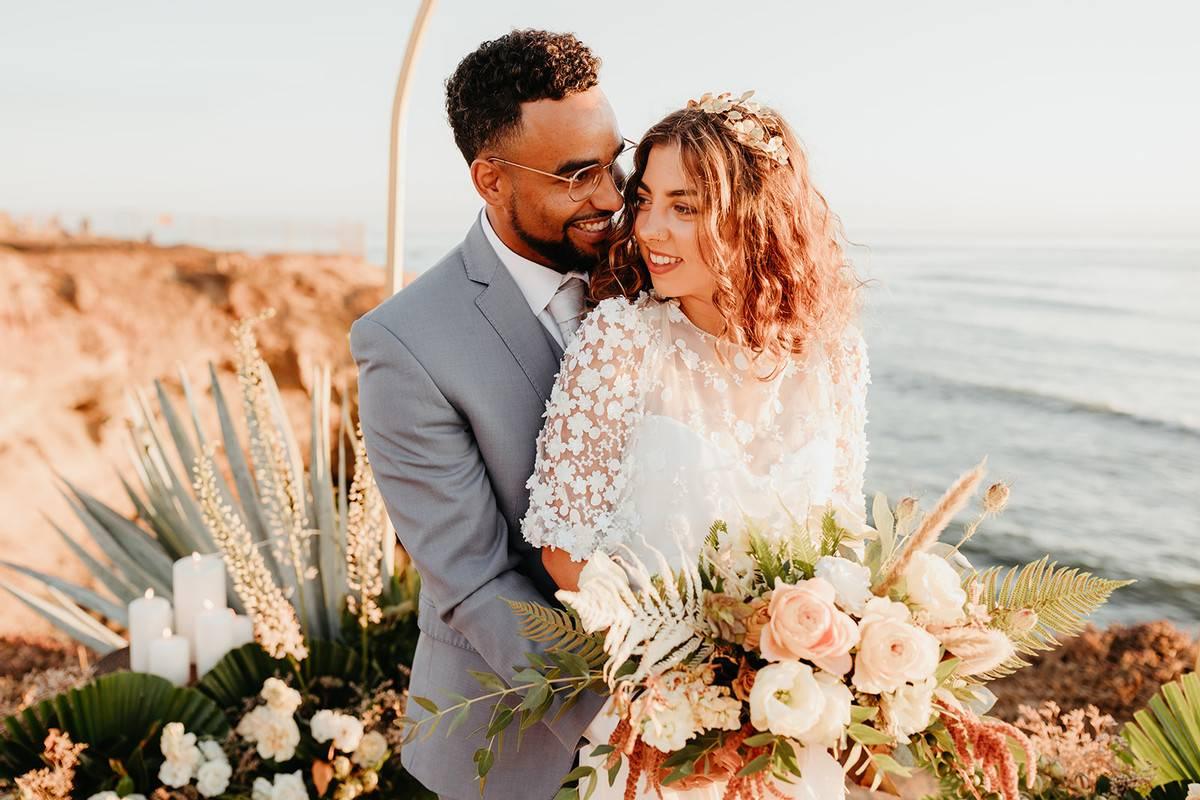 Tropical-meets-boho wedding bouquet
Combining these two wedding styles might seem tricky at first, but they actually work great together—keep the flowers simple, then pair tropical ferns and other greenery with boho accents, like pampas grass stems.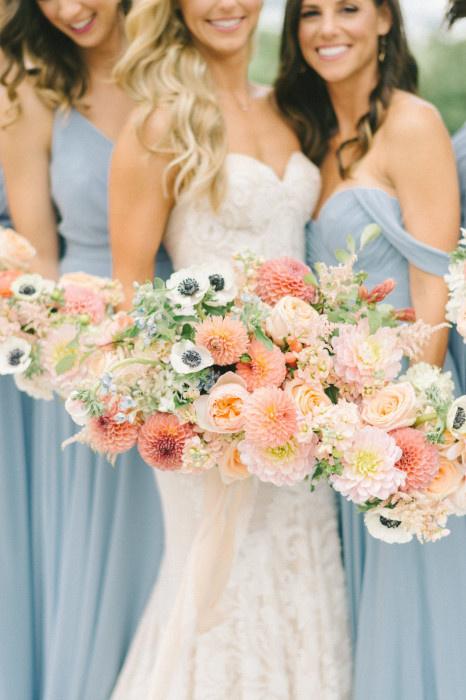 Peach and blue wedding bouquet
Matching your bridal and bridesmaid bouquets will create a classic look. We love the coordination of these peach dahlias, garden roses, and white anemones, along with the bright peach and blue color palette.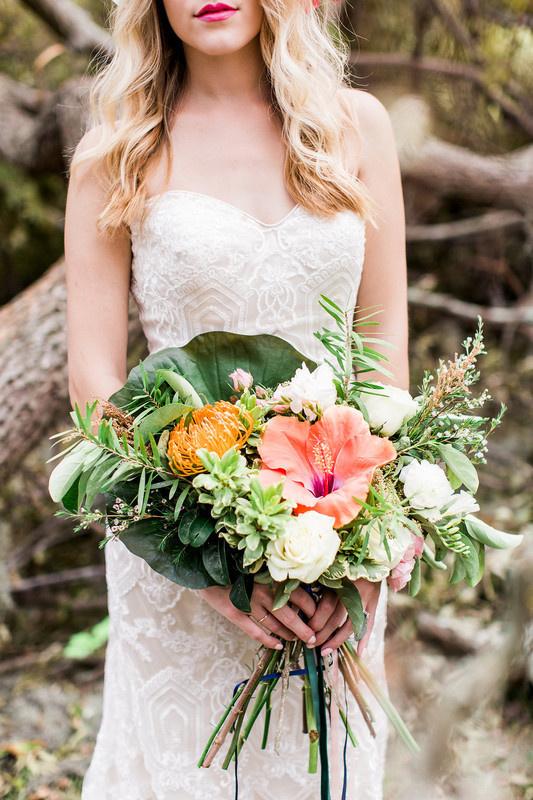 Hibiscus wedding bouquet
For a tropical wedding theme or a beach wedding, add statement flowers like hibiscus and proteas in bold colors to instantly give your summer wedding bouquet some island-inspired flare.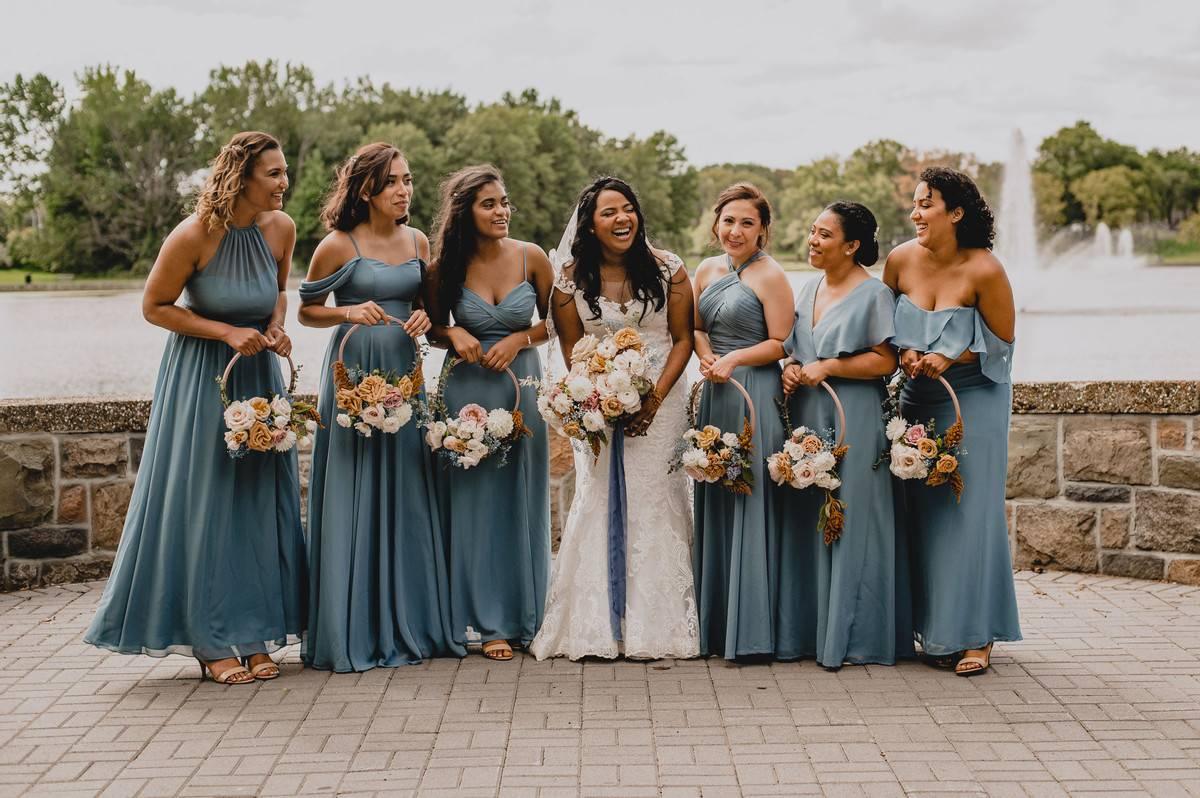 Hoop wedding bouquet
Make a statement by skipping the traditional handheld bouquet in favor of a circular hoop bouquet instead—or have your bridesmaids carry them for a trendy, unexpected look.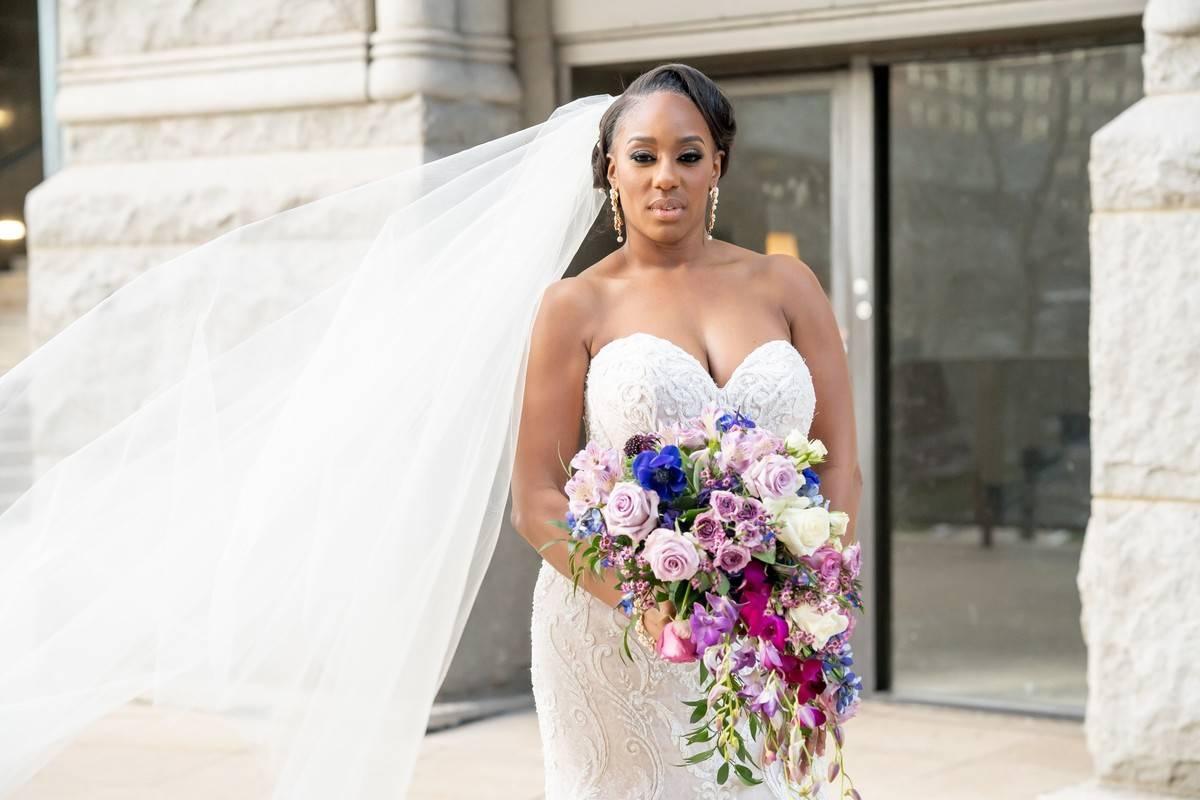 Purple and blue wedding bouquet
A jewel-toned bouquet filled with purple roses, fuchsia orchids, and blue anemones is how you do summer glam style.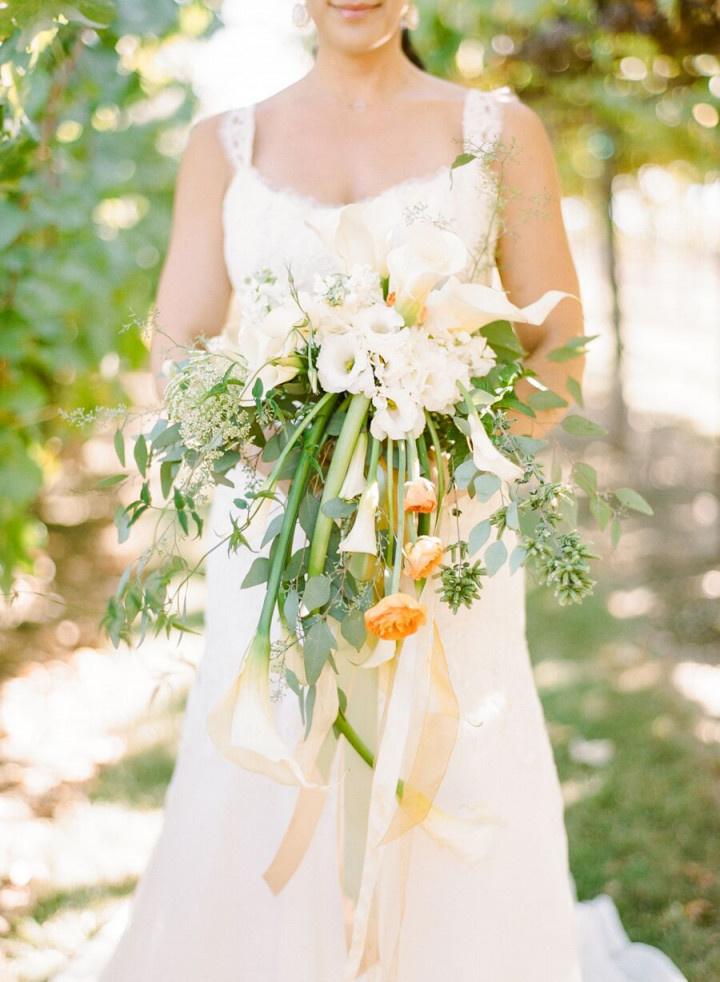 Cascading calla lily wedding bouquet
Getting hitched in a garden? Carry an oversized bouquet like this one, which features lisianthus, long-stem calla lilies, ranunculuses, and greenery cascading down the front.