18 Rainbow Wedding Ideas That Are Bursting With Color
Instead of understated pastels for your wedding color palette, use bright and bold colors to pull off these rainbow wedding theme ideas.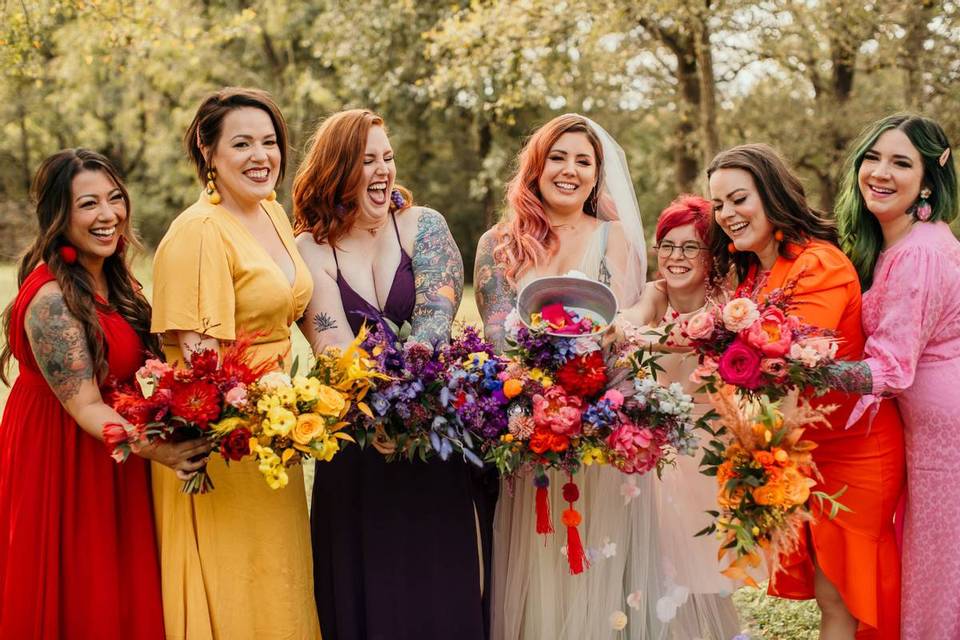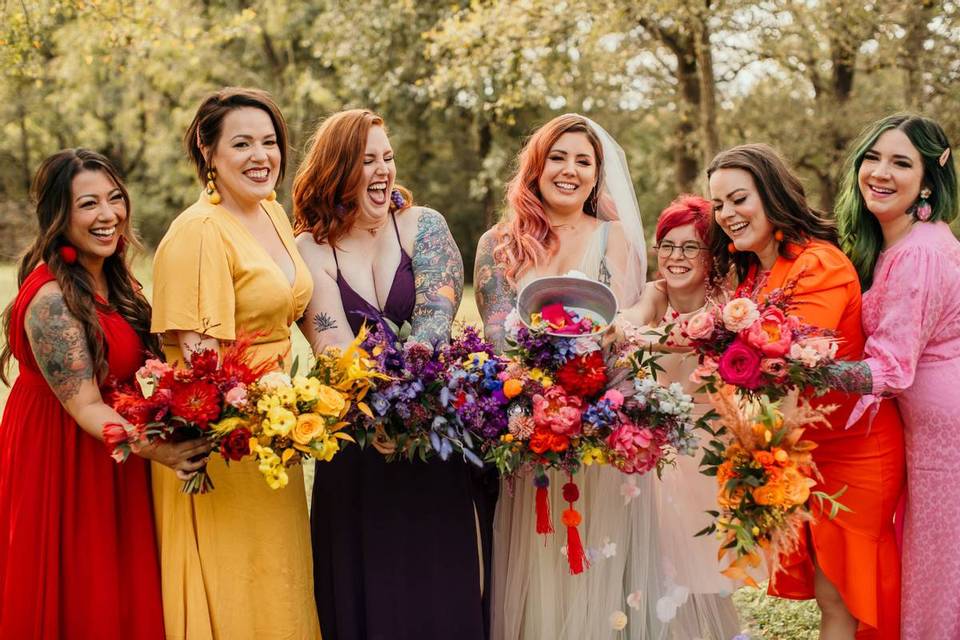 One of the earliest steps of the wedding planning process is choosing your wedding colors, but if you simply can't narrow it down to just two or three, then a rainbow wedding theme might be exactly what you need. We'd recommend this color-filled wedding theme to anyone who wants to create a whimsical, happy atmosphere on their special day (and for anyone who thinks more is more, because that's what this whole aesthetic is all about). Not only is a rainbow wedding theme the best way to ensure that your big day is filled with colorful details, it's also a meaningful—and popular—way for some LGBTQ+ couples to celebrate your pride and the start of a new life together. Check out some of our favorite rainbow wedding ideas right here.
Rainbow Wedding Decorations
When it comes to hosting a rainbow-themed wedding and styling your decor, our mindset is "go big or go home." There's nothing subtle about this colorful wedding aesthetic, so embrace that maximalist mindset and pile on the rainbow-inspired details!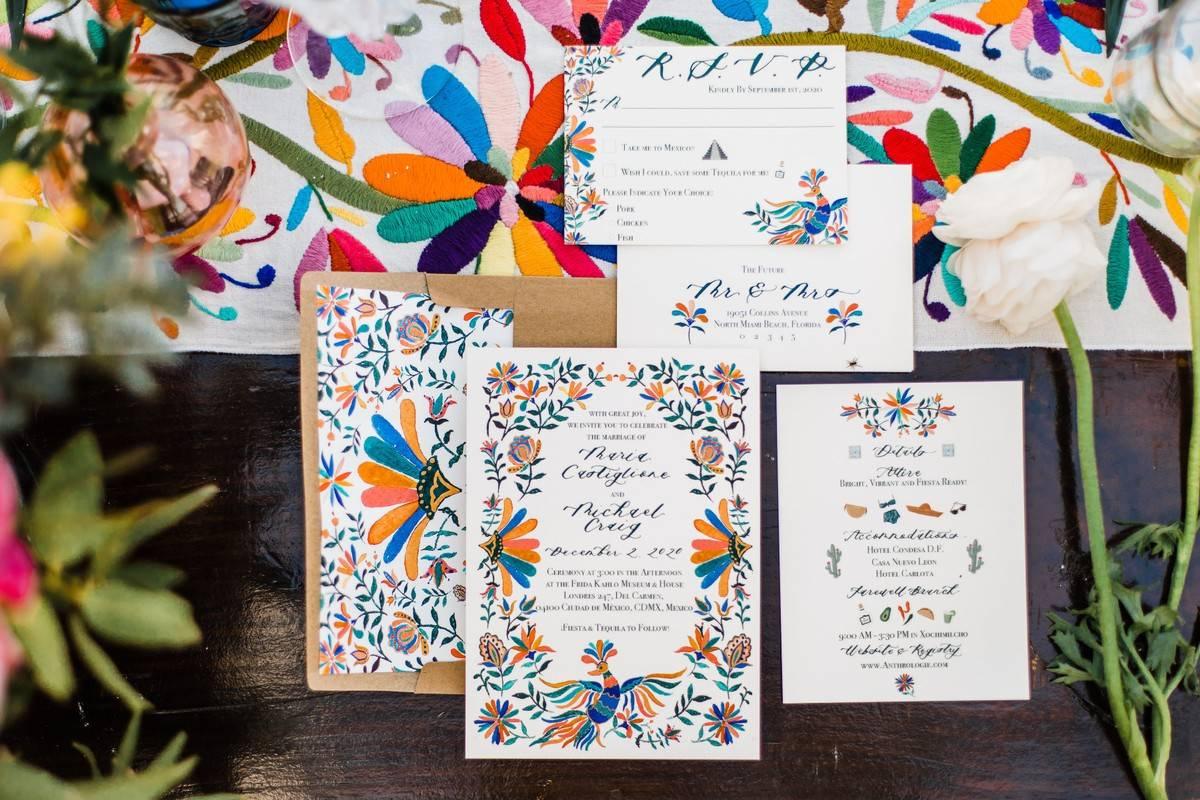 Rainbow wedding invitations
Your wedding invitations are one of the first clues that your guests get about the style of your wedding day, so make them count! A folk art-inspired design allows you to incorporate a lot of different colors into your stationery suite without feeling too chaotic.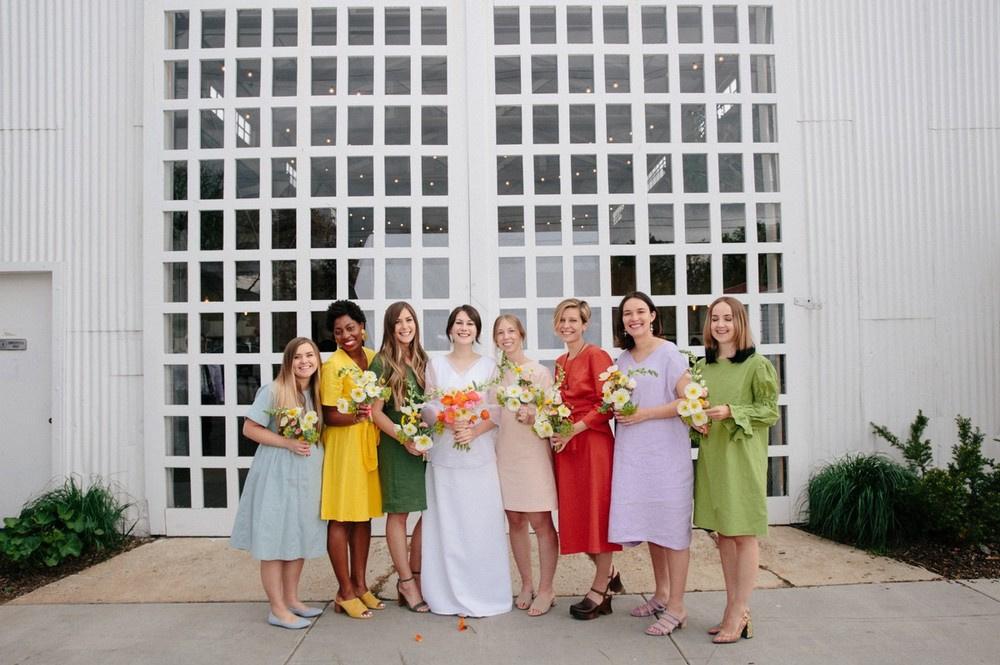 Rainbow color bridesmaid dresses
Long gone are the days when everyone in your bridal party had to dress exactly the same, and a rainbow wedding theme is the perfect opportunity to shake things up. Have your bridesmaids wear dresses or jumpsuits in a range of different colors to create an eclectic result (this goes for groomsmen attire, too!).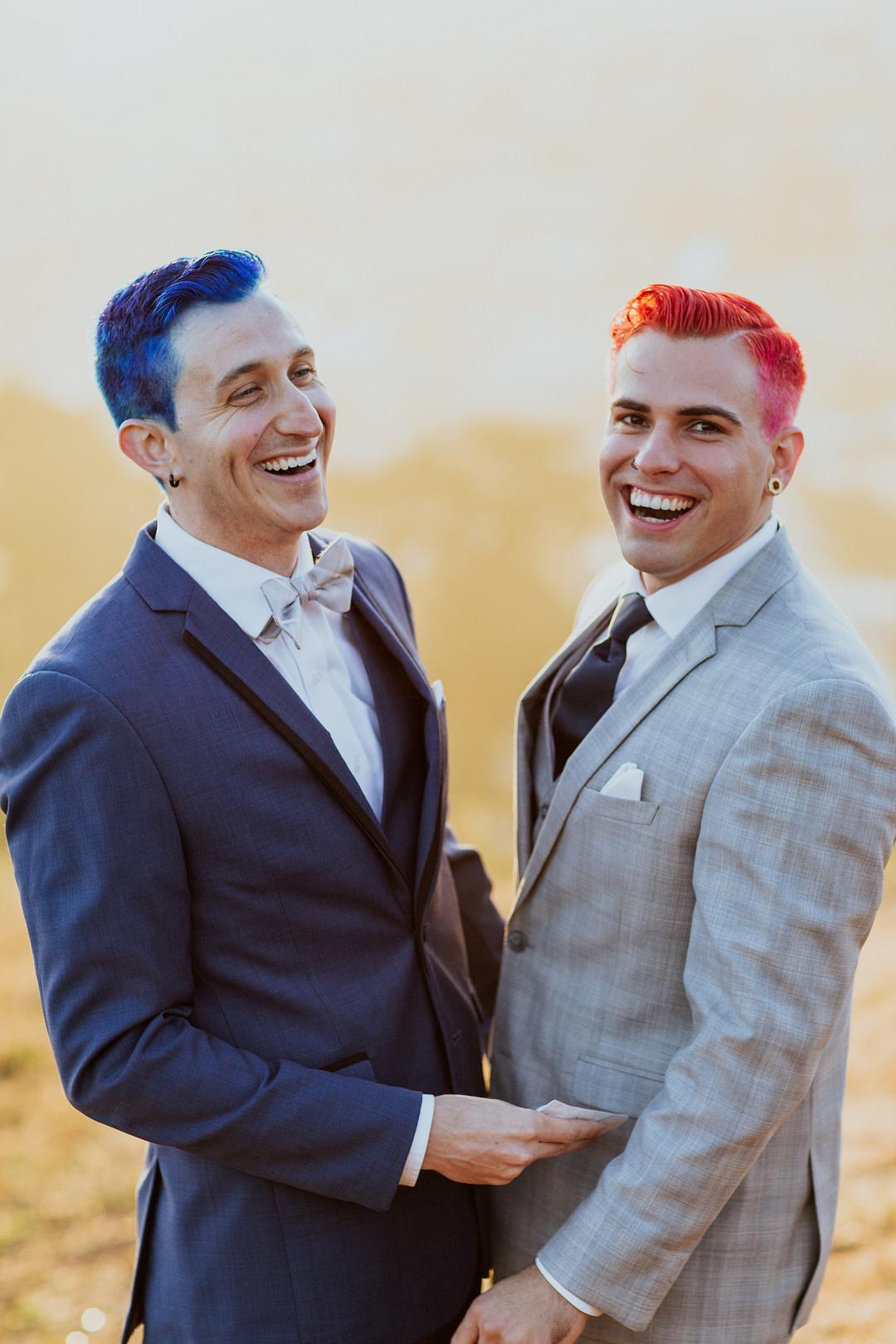 Rainbow wedding hair
If you're a hair color chameleon, it's absolutely okay to rock an unexpected shade on your wedding day! Case in point: These stylish grooms who made a statement on their big day with blue and orange hair—and had a blast in the process.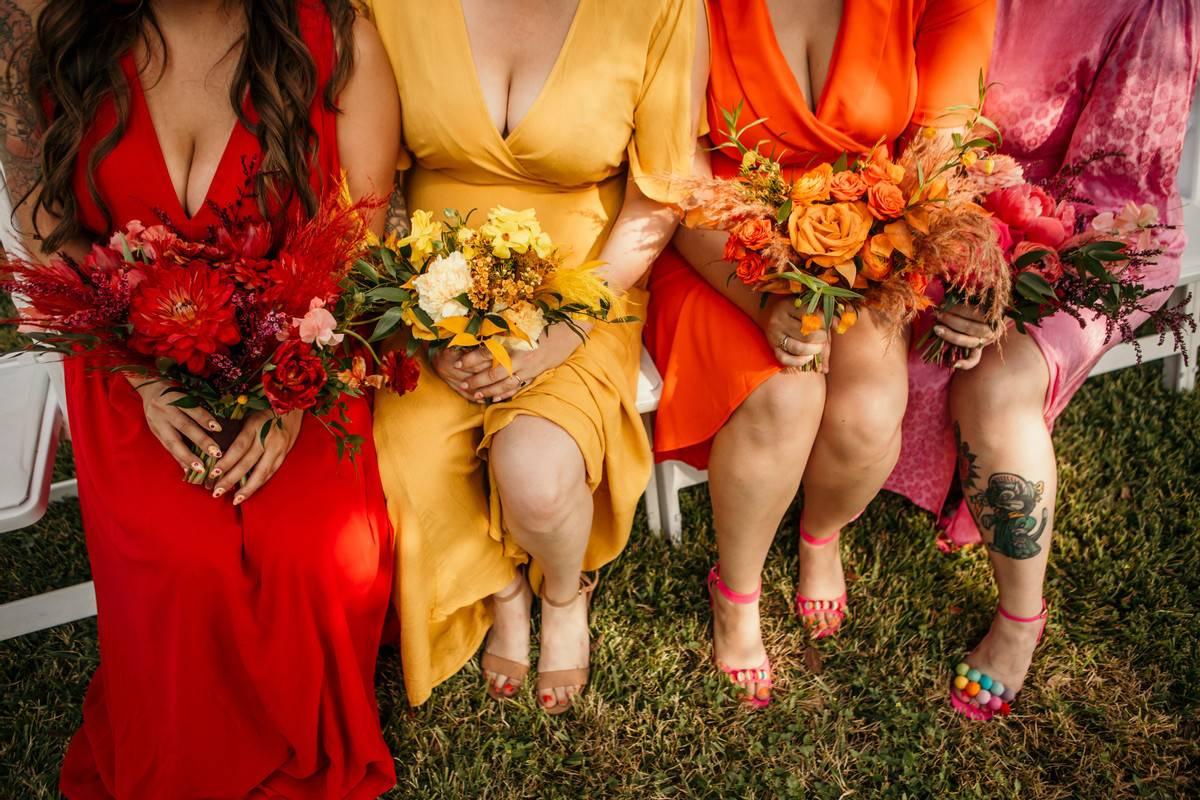 Rainbow bridesmaid bouquets
If your bridesmaids are each wearing a different color, ask your wedding florist to create a bouquet to match each dress. This adds plenty of color while still looking coordinated and planned out.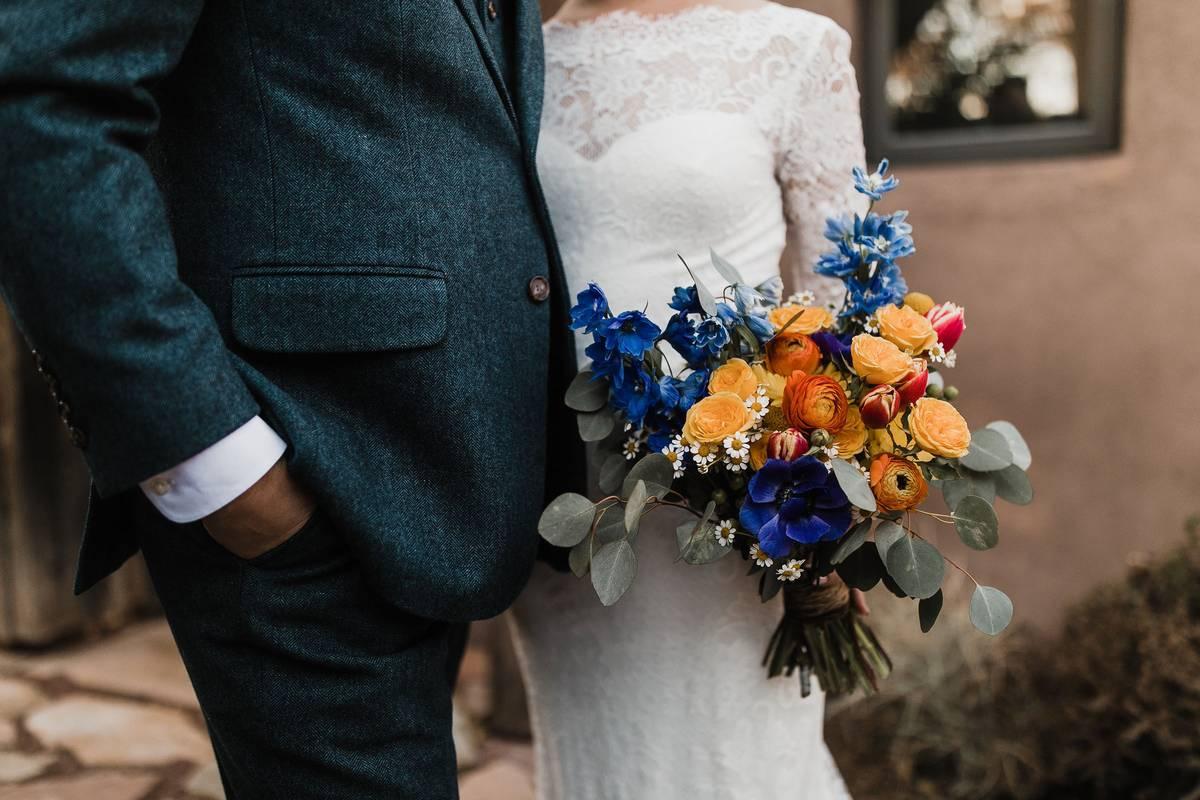 Rainbow wedding bouquets
For your own bouquet, this arrangement of blue anemones, delphinium, orange ranunculus, and leafy eucalyptus really pops against a white wedding dress.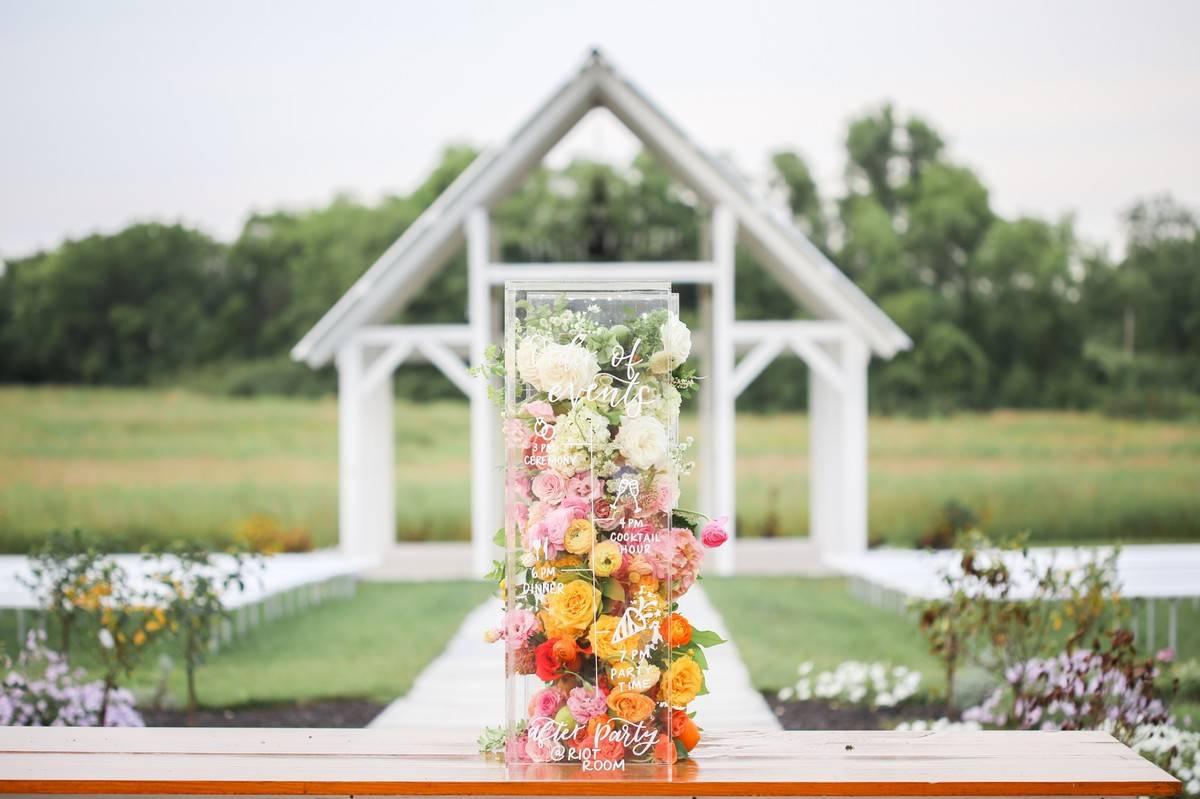 Acrylic wedding flower display
This trendy acrylic flower display is a creative way to showcase super-vibrant flowers aside from a bouquet or centerpiece.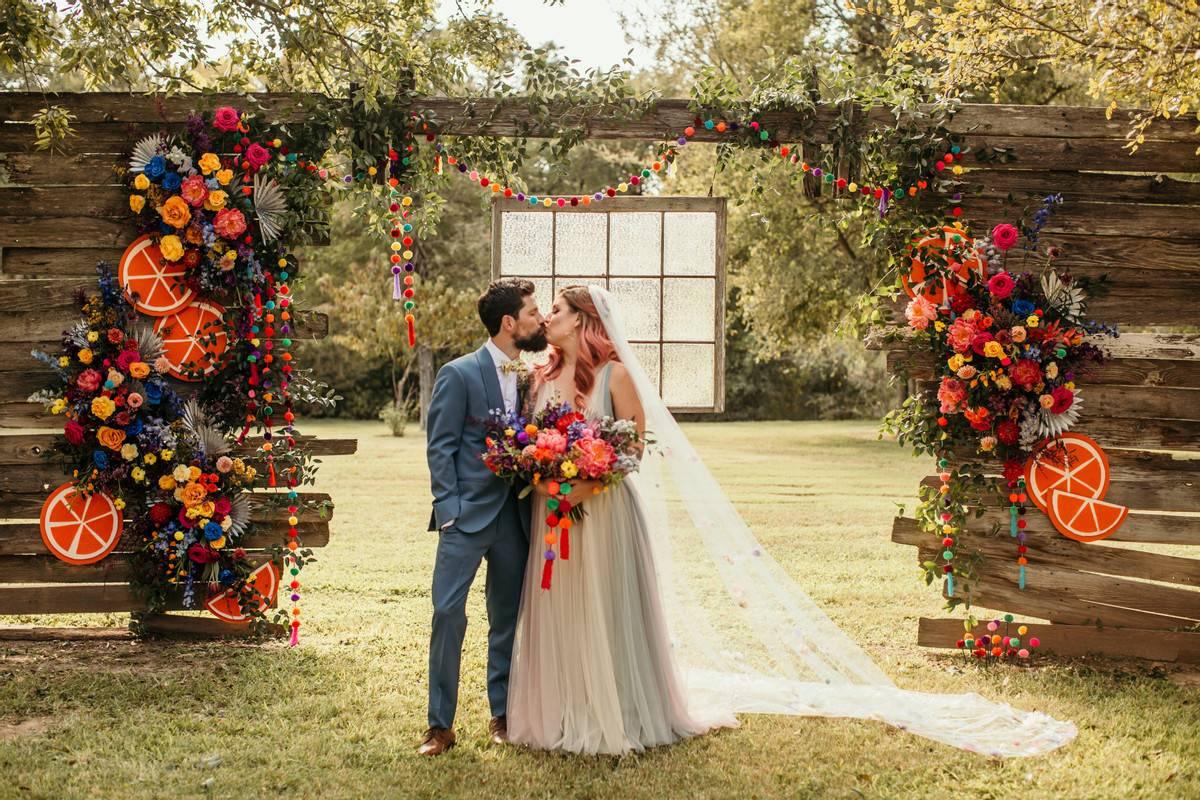 Colorful wedding ceremony backdrop
Recreate this statement-making ceremony backdrop for your rainbow wedding theme by using colorful pom pom garlands and streamers, paper citrus slice cutouts, and sun palms for a bit of boho flair (your wedding florist can help you out with this!).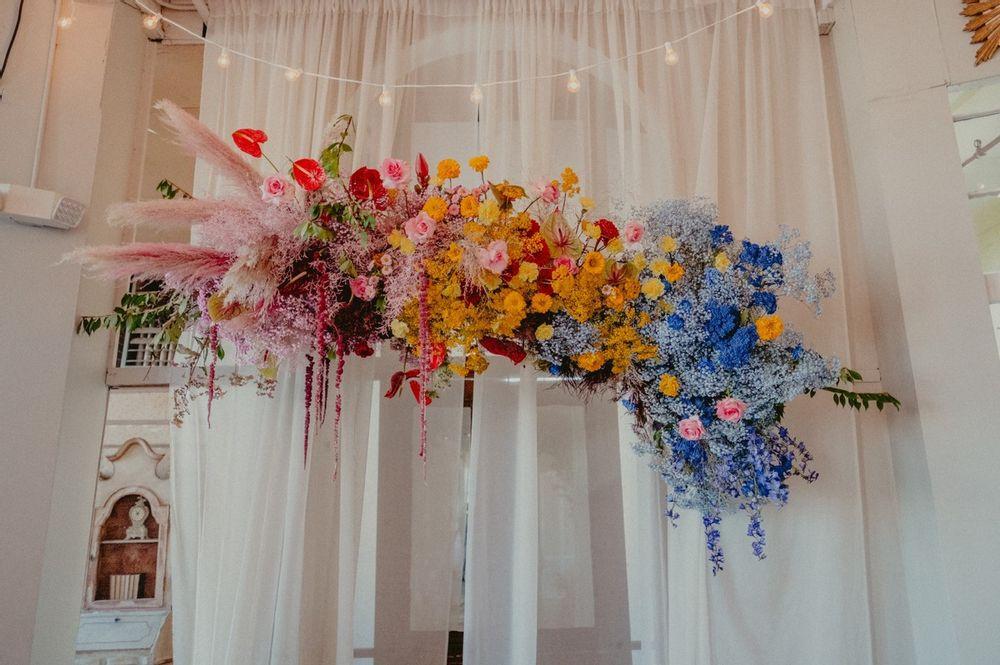 Ombré hanging centerpiece
Whether there's an empty wall at your venue that needs sprucing up, or you want to create a dramatic floral installation above the dance floor, this hanging centerpiece is a true work of art.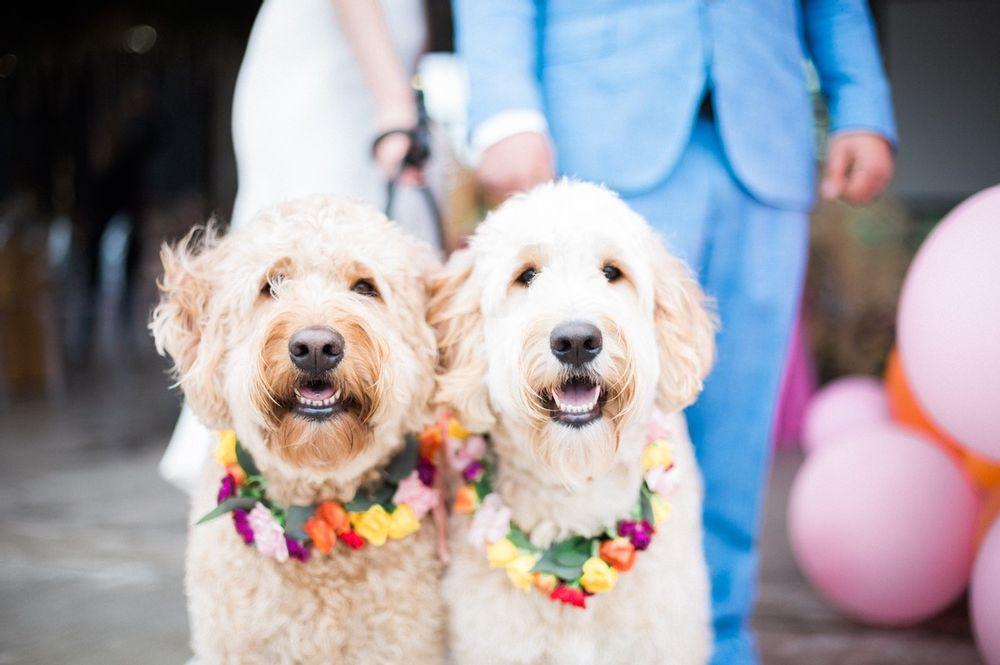 Colorful floral dog collars
Including fluffy friends as part of your special day? Don't forget about their accessories! Floral collars filled with bright rainbow blooms add just enough style to any pup's look.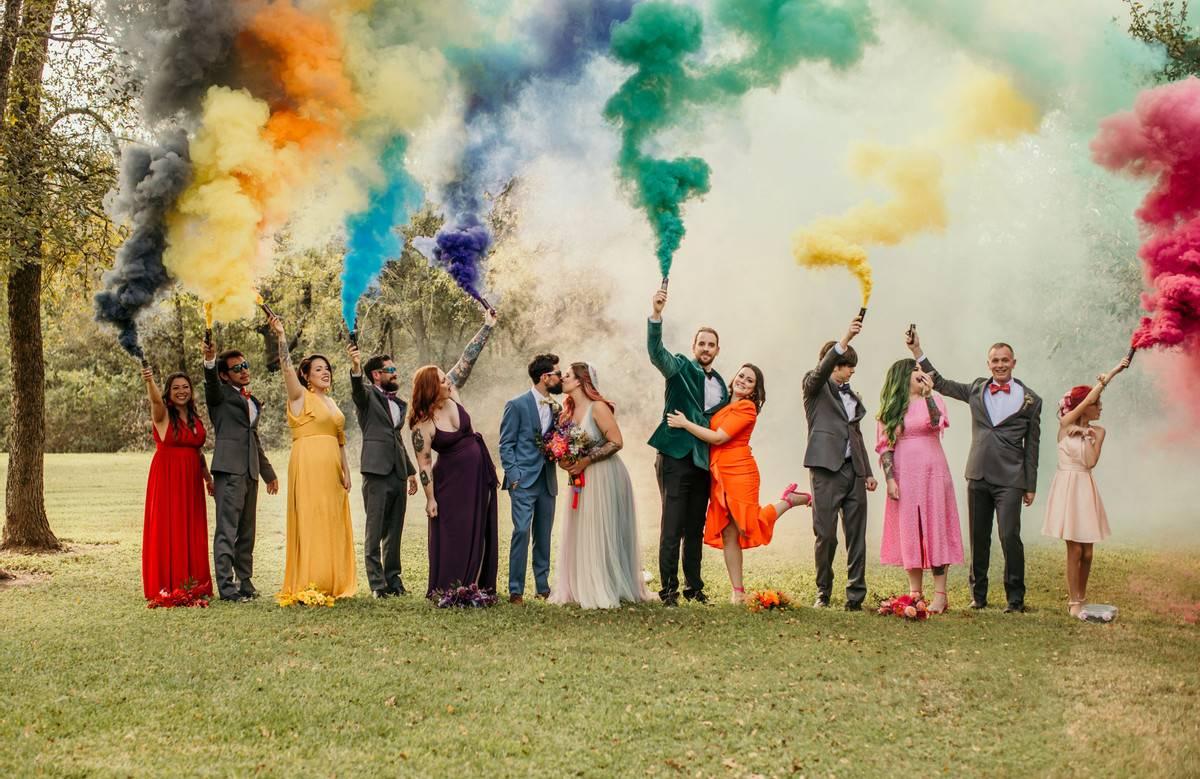 Rainbow wedding smoke bombs
We're not sure if we'll ever get tired of this wedding trend. Give each person in your wedding party a different colored smoke canister to DIY your very own rainbow.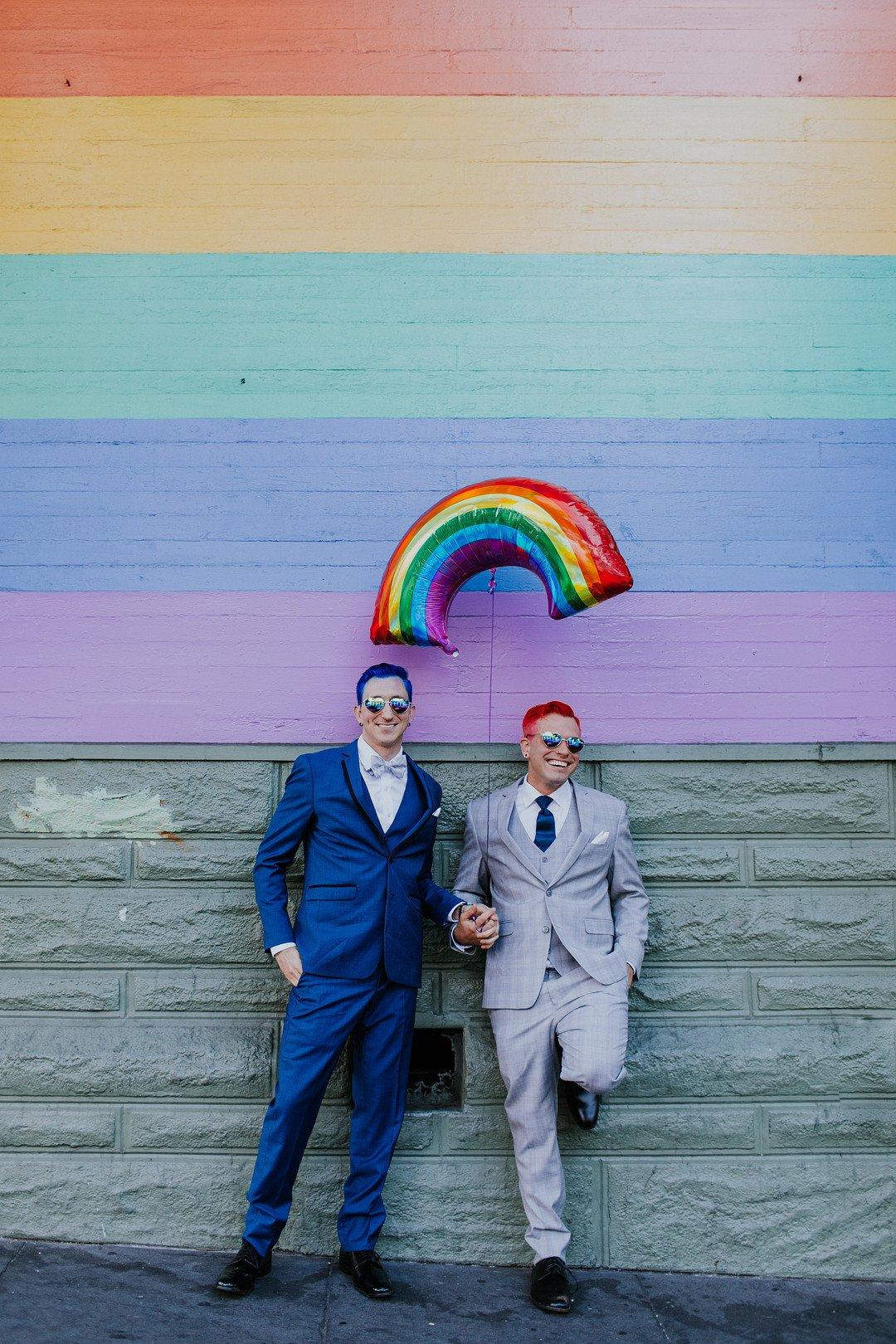 Rainbow-shaped balloons
Speaking of rainbows, this rainbow mylar balloon is such a fun (and affordable) prop for wedding photos. Bonus if you can find a rainbow wall to stand in front of!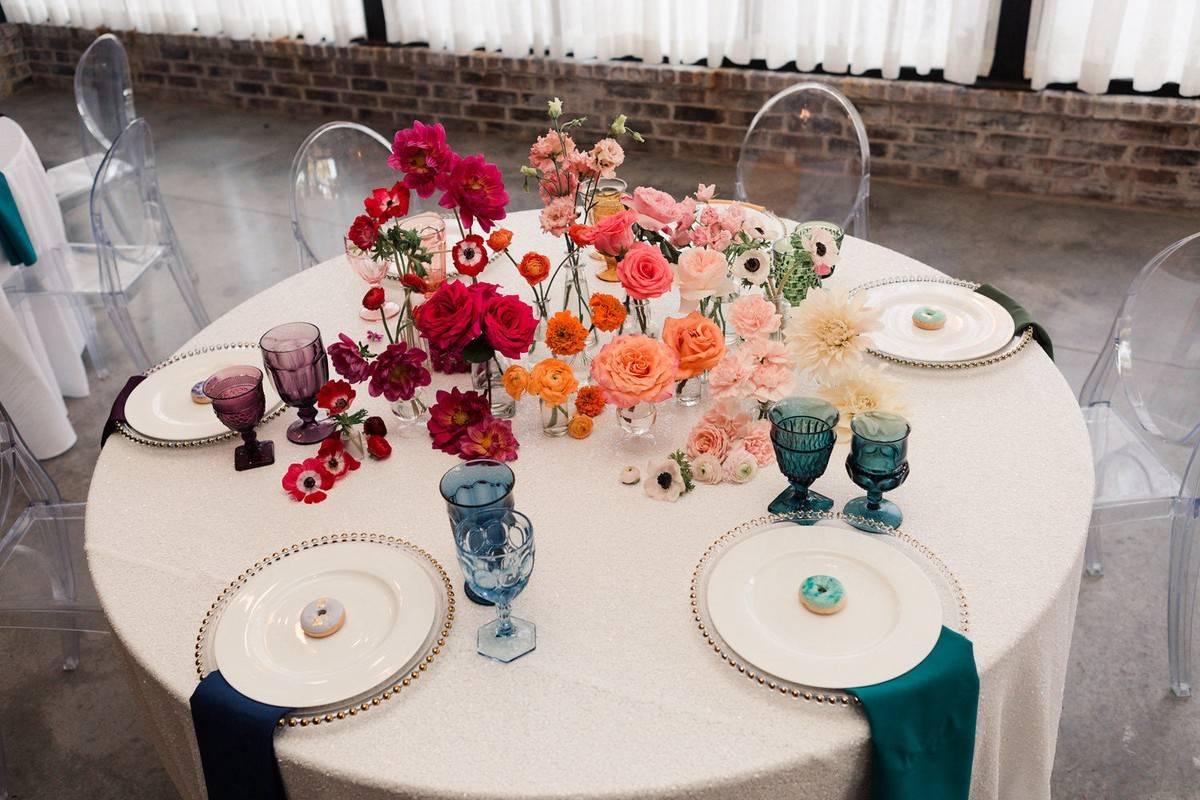 Rainbow wedding centerpieces
Instead of traditional centerpieces, ask your wedding florist about creating these "undone" arrangements by placing long-stem flowers into bud vases and clustering them together in an ombré pattern.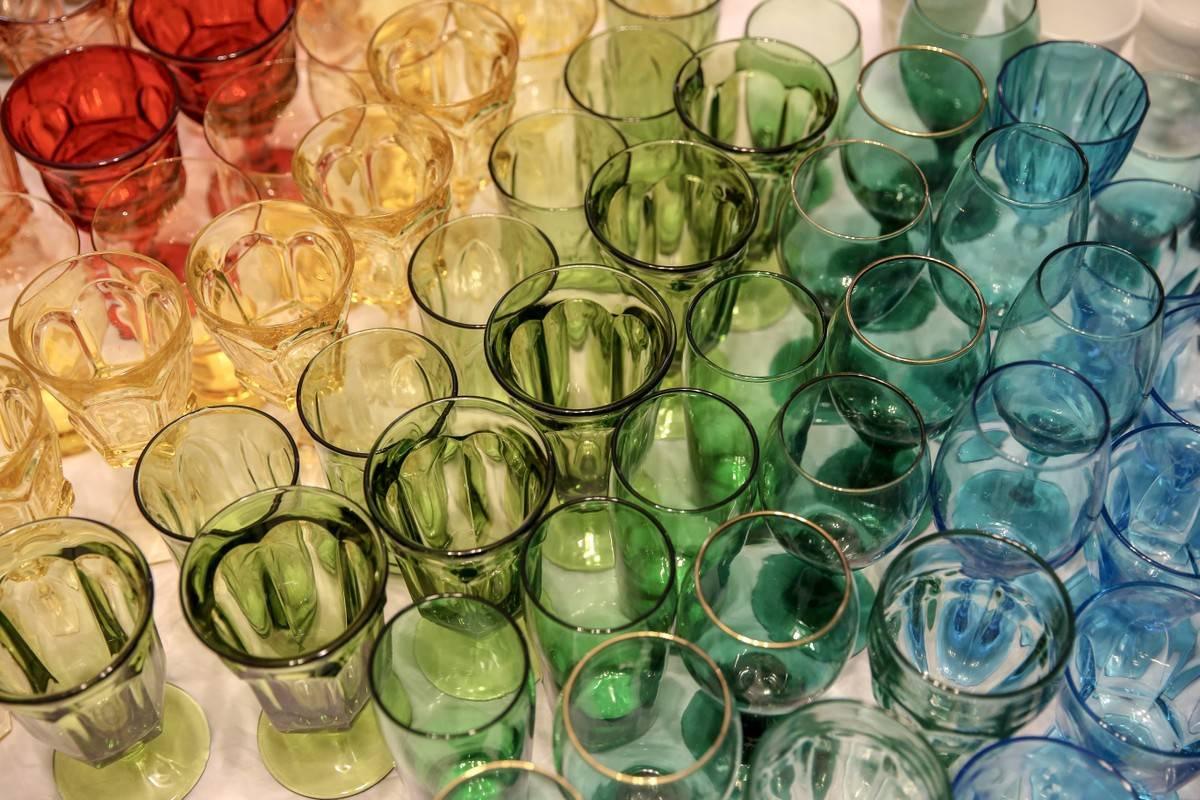 Colorful vintage glassware
Why drink out of basic glassware when you can use colored glassware instead? Check with your local event rental companies to see if you can source the items you're looking for, like these rainbow-hued wine glasses and goblets.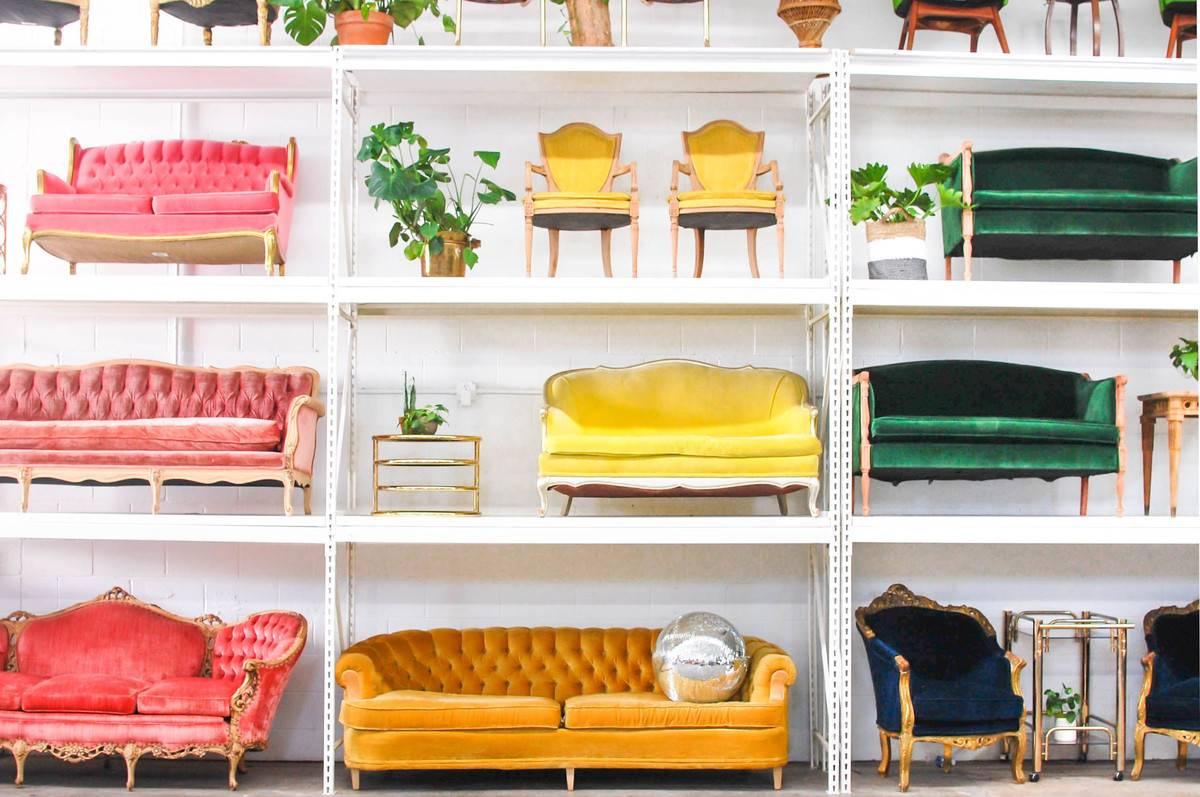 Multicolored wedding rental furniture
Rental furniture is another easy way to add color to your rainbow wedding theme in just a few seconds. Mix and match pieces in different colors, styles, and fabrics to create a lounge area or dress up an empty corner at your wedding venue.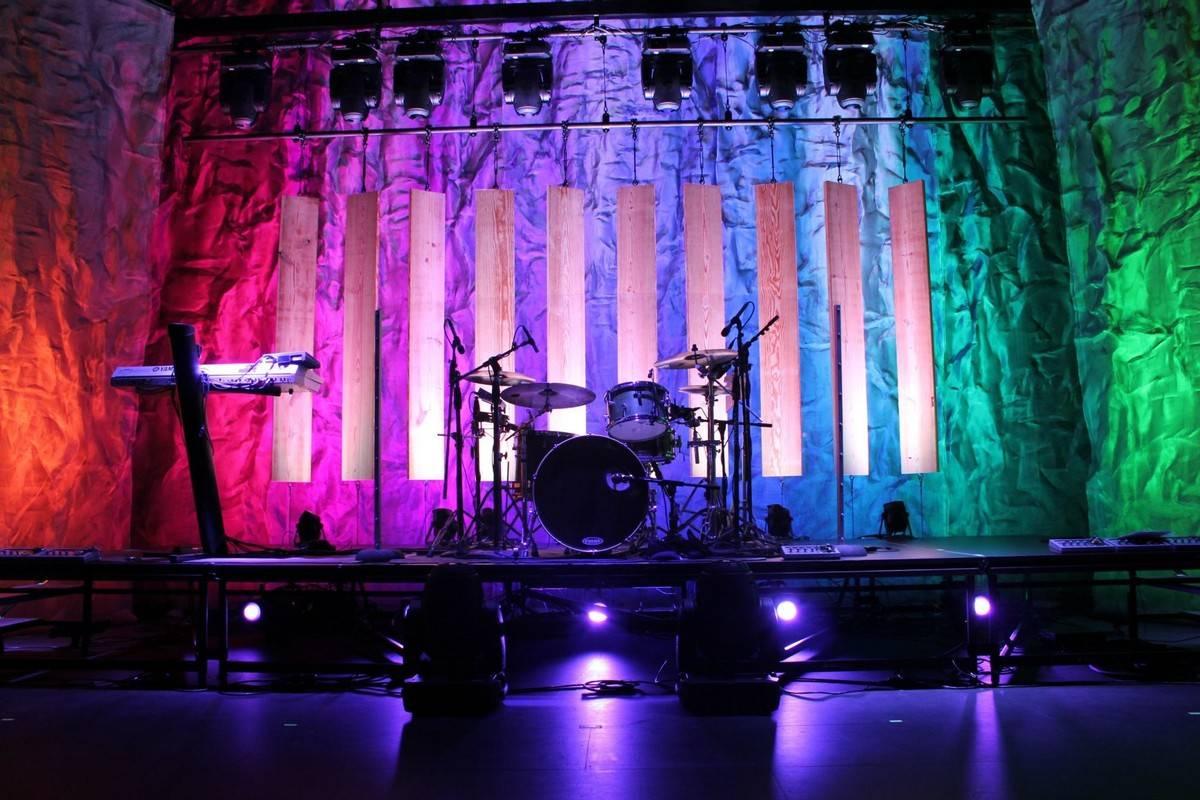 Wedding reception uplighting
Once it's time to hit the dance floor, this dramatic uplighting is a great way to set the ambience and wow your guests. (Pro tip: Many wedding DJs offer lighting services along with their musical expertise.)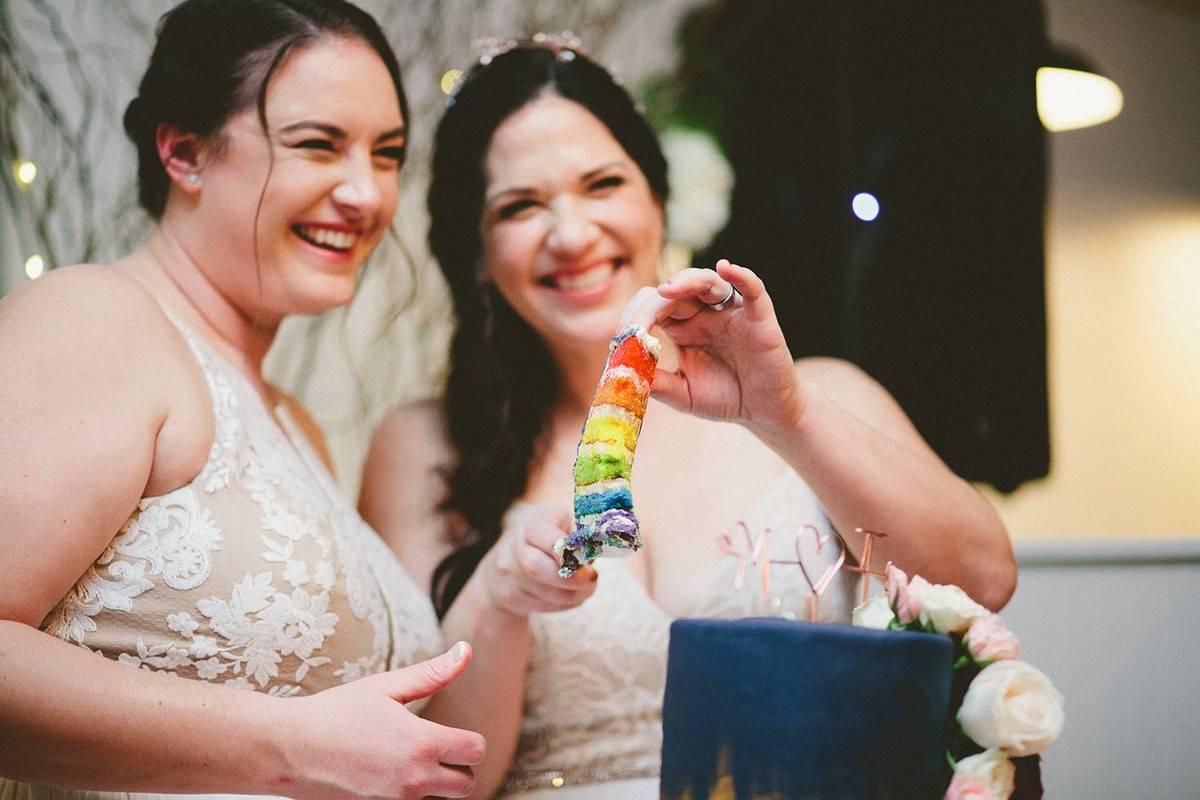 Rainbow wedding cake
From the outside, you'd never be able to tell when a buttercream or fondant cake has a hidden rainbow. If you're doing this idea, keep it a secret from your guests and enjoy their reactions once you've cut into the cake—you can do the same with cupcakes, too.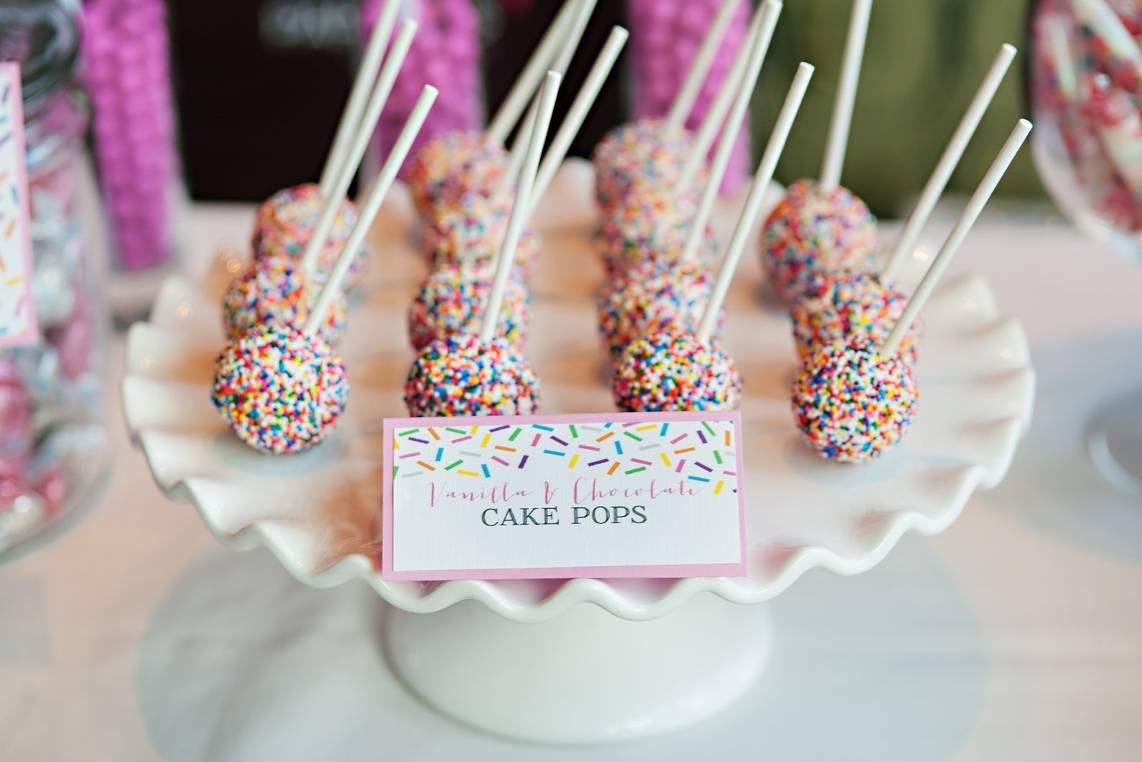 Sprinkle cake pops
Cover cake pops or other sweet treats in rainbow sprinkles that look like confetti and add to the whimsical vibe of the day.
Wedding Decor Ideas by Color Palette
Need even more inspiration? We've got plenty of wedding ideas for these popular colors.