Purple Weddings Are Back—Here Are 20 Ways to Use the Color
Check out these chic purple wedding ideas to see why this versatile hue is reclaiming its place as one of the most popular wedding colors.
In a time before blush and neutral color palettes ruled the wedding scene, purple was one of the most popular wedding colors (let us remind you of Khloe Kardashian's purple wedding in 2009). From whimsical lavender and violet tones to dramatic eggplant, mulberry and plum shades, purple could be seen at weddings of every style—until the trends shifted to more monochromatic palettes a few years ago. Now that bold wedding colors are finally back in the ring, purple wedding ideas have been catching our interest as the color reclaims its place as a major player, especially at fall weddings. But this rich, romantic hue is versatile enough to work for any season or wedding style, and we have the photographic evidence to prove it.
Get inspired by the latest purple wedding ideas that are bringing new life to this eye-catching color.

Invitation by O'Neal Designs, planning by KMC Weddings and Events
Abstract watercolors
Sometimes, all you need is one pop of color to take your wedding invitations from basic to bold. An abstract purple watercolor wash is modern and eye-catching, especially when paired with a minimalistic font to balance it out.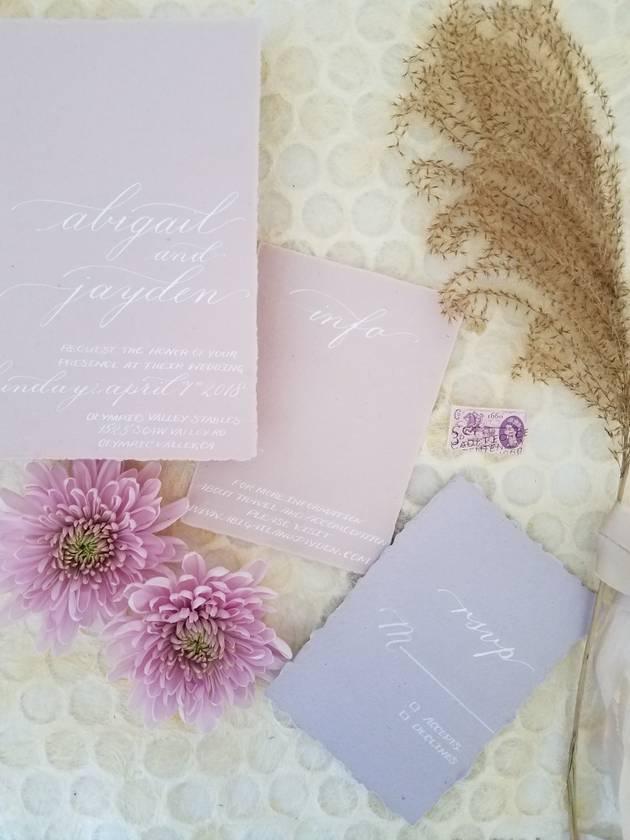 Soft ombré
On the other hand, an airy ombré design will give your invitations a romantic, ethereal look. Try combining pale lilac and lavender for a springtime fête.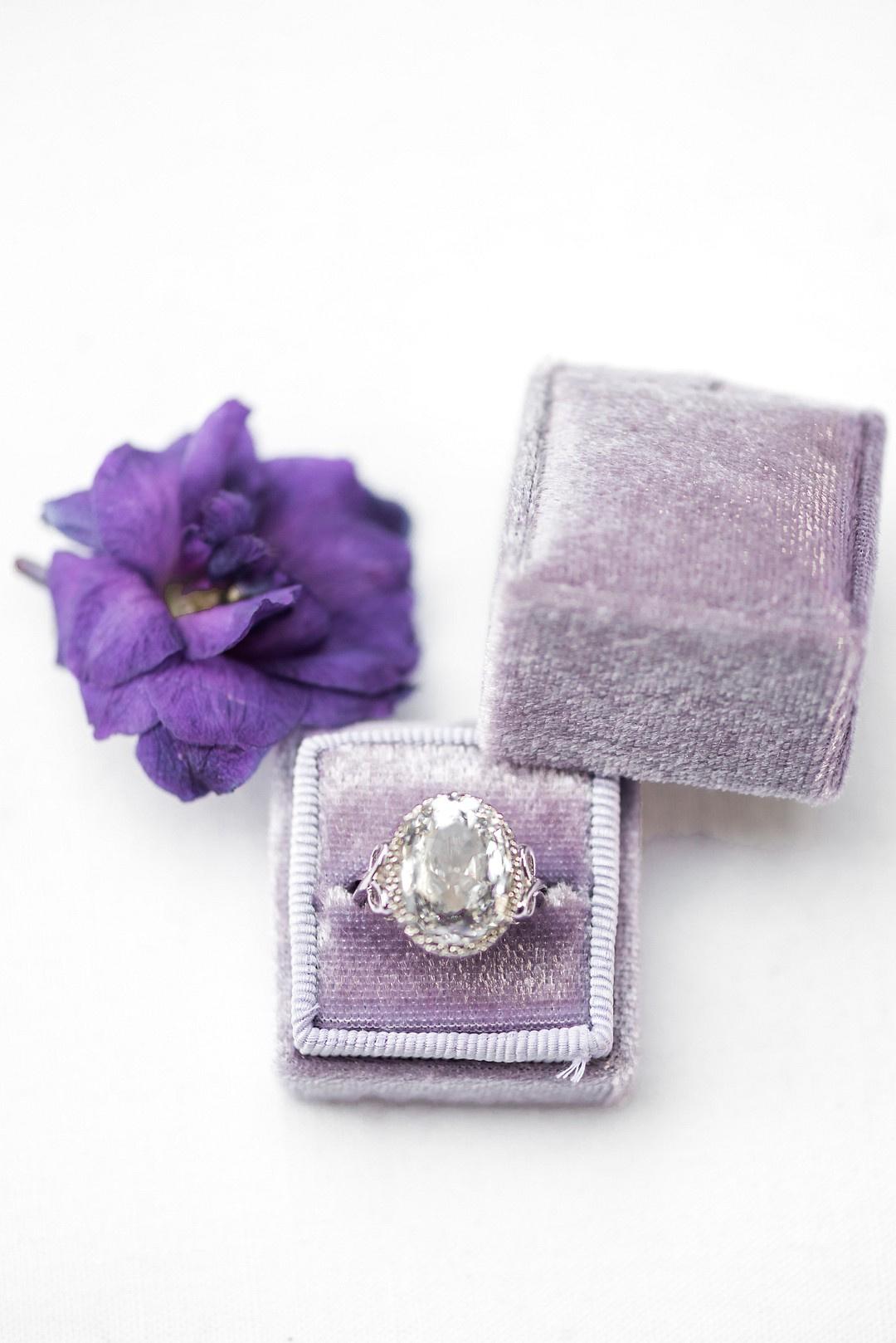 Velvet ring box
If you have an engagement ring, you're going to need a ring box to go with it! Velvet ring boxes make ideal gifts for anyone you know who is recently engaged—or if you're simply in the mood to treat yourself. A pastel purple box looks good with both gold and silver jewelry.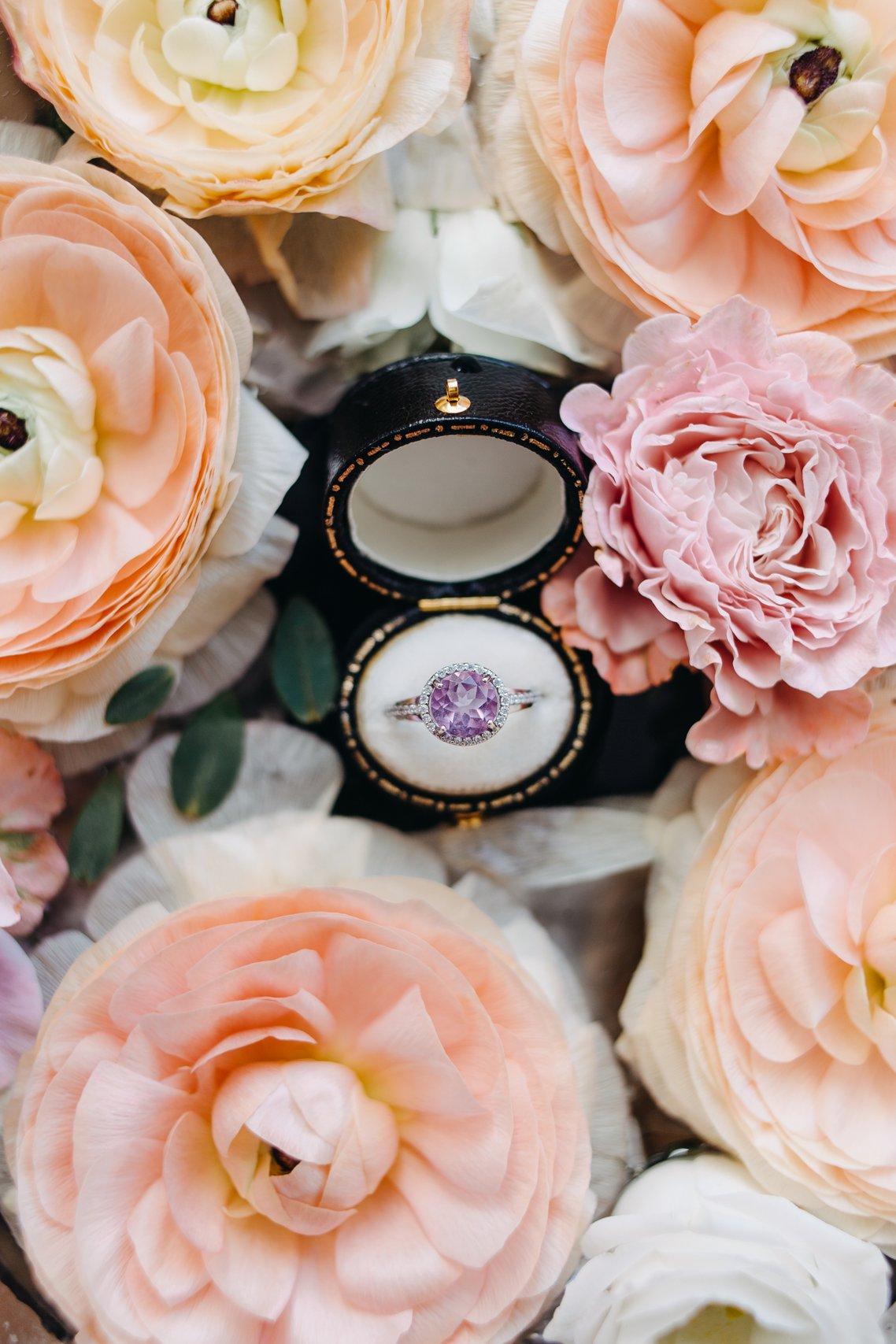 Amethyst engagement ring
Alternative and non-diamond engagement rings are becoming more popular by the day. For those who love the color purple, an amethyst ring is a beautiful option. This gemstone, which is a colored variety of quartz, is known for its calming properties and its ability to boost creativity and focus.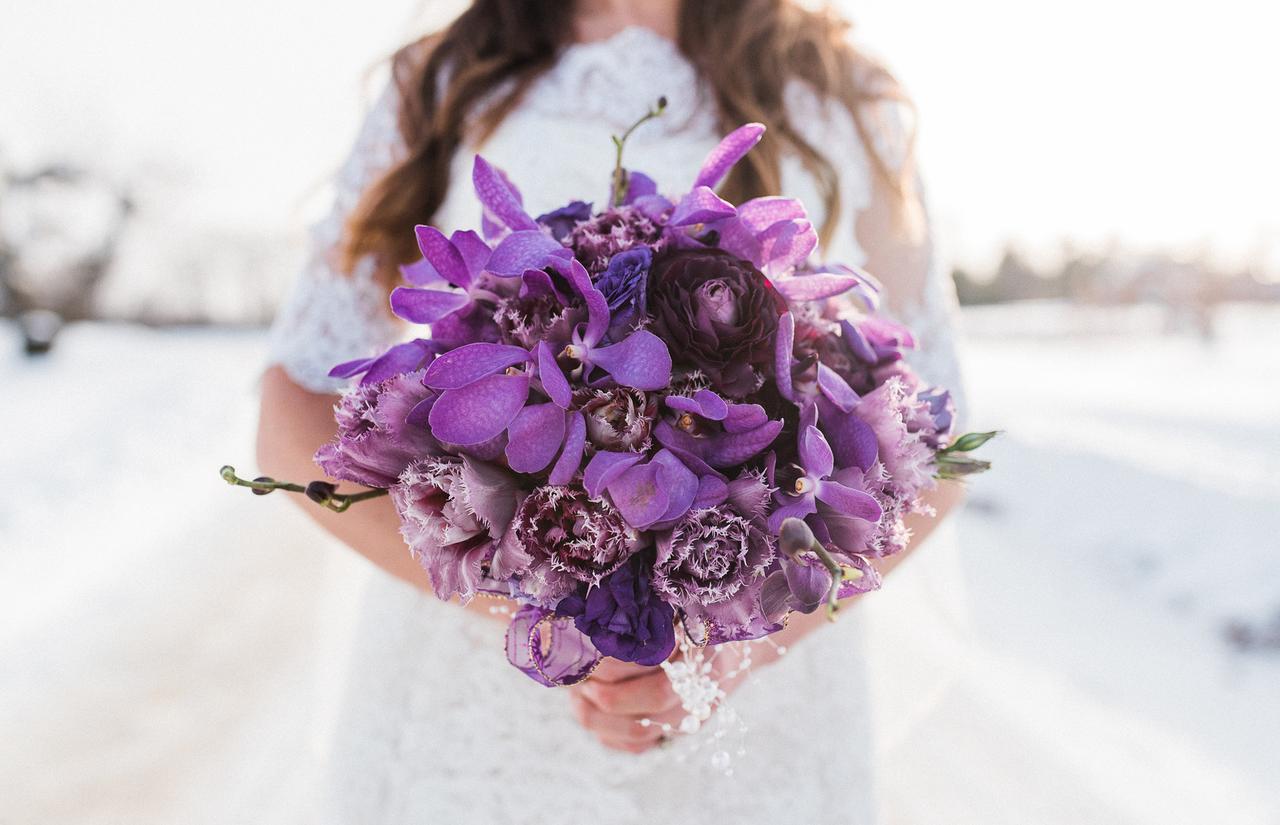 Floral design by Beach Plum Floral Shop
Monochromatic bouquet
Monochromatic bouquets are one of the biggest wedding flower trends of the year, and this trend is also one of the easiest purple wedding ideas to incorporate into your special day. Even if the rest of your wedding decor is fairly neutral in color, purple flowers will instantly brighten up the setting. Try combining flowers like fringed tulips, lisianthus, and vanda orchids in various purple tones.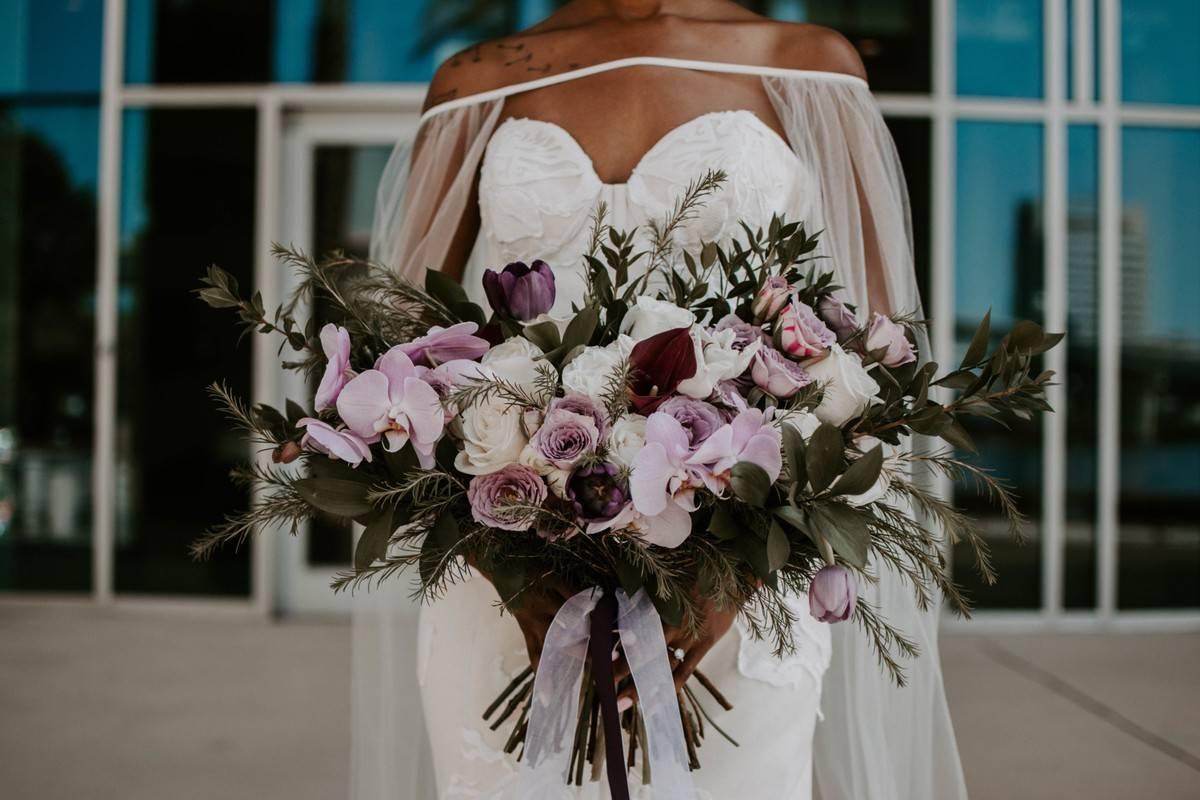 Purple orchids
If an all-purple bouquet doesn't match your wedding vision, try a more subtle version of this color instead. Ask your wedding florist to mix purple flowers, such as tulips, phalaenopsis orchids, calla lilies, and roses, with white blossoms and greenery for a breathtaking arrangement.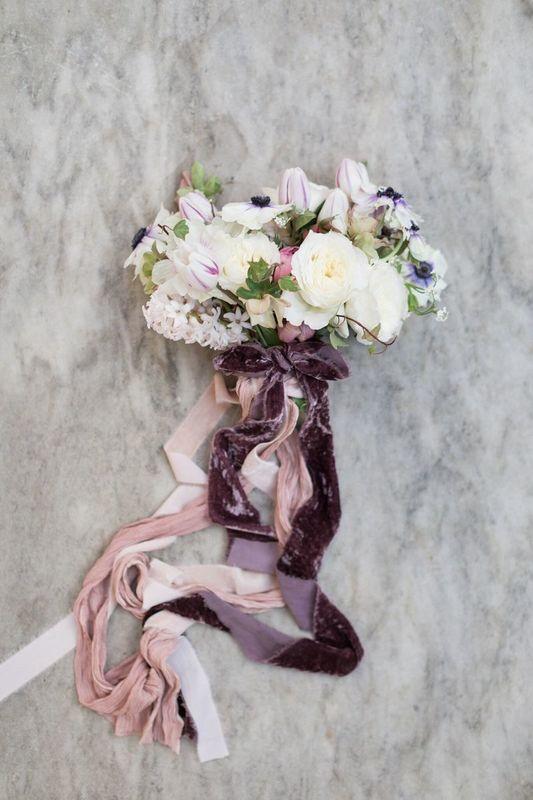 Long ribbons
Ribbons are another way to add a touch of purple to your wedding bouquet without using actual purple flowers. A long velvet bow looks especially pretty when paired with rosy pink and white ribbons.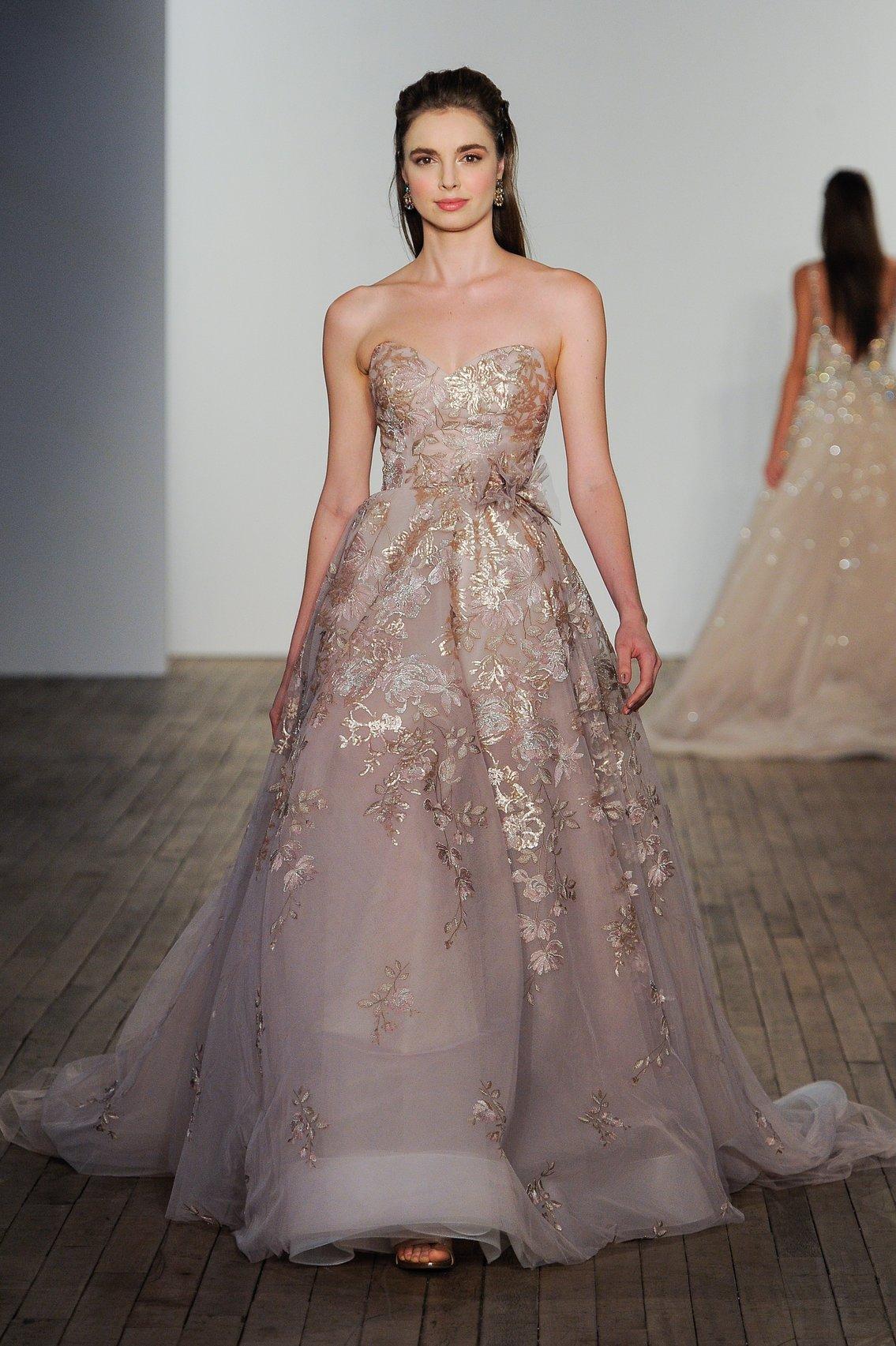 Dress by Lazaro
Wedding dress
Don't just decorate your wedding day with purple—wear it! A colorful wedding dress is a fun option if classic gowns aren't quite doing it for you. This muted mauve style decorated with gold floral embroidery is romantic while making a statement.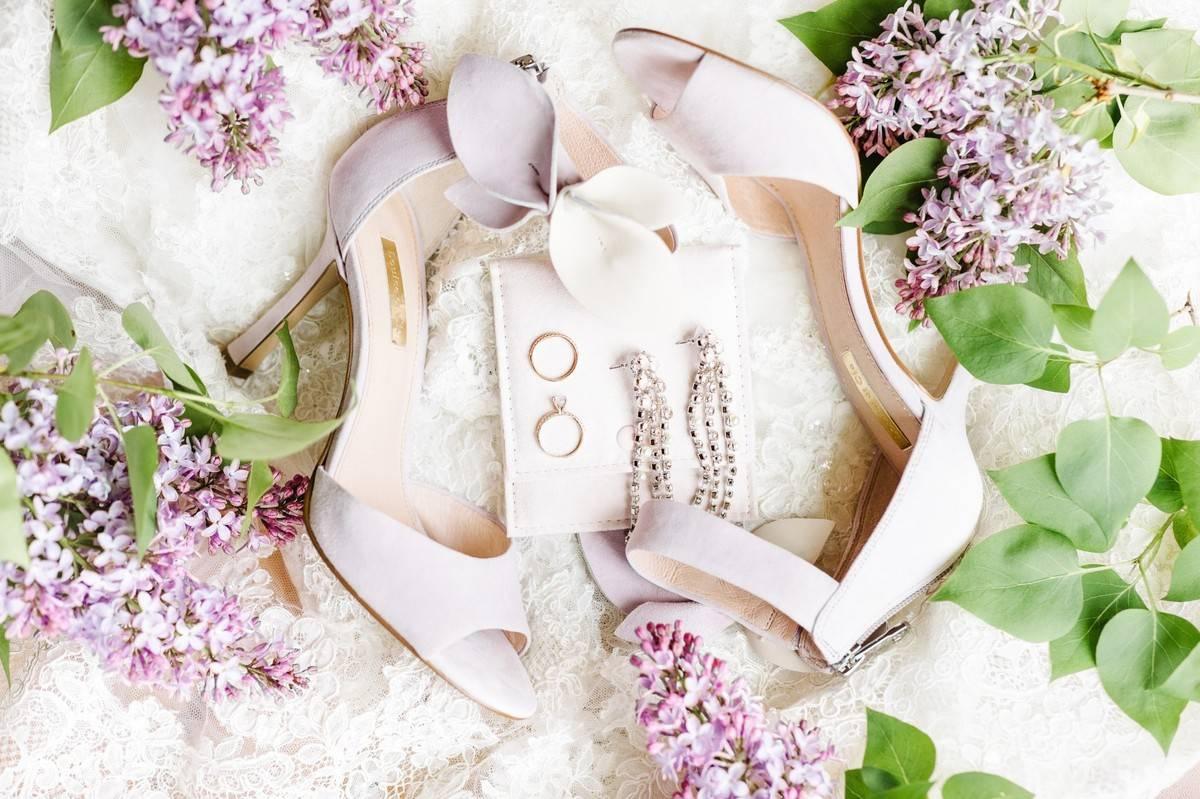 Wedding shoes
Lilac shoes are another purple wedding idea if you're into colorful wedding attire.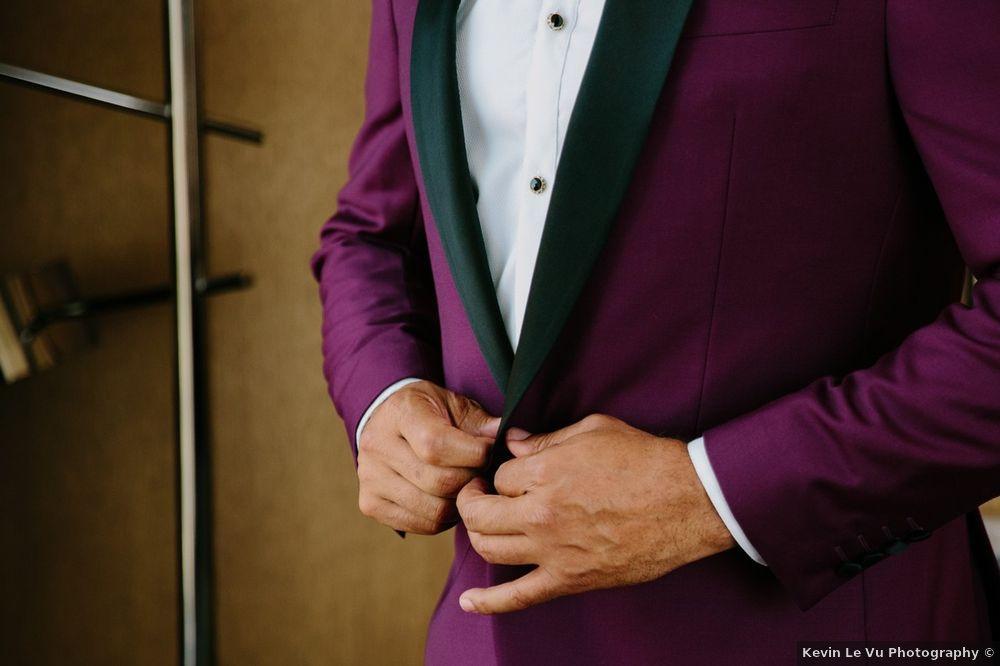 Tuxedo jacket
Navy blue, burgundy, and green tuxedos are all currently trending for groom's attire, but a dark purple tux jacket is on-trend and unexpected. It's perfect for anyone who wants to take their wedding fashion game one step further.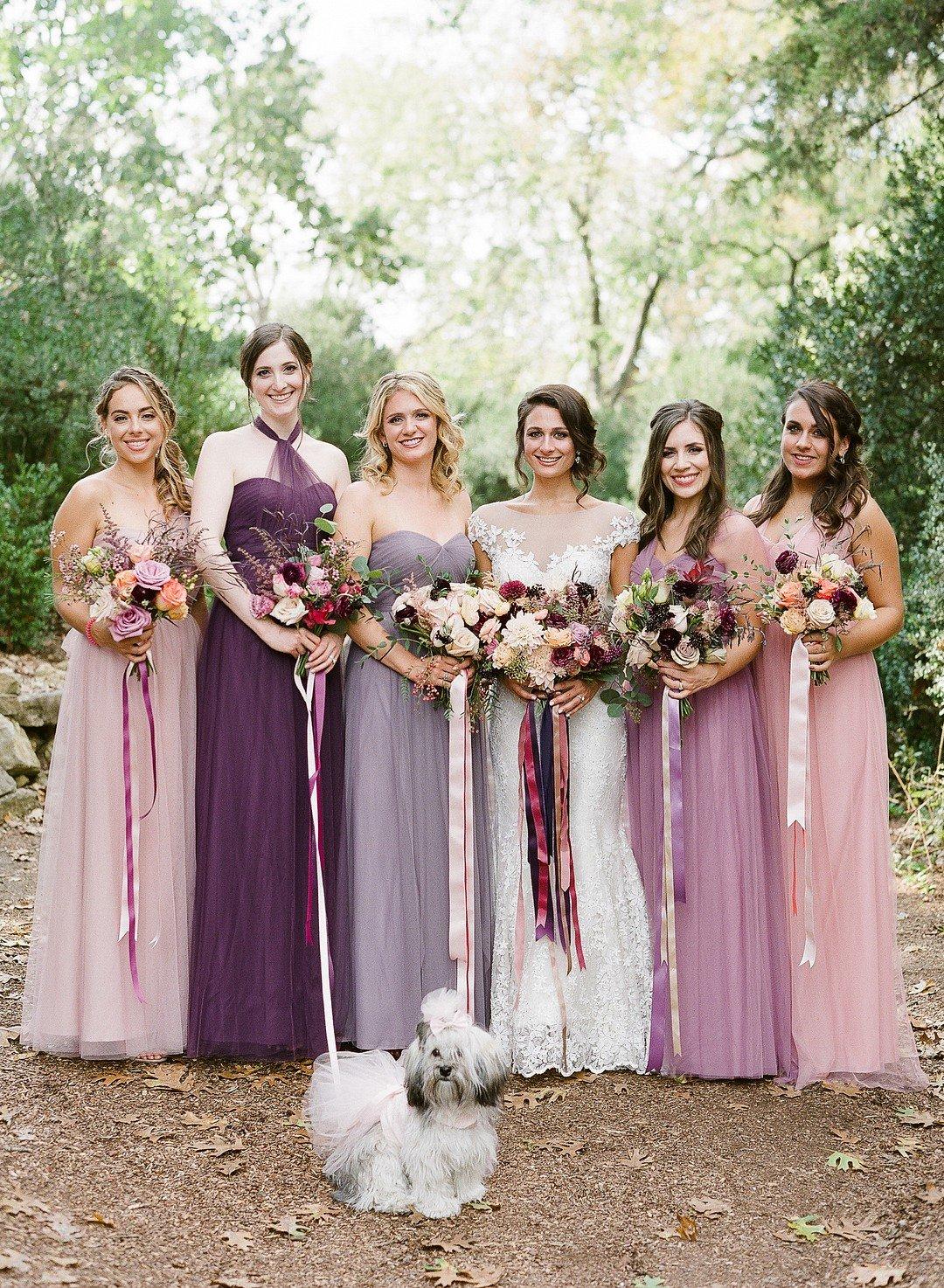 Bridesmaid dresses
Purple is a universally flattering bridesmaid dress color that looks good in all seasons. For the chicest look, we like pairing three or four shades of purple together and giving your bridesmaids the option to choose their own dress silhouettes. Limiting the styles to one type of fabric, like tulle or satin, will help the group look cohesive.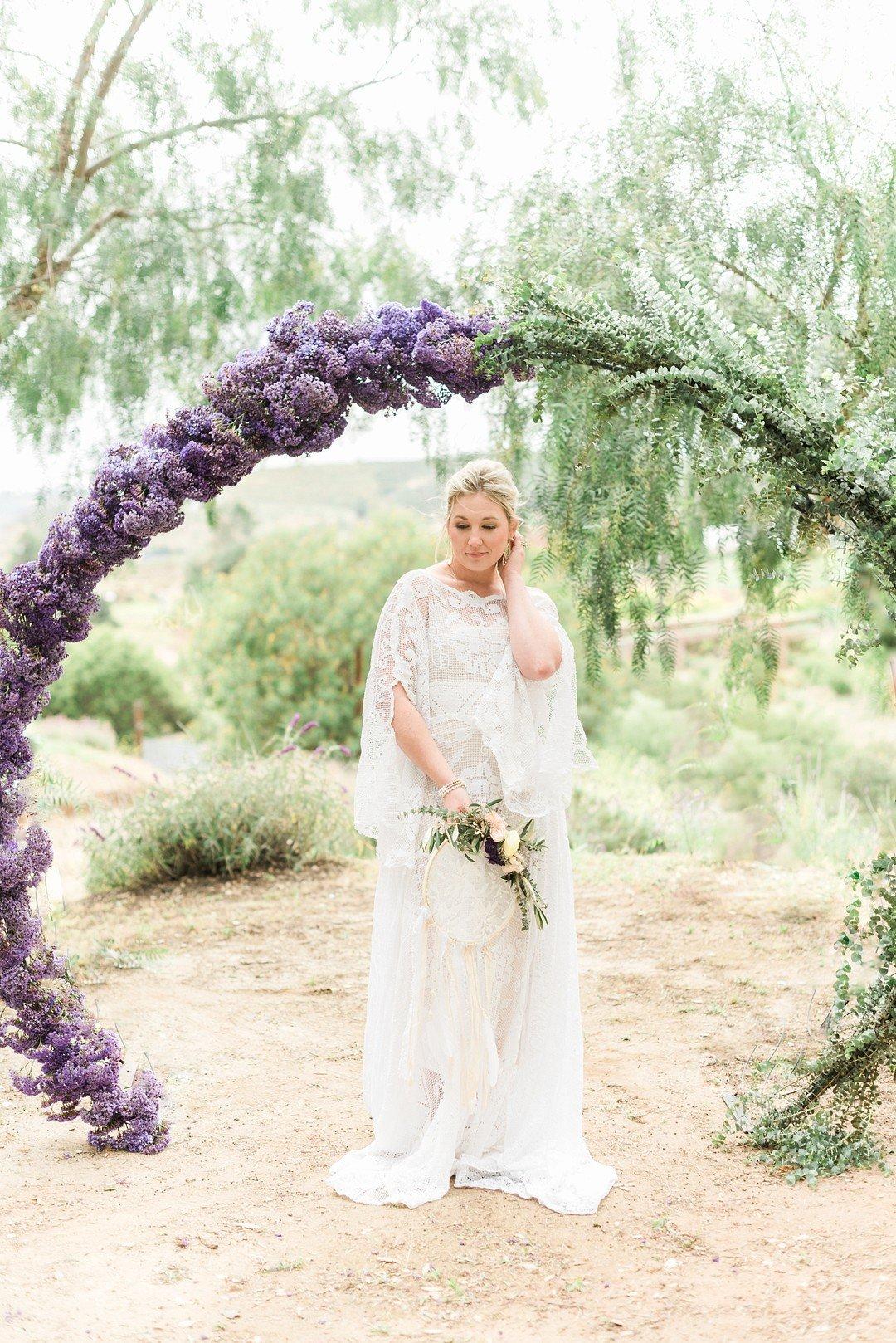 Floral design by I Dew Flowers, planning byJessica Schmuckle Photography & Events
Lilac arch
A ceremony arch made of lilacs and greenery not only looks amazing, but it will smell heavenly, too. Use this backdrop at a garden wedding venue to pile on the dreamy vibes.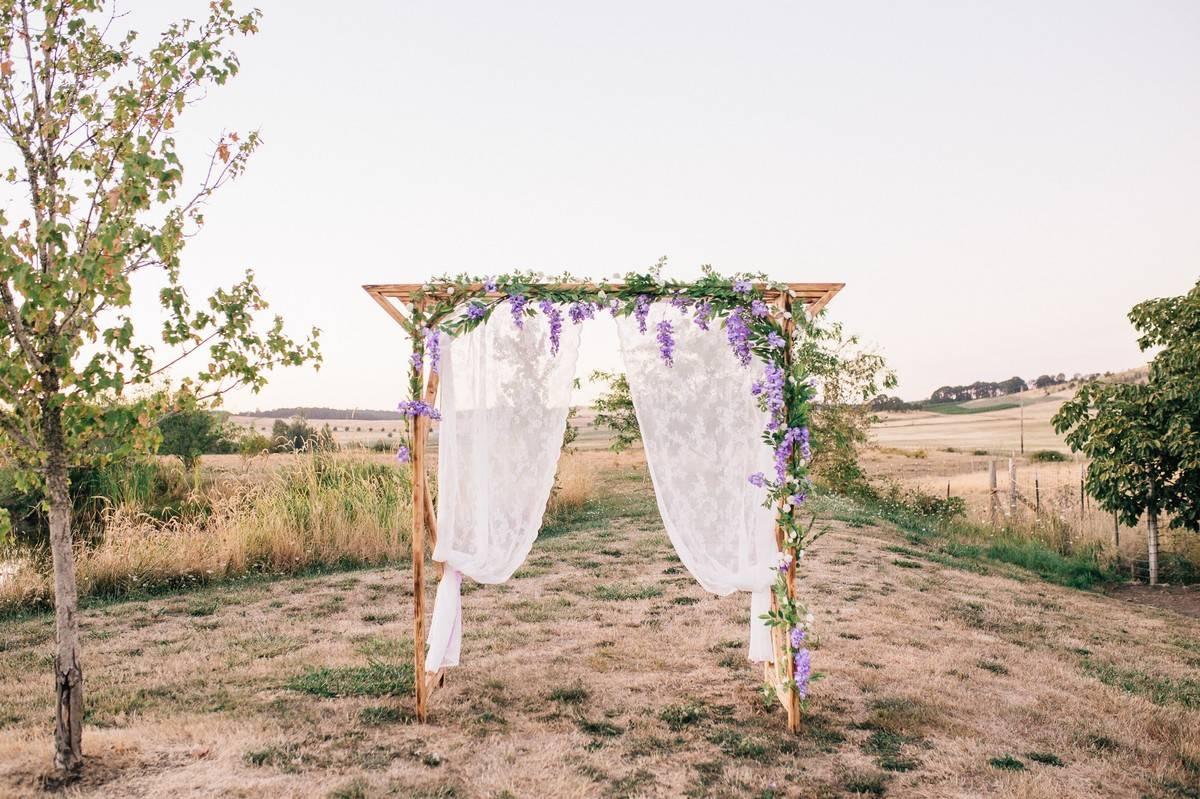 Wisteria backdrop
Alternatively, you can place a few wisteria vines on a wood and fabric pergola to instantly add a touch of purple.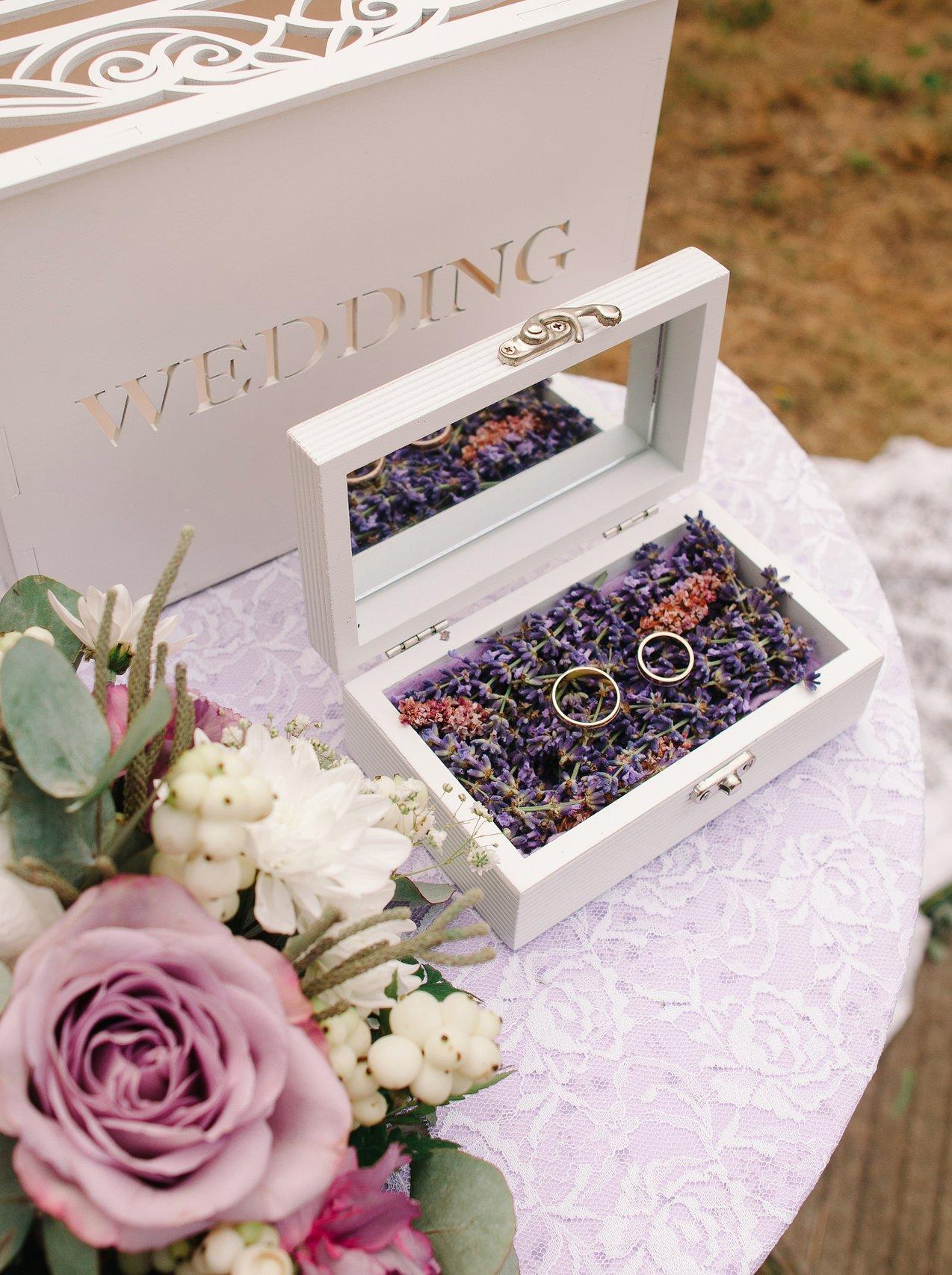 Ring bearer box
Fill a wooden ring box with fresh lavender to add extra protection for your wedding bands (and turn a functional object into a pretty wedding detail photo).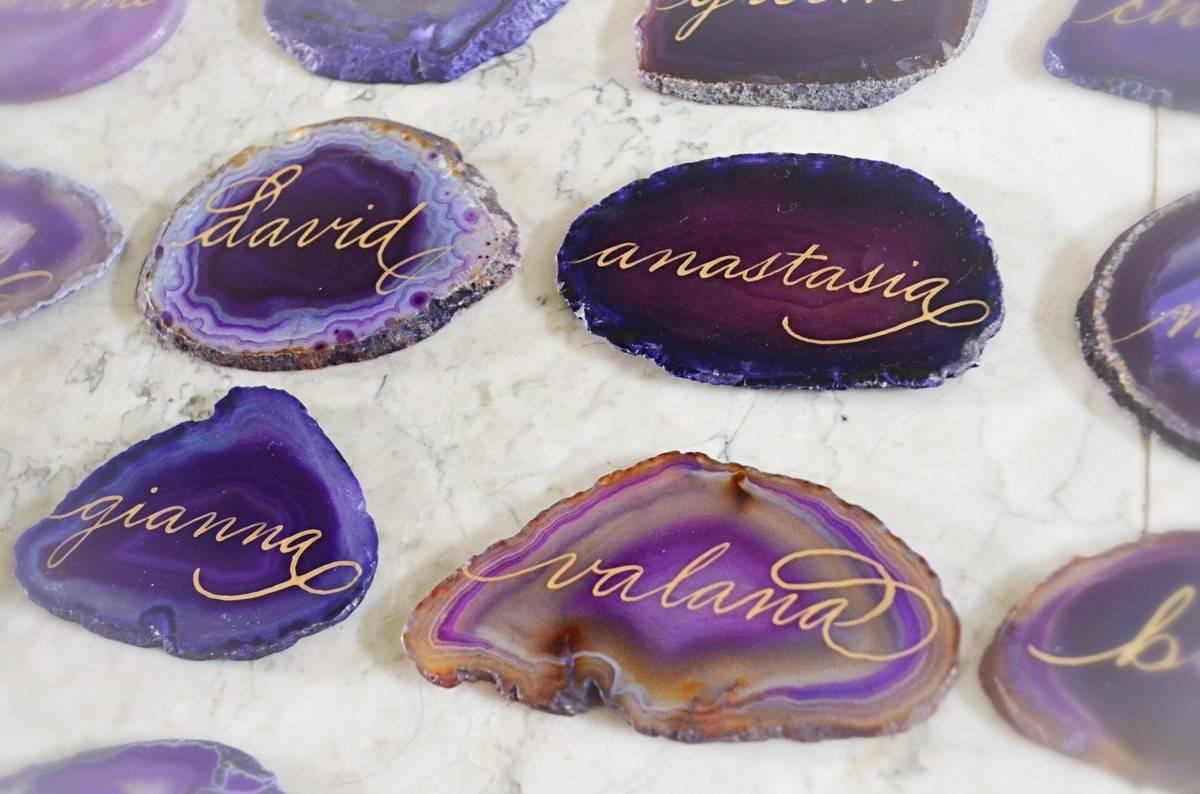 Agate place cards
For an earthy, bohemian element, use purple agates for your place cards or escort cards. Gold calligraphy transforms the agates into keepsakes that your guests will be excited to take home with them at the end of the wedding.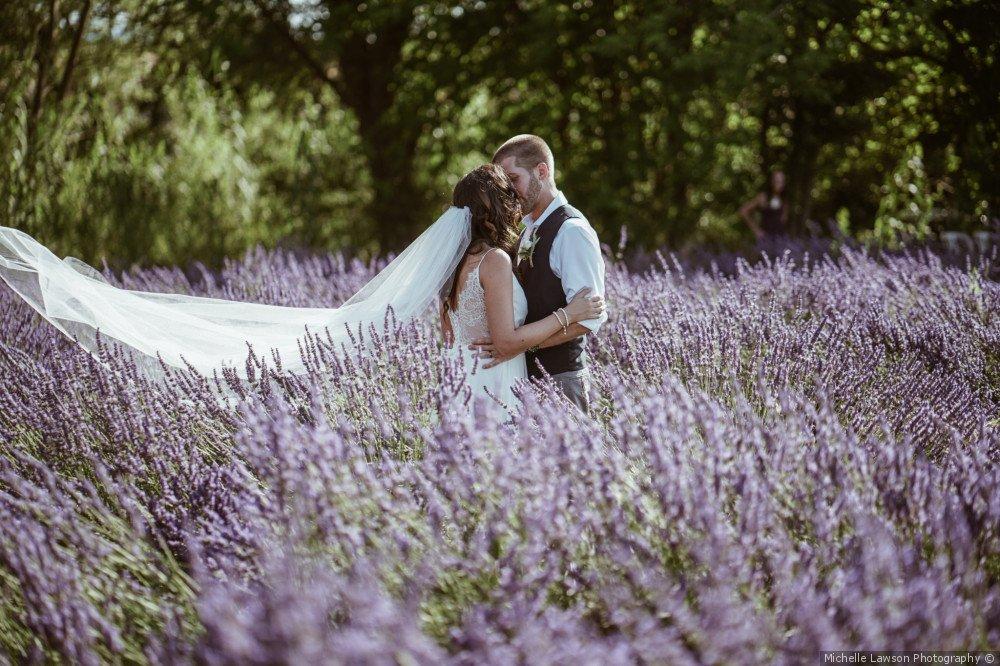 Lavender fields
We know that every wedding venue won't have a field of lavender in bloom, but if you can find one, the photo op is guaranteed to be gorgeous. (Tip: Most lavender blooms during the late spring and early summer, from June to July). Check out our list of the best garden wedding venues to see if there's a lavender field in your area.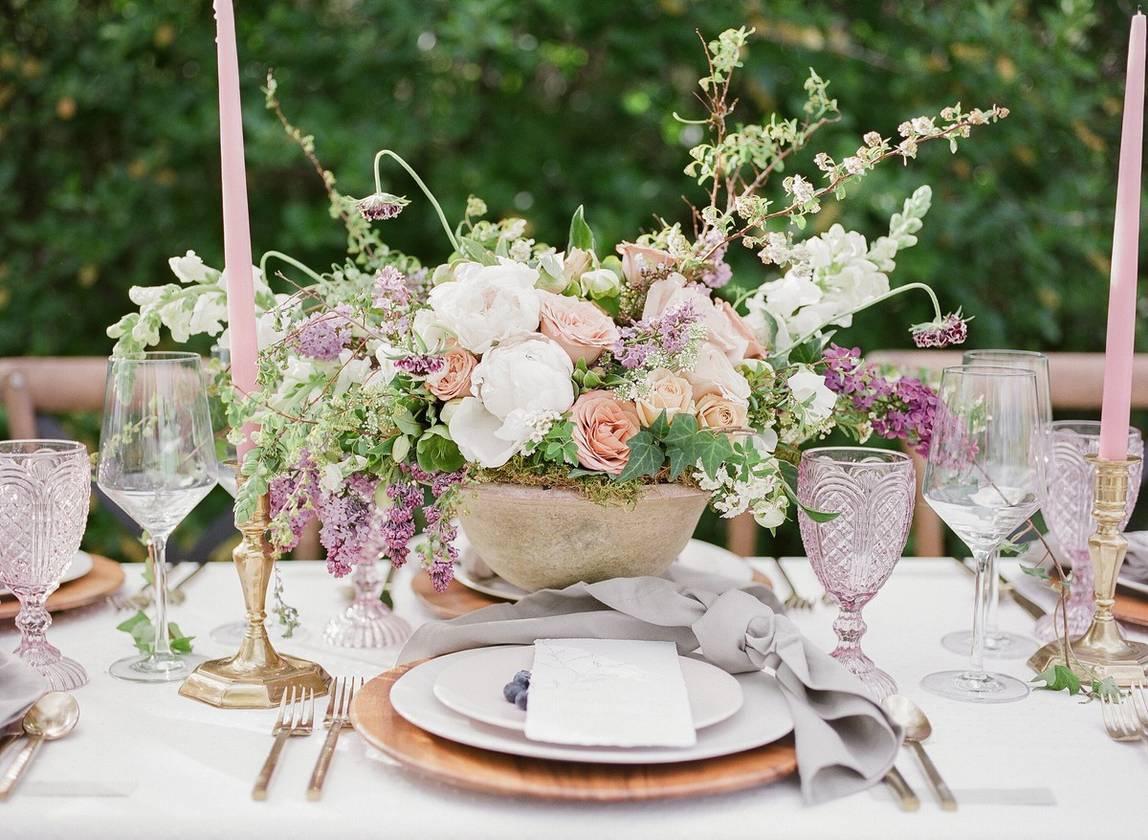 Centerpieces
Create garden-style centerpieces by filling low compote vessels with blooms that you'd find in the wild, such as Queen Anne's lace, lilacs, and butterfly bush stems. Then add English ivy, moss, and roses to finish the arrangement.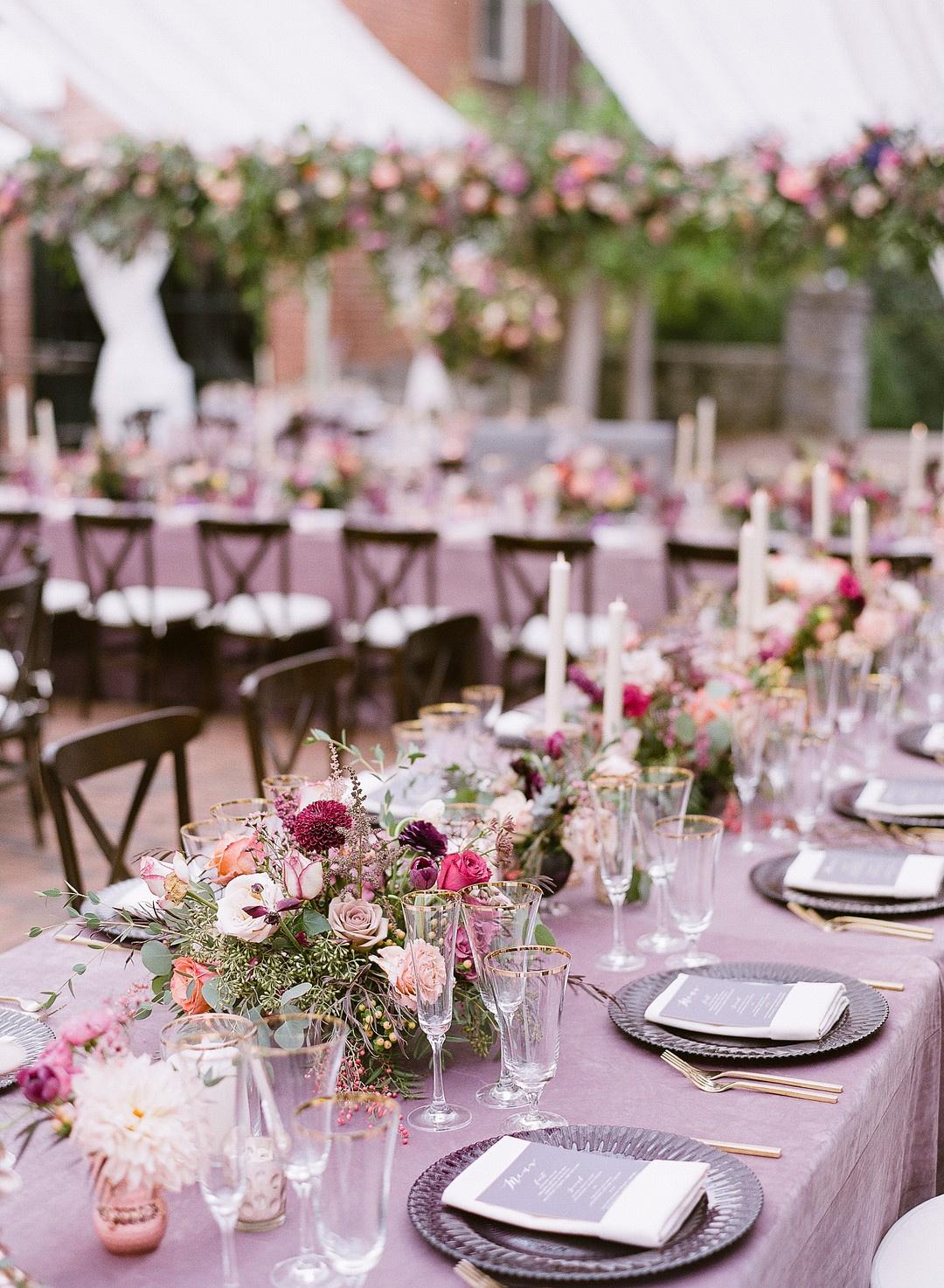 Planning by Sage Nines Event Production and Music City Tents & Events
Table linens
Bare and minimalist banquet tables are trendy, but there's something to be said about using luxurious tablecloths and other decor to create a stunning setup for your wedding reception. Make a statement by adorning your banquet tables with purple linens, gold flatware, loose centerpieces, and coordinating purple charger plates to create a lush setting that's worthy of a fairytale.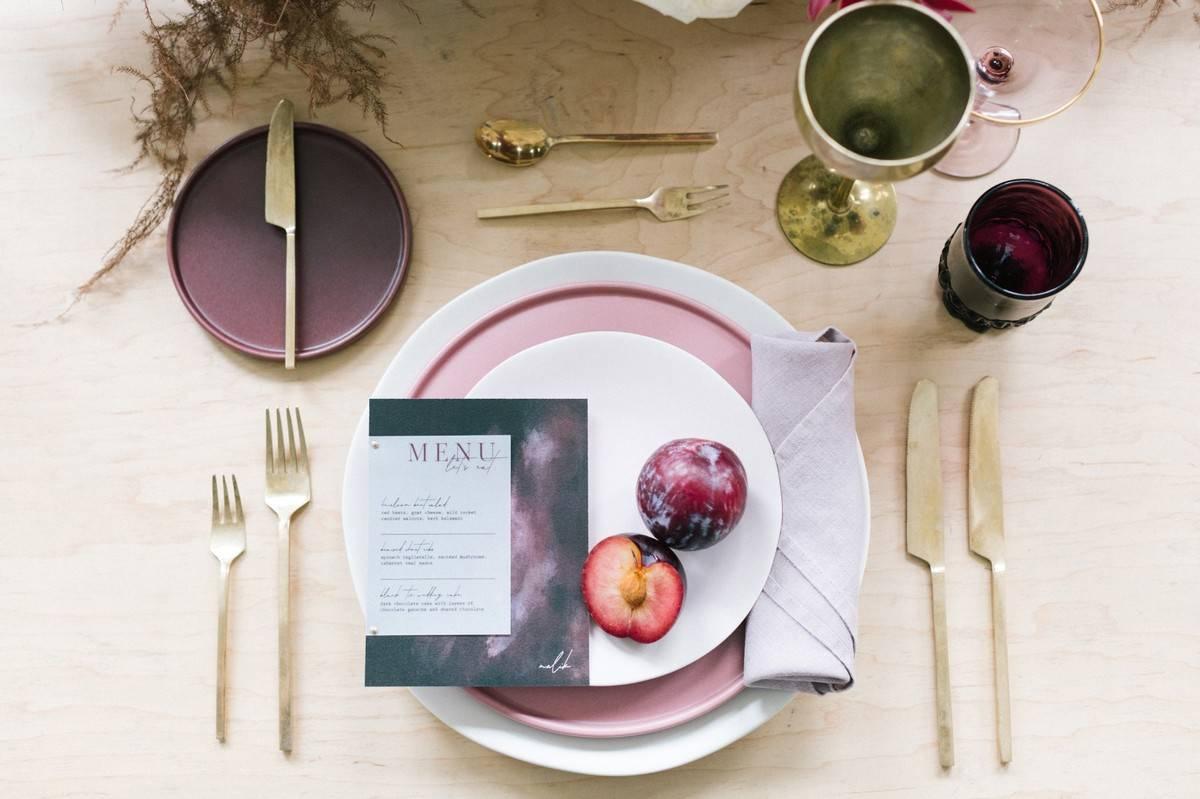 Place settings
Bring a moody wedding vibe to your place settings by using mauve accent plates, dark purple menus, and colored glassware.
Neon sign
This purple wedding idea nails two trends in one fell swoop: neon signs and bold wedding decor. Hang the sign above your wedding bar, sweetheart table, or turn it into a photo backdrop for your guests.