Wondering what's on the radar for 2018 groom and groomsmen trends? When it comes to what is hot right now in menswear, we've got you covered. From bold patterns to slick velvet suits these 2018 groom and groomsmen trends will make any guy feel handsome on his wedding day.
Check out the top 2018 groom and groomsmen trends that are totally stylish for any wedding day.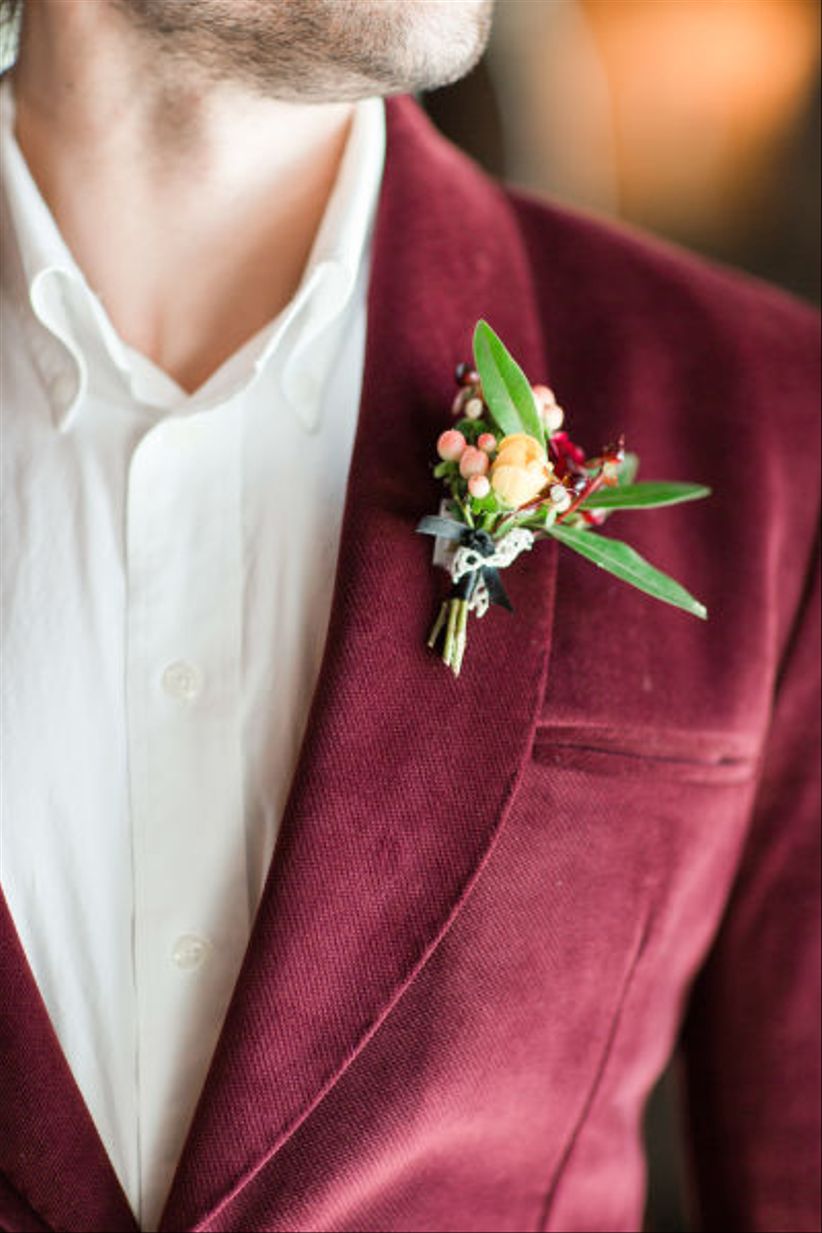 Texture is everywhere
Velvet, corduroy and other textures are giving suits, neckties and other menswear pieces a major upgrade. These textured fabrics are elevating the standard suit and tie for grooms by creating a sharp (and fresh!) style for all kinds of weddings. The velvet fabric gives off a moody and sexy vibe that's definitely going to make you feel extra dapper on the big day. Velvet also is a great pick if you're trying to blend with a trendy jeweled toned color palette or a sultry wedding day aesthetic.
Photo left to right: Chris J Evans Photography | Eric & Jamie Photography
Patterns make a bold statement
Unique patterns like floral ties and houndstooth suits are giving grooms the ability to show off their personality on the big day. Fun, bold patterns are making menswear more eye-catching in 2018—much different than the classic solid suit styles. Groomsmen can even get in on the action too by coordinating with the groom and wearing a bold tie—like the popular floral pattern we've been seeing for spring and summertime weddings.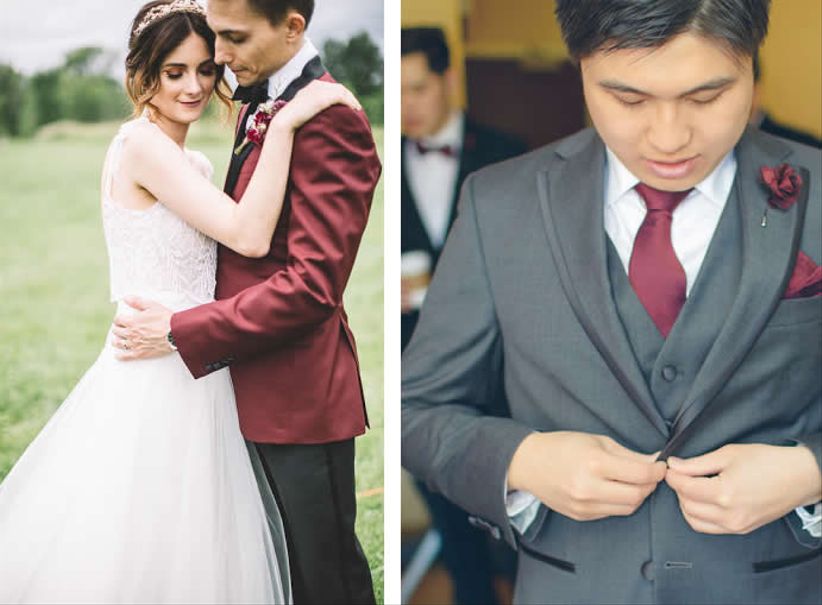 Photo left to right: Kate Edwards Weddings | Daniel Hon Photography
Burgundy is the "it" color
If you're looking for something that's fashion-forward for your wedding day—think Armie Hammer or Matthew McConaughey at this year's Oscars—then you'll definitely dig this new color for menswear and 2018 groom trends. Burgundy is becoming the "it" color for grooms who want to make a statement on their wedding day. Steering away from the traditional black, blue or gray suit colors this warm hue is being seen in accent pieces or in full suits and is a hundred percent made for trendy grooms or groomsmen.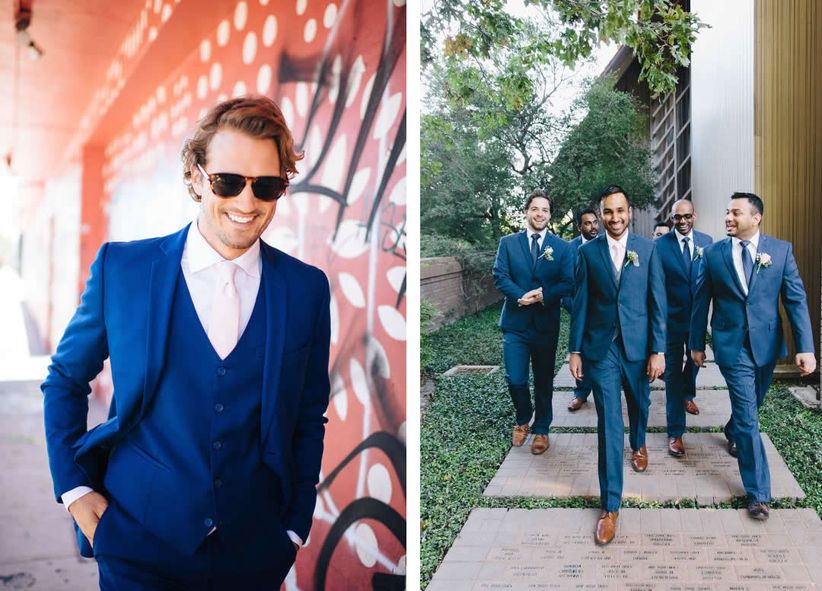 Photo left to right: Menguin | Meredith Parnell
Bright blues are the new classic color
We've seen navy as the classic color of choice for menswear in past seasons, but this year brighter shades of blue are taking over. When it comes to 2018 groom trends, bright blues are adding a youthful look to suit styles since they are quite the contrast from the dark navys and black styles we've seen in the past. These shades of blue—like royal and cobalt—are adding a pop of color to the traditional look and can easily be paired with a patterned necktie or more.
Mix and match styles add a fresh twist
As well as burgundies and bright blues, we're also seeing colors being mix-and-matched in menswear this year. Black and blues are being paired together to create a sophisticated and formal look for grooms, whereas groomsmen are mismatching their suits and ties. Opting for different suits or different colors gives your overall look a fresh twist that's totally in for 2018 weddings.