Level up Your Look With These 2022 Groom Attire Trends
From bold colors to unique accessories, these trends will take your look beyond the basic black tux.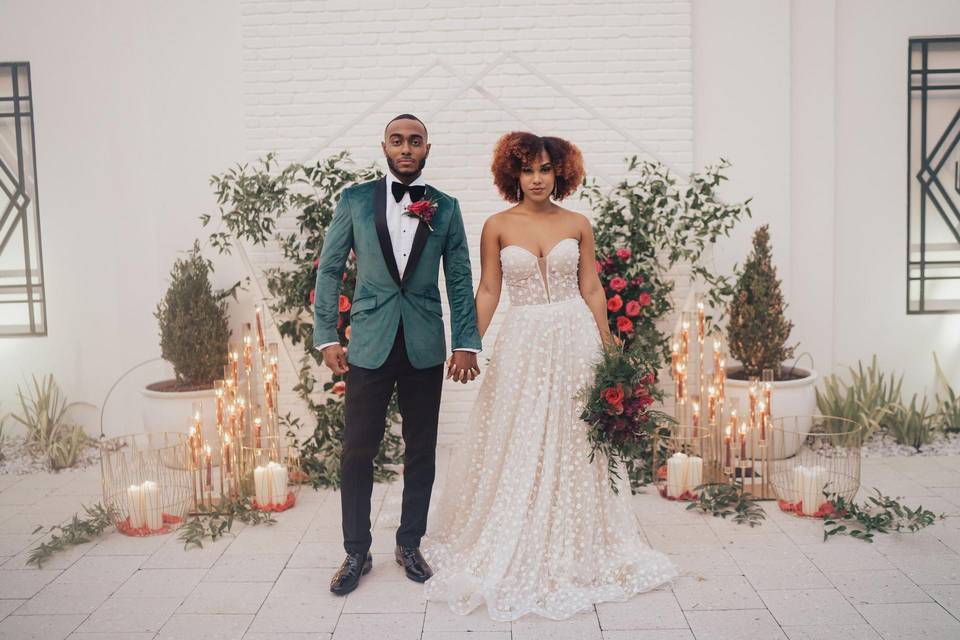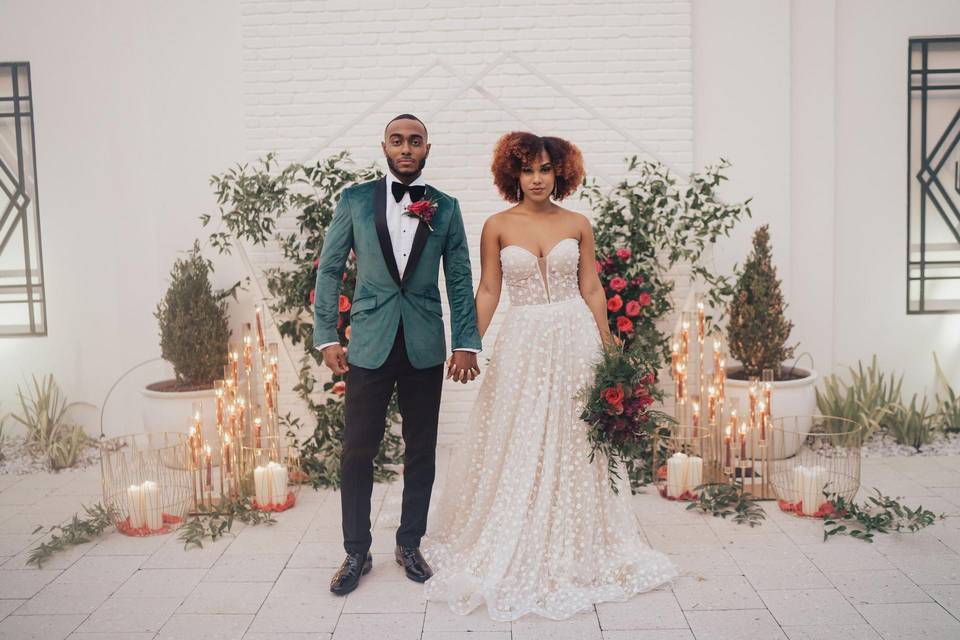 While it might seem like wedding dress trends grab all the attention, let's not overlook the fresh, new looks coming onto the groom wedding attire scene. Grooms, groomsmen, and even groomsmaids are no longer expected to play it safe with fashion, and instead, have endless attire options to fully customize their look. Curious to know what guys will be wearing down the aisle in 2022? We consulted with our menswear industry experts for an official guide to what's "in" for groom (and groomsmen!) wedding attire this year.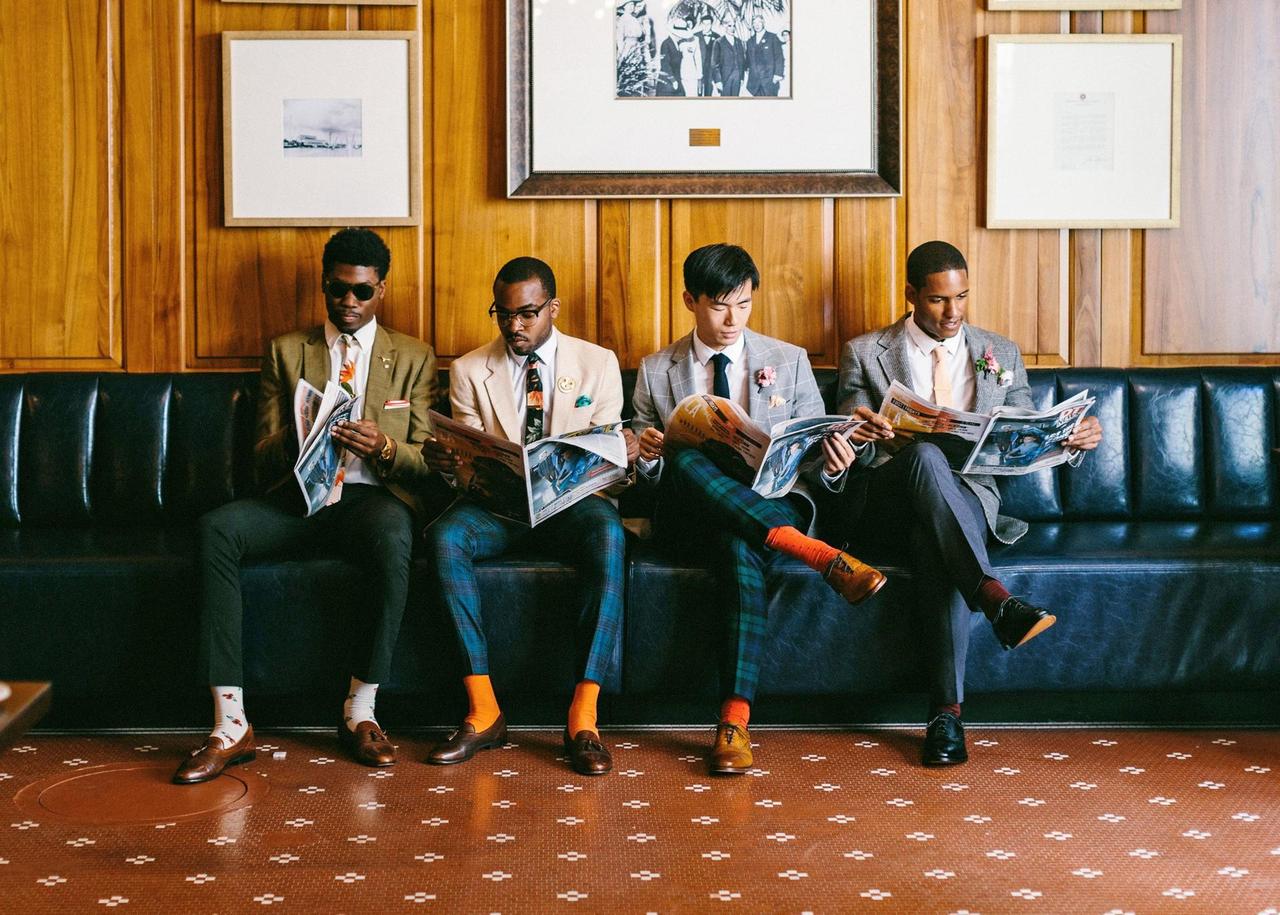 Mix-and-Match Quality
Aaron Clanton of 9ToFive in Brooklyn, New York explained this trend works one of two ways: Custom bespoke jackets paired with off-the-rack black or blue pants or vice versa—bespoke custom pants with a more traditional jacket. "This allows the groom to put his own personal touch and showcase style without having to spend a fortune or veer too far into looking like a costume," he said. "Since bespoke suits can range anywhere from $600 to $6,000, this is a great way to cut down on high costs while standing out."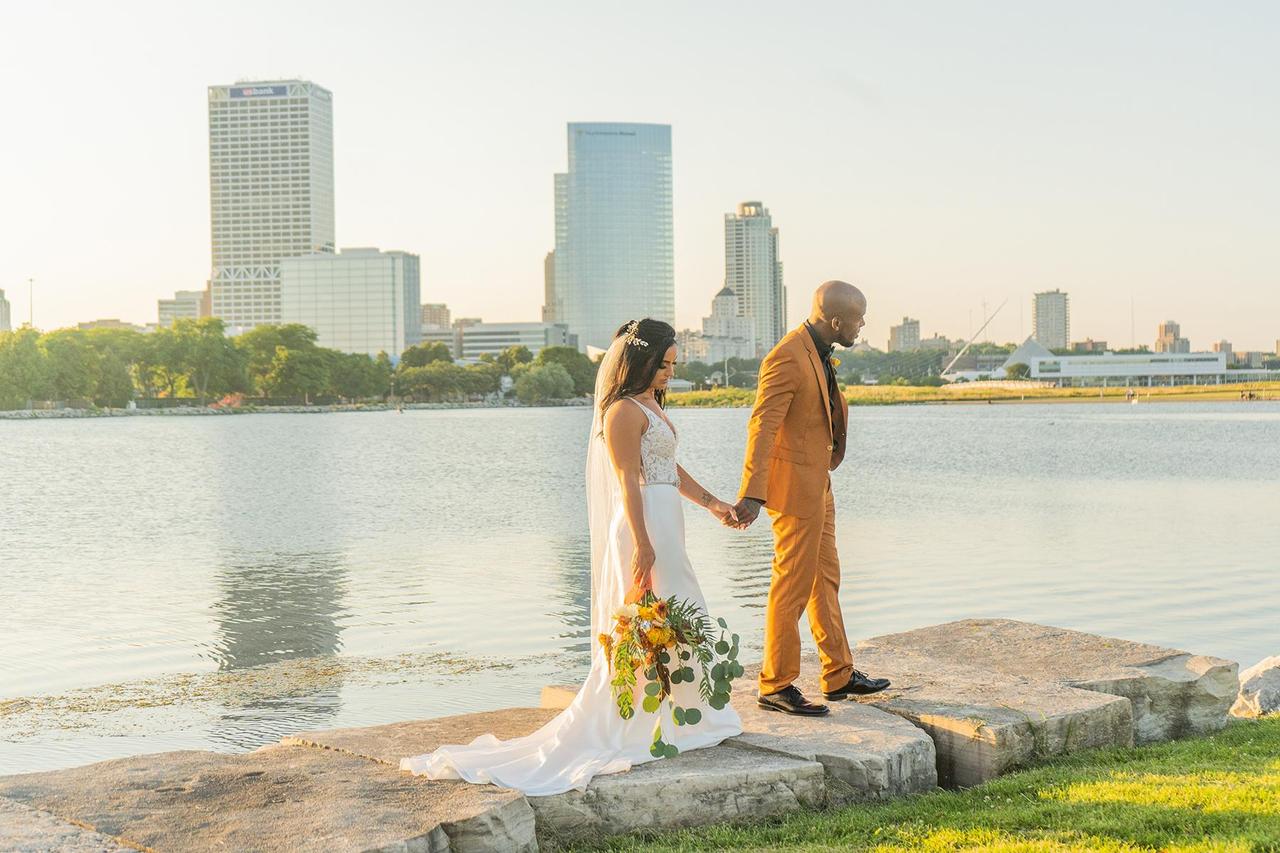 Earth Tones and Soft Neutrals
Outdoor wedding venues are growing in popularity, and with that, comes new trends in groom attire. "Couples are now opting to trade-in wedding halls for the great outdoors, and what better way to compliment your surroundings than with rich tonalities of browns and tans, off white/bone, and olive green," said Clanton.
Bri Marbais of The Bridal Finery in Winter Park, Florida, expects to see tons of neutral colors for men's wedding attire in 2022. "While the classic black tux will forever stand the test of time, neutrals are definitely on the rise," she said. The overall wedding aesthetic trend is chic and minimalistic through the use of metallics, clean lines, modern elements and a neutral color palette. "Having the groom and groomsmens' attire complementary and cohesive with the complete wedding day look is more important than ever," she said. "We definitely encourage grooms to step out of their comfort zone and go for the nontraditional soft neutral look."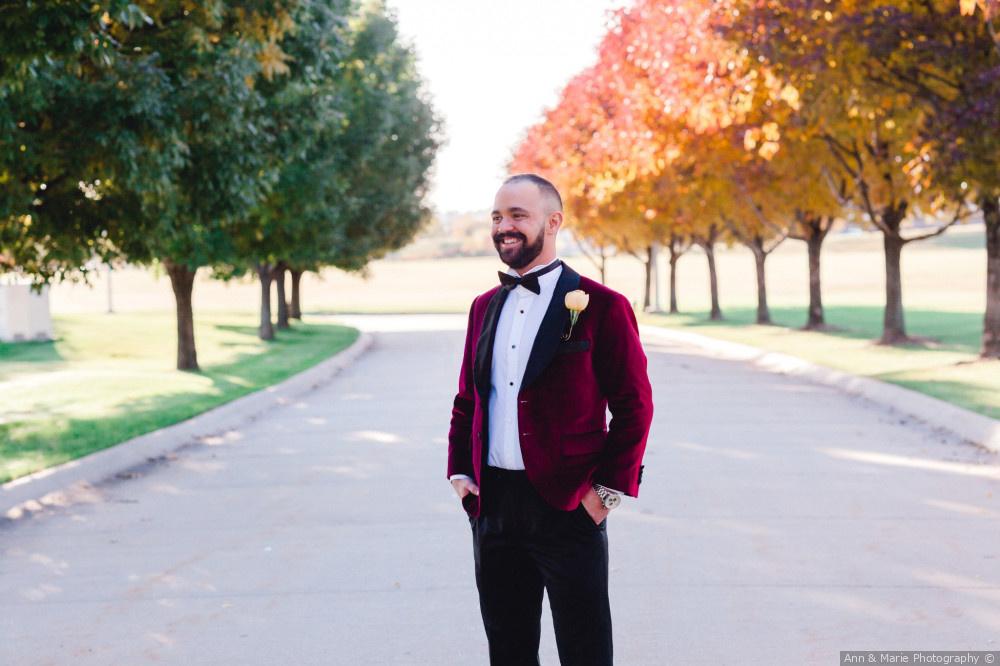 Velvet
Think: Jason Sudeikis at the 2021 Emmys. "There is something so chic and unexpected about a velvet blazer," said Clanton. "Because it's a richer, thicker fabric, it looks great for outdoor weddings, especially in deep green and dark blue." For those who are having weddings towards early spring, he added that velvet bow ties or accents on shoes can look equally as rich with floral and citrus colors.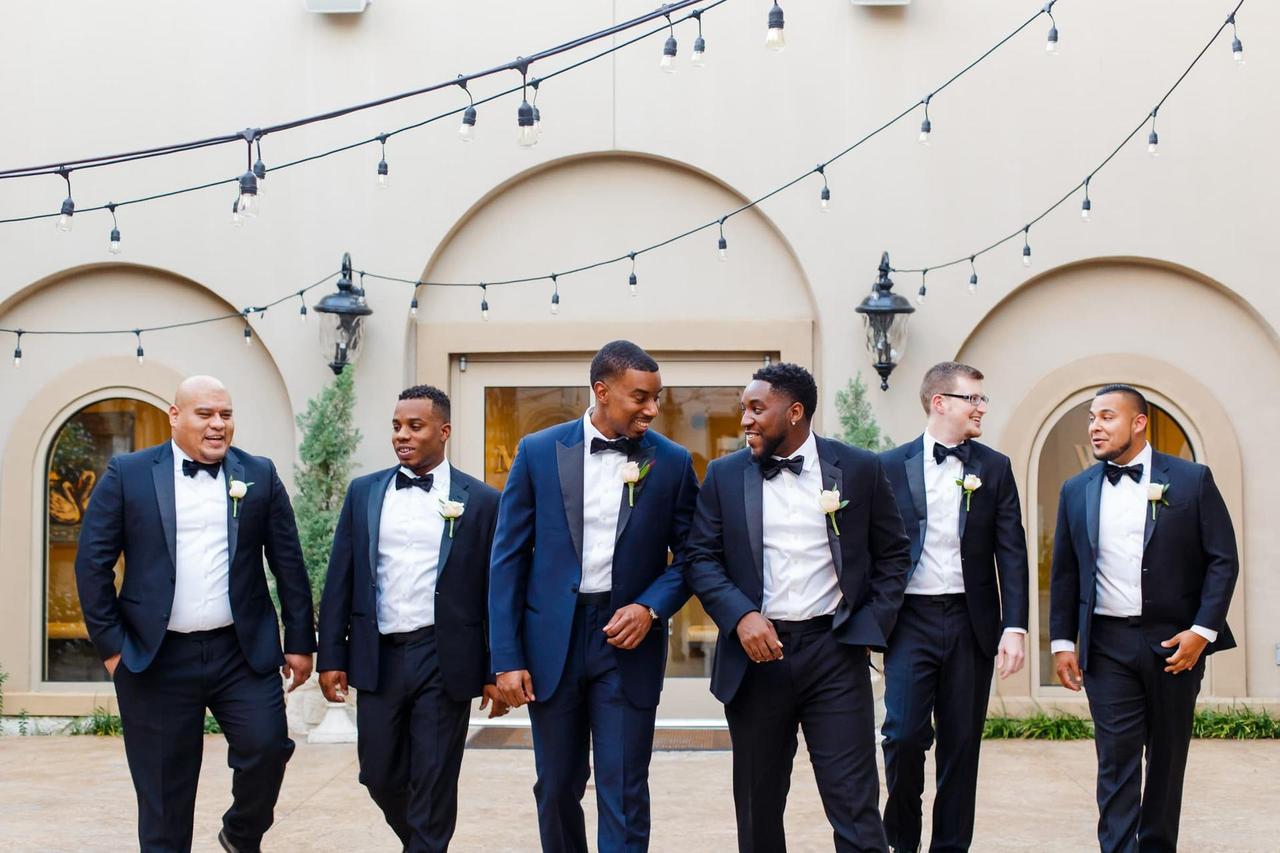 Affordable and Classic Looks for Groomsmen
For the groomsmen, opting for a high-end suit rental helps keep the cost down – especially if they're now working from home and don't need to dress up for the office anymore or are being hit with a ton of upcoming weddings. "However, if you do decide to make the investment to purchase a suit you can wear after a wedding, essential colors are the way to go," said Clanton. You want to have something they'll wear again (possibly to another wedding this year). "One idea: instead of a tuxedo, opt for a clean, slim cut suit, and style it up with a bow tie," he added.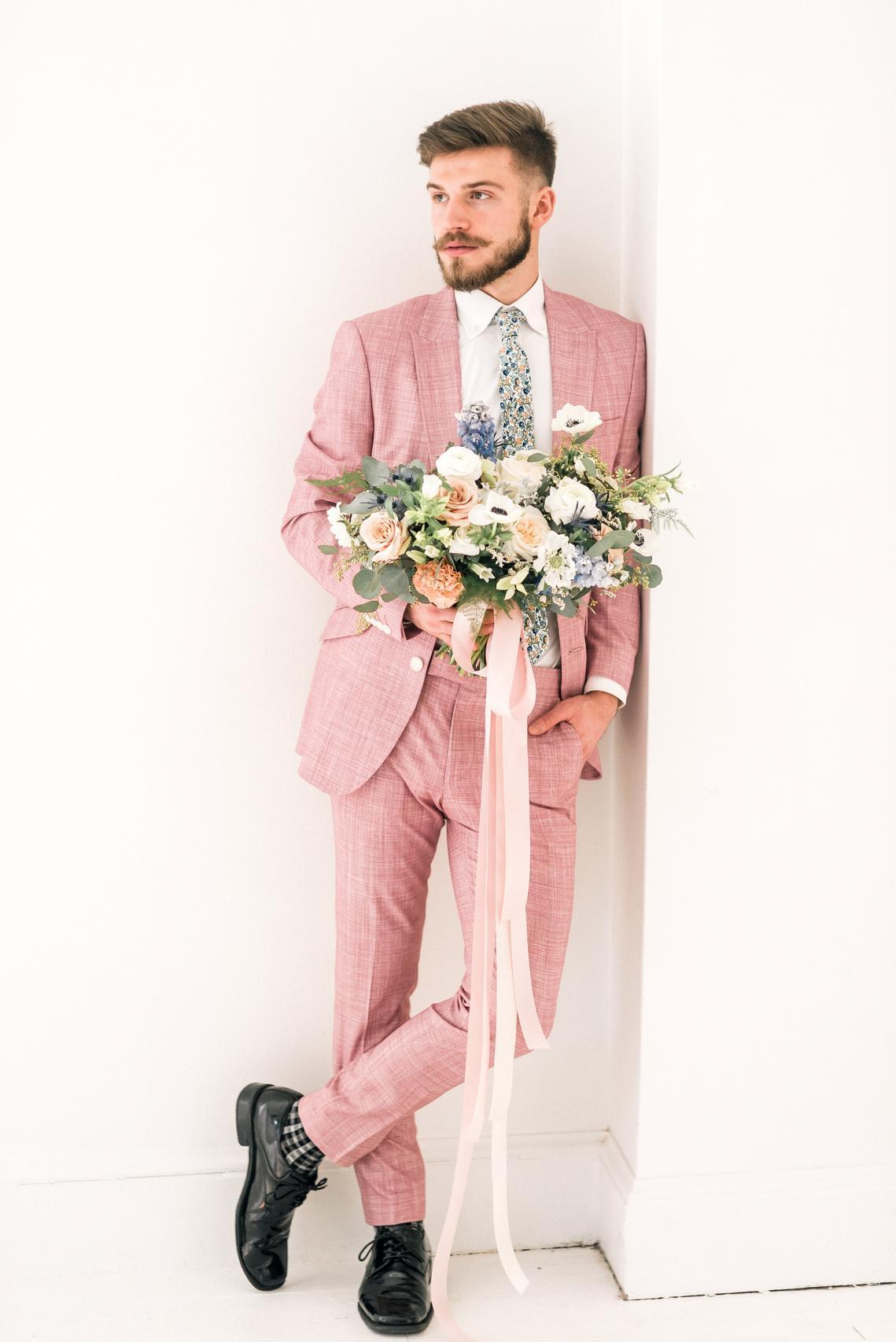 Bold Pops of Color
Color is back in a very big way when it comes to weddings in 2022. "Not only in floral, decor, and general aesthetic, but also in men's fashion," said Nora Sheils of Bridal Bliss in Seattle, Washington. "We are seeing suits in tones of blue from medium to dark navy, deep greens, and also burgundy/purple hues." However, some will tone it down with navy or black pants and let the blazer steal the show, while others are in head-to-toe color. "Of course, it doesn't end with an elegant tux or suit, but the accessories and shoes are also of utmost importance," she added.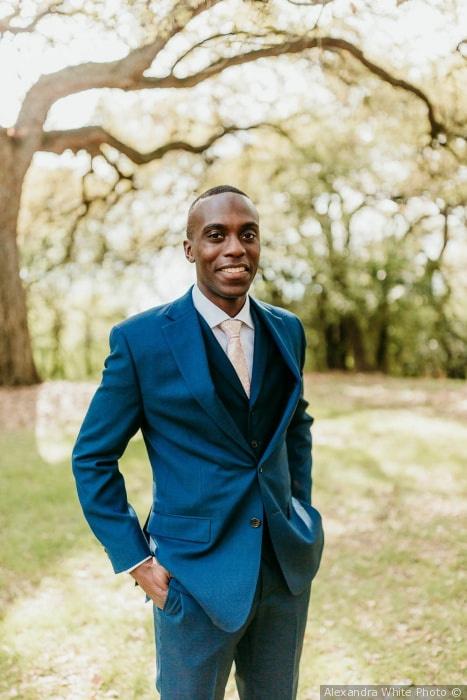 Emphasis on Fit
Stuffy tuxedos with vests and bow ties are a thing of the past, according to Sheils, and instead 2022 grooms are all about fitted suits with a sharp tie. "Men today have much more interest in their wedding and how they look at their wedding. So naturally, what they wear is a priority," she said. "No one wants an uncomfortable run-of-the-mill rented tuxedo and instead, they want it to be fitted, they want it to be the perfect length and they want it to be as memorable as their partner's attire! 2022 is the year of men making fashion statements at their wedding!"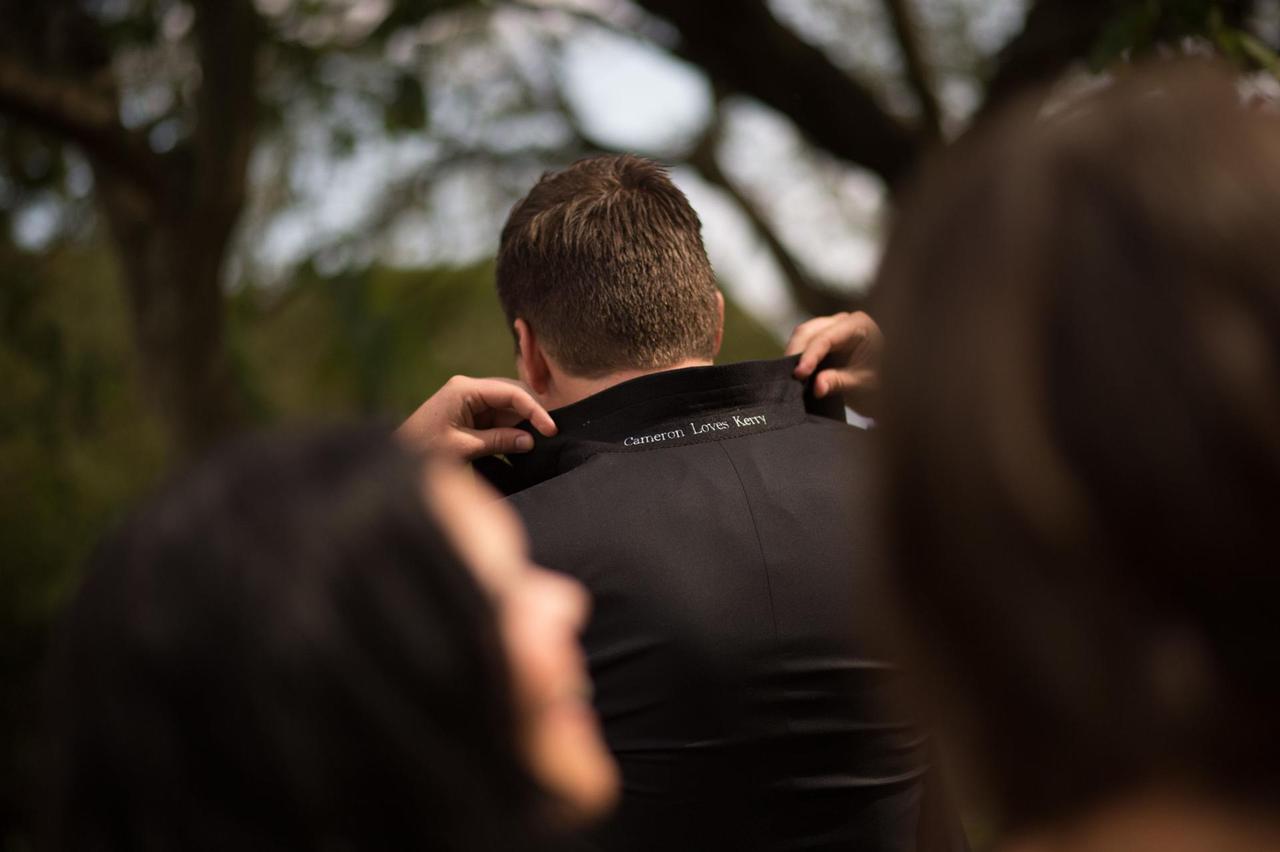 Secret Nods to Significant Other
An unexpected trend for the groom's look is coming up with unique ways to tie in his partner's look or name into theirs, says Marbais. Grooms are creating a pocket square or jacket lining out of unused dress fabric or having their partner's name embroidered under their collar for a romantic and personalized touch.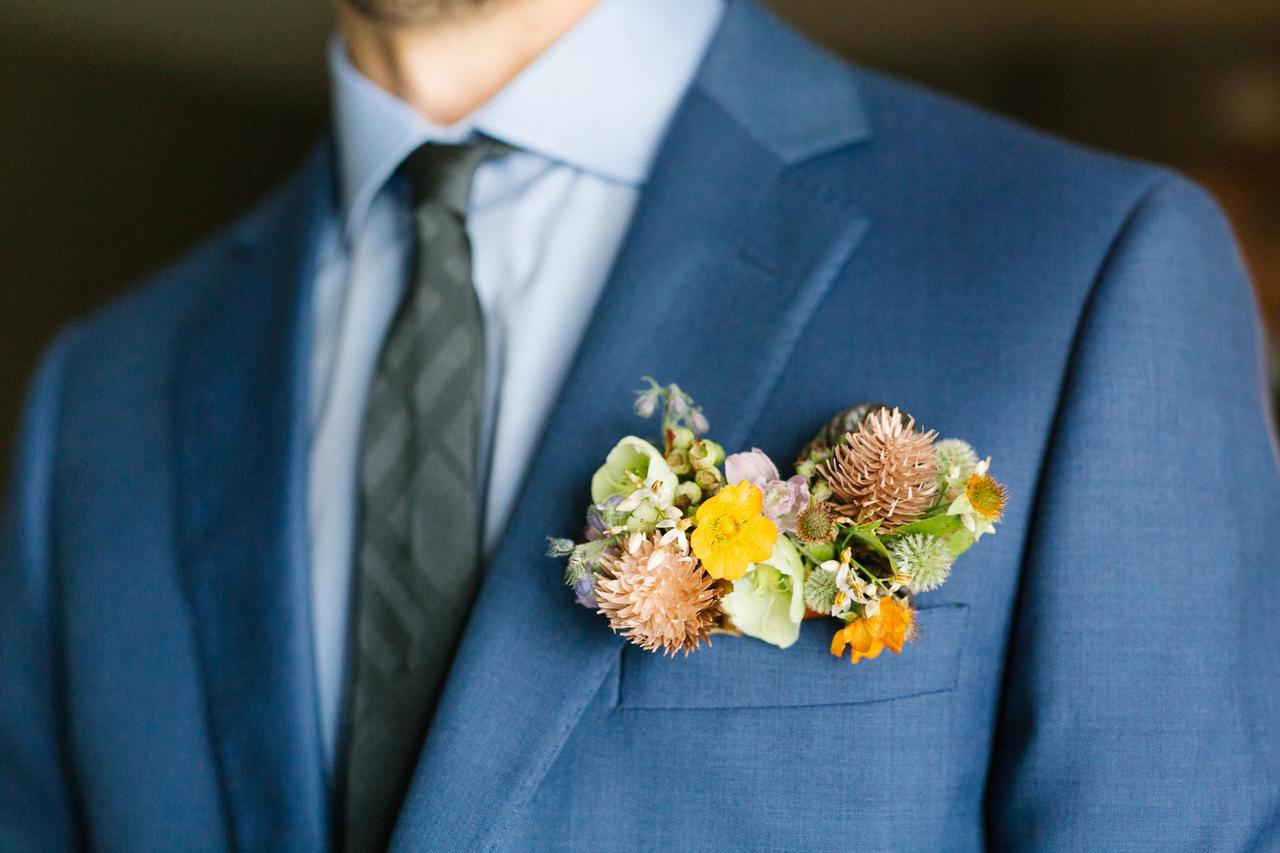 Pocket Square Boutonniere
When it comes to accessories, there's a question we hear from grooms pretty often: "Boutonniere, pocket square, or both?" The pocket square boutonniere moves the floral accessory from the lapel to the pocket, creating a unique look that's fresh, fun, and stylish all at once.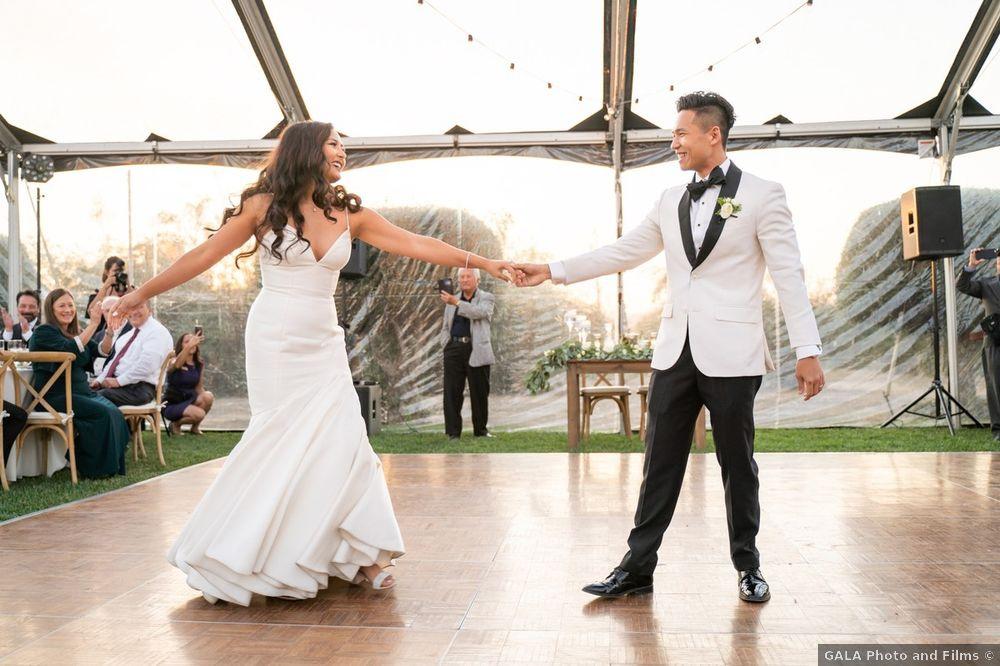 Playful Second Looks
Marbais has one question for 2022 grooms: What a better way to make an entrance to the reception than with an outfit change? "We predict that grooms will be going more cool, casual and a touch of their personal style when it's time to dance the night away," she said. "Whether it be a custom sneaker from their favorite brand, a swanky white dinner jacket, or leave the suit jacket behind for a fun pair of suspenders or bow tie. 2022 will be an incredible year of wedding fashion, and grooms are definitely going to want in on it."