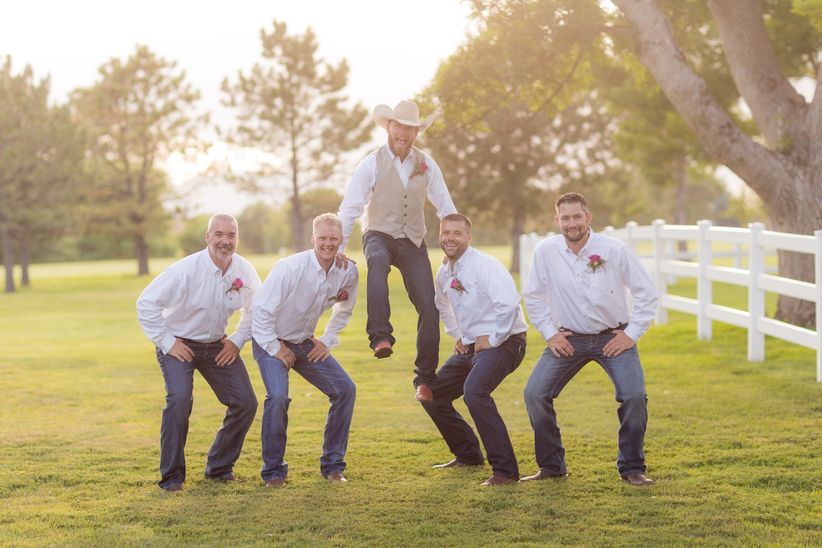 Photo: Irving Photography
Rustic can be used to describe a large variety of wedding attire, decor, and themes. It can be both relaxed and formal. Rustic weddings will often feature warm autumnal colors including orange, yellow, and burgundy.


Below are a selection of rustic wedding attire for grooms.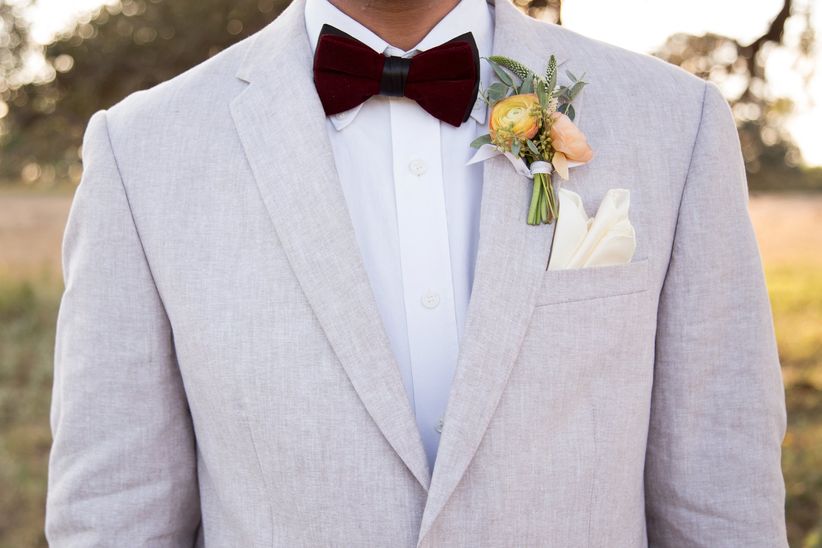 Photo: Dawn Elizabeth Studios
This groom looked dapper in a light suit paired with a white button down, burgundy bowtie, and cream pocket square. He completed the look with a ranunculus boutonniere.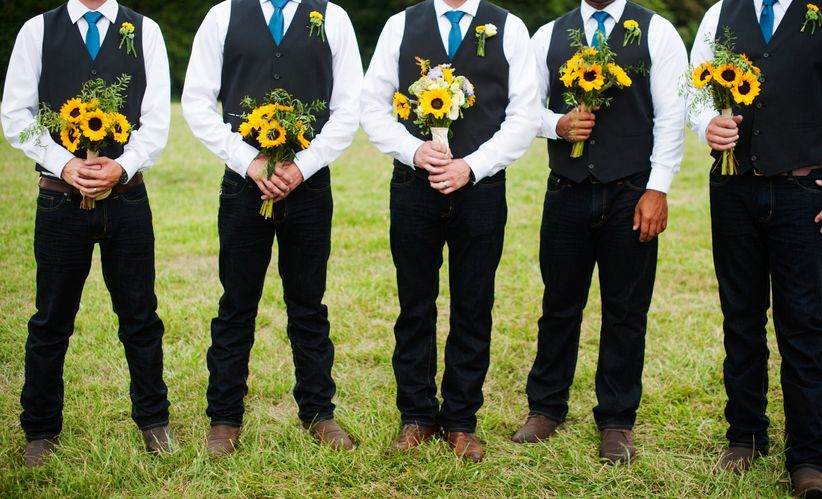 Photo: Skyryder Photography, LLC
For a more relaxed look, these gents dressed in black vests, dark wash jeans, and bright blue neckties.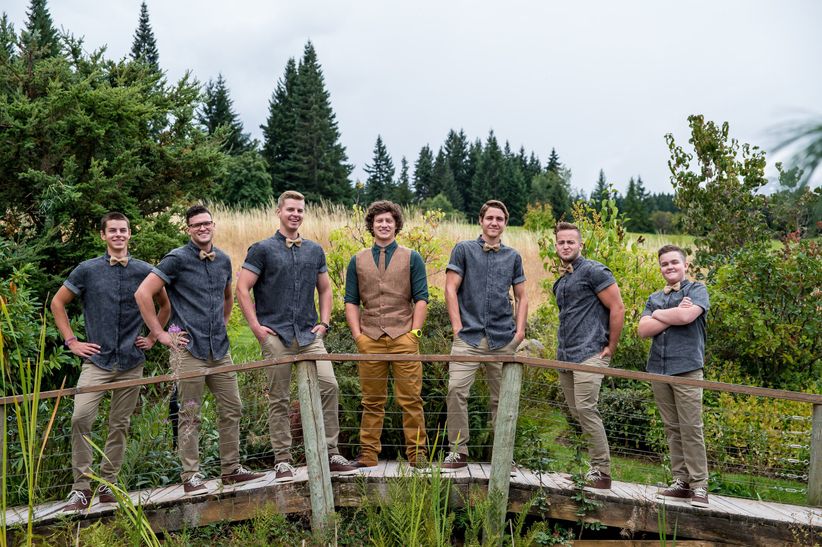 Photo: Red Letter Days Photography & Events
f you're planning to go with a super laid-back wedding, take it from this groom and his groomsmen. The groom donned khakis, a green button down, tweed vest, and matching necktie. While his groomsmen opted for lighter pants, chambray button downs, and beige bowties.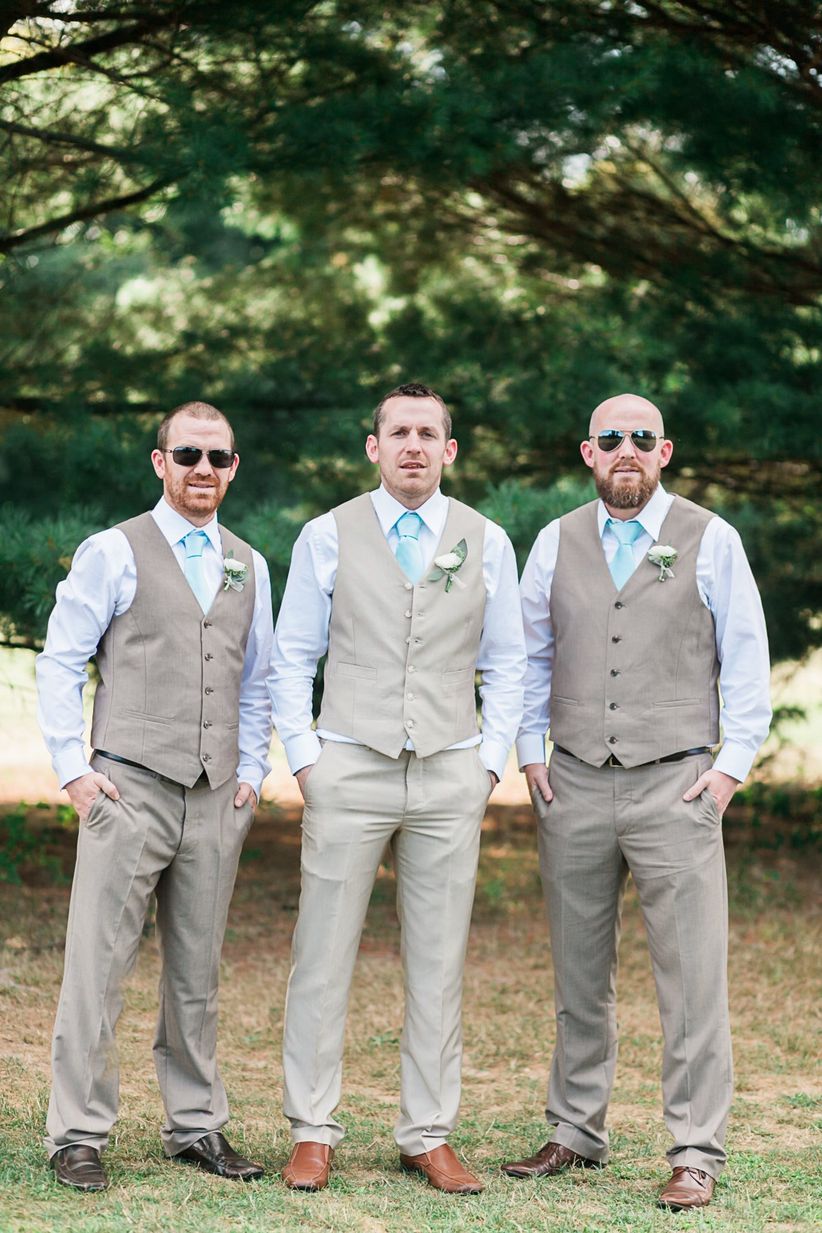 Photo: Monica Mendoza Photography
This groom and his groomsmen went with a slightly more formal look of khaki slacks, matching vests, pale blue button downs, and vibrant ties.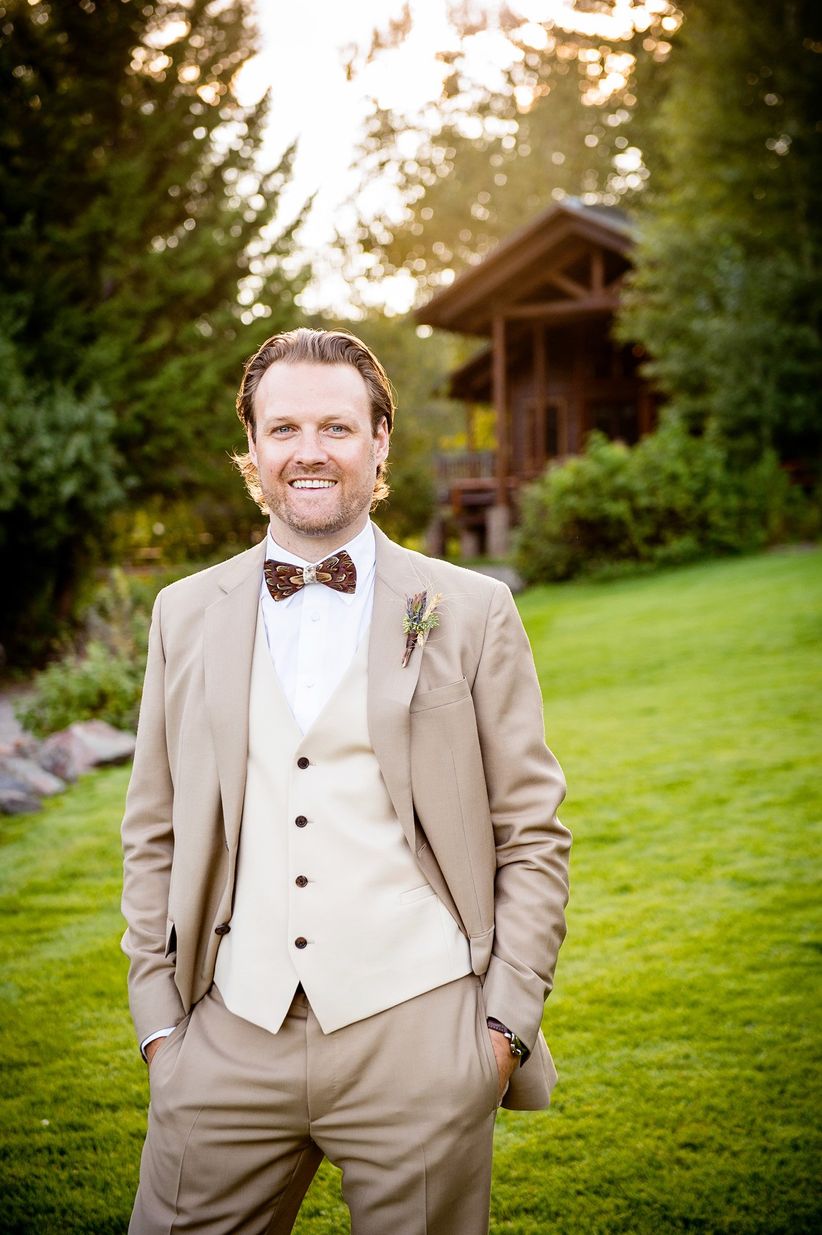 Photo: Lauren Brown Photography
This handsome groom wore a warm brown suit with lighter vest. He accessorized with a feather bowtie and wildflower boutonniere.
Photo: Krizel Photography
Hosting a wedding in a colder climate? Be like this groom and his groomsmen. They opted for dark slacks and floral ties, with the groom donning a herringbone jacket.
Photo: Trish Kemp Photography
If you're still looking to wear a tux on your big day, draw in some rustic vibes like this groom did with his gorgeous calla lily and fiddlehead fern boutonniere.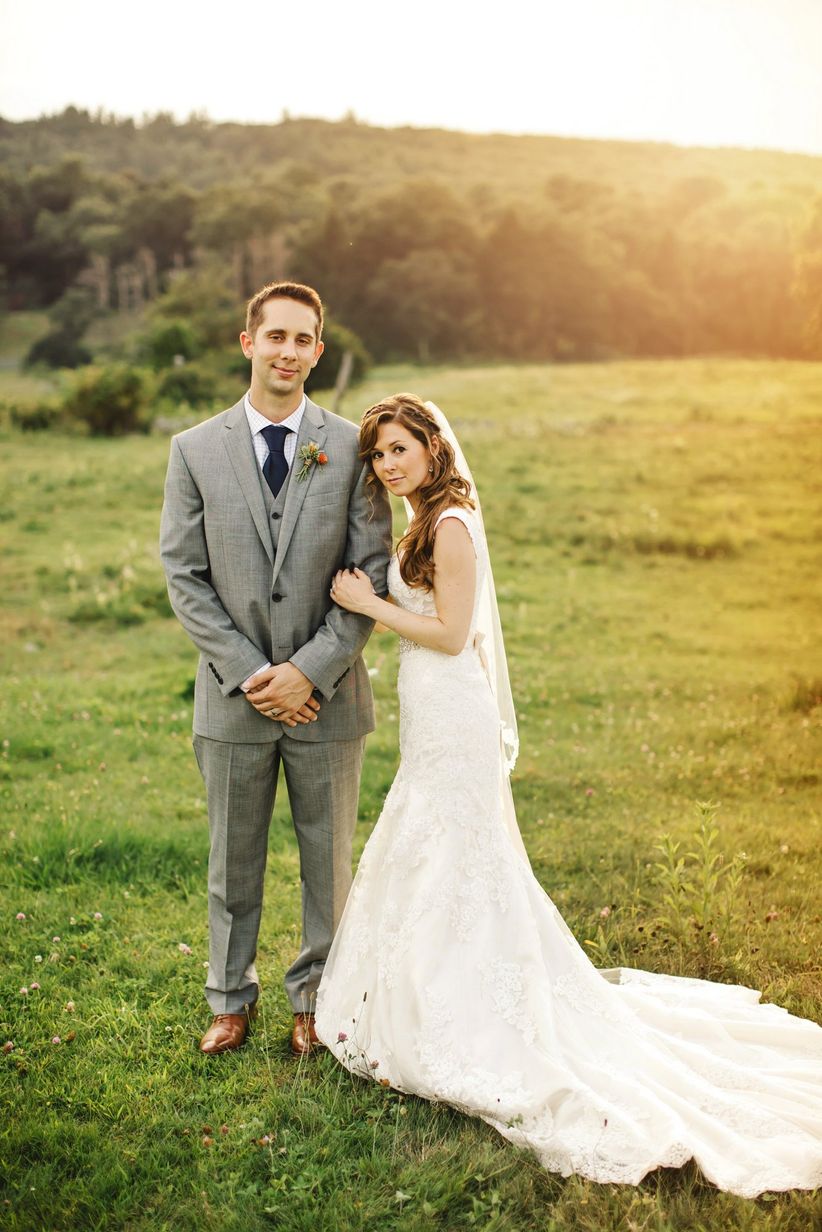 Photo: Lena Mirisola Photography
In a similar formal style, this groom looked dashing in a light grey tux paired with a dark-hued necktie.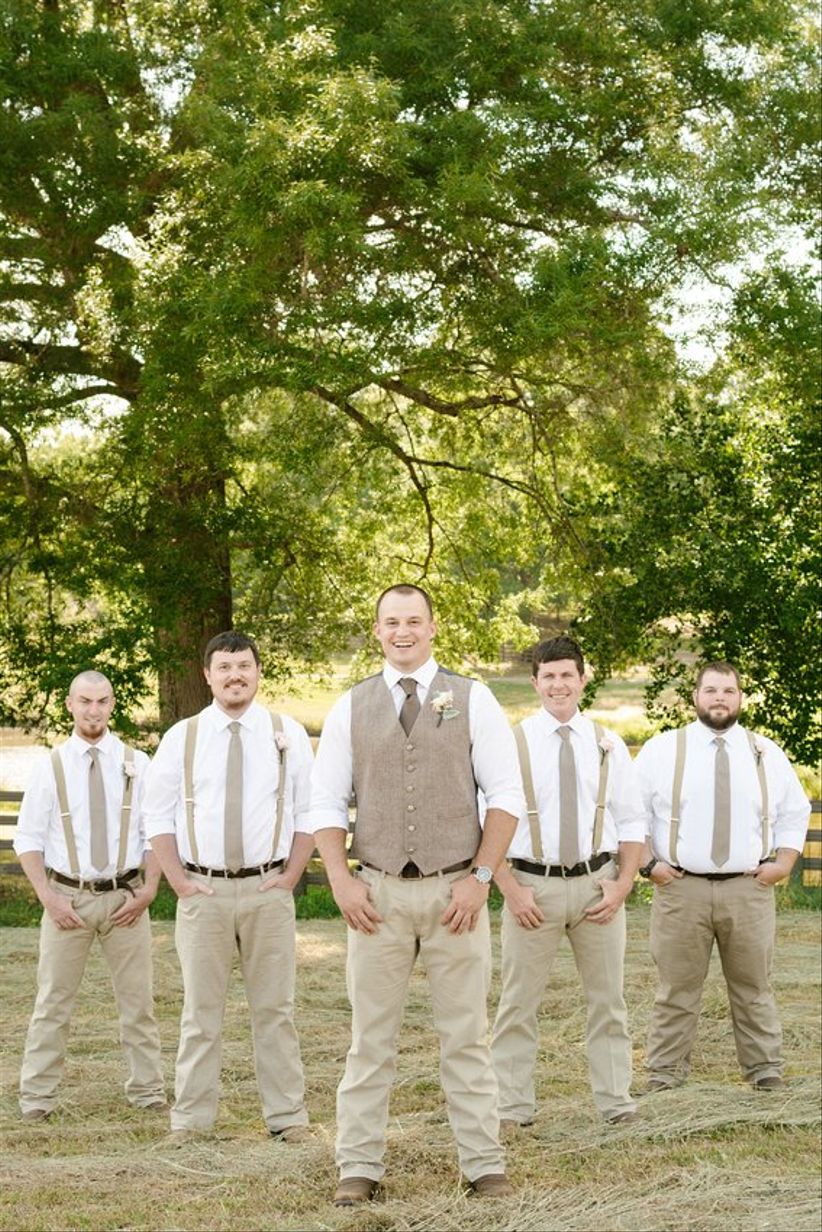 Photo: Brandy Angel Photography
We're loving this casual groom and his groomsmen in khaki slacks paired with white button downs with darker brown ties.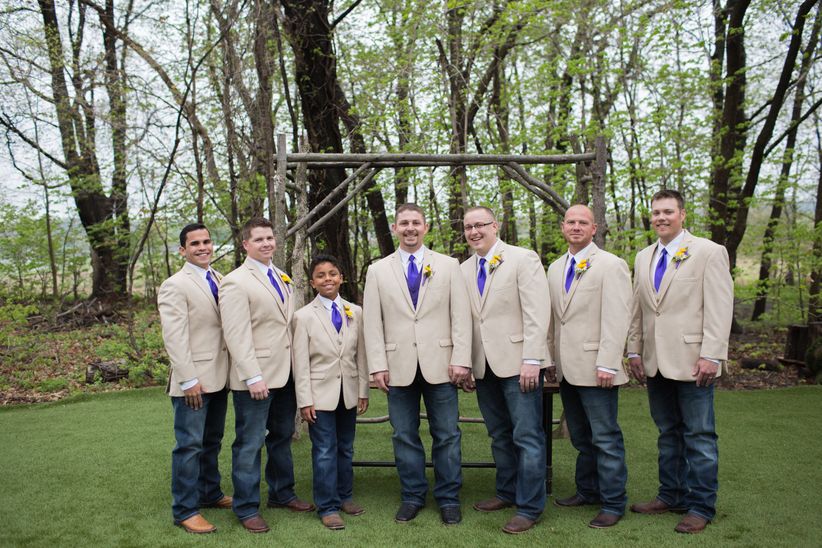 Photo: Nicolette Sessin Photography
These men look handsome in khaki jackets, paired with dark jeans and bright purple neckties. The completed the look with bright floral boutonnieres.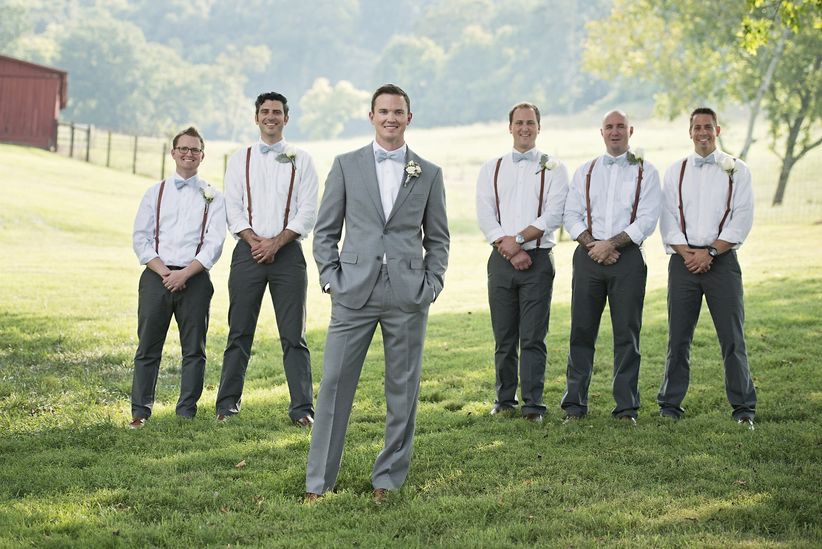 Photo: Rebecca Denton Photography
Rustic looks can be dressed and dressed down like this groom in his groomsmen. The groom opted for a light grey suit while his groomsmen donned darker-hued slacks, paired with burgundy suspenders and light-colored bowties.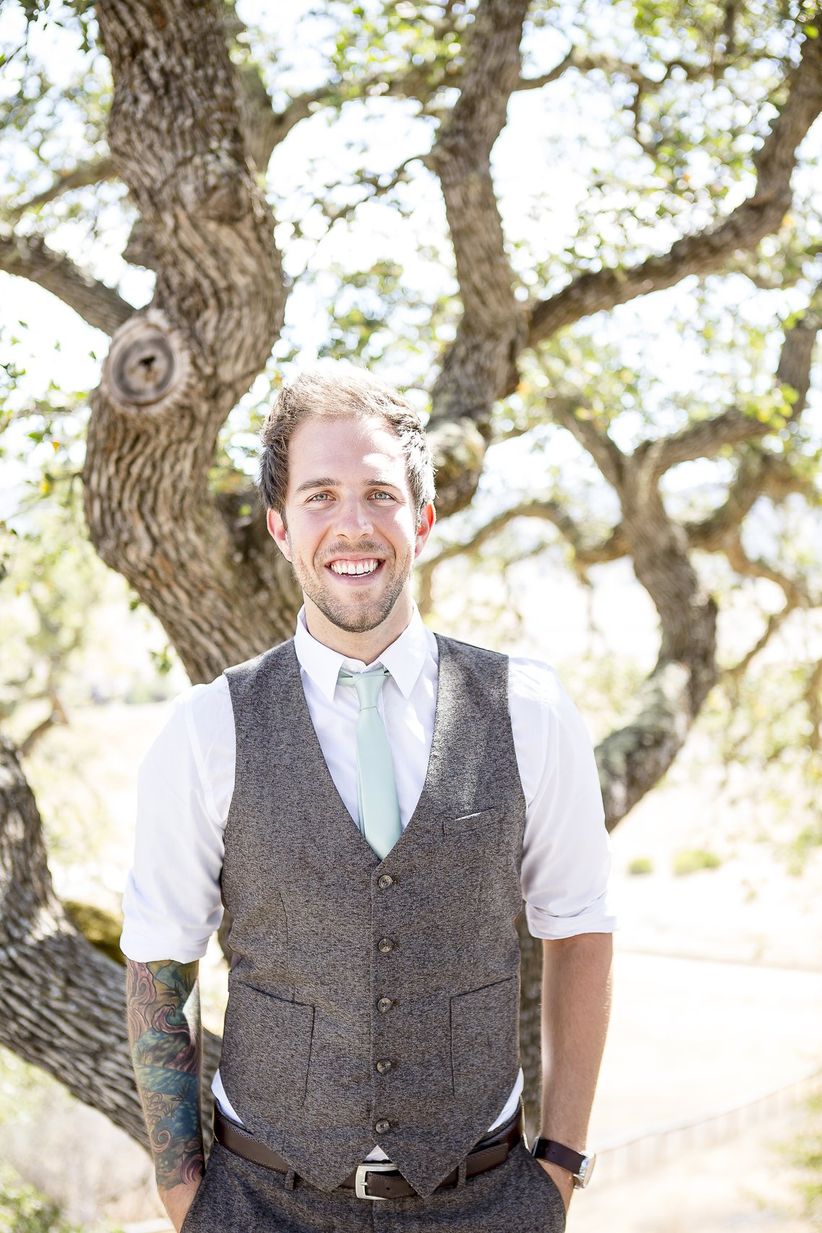 Photo: Ballad's Photography
We can't get enough of this groom's tweed vest and matching vest, which made his mint-colored necktie pop!