A Guide to Rustic Wedding Attire for Laid-Back Grooms
Not sure what to wear for your rustic or outdoor wedding? Check out this guide to men's rustic wedding attire for stylish (but casual) ideas.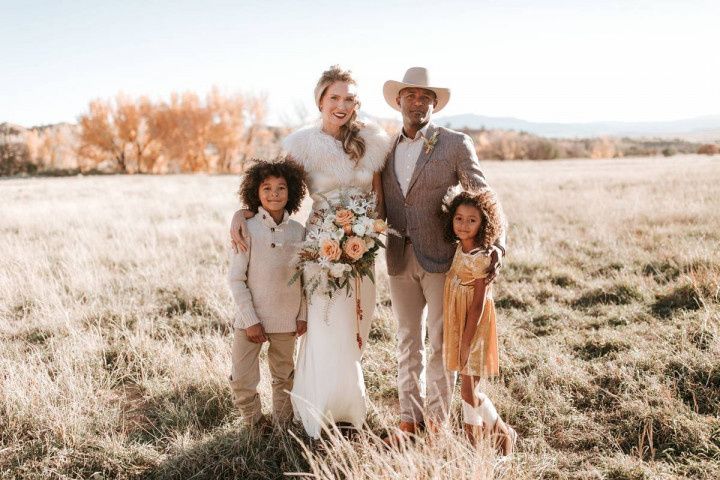 Rustic weddings can leave a lot open to interpretation, especially when it comes to the groom's attire. Traditional rustic wedding venues, like barns and ranches, usually have casual dress codes, but that doesn't mean throwing on a button-down shirt and khakis and calling it a day. This guide to men's rustic wedding attire explains the ins and outs of laid-back style, whether you're going full-on country in jeans and boots or you're looking for a modern take on rustic fashion.
Here's what you need to know about men's rustic wedding attire.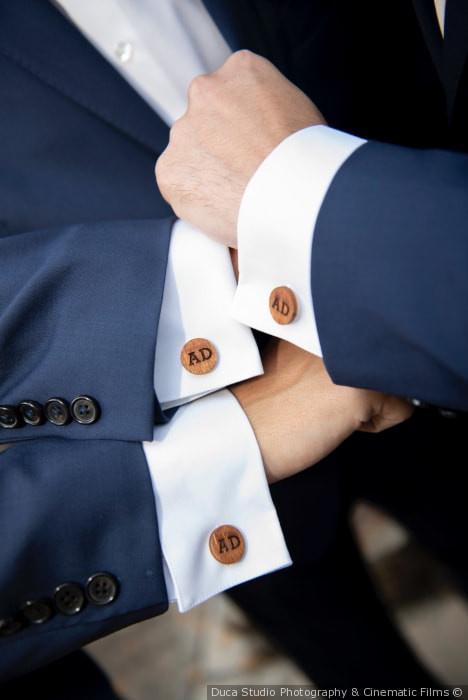 Cufflinks
Just because you're going for a casual look doesn't mean you should forget about the small details on your wedding day. Even the littlest things can make a difference when it comes to completing your groom style—cufflinks are a practical accessory if you're wearing a dress shirt, but they're also a fun opportunity to tap into your rustic aesthetic. Instead of traditional metal cufflinks, which might feel too formal for men's rustic wedding attire, try wooden circle cufflinks. Even better? Engrave them with your initials to create a keepsake set.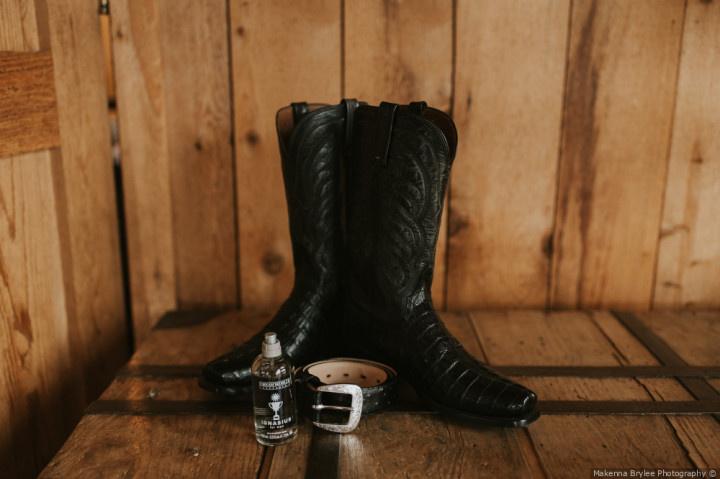 Boots
If you live in your cowboy boots, wearing anything else on your wedding day might seem unrealistic. Wearing boots on your wedding day is totally appropriate for a rustic wedding, especially if you're getting married outdoors on a farm or ranch, but there's more to it than simply stepping into your dusty old pair of shoes. We suggest a nice pair of dress boots, whether you already have them tucked away in your closet (be sure to give them a good cleaning and polish first) or you invest in a brand new pair for the occasion. A black leather style is tastefully low-key.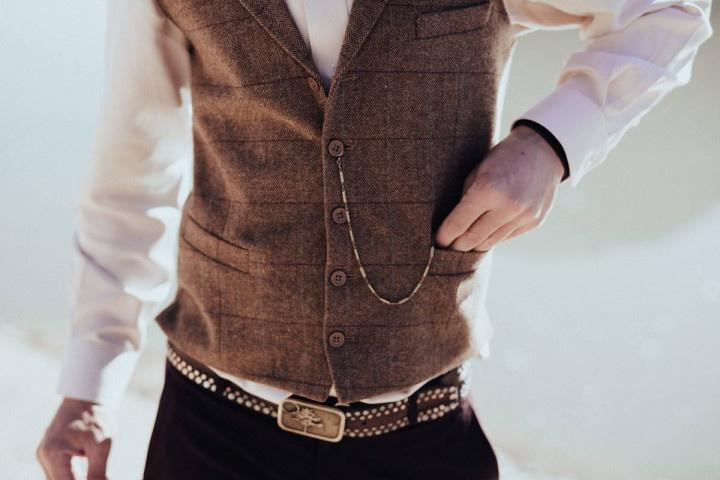 Tweed
This woolen fabric instantly makes you look put together and stylish without requiring much effort at all. A tweed suit or vest is a great pick if you're having a rustic wedding in the fall or winter, and the thicker fabric is more durable than a silk or satin weave. Tweed has a dapper retro vibe, especially when paired with a white button-down shirt and pocket watch.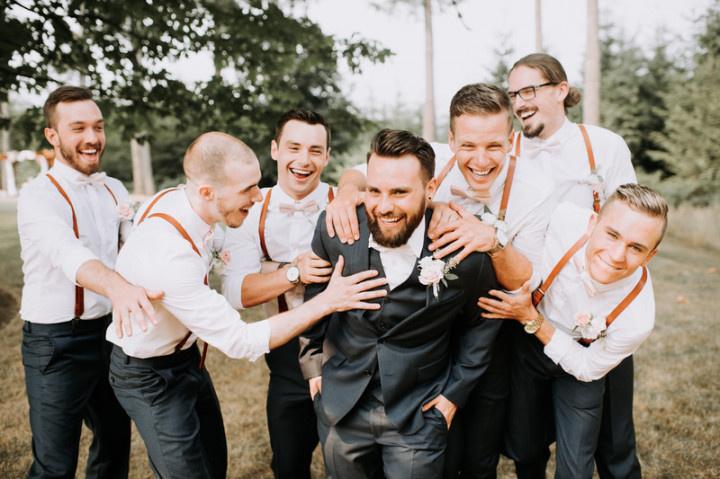 Suspenders
For an even more casual look, skip the vest and jacket for a pair of suspenders instead. This budget-friendly accessory comes in all types of colors, patterns, and fabrics, so the options are essentially endless when it comes to finding a pair of suspenders you like. Pair brown leather suspenders with a white button-down, pink bow tie, and gray dress pants for a vintage-meets-rustic result.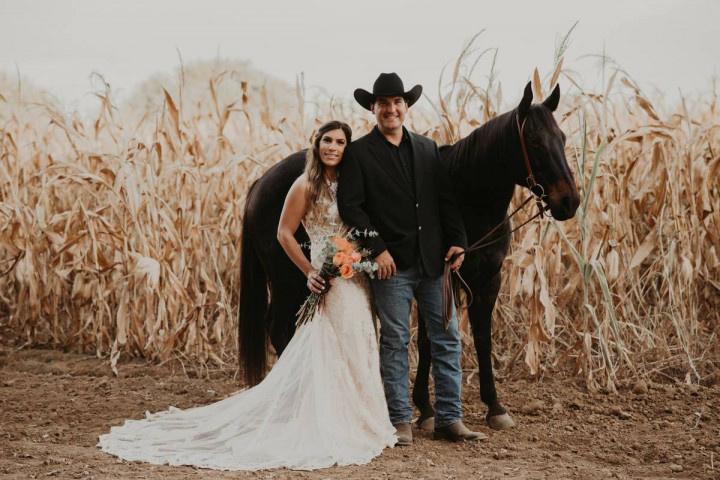 Denim
Now for the million dollar question: Can you wear jeans on your wedding day? Technically, it's your day, so the answer is yes! Jeans are a popular (although sometimes controversial) choice when it comes to men's rustic wedding attire, but if you're thinking about wearing denim on your big day, there are a few things you need to keep in mind. First, consider what your partner will be wearing. If their wedding outfit is over-the-top fancy, will jeans look too out of place? Next, think about your wedding venue. Jeans are only appropriate in very casual settings, such as a backyard or a farm. Finally, consider how you're going to style the jeans. Say no to any jeans with rips, stains, or shredded hems—this is still a wedding! Stick to darker washes and a tailored fit (no super baggy jeans, please) for the most put-together result. On top, we love the look of a monochromatic black shirt and sport coat. Channel your inner Garth Brooks with a matching black hat.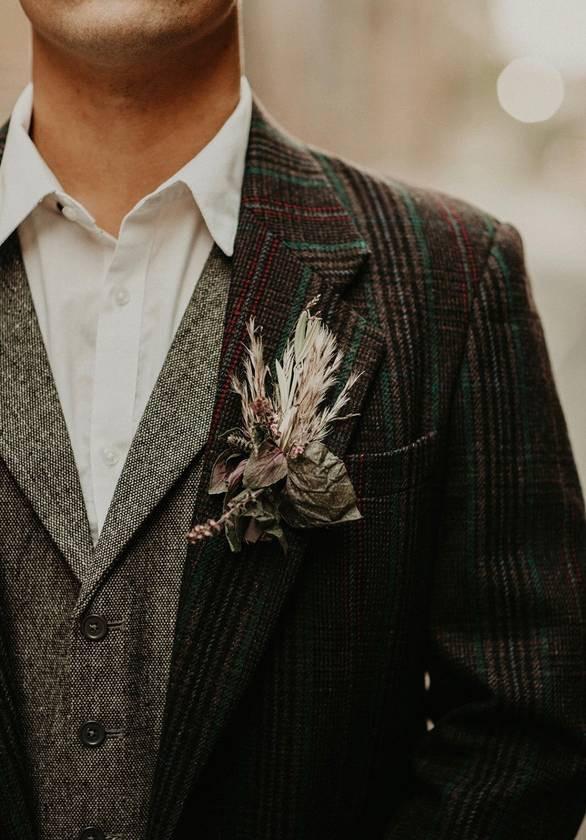 Boutonniere
Complete your wedding outfit with a boutonniere—a small bundle of flowers or greenery that's traditionally pinned to your left jacket lapel. Dried accents, like pampas grass, wheat stalks, and thistle, are trendy options for rustic boutonnieres. Ask your wedding florist to design your boutonniere based on what will best match your wedding colors and your overall attire.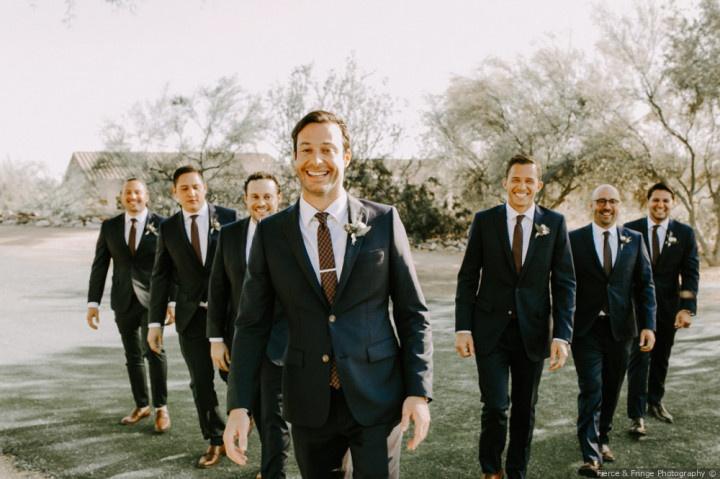 Patterned tie
If you're not sold on traditional men's rustic wedding attire, try a modern rustic approach instead. A slim-fit suit in a darker color is casual enough for a rustic dress code while still giving you a slightly dressed up appearance—skip the vest for the most informal look. Finish with a patterned tie (we like gingham and floral prints) that will complement the laid-back suit.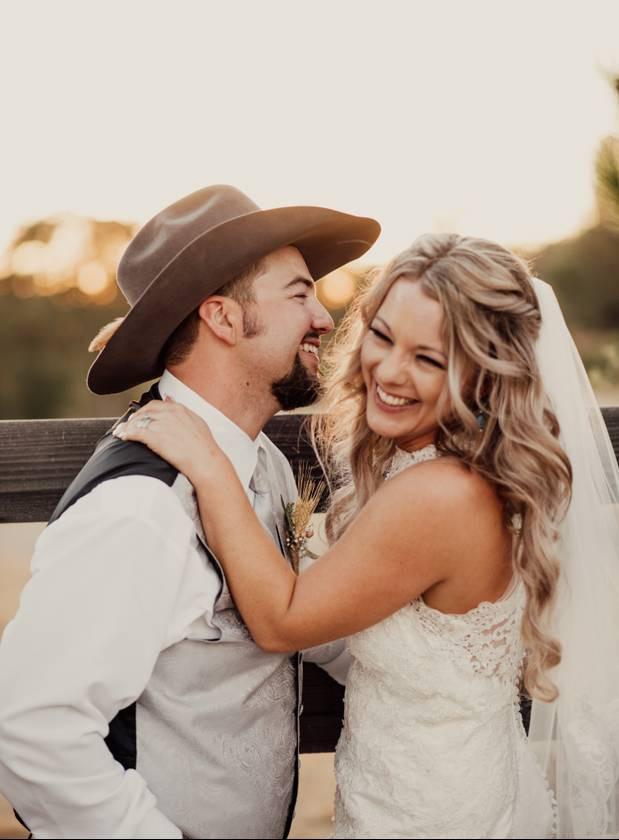 Cowboy hat
Whether you can't spend one day without your hat or you're just looking for an idea to jazz up your wedding outfit, a cowboy hat is totally appropriate for men's rustic wedding attire. Since the hat will make your entire outfit more casual, treat yourself to a new style or make sure your favorite one is in top condition.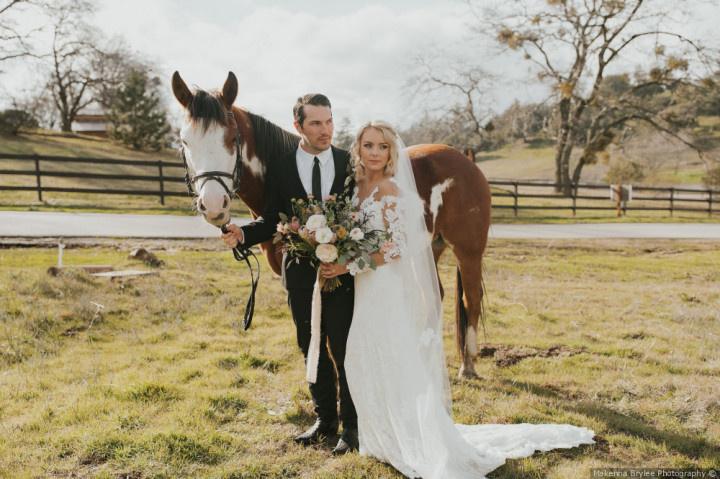 Classic-with-a-twist
You can achieve a subtle rustic look by pairing traditional pieces, like a black suit and black tie, with more casual accessories. The addition of black cowboy boots gave a bit of country flair to this groom's otherwise classic look.