Here's What to Wear to a Wedding, According to the Experts
At a loss when it comes to choosing wedding guest attire? Here's our guide to what to wear to a wedding—and what you should avoid wearing at all costs.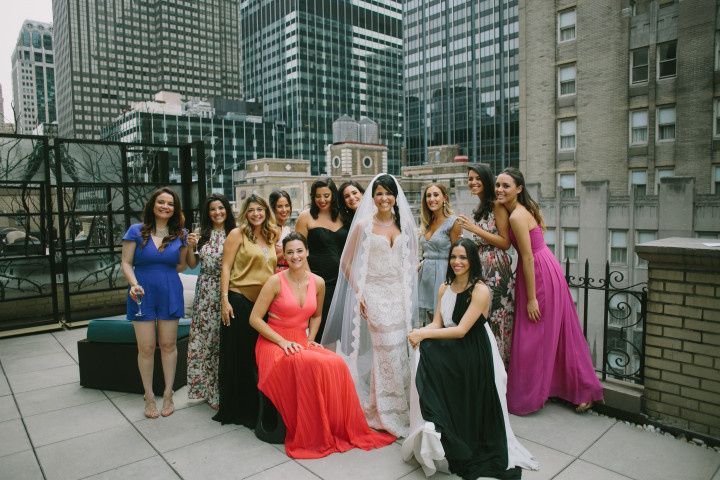 While it's exciting to get an invitation in the mail, figuring out what to wear to a wedding might be a little less exciting. But dress codes don't have to be hard! If you pair the dress code with what you know about the setting—and throw in a few expert styling tips—you'll be guaranteed to be the best-dressed person there (aside from the bride, of course!). We asked Ani Hovhannisyan, a wardrobe stylist and founder of bridal styling company Through the Veil, to decode the dress codes you're likely to see come wedding season and provide suggestions for wedding guest outfits.
Stop starting blankly at your closet and read our dos and don'ts on what to wear to a wedding.
A Casual Backyard or Outdoor Wedding
DO: Wear a short, playful dress in pastel colors. "You can even wear flats if the wedding will be in the grass and is super casual," says Hovhannisyan.
DON'T: Overdress. "When figuring out what to wear to a wedding, remember that it's rude to look more formal than the bride, and if the wedding is casual, her dress might be on the more simple side," she explains. So keep the embellishment and fancy details to a minimum! Also, don't forget about the weather and the setting. "Don't wear something you'll regret getting dirty, and don't wear suede if it looks like rain. You might want to bring an extra pair of shoes with you in case the weather does get messy."
A Casual Beach Wedding
DO: Choose something airy and light, like a maxi dress or a crochet skirt with a silk cami. "Dress simply, yet elegantly. Don't wear too many layers, and choose flats or shoes you can easily get on and off if you'll be in the sand," Hovhannisyan suggests.
DON'T: Overdo the accessories. "This setting calls for a light, natural look. Choose stud earrings or dainty dangly ones instead of big statement jewelry."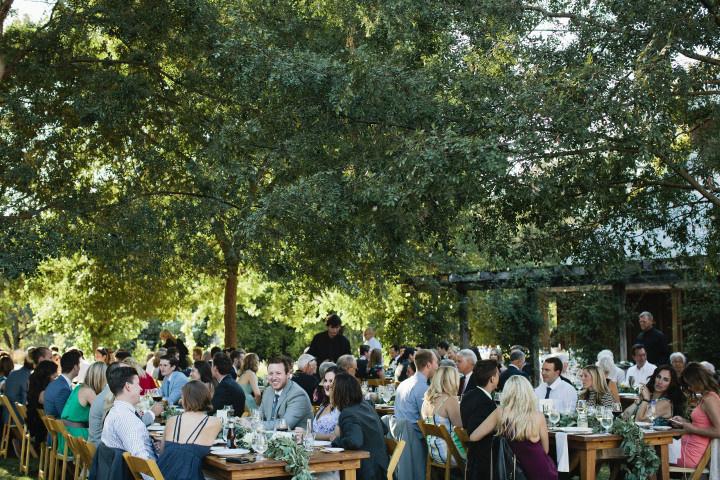 A Formal Beach Wedding
DO: Accessorize wisely. "If you want to wear more flashy jewelry, a formal wedding is the time to do it—just choose one flashy accessory and no more than one other piece of jewelry as an accent," Hovhannisyan says. Formal beach weddings often take place at bigger hotels or resorts, making a dressed-up vibe fit well. "Again, refrain from heels unless you know you won't be in the sand!"
DON'T: Go crazy with the beach motif. "When figuring out what to wear to a wedding, incorporate a beachy vibe through your hair and makeup. If your hair is longer, opt for loose, tousled curls. Your makeup should be sun-kissed and bronzy," says Hovhannisyan.
A Rustic-Chic Wedding in the Mountains
DO: Bring a jacket, as it tends to get cold at night. "If you're wearing something more formal and want to stick to the theme, incorporate a suede belt or cowboy boots," says Hovhannisyan. "I once had a bride do her bridal portraits on a horse farm, in a short lace dress and boots. She was so in her element!" You might want to wear a cocktail dress or a bell sleeve, crepe dress that hits above the knee, especially if it is a more casual setting. "And if you're a hat gal, this is the time to whip out your favorite felt or cowboy hat!"
DON'T: Wedding guest outfits shouldn't stick out like a sore thumb. "Try not to wear anything that's got too much fabric or is overly bohemian," Hovhannisyan advises. "The mountainside is about relaxation and ease, but don't forget the 'chic' part of the dress code!"
A Semi-Formal Cocktail Party at an Art Gallery
DO: Pick a cocktail dress or chic suit. "When deciding what to wear to a wedding in an art gallery setting, know that it's a great time to wear your statement dress or accessories that are a little more eye-catching. Chances are everyone will be in more fashion-forward attire," Hovhannisyan says. "Definitely wear heels, and add a chic layer like a faux-fur stole."
DON'T: Wear anything that could come across as too informal. Think of this as a gallery opening, not a casual stop in while you're running errands in street clothes. "Men should skip the sneakers or daytime slacks in favor of tailored pants (even in a bright color). Your attire should be crisp, but can definitely be creative!"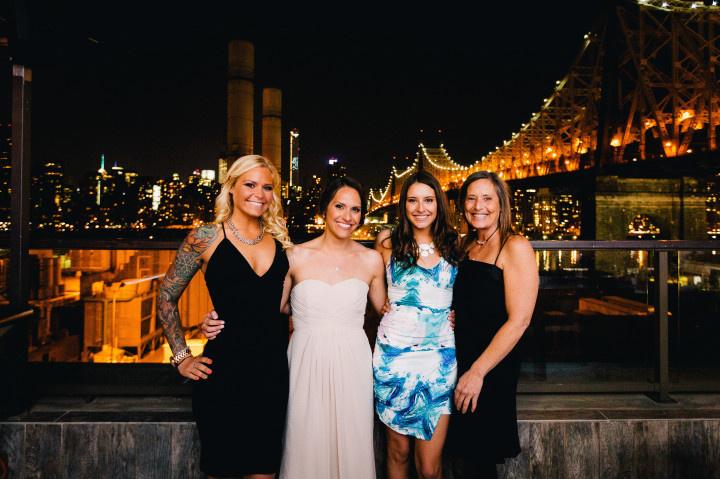 A Semi-Formal Cocktail Party at a Hotel
DO: Keep your attire crisp. The semi-formal aspect does allow you to dress down, but only slightly. "Men could wear dark jeans with a blazer and a crisp button-down, while women could wear a tea-length dress or a form-fitting pencil dress," says Hovhannisyan. Think after-work drinks, somewhere between business and cocktail attire.
DON'T: Wear everyday clothes. "Skip t-shirts, light denim, sneakers, and big purses," she says. Your accessories should be chosen intentionally: A chic clutch or small handbag, nice shoes, and more formal fabrics are key.
A Black Tie Wedding at a High-End Venue
DO: Walk the line between black tie and white tie. "If the wedding is at, for example, the New York Public Library, it's one of the most sophisticated settings a couple can choose," says Hovhannisyan. "Yes, it's formal, and yes, men need to wear a tux!" For women's wedding guest attire, lean toward a floor-length gown - and even consider a train. "It doesn't need to be as structured as a gown for a white tie affair, but should still be elegant and regal." It could be an a-line, Grecian, slinky, or poufy design, as long as it touches the floor. "Bonus points if your dress has a slit!" she adds, "And heels are a must."
DON'T: Go too casual. With such a formal setting, even a cocktail dress isn't quite enough unless the invitation specifically asks for it. Err on the side of fancier for wedding guest outfits, as the bride will definitely be wearing a statement gown to match the setting.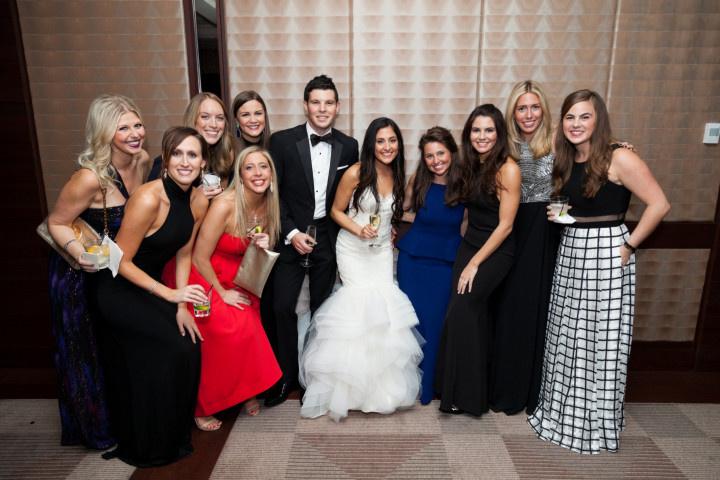 A Formal Ballroom or Golf Club Wedding
DO: Consider the setting. "These settings walk the line between semi-formal and formal, so depending on the setting and the couple's style, you could wear a silver lamé jumpsuit or a cocktail dress with statement jewelry," Hovhannisyan explains. For a ballroom celebration, you might want to go with a longer dress, while a cocktail dress is great for a golf club wedding.
DON'T: Forget to examine the invitation. When deciding what to wear to a wedding, the invitation's wording and design will give you clues into what is a good fit: A sleek, shining invite is begging for that jumpsuit, while a muted design with a floral motif is probably not going to be the right setting for something so fashion-forward.
A Few Extra Tips
When it comes to what to wear to a wedding, know the difference between black and white tie. "White tie is the most formal dress code, where men must wear a black tailcoat, a white wing-collared shirt, and a white bow tie. Women should wear structured, floor-length gowns with a train," says Hovhannisyan. Bust out your nicest jewelry, best shoes, and a fur coat if you've got one. "White tie is definitely not a fluid dress code!" Black tie, on the other hand, allows for a little more flexibility. "Women can wear short or long dresses, as long as they are embellished in some way, and could even wear a tailored suit. Men should wear tuxedos, but a black suit with a black bowtie could work if you don't own one or don't want to rent."
If you're trying to figure out what to wear to a wedding, dig into your closet to identify your options. "If everyone you know is getting married, look for basics that you can mix-and-match," she says. "I love a black pencil skirt with a bodysuit, changing up the bodysuit's style to fit the occasion and weather and layering blazers or capes if needed." And don't feel like you're limited to skirts and dresses. "Jumpsuits and tailored suits are great, too," says Hovhannisyan. "As long as you accessorize well and have great hair and nails, you're good to go!"