How to Have a Beach Wedding
Planning to say "I do" by the water? Here's everything you need to know about planning a beach-themed wedding.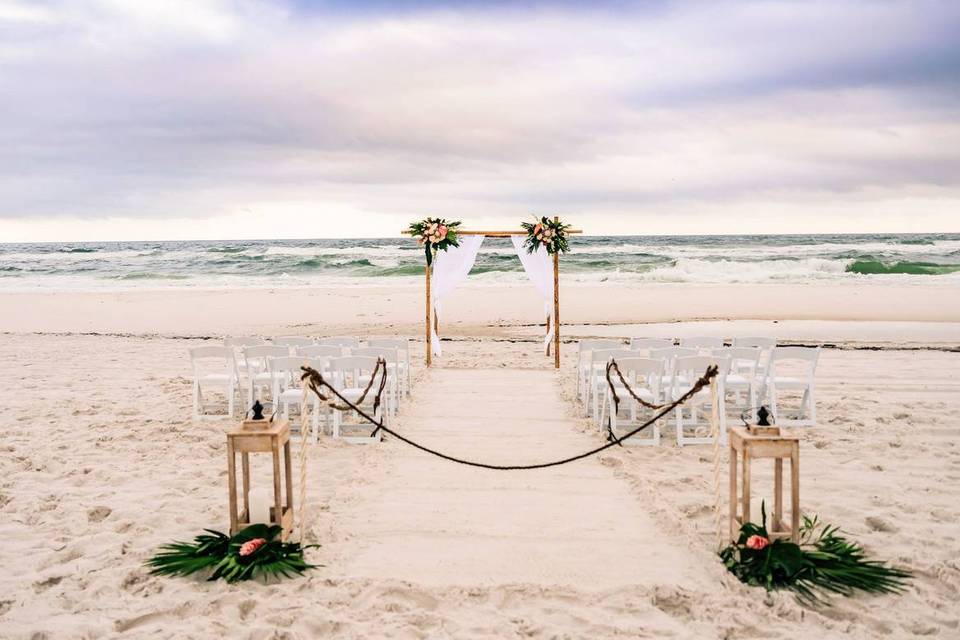 A beach-themed wedding is an excellent choice if you're looking to create a fun, casual atmosphere for your wedding day (or if you're getting married by the water, naturally). Whether your beach wedding aesthetic leans more tropical, classic, or boho, this style is all about effortless, welcoming details that allow the natural beauty of your waterfront venue to shine. If you're planning a beach wedding, here's what you should consider—including some of our favorite beach wedding decorations and ideas for the big day.
Beach Wedding FAQs
Do you need a permit for a beach wedding?
The answer will depend on exactly where you're getting married, but you should err on the side of caution and assume that you will need a permit for your beach wedding. This is especially true for public beaches and parks, while you're less likely to need an additional permit if your wedding venue has a private beach. If you're having trouble navigating the permit system (something that can be especially tricky for destination weddings), consider contacting a local wedding planner who has experience working at your wedding venue—they'll know exactly what to do and will be happy to help.
What are the best beach wedding venues?
There are plenty of beaches across the country (and the world) that are stunning options for a wedding. Some of the most popular beach wedding spots in the U.S. include Florida, Cape Cod, Southern California, and Hawaii. If you're considering a destination wedding, Mexico and the Caribbean are filled with luxurious beach resorts and oceanfront venues.
Even if you aren't tying the knot at an oceanfront location, you can still have a beach-themed wedding—especially if your venue is near any other body of water, such as a river or lake. Some of our favorite non-beach venues for this style include yacht clubs, lake houses, and bayside lawns.
What are the best beach wedding colors?
A beach-themed wedding is perfect if you love bright and vibrant color palettes. If you're going for a tropical look, choose a playful color scheme like fuchsia, teal, orange, yellow, purple, and green. For a nautical wedding, focus on a classic color palette with pops of bold colors, such as navy blue and white with coral or blush. Love boho style? Add warm tones to your beach wedding palette, like rust orange, marigold, and dusty rose to create an earthy, free-spirited vibe.
If statement hues aren't your thing, you can opt for pastels and neutrals instead, which will give your wedding a vintage, beachy chic look. A few combinations we love if you're going this route: light blue and gray, ivory and peach, or white and turquoise.
What are the best flowers for a beach-themed wedding?
If your beach wedding color palette is filled with tropical colors, go for statement flowers that will complement the energetic vibe, such as stargazer lilies, orchids, hibiscus, anthurium, plumerias, palm leaves, and proteas. For a beach-themed wedding with classic or vintage elements, choose flowers that are available in white or pastel tones. Hydrangeas, roses, peonies, ranunculus, anemones, sweet peas, and delphinium are just a few that we love. Finally, if you're planning a boho-meets-beachy wedding, you can add lots of greenery or pampas grass to give the bouquets and arrangements a wild, untamed look.
If you want to include beach-inspired accents to your flower arrangements, use a few well-placed seashells or starfish, or add sailing rope and long ribbons, which look lovely blowing in an ocean breeze. Hurricane vases and antique-style lanterns are popular for beach wedding centerpieces. You can fill them with sand or seashells and top them with flowers, or leave them uncovered and add votives or floating candles for a romantic effect.
How do you decorate for a beach wedding theme?
One of the great things about having a beach wedding ceremony is that you can keep your decor minimal and let the scenery do the work for you. With an ocean view, you won't need much else to wow your guests—nor would you want to block out the natural beauty of your venue! For the ceremony, we recommend limiting your decor to an altar, arch, or chuppah, along with aisle markers and a sign or two at the entrance. And if you're using a public beach, keep in mind that there might be a limited amount of time to set up for the ceremony, along with restrictions for the types of decor you're allowed to use. Our final tip: Beach and waterfront venues can also get unexpectedly windy, so carefully secure any decor to avoid mid-ceremony mishaps.
Beach wedding decor doesn't need to be fussy or overdone. Be selective when it comes to choosing beach-inspired accents—you want your wedding to still look like a wedding, not a beach town souvenir shop overrun with mismatched pieces. Seashells, starfish and sand are all ideal for a beach-themed wedding, but we suggest using them in moderation. Remember: Sometimes less is more, and not every piece of your decor needs to be beach-themed. The key is to mix in non-beachy items to keep the space balanced and cohesive.
Citrus fruits and pineapples are popular accents if you're going for a tropical beach wedding aesthetic. Known as a symbol of hospitality, pineapples are cheerful and welcoming, and they can easily be used as wedding ceremony aisle markers or centerpiece accents. Citrus fruits (lemons, oranges, limes, kumquats) can be used to create an eye-catching centerpiece, display escort or place cards, or to decorate your beach wedding cake.
Beach-Themed Wedding Ideas We Love
Call us biased, but browsing wedding inspiration is one of the most exciting things about wedding planning. Use these beach-themed wedding ideas to get started once you're ready to plan your decor.
Beach wedding invitations
Colorful hibiscus and pineapple motifs will give your wedding guests a glimpse of your beach-themed wedding as soon as they open their invites.
Yellow bridesmaid dresses
A beach wedding venue is the perfect opportunity to go bold with your bridesmaid dress colors. We love these mix-and-match yellow gowns for a cheerful, lively look.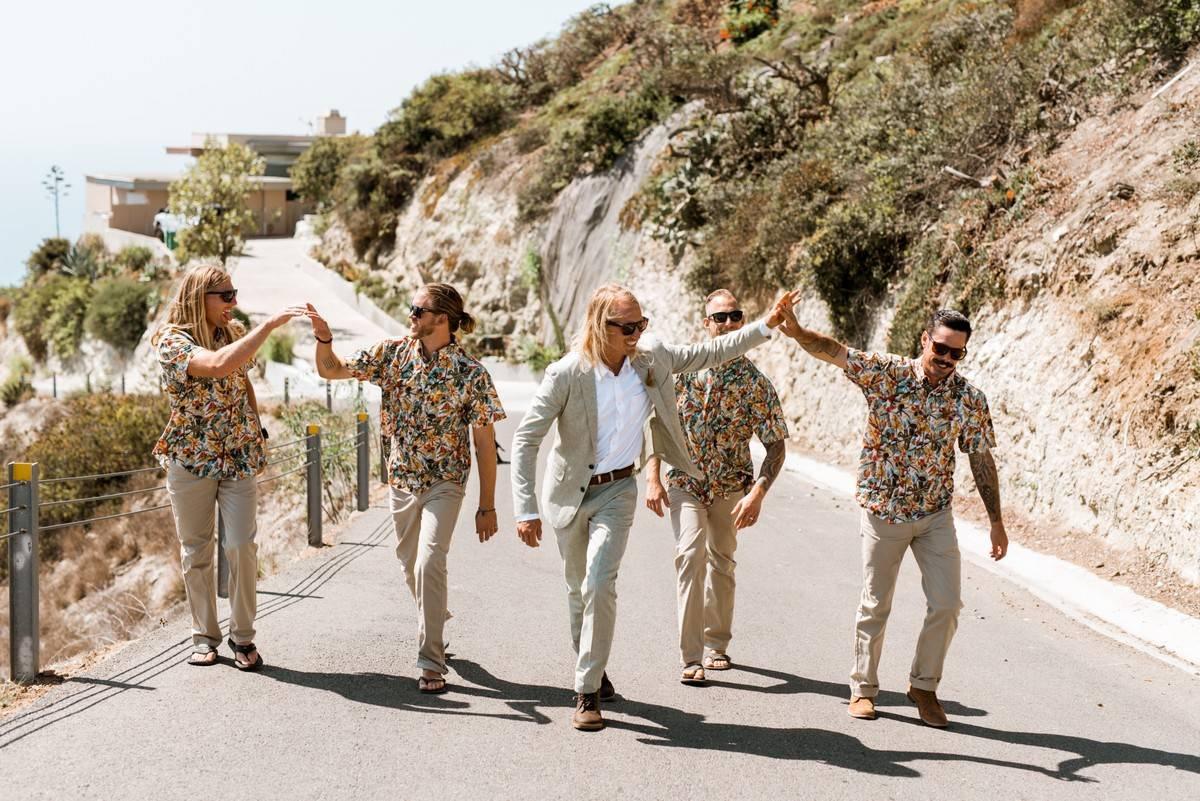 Beach groomsmen outfits
Outfitting your wedding party in Hawaiian-print shirts and flip flops won't fly anywhere else except at a beach venue. Good tailoring and quality are essential if you want to keep this ultra-casual look from becoming sloppy—you may be going for a laid-back vibe, but clothing should still be ironed and shoes should be in good shape.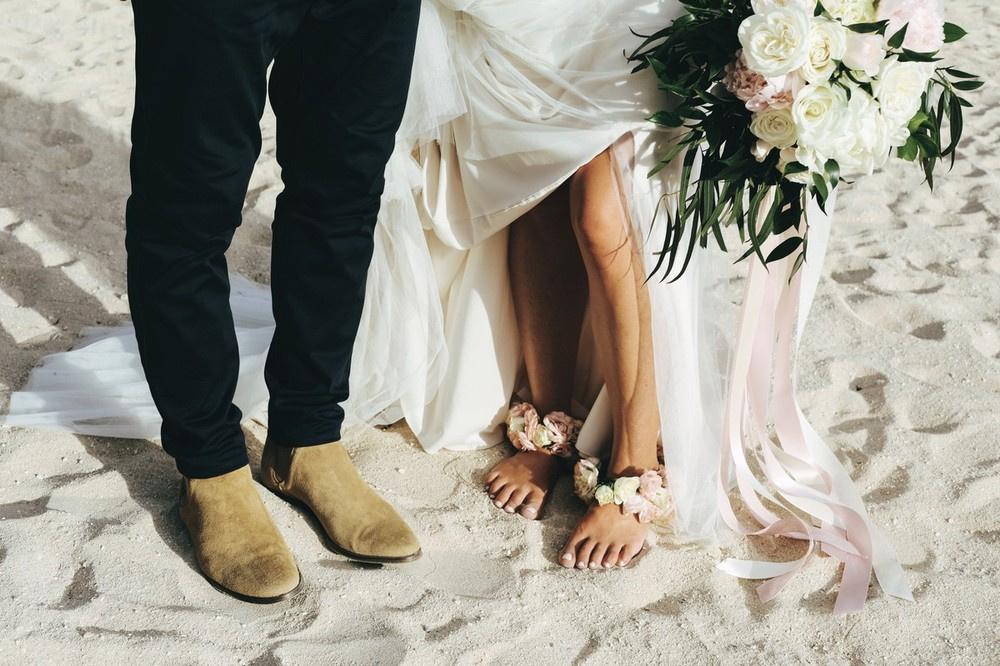 Lei anklets
If you're going barefoot for your beach wedding ceremony, consider adding lei anklets to accessorize your look. Leis are especially popular for Hawaiian weddings and symbolize love, friendship, and celebration.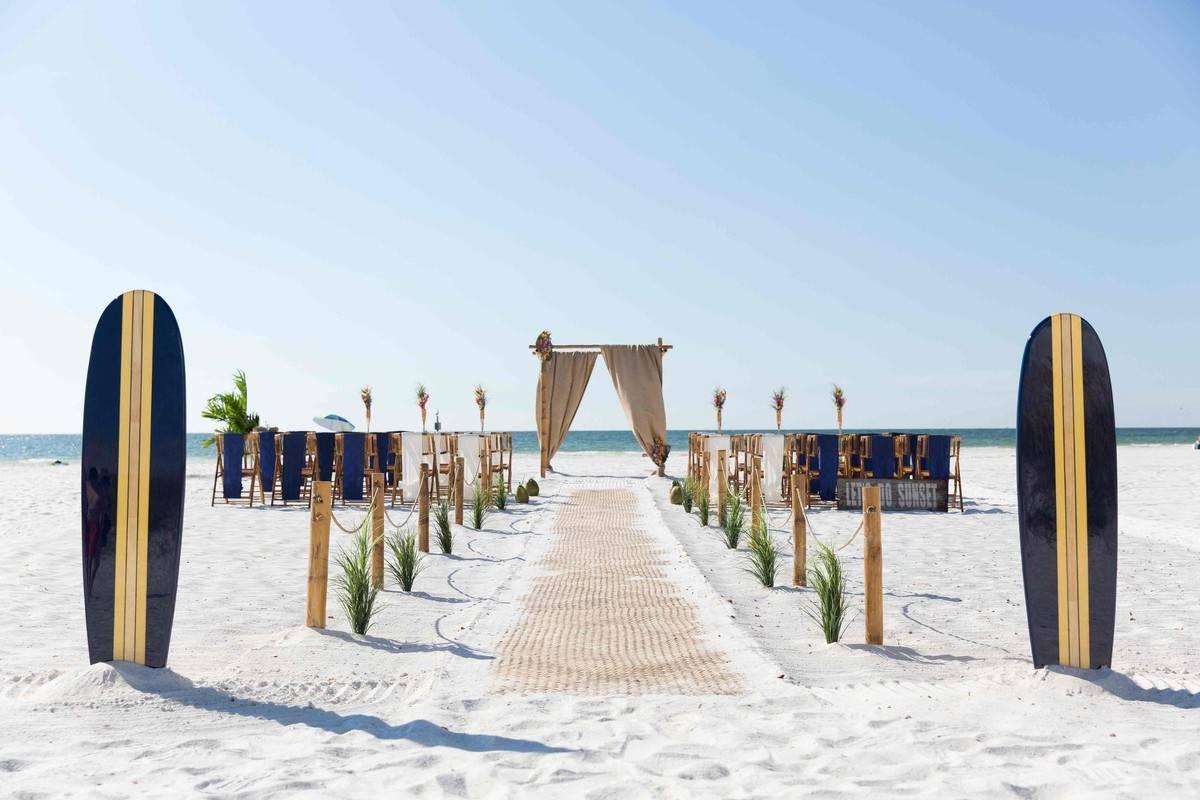 Surfboard aisle markers
Wow your guests by marking the entrance of your ceremony aisle with two surfboards propped up in the sand.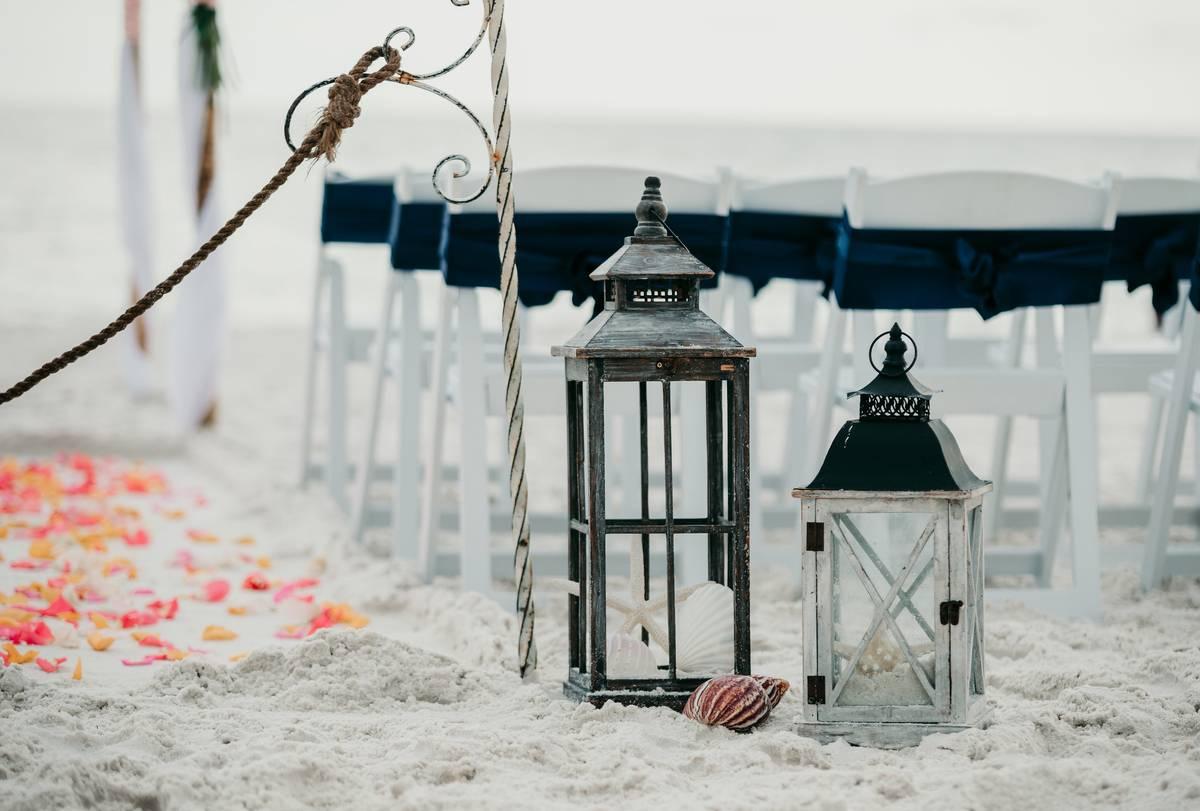 Hurricane lanterns
This simple wedding aisle marker idea is easy to DIY for your beach wedding. Rent or collect vintage hurricane lanterns, then fill them with seashells, sea glass, sand, driftwood pieces, or use them as candle holders.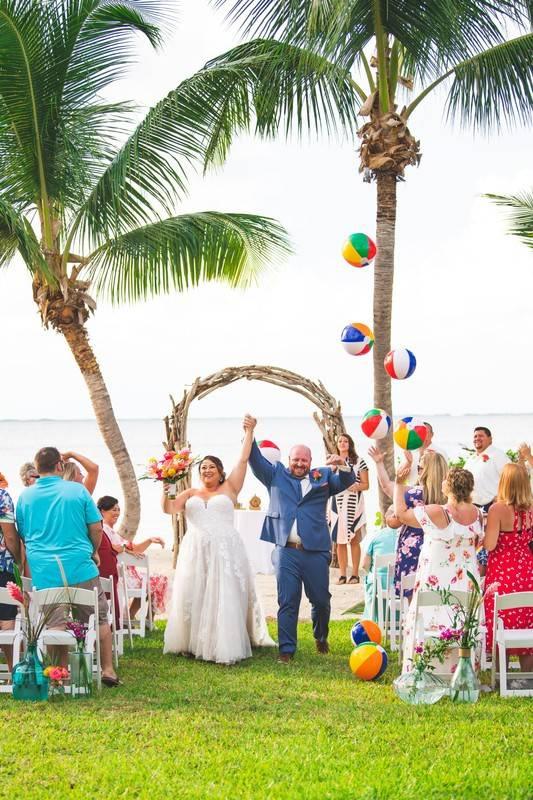 Beach ball recessional toss
This unique beach wedding idea is a fun way to end your ceremony—plus, the cleanup is a piece of cake compared to flower petals or confetti if your venue doesn't allow those options.
Prosecco pops
Prosecco pops are the perfect treat to cool everyone down after a hot day at the beach. Serve these as your signature drink or bring them out at the end of the reception with a late-night snack.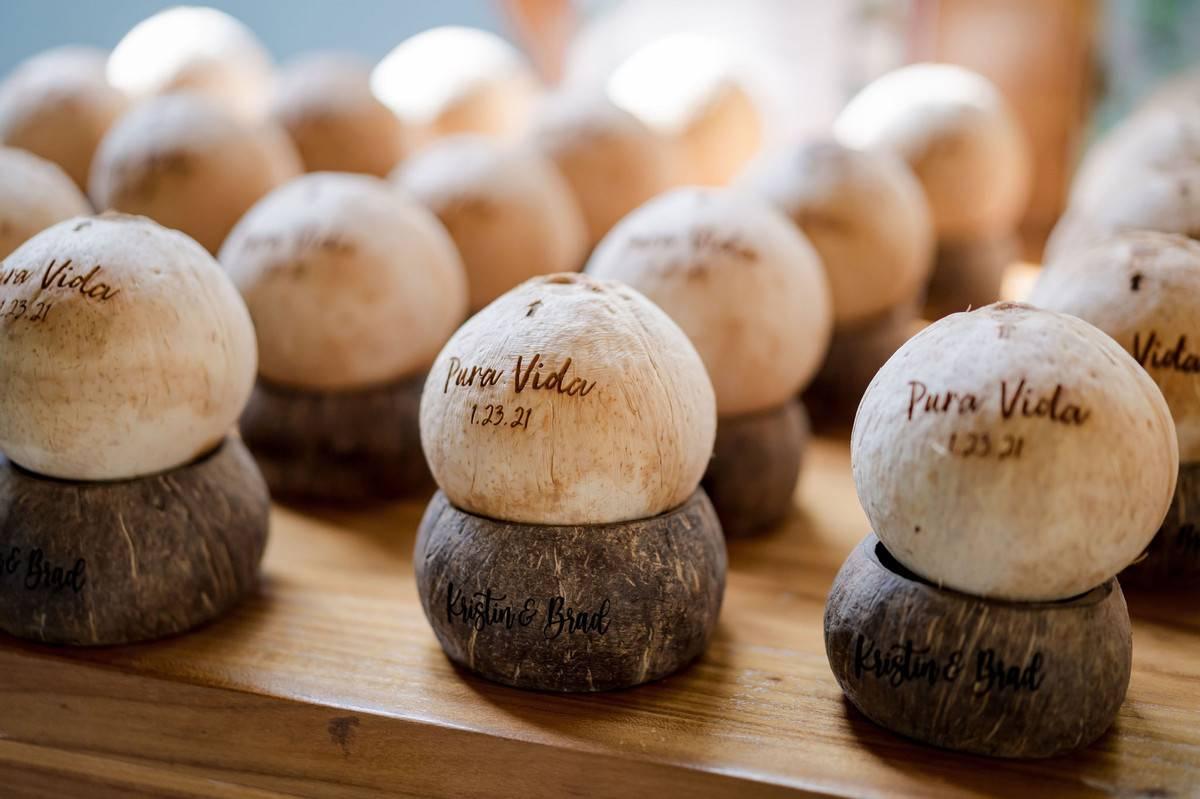 Coconut escort cards
Engraved coconut cups as escort cards tie in perfectly with a beach-themed wedding, and your guests can take them home as wedding favors at the end of the night.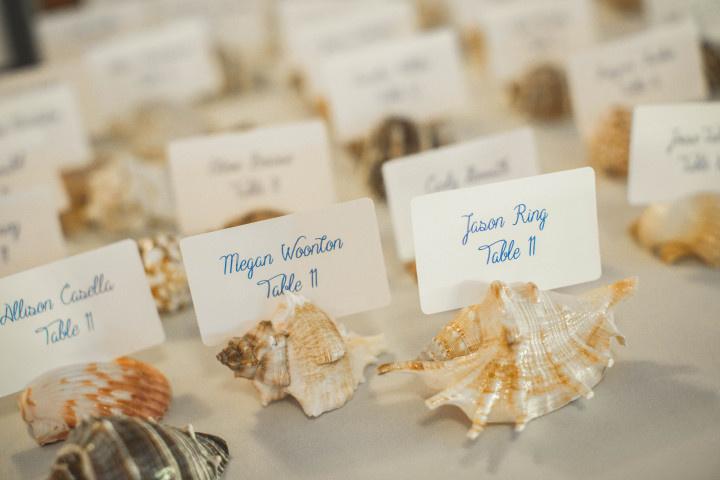 Seashell escort cards
You can also use seashells, sand dollars, or oyster shells to showcase your escort cards and place cards. We love this idea if your beach wedding is on the classic side.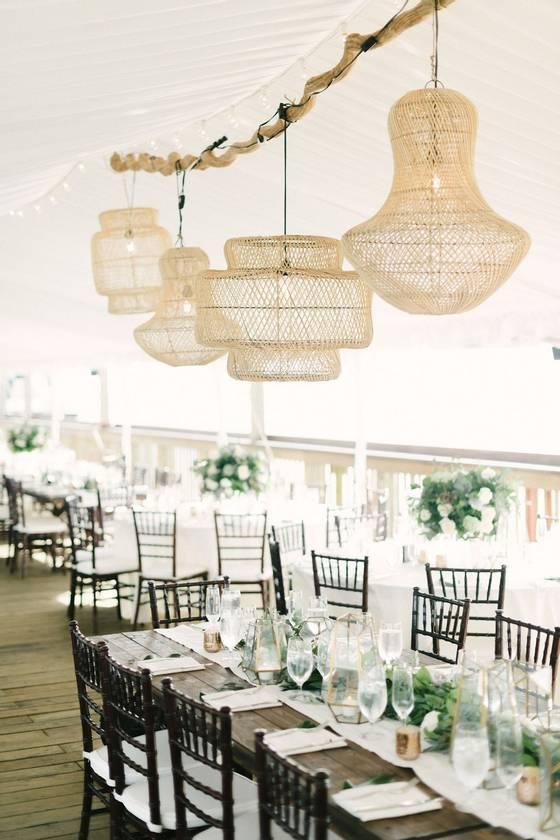 Rattan and driftwood chandelier
Suspend rattan lamps above your head table to create a focal decorative element at the wedding reception.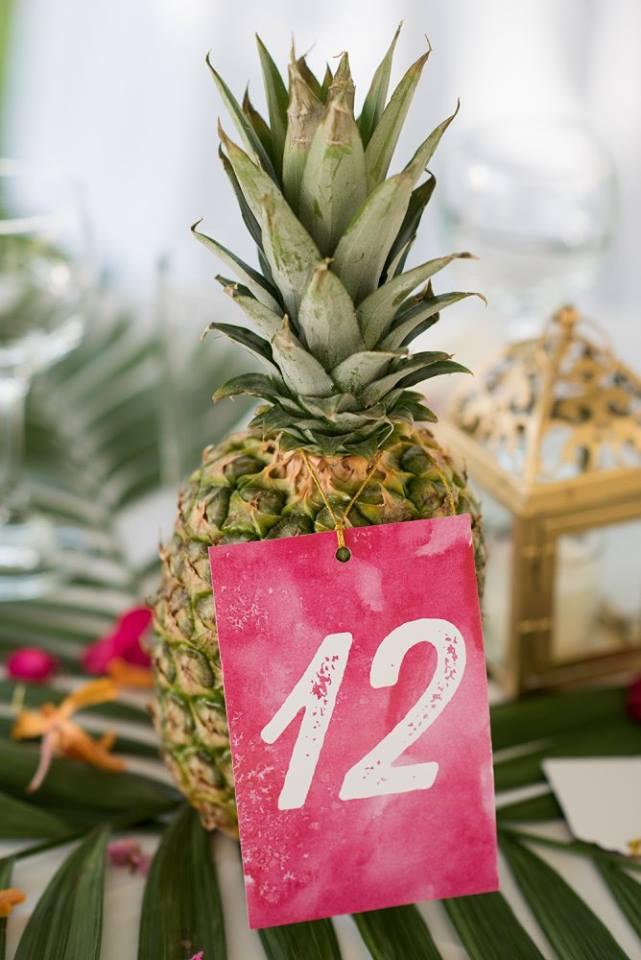 Pineapple table numbers
Pineapples are an easy way to decorate your tablescapes for a beach theme, especially if you aren't big on flower centerpieces. Add table numbers or table names and some tropical greenery to complete the design.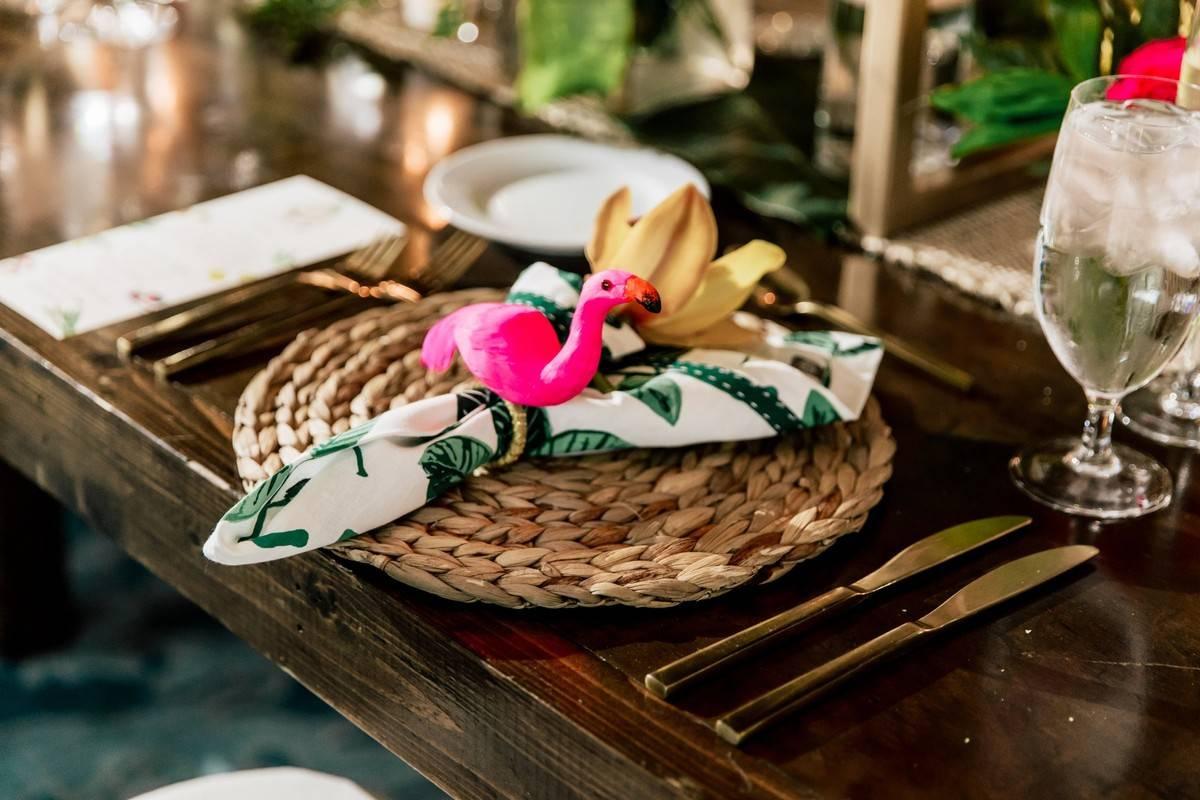 Flamingo napkin rings
Don't underestimate the power of a cute napkin ring. This greenery patterned napkin and flamingo combo is adorably tropical.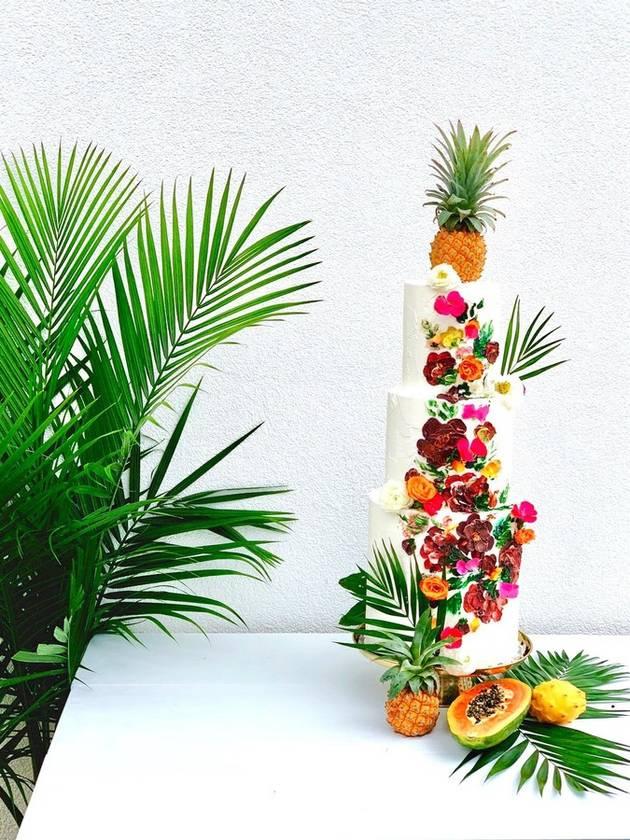 Tropical wedding cake
Flowers and fresh fruit are just a few ways to decorate a beach wedding cake. Stick to bright colors and 3D details, like these hand-painted flowers, for the most eye-catching dessert table.