Beach wedding style is perfect for couples looking to create a fun, casual atmosphere for their big day. You won't find any overdone or elaborate details here—this style is all about a carefree, effortless aesthetic that allows the natural beauty of your venue to shine.
If you're planning a beach wedding, read all about the style here.
Venue
You probably don't need us to tell you that this style is perfect for beach venues, but even if you aren't getting hitched by the sea, you can still make it work for your wedding.
Since beach wedding style is all about laid-back details and relaxed vibes, whatever venue you choose should be casual and informal. It's a plus if the venue is near a body of water, such as a river or lake. Be sure to avoid settings that are too formal, modern or urban, which will make your decor and attire seem out of place. Some of our favorite non-beach venues for this style include yacht clubs, lake houses, and bayside piers that overlook the water.
Season
Unless you live in a region that has warm temperatures year-round, beach wedding style is best if you're getting married in late spring, summer, or early fall.
Color Palette
Beach wedding style is perfect for couples who want to use a bright and vibrant color palette throughout their wedding. If you're going for a tropical vibe, choose playful colors like fuchsia, teal, orange, yellow, purple, and green. For a more nautical spin, focus on a classic palette with pops of bold colors, such as navy blue and white with coral or yellow.
If statement hues aren't your thing, you can opt for pastels and neutrals instead, which will give your wedding a vintage, "beachy chic" look. A few combinations we love: light blue and gray, ivory and peach, and white and turquoise.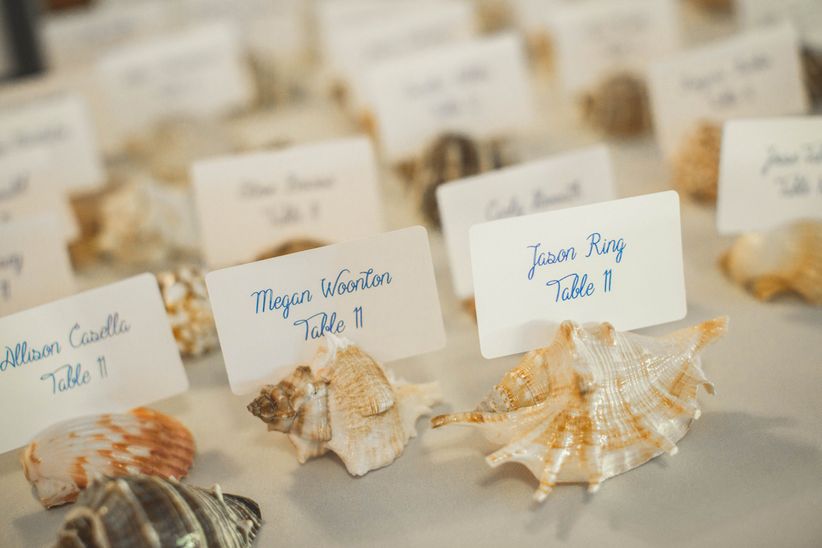 Decor
If your wedding is taking place on a beach or near a body of water, keep your decor minimal and let the scenery do the work for you. For a ceremony that's taking place in the sand, limit your decor to an altar, arch or chuppah, along with aisle markers and a few decorative accents. Adding too much else will distract your guests from the setting of your venue, and chances are that's one of the reasons why you chose it in the first place! If you're using a public beach, keep in mind that there might be a limited amount of time to set up for the ceremony, along with restrictions on the types of decor you're allowed to use. Beach and waterfront ceremonies can also get unexpectedly windy, so be sure that the decor is well-secured to avoid any mishaps.
Beach wedding decor shouldn't be fussy or overdone, but that doesn't necessarily mean running to your nearest party supply store and scooping up all the luau-themed items you can find. Be selective when it comes to choosing beach-inspired accents—you want your wedding to still look like a wedding, not like a beach town souvenir shop overrun with mismatched pieces. Seashells, starfish and sand are all ideal for beach weddings, but use them in moderation. Sometimes less is more, and not every piece of your decor needs to be beach-themed. The key is to mix in a handful of non-beachy items to keep the space balanced and cohesive.
You can even use unexpected items to add a splash of personality to your big day. One of our favorite ideas is using fruit as decor. We know it sounds a little out-of-the box, but trust us, the results are wow-worthy! This playful trend works especially well if you're getting married in a tropical place, whether it's in Hawaii, on a Caribbean island or beyond. Pineapples are cheerful and welcoming, and they can easily be used as aisle markers or centerpiece accents. You can also ask your wedding florist to use hollow pineapples to display your floral arrangements instead of traditional vessels. Citrus fruits (lemons, oranges, limes, kumquats) are another favorite of ours. Think of it as an opportunity to get creative! Cluster a handful of different fruits together to create an eye-catching centerpiece, use them to display escort or place cards, or slice them up and use them to decorate your wedding cake.
Stationery
Beach wedding stationery shouldn't involve anything too formal or fancy, since you'll want your guests to know from the start that the wedding is going to be a laid-back affair. Incorporate seashell motifs, whimsical calligraphy and watercolor details for a breezy effect, or try bold typography, metallic details and tropical patterns (like palm leaves) for a modern spin.
Flowers
If your color palette is filled with tropical, bright colors, go for statement blooms, such as stargazer lilies, orchids, hibiscus, anthurium, plumerias, and pincushion proteas.
For palettes that are more "beachy chic," choose flowers that are available in white or pastel hues. Hydrangeas, roses, peonies, ranunculuses, anemones, sweet peas, and delphinium are just a few that we love.
The floral arrangements should be slightly loose and free-flowing. You can also add greenery here and there for a bohemian vibe. If you want to include beach-inspired accents, use a few well-placed seashells or starfish, or add sailing rope and long ribbons, which look lovely blowing in an ocean breeze.
Hurricane vases are popular for beach wedding centerpieces because they are so versatile. You can fill them with sand or seashells and top them with flowers, or leave them uncovered and add votives or floating candles for a romantic effect.
Attire
When it comes to the dress code, you'll want to stay away from anything that's too formal, and you should definitely avoid black tie. It's up to you how relaxed you want the attire to be, but consider your venue first. If your wedding is taking place right on the beach, suits and long gowns are probably too dressy for your guests, especially if they're going to be dancing up a storm in the sand all night long. Instead, opt for a casual dress code, which lets your guests swap dressy pieces for button-downs, short frocks and sandals instead. If you want your dress code to be super-casual (think Hawaiian shirts, shorts, and flip flops), be sure to include that on your invitation or wedding website so your guests know what's expected.
For venues that are a bit more sophisticated, consider festive or dressy casual attire. Both of these dress codes are a step up from casual, but they're more relaxed than cocktail or formal attire.
If you're wearing a wedding gown, slimmer silhouettes in lightweight, breathable materials are ideal for beach and outdoor settings. Ball gowns are beautiful, but they're usually heavy and will make you feel too hot if you're in the sun for an extended time. Also keep in mind that gowns with long trains are more likely to get dirty if you're walking around outside. Instead, look for gowns made of organza, chiffon and lace. These options will give you plenty of freedom to move around as much as you want. An informal dress code also means that you should keep your accessories minimal. If you're going to be in the sand, skip the high heels—you won't be able to walk in them properly. Find a cute pair of sandals or flats instead, or ditch the shoes completely and go barefoot!
We love cotton, linen and seersucker suits for beach weddings, but you can also choose to skip the suit altogether for a nice pair of trousers and a button-down shirt. Depending on your venue, you can even leave your shirt untucked for a truly laid-back, beachy look.
Cake and Dessert
For beach wedding cakes, buttercream icing is our favorite. Find a cute cake topper to dress up the top tier, or have your florist set aside a handful of flowers that your baker can use to decorate the cake on the wedding day. If your wedding is outside, ensure that your baker factors in the temperature and humidity, since both can affect the cake if it's exposed to heat for several hours. If you're worried about a wedding cake meltdown, then consider having a naked cake. No icing = no problems!
Cupcakes and cake pops are fun alternatives to traditional wedding cake, but you can even surprise your guests with other warm-weather treats, like snow cones, popsicles or ice cream.