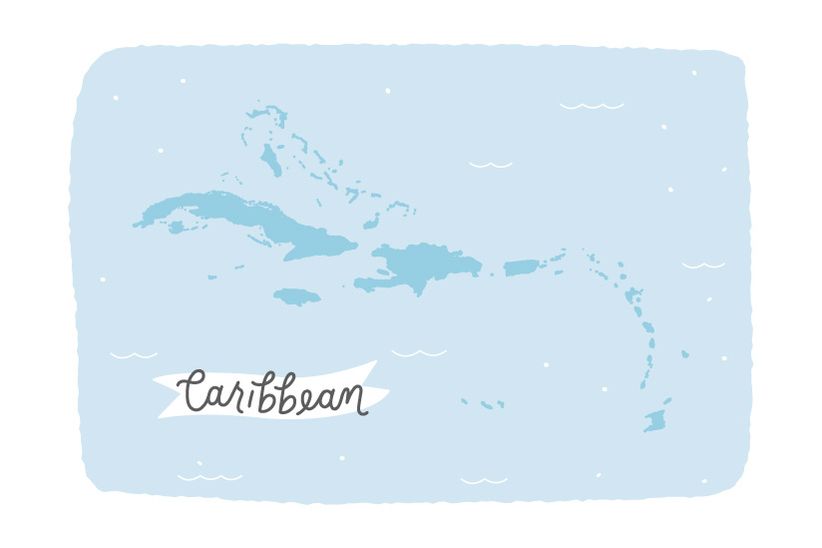 It's no wonder that Caribbean destination weddings are super-popular these days. Of course, the proximity to the U.S. helps, but the almost year-round warm weather, beautiful beaches and scenery, numerous activities and attractions, and some of the most luxurious resorts in the world, make the Caribbean a hotspot for engaged couples and their loved ones. However, there are quite a few islands to choose from (thousands, in fact!) for your Caribbean destination wedding—so how's a couple to choose?
Check out some of our favorite Caribbean destination wedding locations to help you select the one that best suits your style.
For the Couple Who Wants a Laid-Back Wedding…Jamaica
Jamaica combines a relaxed vibe with the energy of a vibrant culture and nightlife scene. With direct flights from many U.S. cities, your guests appreciate the easy travel to this Caribbean destination wedding locale. Because Jamaica is one of the largest Caribbean islands, there are numerous cities to choose from for your wedding, and lots of resorts and venues, from amenity-packed resorts to private villas.
For the Couple Who Doesn't Have Time for Passports…Puerto Rico
If you're dreaming of a Caribbean destination wedding, but don't have passports (or know that many of your guests don't), Puerto Rico is your best bet. Because Puerto Rico is a U.S. territory, U.S. citizens don't need a passport to travel there. And that's not the only reason Puerto Rico is popular with engaged couples. Of course, there's the rich history and culture on the island, as well as many unique Puerto Rico wedding venues. Of course, there are numerous resorts, but also off-the-beaten path spaces like historic ruins in a nature-filled setting, modern restaurants, luxe villas, and more.
For the Couple Who Wants to Get Married During Hurricane Season…Aruba
Late summer and early fall can be risky times to get married in the Caribbean due to hurricane season—but it's also a popular time of year for couples to wed. Because Aruba is south of the hurricane belt, it's rarely hit by these massive storms. Therefore, it's our pick for Caribbean destination weddings in the fall. Much of Aruba has a European vibe, and there are lots of scenic resorts to host your "I dos"—plus, there are flamingos everywhere!
For the Couple Who Can't Agree on a Wedding Style…Bahamas
The Bahamas is known for its stunning pink sand beaches, but it's also ideal for couples who want their wedding to be All. The. Things. Want a toes-in-the-sand ceremony and a luxurious ballroom reception? Check! How about a garden ceremony near the beach? Got it. There are so many amazing Bahamas wedding venues to choose from, even the pickiest couple is sure to find their dream space here.
For the Couple Who LOVES Nature…Dominican Republic
The Dominican Republic overflows with stunning natural beauty, from the lush rainforests to the mountains to the unspoiled beaches. There's also a plethora of activities for adventurous couples and their guests, from zip-lining to kayaking, windsurfing, and more. When it comes to Dominican Republic destination weddings, you'll find numerous all-inclusive resorts to host your big day, each with its own personality and style.
For Instagram-Worthy Scenery…St. Lucia
Part of the appeal of hosting a Caribbean destination wedding is the amazing scenery, which makes for some truly spectacular photo opportunities. This is particularly true in St. Lucia, where you'll find The Pitons, two incredible mountains on the island's western coast. There's also a vibrant music scene here, as well as a serene vibe ideal for couples and their guests who just want to relax. There are numerous resorts in St. Lucia to host your big day, as well as a super-unique venue, a monument from the 1700s surrounded by a private beach (sure to garner lots of likes from your followers!).
For the Couple Who Wants to Get Married Like Celebs…Turks and Caicos
Turks and Caicos consists of 40 coral islands, with Grace Bay and Parrot Cay being among the most in-demand. You'll find numerous luxury resorts here, from the large all-inclusives to smaller, more intimate lodging, where you and your guests can live like movie stars throughout your wedding weekend.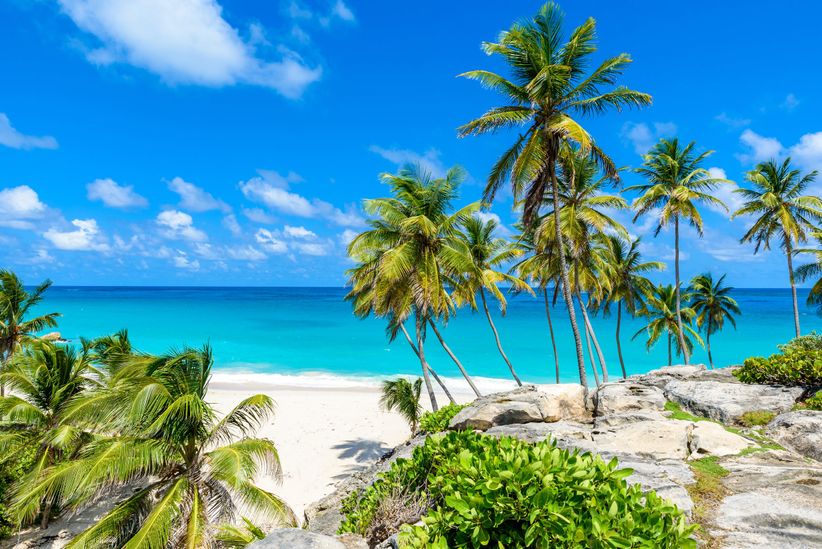 For the Budget-Conscious Couple…Barbados
This island is particularly appealing because of its unique British influence, white-sand beaches, and the relative ease with which non-natives can marry here. It's also among the more budget-friendly islands to host your Caribbean destination wedding, especially if you're hosting a more intimate event. From charming villas to luxe resorts, there are a variety of lodging options and wedding venues to choose from on Barbados.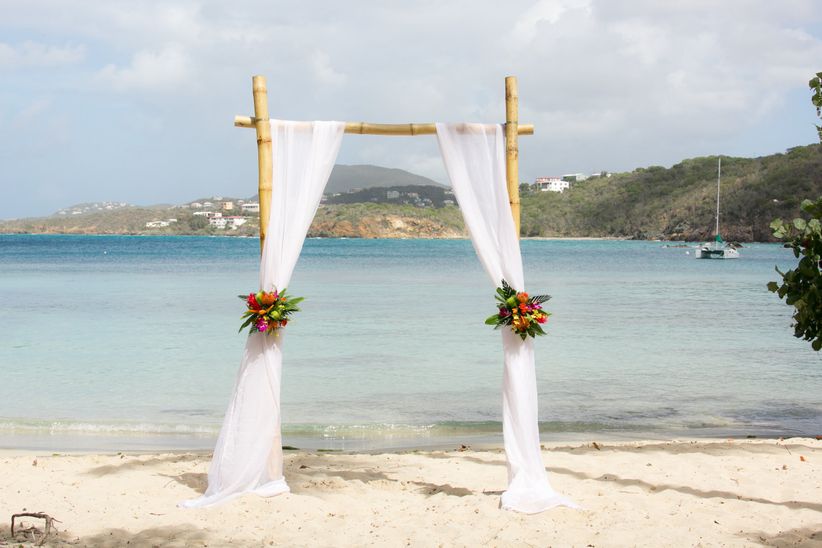 For the Overworked Couple Who Just Wants to Relax…U.S. Virgin Islands
Many couples choose a Caribbean destination wedding because they want their nuptials to feel like a vacation with ample opportunity to let go of any stress and simply enjoy. The U.S. Virgin Islands include such paradises as St. Croix, St. John, and St. Thomas, each of which has its own charm and breathtaking scenery. The U.S. dollar is used in the U.S. Virgin Islands, and legally marrying here is a piece of cake. There are also numerous resorts to host your U.S. Virgin Islands wedding, including historic properties and modern, luxe accommodations.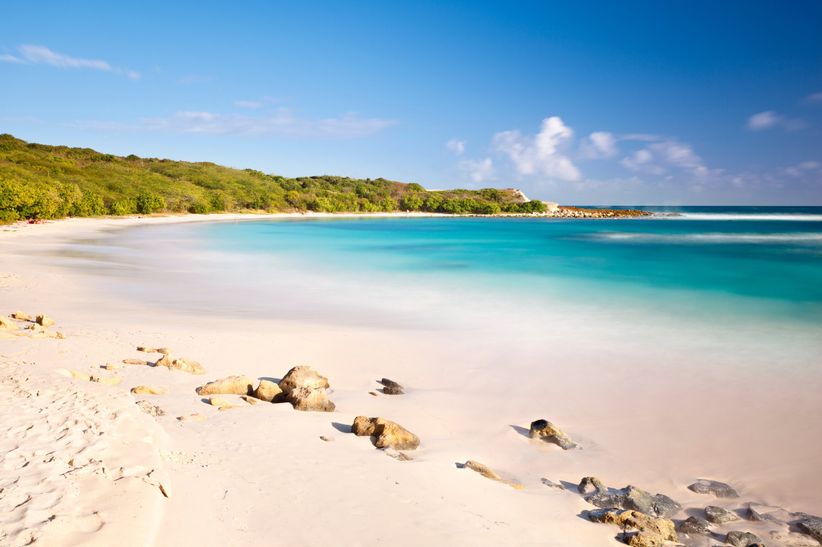 For the Couple Who is All About Those Beach Vibes…Antigua
If all you need to host a successful Caribbean destination wedding is a serene beach complete with crashing waves and ocean breeze, head to Antigua, where the beaches are among the most beautiful and scenic in the region. There are several resorts that host weddings on the island, whether you're looking for a convenient all-inclusive or a more intimate setting.