For most East Coasters, a trip to Jamaica is easy enough for a weekend getaway. With direct flights from New York City, Atlanta and other metro hubs, a Jamaica destination wedding provides beauty to every couple. From a range of jagged mountains to lush rainforests and miles of sand on countless beaches, this dot on the map offers a variety of terrains and landscapes, making it ideal for destination weddings. Though current political turmoil makes certain areas unsafe for tourists, if you stick to the tourist areas, you and your guests will ring in your marriage in style.
No matter where you decide to host your Jamaica destination wedding, be prepared to indulge in a bit of the local culture—from reggae music to jerk-spiced everything.
The Best Time to Get Married in Jamaica
There are two times of year when you probably don't want to host a Jamaica destination wedding: during hurricane season and when the tourists collect on every beach. You might also consider skipping rainy season, but since it only showers for less than a half-hour before clearing up, you don't have to worry about weather too much on this island. Consider the best months from late October to mid-December.
Wedding Laws in Jamaica
To exchange vows in this country, you'll need to pack a few documents before printing your boarding pass: a prior application that was submitted to the Ministry of Justice at least a few weeks before arrival, proof of citizenship including a certified copy of your birth certificate with your father's name, proof of divorce (if applicable) or certified copy of death certificate (if applicable). If these documents are in English, you might be asked to translate.
The Best Venues in Jamaica
Here, a few places to consider hosting the Jamaica destination wedding of your dreams.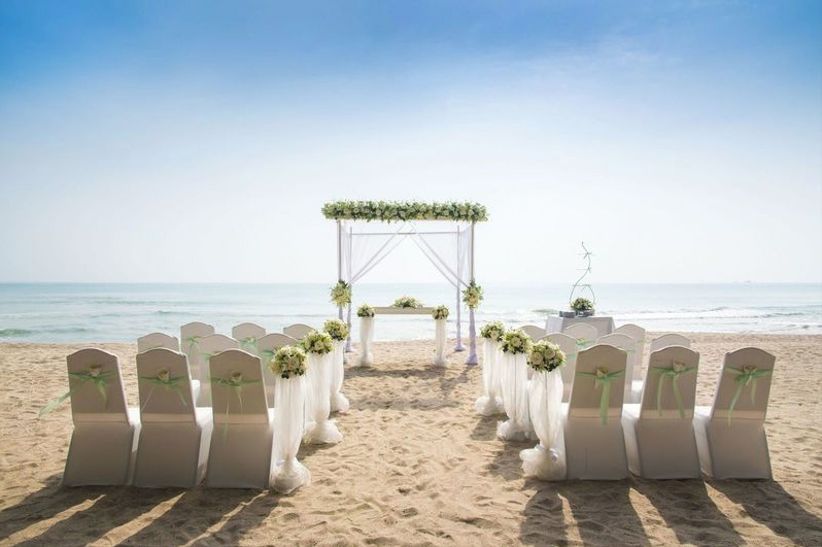 Jewel Grande Montego Bay Resort & Spa
In the heart of Montego Bay, Jamaica, the Jewel Grande Montego Bay Resort & Spa is surrounded by the pristine beauty of the Caribbean Sea. As an all-inclusive resort, you won't have to worry about every penny-pinching detail, but rather, you and your guests can soak up the sun, and of course, the love! Depending on the size of your event and your preferences, you can choose between a slew of venues—from a 4,300-square-foot ballroom to a 530-square-foot gazebo, two outdoor lawns with ocean views and more. As a bonus, their renowned spa—Grande Spa—offers wedding-day packages, allowing you and your number one gals to get ready together. And after you say 'I do'—some packages also include a couples massage, fit for two newlyweds.
Iberostar Grand Rose Hall
Always dreamt of marrying the love of your life with your toes in the sand? The Iberostar Grand Rose Hall is where you can make the vision a reality in Montego Bay, Jamaica. They specialize in beachside weddings, allowing you and your partner to get hitched underneath a gazebo or just the bright blue sky. When you've made it official, you can host your reception at any of the property's many restaurants, featuring buffet-style private dining, plated dinner, a la carte, or whatever you'd like. In addition, this destination wedding venue also features a terrace overlooking the ocean for couples who seek a little less sand but still desire the sun for their big day. While you and your spouse-to-be will appreciate the hands-on wedding planners, your guests will also benefit from personal butlers, 24-hour room service, an endless list of cocktails and pools, and golf!
Hilton Rose Hall Resort & Spa
As much fun as weddings are… they're also a ton of work. That's why so many couples set their sights on destination weddings. And especially why they book at places like Hilton Rose Hall Resort & Spa. Because they have a top-tier professional staff, you don't have to worry about the nitty-gritty details, and instead, can focus on this special moment in time. Whether you get married on the beach, on a terrace or within a ballroom, this all-inclusive jewel in Jamaica handles every last detail so you don't have to. Before or after you make your relationship everlasting, you and your guests can enjoy snorkeling, parasailing, spa treatments and plenty of other events.
Bluefields Bay Villas
For couples who seek a less traditional resort-like Jamaica destination wedding, consider this unique take. Especially for intimate ceremonies, Bluefields Bay Villas outside of Montego Bay on a private reserve features a unique way to begin your marriage. Depending on the size of your party and how you'd like to plan your once-in-a-lifetime celebration, you can choose between six villas, featuring two to six bedrooms. Each villa comes with a private chef and offers access to a secluded beach that's a far cry from the crowded sands of other parts of Jamaica. Especially if you make a weekend (or a week!) out of your 'I do's'—guests will enjoy tennis, kayaking, snorkeling, deep-sea fishing and much more. For couples who want to give back, you can also visit the local tribal community, as well as meet fishermen who source all of the fresh seafood served on the property.
Hyatt Ziva Rose Hall
If you're the type of couple who craves variety and want to investigate every option before signing on the dotted line, you'll appreciate the many venues at the posh Hyatt Ziva Rose Hall. For most couples—regardless if they get married down the road or a few continents away—the biggest determining factor on where they exchange vows and party into the night is based on size. If your family is set on inviting anyone and everyone, their Grand Ballroom and Terrace can host up to 1,000 people, while the Sky Lounge on the roof of the resort can host 200 guests. It doesn't end there though: they also offer intimate ballrooms, lawn space, ocean gazebos, decks, and more. And if you're flexible on your timing, the hotel offers a few perks: weekday weddings for two are free with up to 10 guests. If you visit the destination to preview the space and end up selecting it for your big day, you'll receive a two-night stay for only $200. And if you do the Lavish & Opulent package, you'll receive a complimentary night when celebrating your anniversary with a minimum four-night stay.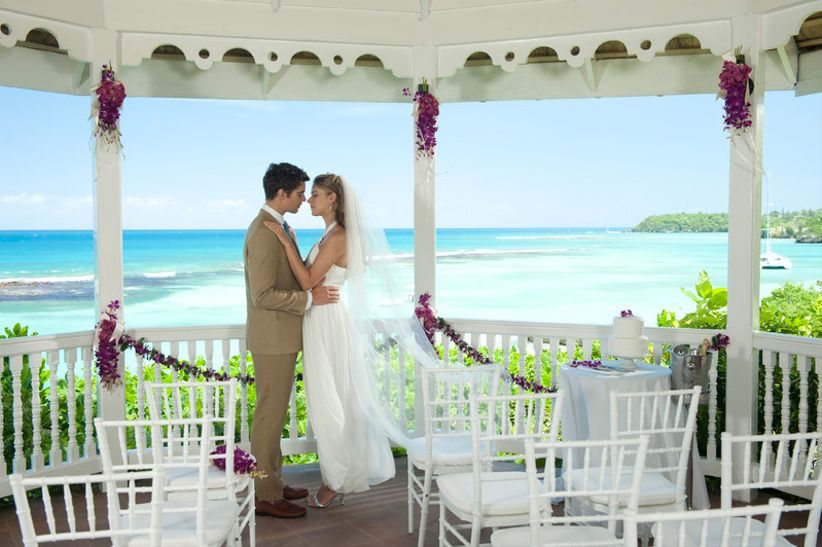 Sandals Ochi
Close your eyes and think about what you'd like to see when you're standing at the altar. Apart from your partner (duh!)—do you see a plethora of flowers? Vibrant colors? The blue sea behind you? For couples who want to immerse themselves in the color of the rainforest—from a mountaintop to a white sand beach—consider Sandals Ochi for a Jamaica destination wedding. It sets upon a private area of the Jamaican coastline and featuring romantic features throughout the property, including brooks, gardens and soft music. Many large venues are offered, but if you want an intimate experience, look to the Riviera Villas & Great House Suites, offering privacy and intrigue.
Secrets Wild Orchid Montego Bay
Couples who have a big more of a budget to play with might consider Secrets Wild Orchid Montego Bay for their Jamaica destination wedding. As a brand, Secrets is renowned for their attention to detail and focus on romance. This beauty on the Caribbean Sea is no different. As an adults-only, all-inclusive getaway, you and your partner can host a small gathering of your beloved friends and family to celebrate your marriage. In addition to seven fine dining restaurants, nine bars and lounges and 24-hour room service, modern couples will enjoy the chic design and understated details. As a bonus, when you wed here, you also receive all of the amenities of the sister resort, Secret St. James.