7 Truly Spectacular Aruba Destination Wedding Venues
Ready to plan your wedding in Aruba? Here's everything you need to know about planning a destination wedding on this stunning island.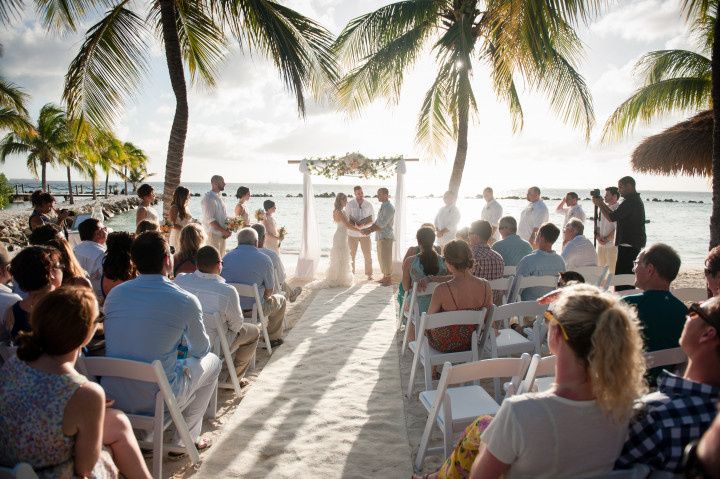 As the 'A' of the quintessential ABC islands, there's a reason the Beach Boys sang the praises of Aruba. This small Dutch Caribbean island is sandwiched between Venezuela and Curacao, this destination features year-round surf-friendly weather. Because of its location within the sea, you can expect an Aruba destination wedding with a consistent breeze that makes the beating of the sun more bearable. For couples who want the beauty and tranquil of a tropical climate but also the charm and history of a European city, Aruba offers the best of both world. As you explore the pristine beaches and get lost in the wonder of the colonial -influenced architecture, listen intently and you'll hear touches of English, Dutch and Spanish in the island's language, 'papiamento.' A destination wedding here is accessible from most international airports and gives couples the chance to savor the richness of the culture and the intrigue of this often discounted nation.
Here, a look at a Aruba destination weddings.
The Best Time to Get Married in Aruba
Luckily, Aruba is far away from the hurricane belt of the Caribbean, making it an ideal destination for year-round travel. Even so, you'll want to avoid the peak season of January to March to save on cost. For a bit of rain, but plenty of sun and fun, set your wedding date between April and August. Just remember: humidity is real, but so is that ongoing island breeze.
Wedding Laws in Aruba
While it's mostly easy to get hitched in Aruba, there are a few requirements to be mindful of. You'll need copies of birth certificates, passport photos, your witness's passport photos and divorce/death certificates if applicable mailed within 30 days prior to your wedding. In addition, keep in mind your religion when picking an Aruba destination wedding. Dependent on if you're Catholic, Protestant or Jewish, you might need to prove your affiliation. Want a civil ceremony? You have to have it at the Civil Townhouse… and then you can have a religious blessing elsewhere.
Best Aruba Wedding Venues
The first step of planning an Aruba destination wedding is choosing a venue. Here are a few of our favorites.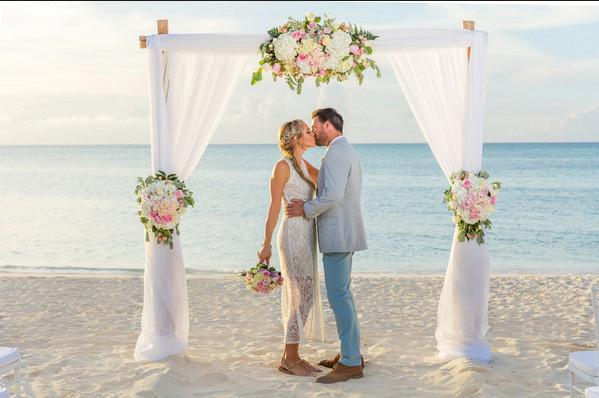 Hilton Aruba Caribbean Resort & Casino
No wedding is too big for the Hilton Aruba in Palm Beach, Aruba. In fact, their 15,000-square-foot indoor Grand Caribbean Ballroom can seat up to 900 guests. Want to promise your forever lover on the beach or under the moonlight? No problem either, since this destination wedding venue offers 24,000-square-feet of outdoor wedding space, too. Whether you decide to make it official on the sunkissed pool decks or an ambient terrace, you and your guests will be in awe of the lush tropical landscape and natural beauty. This resort also offers some specials if you buy in bulk, including a group rate when ten or more rooms are booked for at least three nights. If couples stay for five nights, they'll also receive a sixth night complimentary. While not specific to Aruba, Hilton partnered with Honeymoon Wishes to develop a personal registry site, allowing guests to 'gift' a night at any Hilton property worldwide.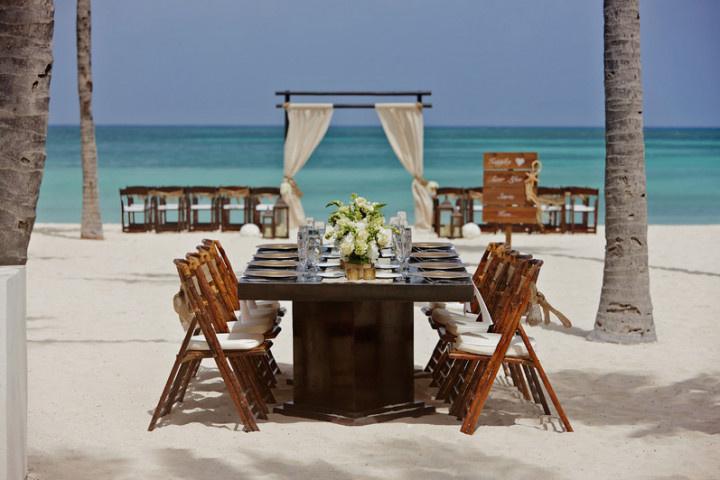 Aruba Marriott Resort
You'll have to rub your eyes to trust what you're seeing when you step into the breathtaking Aruba Marriott Resort. With countless venues—both indoor and outdoor—this spot is ideal for couples who want to turn their Aruba destination wedding into a vacation for all, this is an ideal place to pick for your destination affair. How come? A variety of rooms makes it affordable for every budget, and plenty of onsite activities give guests a way to fill up their time, by relaxing, adventuring or a healthy mix of both. In addition to snorkeling, sunbathing, beach yoga and other fun finds, you can also rent a Jeep or UTV and set out to explore the Aruban outback covered in cacti and the local Divi-Divi trees. Spend some time at their luxury spa to unwind before or after your big day.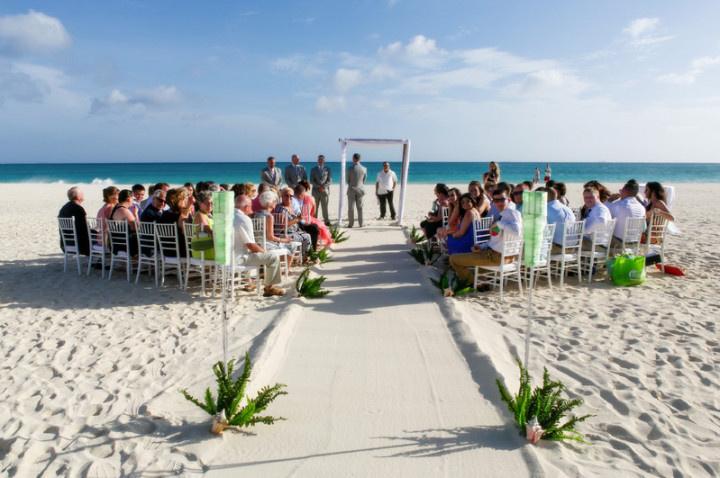 Divi Aruba All-Inclusive
Though some couples shoot for the five-star experiences, others desire a more affordable way to join together everyone they love the most on one (very beautiful) beach. Enter the comfortable and gorgeous Divi Aruba All-Inclusive. With a long shore line of white, lush beaches, countless pools and dreamy cabanas, your guests will unwind as they witness your love affair unfold. Divi purposefully offers professional planners to cater to the small details, giving you the chance to truly live in the moment and savor this one-of-a-kind experience.
The Ritz-Carlton Aruba
After so much dating and waiting, finally being at the stage in your life where you're ready to join together with someone you adore is a special moment. It's also one that's worth spending a bit more on if you'd like to have a five-star, luxury experience. When you stay at this blissful and beautiful Ritz-Carlton Aruba, you have a selection of venues to choose from for your Aruba destination wedding. Whether you select the elegance of their grand ballroom or pick a smaller ceremony on the shores of Palm Beach, their extra attention to detail and charm will make the experience calm and romantic. You can also choose to have your reception on a lawn or indoors, depending on size and budget. Don't miss out on a spa day for your bridal party—or a couples' massage to relax before the big event.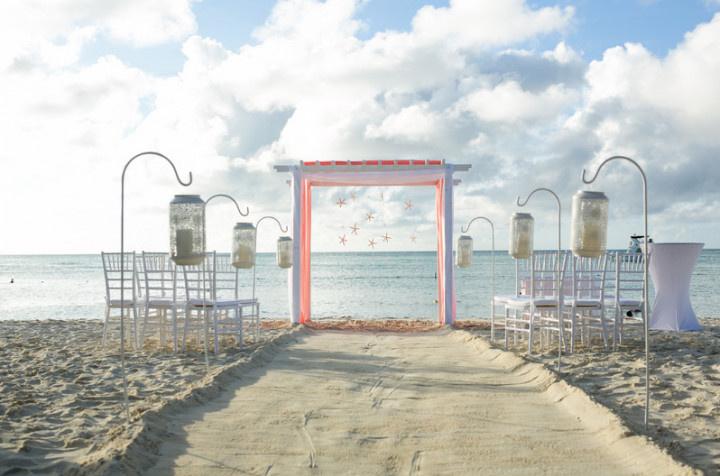 Barcelo Aruba
While your favorite view of the day will definitely be staring into your partner's eyes as you exchange your intimate vows, your second-favorite glimpse will be of the Caribbean Sea that surrounds the Barcelo Aruba. From each venue and every room, guests will enjoy Instagram-worthy views. Unlike many properties on the island, modern couples will enjoy the updated style, as well as easy access to a more lively part of Palm Beach. When you're officially become spouses, take the time to go on an adventure with your friends and family, via nightlife, water sports or even, cultural immersions at this unique destination spot.
Renaissance Aruba Resort & Casino
Set on a 40-acre tropical island, there's nothing that quite compares to Renaissance Aruba Resort & Casino. For destination-dreaming couples, you'll find colorful, vibrant sunsets and a special wedding guest you might not have expected: flamingos! They are exclusively located here, giving you one-of-a-kind shots for your big day. You can choose from a slew of options, including the Festival Plaza Waterfront and other indoor facilities. The resort offers signature wedding packages, as well as deals that transition throughout the year. One example could be a complimentary four-night stay at the Renaissance Curacao Resort & Casino if you book your wedding at the Aruba destination—and vice versa.
Amsterdam Manor Beach Resort
Located on Eagle Beach, budget-conscious couples should look into the picturesque Amsterdam Manor Beach Resort for their Aruba destination wedding. Though less fancy than other options, the advantage is found in the lower resort cost and the ability to upgrade to an all-inclusive package. Here, guests can sit back and enjoy the smaller aspects of island life, soaking up the sunrise and sunset, and dancing the night away on the beach. Depending on your wedding size, there are affordable packages for all happy twosomes.