9 Boho-Chic Venues for Destination Weddings in Tulum, Mexico
Start planning your destination wedding in Tulum—a truly unique (and chic!) location south of the border.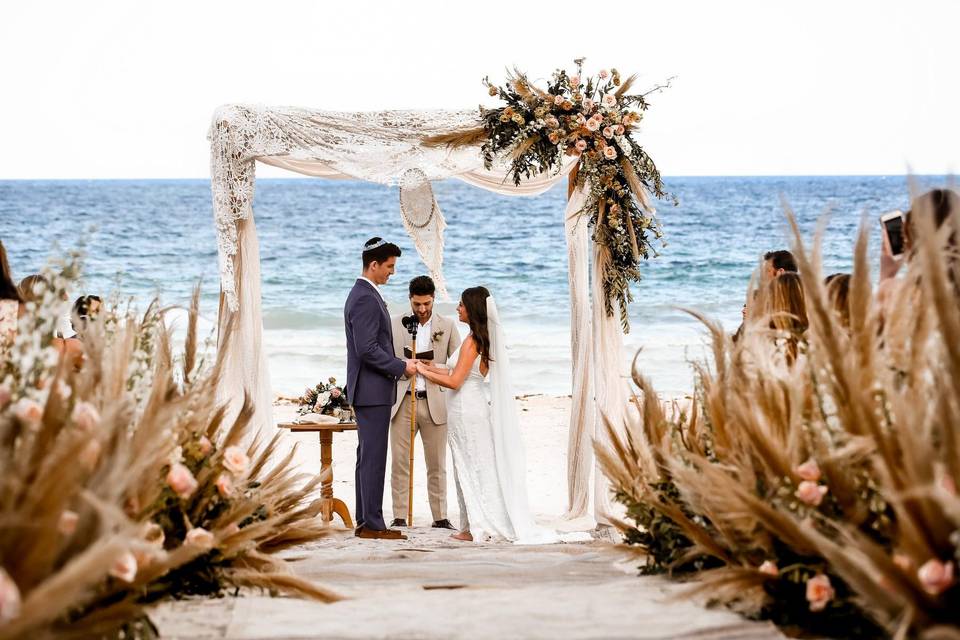 There's Mexico—and then there is Tulum. For couples who appreciate the finer avenues of life, this coastline town on Mexico's Yucatan Peninsula is breathtaking. Destination weddings in Tulum are characterized by a dreamy mix of historical ruins, culture touches and some of the best beaches in the country. Especially if you're part of a twosome who wants to make their wedding celebration a Mexican vacation for their guests, there are plenty of options in the surrounding area that make it easy to fill their days. From exploring the ruins of the ancient Mayan port city, complete with the renowned El Castillo on a rocky cliff, to the Parque Nacional Tulum where they can dive into cenotes, adventures are everywhere. If having one of those destination weddings in Tulum is high on your consideration list, here is everything you need to know as you plan, as well as the top Tulum wedding venues.
Best Time Of Year to Get Married in Tulum
Sure, it's lucky to have a rain shower on your wedding day, but if you'd prefer to avoid it, skip June, September and October, as they host the most rain. For privacy and a low-key vibe for your destination wedding in Tulum, don't book your wedding from January through March, when crowds are at their peak. The best time is right after hurricane season, October through December.
Marriage Laws in Tulum
You might not realize it but much like the United States, Mexico is comprised of several states, too. Each of these hold a different requirement for getting married. Depending on which beach or area you pick to say "I do" in Tulum, you might have to fill out various paperwork or provide everything from a blood sample to a divorce certificate. Your best bet is to do your due diligence once you settle on one of the many amazing venue options for destination weddings in Tulum.
The Best Tulum Wedding Venues
If you're planning a destination wedding in Tulum, one of the first steps is finding the right Tulum wedding venue. Check out a few of our favorite Tulum wedding venues: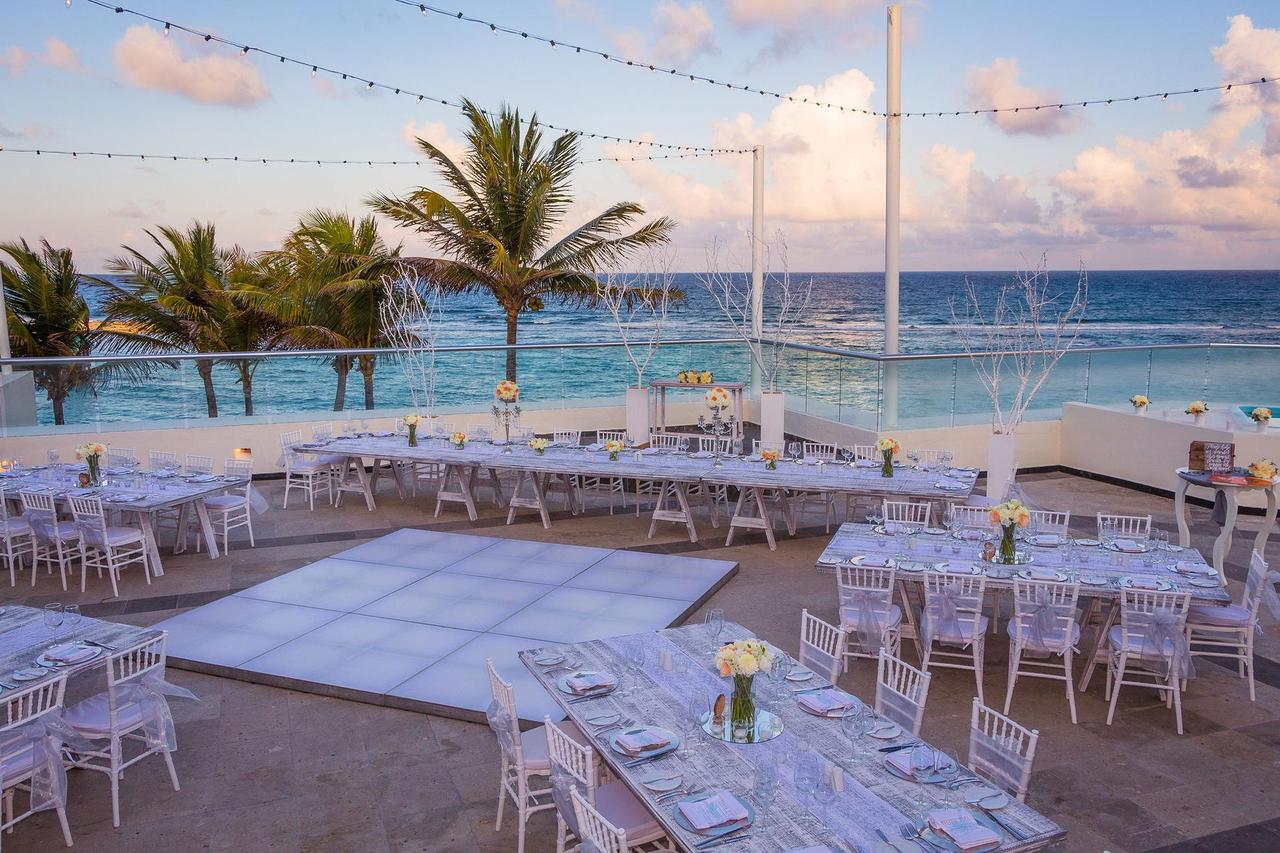 The Sian Ka'an at Grand Tulum
Make your list of what you hope for out of your big day. Barefoot on the beach? Check. An all-inclusive resort so all of your loved ones can afford the getaway? Check. Sunsets that'll fascinate every single Instagram post? Done. For one of the top venue picks for beachfront destination weddings in Tulum, consider Sian Ka'an. No matter if you'd like a simple wedding ceremony or something lavish, they have an option that caters to each couple. They also feature a bilingual wedding expert onsite to take care of every last detail so you can spend more time enjoying the experience. If you want something out of the box? No worries. But you can also pick from their six different pre-planned wedding packages, too, all of which include various elements, like decorations, cake, music, photography, menus and more.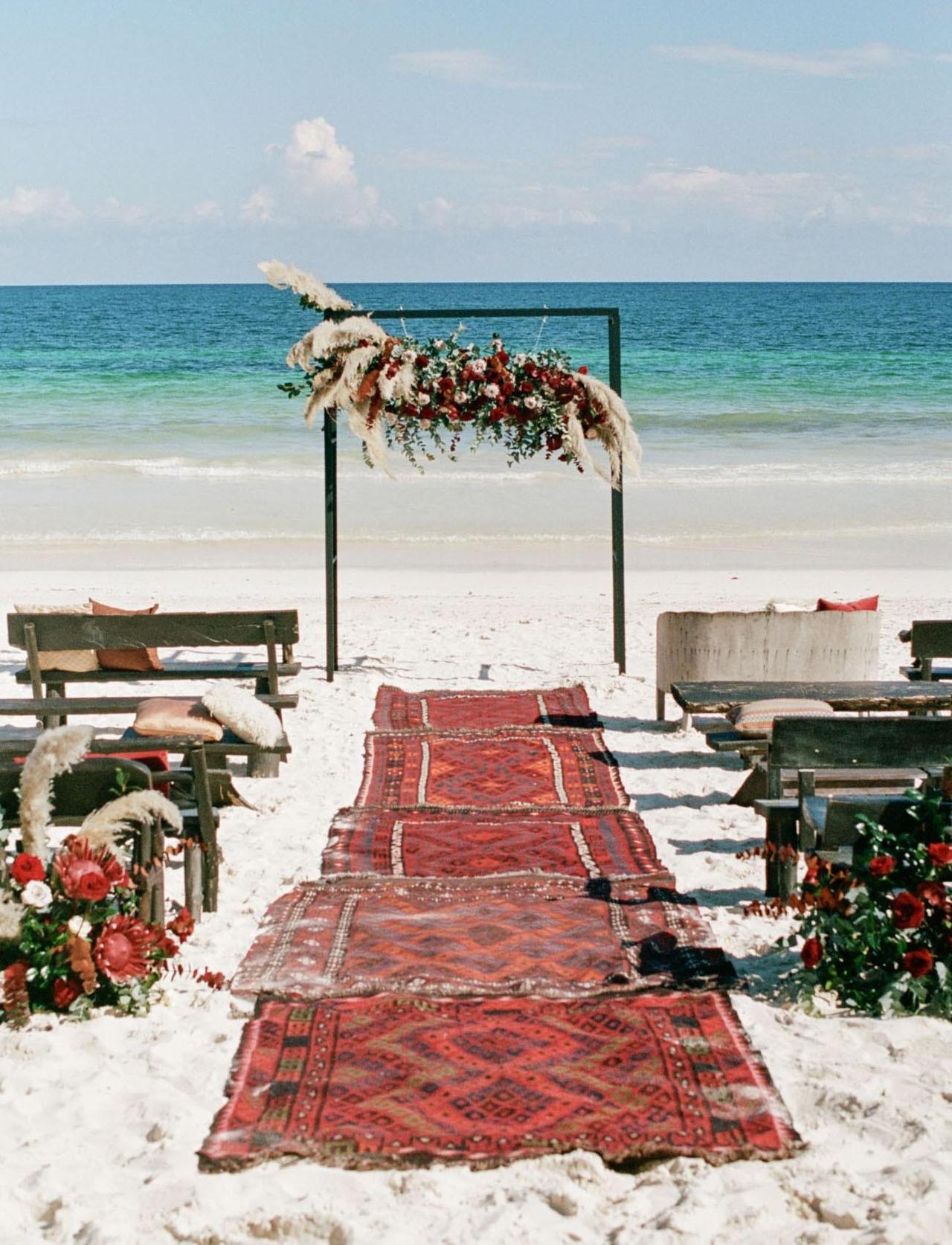 Oscar & Lalos
When you met your now spouse-to-be, you knew they were different from all the rest. And when you consider the vast amount of options for destination weddings in Tulum, you want an option that sets apart from other passport-required affairs. Enter: the one and only Oscar & Lalos. Here, you can have a traditional beach wedding with the sunset as your backdrop or you can have a truly unique ceremony 50-feet underground in a cave. Talk about jaw-dropping! The resort can hosts up to 100 guests, and features a team of florists, chefs, entertainment, and transportation companies as well as wedding photographers to capture every last second.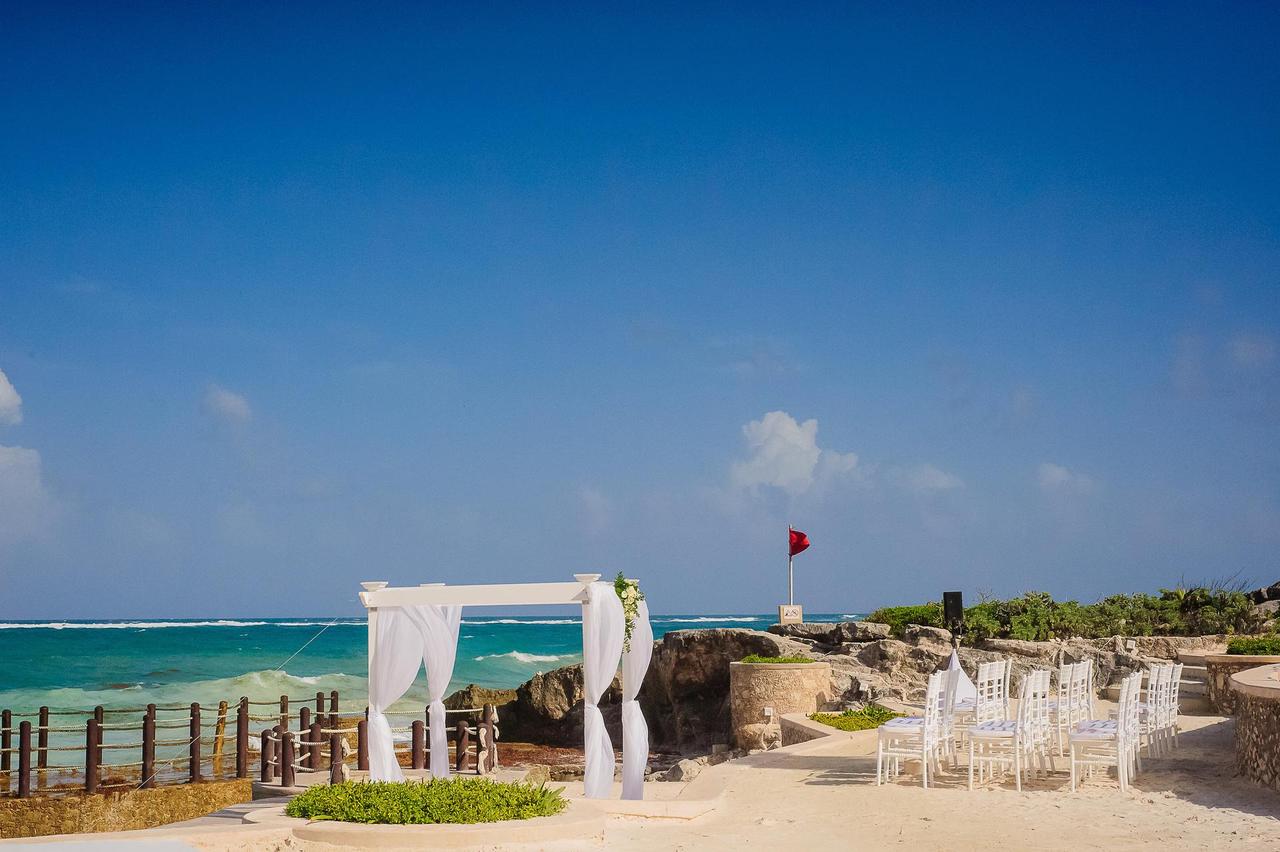 Kore Tulum Retreat & Spa Resort
They say when you meet the love of your life, the attraction is natural. Whether you know from the first date or the tenth, something about that person draws you to them, unquestionably. You might call it animalistic to an extend, making a jungle-themed destination wedding a subtle nod to your pheromones. Consider making your lifelong promise to one another at the Kore Tulum Retreat & Spa Resort, located inside the legendary National Park of Tulum, surrounded by endless types of trees, flowers and wildlife. Because it's also located on the Caribbean Sea, you'll get a mix of land and water, making for a romantic small getaway for you and your intimate party. Or, if you want a bigger to-do, they also have an indoor option available, complete with scenic views.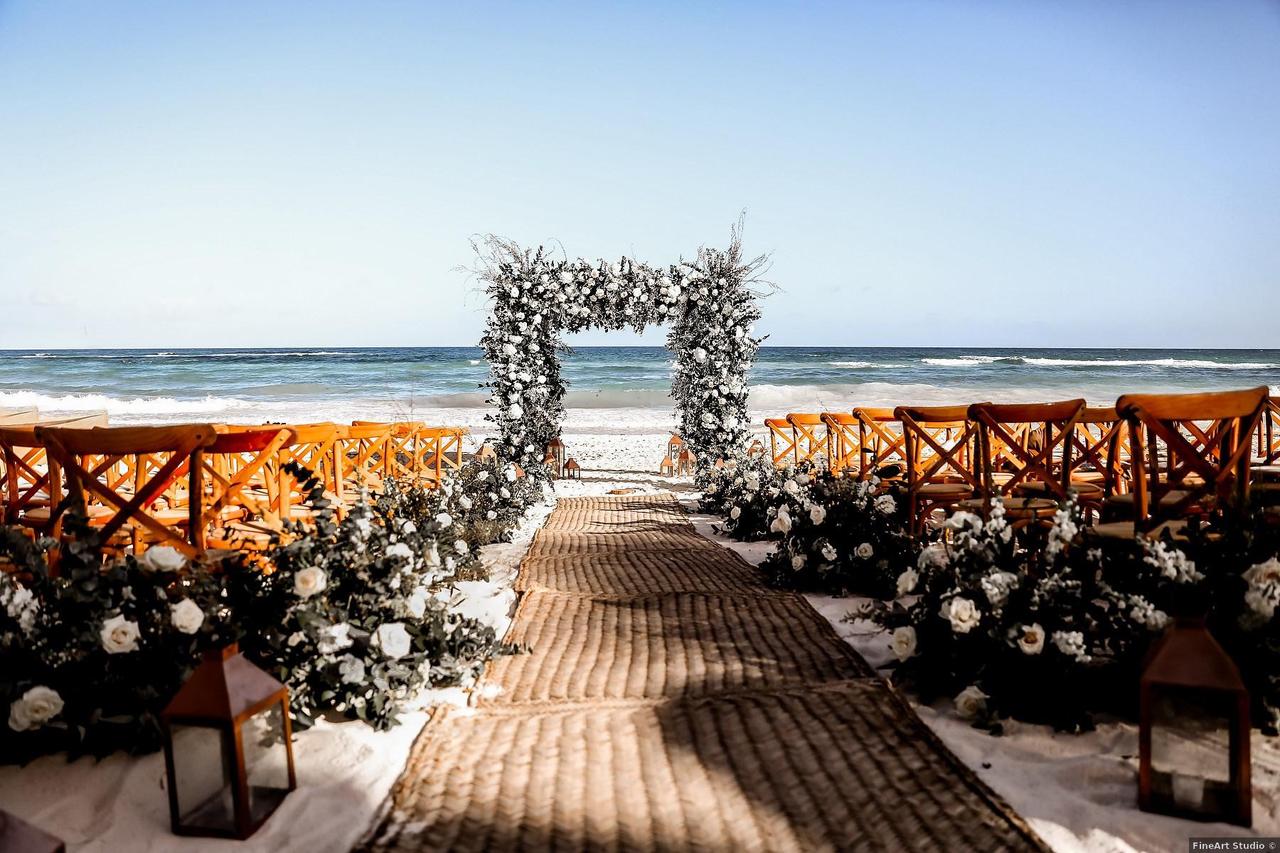 Akiin Beach Tulum
If you were to classify the vibe of Tulum, it'd definitely be boho-chic. For couples who care about effortless style, there isn't a better option than the Akiin Beach Tulum. Here, you can find the best of every world—rustic, yet modern. Contemporary but lavish. Sandwiched between the crisp breeze of the Caribbean Sea on a white-sand beach and the Mayan jungle, you'll be part of nature as you marry the person who makes you feel the most like yourself. They are among the top rated in the area for culinary arts, so foodie couples will also appreciate and savor the spices and flavors.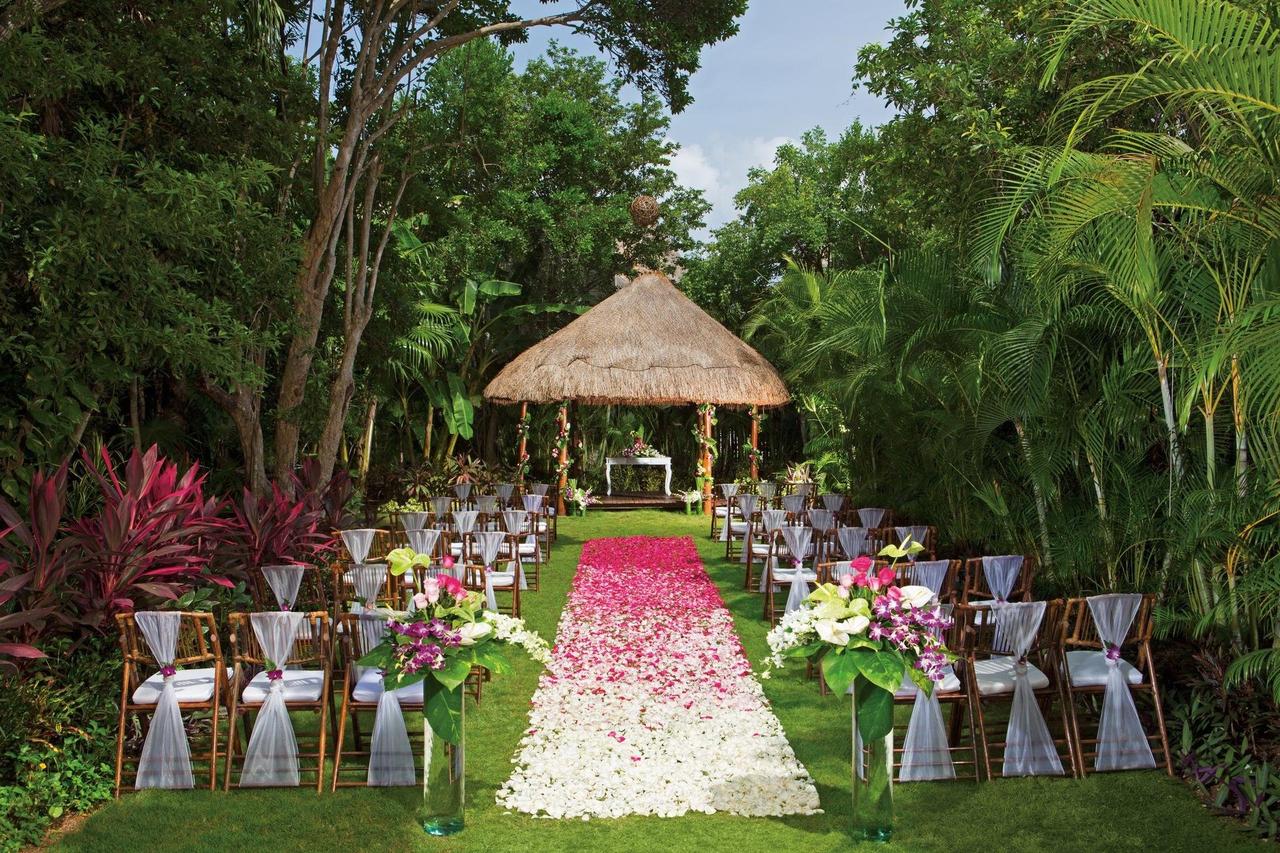 Dreams Tulum Resort & Spa
As the name suggests, your every wish and whim will be met at one of the top venues for destination weddings in Tulum. Unlike other boutique properties in the region, Dreams Tulum has a vast amount of land to host any-and-every type of ceremony. Here, you choose from indoor and outdoor venues, from the Secret Garden in the jungle to beachside affairs with your feet in the sand. You can use the ballroom for dancing or restaurants, depending on your preference as a twosome. Even though it's a grand property, they offer specific packages for small weddings, making it ideal for those who want to keep it intimate and private.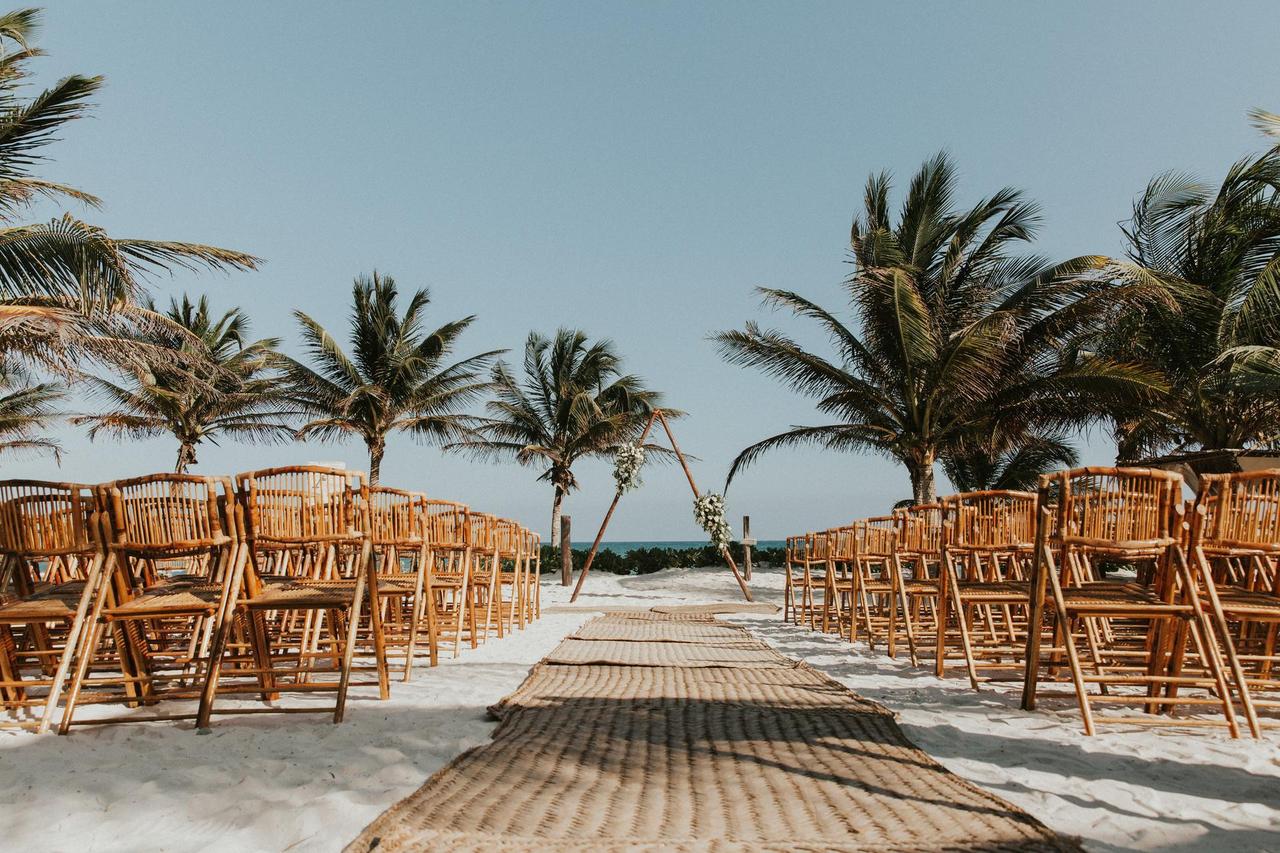 Mia Restaurant & Beach Club
When it comes to destination weddings in Tulum, you don't have to only pick from resorts, but other venues, too. In fact, hosting your grand affair at a restaurant or beach club, like this one, allows guests to book their stay at any hotel that is within their budget. For couples who are particular about their reception dinner, Mia Restaurant & Beach Club offers a contemporary and international culinary experience that'll satisfy your high standards. It's considered fine dining and features more than 200 bottles of wine. You can host your wedding on the beach at sunset, then head inside to the 1,000-square foot space that's ideal for parties of any size. As a bonus, the onsite wedding planner will handle the details so you can live in the moment.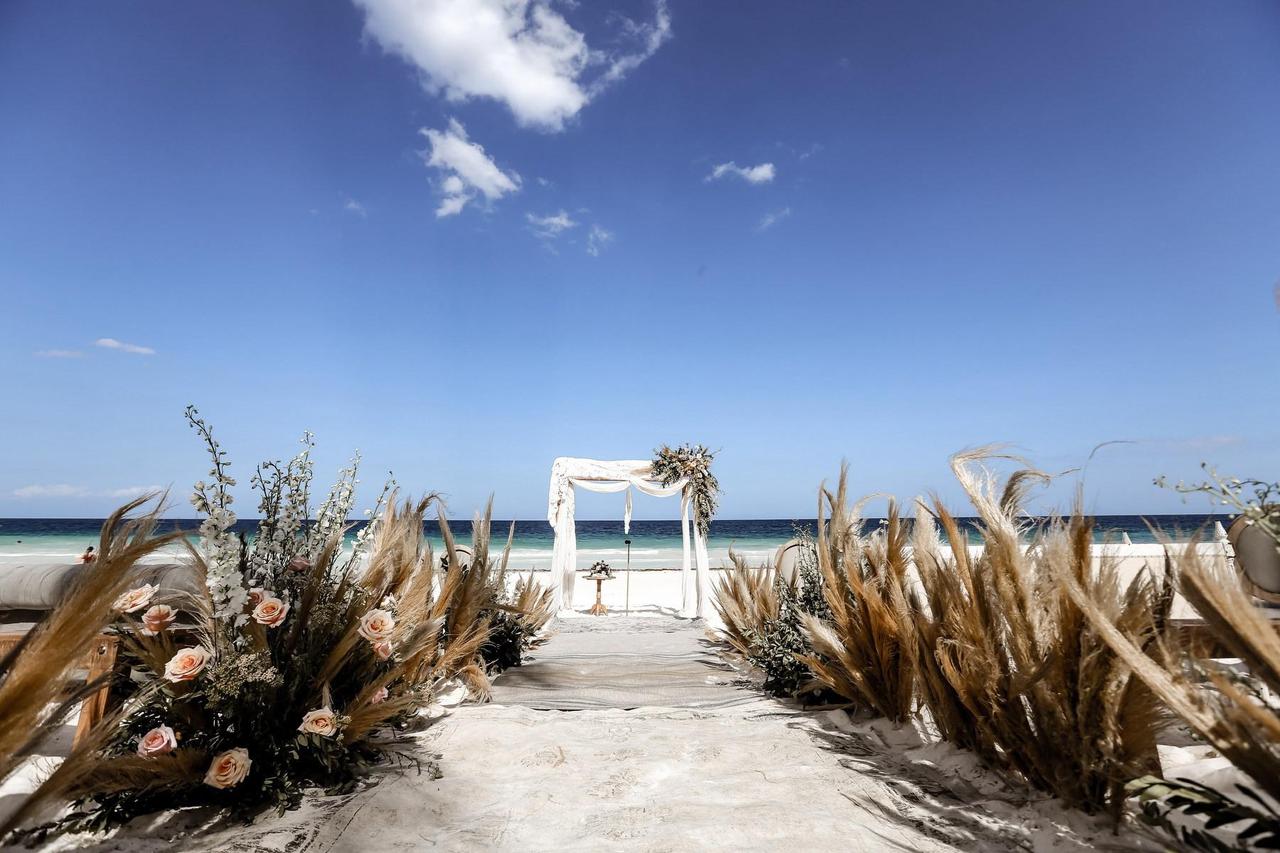 Casa Malca
If instead of a mega resort, you crave the boutique-feel of a home-away-home, you'll appreciate the finesse and style of Casa Malca. This small property specializes in bite-sized weddings, allowing couples the opportunity to rent out the entire property for their intimate affair. From fine dining and artisan cocktails to an Instagram-worthy pool and beach, here, you and your guests will get swept away with the effortless charm.
WILD
There are so many advantages to host your special day at a restaurant—the atmosphere, the service, and of course, the food! WILD is aptly named as it offers a unique jungle-like theme that celebrates the Mexican Caribbean landscape. You'll love the boho-style decor and Caribbean-style bar, plus the ample outdoor space for weddings of 100 guests for a seated meal and 250 for a cocktail-style reception. If you've got a lively crowd, you'll love the Wilderness lounge, which is ideal for late-night partying with a DJ or a live band.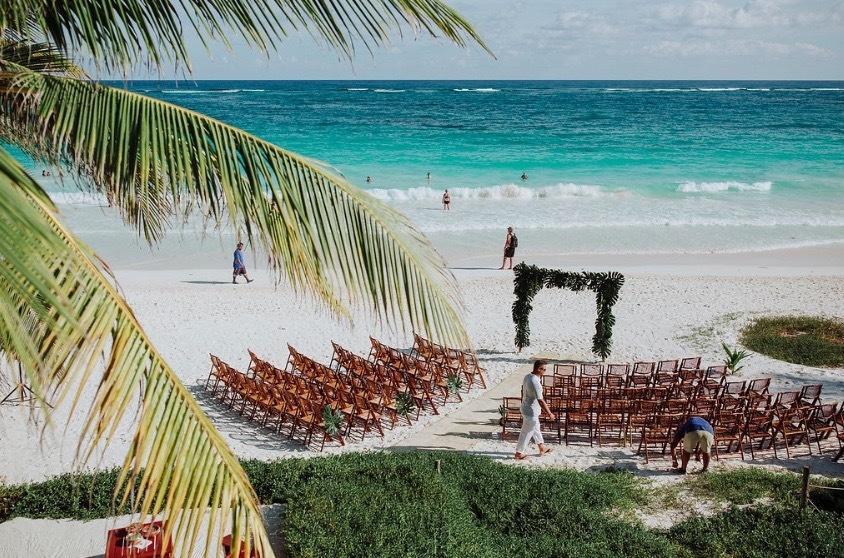 Hacienda Paraiso & El Paraiso Hotel Tulum
This oceanfront boutique hotel is ideal for a more intimate destination wedding. You can exchange "I dos" right on the white sand, followed by a relaxed beach reception. The six-bedroom villa makes for fun accommodations for your wedding party, and there are also 10 guest rooms on the property for the rest of your crew (plus there are hotels a short walk away). There are several wedding packages to choose from, making Hacienda Paraiso & El Paraiso Hotel Tulum an ideal venue for any budget or style.