While you might recognize this area of Mexico as a popular cruise ship port and beloved spot of seasoned scuba divers, it's also an romantic place to go from coupledom to marriage. A destination wedding in Cozumel offers remarkable access to underwater life and aquatic experiences, allowing duos and their guests the option to explore the region before and after the 'I do's.' Because this region is less developed than nearby Riviera Maya or Playa Del Carmen, love birds on a budget will appreciate the lower price tag with the same ocean views. When you're not busy toasting with champagne or waking up slowly to the crash of the waves, you and those you love the most will feel like you're part of the jungle and the sea, too, with sea turtle, manatee and dolphin sightings.
Here, the all-you-need-to-know guide to a destination wedding in Cozumel.
Best Time of Year to Get Married in Cozumel
Consider yourself warned: it's definitely steamy in the Caribbean! If you can handle the heat, set your 'save the date' between March and June, where the night will be a comfortable 70 and the days will feature a balmy 90-degree temperature. If you'd like a cooler breeze, consider winter, from November to February, where the highs teeter around 80 and the lows dip to the 60s
Marriage Laws in Cozumel
Because Mexico is made up of various states, there is no one-form-fits-all for couples seeking to wed in this country. Though every area will require the basics—like passports, identifications and such—some also ask for proof of divorce or death, while others ask for blood tests. Your best approach is to research before you take off, giving yourself plenty of time to work out kinks before it's time to waltz down the aisle.
Best Venues in Cozumel
From the beach to the ballroom, and every type of space in between, where you host your ceremony, reception and after party is an important choice to make. Here, the top options to pick from for your special day.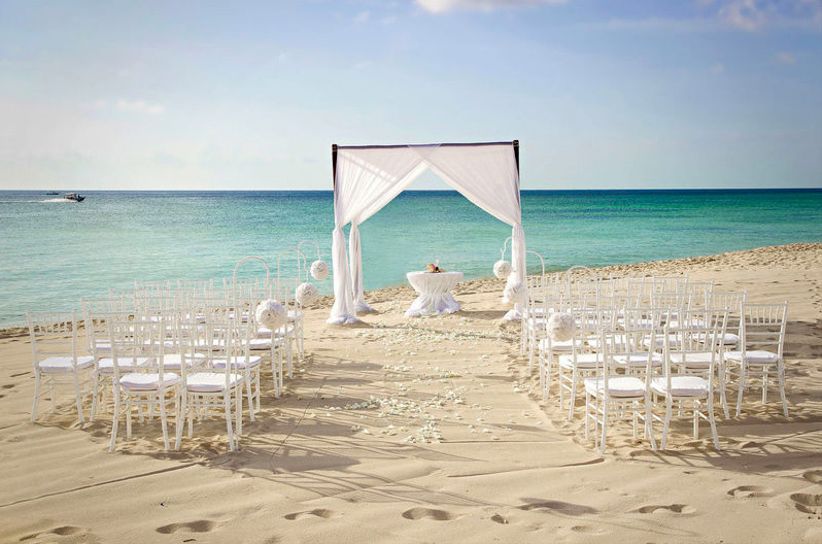 Occidental Cozumel
If part of the allure of exchanging vows in Mexico is experiencing the local culture, the Occidental Cozumel is a great choice for local-focused couples. When you host your destination wedding in Cozumel at this resort, you'll have the opportunity to feel right at home on one of the best spots in town, San Francisco beach. Since this is an all-inclusive resort buried deep within natural mangroves, you will truly feel like you've been whisked away on a romantic interlude. Your guests will appreciate not having to worry about any detail, since everything is taken care of by the on-site staff. Consider promising your commitment to one another on the beach, inside a restaurant or anywhere their team can accommodate.
Cozumel Palace
Though some couples worry about being rained out on their big day, others can't think of any place better to exchange vows than underneath the warmth of the Caribbean sun. If you're in the latter crowd, consider choosing this gorgeous (and appropriately-named) resort for your fairytale-like destination wedding in Cozumel. Under the gazebo, on the beach or on the outdoor terrace that overlooks it all, you'll not only fall more in love with one another, but with this region of the world, too. Make sure to give yourself some extra days to savor the spa and the beach before or after you make it official with your number one.
Allegro Cozumel
Playa San Francisco is considered the most beautiful beach—ripe with white, pristine sand and a beautiful jungle. Sitting sweetly by the sea is the four-star Allegro Cozumel, featuring lavish all-inclusive options and personalized service, making for a unique nuptials experience. For your destination wedding in Cozumel, the onsite team will help you put the finishing touches on every unforgettable. From spacious rooms and an understated tropical aesthetic, you don't need much in terms of decorations, since Mother Nature takes care of the background. In addition to five restaurants, you have the option of an unordinary reception or rehearsal dinner, with leisure and entertainment options under the water! As you're sipping on champagne, you could see a sea turtle or a fish swim along to congratulate you!
Secrets Aura Cozumel
Picture this: you, that love of your life and everyone you hold near-and-dear, all on the beach, toes-in-the-sand, stars in your eyes. That's what you'll find when you invest in a luxury destination wedding in Cozumel at the one-and-only Secrets. No matter if your party is for 10 or 200 guests, their outdoor (and indoor, if you please) options will fit your needs. Take your pick from three wedding packages, which all include a wedding planner, a cake, flowers and a free anniversary night stay for the newlyweds.
Melia Cozumel Golf
One of the most trusted brands in the Caribbean is Melia, with countless resorts dotted along the coast. When you decide on a destination wedding in Cozumel, hosting your wedding at this five-star all-inclusive will feel like a dreamy escape from everyday life. For couples who want their guests to make a vacay out of their marriage, the 18-hole, par 72 championship golf course is just one of the options for fun-in-the-sun. Hosting your wedding here not only provides endless space and venue options—from the golf course to the beach and all of the spots in between—but the all-food-and-bev included aspect makes it stress-free and budget-friendly.
IBEROSTAR
If you appreciate hands-on attention, that's exactly what you'll find at this beautiful property in Cozumel. From being one of the most beloved resorts for sunset-rich wedding photographs to earning the gold-star of approval for catering, there's not much this venue doesn't offer. But what sets them apart is the welcoming nature of the staff—from the front desk to the trained planners—all of which, make you feel comfortable, appreciated and relaxed.
Villa Chango
Second-time brides or duos who prefer to keep their big day as small as possible, this luxury casa was built for you. In addition to a clean and modern beach and pool area, this 20-person villa features everything you need to ensure your wedding day goes off seamlessly. Though you'll need to arrange catering with a local planner, for a low-key affair, this is not only an affordable option, but one that will provide the privacy and intimacy your crave for your day.