When you think destination wedding, do you envision your toes in the sand and turquoise waters? Then a Bahamas destination wedding is just the thing. This chain of Caribbean islands has it all, from high-end resorts to exclusive villas and beachfront cottages, making it easy to find the best vibe for your Bahamian nuptials. Go all-inclusive or go intimate, go barefoot on the beach or go formal in a ballroom.
No matter which Bahamas destination wedding is right for you, you'll be sun-kissed, tipsy on rum punch, and surrounded by guests who are thrilled you decided to say "I do" in the Bahamas!
Best Time of Year to Get Married in the Bahamas
This island nation is known for its soft sand and crystal blue waters, but some seasons are better for a Bahamas destination wedding than others. Two such times to avoid are the rainy season (mid-May to the end of October) and hurricane season (June through November). Instead, soak up the sun from January through April, when average temps hover in the 70s and humidity is low.
Marriage Laws in the Bahamas
To get a marriage license for your Bahamas destination wedding, you'll need to be in the country for at least 24 hours before applying. If you're staying on one of the Bahamian Islands, bring your Immigration Cards with you as proof of your arrival date. On a cruise ship? You'll need a letter from the ship's Purser or Guest Services to confirm you have been in Bahamian waters for 24 hours. You'll also need to bring the $120 payment (which includes one certified copy), a completed application, valid picture ID, and to perform an interview (if one or both parties is a non-Bahamian) with a Registrar or a designated Marriage Officer. If either party has been divorced or is a widow or widower, you will need to present a copy of your final divorce decree or a death certificate. You'll receive your marriage license the next day - meaning you'll need to be in the Bahamas for at least two days before tying the knot there if you want a Bahamian marriage license. Your marriage license will be valid for 90 days after it is issued. Unfortunately at this time, same sex marriage and civil unions are not legal in the Bahamas.
The Best Venues in the Bahamas
Now that you know when and how to tie the knot at your Bahamas destination wedding, let's get down to picking the perfect setting for you and your significant other. Don't miss these 7 properties and venues!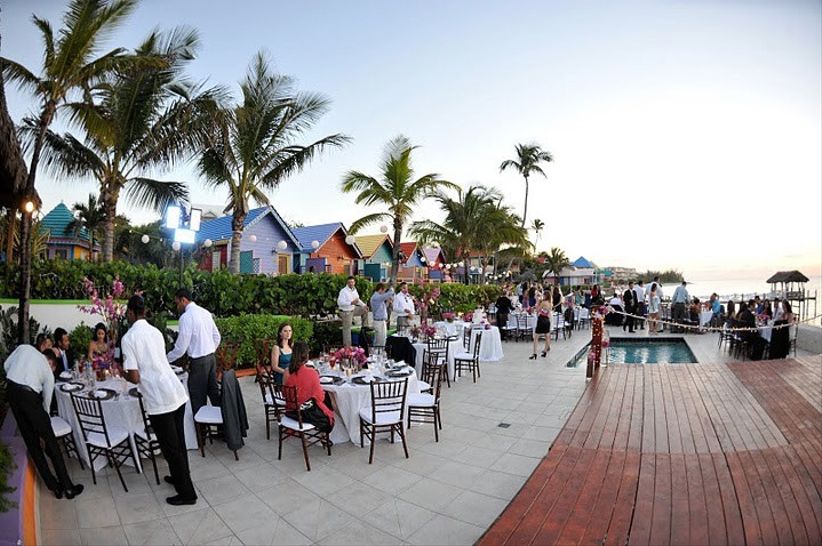 Compass Point Beach Resort
This colorful waterfront resort on Nassau is full of Bahamian spirit. Compass Point Beach Resort has studio, one-, and two-bedroom huts are decked out in colors inspired by Junkanoo, a traditional Bahamian parade and celebration, all with balconies and ocean views. Exchange vows beneath the gazebo on the resort's pier, or kick off your shoes to exchange vows in the sand. When you're ready to party, you'll have a variety of venues to choose from, based on your number of guests. The Restaurant Gazebo, Sun Deck, and Pool Deck are ideal for smaller groups, while the Pool Deck and Restaurant Terrace are great choices for crowds of 100 or more. For a really laid-back wedding, belly up to the bar with your friends and family at the Ocean Bar Gazebo.
Sandals Emerald Bay
Centrally located on Great Exuma, the largest island in the Exuma district, Sandals Emerald Bay is an luxurious and secluded all-inclusive property perfect for a Bahamas destination wedding. In addition to a mile-long beach, a half-acre pool, 11 restaurants, and a championship golf course, the resort's basic wedding package is free - yes, free! - with a three-night stay. That includes a manicure and 30-minute foot massage, a ceremony in the sand or beneath the garden gazebo, a bouquet and boutonniere, and a cocktail reception with sparkling wine and hors d'oeuvres. From there, the customization options are up to you. Bring more guests or book a longer stay and you'll get add-ons like a room upgrade, a bridal shower, or up to $1500 in perks (think excursions and activities or décor credit). Check into a Love Nest for a romantic escape complete with butler service, then meet your guests for unlimited premium spirits at the swim-up bar.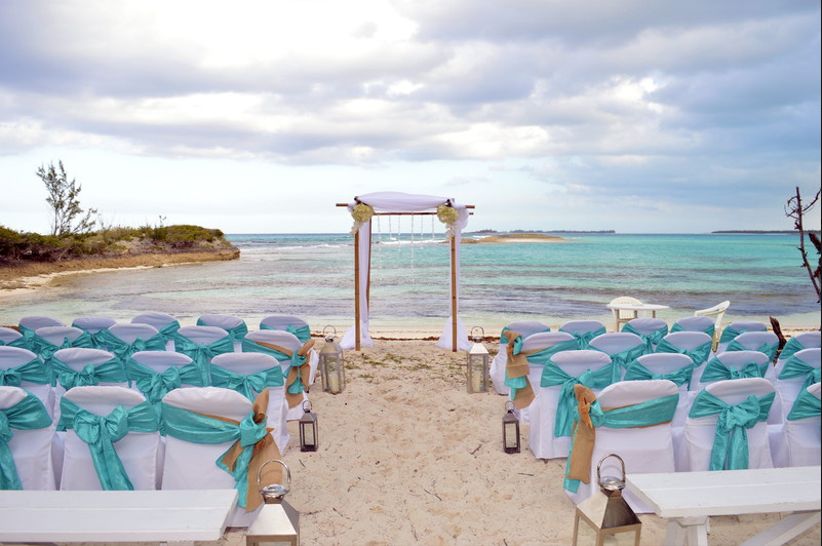 Green Turtle Club Resort and Marina
Head to this sophisticated property on Green Turtle Cay for an elegant Bahamian destination wedding. From intimate elopements to larger celebrations. Green Turtle Club Resort and Marina has options for every type of couple. Sip on the famous Tipsy Turtle Rum Punch in the Dollar Bar, and get down to the sounds of the Gully Rooster Band at a welcome party your guests are sure to remember. After your ceremony, treat guests to an elevated take on local favorites with dinner at The Club Restaurant, with items ranging from conch chowder and lobster tacos to native grouper with mango mojo. After a night of dancing overlooking the ocean, hop in a golf cart to make your grand getaway!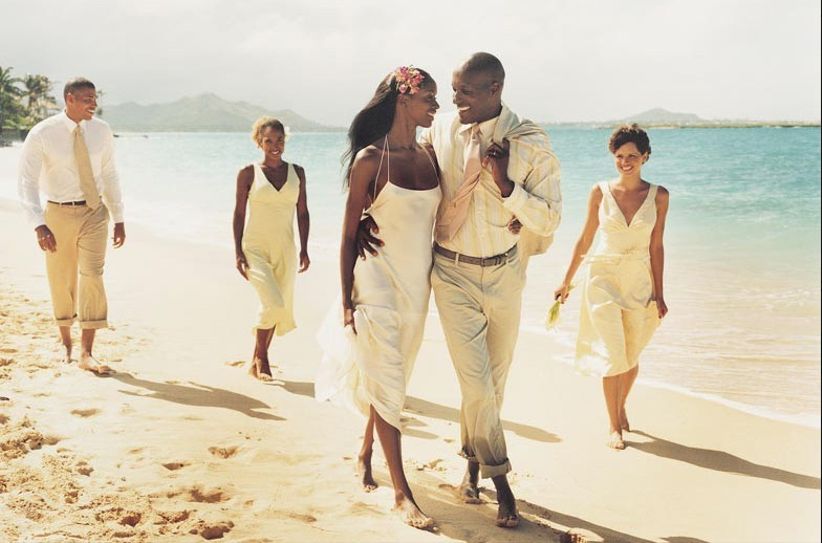 Grand Isle Resort & Spa
Overlooking Emerald Bay on Great Exuma, Grand Isle Resort & Spa is an award-winning luxury property with a relaxed vibe that will welcome you and your loved ones in style. The resort's event staff will help you create a personalized celebration for your Bahamas Destination Wedding, putting a sophisticated twist on a barefoot ceremony in the sand. Seawater-infused experiences make the spa the ultimate in relaxation, while the Palapa grill hosts a weekly Junkanoo Bonfire to get the party started. This oceanfront property was recently featured on The Bachelor, so you know it oozes romance! Small groups will feel perfectly cozy in the Overlook Palapa, while larger crowds can sprawl out around the Pool Deck. Either way, your celebration will feature locally-inspired hors d'oeuvres (chicken curry puffs, anyone?), Bahamian favorites like conch chowder and jerk flank steak, and frozen cocktails blended to order. Cheers!
Sapodilla Restaurant & Estate
Sprawling gardens surround this colonial-style estate, where you can enjoy the feeling of Bahamian history as you say "I do." Sip cocktails on Kamalame Terrace, where fragrant orchids and jasmine fill the multi-leveled space with color. When you're ready for dinner, surround yourselves with Arabian palms on the Palm Terrace, then sit down for a meal of locally- and internationally-inspired favorites. Looking to elope? Toast your newlywed status in one of Sapodilla Restaurant & Estate's private cabanas, where a butler will attend to your every need and a personal chauffeur will drive you home after that final glass of champagne.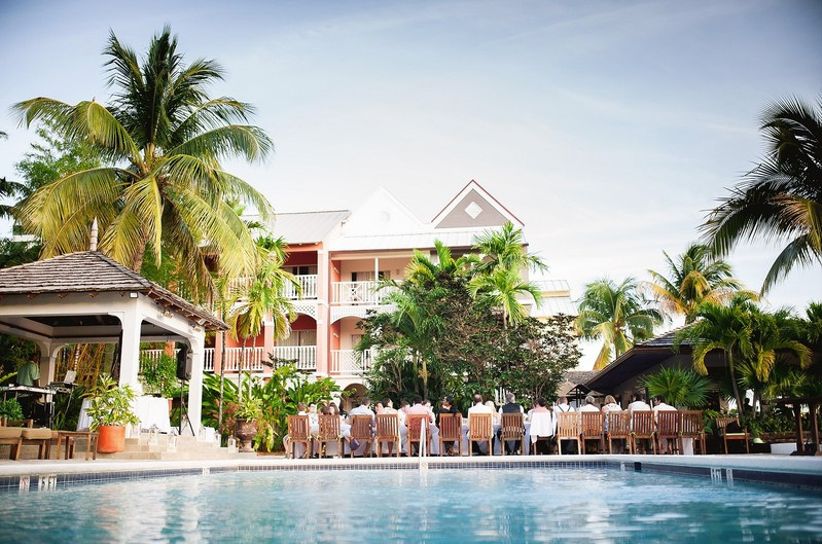 Pelican Bay at Lucaya
Nothing says "Bahamas" like a coral and white hotel overlooking turquoise waters. The intimate Pelican Bay at Lucaya will make you feel like VIPs throughout your stay, especially if you fill the rooms with your loved ones. Follow your sunset ceremony with a surprise Junkanoo, setting the mood with costumes, whistles, and cowbells as local performers lead your guests to the reception. Whether in the windowed dining room or on the pool terrace, indulge in local cuisine alongside signature cocktails and stunning views.
Pink Sands Resort
Located on Harbour Island, this 20-acre property is an intimate and secluded escape along the island's famous pink sand beaches. A combination of quaint cottage and luxurious villas, Pink Sands Resort elegantly walks the line between classic and casual. After a few days sipping cocktails and lounging on the beach, gather your loved ones on the pink sand as you walk down the aisle. The locally-sourced menu puts a modern twist on tropical favorites, like chilled avocado soup with pickled shrimp, grilled octopus salad, and island spiny lobster with zucchini risotto, with many ingredients grown on the property. No matter what you choose, you'll be treated to Pink Sands Resort's Old Bahamas aesthetic, unparalleled service, and quiet charm.