7 Unique Belize Destination Wedding Venues That Will Wow Your Guests
Ready to plan an off-the-beaten path wedding in Belize? Check out these truly special wedding venues.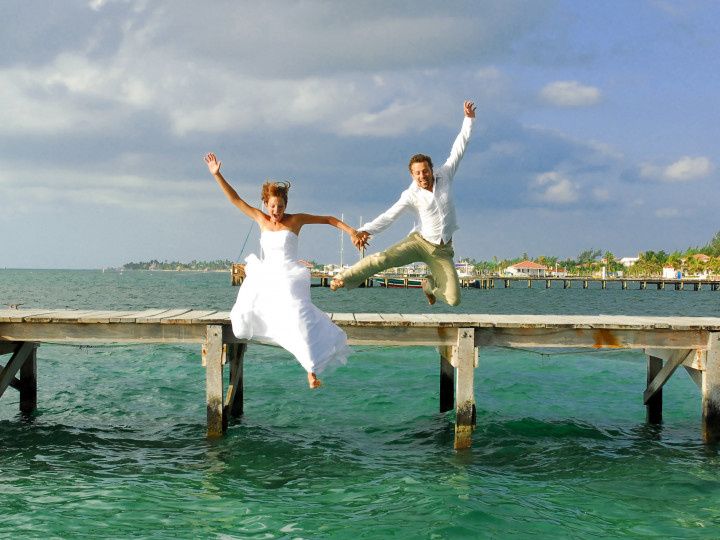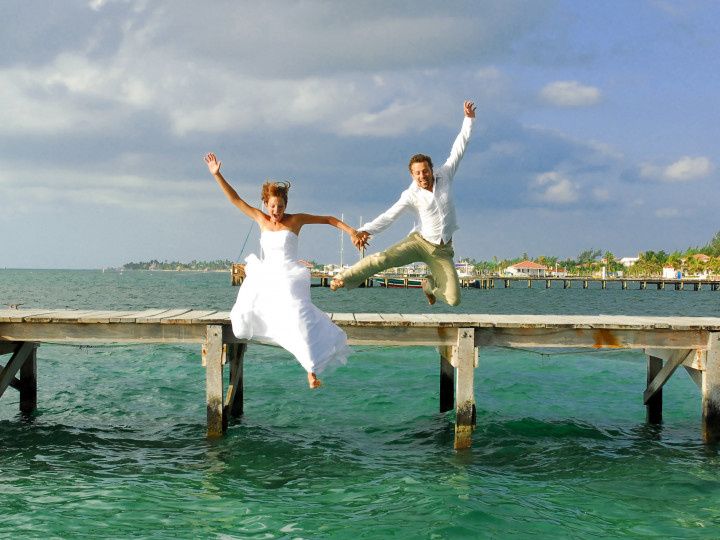 While Mexico and Jamaica receive plenty of attention for being wedding destinations, Belize destination weddings are quickly growing in popularity. As tourism booms, so does the interest of engaged couples, looking to set themselves apart from other destination wedding goers. Off the eastern coast of Central America on the Caribbean Sea, this nation is defined by hundreds of islands and a rich, robust sea life that attracts snorkelers and scuba divers. For couples who want to explore the wild of their relationship and of the land, Belize is also home to many jungles, Mayan ruins and lagoons. With year-round beautiful weather and infrequent hurricanes, Belize provides some of the best sunsets for evening 'I do's' in the world.
Here's what to know before planning your Belize destination wedding.
Best Time To Get Married in Belize
As you might guess, the best time for a Belize destination wedding is when the days are sunny, clear and dry—from December to May. From June to August, you can expect steamy humidity and stickiness, which isn't ideal for shore-side nuptials. After august until early December, rainfall is common, but not extensive, so it could be an option for your big day.
Wedding Laws in Belize
Though it'd be ideal to just hop down, get hitched and head to your honeymoon, couples must follow a few legal rules when planning a Belize destination wedding. First and foremost, you have to be in the country for a minimum of three days prior to your marriage license application. Then, on the first business day after this three-day stint, you can submit your application. Within it, you need a proof of citizenship, passport/birth certificate, and if applicable, a divorce or death certificate.
The Best Venues in Belize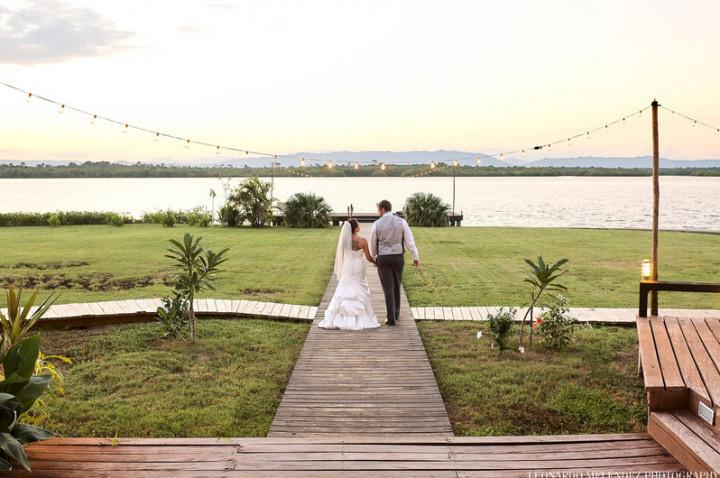 Belize Ocean Club
There's nothing quite like the gorgeous contrast of a white beach and the shadow of a mountain. Here, you can expect no-filter-necessary experience, all from the natural majesty of the destination. What's beneficial about a Belize destination wedding here is the on-site wedding planner that will walk you through every last detail of your wedding, including venues, guest services, special treats and more. You can exchange vows on the beach, in a ballroom, on a terrace—you name it, they'll make it happen. To make it even easier for you, Belize Ocean Club will also provide recommendations and services for photographer, videographers and more. Intimate ceremonies are common, as are 200-guest affairs, depending on how large your community might be. And when you're not walking down the aisle or listening to speeches, your loved ones will enjoy the all-suite resort, where every room has a private balcony. As a bonus, activities also include ziplining, waterfall rappelling, archaeological tours, a swim-up bar and much more.
Victoria House Resort & Spa
Want a bit of island—and some city? Consider the Victoria House Resort & Spa for your Belize destination wedding. It's located only two miles from the idyllic San Pedro Town in Ambergris Caye, which is among the largest and most beautiful in the country. It's also between the Great Mesoamerican Barrier Reef and the mainland of Belize, making it easier for your guests to travel two from the international airport. Depending on budget and preference, guests have their pick of different accommodations—from well-appointed rooms and beachfront villas to thatch-roof casitas and more. As you promise forever to your one-and-only, you'll hear the crash of the waves, the swaying of the palms and of course, the fast-paced beat of your heart as you make it official. This resort also arranges traditional fare for your reception, including Pork Pibil and other customized dishes.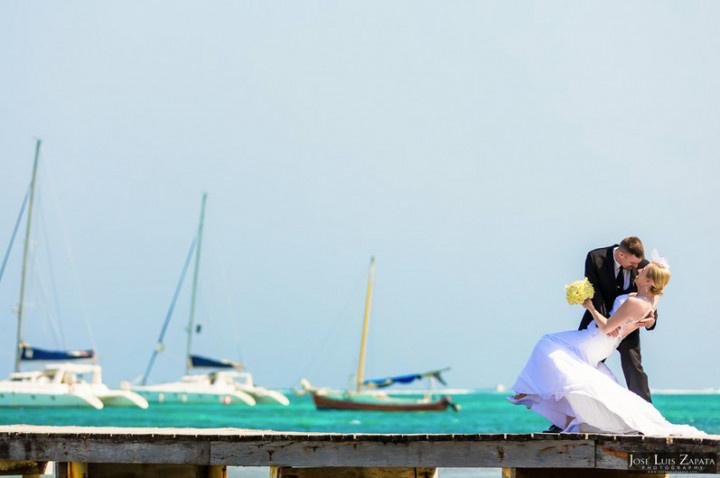 La Perla del Caribe
Consider this: why rent a block of rooms and mingle with other guests, when you can have the whole place to yourself? Enter La Perla del Caribe, which can accommodates up to 82 people. In addition to the obvious benefit of privacy, you also have the luxury of being situated in Ambergris Caye, which is known as 'Isle Bonita' or beautiful island. Here, you'll be up-close-and-personal with the largest barrier reef in the world, giving your guests the chance to have two once-in-a-lifetime experiences: seeing you get hitched and snorkeling around this reef. Ripe with colorful blooms, crystal-clear waters and healthy sand, it won't just be your relationship view that feels rose colored here. Each of the villas are considered luxury, and are fully private, giving your wedding that extra touch of sophistication and zen you crave.
Maya Beach Hotel
On the Placencia Peninsula of Belize, you have immerse yourself in the local culture at this beachy residence. Unlike most big-box resorts, the quaint appeal of this lodging experience features variety for you and your partner, as well as your loved ones. With only 13 units, you can have your pick of standard hotel rooms, beachfront cabanas or apartments, ideal for families, singles and couples alike. While you're on the property, your guests will enjoy complimentary bikes and snorkeling gear, kayaks and a plethora of other activities. When it's time to have your ceremony and reception, you can choose from the beauty of the beach or enjoy the air-conditioned indoors. For your menu, you'll appreciate ordering from their on-site eatery, which was twice named the country's restaurant of the year. In the days leading up to your wedding (or following), consider exploring the grounds that surround you, from ancient caves and waterfalls to jungles and chocolate, spice and banana farms.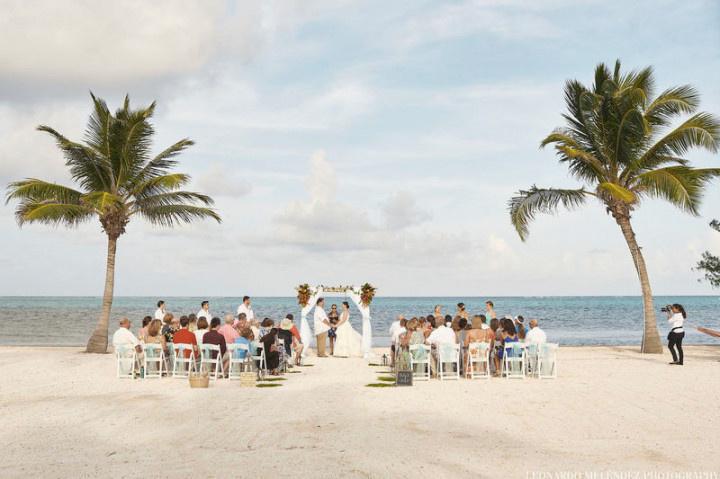 Thatch Caye Resort
Every couple is different—and that's what makes weddings so special. While some desire a grand affair with all the bells and whistles, others prefer to hand-select a few treasured people to go on an adventure with for their big day. If you value more intimacy, consider booking Thatch Caye Resort, a private island featuring 15 villas. Secluded and surrounded by lush, vibrant greenery, you have your choice of over-the-water bungalows, ocean view cabanas and other unique activities that will wow your guests. While you're here, friends can relax in the sun, go fly-fishing, snorkel, scuba dive and other aquatic activities. Couples can also customize their reception dinner with the on-site chef who pays extra attention to your culinary preferences.
Cayo Espanto
Just three miles off the coast of San Pedro, Belize, you and those who have made your life so special can have an entire island to yourself. And not just any island—but a luxury getaway that makes you feel like the royalty you are on your wedding day. In addition to private beaches and access to the second-largest barrier reef system in the world to high-end amenities that give this resort it's 5-star status—you'll be blown away from the moment you arrive… by boat. Though large weddings might be tough here, for affairs under 40, it's the right size for an intimate, romantic and dreamy destination wedding.
Belize Almond Beach
For a quick connection to the international airport in Belize that doesn't require too much commuting for your guest, consider this Belize destination wedding venue on the mainland. In the Stann Creek District, south of Belize City, you'll find white sandy beaches and pretty ocean views, all with access to a number of activities. From diving and fishing to eco-adventures and beyond, you'll see wildlife, sunsets and other wonders. While you're here, you can choose between a beachy wedding, an indoor air-conditioned event or a mix of the two. The on-site planners make it seamless to plan the wedding you've always wanted.