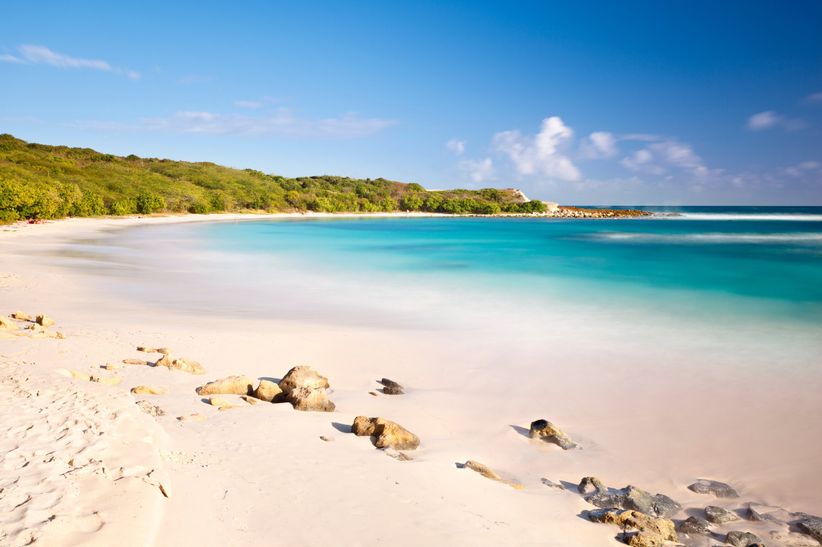 One half of the two of the most picture-perfect islands in the heart of the Caribbean, an Antigua destination wedding means bright blues skies, waters that match the hue and endless, white sandy beaches. This large floating nation, as well as nearby Barbuda, is infamous for its naval history, including an English Harbour, a restored dockyard, a museum and a marina. When your guests are taking a break from celebrating, there are a slew of hiking trails, most notably Shirley Heights, which used to be a military guard post. For couples who want to have many beach-vibes options, there are at least six to choose from, all with different values and perks, from coves and cliffs to a shallow, translucent sea. No matter where you exchange your vows, an Antigua destination wedding will warm your spirits—and start your marriage off sun-kissed.
Here, what you need to know to start the planning process for your Antigua destination wedding.
Best Time of Year to Get Married in Antigua
Once you send out the 'save the dates'—everything about getting married suddenly feels real. It's an exciting moment, but one that many couples deeply discuss before putting it in writing. Especially if you're having an Antigua destination wedding, securing the ideal weather forecast will ensure the rain clouds stay away. The best time of year is between May and November during the off-season. During these months, nightly rates and nuptial fees will be lower, and the temperature will teeter around 80 degrees. Because it is nestled in the Caribbean, there is a slight risk of hurricanes mid-September to early November, but historically, this island has experienced much turmoil. For fewer clouds (but plenty of tourists!), choose a date between December and April.
Marriage Laws in Antigua
Good news if you have your sights (and deposit) set for an Antigua destination wedding: it is one of the easiest to pull off, legally. Though some countries require waiting periods, here, you can get hitched the same day you arrive when you request a special marriage license. You'll need to bring your passport, proof of divorce/death if applicable and a completed application, but otherwise, it's easy-peasy. Make sure to check with a professions to ensure you're following the rules, just to be safe!
Antigua Destination Wedding Venues
From a cabana on the sand to decked-out ballrooms that'll dazzle your guests, consider these options for an Antigua destination wedding venue:
Curtain Bluff
If you were asked to describe this top-rated resort, you might find yourself at a loss for words. As an all-inclusive beauty in the West Indies of the south coast of the island, Curtain Bluff sits on 20 vibrant, landscaped acres and is surrounded by two beaches. For an Antigua destination wedding, it offers both luxury and laid-back comfort for your entire wedding party, allowing you to soak up the once-in-a-lifetime experience of getting married. Their onsite wedding team offers several packages to fit your budget, expectations and dreams, but can also customize to ensure you're happy.
Cocos Hotel Antigua
If you want less of a 'hotel' feel and instead, immerse yourself into the native culture of the area, consider hosting your big day here. For an Antigua destination wedding, the Caribbean cottages of Cocos Hotel Antigua offer a glimpse into the traditional life of islanders, set upon private beaches and overlooking blue waters. Though it isn't quite as high-end as other experiences you could book, the appeal is found in the simplicity and ease of the venue. They are rated well for service, and will go out of their way to make your day unique—and personal to your relationship.
Sandals Grande Antigua
Considering Sandals Grande Antigua was voted the 'World's Most Romantic Resort' for fourteen years, you can guarantee you'll feel charmed from the moment you tour the property. One of the greatest appeal is found in the curb, of course: it's located on the beautiful Dickenson Bay, offering a gentle breeze and endless swaying palm trees. As an all-inclusive, your friends and family won't have to worry about expenses once they settle in. Choose from their many wedding packages (including one that's free!), that include flowers, the ceremony and much more. Find yourself saying 'I do' on the shore or inside their elegant ballroom—and you'll be swept away.
Pineapple Beach Club
Imagine this: clean, clear waters, pristine beaches, the shine of the sun and the reflection of love in your number one's eyes. When you choose this venue for your Antigua destination wedding, you'll get all of this in more. Each of their packages include decoration, bouquet for the bride and boutonniere for the groom, the cake and other goodies. Couples who have wed here have called it a 'dream come true'—so it can be yours, too in the garden gazebo, by the Caribbean or other spots.
The Verandah Resort & Spa
If you want glam for your Antigua destination wedding, here's where you'll find it. Not only does The Verandah offers fresh blooming gardens, sunset-filled beaches and 360-degree view terraces, but they tend to every last detail with charm and care. Because of its location on the East Side, you'll be greeted by the Atlantic Ocean for your celebration, offering a little bit of a different perspective. For smaller affairs, you can even choose a hide-away gabezbo to keep your big day intimate.
St. James Club
Some brides want the sparkle, while others are particular about the food. If what matters to the most to you are flowers, you're going to be mesmerized by this Antigua destination wedding venue. Most couples choose to promise their forever love to one another at the Hibiscus Gazebo, covered in flowers and overlooking the Atlantic Ocean. Though it's cozy and intimate, it's also dreamy and romantic, making your guests feel as rosy as you do. Cue the violins!