Far from the party scene of Cancun, there's a different type of beach town for newlyweds-to-be. On Mexico's Baja California peninsula, a Cabo destination wedding offers couples a more upscale experience than other regions, featuring touches of nautical romance and picture-perfect sunsets. Because of Cabo San Lucas' location on the Pacific Ocean, many travelers enjoy year-round trips, without having to worry about hurricane season. Though some of touched down, few have been devastating, unlike other sandy regions of the country. Many of the most pristine beaches of the area are located along the appropriately-named Playa del Amor, translating to 'Lover's Beach.' Here, once you exchange vows and pop the bubbly, you can board a boat for the infamous natural archway dotted along the jagged cliffs, ringing in your marriage in style.
No matter where you make it official on this tiny stretch of sea bordering California, you'll find a sense of calm and beauty throughout your Cabo destination wedding.
Best Time of Year to Get Married in Cabo
Lucky you—there's never a bad date on the calendar to have your guests save for your Cabo destination wedding. The highest season is November through April, with the best weather of the year, as well as the opportunity to catch a glimpse of whales as they migrate through the area. For warmer sunshine that can lean a bit scorching, consider May through July. You might see more showers from August to October, but most will only last a day or so. If you're willing to take the risk, you might score better rates for your venue.
Marriage Laws in Cabo
Similar to the United States, Mexico is composed of many different states, all of which have their own rules and regulations. This means what was required of your best friend who picked Playa Del Carmen for her big day, isn't the same paperwork you'll have to complete for your Cabo destination wedding. To ensure there are no hiccups once the day arrives, do your due diligence before arriving. In addition to a passport and other expected proof of identity, you may be asked to provide a divorce or a death certificate, if applicable.
Best Venues in Cabo
From all-inclusives that make every last detail easy-peasy to cliff-side five-star experiences that'll exceed your expectations, consider this the short list of ideal wedding venues for a Cabo destination wedding.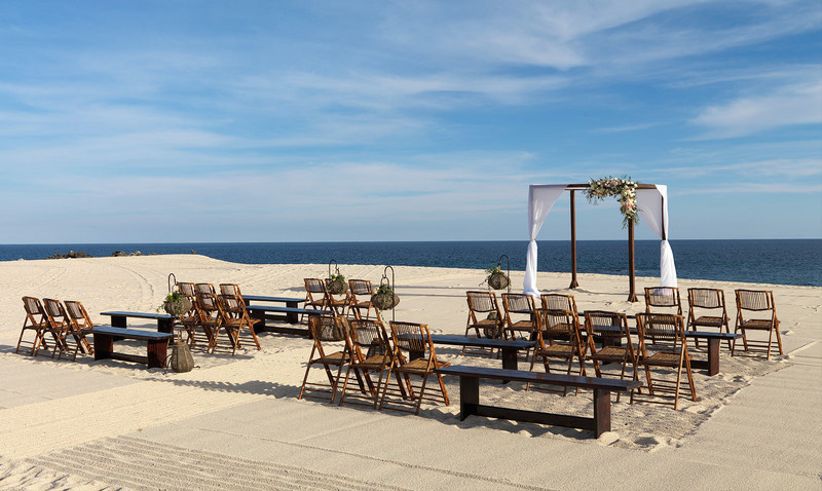 Paradisus Los Cabos
As you drive up to this high-end all-inclusive, the contrast of the white buildings and the blue sea is exactly what you've always imagined for a Cabo destination wedding. What many couples value at Paradisus Los Cabos is the vast variety of options—from an intimate ceremony on the beach as the sun sets above the alter to a grander affair on the terrace with sea views, parties of all sizes can create their vision. Though you might be hesitant about the idea of food-and-beverage included if you'd prefer a fancier wedding, Paradisus goes above and beyond with their culinary selections, offering smaller portions and healthy dishes. For the rehearsal dinner, you can even provide your guests with a multi-course tasting menu, prepared by a multi-Michelin star chef, setting the bar high and far from other weddings. No matter what you value or desire, the onsite wedding team will ensure every last box is checked and you're left with a lasting memory of this special destination.
ME Cabo
You want to have a Cabo destination wedding, but you want to keep your party tiny? Though you might have a waiting list of those who wish to attend because the scenery is so beautiful, ME Cabo is an ideal place for your intimate affair. It's a smaller property with beach access and only a short walk to downtown, allowing you the option to host your rehearsal dinner or afterparty away from the resort. A Friday and Saturday night dance party with a live DJ make for a lively celebration and the oversized rooms make it comfortable for your guests. If you do decide to remain onsite for the duration of your wedding foray, take advantage of the locally-caught seafood, from fresh sea bass to shrimp and other selections from the Pacific.
Esperanza, Auberge Resorts Collection
As the only private beach resort in the area, Esperanza provides a unique, high-end and luxury experience for engaged duos. When you first pull up to the resort and walk through the main lobby, you'll be amazed by the panoramic view of the Pacific Ocean, welcoming you with serenity and charm. Because the resort is located between two scenic bluffs on the Baja peninsula Cabo destination wedding here doesn't need much decor, since the scenery itself is enough to make for Instagram-worthy images. Though it is on the more expensive side of venues, their offerings match the price tag, with fine dining, an award-winning spa and the option to rent entire homes so your wedding party can comfortably prepare for the big day together. It's recommended to book your ceremony on the multi-tier terrace, as the waves splash up the rocks, making for an over-the-top romantic experience—literally.
Chileno Bay Resort & Residences
If you have a larger guest list, but still want to provide an upscale experience, Chileno Bay Resort & Residences fits the bill for your Cabo destination wedding. In addition to the modern, comfortable rooms and the expansive infinity pool that piers directly to the ocean, this property offers a plethora of options and upgrades for every type of couple. Whether you choose to get married at their signature restaurant overlooking the infamous cliffs of Cabo, have a gathering on their private beach access or exchange vows on the oversized green lawn, their onsite wedding team can create magic wherever you'd like to wed. Especially if your friends and family have children, this venue is ideal, with a movie theater, kids club including a recording studio and plenty of kid-friendly activities to keep 'em occupied.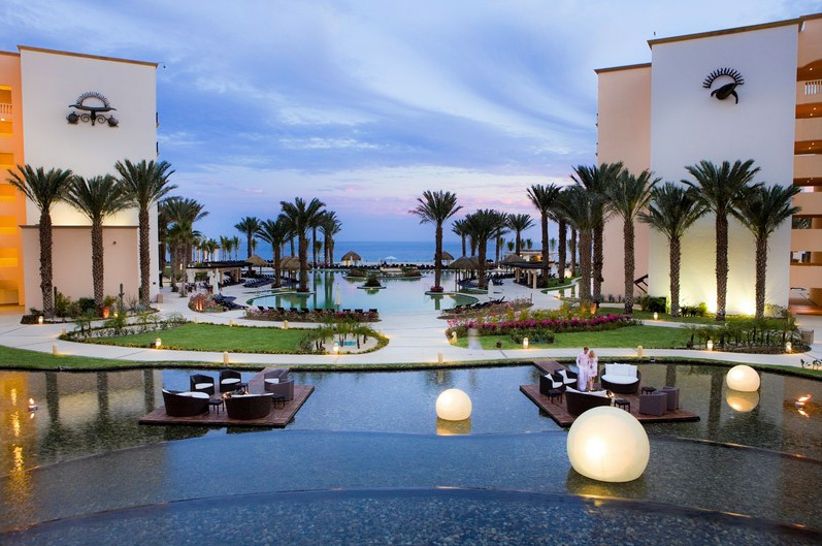 Hyatt Ziva Los Cabos
Many couples seek to wed away from their hometown so they can focus on sharing intimate experiences with those they love and hold dear. Even so, being able to still have a smart flow from ceremony to cocktail hour and the reception is important, making a hotel like the Hyatt Ziva Los Cabos ideal. Here, you can choose from a gazebo on the beach surrounded by tropical gardens, an oceanfront set-up, a poolside reception and more. As a bonus for duos on a budget, the resort also offers free wedding packages for two, as well as deals for parties of every size.
The Cape, a Thompson Hotel
For uninterrupted views of the infamous Sea of Cortez and the landmark of all of Cabo—El Arco—off of Lover's Beach, The Cape, a Thompson Hotel offers it all. You can promise your lifelong love to your number one on a beach, from a sixth-story rooftop lounge, from your penthouse or even in their decked-out restaurant. Throughout the year, the resort offers many special perks and packages, all of which help to ensure you're getting everything you wish from your once-in-a-lifetime experience. Many of these deal are dependent on how many nights you have booked, and may include everything from a complimentary upgrade for the happy couple to discounts at the spa for all guests and more.
Hacienda Beach Club & Residences
This Cabo destination wedding venue is made entirely of privately-owned residences, from one to four bedrooms. The beloved onsite restaurant at Hacienda Beach Club, Cocina y Cantina is a favorite for many visitors, and provides an ideal backdrop for your big day. If you'd like to encourage your guests to extend their out-of-office past your wedding date, these plush apartments with kitchens, washer-and-dryers and other amenities make it easy. Whether you spend the day toasting at sunset from their pool or rent out a large home to cook dinner for all, the family-feel of this resort sets it apart from others in the region.