No matter what brought you to the DR—as locals call it—spending time in this Caribbean nation will ensure you return. Not only does it offer some of the most scenic beaches in the region, but its various terrains feature a variety of scenic backdrops for a Dominican Republic destination wedding. From plush and vibrant rainforest to seemingly never-ending savannas and healthy highlands, couples can use the natural magic of Mother Nature herself when planning their big day. Though there is plenty to tour around—from the tallest mountain in the Caribbean to the lively capital city of Santo Domingo that dates back five centuries—most love birds set their sights to Punta Cana. Here, on the easternmost tip of the country, as the Atlantic Oceans kisses the Caribbean Sea, you can seal your love with your first smooch as spouses, too. This area is defined by an lengthy stretch of white sand, as well as the opportunity to go sailing, kayaking, zip-lining, windsurfing and more. Because of its colorful landscape, many high-end luxury resorts have built a home here, giving couples many to choose from for their Dominican Republic wedding.
If you're considering this dynamic country for your upcoming celebration, consider this your all-you-need-to-know guide to a Dominican Republic destination wedding.
Best Time of Year to Get Married in the Dominican Republic
Though the weather is balmy and warm around 80 degrees year-round, you should be mindful of what date you choose for your Dominican Republic destination wedding. How come? Those blue waters that match the clear sky above are ideal for sure, but with this climate comes the risk of hurricanes. The DR's next-island neighbor is Haiti, and it often suffers from the wrath of aqua cyclones that barrel through its coastlines. The best time for your ceremony and reception is between March and May, even though that also happens to be the peak season for tourism. You can also consider a winter-time vow exchange, but remember, plenty of snowbirds will have the same idea, making prices higher.
Marriage Laws in the Dominican Republic
Since you won't be making it official with the love of your life stateside, you'll need to ensure you're following all of the requirements to ensure your Dominican Republic destination wedding goes off without a hitch. A trusted lawyer or expert can guide you through the process to ensure you're checking off every last detail, but in general, you should expect to present your passport, birth certificate, and a death/divorce certificate if applicable. A fee also applies and you'll need to enlist two non-family witnesses to be present.
Best Venues in the Dominican Republic
There's one promise this nation will make you: when you wed here, your Instagrams will be lustful and romantic. Here, some options to consider for a day you—and all of your guests—will never forget: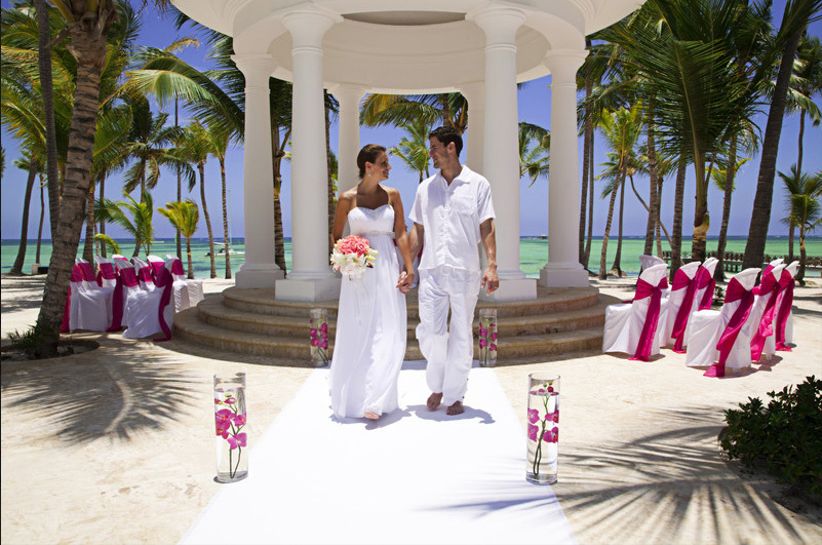 Barceló Bávaro Grand Resort
Located in Punta Cana, this resort is lucky to have a pristine sprawl one what's considered one of the dreamiest beaches on the planet. Because Punta Cana is surrounded by coral reef, you can expect calm waters and free-flowing vibes when you book your Dominican Republic destination wedding venue here. For religious couples who prioritize their faith as an essential part of their ceremony, the resort's chapel will fulfill their hopes. Not only is Barceló Bávaro Grand Resort elegant and understated, but it's secluded, allowing for privacy as you make the most intimate promise of your life. If you'd rather have your toes in the sand? No worries, the beach gazebo is a favorite, especially with the multi-layer sun setting in the distance. The on site wedding team can recommend many package options, all of which come with a few surprises for the happy duo and their squad.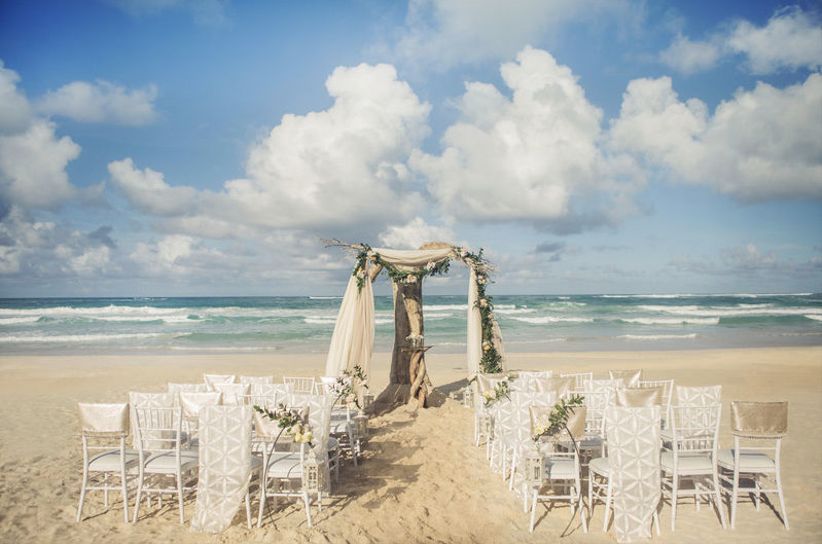 Hard Rock Hotel & Casino Punta Cana
Every bride or groom has closed their eyes and imagined what their wedding day might be like. While some fantasize about endless flowers that decorate every inch of the room, others can't wait to kick off their heels and dance away the night with those they love the very most. When you choose the infamous Hard Rock Hotel for your Dominican Republic destination wedding, you'll get a little bit of it all: the splendor and serenade of the a seaside ceremony, followed by a killer celebration at their on-site club. Once you've recovered from the overflow of love (and ahem, drinks), you and your new spouse can unwind at their calming spa, ideal for happy couples… and their hangovers.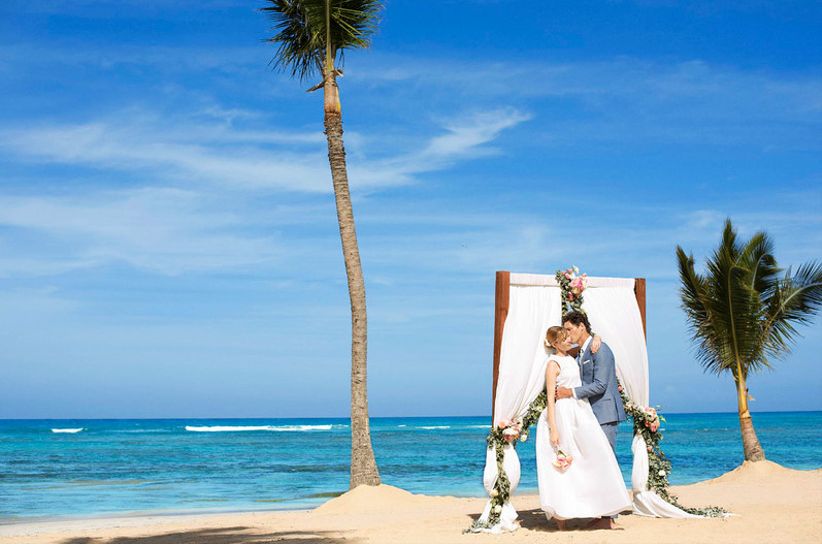 Excellence El Carmen
When you tie together your life with your partner's, you not only earn a spouse, but their family, too. Many couples not only see their wedding as a time to offer a vacation to everyone in their lives, making an all-inclusive like this one a pretty pick. When you host your Dominican Republic destination wedding in this area of Punta Cana, your guests won't have to stress about anything once they arrive and check-in. And you won't either, with a plethora of on-site nuptial coordinators who tend to the details so you don't have to. In addition to all food and drinks included, you can spend your time before and after the big day swimming in one of Excellence El Carmen's 23 pools, taking in the Caribbean sun or sneaking away to put up the 'do not disturb' sign on your honeymoon suite. From the beach to a ballroom, your wedding fantasies will come alive in, well, as the name-suggests, an excellent way.
Excellence Punta Cana
For another 'excellent' choice for your Dominican Republic destination wedding, consider Excellence Punta Cana, a slightly larger property. Here, you'll find the same luxury all-inclusive perks and a dedicated wedding team, but also even more amenities. From highly-rated catering to a sprawling spa, you and your partner will soak up all of the romance as you plan the greatest party of your life. Whether you decide to exchange your vows on the shore, as the colors of the sky swirl around you, or take your affair indoors and create a decked-out ballroom, the attentive staff and relaxed mood of this venue will charm you over.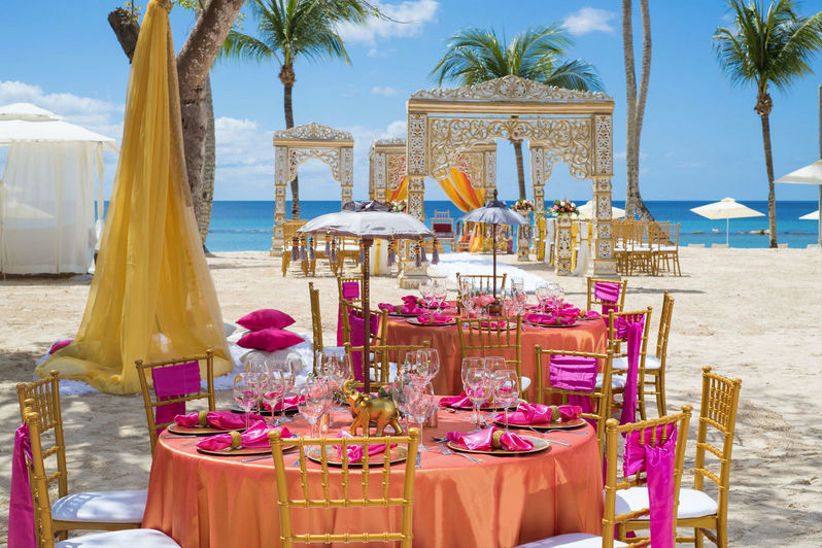 Casa De Campo
Here's a quick Spanish lesson: this is basically a home for adult camp. Well, kind of. Featuring an oversized, renowned golf course and endless suites and villas, this Punta Cana venue doesn't just provide a beach—it packs in the fun for your Dominican Republic destination wedding. Set on 7,000 acres that allow endless adventures, including three beaches and seven restaurants, you and your partner will have trouble deciding between all of the beauty at Casa De Campo. You can host everything from a traditional ceremony in a ballroom to a casual, barefoot jubilee on the beach, all within the budget you need.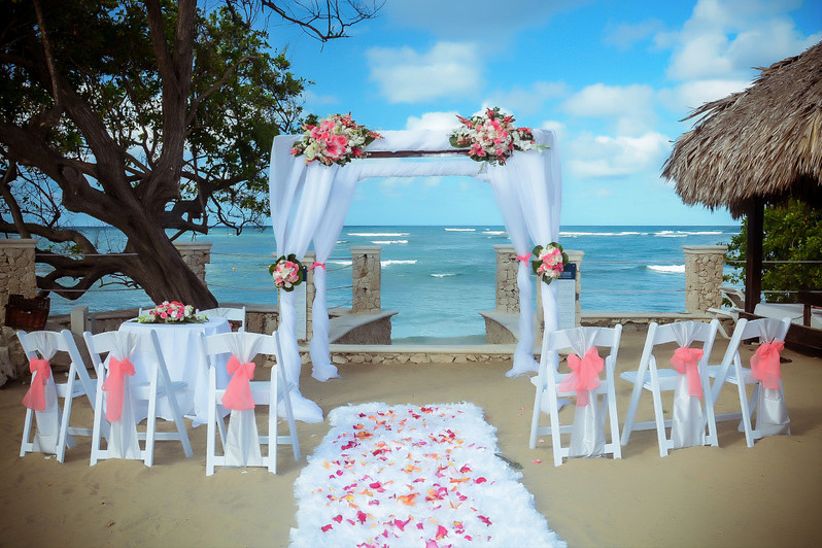 Lifestyle Holidays Vacation Resort
If you'd like to incorporate the local customs of a Dominican Republic destination wedding into your event, Lifestyle Holidays Vacation Resort is where you should do it. Their onsite team can book it all, so you can spend more time detoxing from the chaos of planning, and soak up more of that Caribbean sun. They can teach you the free-flowing rhythm of the Merengue, the country's national dance, and make it part of your celebration, too. For couples who choose the DR because they can't imagine saying 'I do' anywhere but on the white, white sand—you'll appreciate the miles of access this resort offers. As a bonus? It's an all-inclusive, so your guests won't have to worry too much about budget once they touch down in paradise.