When you first met your now-fiance(e), there was something about him or her that instantly drew you in. Whatever the reason, a relationship is built off of those qualities, and when you begin to brainstorm for your big day, you seek nods to the elements that brought you together from day one. For the adventurous, music-loving couples who also soak up an Instagram-worthy beach, there's nothing quite like a St. Lucia destination wedding. Located in the eastern region of the Caribbean, this island nation is defined by the picturesque waters you'd expect from this part of the world, but also by the two infamous mountains that define its west coast—The Pitons.
Here, as you bound your lives together, you and your guests can explore the magic of sea life under the water, walk across volcanic beaches and even turn up the jazz music, which is played from every cabana. What's different about St. Lucia as opposed to other parts of this spec of the world is how it is still relatively new. Tourism is still continuing to trickle in, giving you more privacy and of course, better rates.
Here, the ultimate guide to planning a St. Lucia destination wedding.
The Best Time to Get Married in St. Lucia
Though some brides worry about the humidity of a seaside vow exchange, if you can set your dates to May and June, you won't have to stress about sweating. Well, much anyway, since weather for a late-spring, early-summer St. Lucia destination wedding will fall in the high 70s to the 80s. While you'll want to avoid the season where hurricanes are rampant—from mid-September to November—the holiday season can be an enjoyable time to visit, too. Just remember, prices might be on the expensive side, since plenty of other snow-haters will rush to escape the forecasts.
Marriage Laws in St. Lucia
For most couples, the legal jargon of getting hitched is low on their priority list. While in your home country, it doesn't take too much effort to sign on a dotted line, when you're hosting a St. Lucia destination wedding, you'll need to follow the requirements of the country before you can be considered spouses by law. The process is relatively painless: passports, birth certificates, divorce/death certificates if applicable, and as expected, a small fee. As a special note, you'll need to give yourself at least two full working days for the application to be processed. As always, check with a trusted lawyer who can ensure you don't miss any of the details in the shuffle of preparing to take off and say you're 'I do's' in paradise.
Best Venues in St. Lucia
From romantic resorts who bring out the charm of the Caribbean to locations that put your feet in the volcanic sand, consider these options for your St. Lucia destination wedding: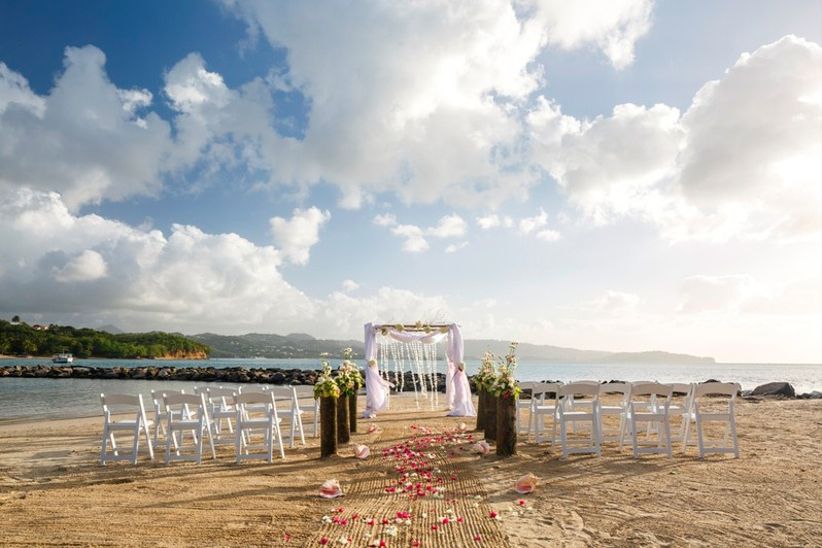 Windjammer Landing Villa Beach Resort
Long before you met that person you'll now build a lifetime with, you likely had some dreams for what your big day would be like. From the table settings and the colors of the bridesmaid dresses to visions of photos you hadn't taken yet, it wasn't until you fell for your partner that everything started to come to life. At this St. Lucia destination wedding venue, they are experts at taking all of those thoughts and dreams and turning them into reality. Windjammer Landing Villa Beach Resort never have more than one wedding a day on their property, dedicated their entire wedding team to your party. When you exchange vows with the rush of the sea behind you, or under a canopy inside, you and your up to 120 guests will feel transfixed by the beauty of such a special place in the Caribbean.
Marigot Bay Resort and Marina by Capella
There are endless parts of this island nation to explore—from the rainforest and the mountains to the impressive lagoons and bays decorated by colorful sea creatures, corals and beaches. One of the most coveted is Marigot Bay, where you and your partner will enjoy a bit more privacy and warm seclusion from tourists for your St. Lucia destination wedding. This venue in the heart of the bay prides themselves on offering fairytale-like features for engaged duos, complete with the option for sunset cruises, couples' massage classes, culinary immersions and more. Whether you choose to promise your love to one another at sunset by the water or inside the property, make sure to take advantage of all this five-star resort can offer. Psst: if you're a rum fan, talk to your wedding coordinator about setting up a tour through their onsite 'rum cave' to sample the local beverage of choice.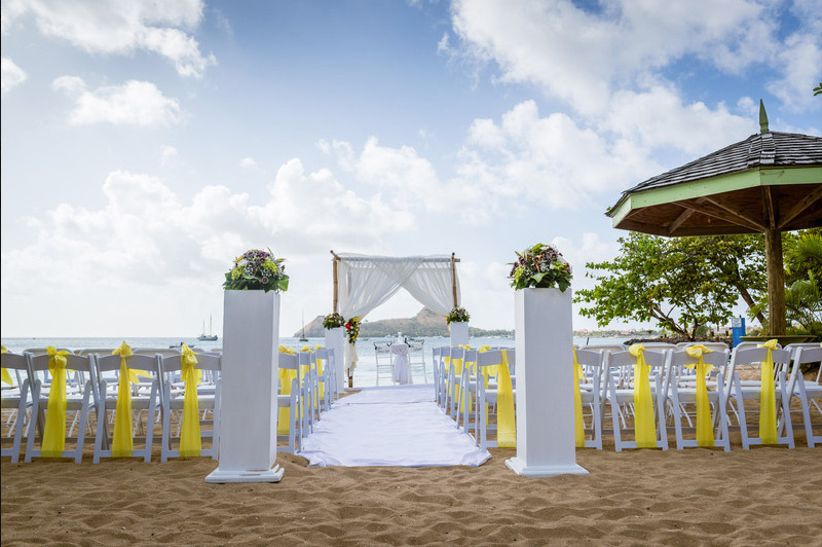 Bay Gardens Beach Resort
Head to Rodney Bay for your St. Lucia destination wedding, where a calypso jam session into the night is a common request from newlyweds. Bay Gardens Beach Resort gives your once-in-a-lifetime celebration a tropical elegance style, with lush gardens and blooming flowers surrounding the property. No matter how large or small your party is, their on-site wedding coordinator makes sure your event runs smoothly, from start to finish, and with no details missed. Depending on what you hoped for your nuptials, you can choose to marry outdoor, indoor or with scenic, jaw-dropping views—giving you and your number one plenty of options.
Sandals Halcyon Beach
You've likely heard of Sandals Resorts before, as they are a household name for many honeymooners deciding where to take their post-nuptial celebration. Of all of their properties though, Sandals Halcyon Beach is among the highest rated and arguably, the most beautiful. Especially if you want to incorporate elements of the Caribbean into every aspect of your St. Lucia destination wedding, this is the place to bring it to life. This all-inclusive property is surrounding by vibrant gardens and sits on the sea, providing a calming and warm escape for one of the most important days of your life. You can say 'I do' to the love of your life indoors or outdoors, and then spend the evening in their quaint, ginger-breaded cottages, built for newlyweds. As a bonus, they have many wedding packages, making it easy to select an option and get married ASAP.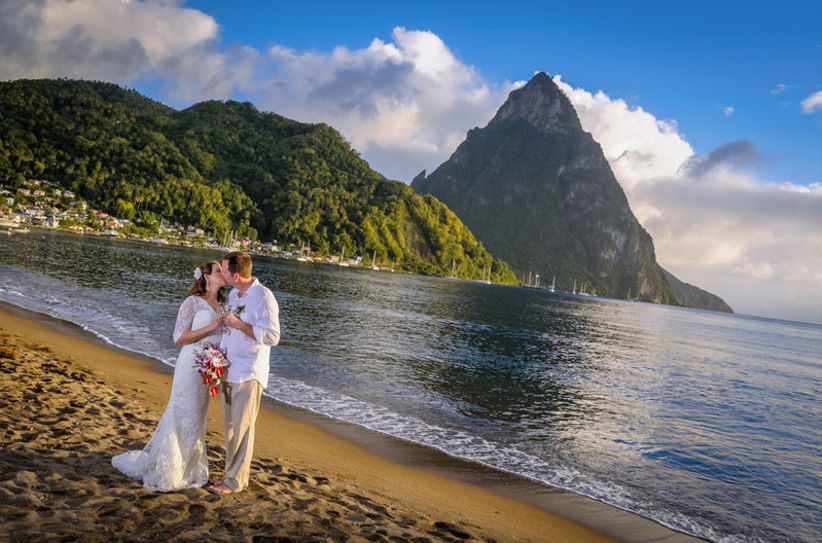 Stonefield Estate Resort
Though many traveling couples want a beach for their wedding, if you're more of a mountain couple, you might pick Stonefield Estate Resort for your St. Lucia destination wedding. Sprawling across 27 acres of hillside, swirling with tropical floral and vibrant fruit trees and flowers, you'll instantly feel like you're in paradise from the moment you arrive. The design of the resort mimics a historic home, creating a luxury boutique experience. If you seek a dramatic background for exchanging vows, you'll fall for the 2,400-foot Petit Piton that spikes from the water near the resort. For couples who want less of a mega resort and more of a family-like homestead for their big day, this 1,600-year-old property will win you over.
Pigeon Island National Landmark
Dating back to the late 1700s, this renowned landmark is beloved by this island, and makes for a breathtaking site for your St. Lucia destination wedding. Though Pigeon Island played an important part in fighting against the Spanish and the French, and ultimately helping them make an ally with the British Empire, today, it's considered a top nuptials venue. Not only will you make history while being part of history, but you will also have panoramic views, a private beach and plenty of food and drinks to go around. It doesn't hurt that 18th century ruins add character to your big day, too!