When you first close your eyes and think of the beaches of Mexico, it is usually the white sandy specs of Cancun that come to mind. But those who want to enjoy the lust of the tropics should consider a Playa del Carmen destination wedding for a dreamy experience. Here, you can pick from a larger property that can fulfill the wishes of those who desire a big affair, or a more secluded big day for couples who want to keep it small.
Here, a guide to the best time of year to hold your Playa del Carmen destination wedding, what to keep in mind when you travel and venues to consider for one of the most important days of your life.
Best Time to Get Married in Playa del Carmen
The high season for Mexico is always when the weather is just-about-perfect. This makes April to June a pricey endeavor. However, if you stick to the off-season of August (pack fans and sunscreen!), you'll find less expensive rates for your guests and the cost of the wedding. If you keep a watchful eye on the weather predictions, hurricane season can also offer a deal for a Playa del Carmen destination wedding, around September and October.
Wedding Laws in Playa del Carmen
To get hitched where the sun shines year-round, you'll need to do your homework. While it isn't difficult per se, it is a bit complicated, so give yourself some time. The biggest fact to consider is the exact state you'll be get married, which can shift, depending on what region of Playa del Carmen you're in, since it's a lengthy stretch of land. You may need blood tests, x-rays, passports, birth certificates, and other necessities, so study up once you pick a venue. Keep in mind you'll need someone to perform the ceremony in Spanish, with a translator to meet national laws.
Best Venues in Playa del Carmen
Andaz Mayakoba Resort Riviera Maya
One of the best-kept secrets of the Playa del Carmen area is Mayakoba, a private area that includes several high-end luxury resorts. At the Andaz Mayakoba Resort Riviera Maya, you have your pick of the best food, private kayaking tours, cooking lessons and more. Because of the Andaz's location in the mangrove, you'll feel swept away into the jungle from the moment you arrive. With 214 guest rooms, 41 luxury suites and countless options for your ceremony and reception, there's an air of romance everywhere you turn. This particular property prides itself on incorporating the local culture into events, as well as providing five-star amenities that'll make everyone—from your grandma to your maid of honor—feel pampered.
Grand Hyatt Playa Del Carmen
For those couples who want a Playa del Carmen destination wedding in the heart of the scene, look no further than the Grand Hyatt. As a household brand, you'll enjoy all the bells-and-whistles that are offered worldwide. Because it is a larger property, the Grand Hyatt offers many different locations for your 'I do's'—from the Grand Ballroom with 330 guests to the Citrus Patio that's complete with a waterfall, you can enjoy a mix of ocean and land. For a grand entrance that will have everyone in awe, consider walking in on the bridge and ocean front pool terrace, just as the sun sets behind you. There are also some perks to choosing Hyatt for your big day, including a 15 percent discount for spa services and a 10 percent discount for couples who sign up for the Grand Wedding package. And honeymooners get a free night at any Hyatt location internationally, too.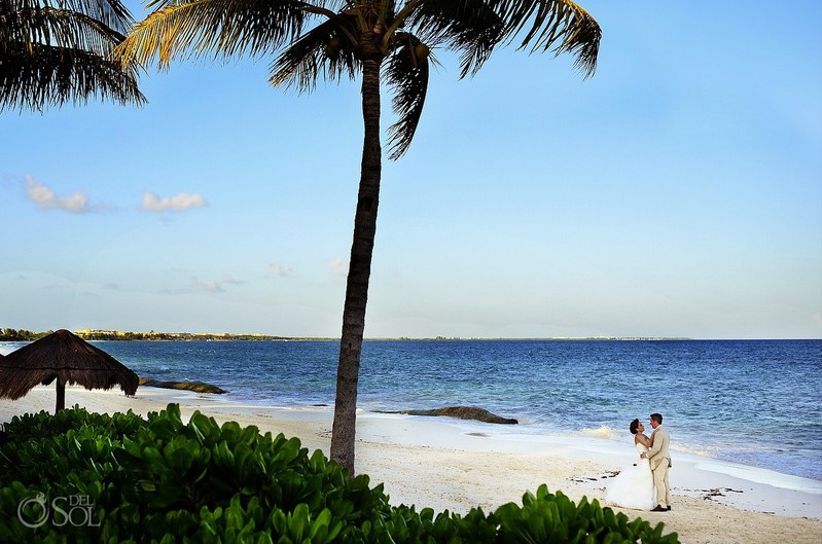 Banyan Tree Mayakoba Resort & Spa
When you and your partner first started dating, did you backpack your way around Southeast Asia? If so, you probably stumbled through Thailand, fascinated with the culture, and eating your weight in mango sticky rice and local delicacies. Now, you might not be able to transport all of your guests to this remarkable country, but when you plan a Playa del Carmen destination wedding, you can give them a taste of the Thai culture at the Banyan Tree Mayakoba Resort & Spa. As one of the only Banyan Tree's in the Americas, this brand was originally founded on the beaches of Thailand, and you'll find nods to its flagship throughout. From a opulent grand hall entrance to a picturesque beachside with cabanas, there are plenty of options for parties of any size. Two pro tips: consider a reception menu of Thai food from their signature restaurant, Saffron, and arrive in your wedding dress by boat!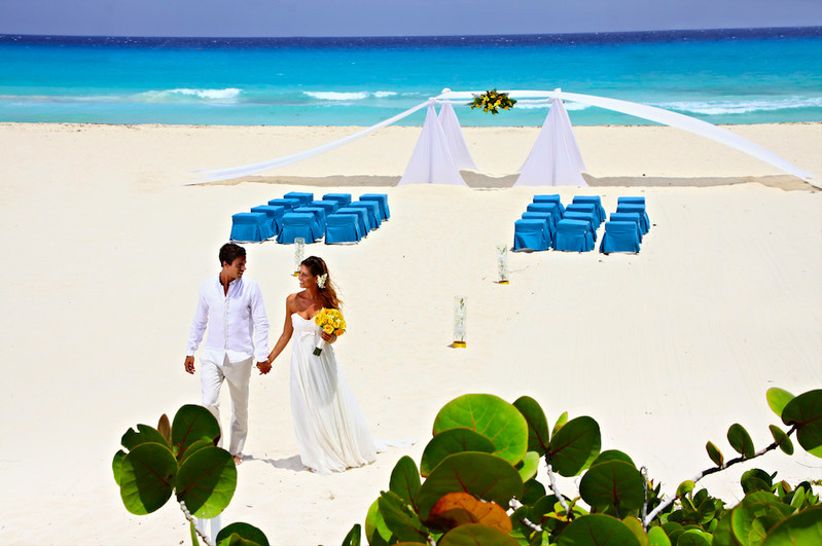 Sandos Playacar Beach Resort
Though you'd like to have a Playa Del Carmen destination wedding, you would also like to incorporate other tropical wonderlands into your ceremony. At Sandos Playacar, you can do that, with the All Playa Experience, an entertainment program that highlights various beaches—from Malibu to Jamaica—each day of the week. Especially for couples who come from different backgrounds and cultures, this is a fun way to tie in your heritage to your wedding. The music, the attire of the staff, the menus, the cocktails, the shows and everything in between can be customized, based on what worldwide beach experience you'd like to highlight.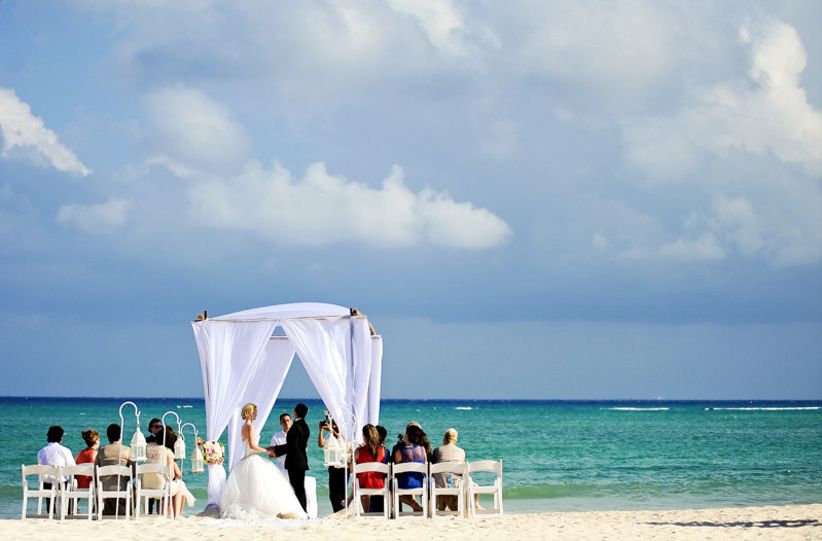 Paradisus Playa Del Carmen
When daydreaming about your ideal Playa Del Carmen destination wedding, do you imagine all of your friends and family gathered around you? And not just for a few days to exchange vows, cut the cake and make it official—but for days leading up and afterwards? If so, consider the affordable, yet pristine Paradisus. Here, you receive the benefit of an all-inclusive, but with a captivating menu and countless venue options. Here, you can choose from an outdoor terrace or beachside affair, or even an oversized ballroom for large parties. With locations throughout the Caribbean, they specialize in honeymoons and weddings, making you feel catered to every step of the way.
Fairmont Mayakoba
Located in the Mayakoba section of the region, the Fairmont prides itself on providing a 'happily ever after' affair for couples seeking a Playa del Carmen destination wedding. You'll notice the attention to detail and the charm from the moment you arrive—including a grand ballroom, a lush lawn, impressive foyers and elegant interiors. Especially if you're a foodie, the menus for your big day will tickle your taste buds, as well as set the experience apart from other weddings for your guests. If you and your number one choose to have a wedding at the Fairmont, you'll also receive exclusive access to the Platinum Honeymoon Program, as well as other Riviera Maya wedding services.