Puerto Rico destination weddings are a no-brainer: This Caribbean island is a short flight from the mainland U.S., is full of rich history and culture, and is home to lush tropical jungles and world-renowned beaches. What's not to love? Whether you're looking for an elegant ballroom in Old San Juan, a secluded spot on a quiet stretch of sand, or a stunning villa for you and your loved ones to call home, there is a Puerto Rico destination wedding for every type of couple.
Whatever you desire, plan your getaway to this island paradise and start planning your Puerto Rico destination wedding!
The best time of year to get married in Puerto Rico
Choosing a date for your Puerto Rico destination wedding? Puerto Rico is an ideal destination from mid-December to late April or early May - after hurricane season has passed, but before the summer rains arrive. If you're hoping to avoid the crowds, April and May are your best bet, as most of the winter tourists will have already come and gone. Expect year-round temperatures between the low 70s and the mid 80s, and sunny skies in the spring.
Marriage laws in Puerto Rico
Puerto Rico's board of tourism is taking steps to make legally tying the knot there as easy as possible. After giving them a call (dial 1-800-866-7827 from the U.S.), a representative will walk you through all the necessary steps to have a marriage license ready and waiting when it's time to say "I do." They'll help you arrange an appointment with the Demographic Registrar's Office (a must-do for anyone looking for a Puerto Rican marriage license), as well as walk you through all the necessary documentation. Be prepared to submit a sworn affidavit stating that your reason for visiting Puerto Rico is to get married, and make sure to have your IDs and copies of your birth certificates. Your officiant can be whomever you'd like, but if they are not locally licensed, you'll need to have a locally licensed officiant serve as a witness and sign your marriage license to make it legal. Once you've tied the knot and your marriage license has been processed, you can either request copies on the PR.gov website or through VitalChek. As a U.S. territory, same-sex marriages are recognized, performed, and welcomed throughout Puerto Rico.
The best wedding venues in Puerto Rico
As you begin planning your Puerto Rico destination wedding, you'll definitely want to take a peek at these nine beautiful, tropical venues.
Villa Montana Beach Resort
Fill your Puerto Rico destination wedding with impeccable styling, welcoming accommodations, white sand beaches, and exhilarating activities at Villa Montana Beach Resort. The Oceanfront Gazebo frames a dramatic view, while the nearby lawn is perfect for cocktails. Whether you're celebrating at the acclaimed Eclipse restaurant, in the Garden Ballroom, or barefoot on the beach, the eclectic and locally-flavored menu will be paired with an award-winning wine list. Bring your love story and your loved ones, and their on-site event planning staff will take care of the rest.
Learn more about Villa Montana Beach Resort »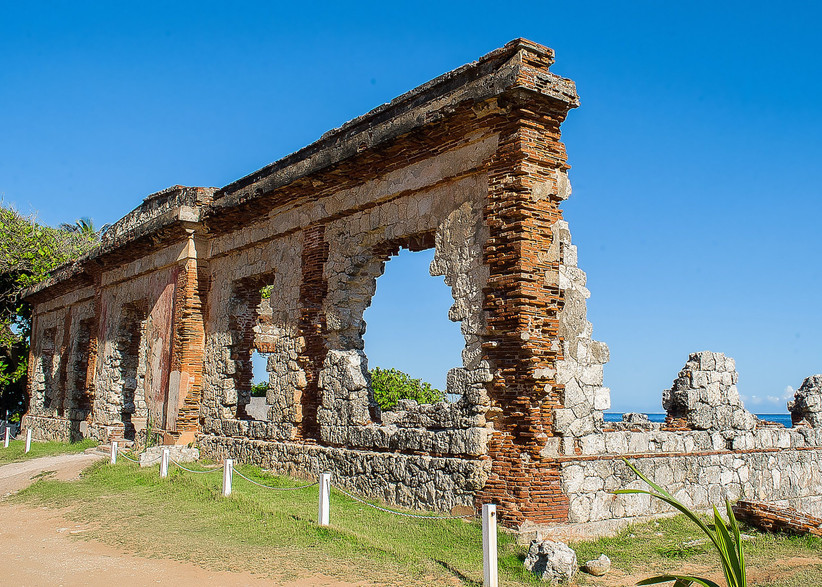 The Ruins
Once an elaborate 19th-century lighthouse, a 1918 earthquake turned the building into The Ruins, an enchanting and rustic setting in Aguadilla that has been overtaken by nature and is begging for a wedding full of wild romance. Set on a deserted beach, the west-facing site is ideal for sunset ceremonies. The intimate space can't be reserved, but the secluded location means you'll likely have The Ruins and the nearby beach to yourselves as you exchange vows.
Coco Beach Golf Resort
A ballroom with a view? Yes, it exists, and you'll find it at Coco Beach Golf Resort, where the windows of the Paradise Bay Grille and the Rainforest Ballroom look out over El Yunque Rainforest and the Atlantic Ocean. The resort's oceanfront lawn and sprawling greens are the perfect manicured setting for a wedding ceremony or cocktail hour (plus the designer course offers stunning views between the bunkers and water hazards). On your wedding day, this elegant locale is entirely yours, making your celebration as private as it is fun.
Learn more about Coco Beach Golf Resort »
The St. Regis Bahia Beach
Want a dose of nature at your luxury Puerto Rico destination wedding? Head to the St. Regis Bahia Beach. Designated as an Audubon Signature Sanctuary, this sprawling resort is set between a national forest and soft, sandy beaches, giving you the best Puerto Rico has to offer. Dark wood accents enhance the property's history, while the golf course, spa, and Jean-Georges restaurant will challenge, relax, and make mouths water. Chic tropical accents give the ballroom a sense of place, while a spacious terrace showcases the lush jungle setting and is accompanied by the sound of crashing waves.
Learn more about The St. Regis Bahia Beach »
Hotel El Convento
Step into Puerto Rico's glamorous past at Hotel El Convento, located in Old San Juan. This enchanting boutique property pairs rich history with modern amenities, and offers a variety of wedding venues to fit your guest list and your style. The highlight is Salon Campeche, where a 50-foot vaulted ceiling and stained glass windows top an elegantly checked marble floor. Host a ceremony in the interior courtyard, or head across the street to San Juan Bautista Cathedral for a religious ceremony before your formal reception. As the night winds down, you and your guests can head upstairs to the hotel's 58 rooms and suites outfitted in Spanish Colonial style.
Learn more about Hotel El Convento »
Courtyard by Marriott Isla Verde Beach Resort
Centrally located in San Juan, Isla Verde Beach Resort is an enchanted setting for your Puerto Rico destination wedding. Sirena Terrace and Deck overlooks the beach and the Atlantic Ocean, a spectacular backdrop for a sunset ceremony. Enjoy a warm evening as you sip cocktails under the stars, then settle in for a customized menu enjoyed al fresco or in the expansive ballroom. Let their experienced team help you secure local vendors, manage guest rooms, and oversee every last detail.
Learn more about Courtyard by Marriott Isla Verde Beach Resort »
Casa Herdz
This luxurious private villa could be all yours for the Puerto Rico destination wedding of your dreams. Situated on the northwest coast of the island, Casa Herdz is the perfect getaway for an elopement with 14 guests (there's room for 16 to stay at the home itself), but also has the space and facilities for a celebration with up to 150 people in attendance. The Grand Events Terrace offers uninterrupted ocean views, and the property manager is also an experienced destination events coordinator who will make your wedding getaway a breeze for both you and your loved ones. Casa Herdz is a sleek setting for a modern beach wedding, surrounded by Puerto Rico's natural beauty.
Royal Isabela
Escape to a beautiful property overlooking the ocean at Royal Isabela. After you check into one of 20 villa-style casitas, wander the exotic flower gardens and tree-lined paths and find the perfect place to exchange vows, each prettier than the next. Treat your guests to award-winning farm-to-table cuisine that takes advantage of fresh local seafood and produce, exploring Puerto Rican flavors like fresh octopus with smoked paprika and mofongo with ropa vieja. For the adventurous, head to the beach and tie the knot in Swallow Cave, which is only available when the tide is low enough to reveal this secluded spot and the thousands of swallows that call it home.
Learn more about Royal Isabela »