28 Protea Wedding Bouquets That Are Bold and Beautiful
Whether you're into a bohemian, tropical, or classic theme, these show-stopping protea bouquets will make your wedding flowers pop.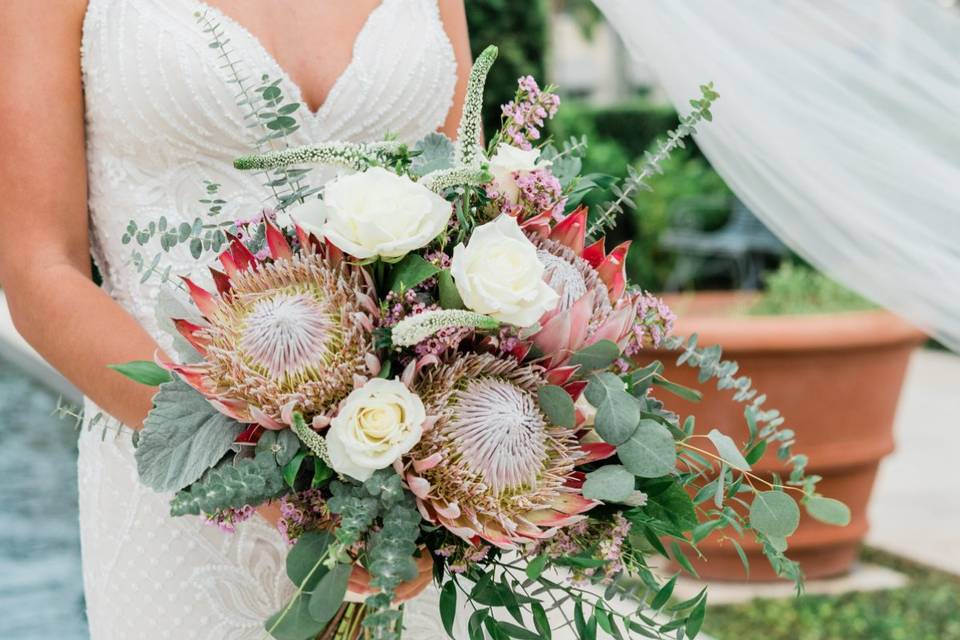 Protea bouquets started as a trend a few years ago, but now, they've become a staple element for bohemian and tropical wedding flower arrangements. Native to South Africa and Australia, this unique spiked flower was made for hot temperatures, but it's a year-round favorite for anyone looking to add an eye-catching statement to their wedding bouquet. Proteas are also surprisingly versatile—you can transform the look of proteas from boho to romantic and elegant simply by pairing them with various types of greenery and other flowers. Either way, the protea's oversized nature ensures that it will stand out in your wedding bouquet and add a little oomph to the arrangement. Here's what to know about protea bouquets if you're dreaming of using this majestic flower on your wedding day.
When are proteas in season?
The exact availability will depend on where the proteas are being grown, but by Northern Hemisphere standards, proteas are most likely to be in season starting in the spring and lasting until early autumn, which explains why they're among the most popular flowers for summer and fall weddings. Your wedding florist will be the expert when it comes to sourcing proteas for your special day—they'll be able to tell you if or when they can get proteas, and what the cost will be if they're more difficult to source around your wedding date.
What are the types of proteas?
While there are actually thousands of different protea species, there are a few main varieties that are popular for weddings. The most common protea types include:
King protea: A circular, crown-shaped flower with widely spaced spikes. The king protea is the largest type of protea and blooms in white, green, pink, and red varieties.
Pink ice protea: A cone-shaped flower with dense, upright spikes. Pink ice proteas bloom in a bright fuchsia color with a dark purple center.
Pincushion protea: This type of protea resembles a miniature firework. It blooms with long, thin stalks (these make the flower look like a pincushion with pins sticking out of it) and comes in yellow, orange, and red varieties.
Blushing bride protea: As one of the smallest protea varieties, blushing bride is perfect for boutonnieres and posy bouquets. It blooms in a pale pink color with ombré green spikes.
What flowers go with proteas?
Proteas are available in a range of sizes, but they're almost always bigger than your traditional flower. The types of flowers you include in a protea bouquet will depend on the overall look and aesthetic you're hoping to create. For a beach or tropical-inspired arrangement, flowers like orchids, ginger torch, Birds of Paradise, palm leaves, and other brightly colored blooms will bring an island vibe to the bouquet. If you love boho wedding style, you can pair the proteas with pampas grass, feathers, dried greenery, and moody roses. For a protea bouquet that's classic with a twist, use ranunculus, eucalyptus, or anemones to complement the main flowers.
Protea Bouquet Ideas
Now that you know the basics, it's time to start looking at inspiration to share with your florist! Check out these protea bouquet ideas for all the different ways you can use them.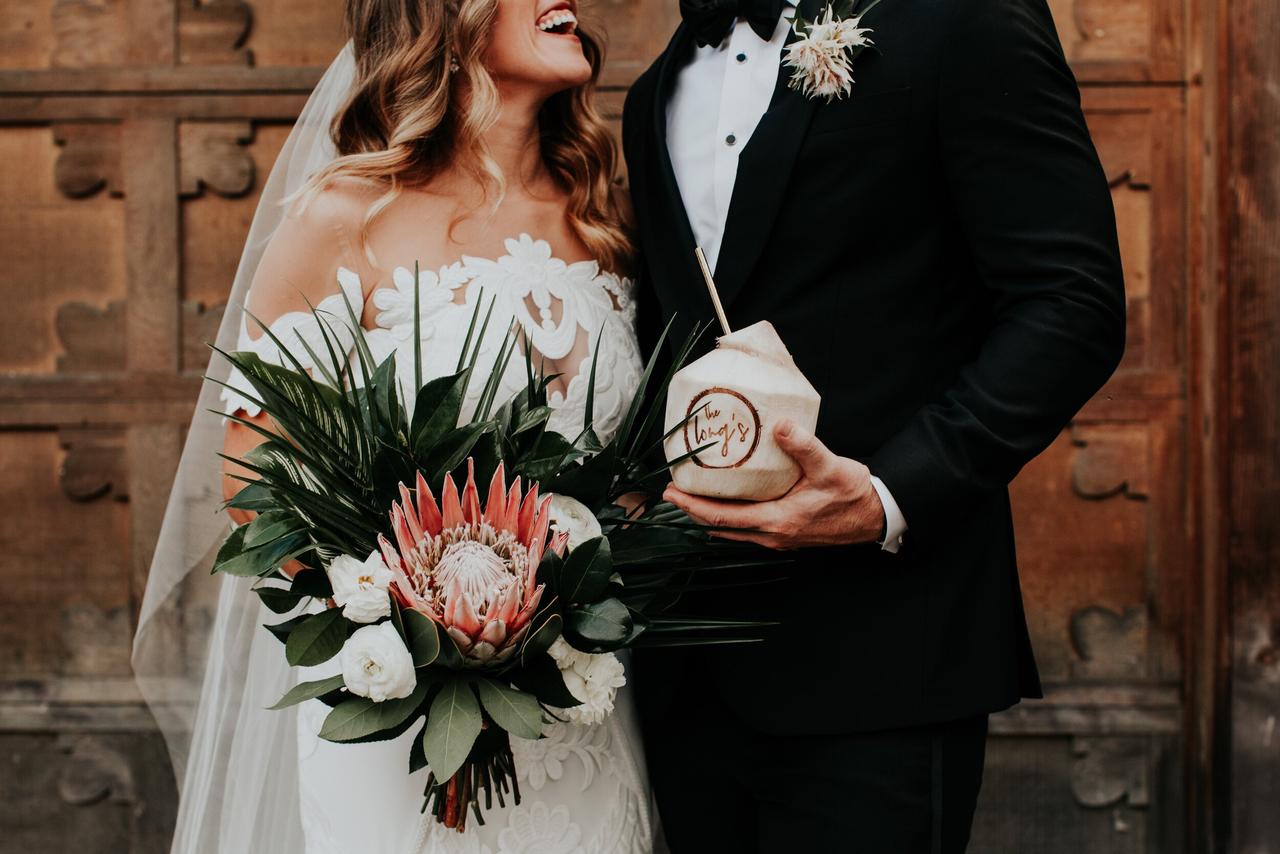 A single king protea is the standout bloom in this beachy chic bouquet of palm leaves and lisianthus.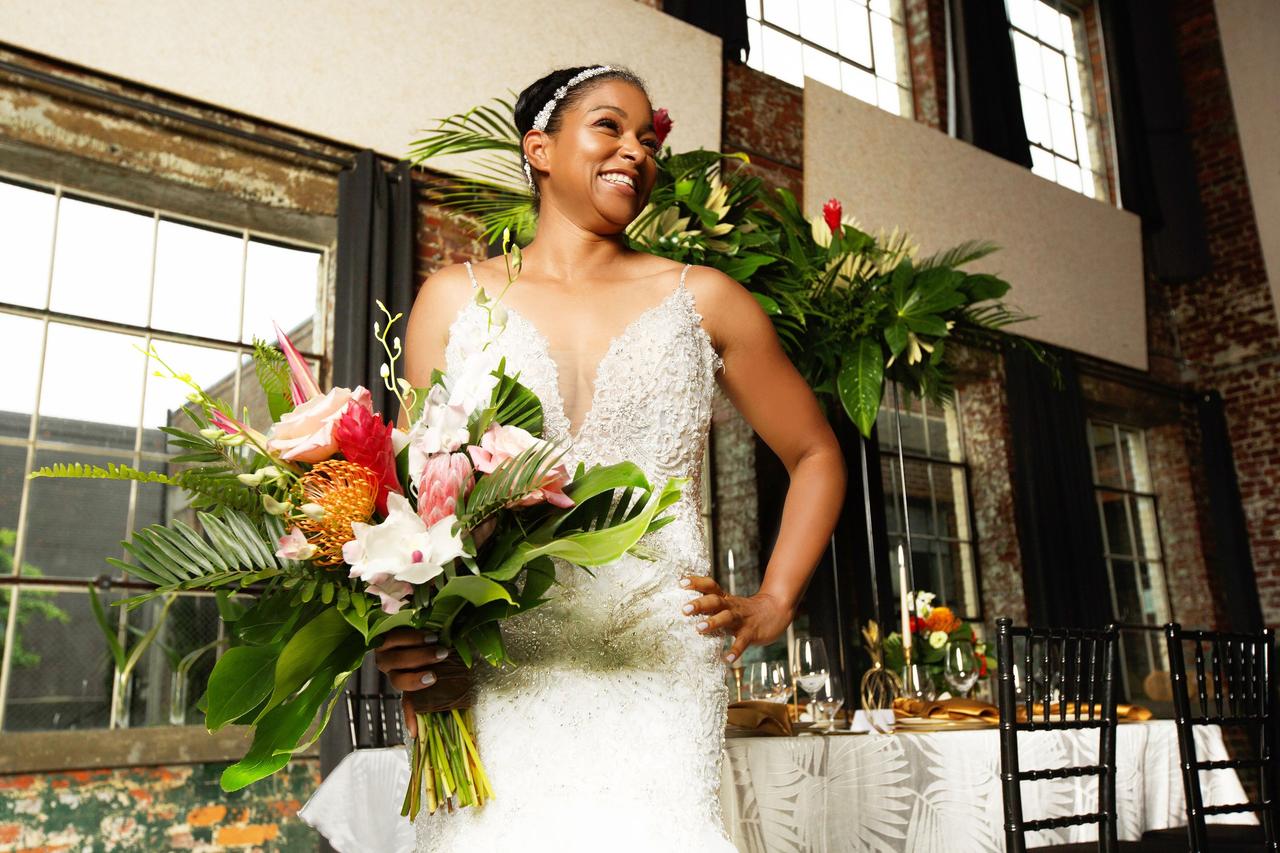 This colorful, tropical protea bouquet includes orange pincushion proteas, pink ice proteas, and other statement flowers, like ginger torch and white vanda orchids.
Dried protea bouquets were made for the boho wedding aesthetic. This one is filled with bleached greenery, dried sun palms, pampas grass, and dried king proteas.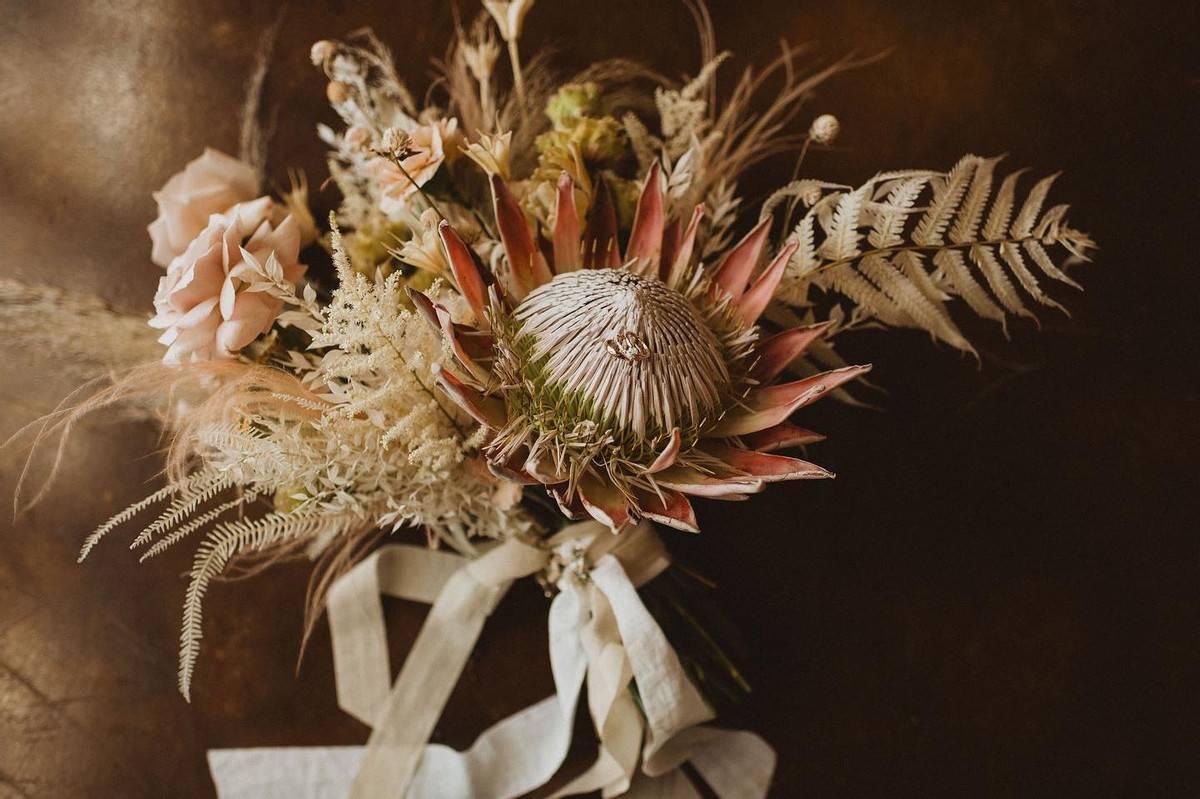 Roes and greenery in a tonal blush and white palette complement the oversized king protea in this sweet bouquet.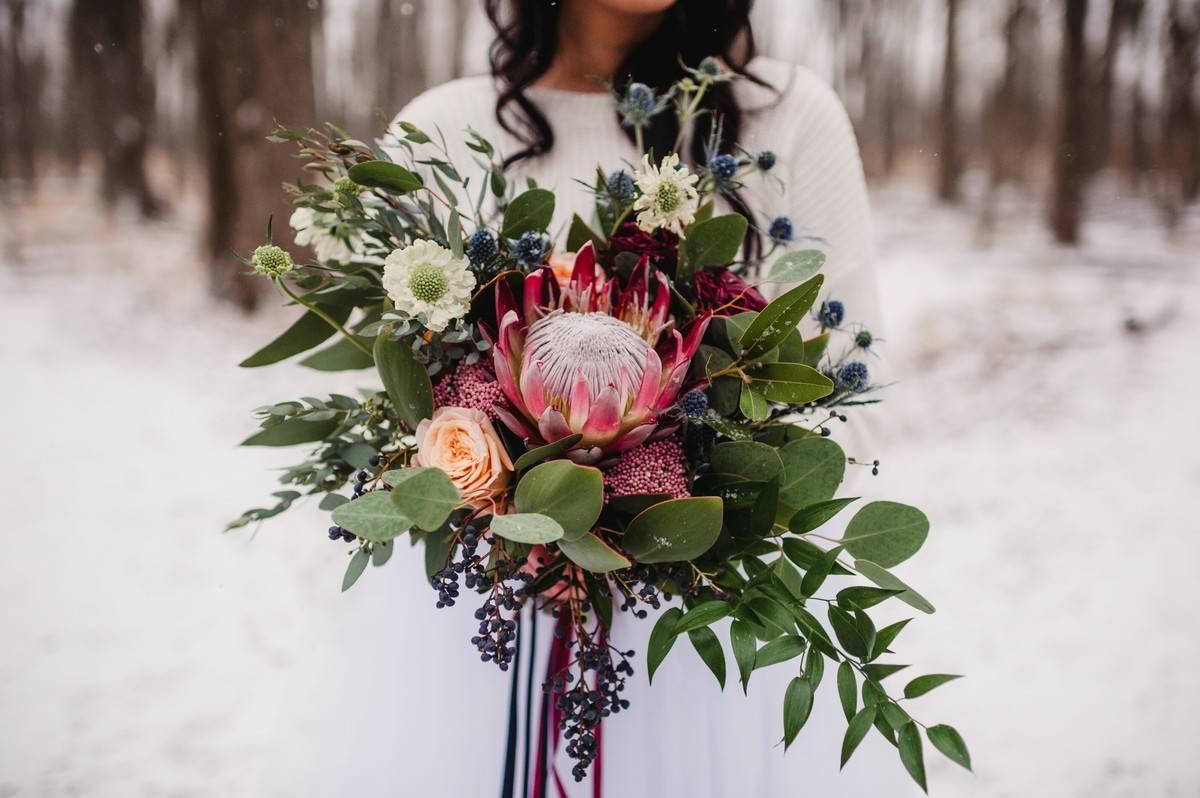 If you thought proteas weren't a winter flower, think again. This asymmetrical protea bouquet features one king protea front and center, with seasonal accents like viburnum berries, blue thistle, white scabiosa, and greenery to make it look stunning for the winter months.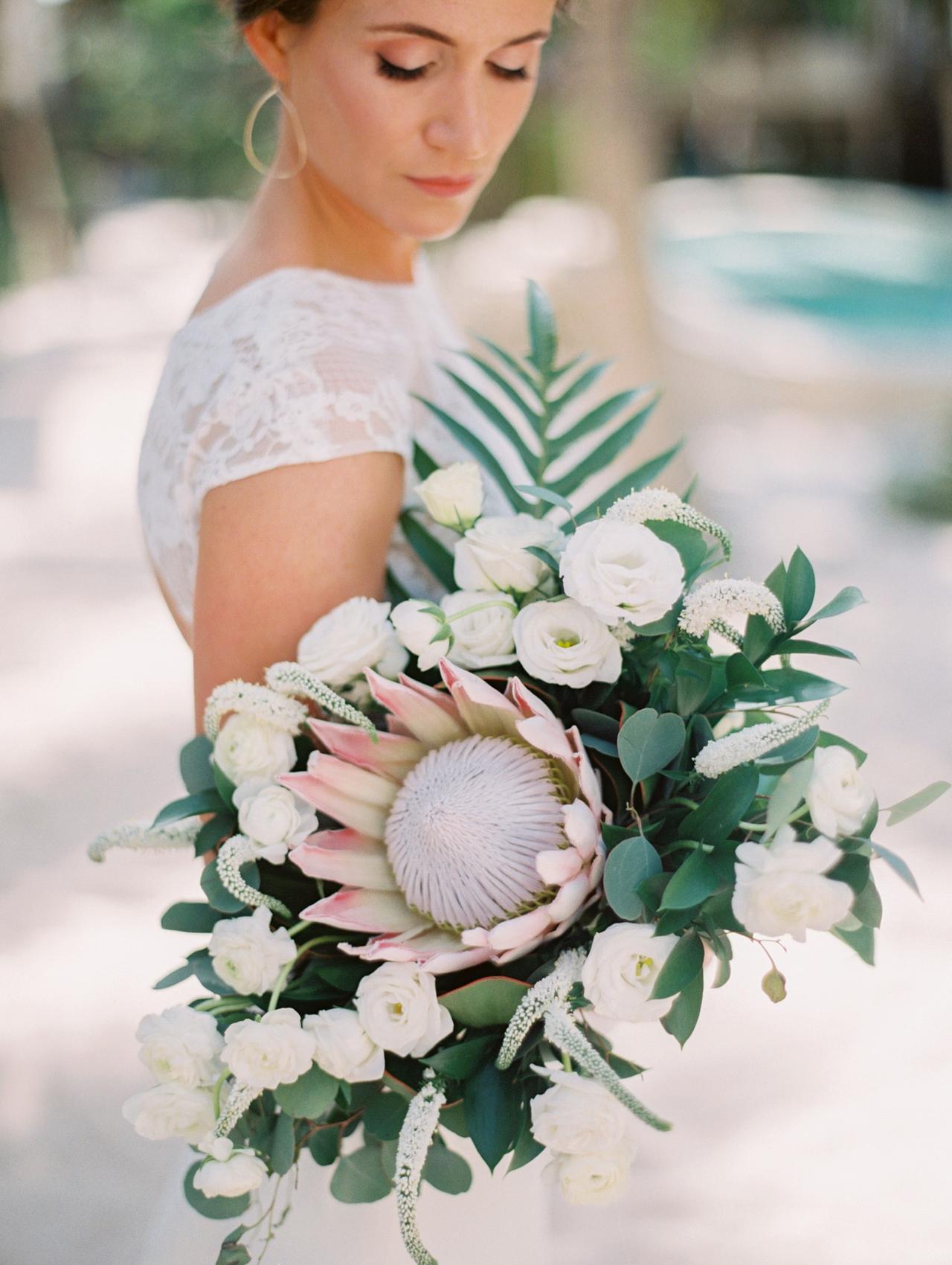 We can totally envision this pastel protea bouquet at a romantic garden wedding. The addition of classic flowers, like white lisianthus, ranunculus, and, gooseneck soften the overall look of the protea.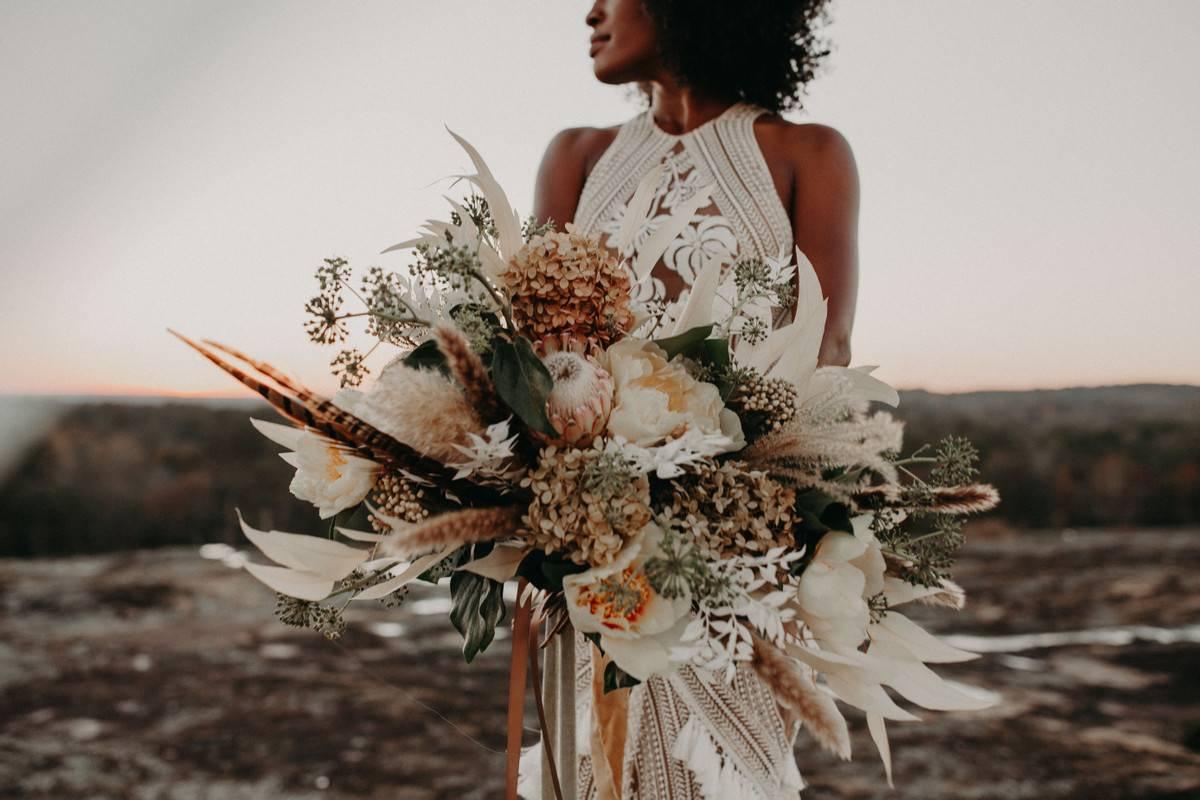 A pink ice protea is just one component of this incredible oversized boho wedding bouquet. A mix of dried hydrangeas, pheasant feathers, peonies, and long ribbons on the stems were used to create this earthy, one-of-a-kind arrangement.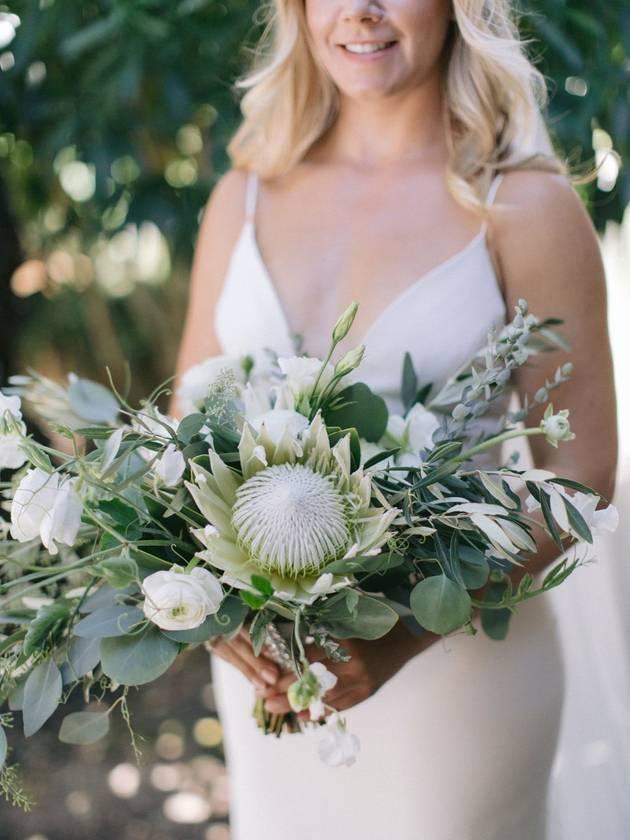 This two-tone green and white protea bouquet is perfect for a casual summer wedding.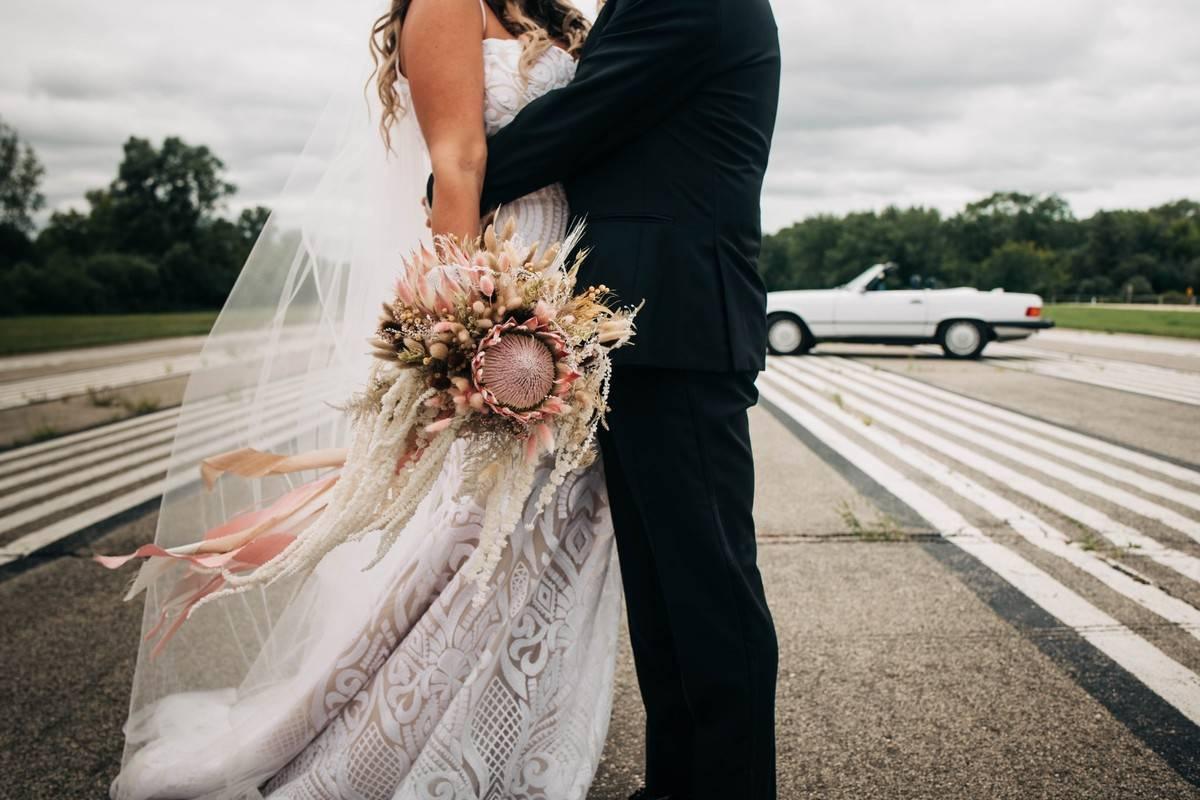 Bring out the blush tones of a king protea by adding long pink ribbons to your bouquet stems. This protea wedding bouquet also includes white amaranthus, bunny tails, astilbe, and wheat stalks for a boho chic vibe.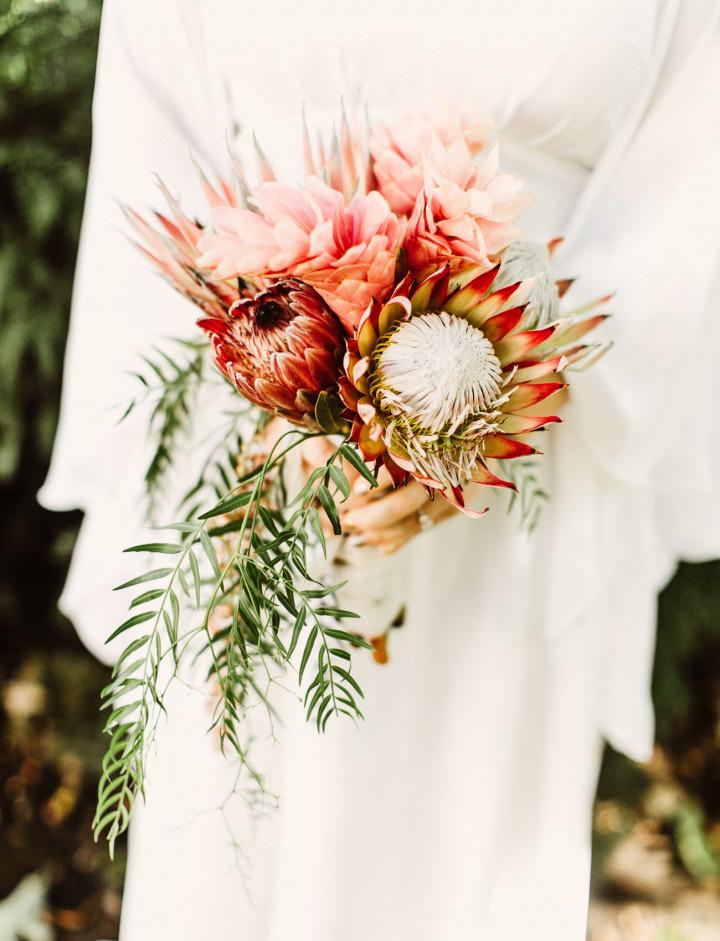 Ombré shades of red and pink give this king protea bouquet a fiery feel—perfect for a fall celebration.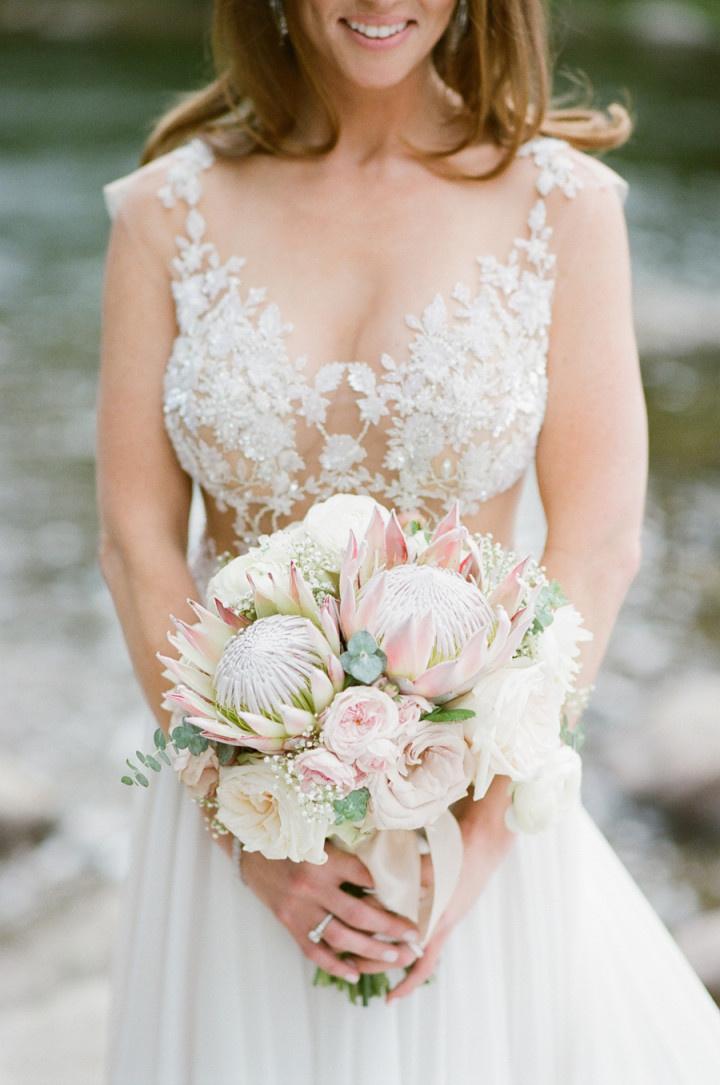 A soft palette of white and blush in this bouquet creates a sweet and simple springtime combo.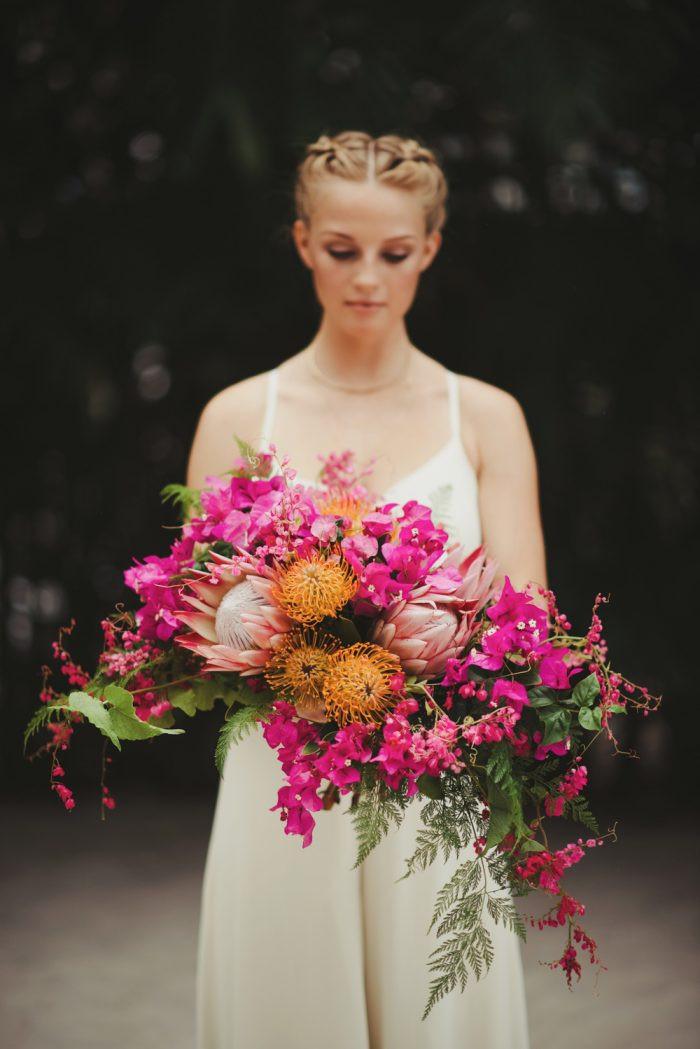 Twin king proteas and orange pincushion proteas peek out among vibrant magenta bougainvillea in this cascading, bohemian-style bouquet.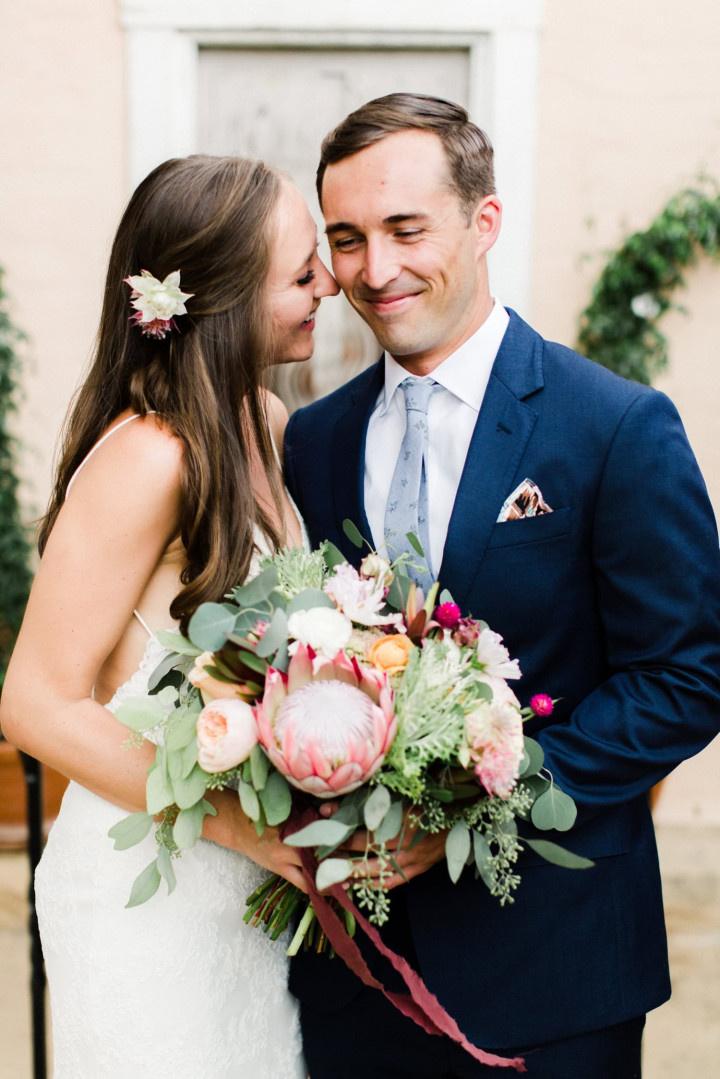 Lush seeded eucalyptus surrounds garden roses, ranunculus, and a statement king protea flower for summer vibes.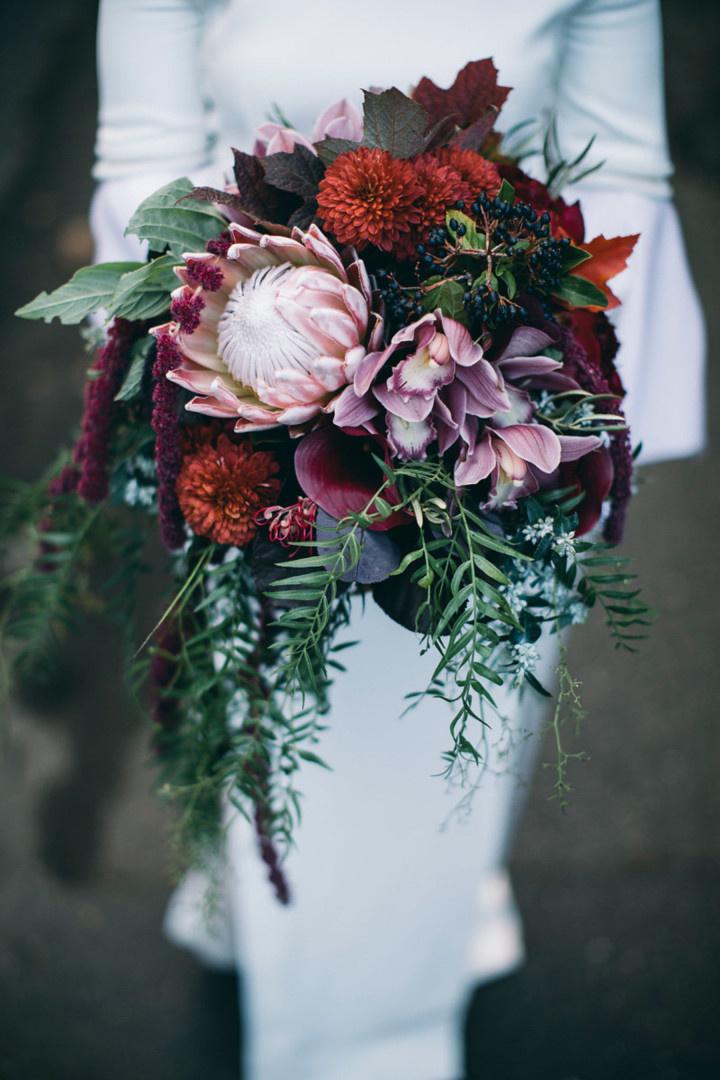 Rich shades of navy, red, and purple bring a dramatic, moody romance vibe to this king protea bouquet.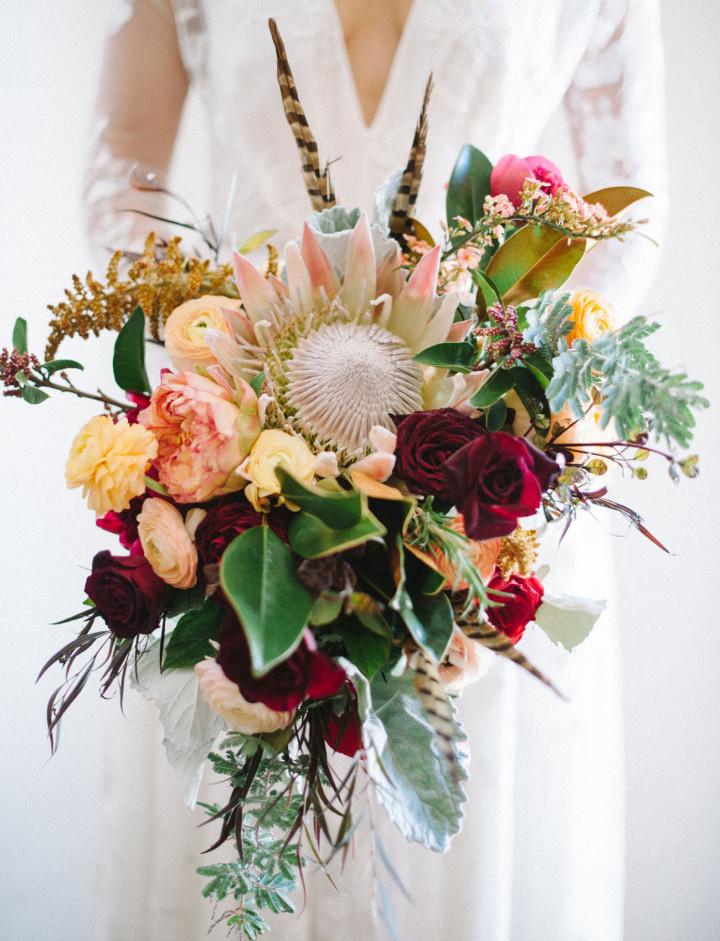 Dark meets light in this beautiful bouquet featuring yellow and red roses, pheasant feathers, ranunculus, gold astilbe, and a king protea centerpiece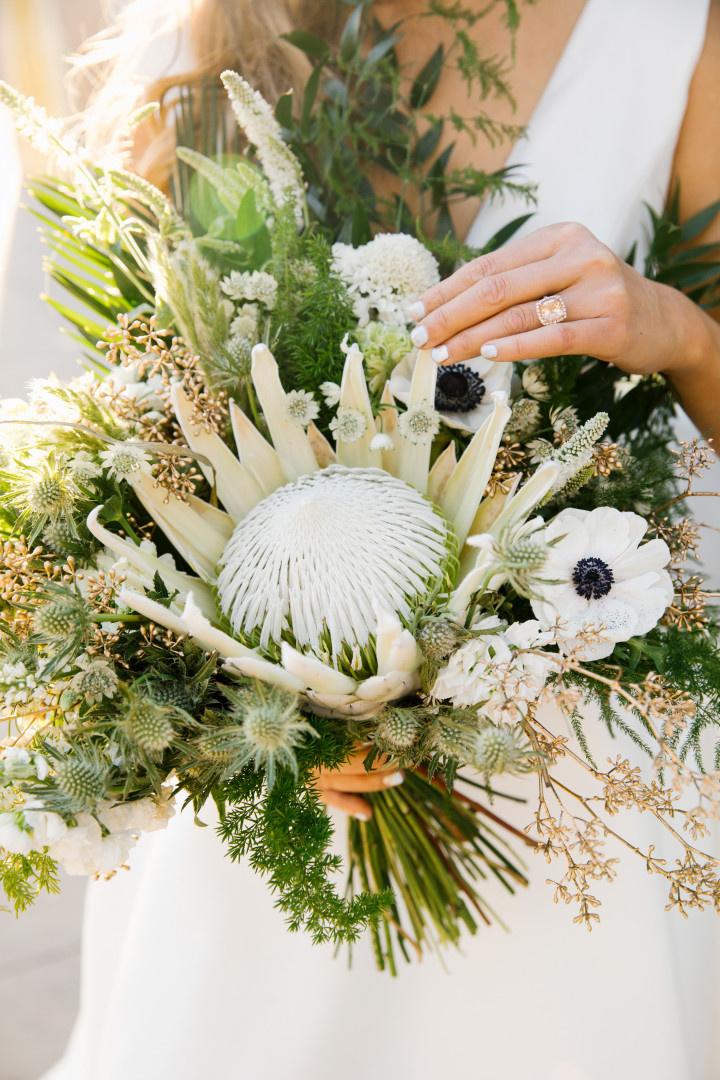 This bouquet is gorgeous in green. With a large king protea nestled among wildflowers, thistle, greenery, and a few white anemones, it looks like one large flower.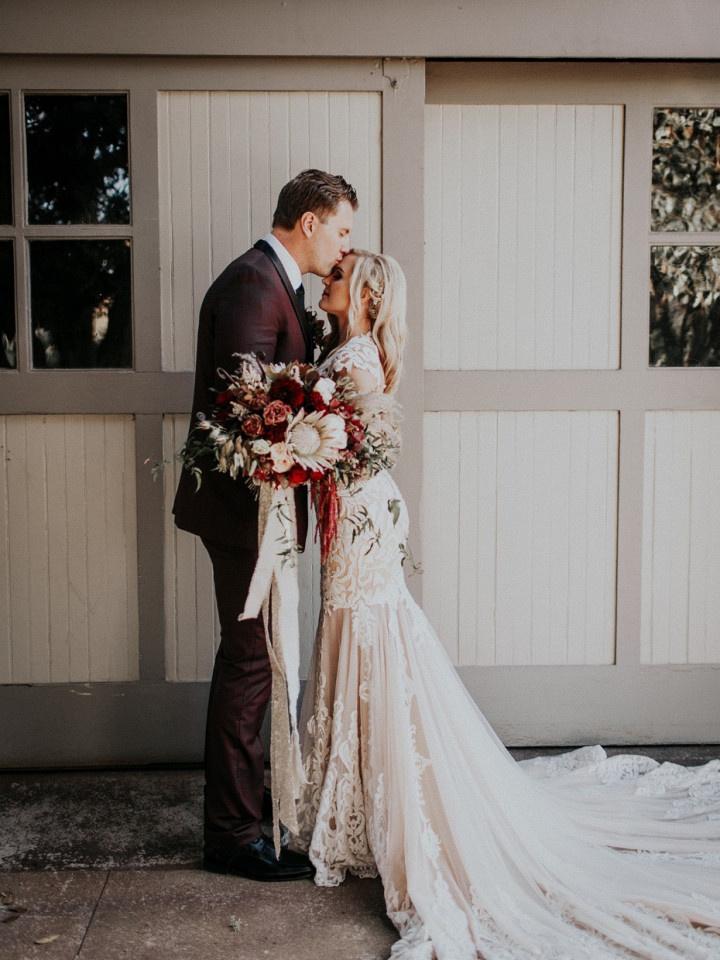 Rife with red florals and wild greenery, this protea wedding bouquet puts an elegant spin on bohemian blooms.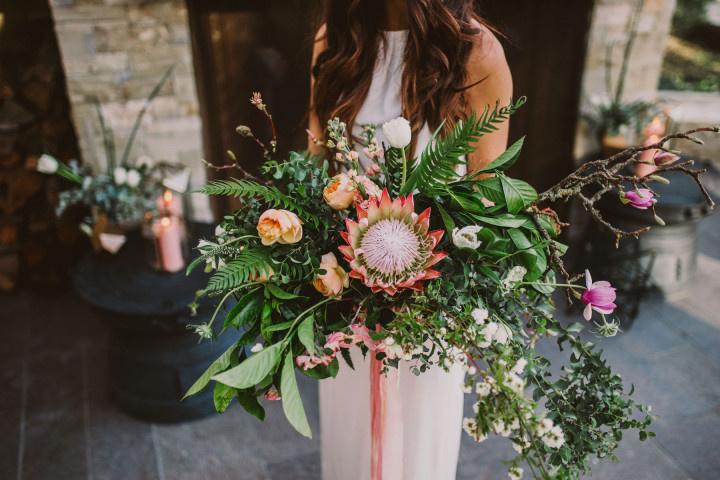 This cascading wedding bouquet gets a little wild thanks to a juxtaposition of ferns, foraged magnolia branches, garden roses, and a king protea.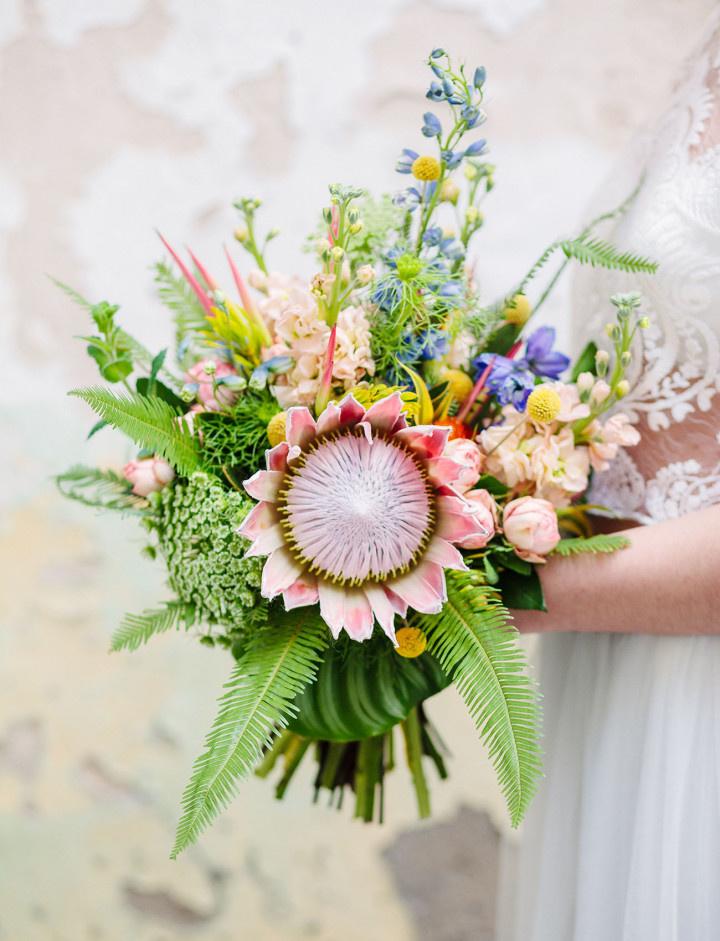 Bright, spring colors in this protea bouquet are playful and cheerful for a beach wedding venue.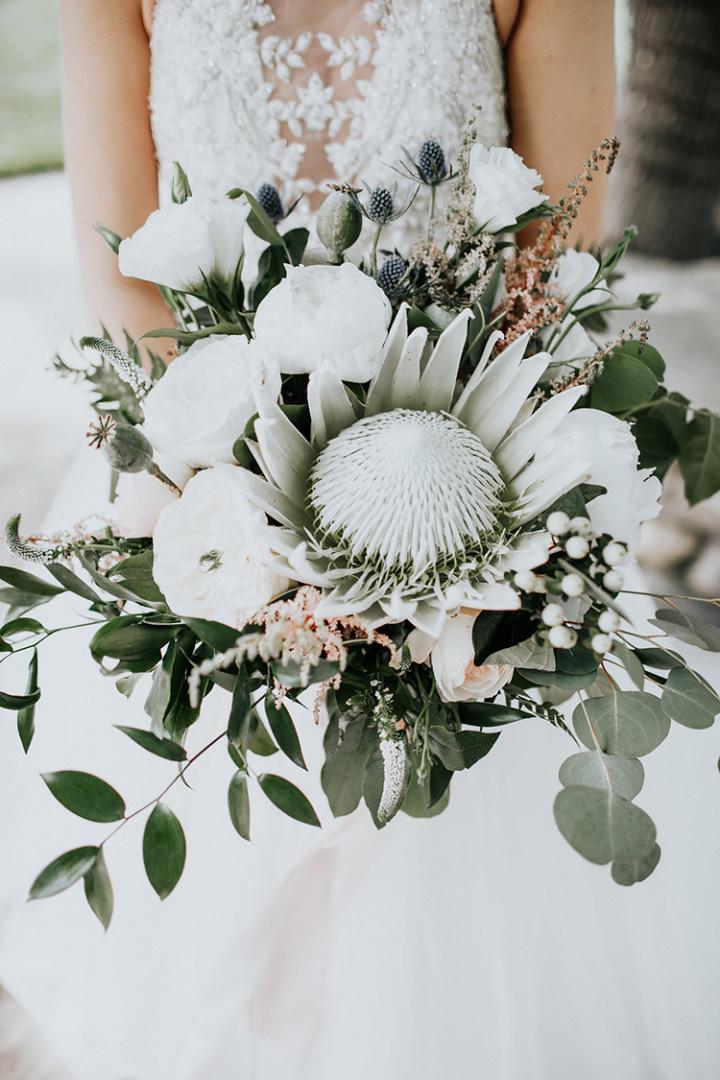 Sometimes, less is more. Although this gorgeous protea bouquet isn't filled with bright colors, it stuns with an elegant palette of white and muted green.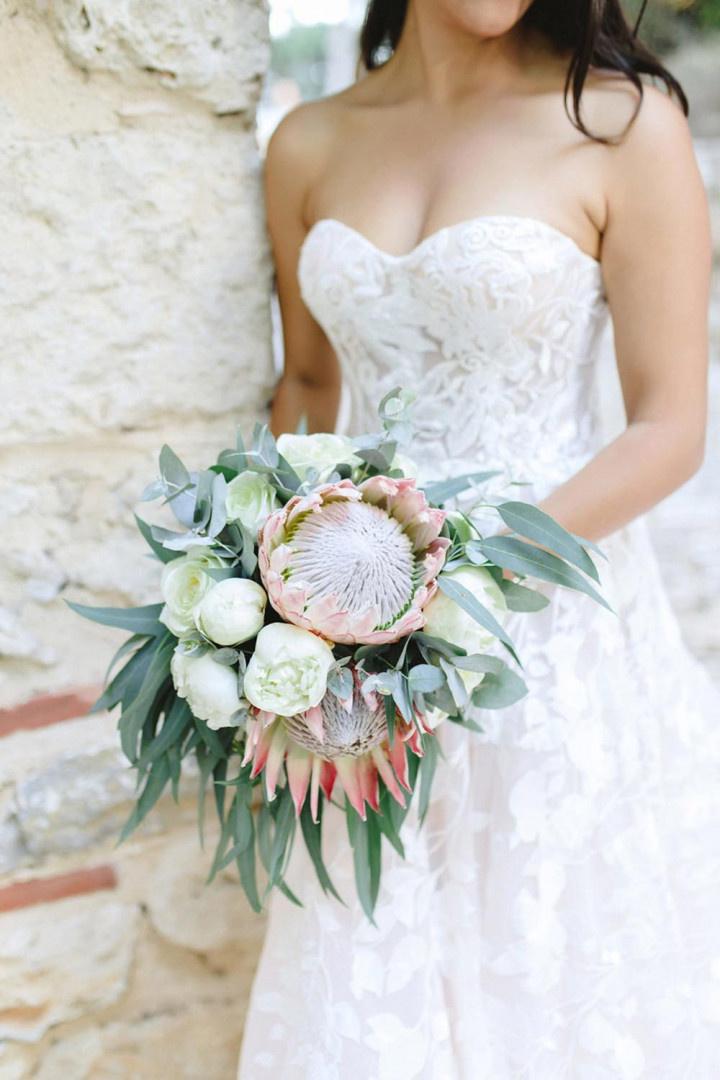 White roses and peonies allow the king proteas in this pastel bouquet to own the spotlight.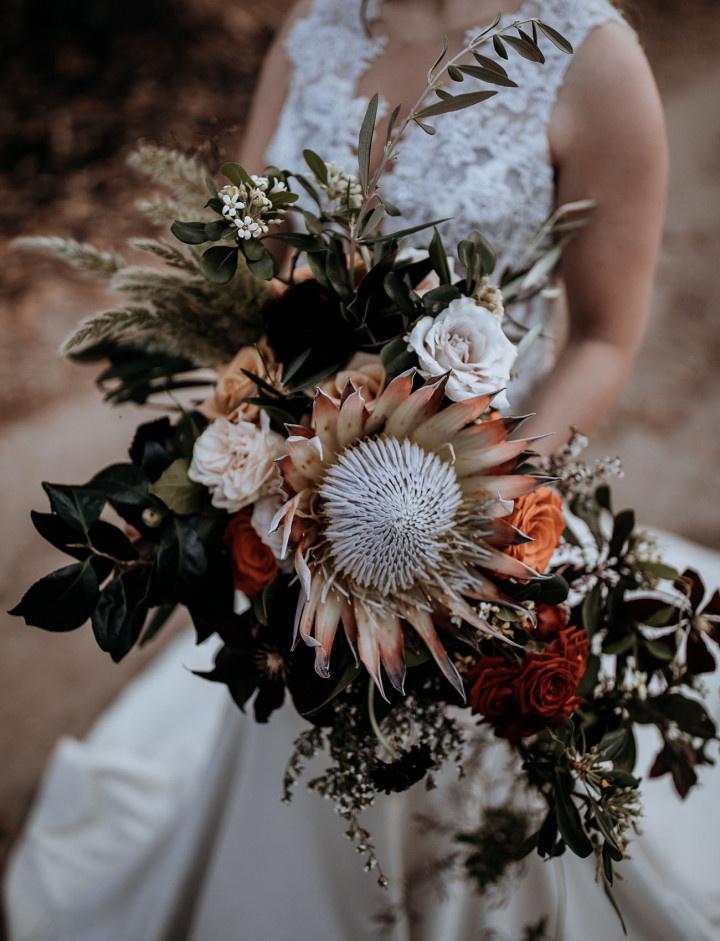 An edgy king protea and rich hues set the stage for moody autumn wedding vibes.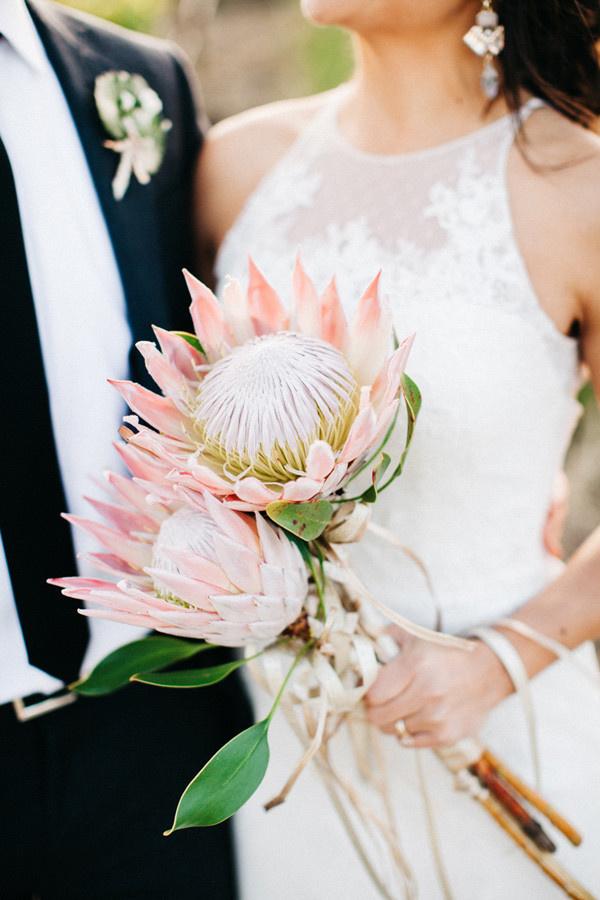 Sometimes, you don't need any other florals to complete your protea bouquet—simply carrying one or two king proteas will make a statement all on its own.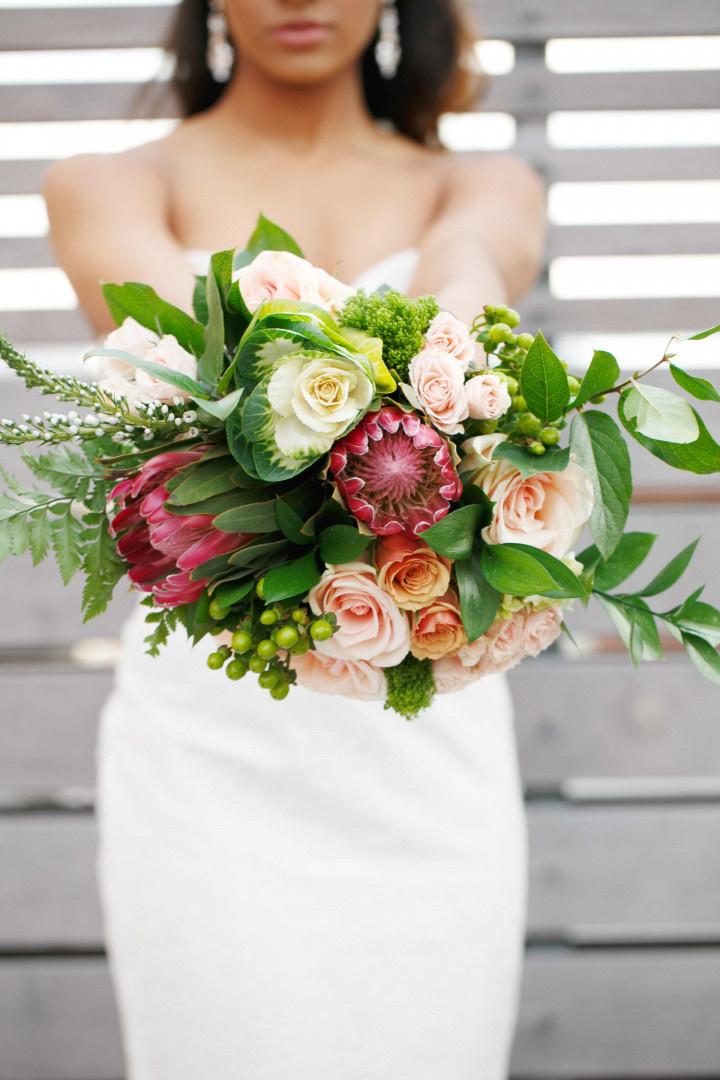 For garden-inspired vibes, use tea roses, ornamental cabbage, berries, and greenery alongside pink ice proteas.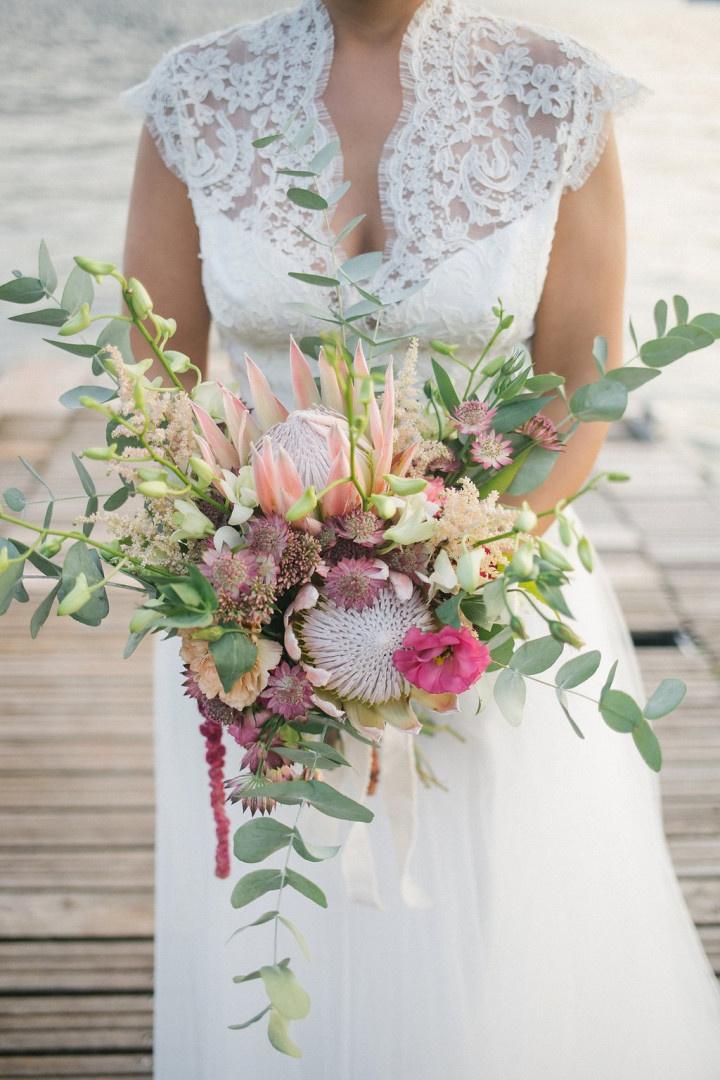 Accented with eucalyptus, astrantia, amaranthus, orchids, and astilbe, this king protea bouquet looks like it was plucked straight from a fairytale.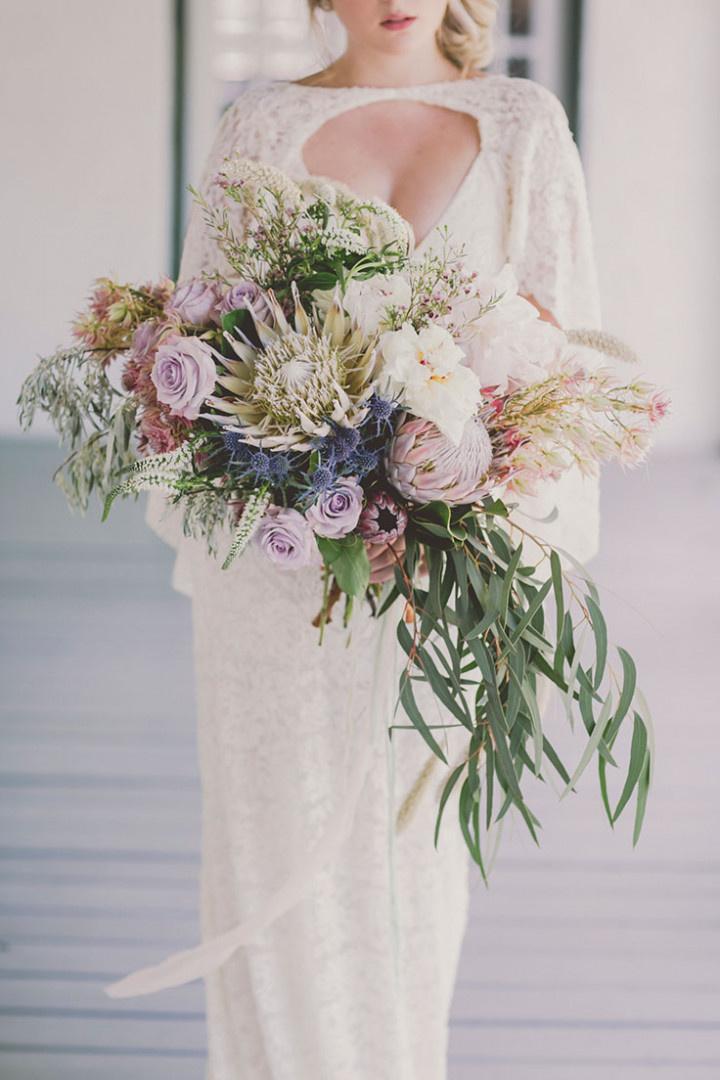 Purple tones lend this cascading bouquet a majestic, ethereal feel—it's perfect for a woodland fairytale wedding.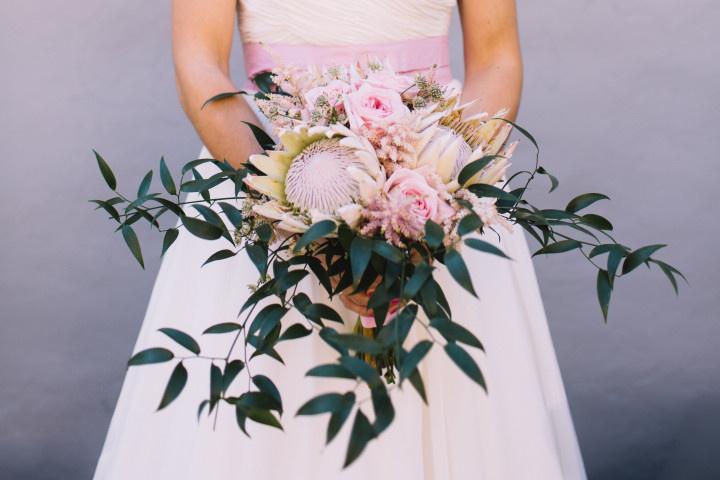 Pink roses, astilbe, and greenery surround a king protea centerpiece in this sweet and simple bouquet.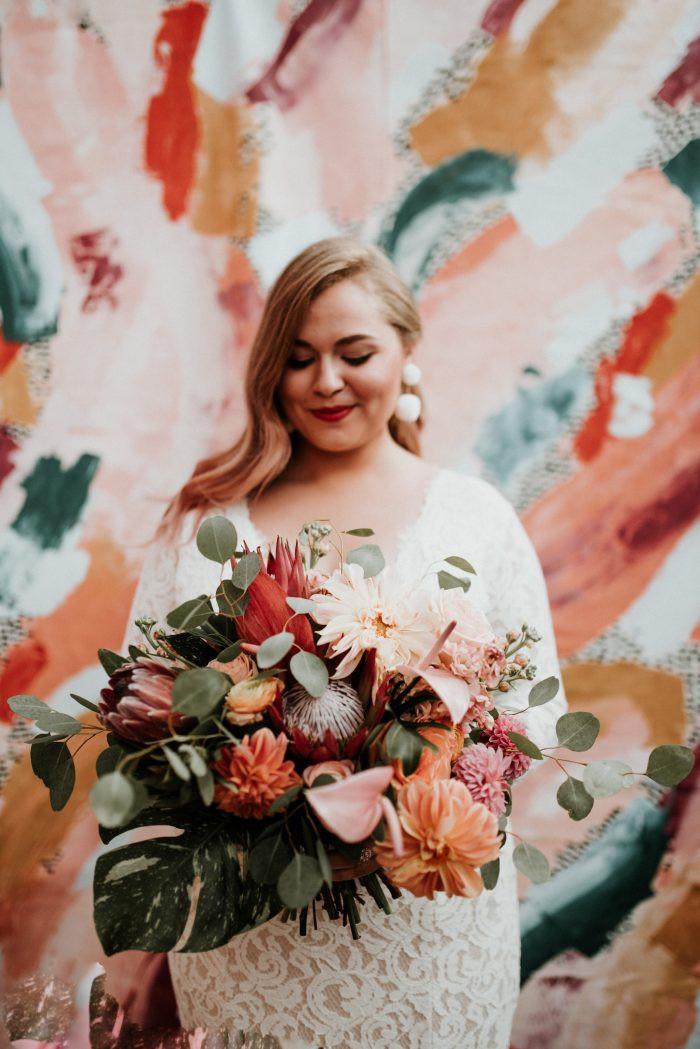 Rustic jewel tones in this protea bouquet create a rich color palette that will fit right in at a fall wedding.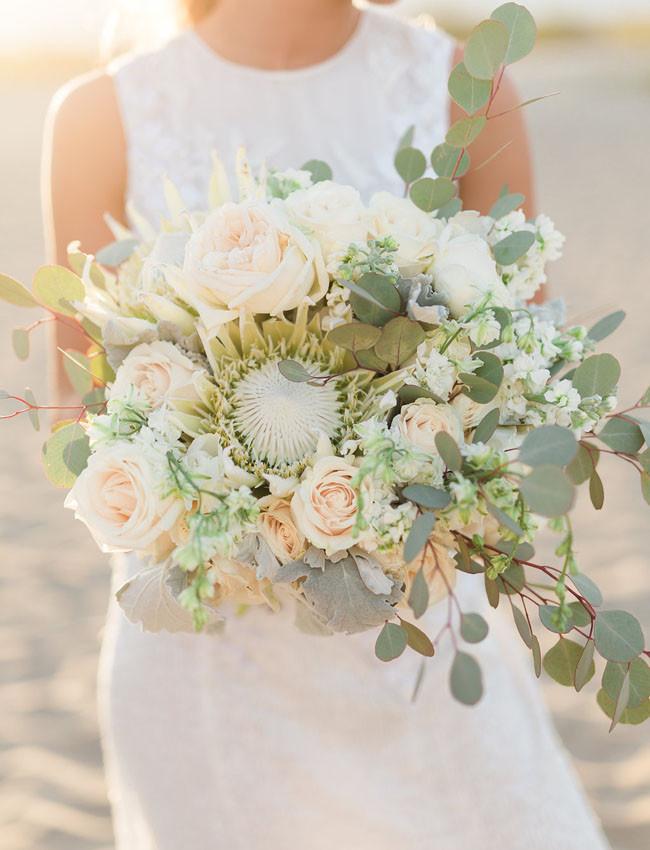 Roses, king protea, silver dollar eucalyptus, stock, and dusty miller in a muted palette make this bouquet a dreamy choice for a beach wedding.