The 13 Most Important Questions to Ask a Wedding Florist
These questions to ask a wedding florist will ensure you have all your bases covered before signing on the dotted line.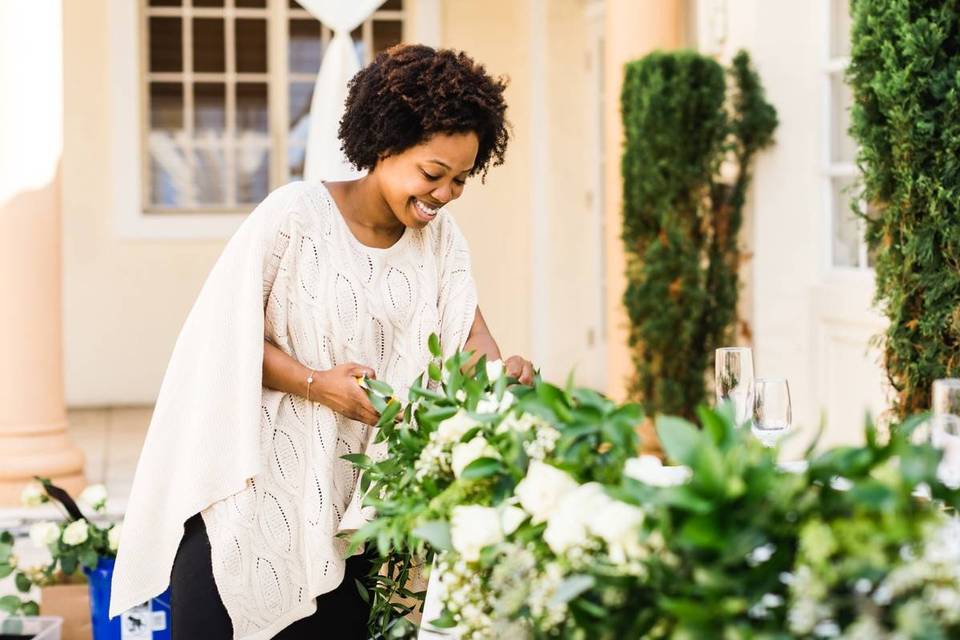 A wedding florist has an essential role to play on your big day—creating the most beautiful floral arrangements that will bring your wedding style to life! From bouquets to boutonnieres, altar arrangements to centerpieces and more, wedding flowers can totally transform your venue and add color to your day. But before you can start choosing flowers, you'll need to find the creative professional who will make it all happen. These key questions to ask a wedding florist before hiring will ensure that you and your pro are on the same page. So before you sign on with a potential florist, schedule some time to chat to make sure you feel comfortable working together.
1. Are you available on my wedding date?
In your first correspondence with a potential wedding florist, you should definitely check to see if they're available on your wedding day. If not, there's no need to interview the florist—though if you really like their work, you can ask for recommendations for other floral pros with a similar style.
2. How long have you been in business? How many weddings have you done?
There's no right or wrong answer to this question, but you do want to hire someone who has experience in the field, and has specifically worked on weddings. A seasoned wedding pro has likely handled a host of unique situations and can problem-solve quickly based on years of experience.
3. Can you offer some ideas or suggestions for achieving the look I'm going for within my budget?
A wedding florist's pricing doesn't work the same as, say, a DJ or photographer. There aren't usually set packages, and much of the cost depends on the number and types of arrangements you'll need and the flowers you'd like to use. That's why it's important to come to your first meeting with a potential florist with a desired floral budget in mind, as well as some information about your wedding—an estimated guest count, how many people will need personal flowers, and the style you're going for. Florists are pros at finding creative ways to work within a variety of budgets, so be upfront about your desired spend.
4. Have you worked at my wedding venue/with my other wedding vendors before?
Your wedding florist will work directly with many of your vendors, from your venue to your wedding planner, caterer, cake designer, rentals company, and more. A good relationship between your pros will mean smoother sailing during both the wedding planning process and the big day.
5. Do you have other weddings or events on the weekend of my wedding? (Or do you plan to book any?)
If you're working with a larger floral company, it's entirely possible (and likely) that they may be able to handle multiple events over the same weekend or on the same day. A small business that works many events in a single day or weekend may raise some red flags and require some follow-up questions.
6. How would you describe your floral design style?
As creative professionals, experienced wedding florists are accustomed to working with a variety of clients with a variety of styles. However, some florists specialize in a certain type of floral design, like English garden, minimalist, or organic. If the style the florist describes sounds similar to your own aesthetic, that's great. But don't discount a floral designer just because their style feels different from yours—just ask how they'd be able to tweak their aesthetic to create flower arrangements that meet your design goals.
7. Can I see a portfolio of your work?
A picture's worth a thousand words, and your florist likely has hundreds, if not thousands, of photos of their work to show exactly what they can do. Ask to see photos that represent the florist's favorite and best work—that way, you'll know what you're seeing reflects their sense of style.
8. Which flowers do you recommend given my color scheme, vision, and budget?
Whether you're a flower fanatic or can't tell a carnation from a craspedia, you'll need to trust your wedding florist when it comes to choosing in-season blooms that work best for your style. While you don't have to choose your exact wedding flowers at this initial meeting, this question will give you a sense of a florist's breadth of knowledge about the industry, flower availability, colors, and more.
9. Tell me about your process when it comes to working with clients.
You may be looking for a florist who you'll want to collaborate with throughout the wedding planning process, or you may prefer a pro who works more independently. Also, ask if your florist provides mock-ups before the wedding, but note that these live examples are usually an additional charge.
10. How will you transport the flowers? Will you work with my ceremony and reception sites to find out any rules about installation?
Will your florist simply drop off the floral arrangements for someone else to set up or will they handle the process from start to finish? Ideally, you should hire a florist who will take care of everything for you—you'll have enough going on before your wedding and shouldn't be tasked with setting up the floral décor, too! It's also essential that your florist understands any policies put in place by your venue around when they can access the venue and for how long.
11. Are there any additional fees I should know about, such as delivery, setup, breakdown, or overtime charges?
These extra charges can add up quickly, so it's important for your wedding florist to be upfront so you can factor any additional fees into your total floral budget.
12. What other items can you provide, and at what cost?
Some florists can provide certain rental items, including vases, votives, candelabras, and more from their own stock, which can make your planning process much easier. If they don't have these items in house, they may be able to pair up with a rentals company to get exactly what they need.
13. Do you handle breakdown at the end of the night?
At the end of your wedding reception, your vendors will need to leave the site exactly as they found it. Who will handle breakdown and removal of any rental items, such as vases (the flowers themselves should be yours to keep)? Again, your florist should be aware of any rules from your venue regarding breakdown.