30 Wedding Flower Arrangements You Might Need on the Big Day
Wedding flower arrangements go beyond the basic centerpieces and bouquets. Check out this wedding flower checklist for all the other times you might want to use fresh blooms at your event.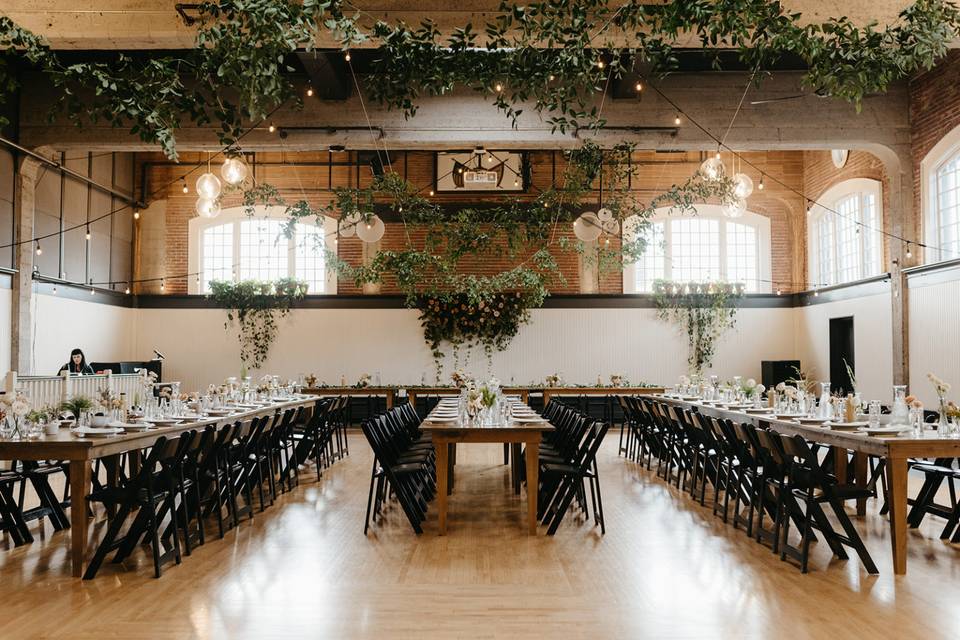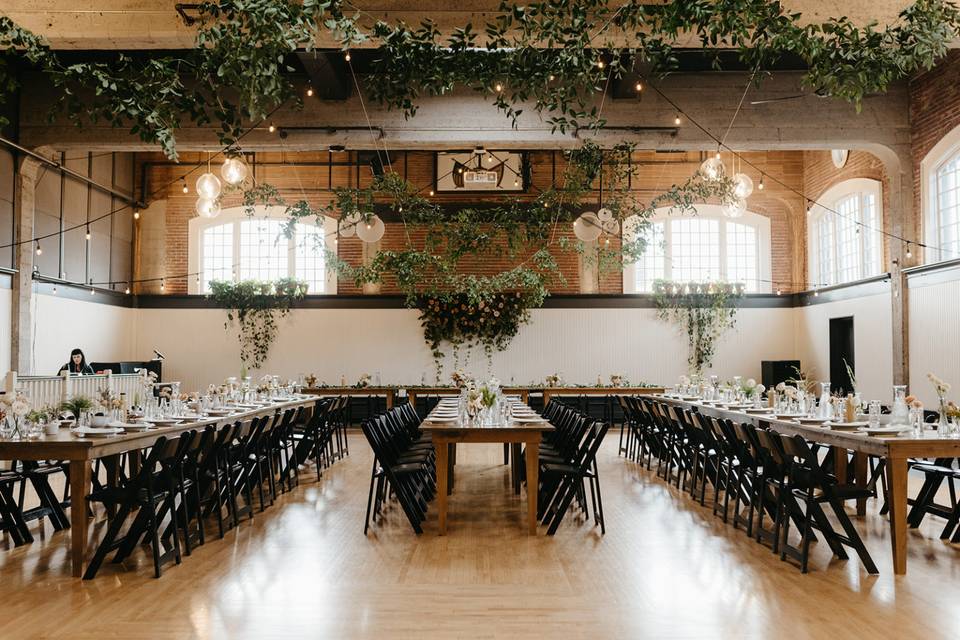 You're probably familiar with some of the most common wedding flower arrangements, such as bouquets, boutonnieres, and centerpieces, but it turns out that they're just the tip of the iceberg when it comes to your wedding decor. Aside from these popular options, there are dozens of additional ways to use flowers at your wedding, from ceremony altars to welcome table decor. Flowers are a gorgeous way to customize your wedding, but the first step is figuring out exactly what you'll need (and deciding what fits into your wedding budget). We've created this wedding flower checklist to outline every time you might want—or in some cases, need—to incorporate flowers on your wedding day. And while it's unlikely that you'll end up using all of these floral wedding ideas, we think it's best to know all your options, especially before hiring a wedding florist. Here are 30 flower arrangements to keep in mind while wedding planning.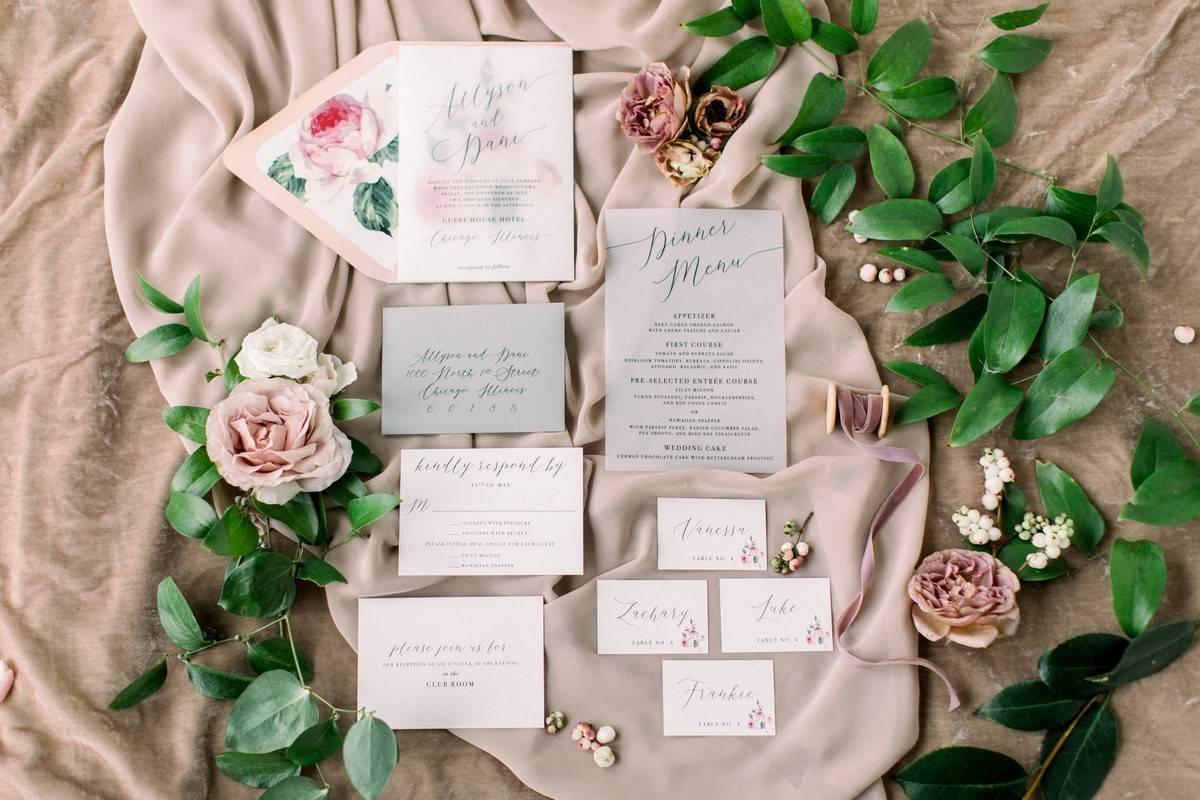 Wedding Flat Lay
You can ask your photographer ahead of time if they're planning to capture flat lay photos and detail shots of your miscellaneous wedding day items (invitations, rings, accessories, etc.). If so, we suggest asking your wedding florist to include a few extra flowers and pieces of greenery with your arrangements—your photographer will appreciate having the blooms on hand for their creative shots.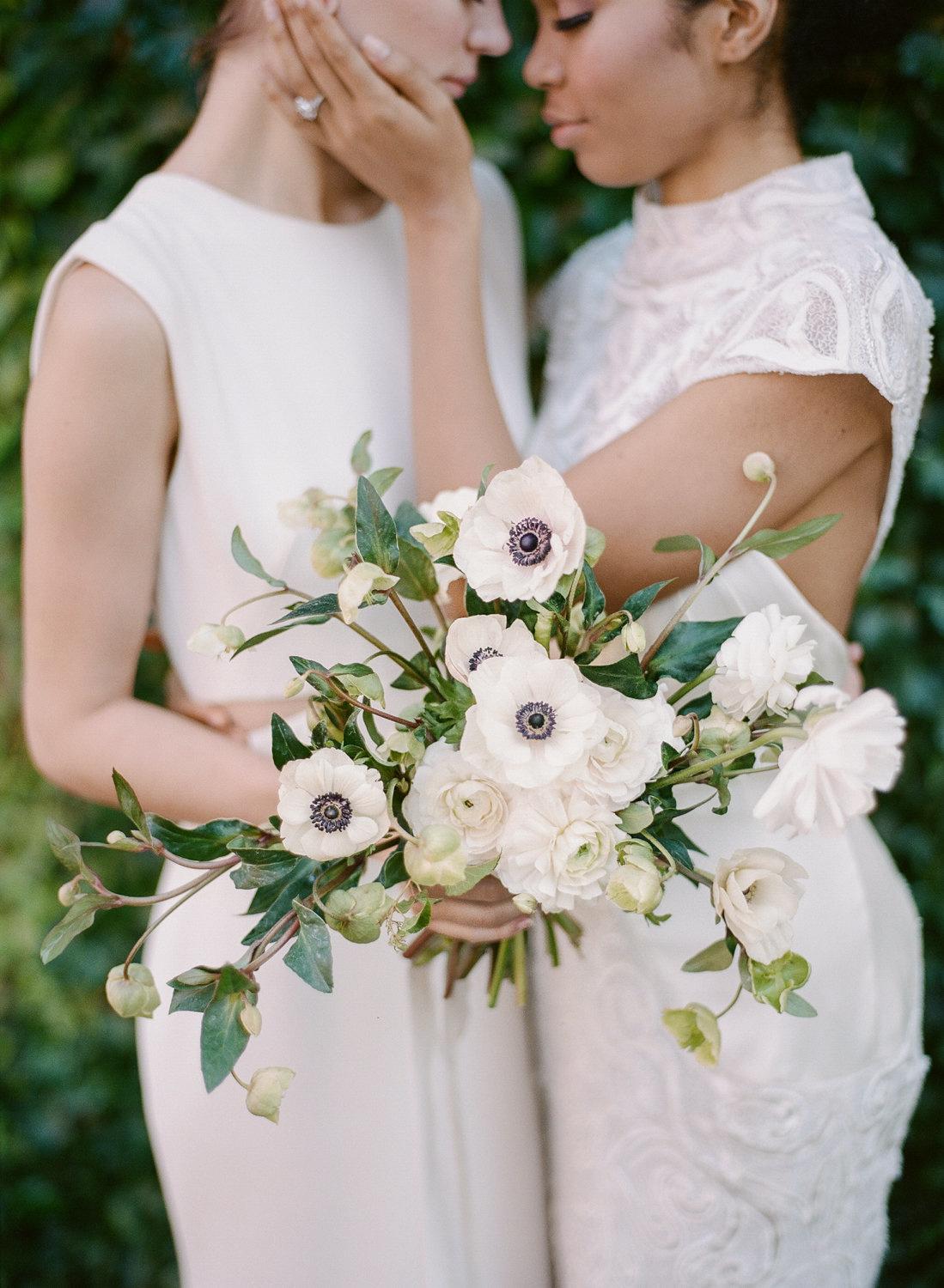 Wedding Bouquet
The bouquet is an arrangement of flowers that the bride carries down the aisle and holds during portraits. It's arguably one of the most important floral elements of the entire wedding day. Depending on the flowers you choose, bouquets come in many different styles, colors, sizes, and shapes, making each one a unique floral masterpiece. The flower stems may be wrapped in ribbon, lace, a handkerchief, or left exposed.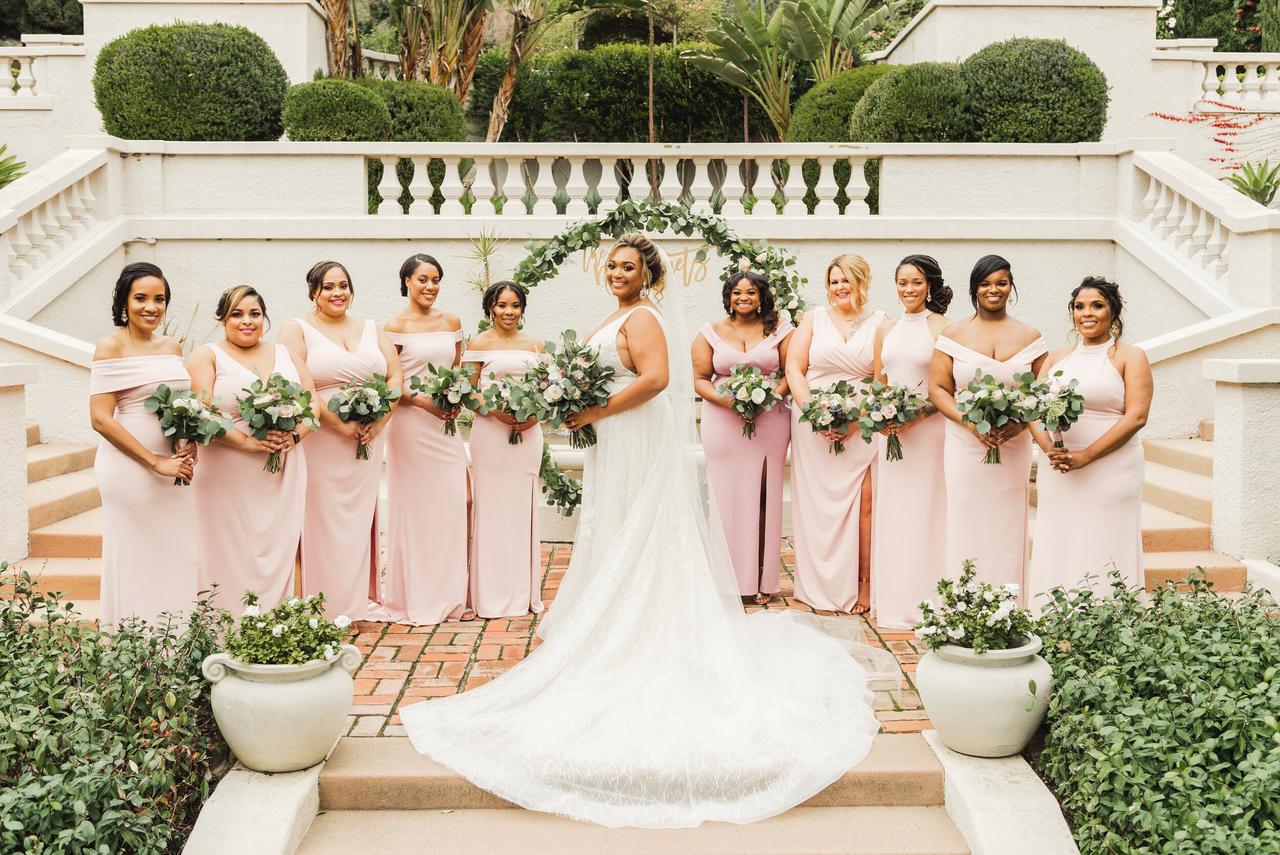 Bridesmaid Bouquet
Maid of honor and bridesmaid bouquets are usually smaller, less elaborate versions of the bride's bouquet, with similar flowers and a matching color palette. Traditionally, the bridesmaid bouquets are identical to each other, but a growing trend has brides asking their wedding florists to create bridesmaid bouquets that are complementary in color and style rather than being exact clones.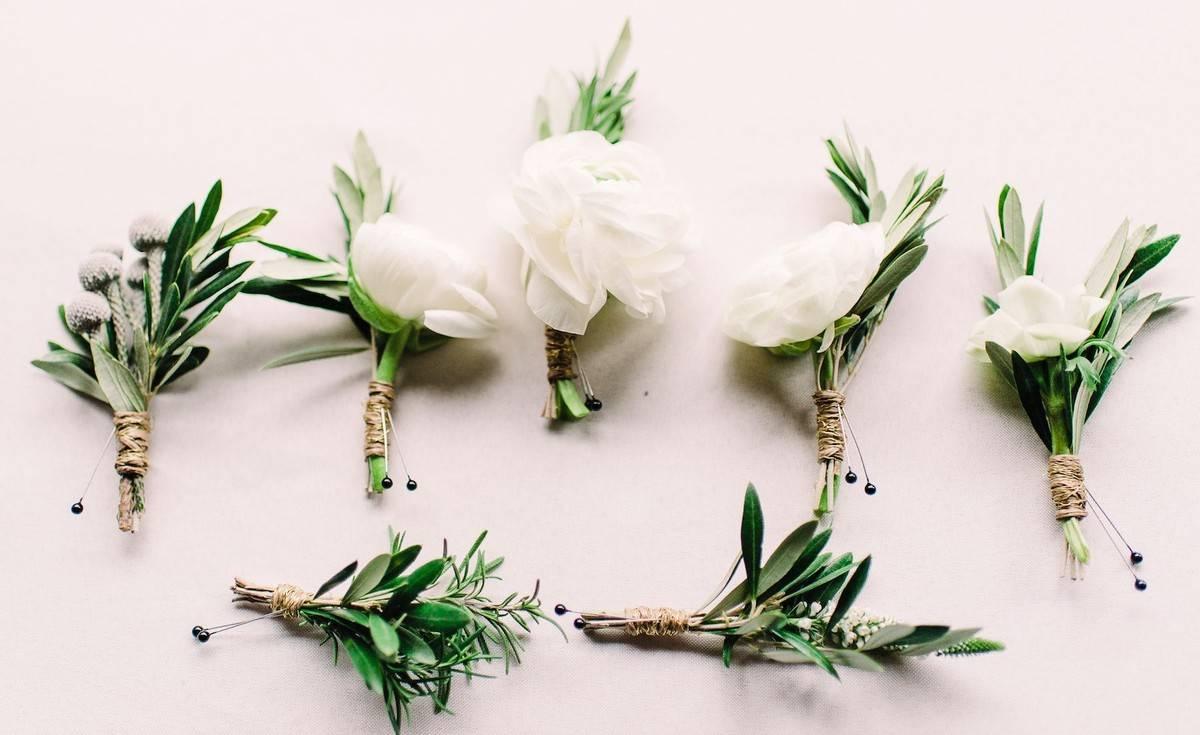 Wedding Boutonniere
This tiny accessory is a floral pin worn on a suit or tuxedo lapel. Wedding boutonnieres are typically composed of one or two small flowers and may also contain decorative accents like berries or greenery. They are traditionally reserved for the groom, best man, groomsmen, father of the bride, father of the groom, wedding ushers, and occasionally the ring bearer.

Wedding Corsage
A corsage is a small bundle of blooms that is traditionally worn around a woman's wrist like a bracelet. Wedding corsages are most often reserved for the mother of the bride, mother of the groom, grandmothers of the bride and groom, and other special female guests who aren't part of the main wedding party.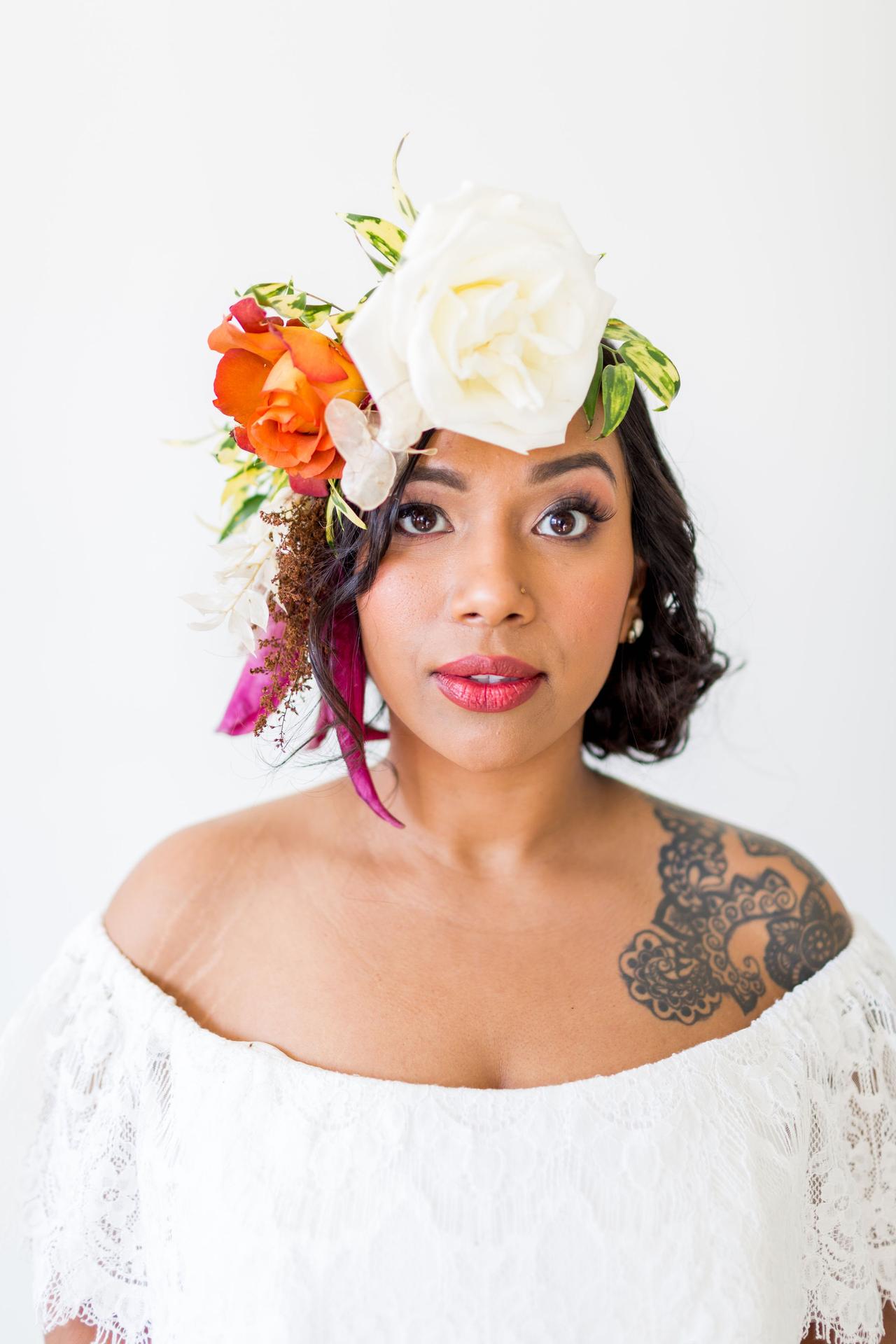 Floral design by The Rosy Posy
Wedding Flower Crown
Flower crowns are halos of flowers (and sometimes greenery) that are worn around the head. These pretty crowns started out as accessories for flower girls and younger wedding attendants, but they have also been a favorite for bohemian, free-spirited, and ethereal brides over the last several years.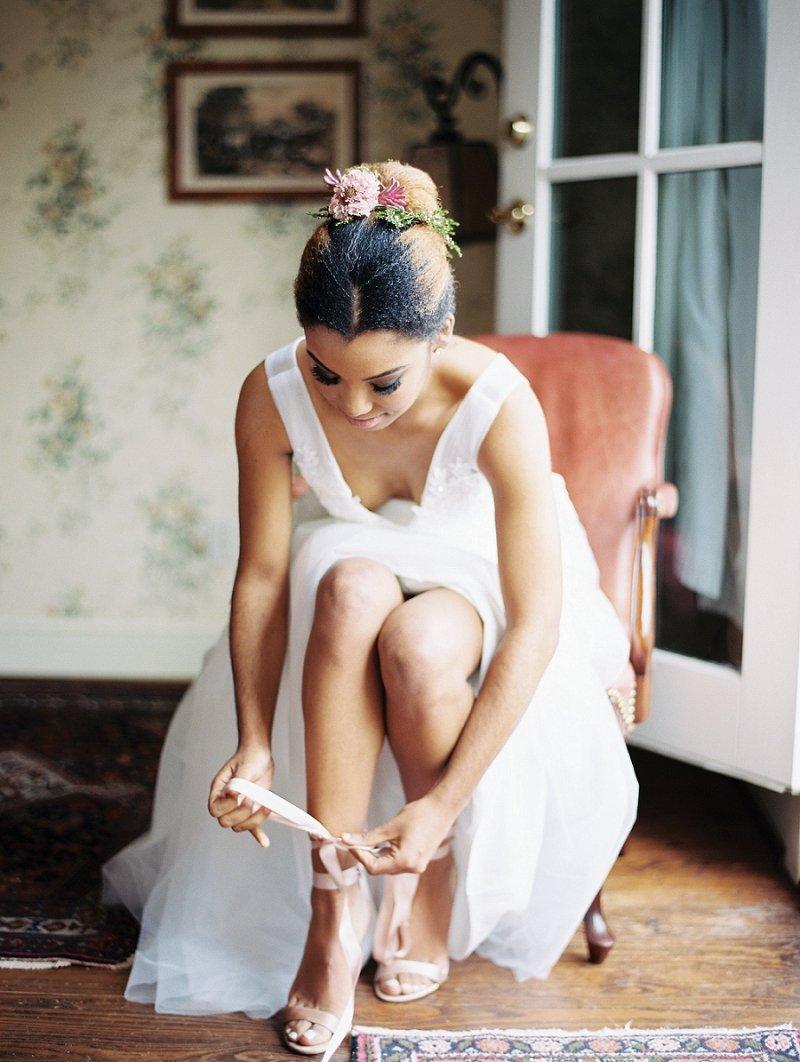 Floral Wedding Hair Accessory
Even if flower crowns aren't your thing, you can still rock fresh blooms in your hair on the big day. A floral hair accessory or headpiece is perfect for bringing a romantic effect to your bridal beauty look, whether you're sporting a loose updo or pinning your locks to one side.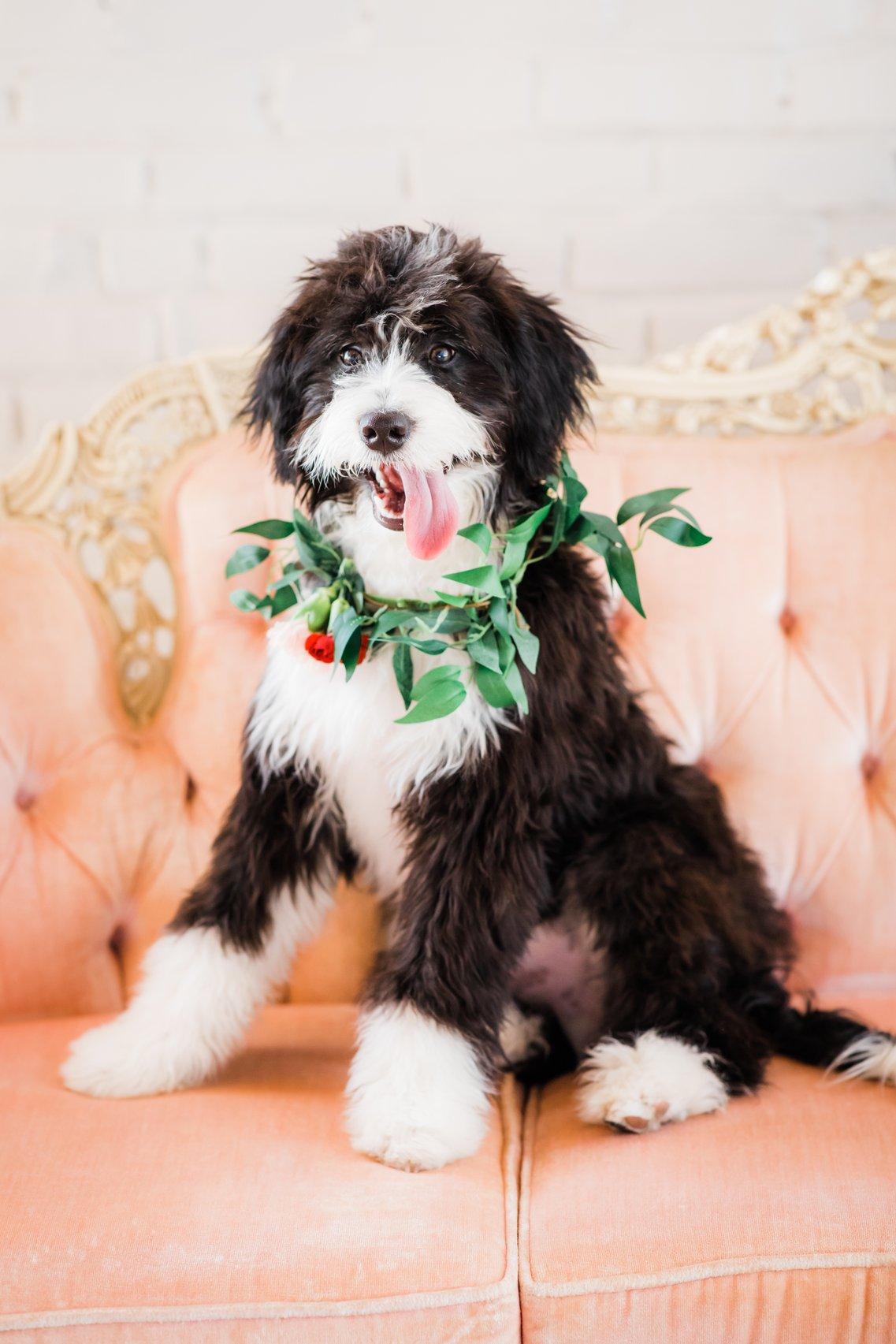 Floral design by Market Floral Studio
Floral Collar or Leash for Pets
If you're including a furry friend in your wedding (see exactly why you should here), they'll need to look their best. One way to dress them up is by having your wedding florist create a special floral collar or leash for their big walk down the aisle. Prepare for guests to gush about how cute your pet is!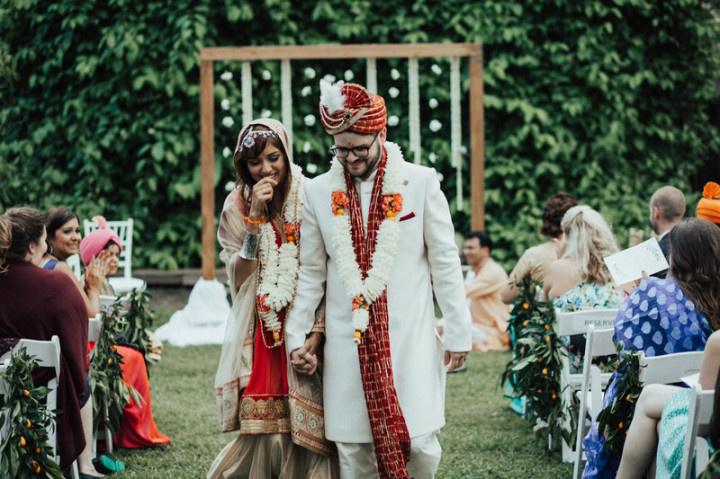 Ceremonial Wedding Flowers
Depending on your culture and heritage, it may be customary to include flowers in your wedding ceremony, and not just for decor. Indian weddings and Hawaiian weddings are just two examples of cultures that use flowers as symbolic elements of the ceremony.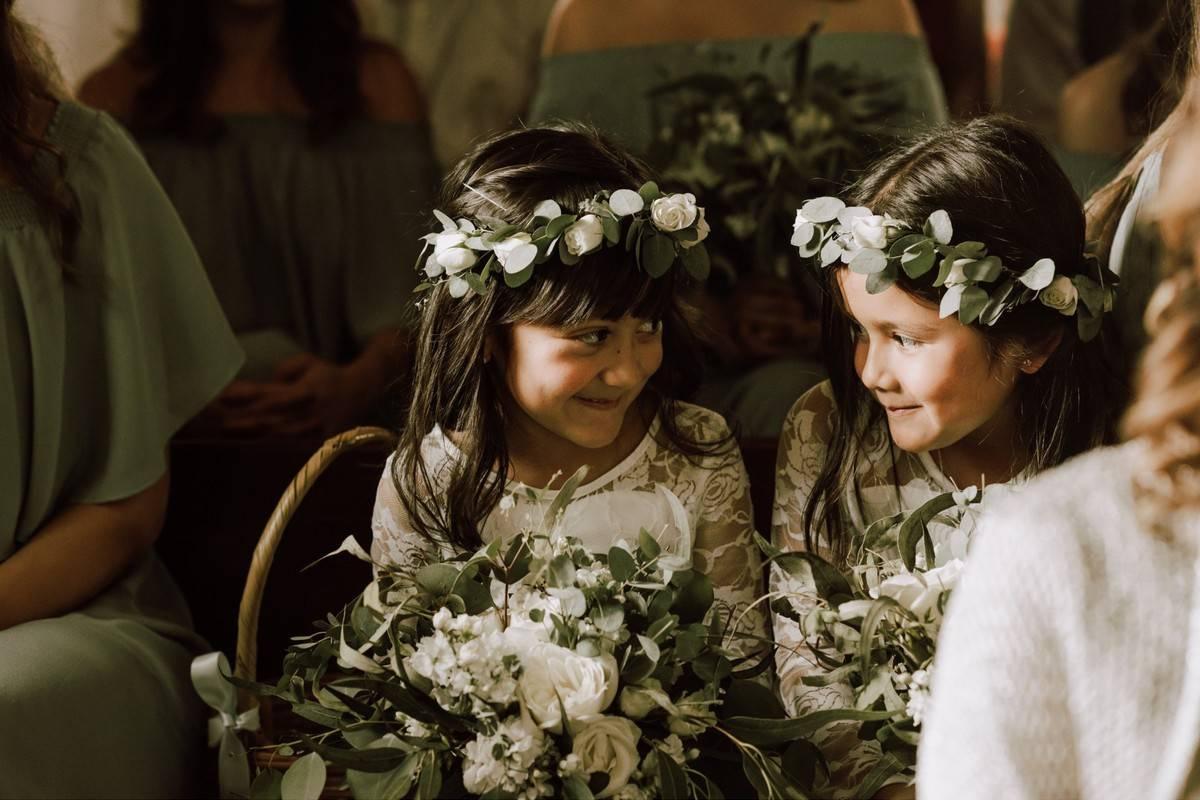 Flower Girl Bouquet or Arrangement
If you're having a flower girl (or two), she'll need something to hold as she walks down the aisle. Unless she's carrying a sign or tossing petals, the traditional option is for the flower girl to carry a small bouquet or pomander modeled after the bridal bouquet.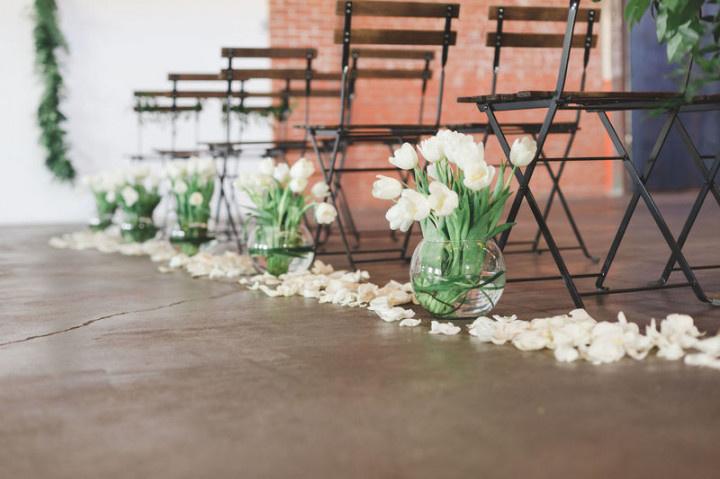 Wedding Ceremony Aisle Markers
Decorate your ceremony venue with small wedding flower arrangements displayed at the end of every row or pew. Floral aisle markers are typically arranged in vessels that are tied onto chairs or placed at the foot of each seat.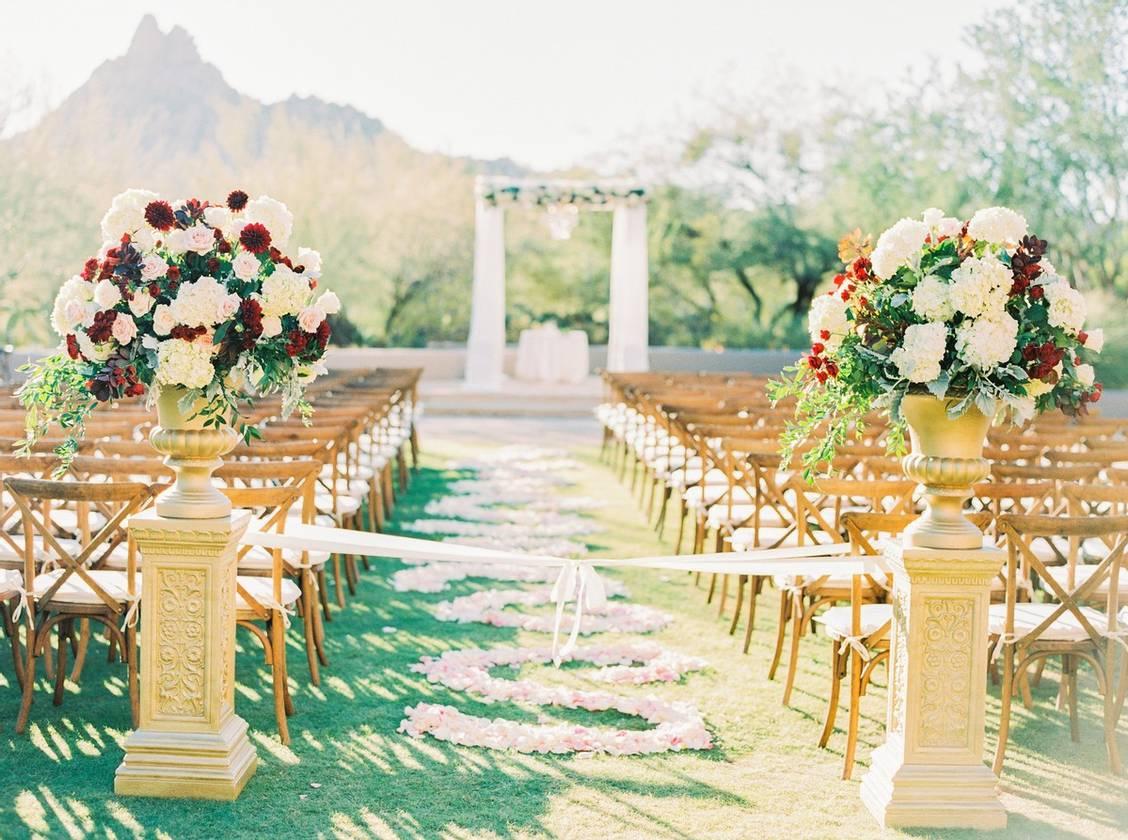 Flower Petal Carpet
Is there anything more romantic than a trail of flower petals leading to your altar? The blooms may be arranged in a detailed pattern or scattered allover for a more natural look.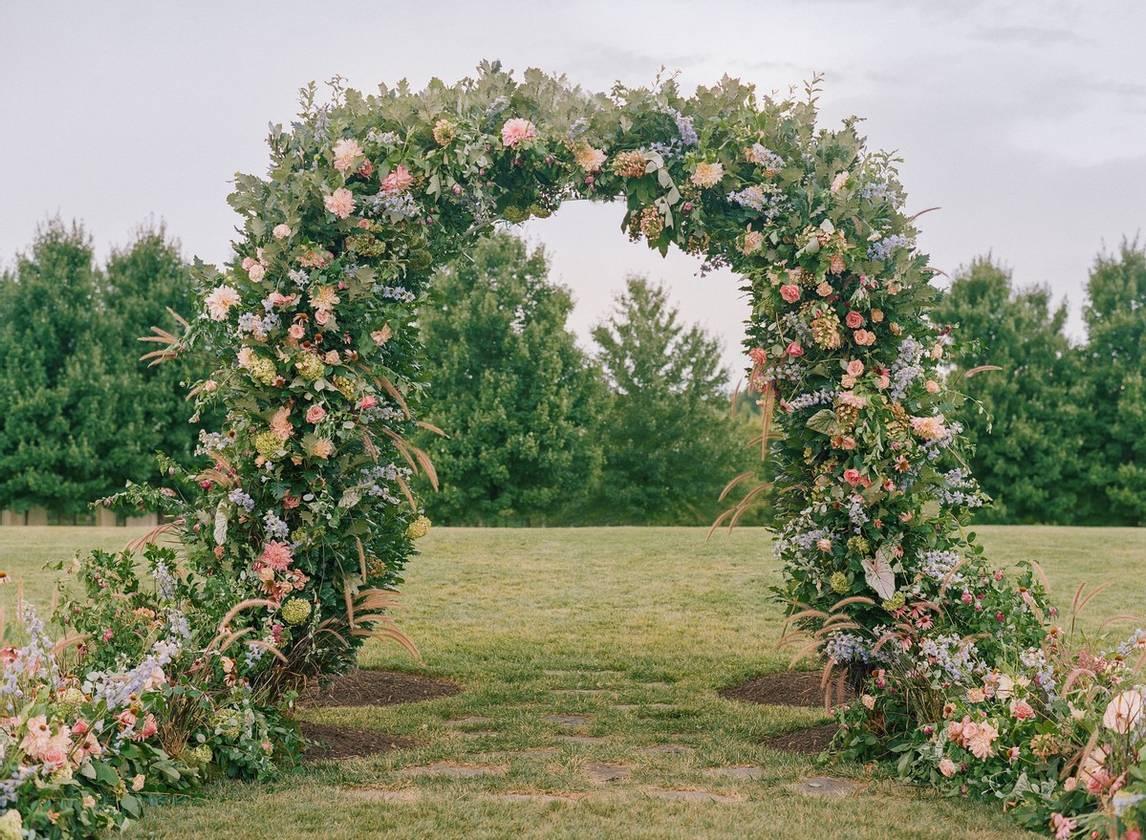 Floral design by Sophie Felts Floral Design
Wedding Flower Arch, Arbor, or Chuppah
Wedding arches and arbors are some of the most popular wedding flower checklist ideas. The floral arch, arbor or chuppah (at Jewish weddings) serves as a structural backdrop for the ceremony, not to mention that it's a gorgeous setup for wedding portraits.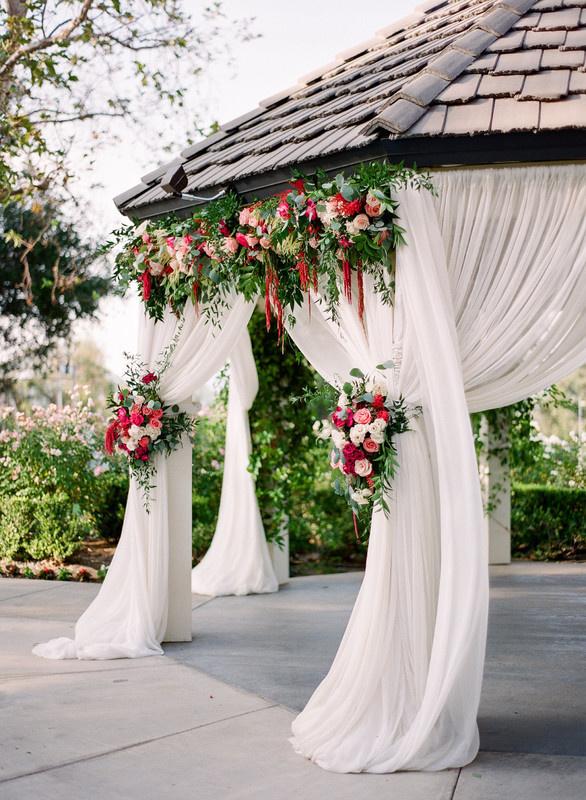 Floral Tie-Back
Attach flowers to a ribbon and use them to to hold a drapery to one side. This is most often see on ceremony backdrops, venue entrances, and decorative arches behind sweetheart tables.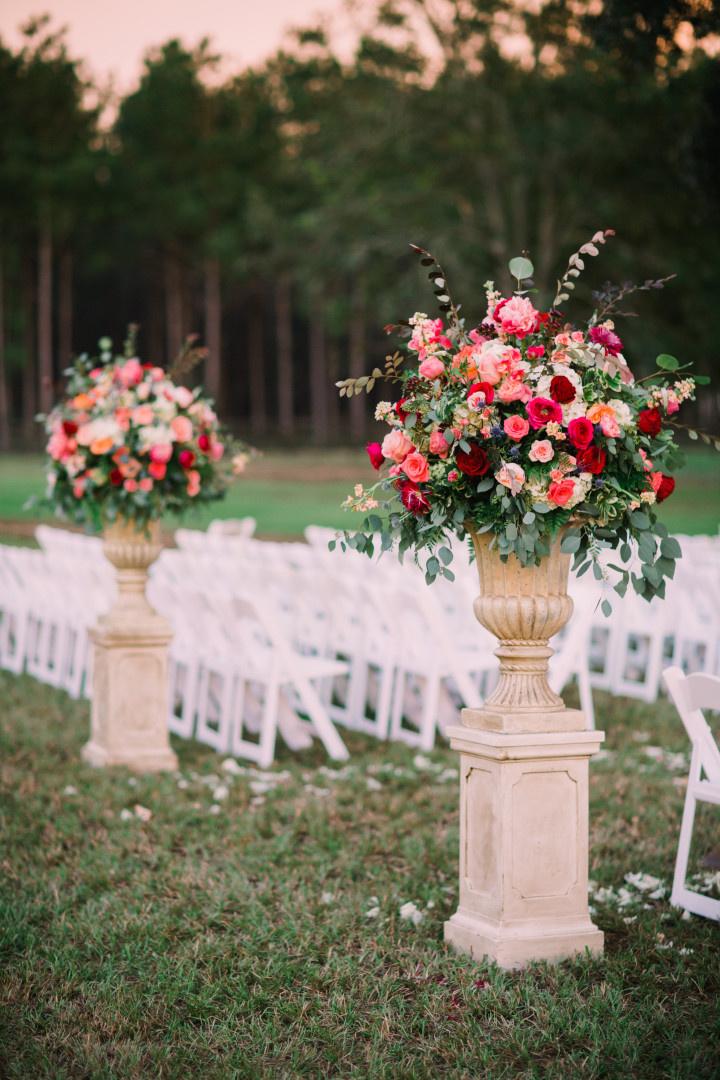 Floral Pillars
Make an entrance with large wedding flower arrangements that are displayed on top of columns. The columns typically flank the start of the ceremony aisle or adorn both sides of the altar.
Wedding Flower Wreath
A circular arrangement of flowers and greenery. Smaller wreaths and floral hoops are typically displayed as decorative accents above an altar or table, or they're paired with venue entryways such as gates and doors. And how could we forget oversized floral wreaths? Couples are asking wedding florists to create life-sized wreaths to use as ceremony or reception backdrops, and the result is definitely wow-worthy.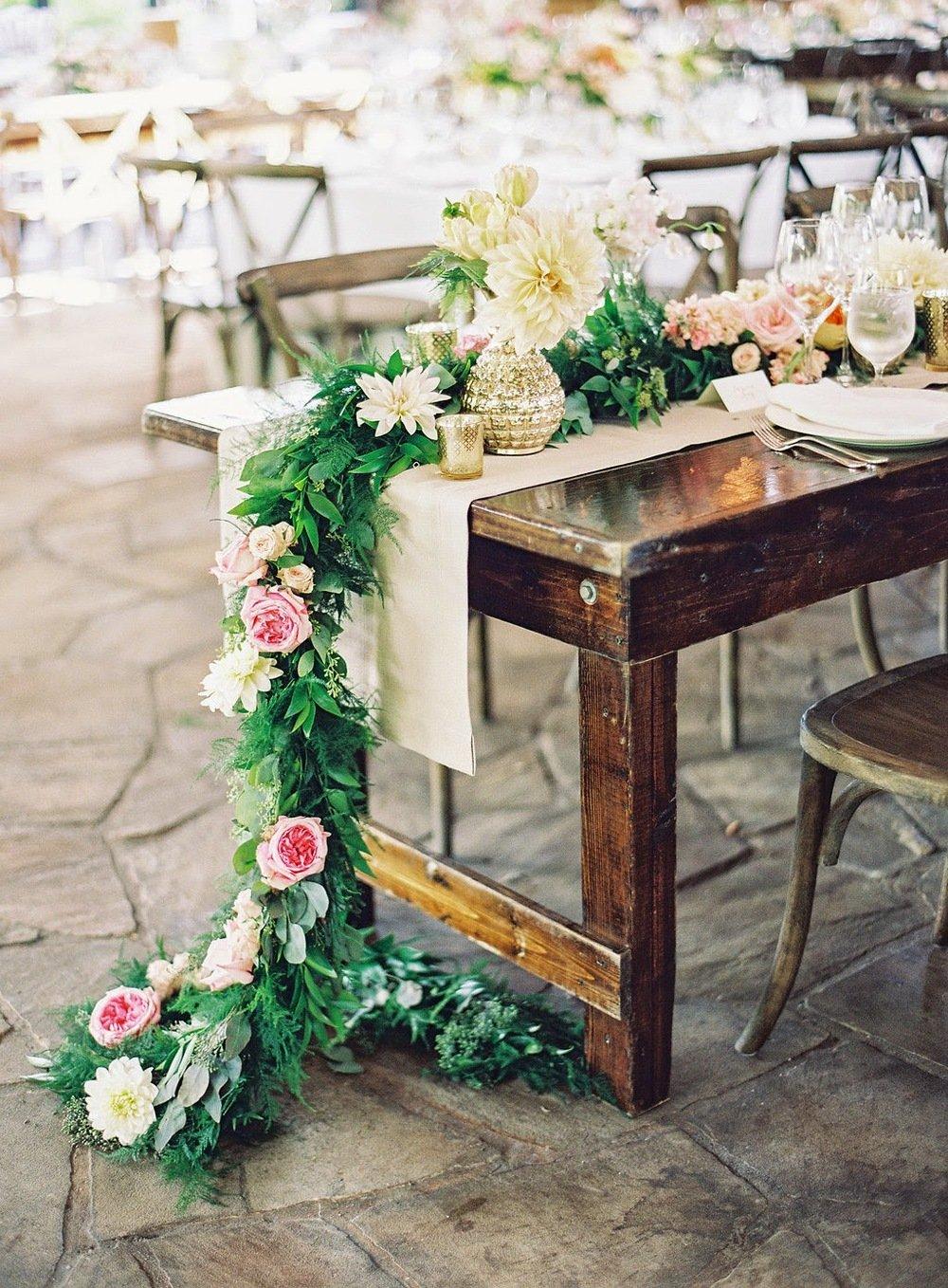 Floral Garland
A long "rope" of densely packed greenery and blooms. Floral garlands are often draped on the front of cocktail bars or display tables, draped around entryways, wrapped around banisters, or used as table runners in lieu of traditional wedding centerpieces.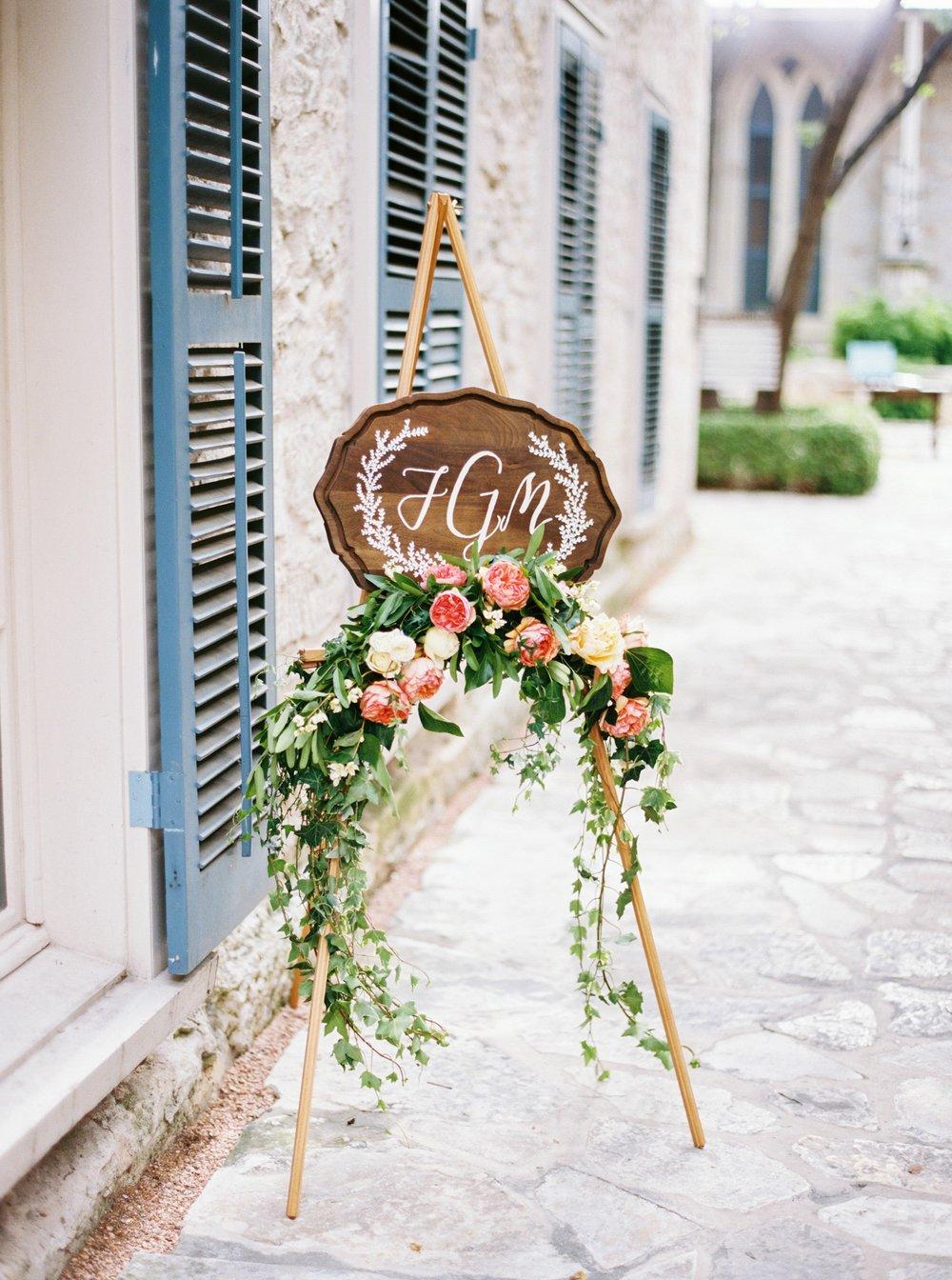 Floral design by Clementine
Floral Swag
This is a shortened garland with a slight crescent shape. Floral swags can be displayed atop door frames, wedding signage, or on the front of a ceremony structure.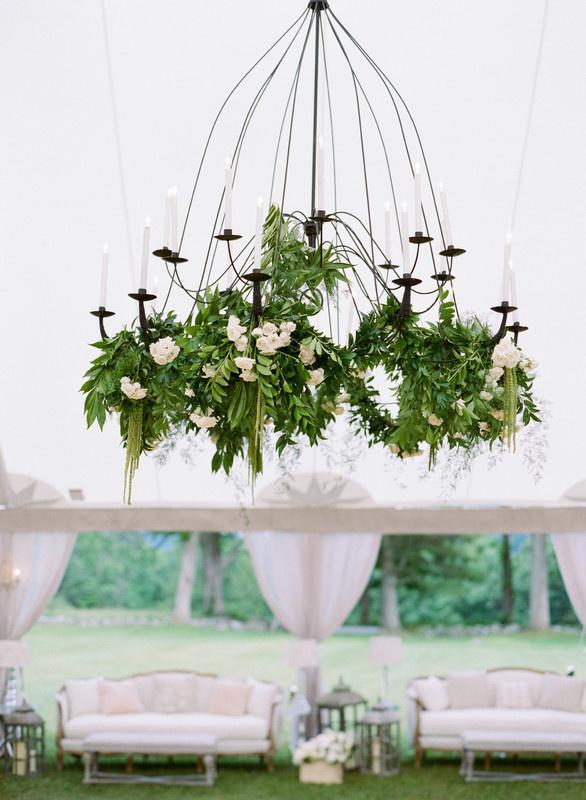 Floral Chandelier
Hanging flower arrangements, including floral chandeliers, are another favorite decorative accent of ours. They're typically in the shape of a wreath or feature tiered levels (mimicking a traditional chandelier) and are hung above the head table, dance floor, or throughout the reception space.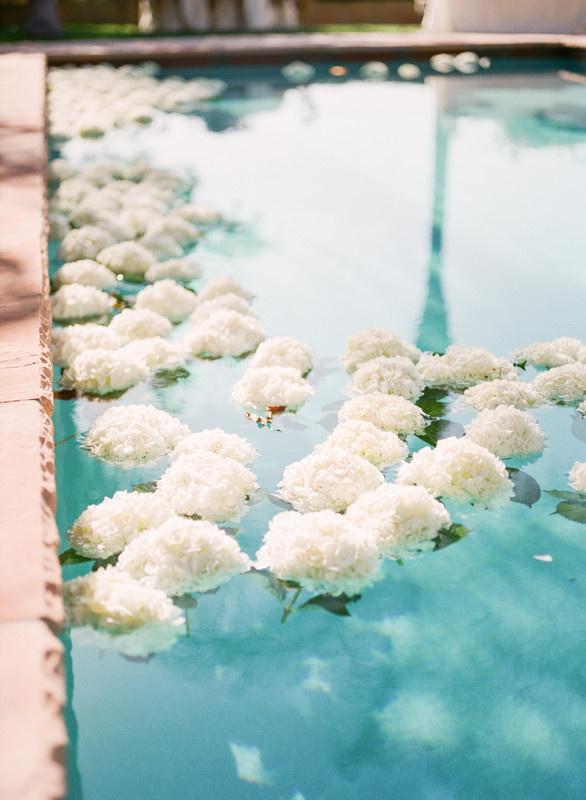 Floating Flowers
If your venue has a water feature, such as a pool or fountain, you can use it to display single, stemless blooms. Floating flowers can also be showcased in trays or cylinder centerpiece vases.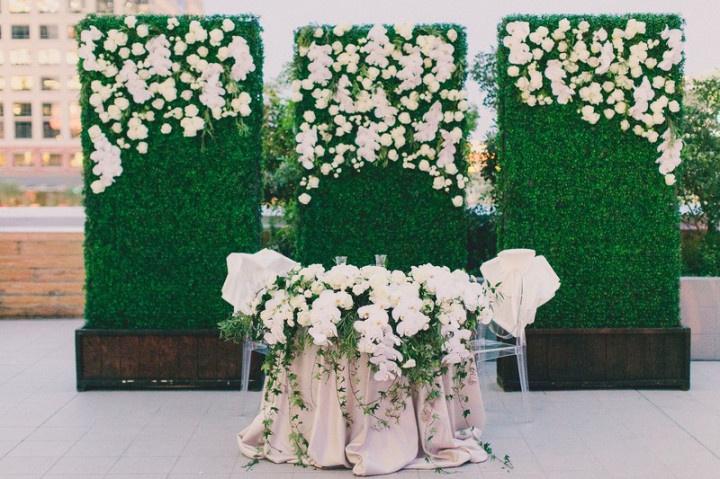 Floral Statement Wall
A floral wall is a must-add to your wedding flower checklist if you're looking to make a statement with your decor. This impressive backdrop can be made entirely of flowers, or with a mix of flowers and greenery—check out local event rental companies to find faux walls, like these boxwood panels.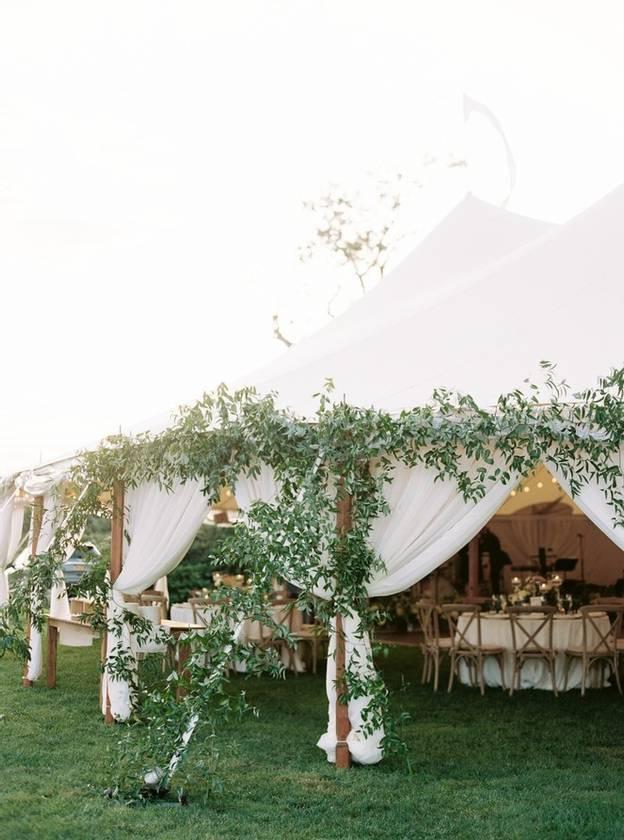 Floral design by Stoneblossom Floral and Wedding Design
Wedding Reception Venue Entrance
Whether your reception will take place indoors or beneath a tent, you can consider decorating the entryway with flowers or greenery that match the rest of your wedding flower arrangements. It's a lovely way to greet guests upon their arrival to the party!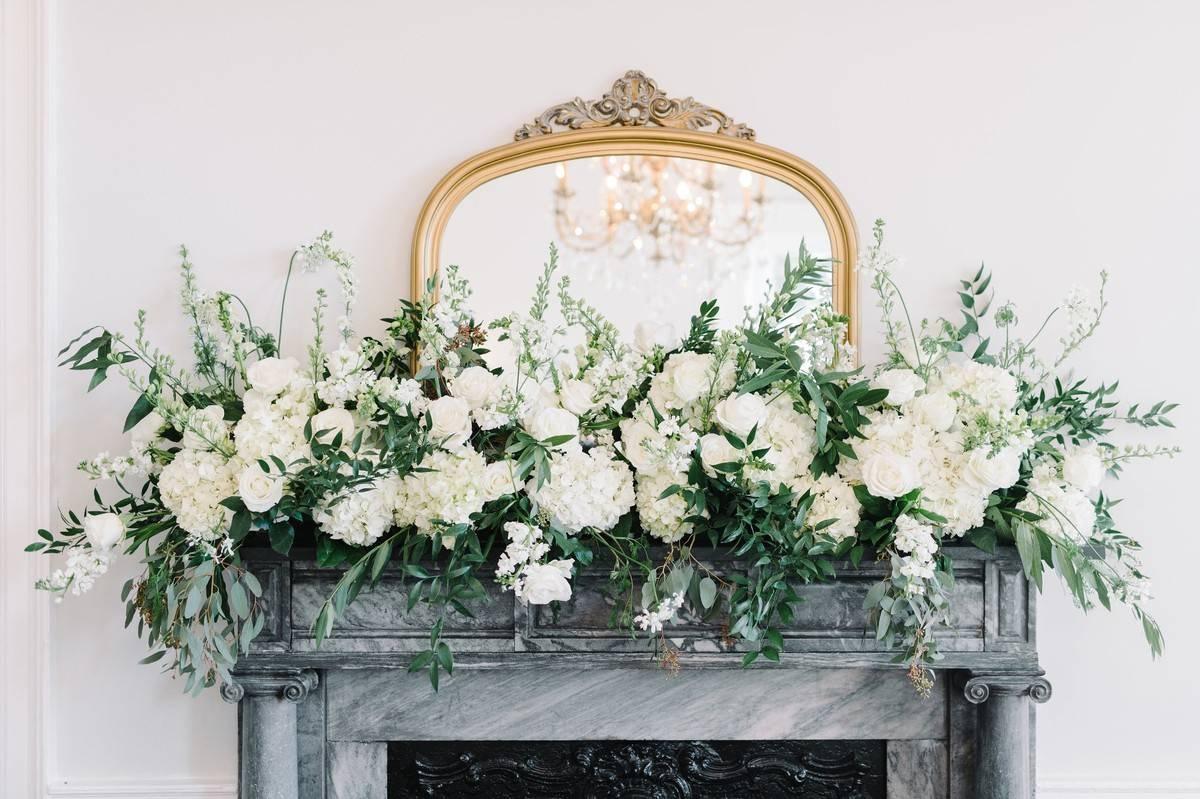 Fireplace Mantel
If your wedding venue has a fireplace, it's an excellent spot to incorporate a fresh flowers and personal details that will complement your wedding theme. Flowers, candles, mirrors, and picture frames are just a few examples of wedding fireplace decor ideas to try.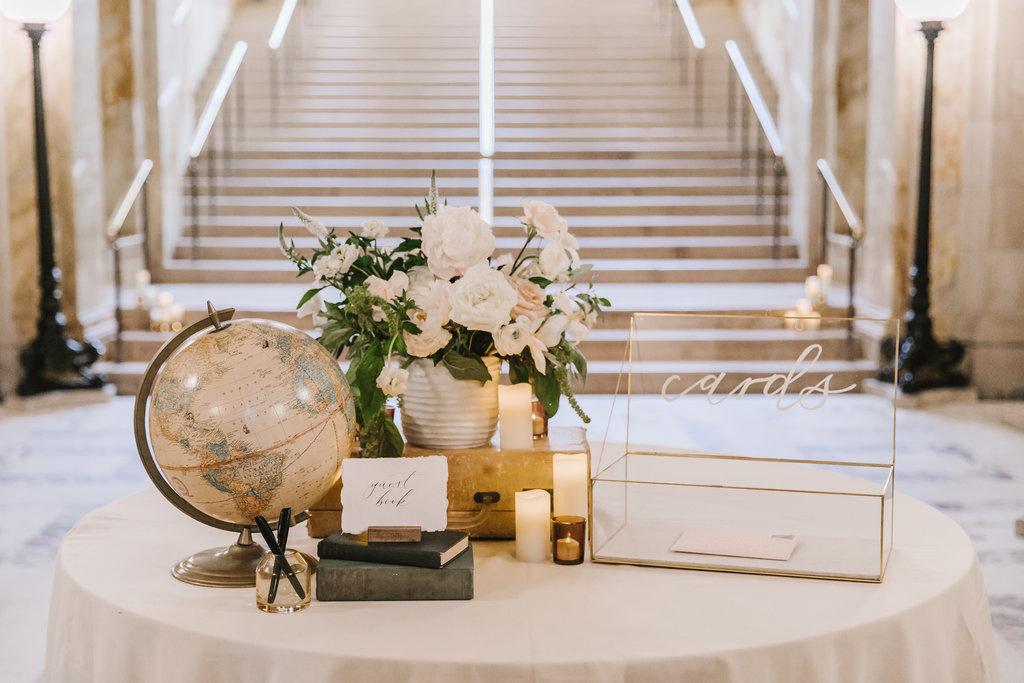 Event design by Kelly Golia Events
Wedding Welcome or Guest Book Table
Whether you're displaying escort cards or your wedding guest book, flowers are a simple way to dress up the welcome table at your wedding reception.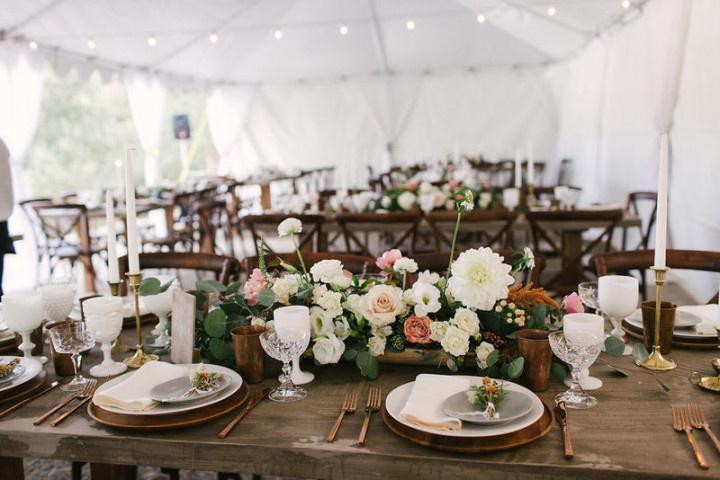 Wedding Centerpieces
Centerpieces are floral arrangements displayed in the center of your banquet tables and are staple pieces for nearly every type of wedding. Wedding centerpieces can vary in style, shape, height, and color depending on your wedding theme and venue. You'll need at least one centerpiece per table, or several if you have long banquet tables—this includes your head table or sweetheart table, too.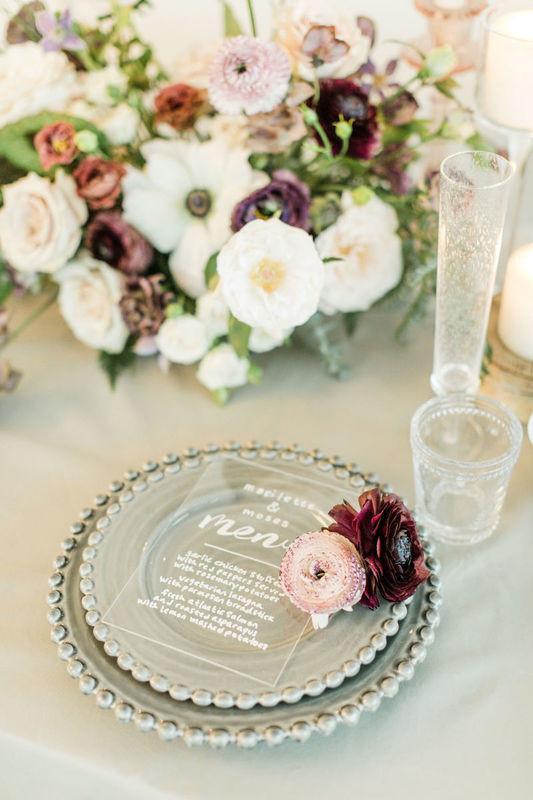 Wedding Place Settings
You may want to have your florist set aside a few extra blooms to display at each place setting. It's not a necessity, but it's a great way to tie your wedding decor together and add to the ambience of your reception.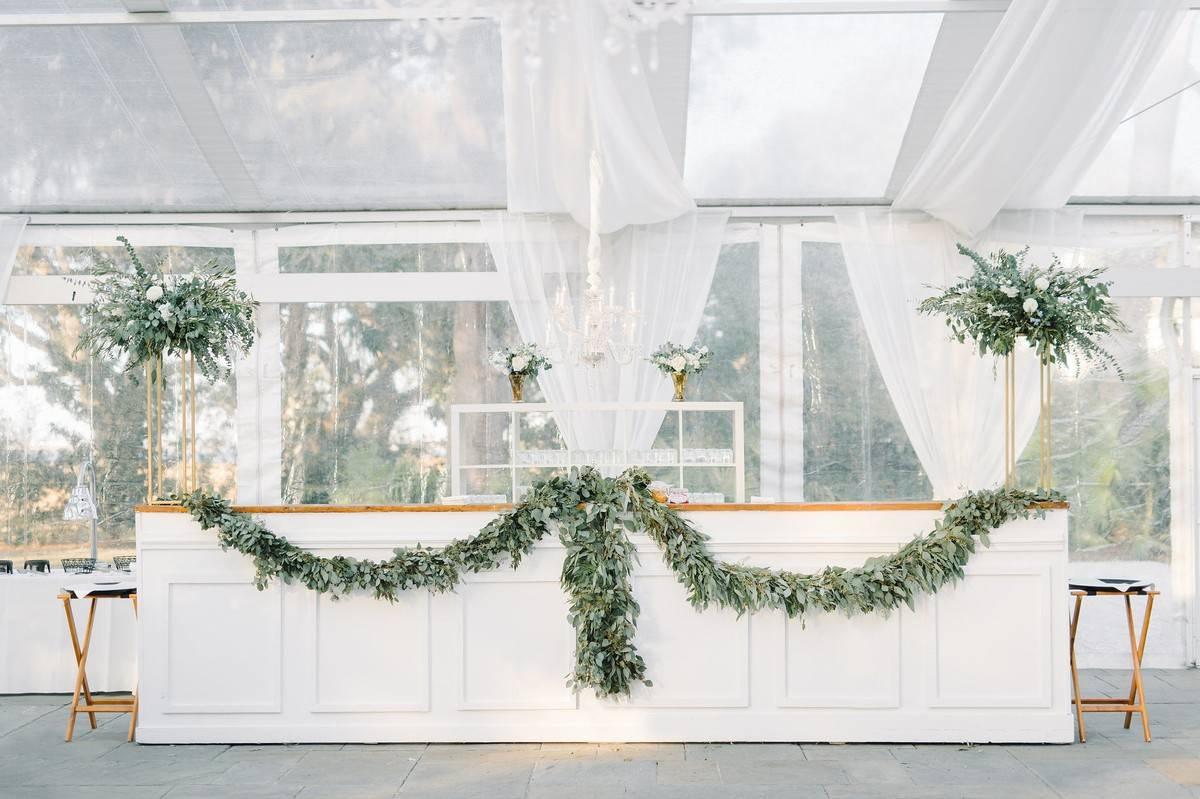 Event design by ELM Events
Wedding Bar Decor
Spruce up your reception bar or drink station—whether it's built into your venue or made from rental items—by adding a handful of wedding floral arrangements and greenery garlands.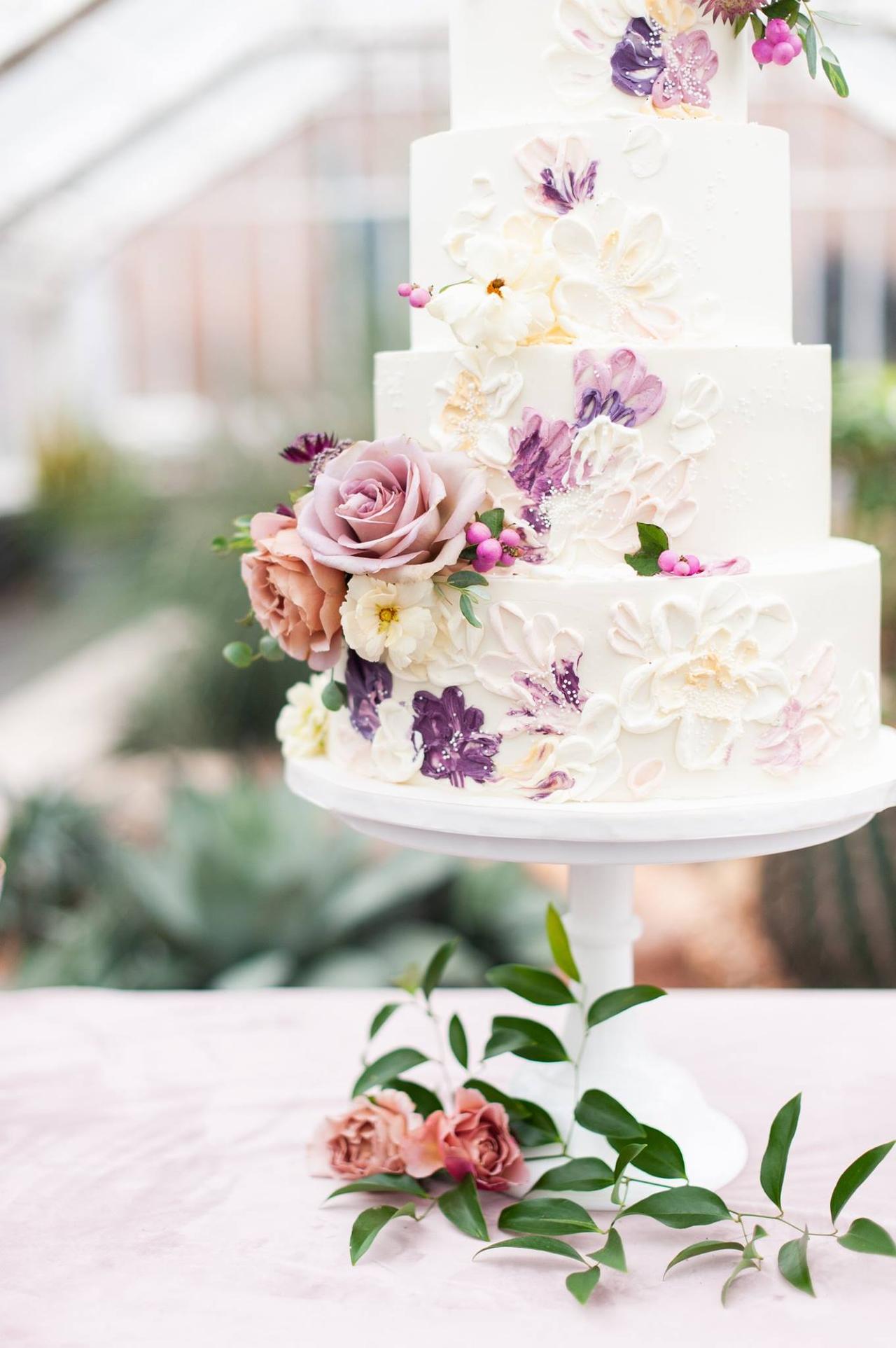 Floral design by Yo Frida
Wedding Cake Decor
Flowers are a popular adornment for wedding cakes no matter your style or budget. Even just a few fresh blooms will instantly take your cake to the next level (see our fave examples of wedding cakes with flowers here).

Wedding Cake Table or Buffet Table
Don't forget about decorating your food and dessert displays, including your cake table or buffet table when applicable. One small arrangement at the front/center of the table will be enough—you don't want to block access to the food.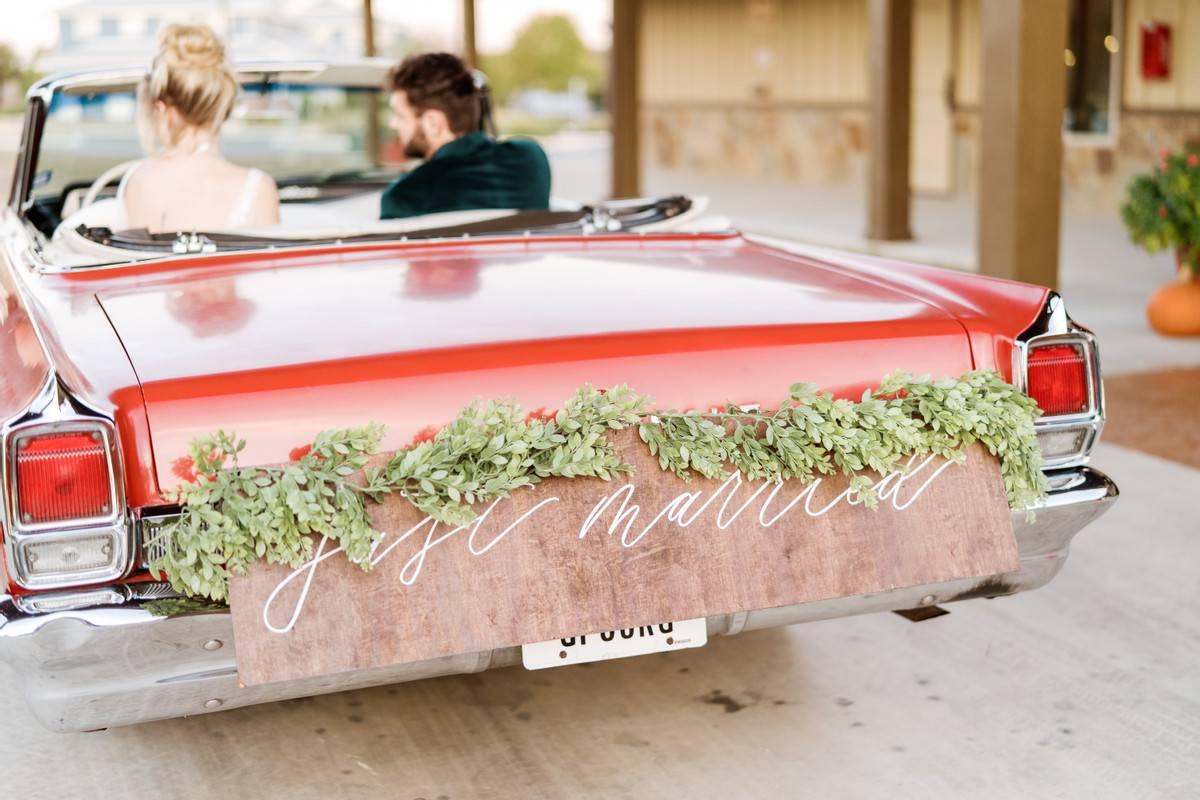 Wedding Getaway Car
Making a grand exit at the end of the wedding? Don't forget to decorate your getaway car, especially if you're renting a special one for the big day. A simple wedding flower arrangement and a "Just Married" sign on the back will do the trick. Be sure to have your photographer capture those details before you drive off into the sunset!