21 Wedding Fireplace Decor Ideas to Transform Any Mantel
Create a focal piece at your venue by adorning a hearth or mantel with flowers, greenery, fabric, or any of these gorgeous wedding fireplace decor ideas.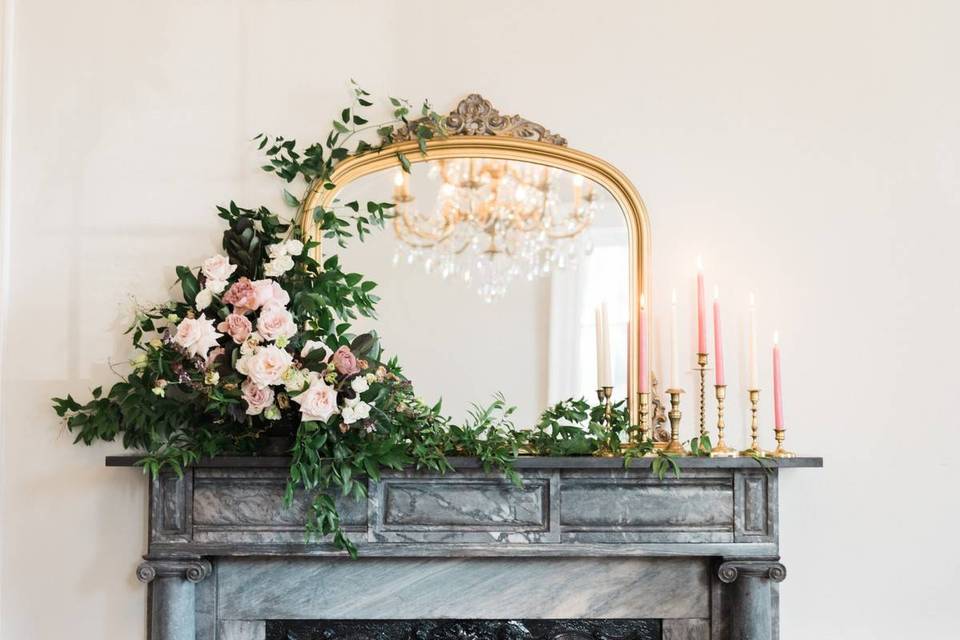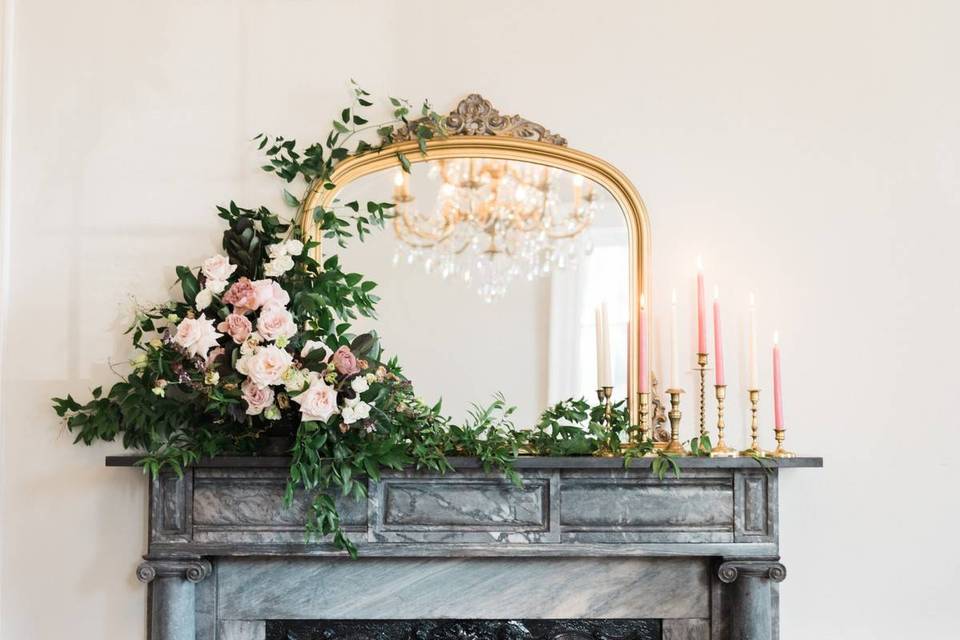 A fireplace brings charm and character to any space. If your wedding venue has one, you might be wondering how to decorate it to match your style or theme, and luckily, you have a lot of options. We're sharing all types of wedding fireplace decor ideas you can choose from, whether you're into greenery garlands, fringe hoops, rows of candles, or even framed photos. Love this look but bummed that your wedding venue doesn't have a built-in fireplace? Most wedding decor rental companies have antique mantels in their inventory, so you can still achieve a similar effect!
Check out our favorite wedding fireplace decor ideas below.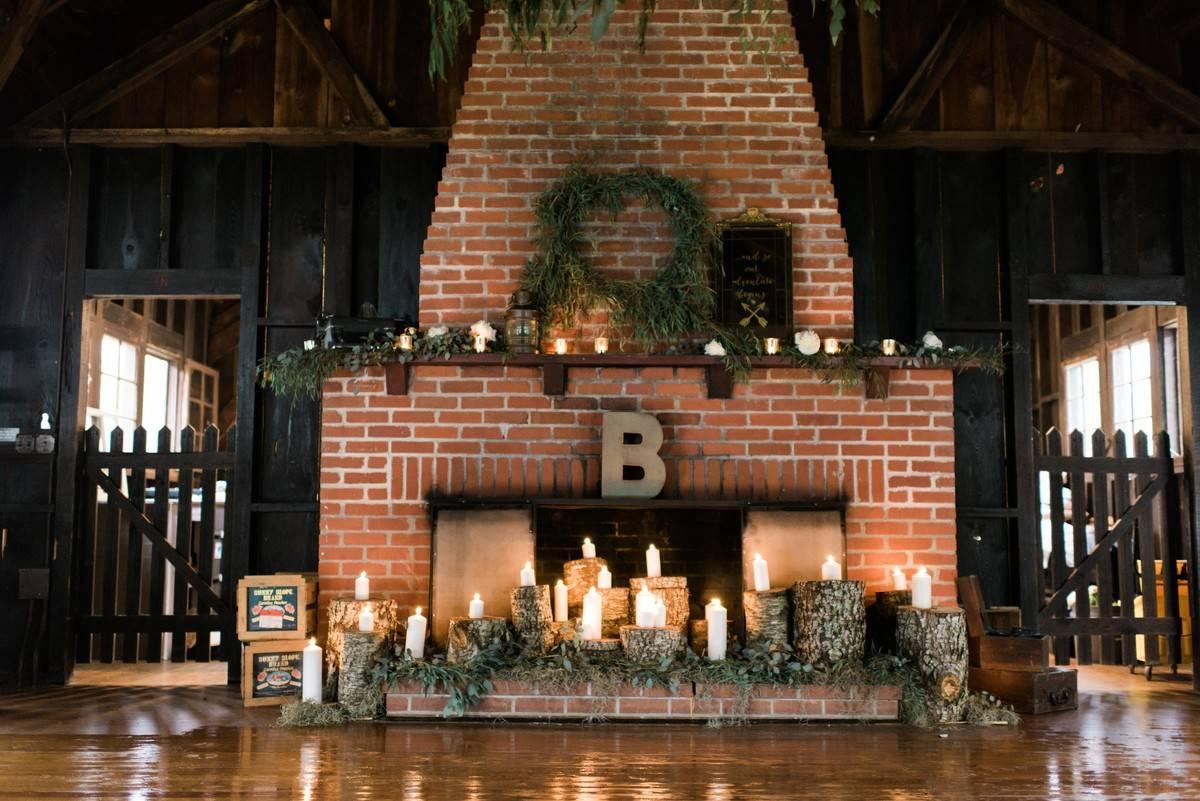 Initial sign
Show off your initial if you're sharing a last name, or use the letters from both of your first names. Add candles in different heights and voilà!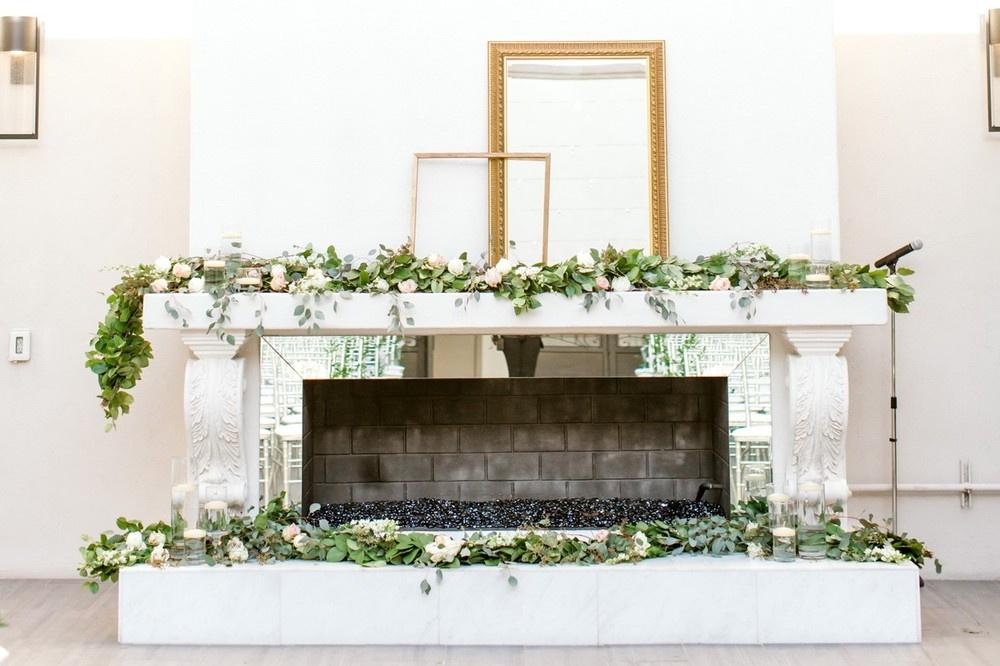 Vintage frames
For an Anthropologie-inspired vibe, add empty vintage picture frames in different sizes to a floral-covered mantel.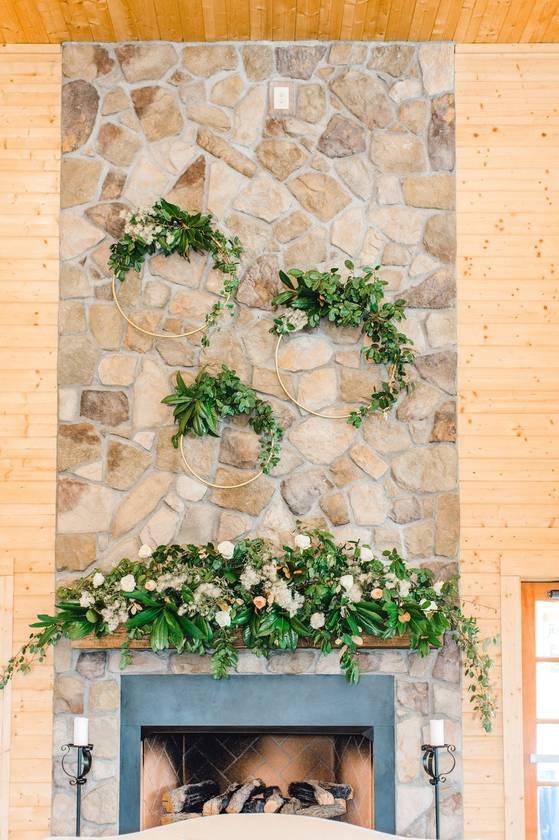 Greenery hoops
Thin gold hoops + white flowers + greenery = instant style. Add an oversized flower arrangement to the mantel to boost the overall effect.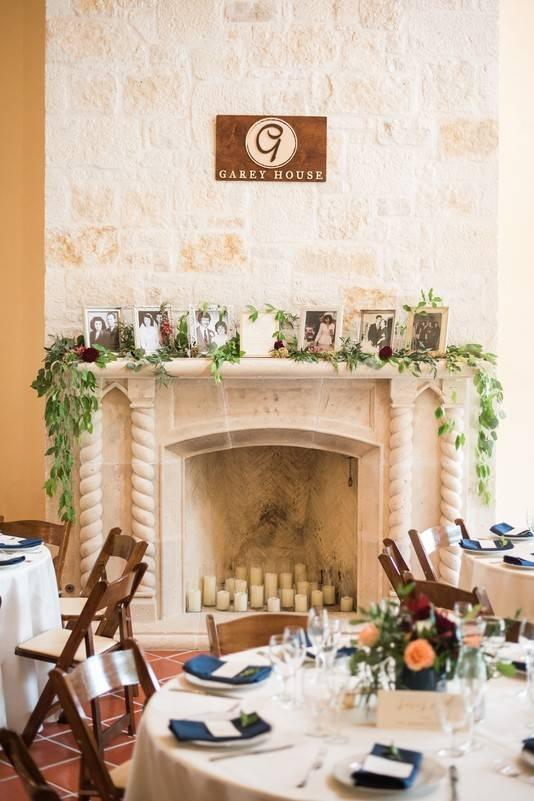 Family photos
Pay homage to your parents and relatives by displaying their wedding photos (or other meaningful portraits) along a mantel at your reception venue. This wedding fireplace decor idea is also a conversation starter—guests will be stopping by to check out the display throughout the night.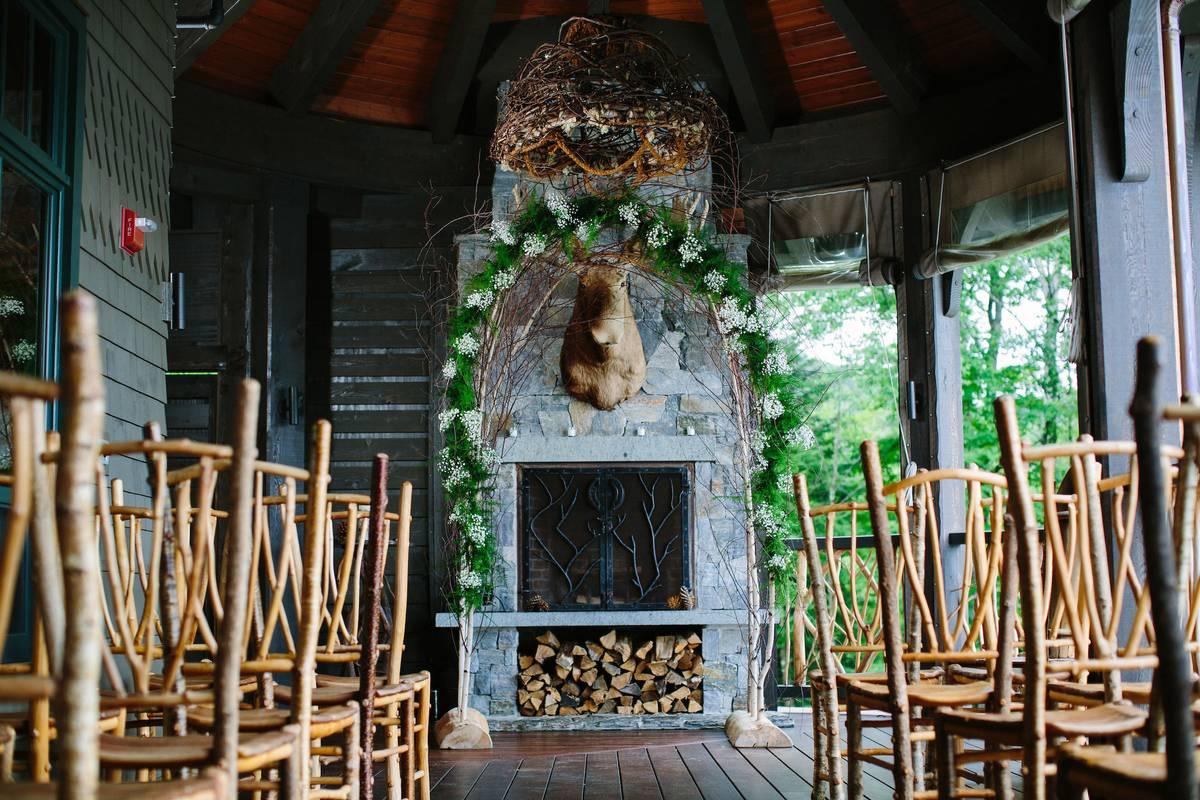 Greenery arch
If the fireplace at your wedding venue is already decorated, highlight it by framing the fireplace with a greenery arch to showcase the existing details. This birch branch arch is perfect for a winter wedding.
Mirrored sign
Hire a wedding calligrapher to write a love quote or a welcoming phrase on a framed mirror to display atop the mantel. It's a beautiful option with or without added florals.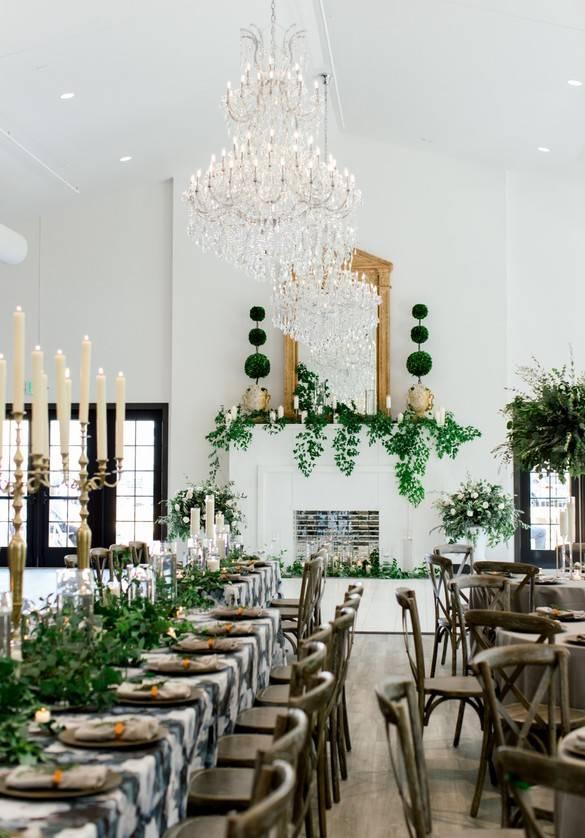 Topiaries
This oh-so-chic idea will give your venue a Parisian or garden-inspired feel. Add two miniature topiaries to either side of the mantel, or place bigger ones on the floor in front of the fireplace.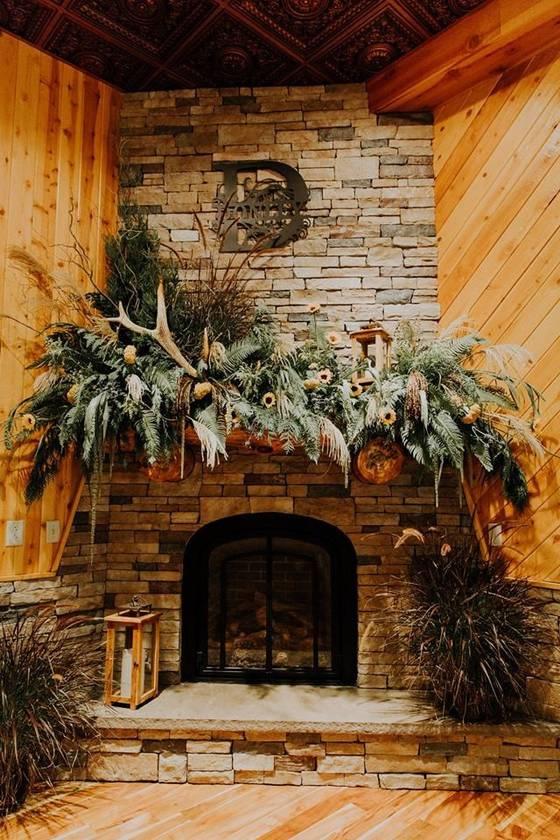 Dried grasses
Dried grasses and flowers (like pampass grass) are still hugely popular, and your wedding fireplace decor is a gorgeous place to experiment with the trend. Add wooden lanterns, antlers, and evergreens for a woodsy, forest-inspired aesthetic.

Bursts of color
If the fireplace at your wedding venue is made of lighter stone or brick, it's the perfect backdrop for colorful flowers and foliage, like coral charm peonies.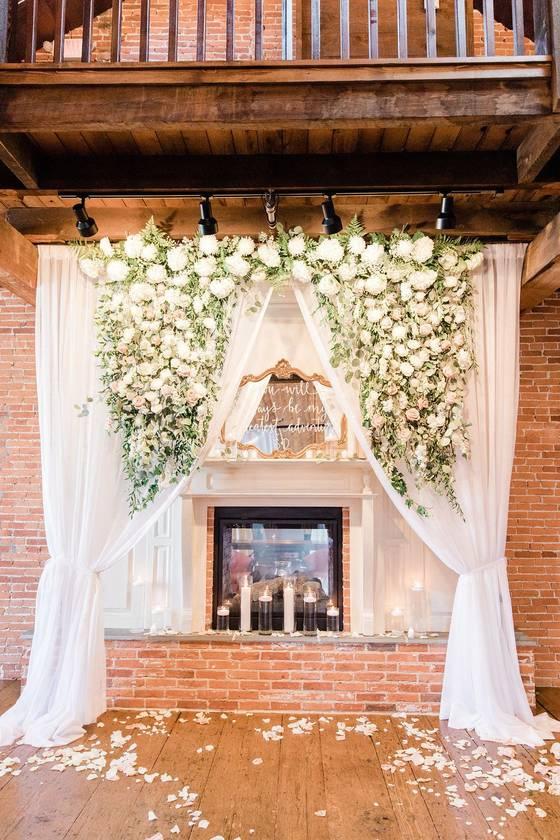 Curtains
Frame a fireplace by adding curtains, candles, and a hanging flower arrangement to create a stunning ceremony backdrop.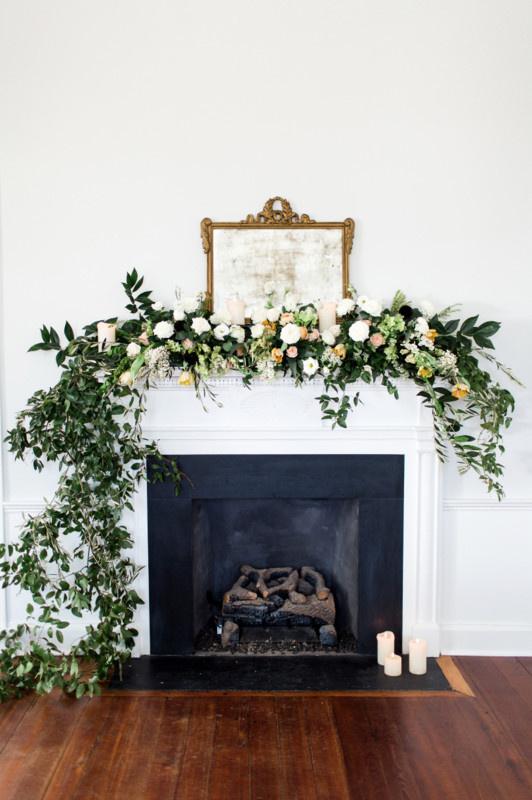 Asymmetrical floral garland
Brighten up a cluster of greenery by adding white and pastel flowers on top of the mantel like a giant centerpiece. Leave the greenery hanging off to one side and add a gold frame mirror to complete this vintage chic look.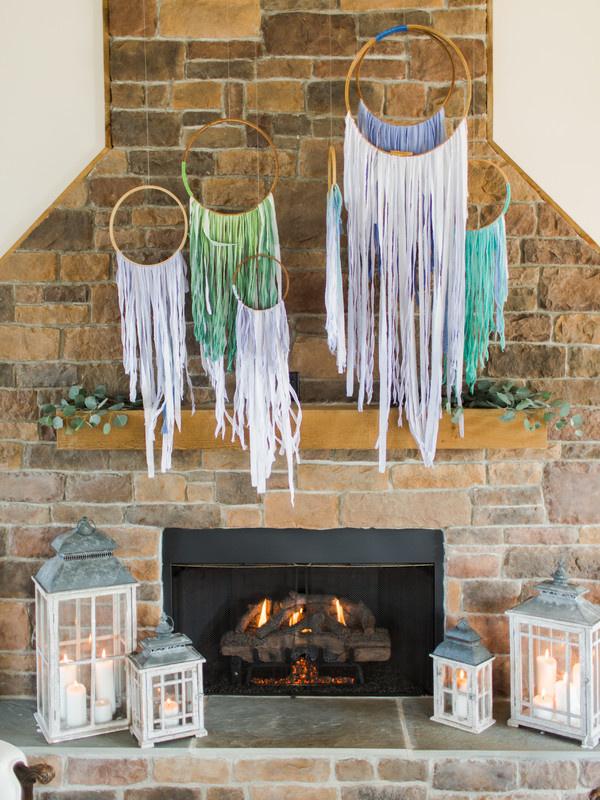 Fringe hoops
Adapt the floral hoop trend for your own fireplace mantel by displaying bohemian fringed hoops as a whimsical accent.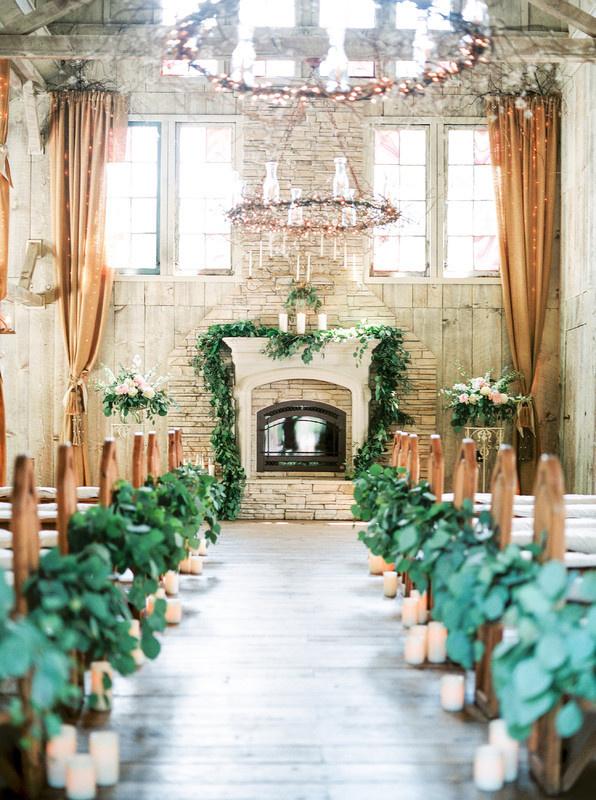 Lush greenery
Sometimes, greenery is all you need. Adorn an elegant stone fireplace with oversized greenery garlands for a look that's simple yet so good. You can add a few candles for good measure, but there's no need to go overboard. Use greenery with larger leaves, such as silver dollar eucalyptus, for the biggest wow factor.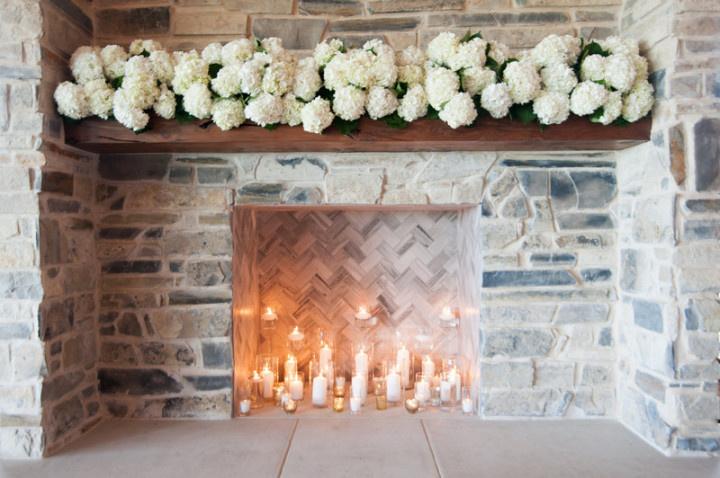 Flowers on flowers
On the flipside, you can't go wrong with classic, traditional flowers when it comes to your wedding fireplace decor. We're obsessed with this all-white arrangement featuring stacks of hydrangeas.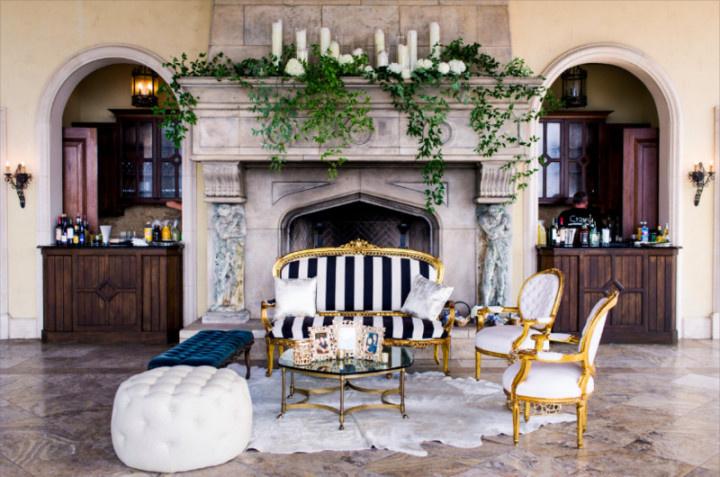 Lounge area
Use the fireplace as a backdrop for a swanky wedding lounge at your reception (learn how to create the perfect one here). Personalize the mantel with different candles, vases, or garlands to match the rental furniture and other accents you picked out.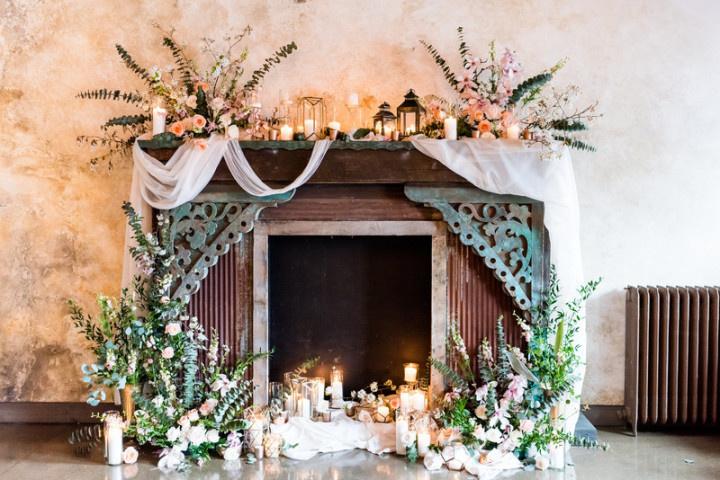 Draped fabric
Go for an Old World romance vibe by draping sheer fabric around the edges of your mantel. Add candles, a few floral arrangements, and voilà.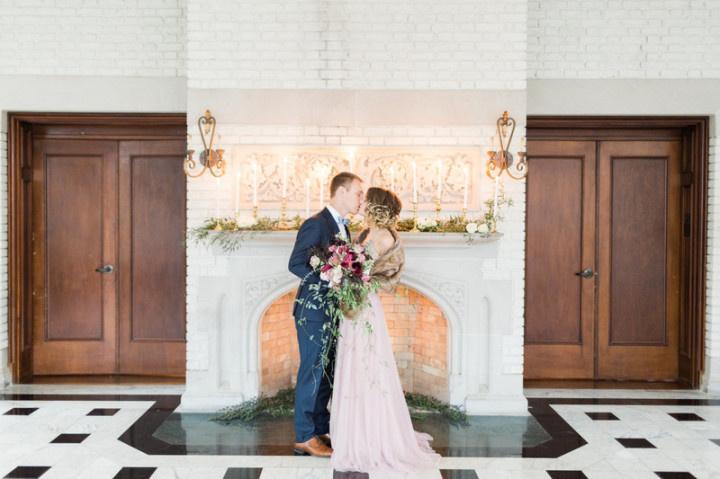 Taper candles
Go traditional with your wedding fireplace decor using a row of tall taper candles. Pair them with gold candlesticks for a combination that's timeless and regal.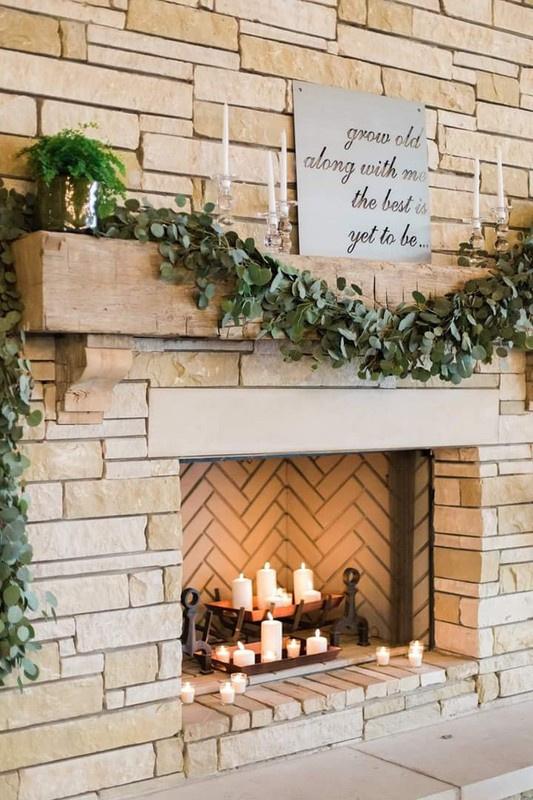 Love quote sign
Love quotes, candles, and greenery...is there a more romantic combination? Use your fireplace mantel to set the mood with a sign featuring your favorite love quote or song lyric (use these ideas for starters).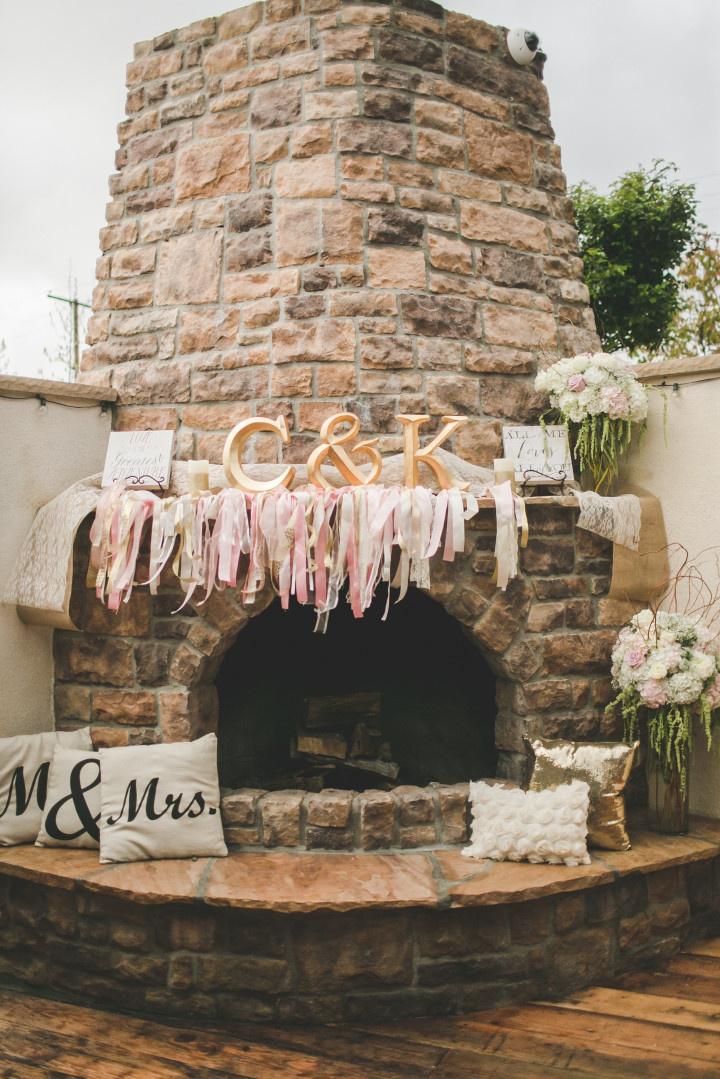 Ribbons
Something as simple as ribbon transforms into a full-blown decorative installation when paired with gold initial letters and signage atop your mantel. This setup would be so cute at a shabby chic wedding!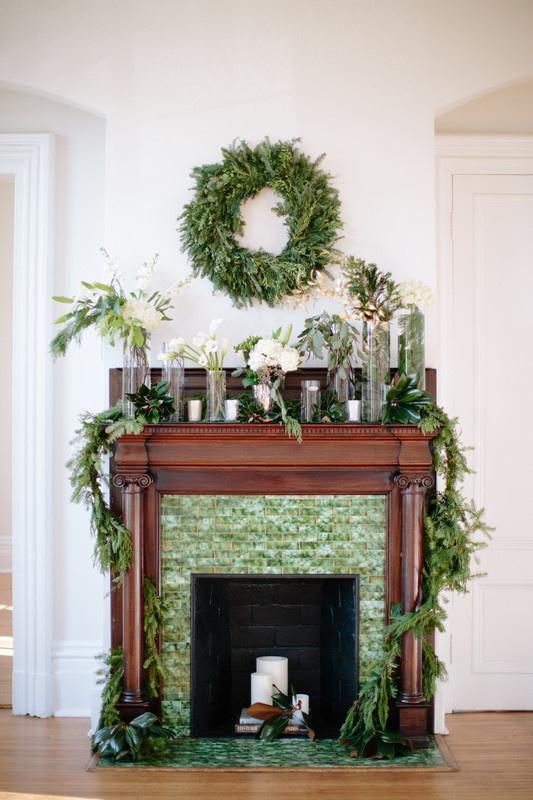 Wreath
Don't stop at just the mantel — utilize the space above it to display a beautiful wreath that ties everything together.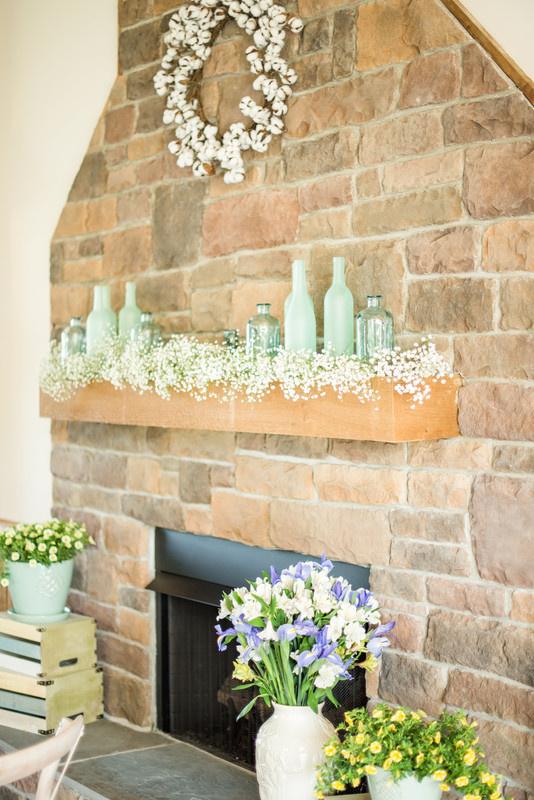 Vintage finds
This collection of vintage bottles and baby's breath is straight out of a rustic wedding dream. Create a similar look with other vintage knick knacks, like picture frames or stacks of books.