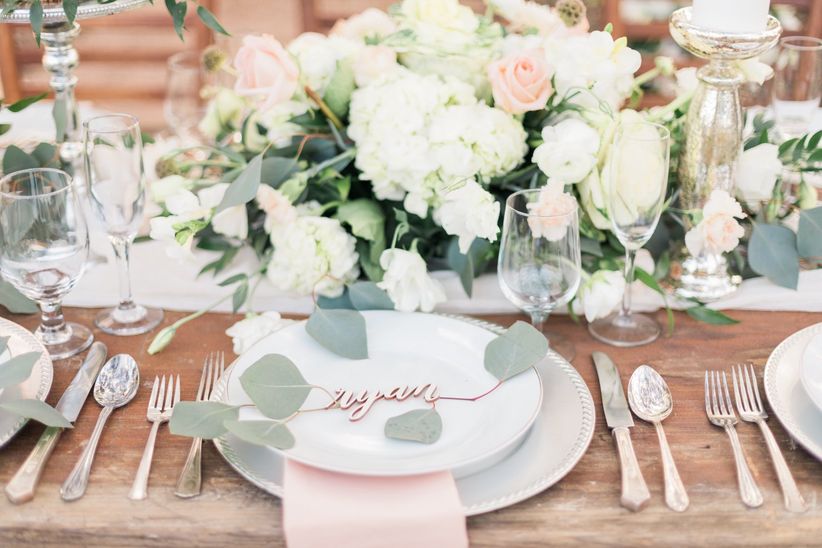 Along with your attire, your wedding decor is one of the best ways to let your personalities truly shine on your big day. But before you begin crossing things off your wedding decor checklist, remember that there's more to the process than simply settling for the first items you come across. Choosing wedding decor that's beautiful, cohesive and reflective of your tastes as a couple requires a good amount of planning, but we promise it will all be worth it in the end.
Use this step-by-step guide to help you find the perfect wedding decor for your big day.
Pinpoint Your Aesthetic
You can't choose your wedding decor without having a solid idea of how you want your venue to ultimately look — Classic? Glamorous? Bohemian? Minimalist? — so if you haven't decided on a specific wedding style yet, that's step number one. When you first get engaged, it can be tempting to stock up on decor that you think you might use down the road, especially if you catch a case of inspiration overload. But until you've finalized your venue and a crystal-clear vision of how to describe your wedding style, you could be doing more harm than good by collecting random decorative items. Your original wedding vision is likely to change throughout the early stages of your planning process, especially once you begin to factor in budget, guest count, season, etc. Better hold off on ordering those ultra-trendy agate table numbers — for now at least.
Feeling stuck when it comes to describing your wedding aesthetic? We know that it can be hard to put your dream wedding vision into words, or to choose just one style and stick with it, so if you're struggling, don't think of your wedding style as the be-all and end-all. Focus more on the feeling you want your wedding to evoke (relaxed, romantic, modern, edgy) instead of limiting yourself to a specific theme (rustic, beachy), which sometimes feel overdone or clichéd. Tell your vendors something like, "I want a relaxed atmosphere with rustic and bohemian undertones" to leave room for creativity and flexibility when choosing your wedding decor.
Be Flexible With Your Color Palette
While it's important to know the general colors you want, try to be open-minded and use the color palette as a guideline for your wedding decor rather than feeling obligated to have everything match perfectly. Instead of "gray and white" for example, think of a "neutrals" color palette consisting of ivory, beige, and colors with gray undertones, like charcoal, olive green, and khaki. This approach gives you the opportunity to have a few "focus" colors while also adding similar hues to round out your decor, ultimately creating a more authentic look.
Take Advantage of Your Surroundings
Once you've gotten down to the nitty gritty of your wedding style, think about your venue. It might already have a lot of existing charm or otherwise decorative features, such as built-in accent walls, landscaped gardens, fountains, stained glass windows, lighting fixtures, or ceiling beams. Consider how you can design your wedding decor to highlight those details, and how you can benefit from using them. Depending on the venue, you might be able to skip decor in some areas, thanks to the existing elements. If you're getting married at an outdoor venue, such as a beach, lakefront, or anywhere with a view, you may not need much decor to begin with. In fact, going overboard with decor could detract from your venue's scenery, which we're guessing is one of the reasons you chose it in the first place.
Use pictures of your venue to help you envision exactly what you want to use, and where. If you're working with a wedding planner or event stylist, they should be able to create mockups of the space with various decor to give you a good idea of the end result.
Start With the Essentials
By now, you hopefully have your venue and a good idea of what it needs to become the wedding space of your dreams. It's finally time to start choosing your wedding decor! To avoid becoming overwhelmed while going through your wedding decor checklist, start with the absolute essential items. This includes all of the functional pieces, such as tables, chairs (read about popular styles here), flatware, china, and lighting, if necessary. You'll also need a seating chart or escort cards, so guests know where they're sitting at the reception.
Next, move onto the details that we're calling "decorative essentials" — ceremony aisle markers, the altar backdrop, reception centerpieces, table numbers, and table linens (if you want them). While none of these items are must-haves in terms of functionality, they play a big role in transforming the look and feel of your wedding space, especially centerpieces. Whether you're going with lavish hanging arrangements or simple votive candles and greenery, the centerpieces will be main focal points in your reception space and should directly tie into your wedding style by incorporating the same colors and overall vibe. Take this quiz or read more about wedding centerpieces to narrow down your options.
Add the Secondary Details
Now that you've taken care of the most important wedding decor items, you can focus on the smaller details. Think of the pieces that aren't necessary but will add to your guests' experience and serve as an extension of your wedding style. Place cards are ideal if you want to assign your guests to specific seats at their tables, and there are plenty of creative options that go beyond the standard piece of paper. Menu cards are optional as well, especially if your guests already chose their meals on the RSVP cards, but they're great for creating a formal atmosphere or reminding everyone of their food selections. Lastly, wedding signage is one of the easiest ways to "fill out" your venue. You can display signs to call attention to a specific thing (unplugged ceremony, open bar, restrooms, etc.) or use them as purely decorative accents featuring a love quote or other meaningful sentiment.
Finish With Extras and Splurge Items
If you have room left in your budget, you can consider adding a decorative "splurge" item or two. Maybe you've been dreaming of a hanging macramé backdrop or adding luxurious vintage velvet chairs to your sweetheart table. We also suggest springing for that splurge item if there's an empty space in your venue that needs to be filled, or you want to wow your guests with an unexpected feature. A flower wall gives your wedding celeb-worthy status and can be repurposed as a fun photo backdrop for your guests. Elaborate dessert displays (yes, this includes donut walls) are another splurge item we love. If you want to encourage mixing and mingling, create a wedding lounge to get guests up and out of their seats.