A Step-by-Step Guide to Choosing Your Wedding Decor
Ready to bring your wedding vision to life? We're here to help you through the process. Use this wedding decor checklist to finalize the look of your big day.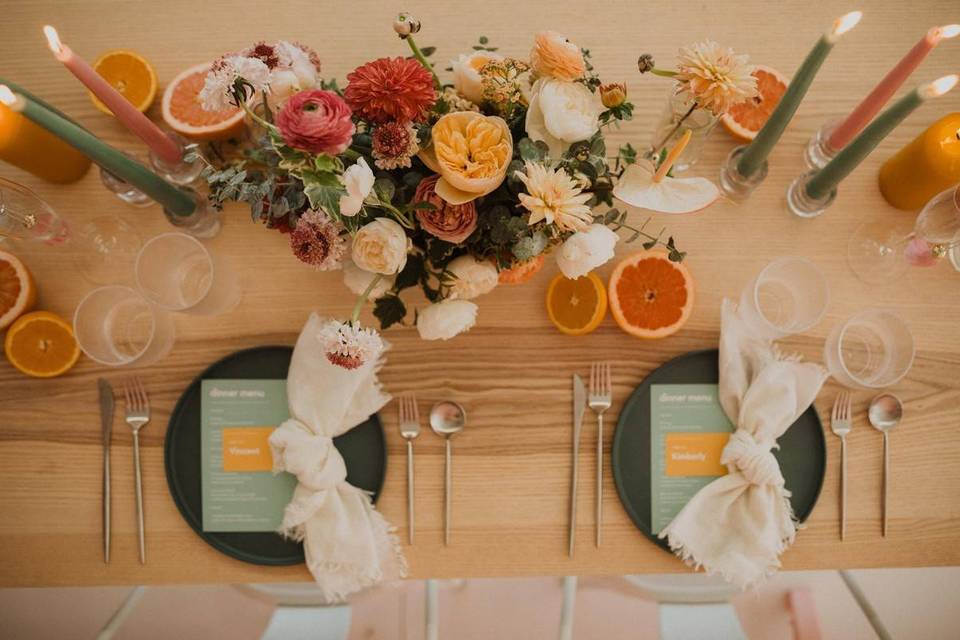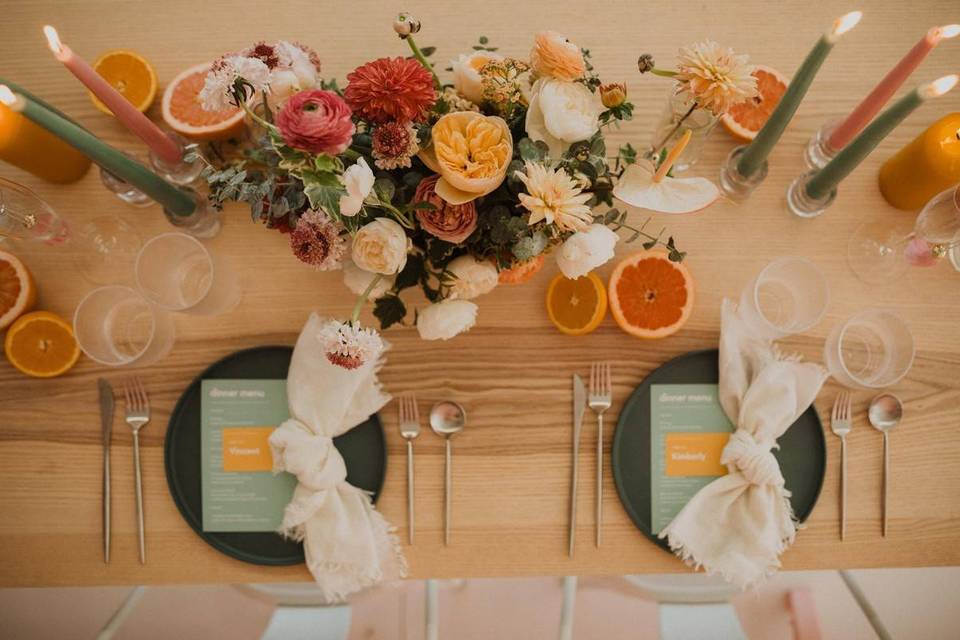 Along with your attire, your wedding decor is one of the best ways to let your personalities truly shine on your big day. But before you begin crossing things off your wedding decor checklist, remember that there's more to the process than simply settling for the first items you come across. Choosing wedding decor that's beautiful, cohesive, and reflective of your tastes as a couple requires a good amount of planning, but we promise it will all be worth it in the end. Use this wedding decoration checklist to help you determine exactly what you need and find the perfect decorations for your big day.
Pinpoint your aesthetic.
You can't choose your wedding decor without having a solid idea of how you want your venue to ultimately look—Classic? Glamorous? Bohemian? Minimalist?—so if you haven't decided on a specific wedding style yet, that's step number one. When you first get engaged, it can be tempting to stock up on decor elements that you think you might use down the road, especially if you catch a case of inspiration overload. But until you've finalized your wedding venue and a crystal-clear vision of how to describe your wedding style, you could be doing more harm than good by collecting random decorative items. Your original wedding vision is likely to change throughout the early stages of your wedding planning process, especially once you begin to factor in budget, guest count, season, etc., so it's better hold off on ordering those ultra-trendy table numbers—for now at least.
Feeling stuck when it comes to describing your wedding aesthetic? We know that it can be hard to put your dream wedding vision into words, or to choose just one wedding style and stick with it, so if you're struggling, don't think of your wedding style as the be-all and end-all. Focus more on the feeling you want your wedding to evoke (relaxed, romantic, modern, edgy) instead of limiting yourself to a specific theme (rustic, beachy), which sometimes feel overdone or clichéd. Tell your vendors something like, "I want a relaxed atmosphere with rustic and bohemian undertones" to leave room for creativity and flexibility when choosing your wedding decor.
Be flexible with your wedding color palette.
While it's important to know the general wedding colors you want, try to be open-minded and use the color palette as a guideline for your wedding decor rather than feeling obligated to have everything match perfectly. Instead of "gray and white" for example, think of a "neutrals" color palette consisting of ivory, beige, and colors with gray undertones, like charcoal, olive green, and khaki. This approach gives you the opportunity to have a few "focus" colors while also adding similar hues to round out your decor, ultimately creating a more authentic look. No clue where to start? Check out these wedding color trends to see if anything matches your style or sparks your interest.
Take advantage of your surroundings.
Once you've gotten down to the nitty gritty of your wedding style, think about your venue. It might already have a lot of existing charm or otherwise decorative features, such as built-in accent walls, landscaped gardens, fountains, stained glass windows, lighting fixtures, or ceiling beams. Consider how you can design your wedding decor to highlight those details, and how you can benefit from using them. Depending on the venue, you might be able to skip decor in some areas, thanks to the existing elements. For example, if you're getting married at an outdoor venue, such as a beach, lakefront, or anywhere else with a view, you may not need much decor to begin with. In those cases, going overboard with decor could detract from your venue's scenery, which we're guessing is one of the reasons you chose it in the first place.
Use pictures of previous weddings that took place at your venue to help you envision exactly what you want to use, and where. If you're working with a wedding planner or event stylist, they should be able to create mockups of the space with various decor to give you a good idea of the end result. And don't forget to ask your venue coordinator if they have any decor items they can supply—even if they don't, they can recommend decor ideas based on what has been done by other couples in the past.
Start with the essentials.
By now, you hopefully have your venue and a good idea of what it needs to become the wedding space of your dreams. It's finally time to start choosing your wedding decor! To avoid becoming overwhelmed while going through your wedding decor checklist, start with the absolute essential items. This includes all of the functional pieces, such as tables, wedding chairs, flatware, china, and decorative lighting, if necessary. You'll also need table numbers and a seating chart or escort cards, so guests know where they're sitting at the reception.
Next, you can move onto the details that we're calling "decorative basics"—items that don't serve a technical purpose but play a big role when it comes to showcasing your wedding theme and adding character to your venue. This includes details like ceremony aisle markers, the altar backdrop, centerpieces, tablecloths, and but will add a whole lot of character and ceremony aisle markers, the altar backdrop, reception centerpieces, and tablecloths (if you want them). Whether you're going with lavish hanging arrangements or simple votive candles and greenery, the centerpieces will be main focal points in your reception space and should directly tie into your wedding style by incorporating the same colors and overall vibe. Take this quiz or read more about wedding centerpieces to narrow down your options.
Add the secondary details.
Now that you've taken care of the most important wedding decor items, you can focus on the smaller details. Think of the pieces that aren't necessary but will add to your guests' experience and serve as an extension of your wedding style. Place cards are ideal if you want to assign your guests to specific seats at their tables, and there are plenty of creative options that go beyond the standard piece of paper. Menu cards are optional as well, especially if your guests already chose their meals on the RSVP cards, but they're great for creating a formal atmosphere or reminding everyone of their food selections. Lastly, wedding signage is one of the easiest ways to "fill out" your venue. You can display signs to call attention to a specific thing (unplugged ceremony, open bar, restrooms, etc.) or use them as purely decorative accents featuring a love quote or other meaningful sentiment.
Finish with extras and splurge items.
If you have room left in your budget, you can consider adding a decorative "splurge" item or two. Maybe you've been dreaming of a floral ceremony arch or adding luxurious vintage velvet chairs to your sweetheart table. We also suggest springing for that splurge item if there's an empty space in your venue that needs to be filled or if you want to wow your guests with an unexpected feature—for example, a photo booth will round out the room while also providing entertainment and fun memories for everyone. Elaborate wedding dessert tables (yes, this includes donut walls) are another splurge item we love, and your guests won't turn down extra treats. If you want to encourage mixing and mingling, create a wedding lounge to get guests up and out of their seats between dinner and dancing.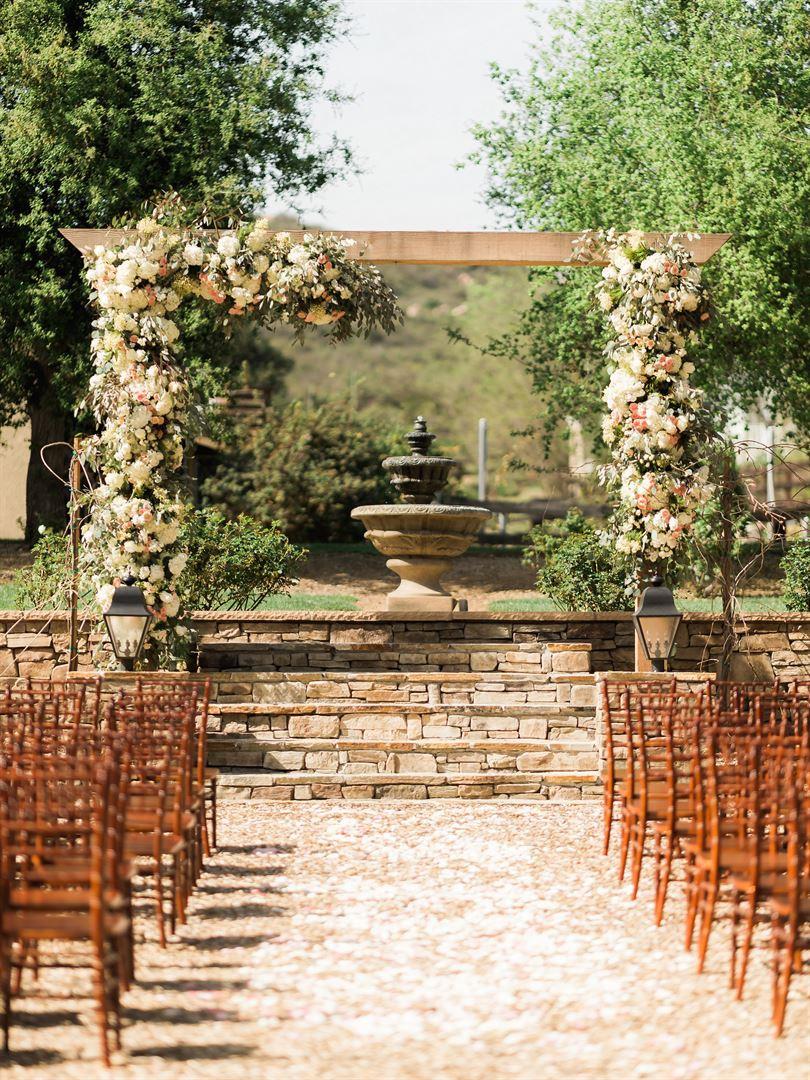 Wedding Decor Checklist
While it's unlikely that you'll need everything on this list, it's helpful to know all of the decor terminology you're bound to come across when finalizing your wedding ideas.
Wedding Ceremony Decor
Aisle markers: Aisle markers are displayed at the end of every row of ceremony chairs, pews, or benches. They line the center aisle (where you and your wedding party will walk for the ceremony processional) and can be tied to the chairs, placed on the ground, or displayed on stakes/hooks. Popular types of aisle markers include pomanders (floral spheres), bows, candles, and greenery bundles.
Aisle runners: Traditionally, an aisle runner is a long piece of cloth that spans the length of the ceremony aisle and is unrolled right before the bride's entrance, sometimes by the flower girl and ring bearer. Today, your aisle runner can be as creative as you want it to be, whether that means covering the floor in thousands of rose petals, lining vintage rugs end-to-end, or skipping the runner altogether.
Altar arrangements: Floral arrangements that are displayed on both sides of your wedding altar. Larger arrangements can be placed directly on the ground, while smaller altar arrangements can be showcased atop pillars or tables.
Arch: An arch is a type of wedding altar beneath which a couple exchanges their vows. Arches have two posts and are typically rounded—circular arches and half-arches are two popular options, and they're commonly decorated with flowers, pampas grass, or greenery.
Arbor: An arbor is similar to an arch, but it is typically square and often features four posts rather than two, creating a canopy. Jewish chuppahs are considered a type of wedding arbor.
Flower girl and ring bearer items: While everyone in your bridal party traditionally carries a bouquet down the aisle, your youngest wedding attendants do not. The ring bearer typically holds a pillow or box containing the wedding bands, and the flower girl carries a basket of flower petals or confetti to scatter along the aisle.
Garland: A garland looks like a botanical "rope" and is often made from greenery, flowers, or both. Garlands can be draped or hung on almost anything, such as the backs of chairs, doorway toppers, and even wrapped around staircase banisters.
Ceremony signage: Ceremony signage is a fun way to personalize your venue and welcome your guests to the event. It also gives you the chance to share important information, for example, if you're having an unplugged ceremony and want to remind everyone to turn off their cameras.
Wedding programs: Also called ceremony programs, these are usually booklets or cards that name the people in your wedding party and outline the order of ceremony events.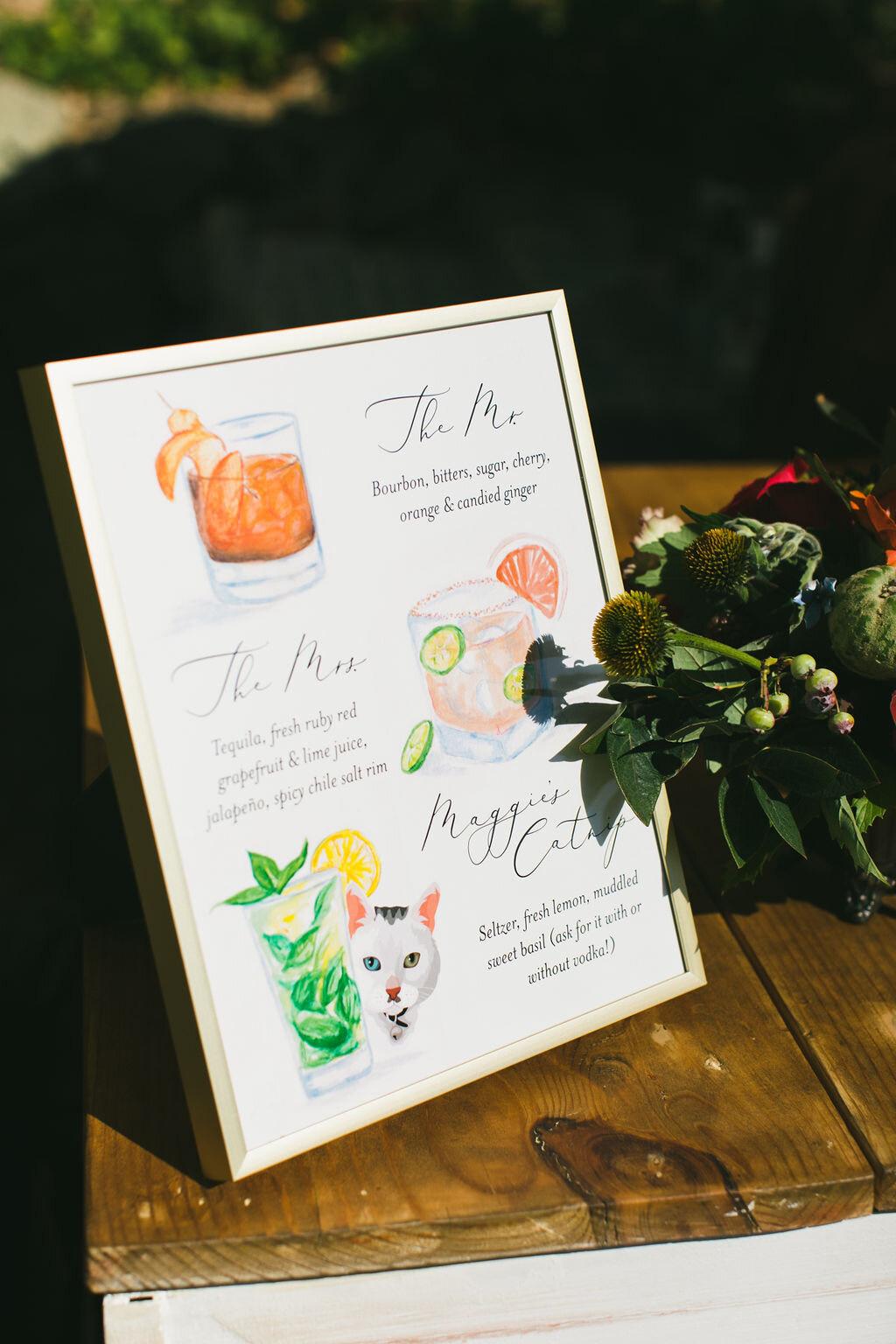 Wedding Signage and Stationery
Calligraphy: A type of formal, cursive handwriting that can accentuate invitations, escort cards, and other types of wedding signs or paper items.
Card box: A box or basket to collect wedding cards from your guests. The card box should be placed near your wedding guest book and monitored by your wedding planner or a trusted friend.
Chalkboard signage: A popular signage type for rustic style and vintage-themed weddings.
Escort card: Individual cards that include one guest name per card and their corresponding table number. Escort cards direct guests to their reception tables and can be showcased simply on a table or with an elaborate display.
Hashtag signage: Encourage guests to upload their photos with your wedding hashtag so you can find everyone's personal snapshots in one place.
Laser-cut signage: Wooden or acrylic signage that features intricate cutouts and decorative borders, achieved by using a laser for precision.
Menu cards: Individual guest menus at each place setting listing the wedding meal selections. If you choose not to have a sit-down dinner or don't want to provide individual cards, you can outline the menu on a sign.
Monogram: A monogram is a crest or other design that incorporates your and your partner's initials. You can have a custom wedding monogram created by your stationer, and you can use it to add extra personalization to accessories, invitations, and other special items on your big day.
Motif: A decorative pattern, symbol, or print, such as flowers, scrolls, and animals or insects. Fleur de lis, anchors, laurel wreaths, and the Napoleon bee are all examples of motifs. You can add a motif to almost anything, from menu cards to wedding favor stickers.
Place card: Also known as name cards, these individual pieces of paper tell guests exactly which seat is theirs upon arriving to their table. Wedding place cards are displayed either on top of the dinner plate, or on the table above the place setting.
Signature cocktail sign: If you're serving a special signature wedding drink (or two), include the ingredients and descriptions on this sign.
Table number:Table numbers identify each reception table and are usually placed next to or inside of the wedding centerpieces.
Wedding guest book: A hardcover book (similar to a photo album) where guests can sign their names and share well-wishes for the newlyweds. The guest book is traditionally displayed on a table at the reception entrance. Framed portraits, recipe cards, and board game pieces are a few unique wedding guest book ideas we love.
Wedding welcome sign: A sign that greets guests as they enter the ceremony or reception. It's usually displayed on an easel and can feature the wedding day timeline or other fun wedding-related details.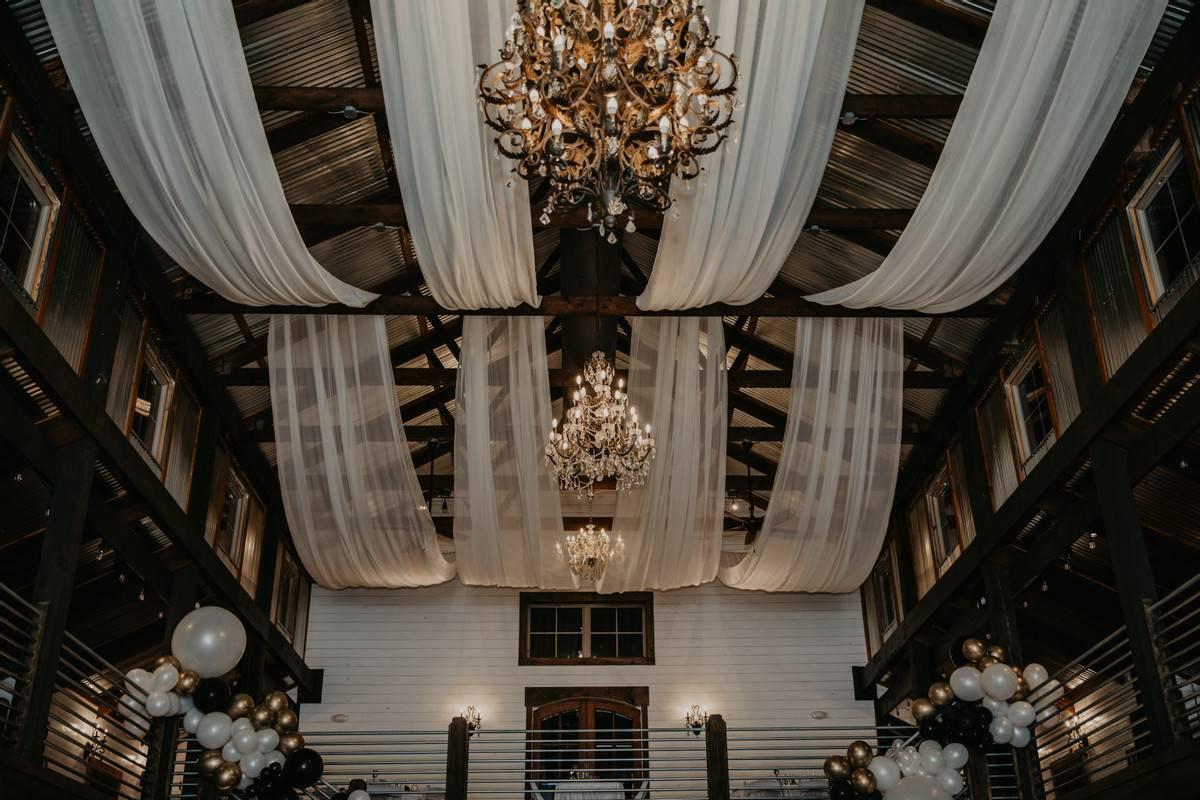 Wedding Reception Decor
Centerpiece: Decorative tabletop arrangements that are placed in the center of your reception tables. Flowers, candles, and greenery are some of the most common wedding centerpiece ideas.
Chair covers: Slipcovers that adorn and hide the backs of your wedding reception chairs.
Charger: A decorative plate or plaque that is placed underneath your actual dinner plate. It helps add color and texture to your place setting.
China: Porcelain or other ceramic plates that bring a formal look to your wedding tables. You can find china plates in almost every pattern, size, shape, and color imaginable, which makes it easy to be as creative or as traditional as you want.
Coupe: Short-stemmed glassware with a wide, shallow bowl. Coupes are often used for mixed drinks and champagne and are beloved for their vintage look.
Flatware: Eating utensils, such as forks, knives, and spoons. Flatware, also known as silverware, can be pre-arranged at each place setting or displayed communally in baskets or other containers, depending on your wedding theme.
Flute: Thin, long-stemmed glassware used for drinking champagne and sparkling wine.
Goblet: A glass or metal drinking vessel. They can be used for everything from ice water and iced tea to wine and signature cocktails.
Swag: A bundle of fabric that is draped or hung to form a curved, scallop shape. Swags can decorate chairs, windows, and ceilings.
Sweetheart table: A dinner table for the newlyweds during the reception. Rather than sitting with the wedding party at a large head table, the sweetheart table allows for some alone time during the wedding day.
Tablecloths: Rectangular, round, or square fabric that fully covers your reception tables. Tablecloths are often made from silk, gauze, or sequined fabric.
Table runner: Long, rectangular fabric that runs down the center of your reception table on top of the tablecloth. By layering your table linens, you can create more visual interest and depth.
Tablescape: Your tablescape is the overall layout of your table decor. It usually consists of your centerpieces, place settings and table numbers.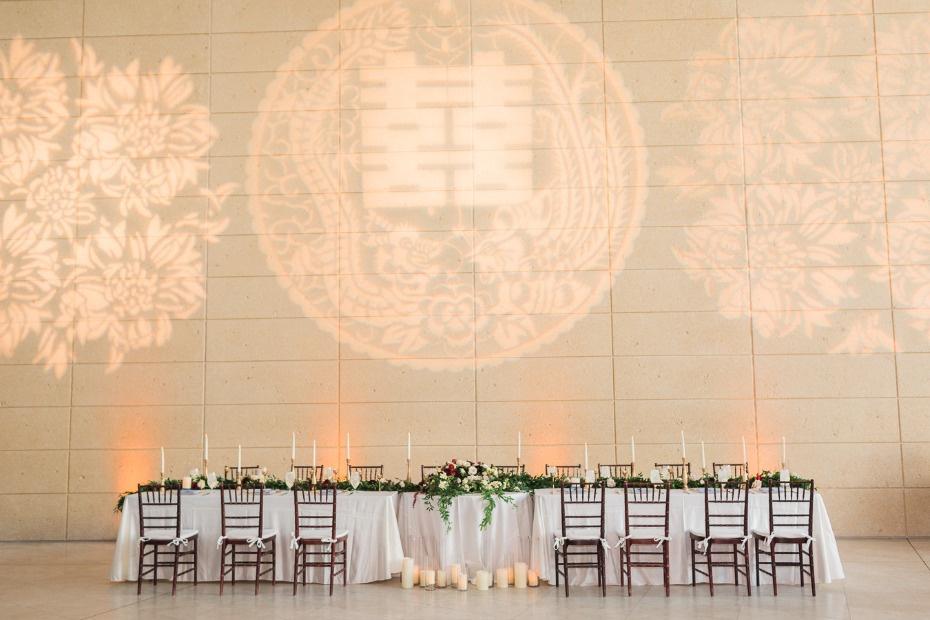 Wedding Lighting Decor
Bistro lights: Round, bulbed lights that evoke a European aesthetic (think Parisian café). If you've ever been to a trendy boutique restaurant, you've probably seen these accenting an outdoor dining area or entrance.
Candelabra: A tabletop candlestick with three or more "arms" to hold candles.
Floating candles: Lightweight, round candles that can float in fountains, swimming pools, or vases filled with water.
Gobo: A screen that changes light into a shape, word, or symbol when projected onto the floor or a wall. Most event lighting professionals can create custom gobos, which can be a fun opportunity to add personalization to your wedding decor.
Marquee lights: Vintage-style lights that are in the shape of letters, numbers, or symbols (think old-fashioned theater marquees). We love the idea of using these lights to spell out your initials or wedding date.
String lights: Also known as twinkle lights, the bulbs on string lights are smaller than bistro lights. String lights are also more flexible and easier to wrap around posts, banisters, etc.
Taper candles: Long, thin candles that come in almost every color imaginable. Taper candles are most traditionally paired with candelabras.
Tea lights: Miniature candles set in metal tins. Tea lights are about one inch in diameter and are often used for food warming trays.
Votives: Small candles that are slightly larger than tea lights and are not set in metal tins. Votives are roughly two inches in diameter and often placed inside cups or vases to accent centerpieces and tabletops.