20 Unique Wedding Guest Book Ideas to Instantly Add to Cart
Think you have to stick to a traditional tabletop book? Think again! These unique wedding guest book ideas are impressive alternatives your guests will be queuing up to sign.
We have included third party products to help you navigate and enjoy life's biggest moments. Purchases made through links on this page may earn us a commission.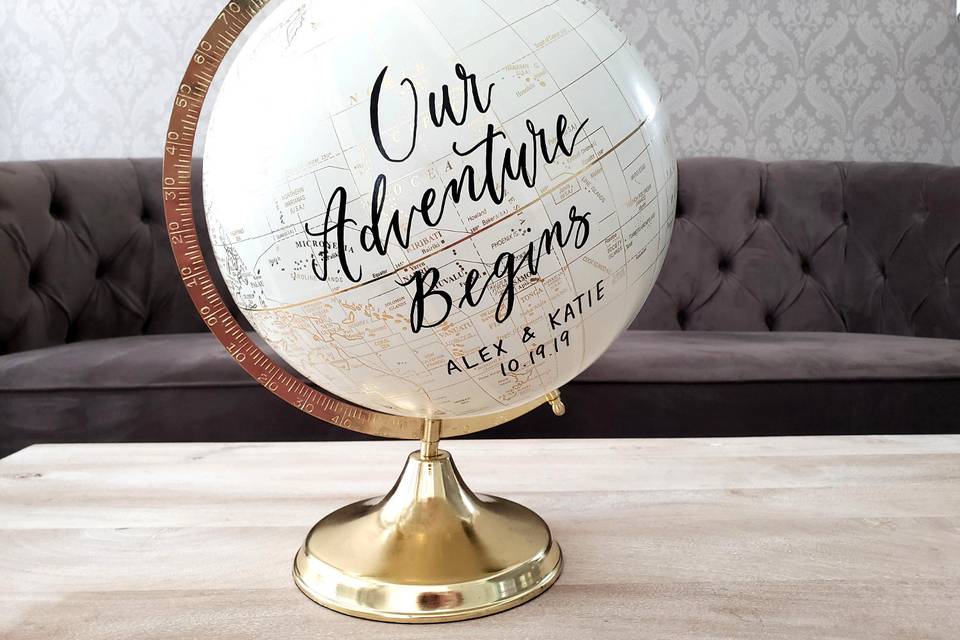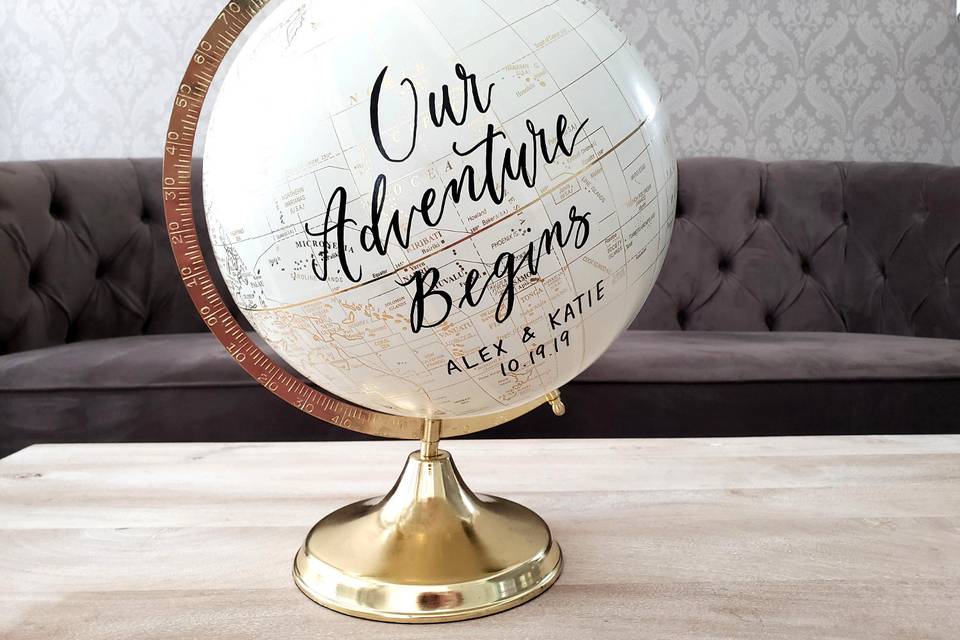 It's tradition to offer a wedding guest book at your reception—usually on a welcome table with the card box or escort cards—but if an ordinary coffee table book doesn't exactly spark joy, don't sweat it. There are plenty of unique wedding guest book ideas out there that aren't actually books at all.
There are tons of pros to ditching tradition when it comes to guest books. This is your chance to get creative by choosing items that speak to your individual style and wedding aesthetic. Whether that means asking your guests to sign wine corks, write down their marriage advice for each anniversary on paper scrolls, or share their best date night ideas in a mason jar is entirely up to you! It can be an interactive experience you and your S.O. look forward to for anniversaries to come. Unique wedding guest books can also be super decorative, from photo posters to framed illustrations.
What's the Purpose of a Wedding Guest Book?
It's no surprise that having a guest book is a wedding tradition with incredibly strong roots. Who wouldn't appreciate a sweet keepsake of their special day signed by all the people who made it so memorable? Additionally, weddings can be hectic. If you plan on having an extra-long guest list, there's no way everyone will be able to fully express their well wishes in person. A guest book will give your loved ones the chance to write it all down so you don't miss out. That said, for the most display-worthy account of everyone who took part in your celebration, we've got unique signature-only wedding guest books too.
How to Get Loved Ones to Sign Your Guest Book
Opting for an eye-catching alternative wedding guest book is already a great way of encouraging guests to sign. On top of that, pay attention to your guest book's location. Your best bet is to set it up right at the entrance of your reception venue, that way your loved ones are bound to notice it on the way to their seats. Another great way to get guests' to pick up the pen is to station someone by the table to encourage them. This is where close friends who aren't in the wedding party shine! Finally, use signage and decor to make sure everyone knows where to find it.
Our Favorite Wedding Guest Book Alternatives
To kick off your search, we've combed the internet to find some of the most unique wedding guest books that you can buy right now. Get inspired by one of these memorable ideas that put a twist on tradition.
1. Wine Corks
Whether you're getting married at a winery or just love indulging in a nice glass of vino at the end of the day, this heart-shaped cork guest book is creative and chic. After the wedding, you can hang it in your kitchen or above a bar cart.
Desert Coastal Studios alternative wine cork wedding guest book, from $80, Etsy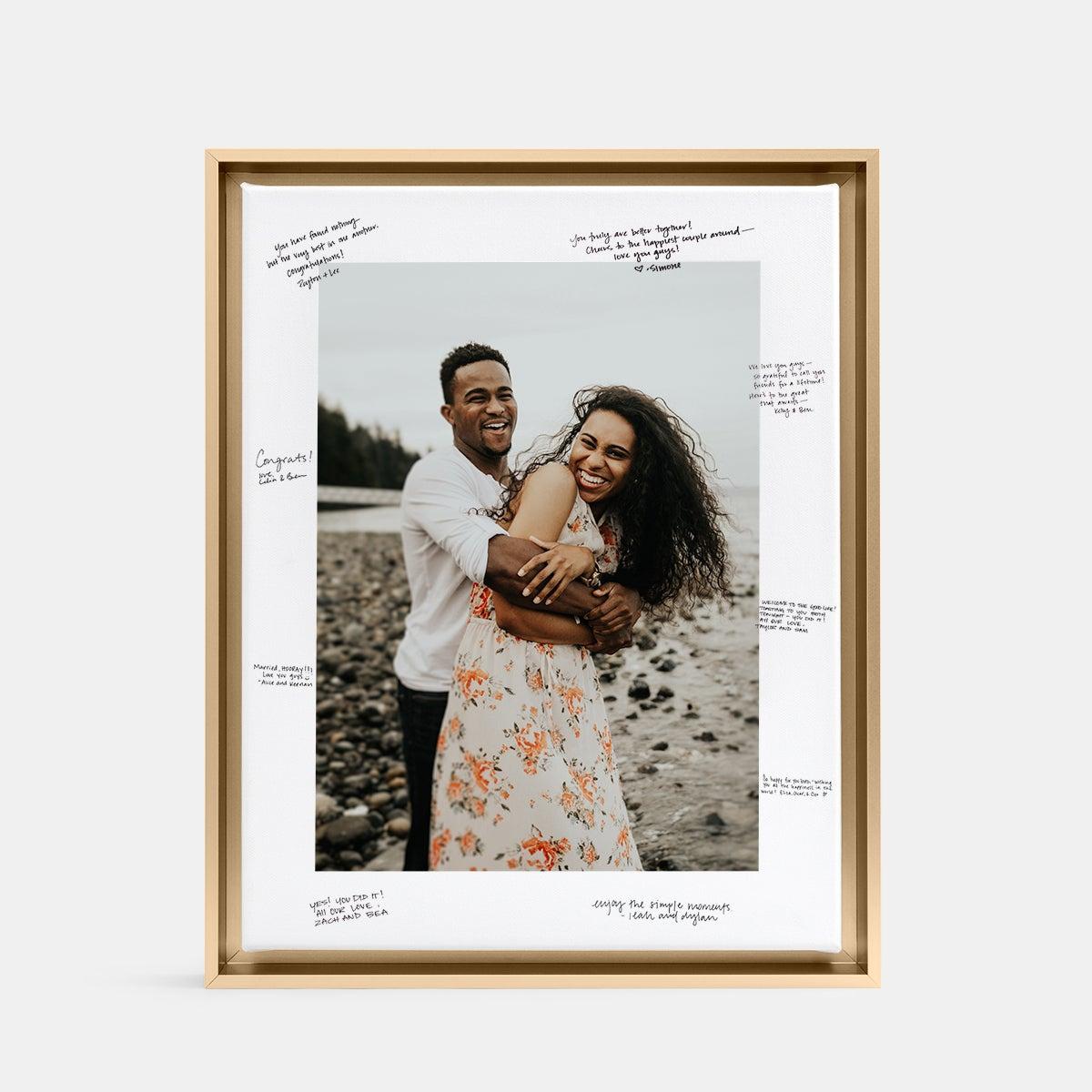 2. Picture Frame
Imagine your loved ones' well wishes framed alongside a romantic photo of you and your brand-new spouse. It's one of our favorite wedding guest book ideas.
Artifact Uprising wedding guest book frame, from $119, Artifact Uprising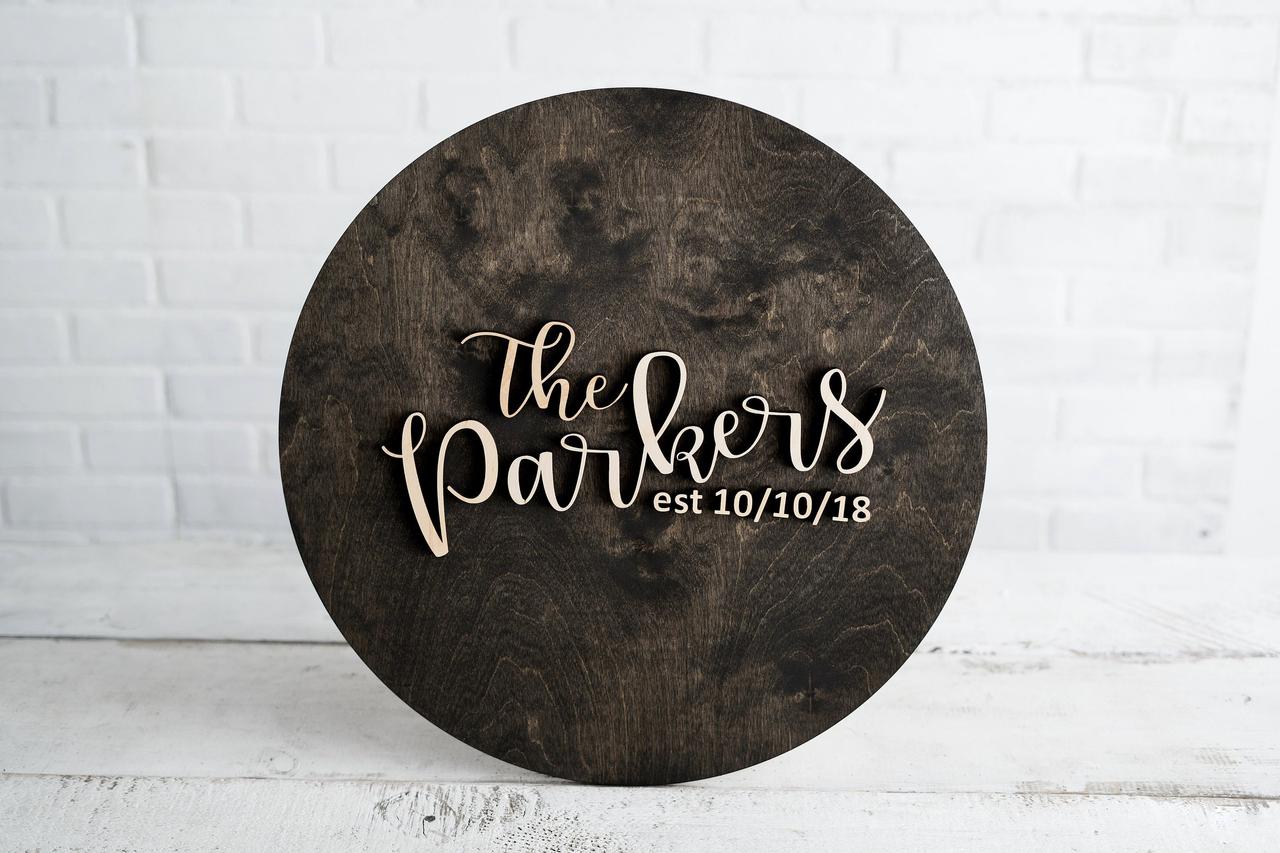 3. Wooden Plaque
If modern and minimalist style is right up your alley, try a sleek, walnut wood plaque in a circular shape. Guests can sign their names in white or metallic calligraphy pens that will pop against the dark background. Who knew wedding guest book alternatives could be so pretty?
Maddie M Designs family name wood guest book, from $120, Etsy
4. Acrylic Box
Going tropical with your wedding theme? An acrylic box decorated with monstera and palm leaves will perfectly accentuate any island-inspired decor you already have. Ask your guests to fill out mad-lib cards, advice cards, or to write personal notes and drop them into the box.
WeddingWire Shop wishing well acrylic box in greenery print, $80, WeddingWire Shop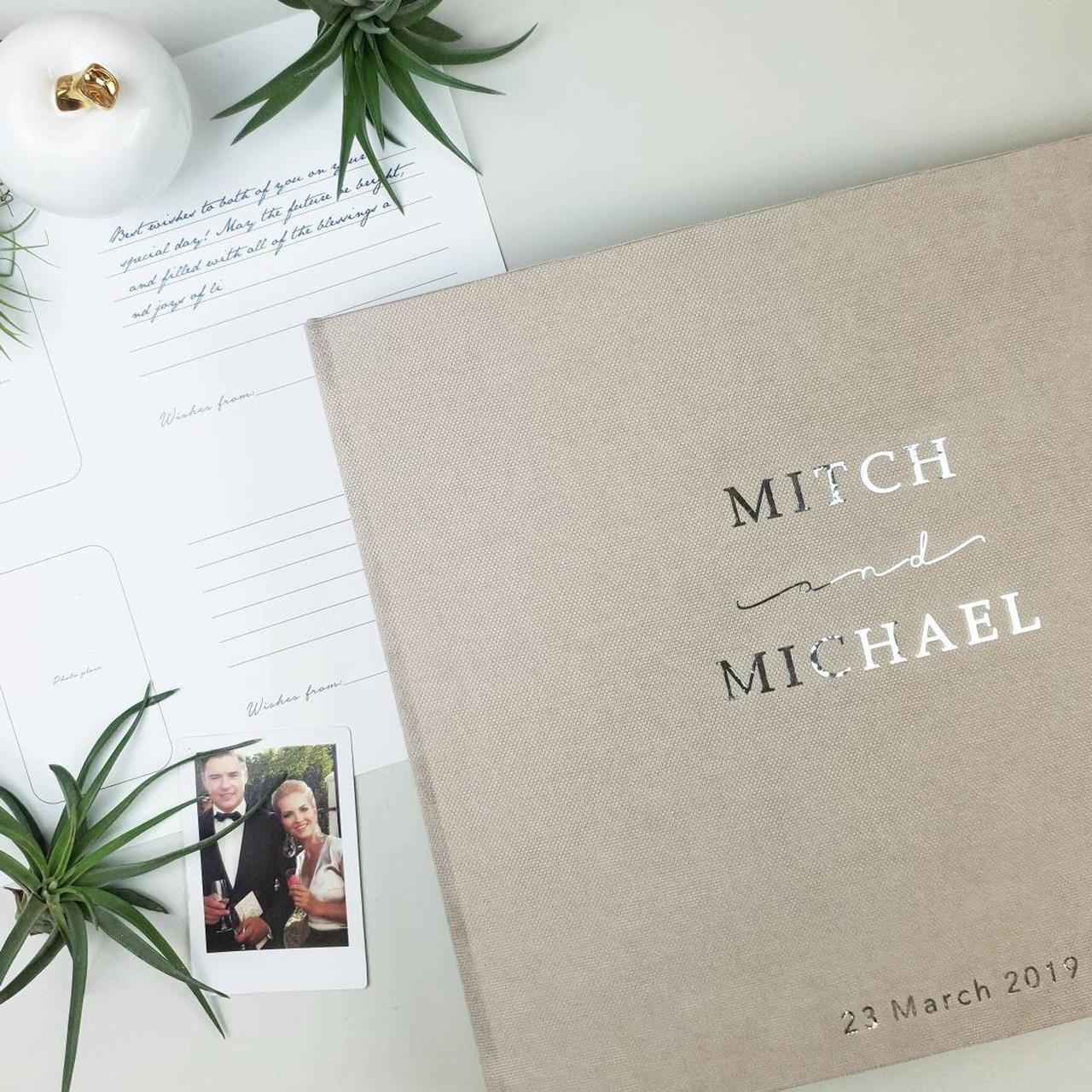 5. Instant Photos
Looking for fun wedding guest sign-in ideas? As they arrive at your reception, have them snap selfies using an instant camera. Then, each guest can add their photo and a handwritten note to this personalized album. At the end of the night, you'll have a collection of snapshots to take home and treasure for years to come.
Catch This Moment taupe Instax photo guest book, from $113, Etsy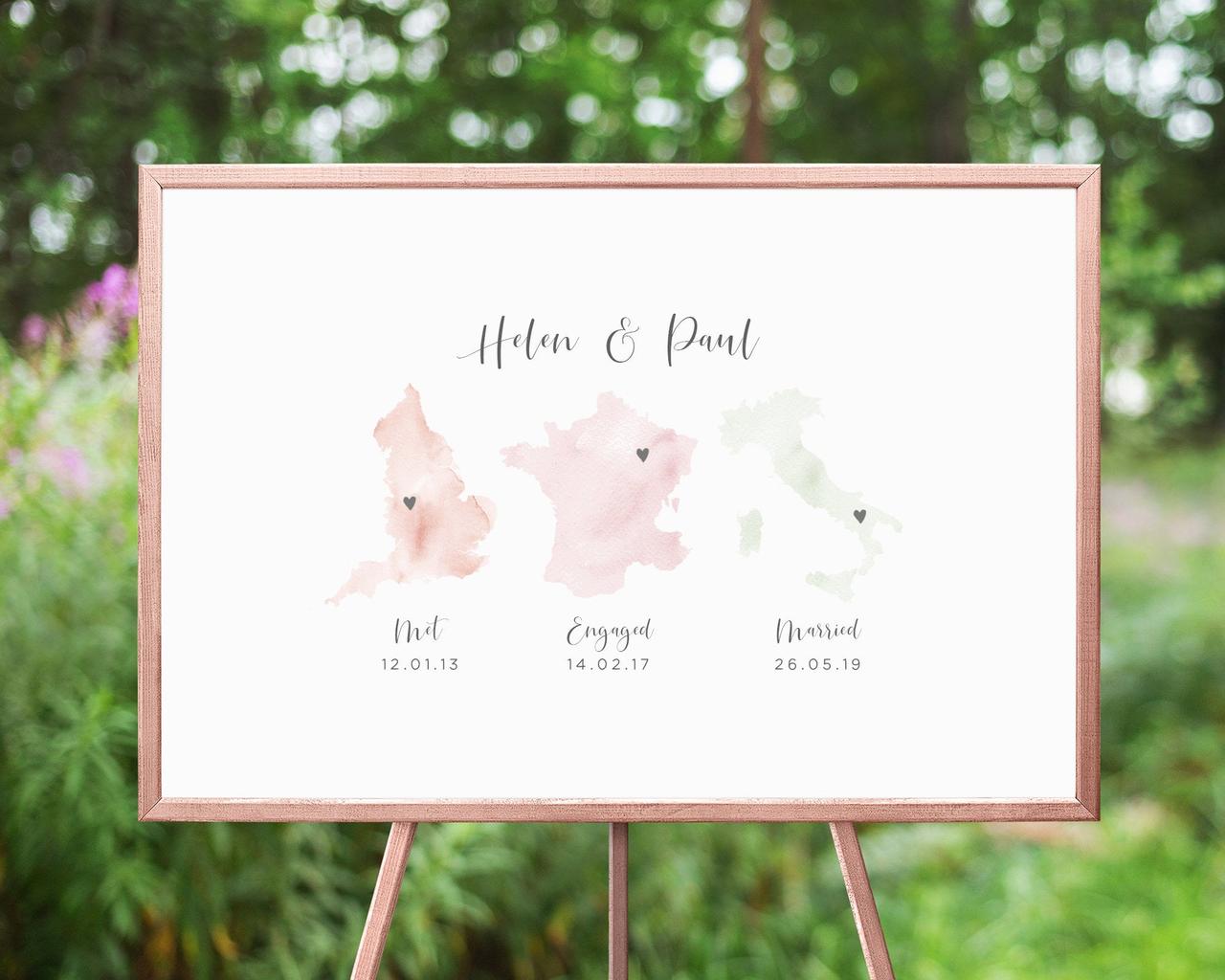 6. Map Poster
There are so many possibilities when it comes to wedding guest book alternatives. Showcase your love story by having guests sign a poster that highlights where you and your partner met, got engaged, and tied the knot. The final product will be a special addition to a wedding gallery wall later on!
Paper Amor Co. Met, Engaged, Married map guest book, from $27, Etsy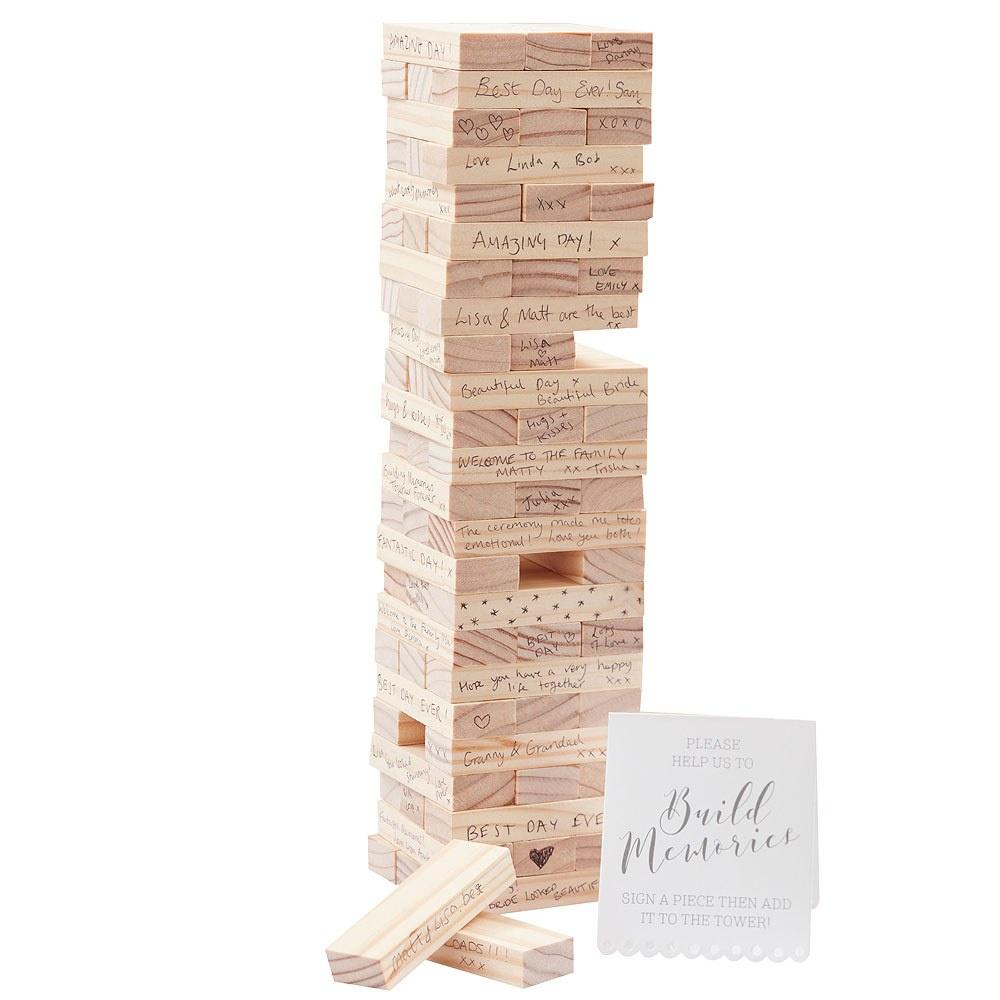 7. Wooden Blocks
If game nights are your thing, then we think you'll love this unique wedding guest book idea. Create a custom set of wooden blocks by asking each guest to sign their name on a piece.
WeddingWire Shop memory blocks wedding guest book, $28, WeddingWire Shop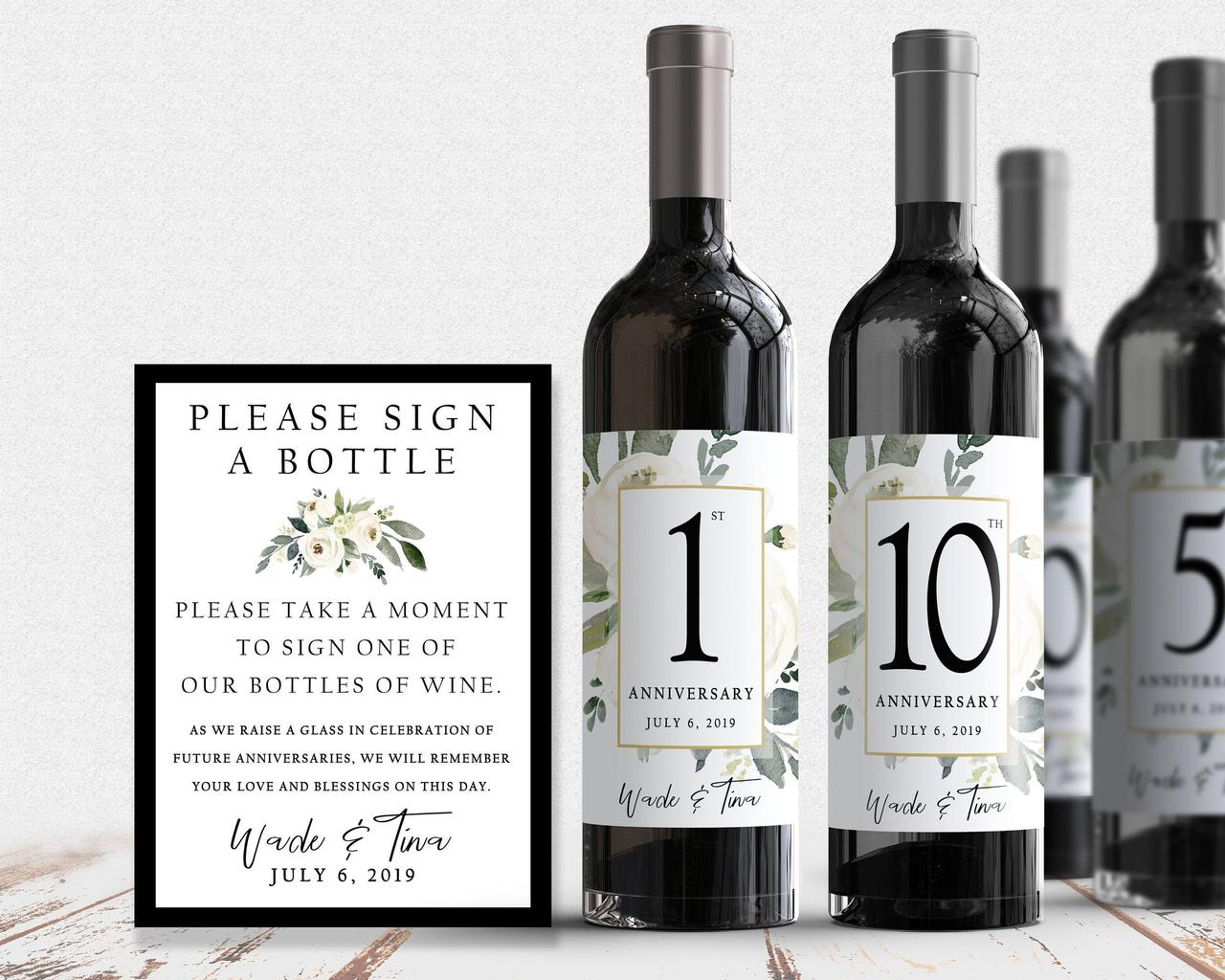 8. Anniversary Wine
Here's another alternative wedding guest book idea if you're having a vineyard wedding: wine bottles. Before the big day, purchase a few bottles to share with your spouse on future anniversaries, add these cute custom labels, and then ask your guests to sign them. When the time comes to open each one, you'll love reading all the names and reminiscing!
Paper Crabb vintage white roses anniversary wine labels, from $25, Etsy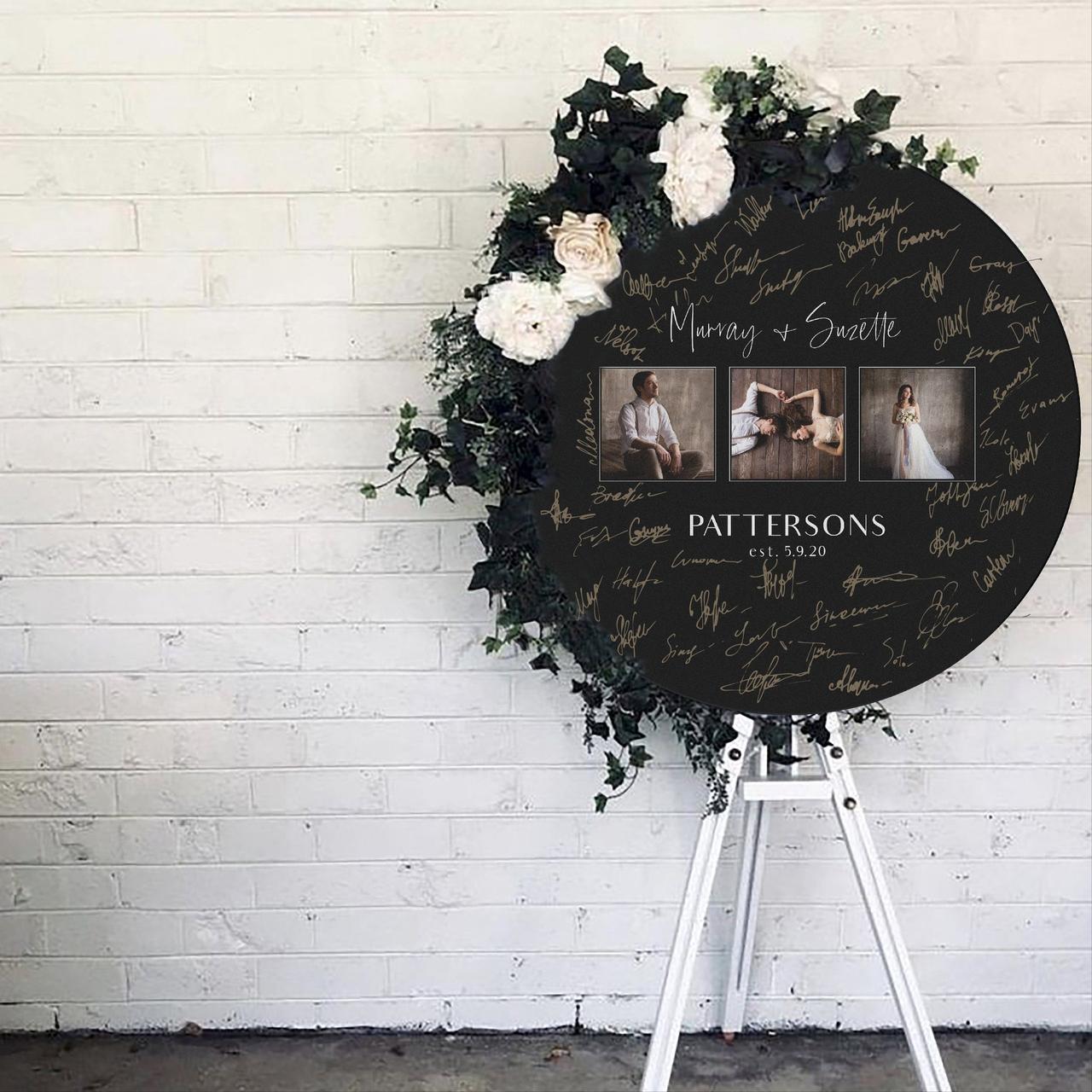 9. Engagement Poster
We've still got plenty more unique guest book ideas to come. Show off your engagement photos by framing them on a custom poster for guests to sign.
Rawkrft custom printed wood guest book, from $50, Etsy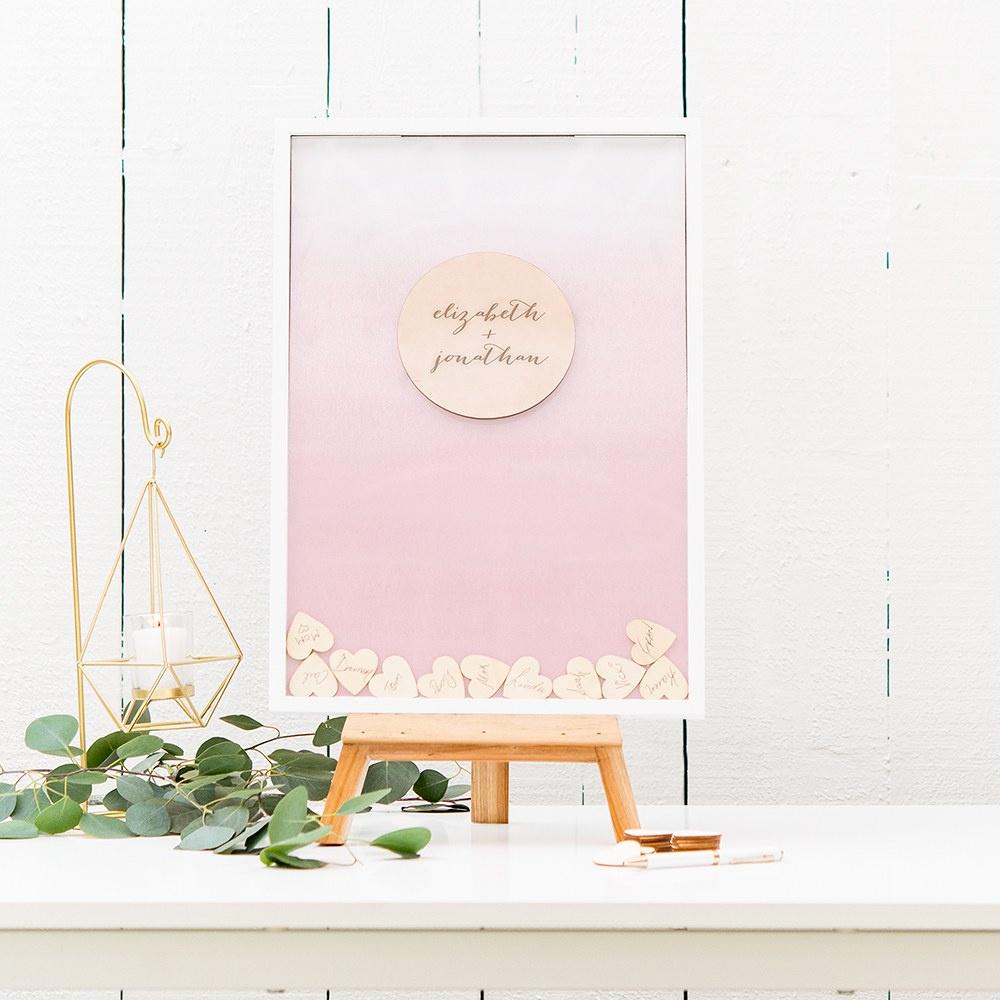 10. Wooden Hearts
Miniature wooden hearts are one of the most creative wedding guest book ideas, and they work especially well for rustic themes. Plus, the shadow box frame is perfect for showcasing the mini hearts as a unique decorative piece in your home.
WeddingWire Shop signature couple personalized drop box guest book, $30, WeddingWire Shop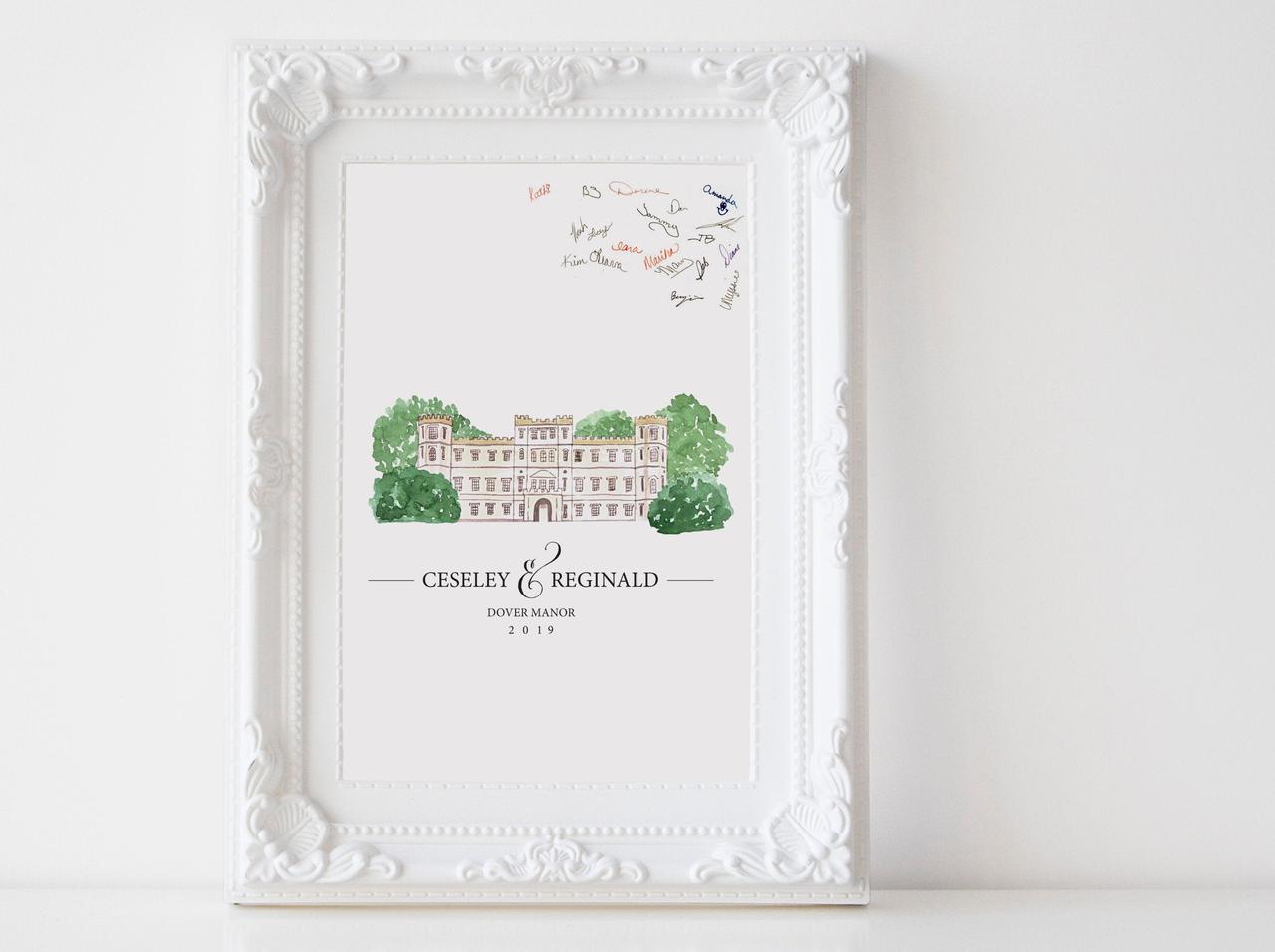 11. Venue Illustration
A framed illustration of your wedding venue is an elegant and unique wedding guest book alternative.
Pretty Timely custom wedding venue painting guest book, from $120, Etsy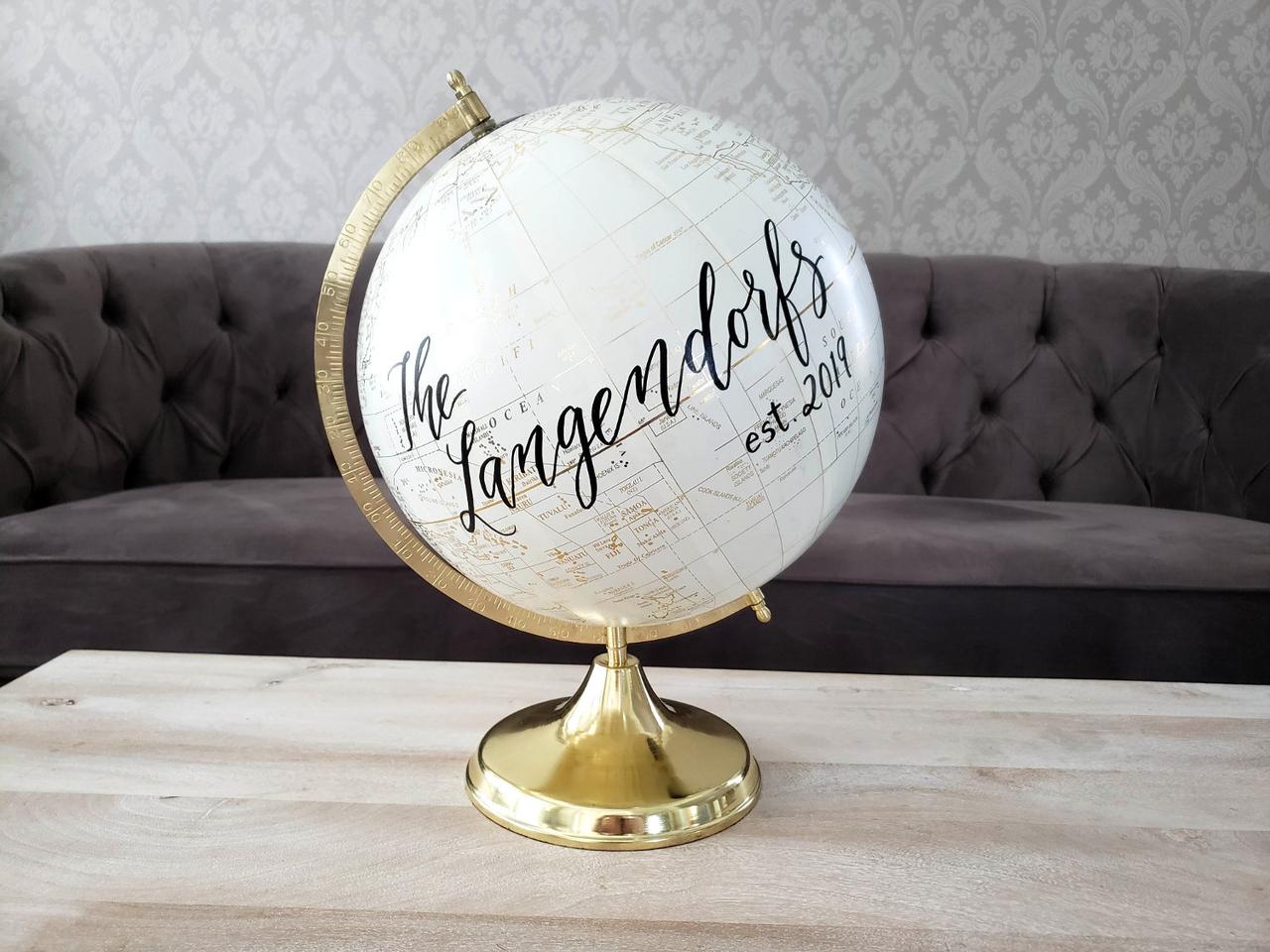 12. Personalized Globe
Can't wait to travel the world with your new spouse? Have your guests leave their mark on a decorative globe—we like the idea of using one that has been customized with your names or wedding date. It'll make a great conversation piece for your home later on!
The Lettering Studio 12-inch globe guest book, from $170, Etsy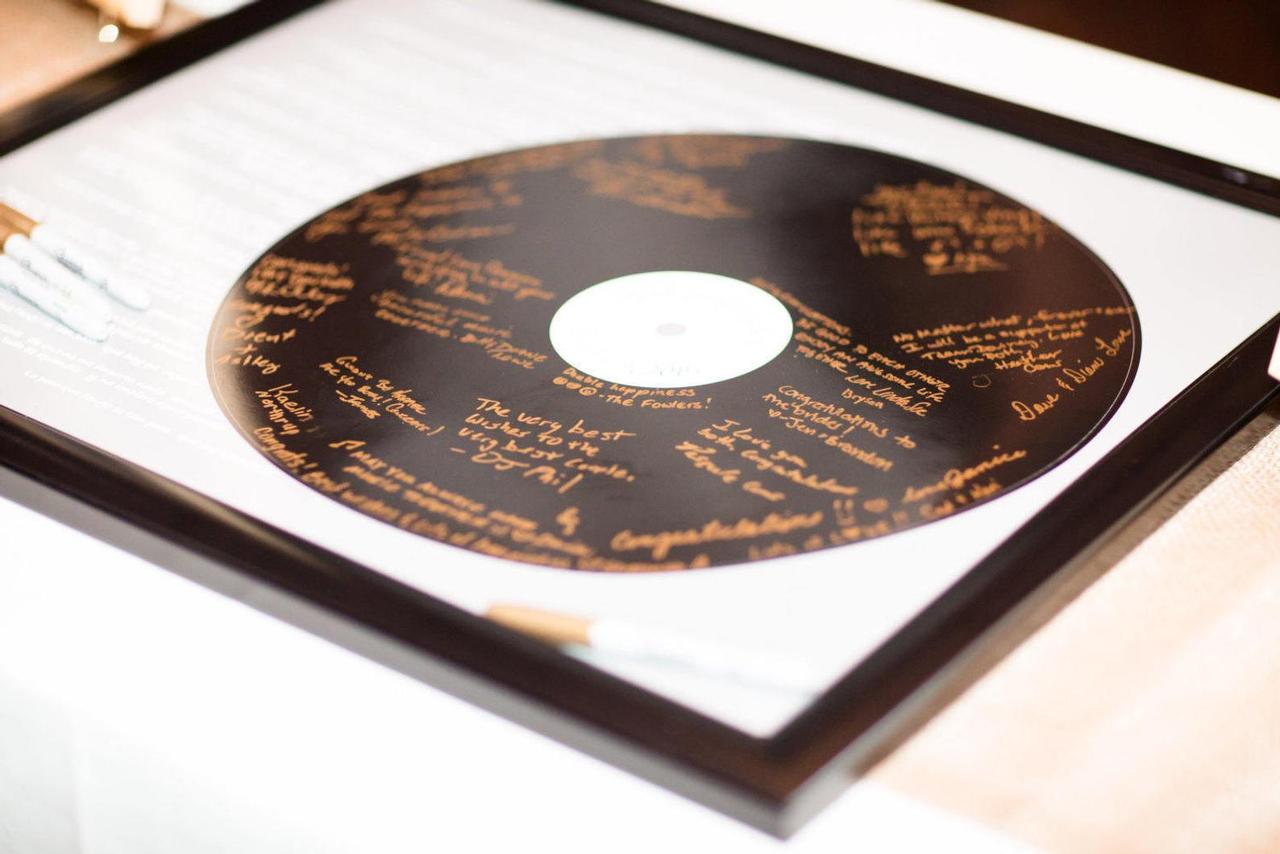 13. Vinyl Print
This vinyl art print is one of the best wedding book ideas if you and your partner bonded over music. It comes personalized with your names, the date of your nuptials, and the lyrics of your first-dance song. Once your guests sign, all you need to do is add the frame!
Design Creatives record wedding song guest book alternative, $50, Etsy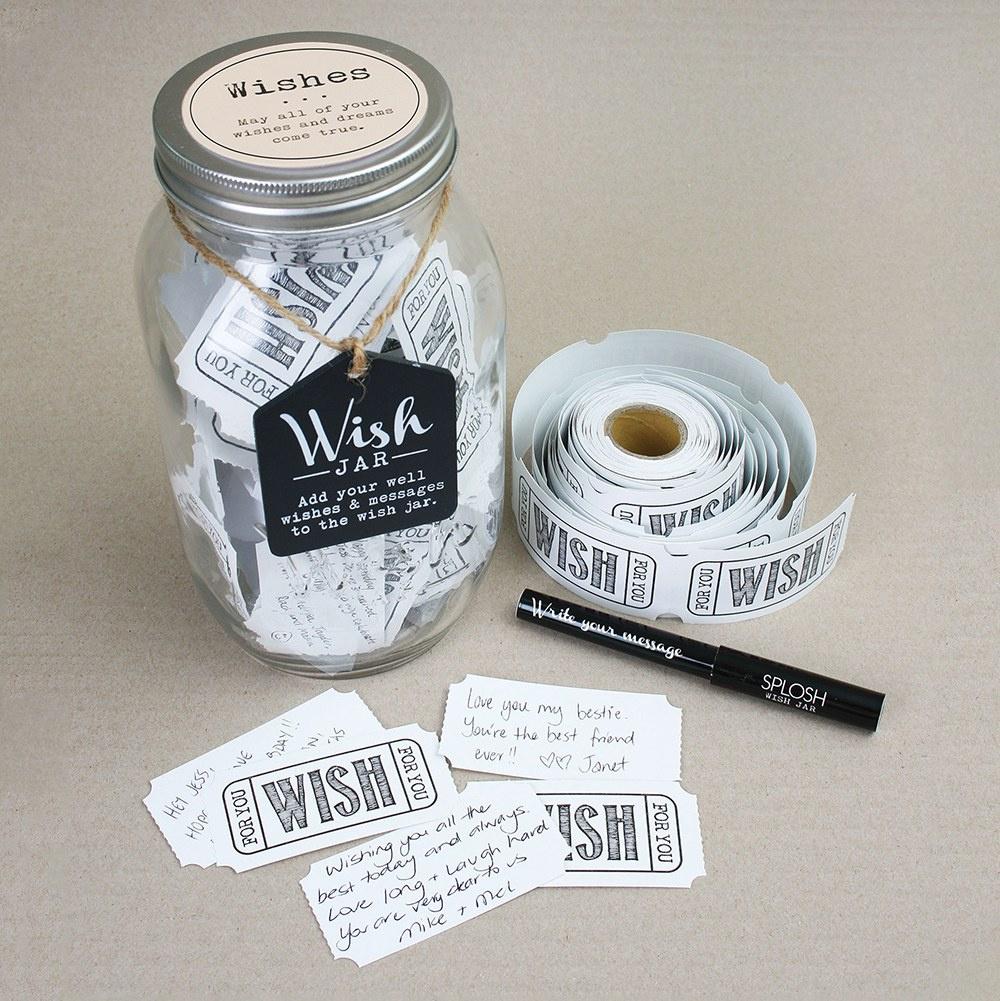 14. Wish Jar
A mason jar filled with carnival-style "tickets" would fit right in at a rustic or vintage wedding. Make it an annual tradition to open the jar and read the messages from your loved ones on each anniversary!
WeddingWire Shop wedding wishes mason jar guest book, $30, WeddingWire Shop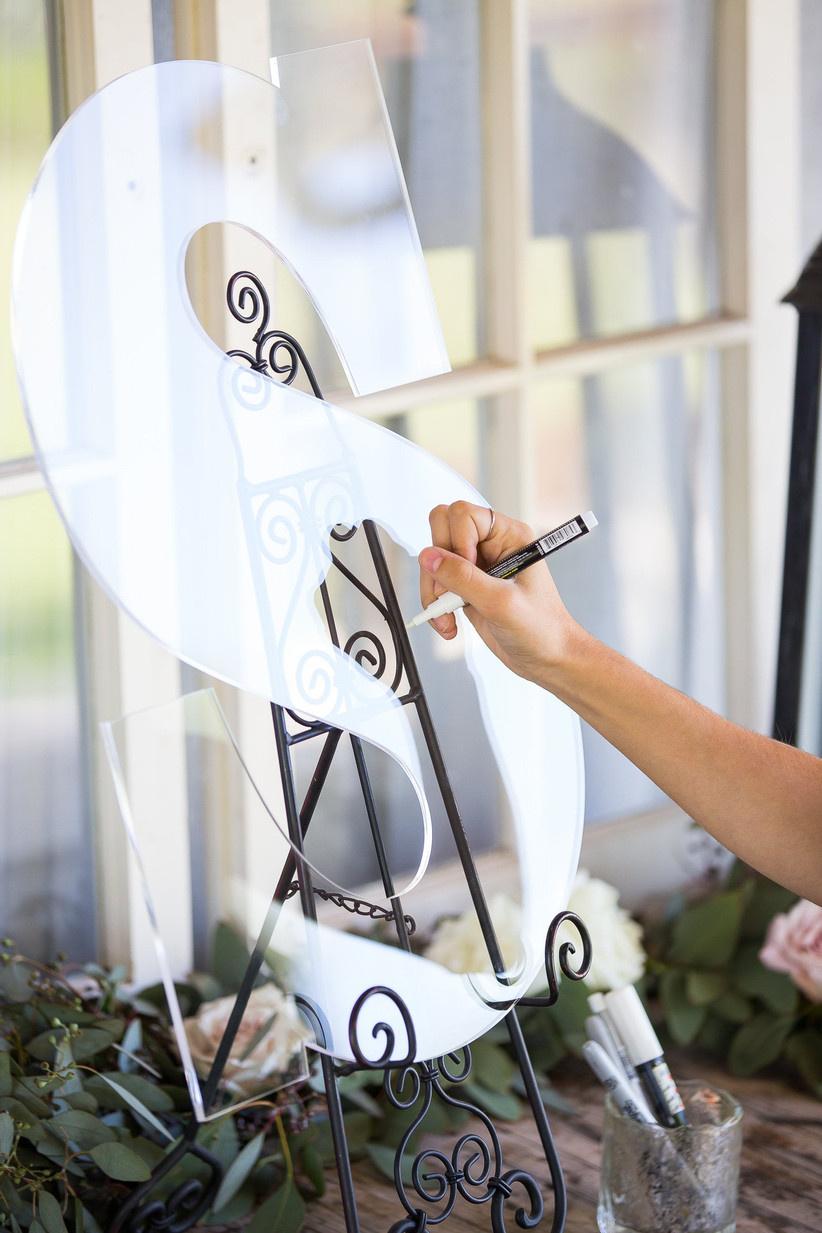 15. Acrylic Letter
If you've decided to share your last name with your partner, a large acrylic initial letter is a stylish and unique wedding guest book alternative (and future family keepsake).
Z Create Design clear acrylic letter guest book alternative, $93, Etsy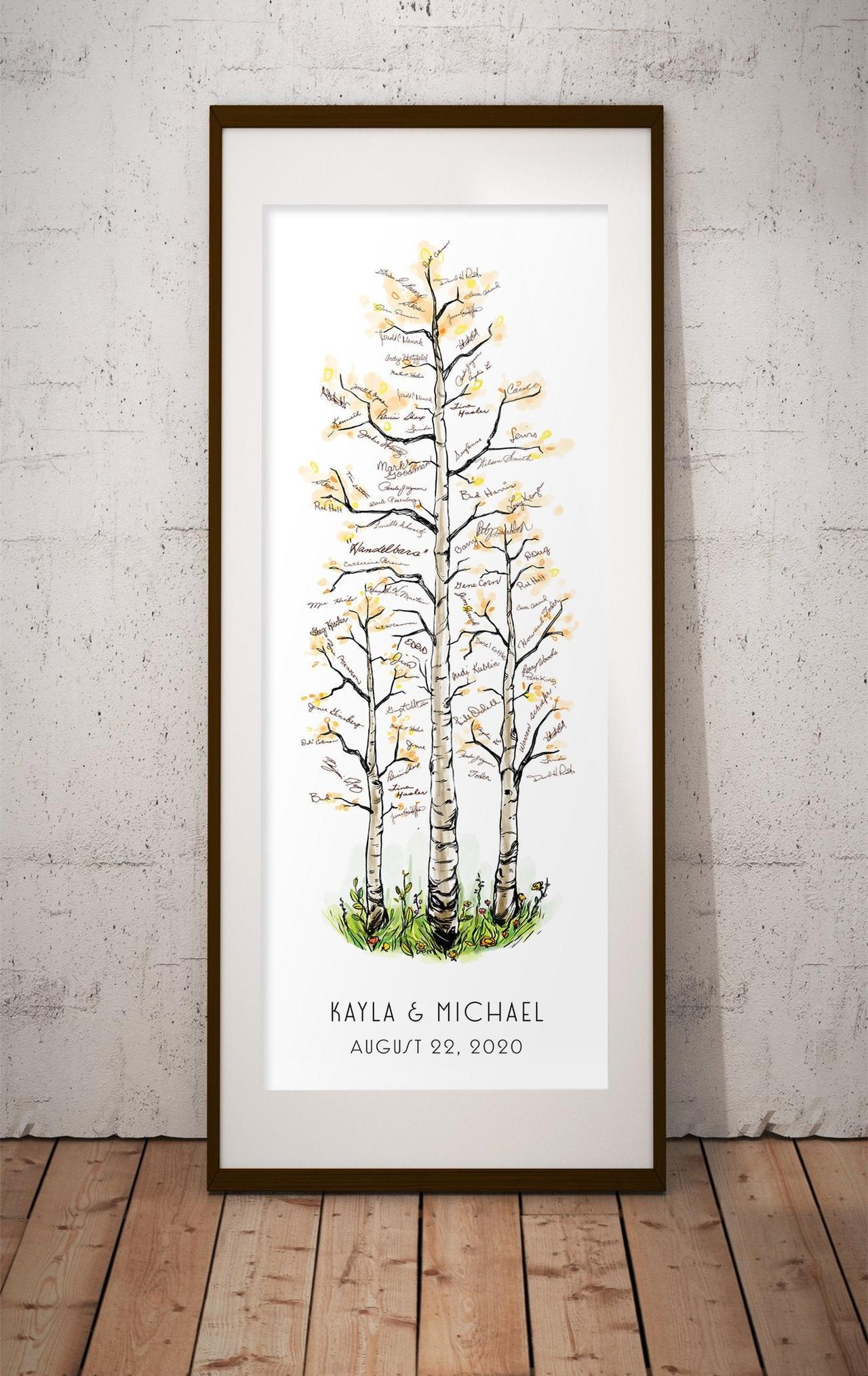 16. Signature Tree
A custom tree poster is one of our favorite non-traditional guest book ideas for anyone getting married at a forest wedding venue.
Guest Book Envy birch tree signature guest book, from $85, Etsy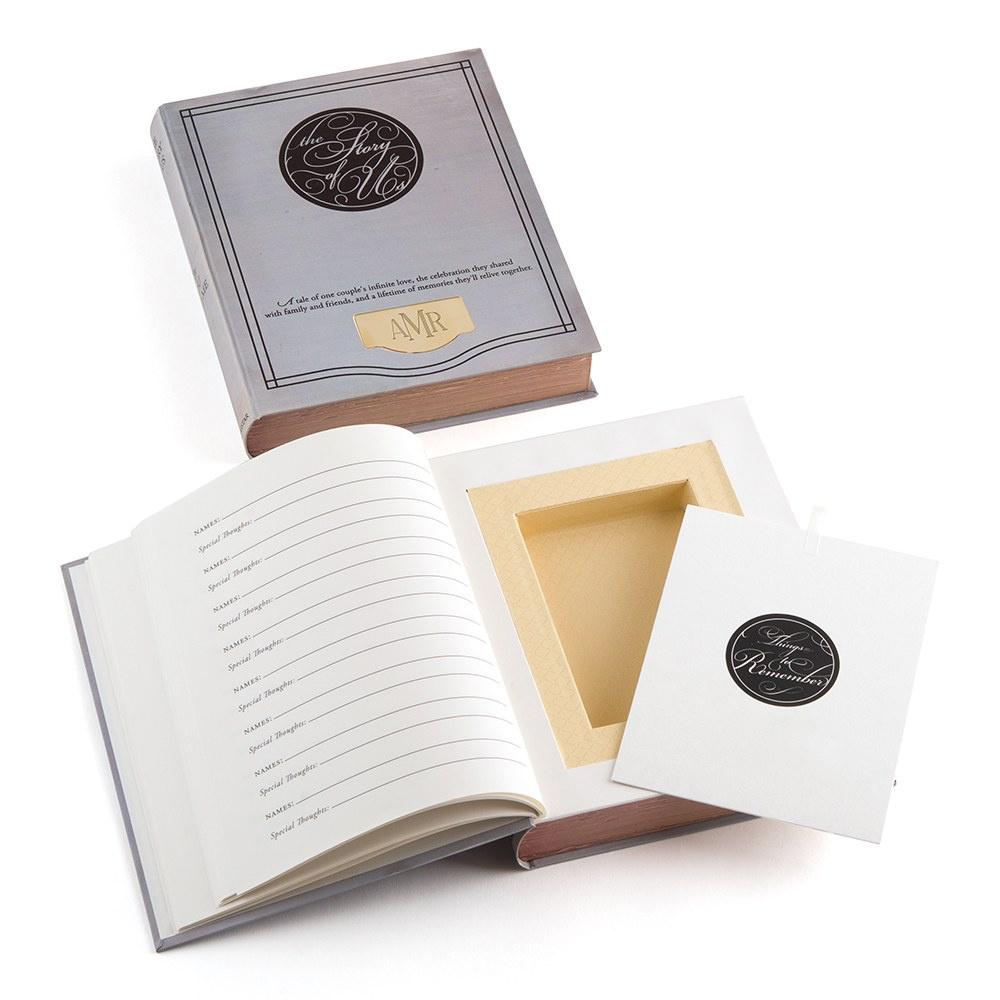 17. Keepsake Box
Fill out the pages of this unique guest book with the story of how you met, your first date, your family trees, and more. Your guests can read up on your relationship before signing their autograph in the guest section. It's also a safe hiding place for small keepsakes like your wedding vows or an accessory you wore walking down the aisle.
WeddingWire Shop Story of Us alternative guest book and box, $20, WeddingWire Shop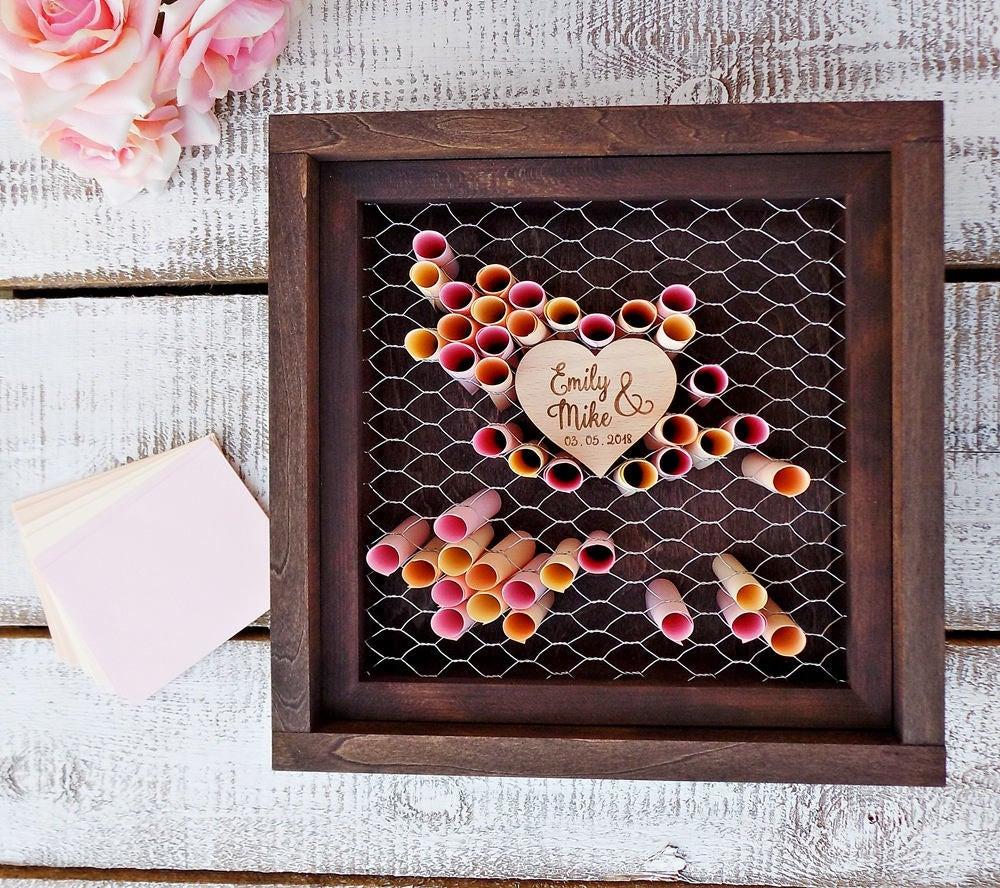 18. Paper Scrolls
Colorful paper scrolls turn this decorative wooden box into a simple but sweet wedding guest book alternative. We love this idea for couples who are fans of farmhouse style.
Rustic Love and Wood 3D guest book, from $122, Etsy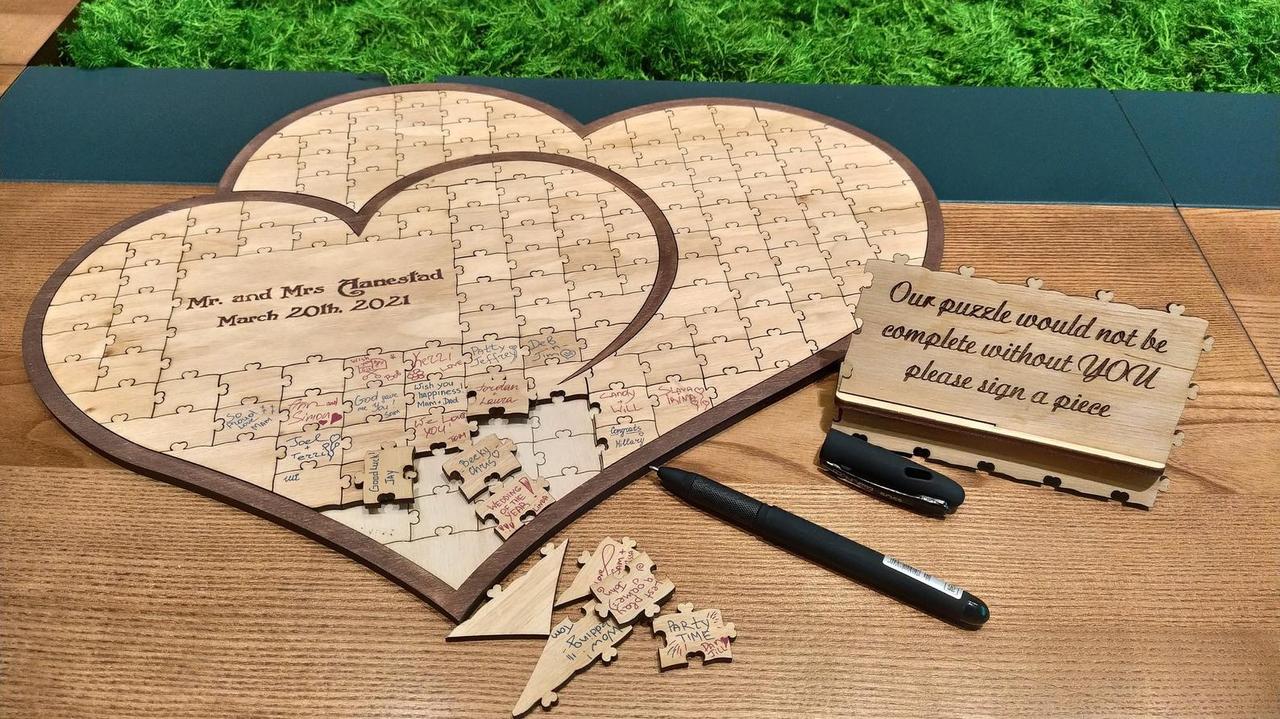 19. Wooden Puzzle
Here's another romantic non-traditional guest book idea that's perfect for rustic celebrations. Have each of your loved ones sign their name on a piece of the heart-shaped puzzle.
Do a Wedding puzzle wedding guest book alternative, from $62, Etsy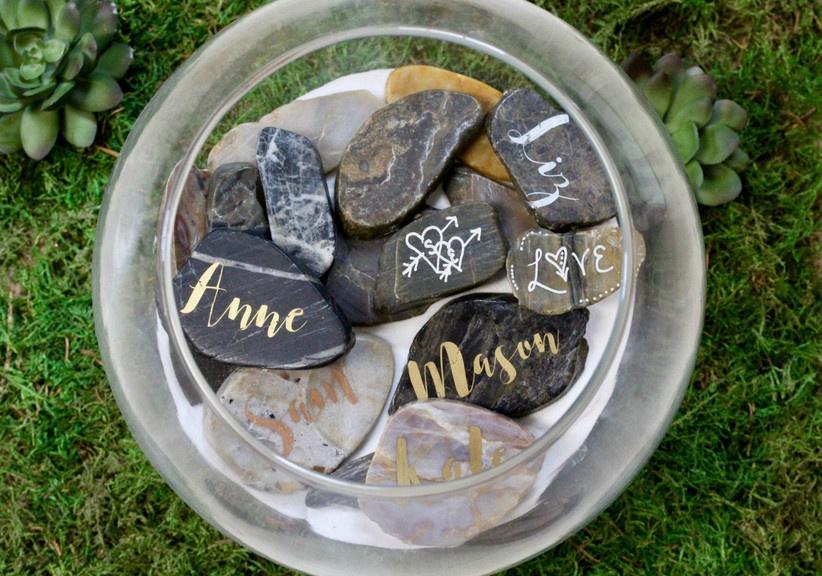 20. Wishing Stones
Polished rocks or agate stones are a great wedding guest book idea for bohemian themes and nature lovers. After the wedding, turn the signed rocks into a decorative piece by displaying them in a glass vase or even adding them to your garden.
Sweet Confetti Co. natural wedding wishing stones, $130 for a set of 100, Etsy