15 Vintage Wedding Ideas for Modern-Day Couples
Combine the romance of a bygone era with a bit of contemporary flair by adding these vintage wedding theme ideas to your big day.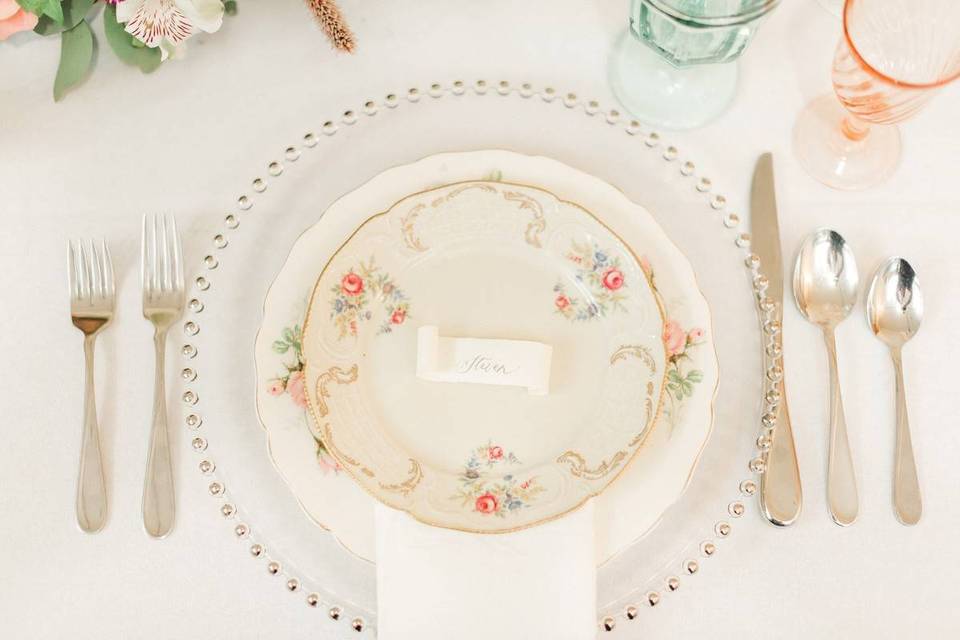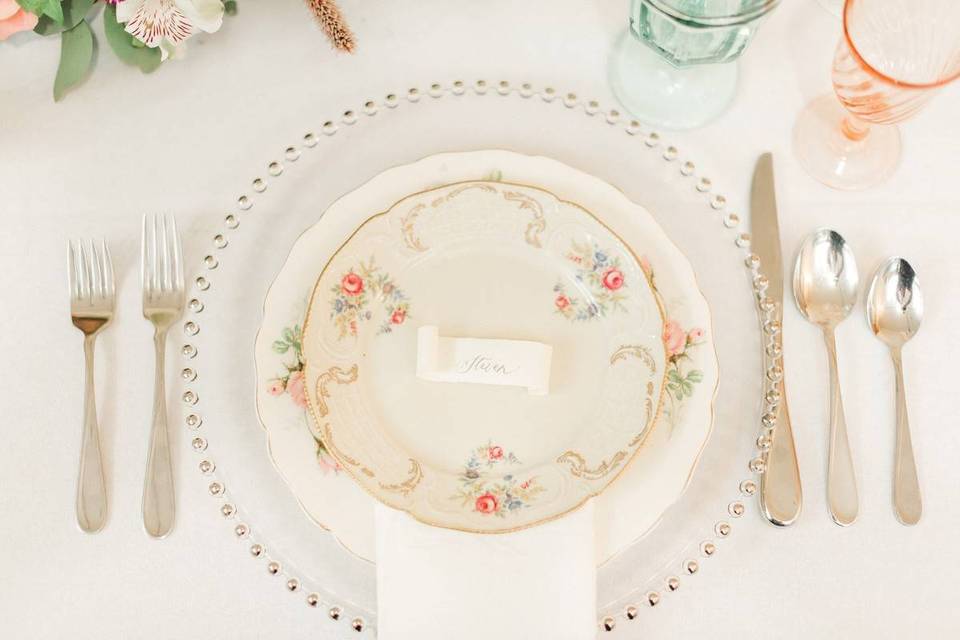 A vintage wedding theme can be a lot of different things. What once meant an overly niche, thrift-inspired aesthetic—think soda pop bottles, antique typewriters, and other eclectic retro accents—has now transformed into a totally sophisticated, storybook romance vibe. From soft color palettes and twinkling candles, to abundant flowers, greenery, luxe stationery, and calligraphy signage, a vintage wedding theme is all about creating a dreamy, airy ambience at your wedding reception. Need specific ideas about exactly how to bring this wedding style to life? We're breaking it all down for you here.
What is a vintage wedding theme?
Vintage wedding decor focuses heavily on romantic and delicate details, such as lace accents, pastel floral prints, chinoiserie, tea cups, strands of pearls, decorative bird cages, and candles. This creates a wedding aesthetic that is equal parts feminine, classic, shabby chic, and sometimes a little bit rustic. It sounds like a lot, we know! Above all, the modern interpretation of a vintage wedding theme is to create an ambience that feels like something out of a storybook or a fairytale.
Vintage wedding style is less about using actual vintage items (trust us, we've seen enough stacks of thrifted suitcases to last a lifetime) and more about bringing a timeless, ethereal vibe to your big day through pieces that bridge the gap between past and present. For example, we recommend mixing details that stand the test of time, like antique candelabras and heirloom glassware, with trendy pieces, such as acrylic wedding signs or gauzy table linens.

What are the best venues for a vintage wedding theme?
Vintage wedding style is fairly versatile, which means that you won't have to worry about sticking to one particular type of wedding venue. Traditional wedding venues, such as ballrooms, country clubs, hotels, and even castles are always classy options and work for vintage wedding ideas that err on the formal side. If you'd prefer a vintage wedding with modern undertones, consider getting married someplace more relaxed, such as a vineyard, countryside garden, or even a barn.
Another twist on vintage wedding style is to host your big day at a historic or retro venue—for example, a glamorous Art Deco hotel, a funky mid-century modern theater, or a charming old farmhouse.
What are the best vintage wedding theme colors?
Just like any wedding theme, your wedding color palette is crucial for completing your vintage wedding ideas and overall aesthetic. First, you'll need to decide whether you want your vintage wedding to reflect a specific decade, or if you simply want to create a romantic setting with subtle nods to the past. If you don't have a specific decade in mind, then we'd suggest sticking to pastels and neutrals, such as blush, mint green, dusty blue, ivory, lilac, and gray. These colors create a soft vintage aesthetic with Old World romance vibes.
You can also have a vintage wedding theme with brighter colors, as long as you've got the right combination! Bring a dramatic and moody vibe to your vintage wedding by pairing sleek colors such as gray, navy blue, and silver, with bold hues like fuchsia, lavender, and plum (we're loving how this vintage wedding inspiration pulls it off).
Otherwise, you can look to the specific decade you're using for a bit of inspiration. If you love The Great Gatsby and 1920s style, pair metallic gold and silver with muted tones, such as mauve, ivory, and taupe. For a touch of Old Hollywood glamour, channel the 1940s and '50s with red, black, and white. Rainbow wedding colors, including yellow, orange, bubblegum pink, and turquoise give off a mod 1960s vibe. If you're drawn to the 1970s, choose earthy tones like olive green, taupe, and mustard yellow for a bohemian vintage wedding.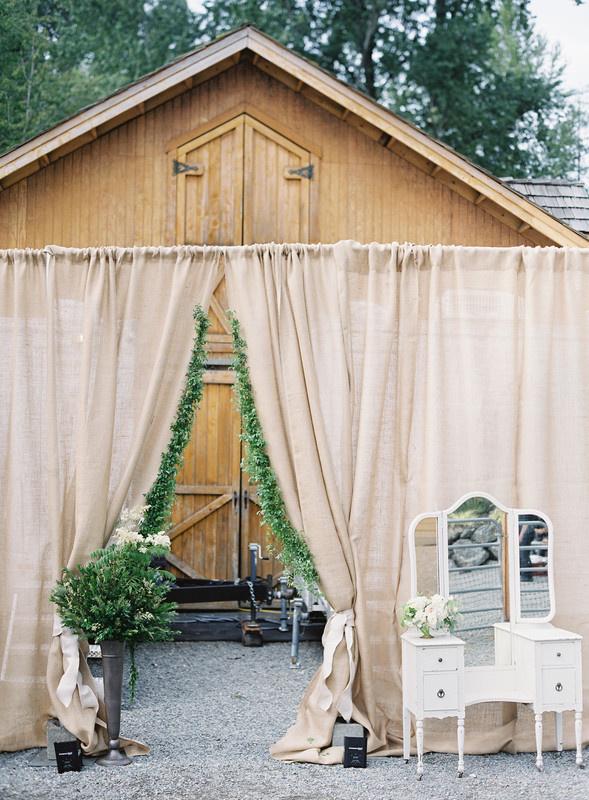 How should you decorate for a vintage wedding theme?
If you're focusing on vintage wedding ideas that are inspired by a specific era, the best way to recreate that style is trying to find authentic pieces from that time or items that are very close replicas. You'd be surprised by how many vintage designs are still relevant today, like the return of '70s rattan furniture that's trending for boho weddings.
Even if your vintage wedding is inspired by a specific decade, it's important to aim for a balance of old and new decor. You'll want the space to feel planned out and tasteful, versus dated and overly themed. Balance contemporary elements with vintage-inspired items to keep your wedding grounded in the 21st Century. Some of our favorite modern trends that work well for a vintage wedding theme include watercolor details, hand-dyed silk table runners, calligraphy signage, and greenery garlands.
When it comes to vintage wedding invitations, floral motifs, laser-cut filigrees, vellum, wax seal stamps, and ribbons are all popular ideas. We love the idea of personalizing your stationery with a monogram or family crest to really make things official. Don't have a monogram or crest? Your wedding stationer will be able to create something custom or refer you to an artist who specializes in heirloom designs.
If your vintage wedding decor is tailored to a specific decade, your stationery should also reflect the style of that era. Pull inspiration from cards, posters, artwork, and other ephemera from that time, then design your invitation suite from there. And don't forget about stamps! Choose a vintage-inspired design from the post office or, if you're up to the challenge, source actual vintage stamps from Etsy and flea markets (just make sure the stamps haven't been postmarked already or they'll be invalid). When using vintage stamps, remember that you'll need to have enough stamps to reach the full postage amount for every invitation—this could mean using up to five or six stamps on a single envelope, depending on the postage value of each stamp.
What kind of flowers should you use for a vintage wedding theme?
If you're having a vintage wedding, it's best to stick with flowers that veer toward classic and timeless—avoid any arrangements that come across as too trendy.
Some of our favorite flowers for vintage weddings include garden roses, peonies, anemones, calla lilies, and astilbe. If you're carrying a bouquet, cascading bouquets and pageant styles give off a regal, vintage feel. Personalize the arrangement by adding vintage-inspired accents, like brooches, pearl strands, an embroidered handkerchief, or long ribbons.
To personalize your wedding flower arrangements even more, ask your wedding florist to display arrangements in centerpiece vessels such as antique pitchers, retro candy tins, or even a collection of bud vases. For an Old Hollywood glam vibe, use crystals and feathers in the centerpieces for an instant dose of drama.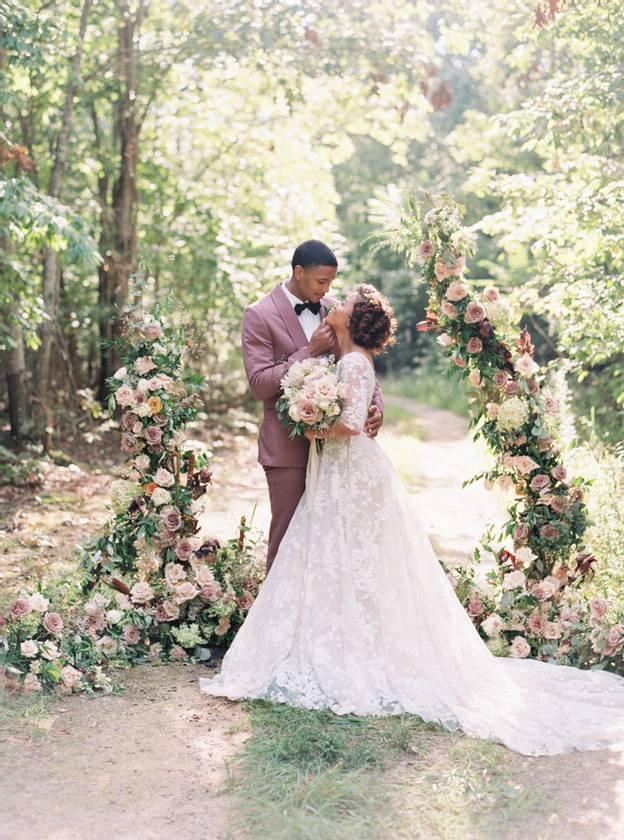 What should you wear for a vintage wedding theme?
If you're wearing a wedding dress, look for designs that incorporate timeless elements in a modern way. Tulle skirts and lace wedding dresses are romantic and feminine, making both of them staple choices for vintage style. Sleeves are another one of our favorite details for vintage wedding dresses—wear long lace sleeves à la Grace Kelly and the Duchess of Cambridge for the most traditional look, demure cap sleeves if you want to channel Audrey Hepburn and Jackie Kennedy Onassis, or choose billowy bishop sleeves for a free-spirited, hippie-chic vibe.
Short and tea-length wedding dresses two more popular choices for a vintage wedding theme. They're reminiscent of mod 1960s fashion and perfect for elopements, civil ceremonies, or microweddings (not to mention that you can show off an amazing pair of shoes).
Suits and tuxedos should also be worn in relatively classic styles, although certain trends like navy blue and velvet aren't out of the question. Along with your suit or tux, your accessories are just as important when it comes to nailing a dapper look. Bow ties are one of the most popular vintage wedding accessories (old-school suspenders are another vintage-inspired fave). Like any tie, it's important to choose one that's appropriate for your venue, dress code, and wedding season.
Vintage Wedding Theme Ideas
Ready to start wedding planning? Now that you know the basics of vintage wedding style, it's time to nail down your decor and details by looking for wedding inspiration. Here's how to pull off a romantic vintage wedding theme.
Vintage wedding invitations
Calligraphy wedding invitations will instantly evoke a sense elegance and sophistication. Finish your stationery suite with ornate details, like gold wax seals, envelope liners, and hand-addressed envelopes.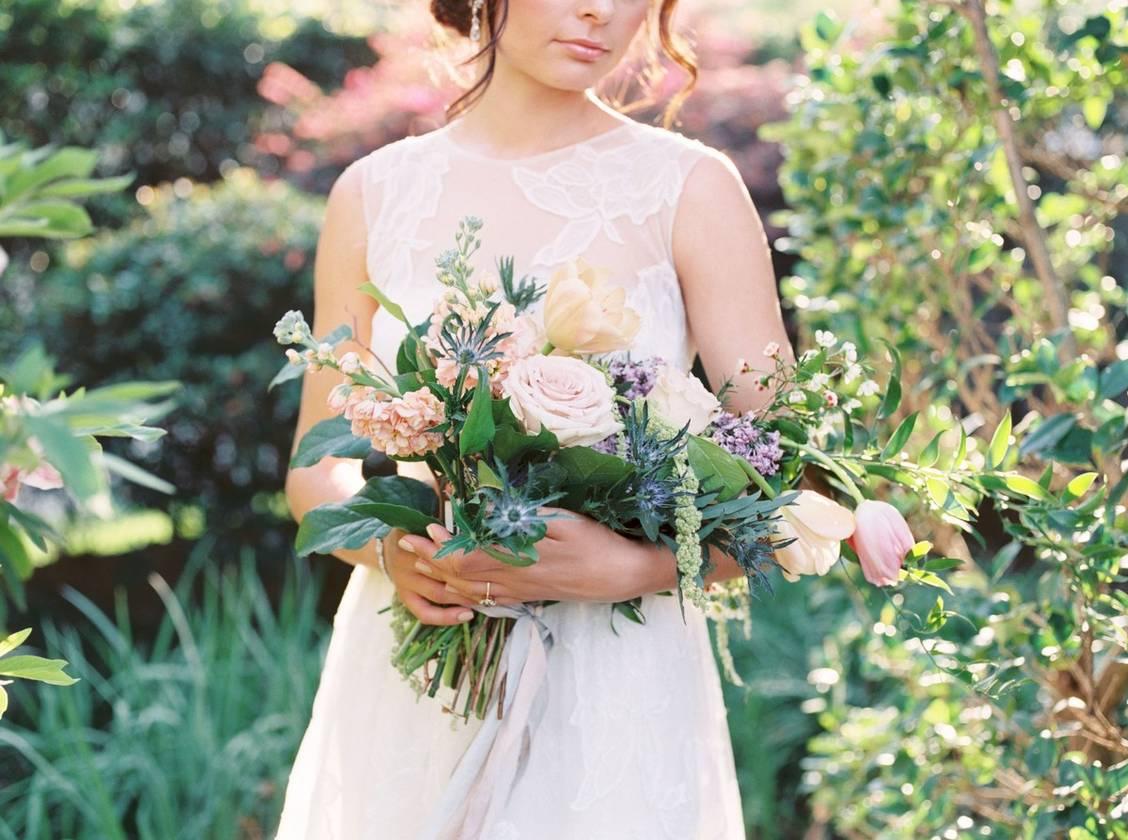 Vintage wedding bouquet
A loose, slightly cascading wedding bouquet is a perfect choice for a vintage wedding theme. Fill yours with blooms that you'd find in an English garden, like roses, lavender, tulips, or thistle for a classic look.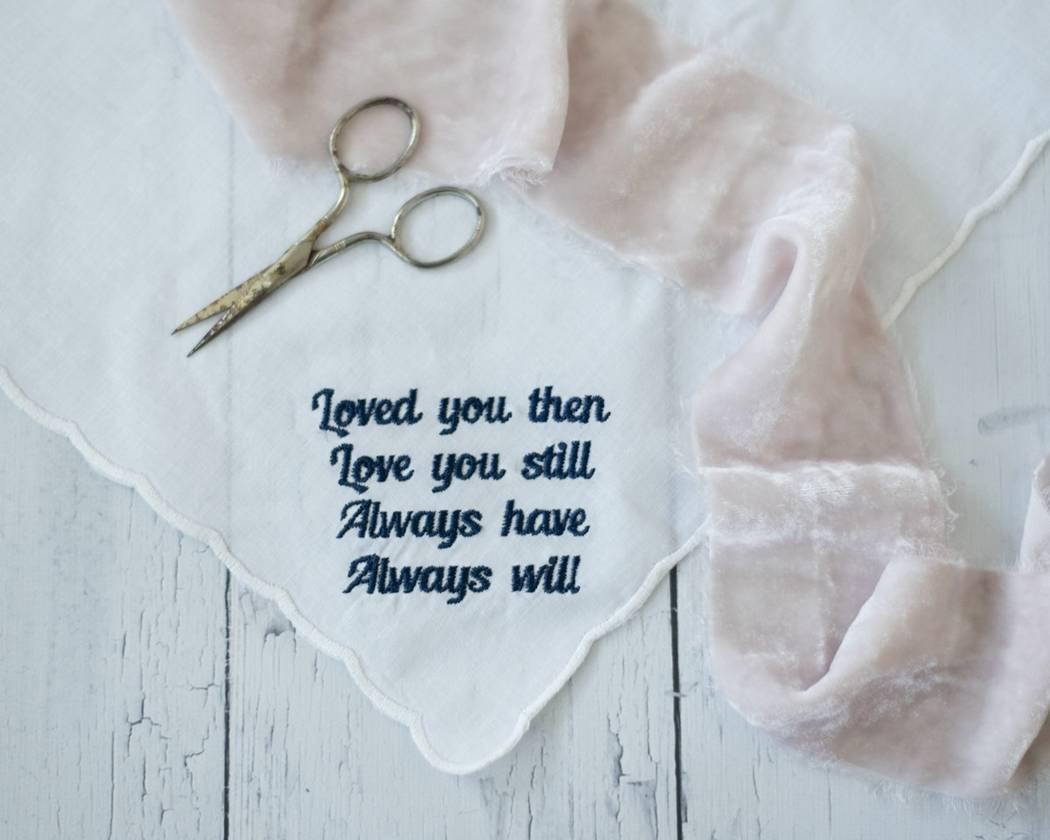 Wedding day handkerchief
If you've been known to shed a happy tear or two, this accessory will come in handy for your special day—even better if you have a handkerchief that's been passed down through your family. Another idea we love: surprise your bridesmaids, parents, or other loved ones with personalized handkerchiefs on the day of the wedding as sentimental gifts.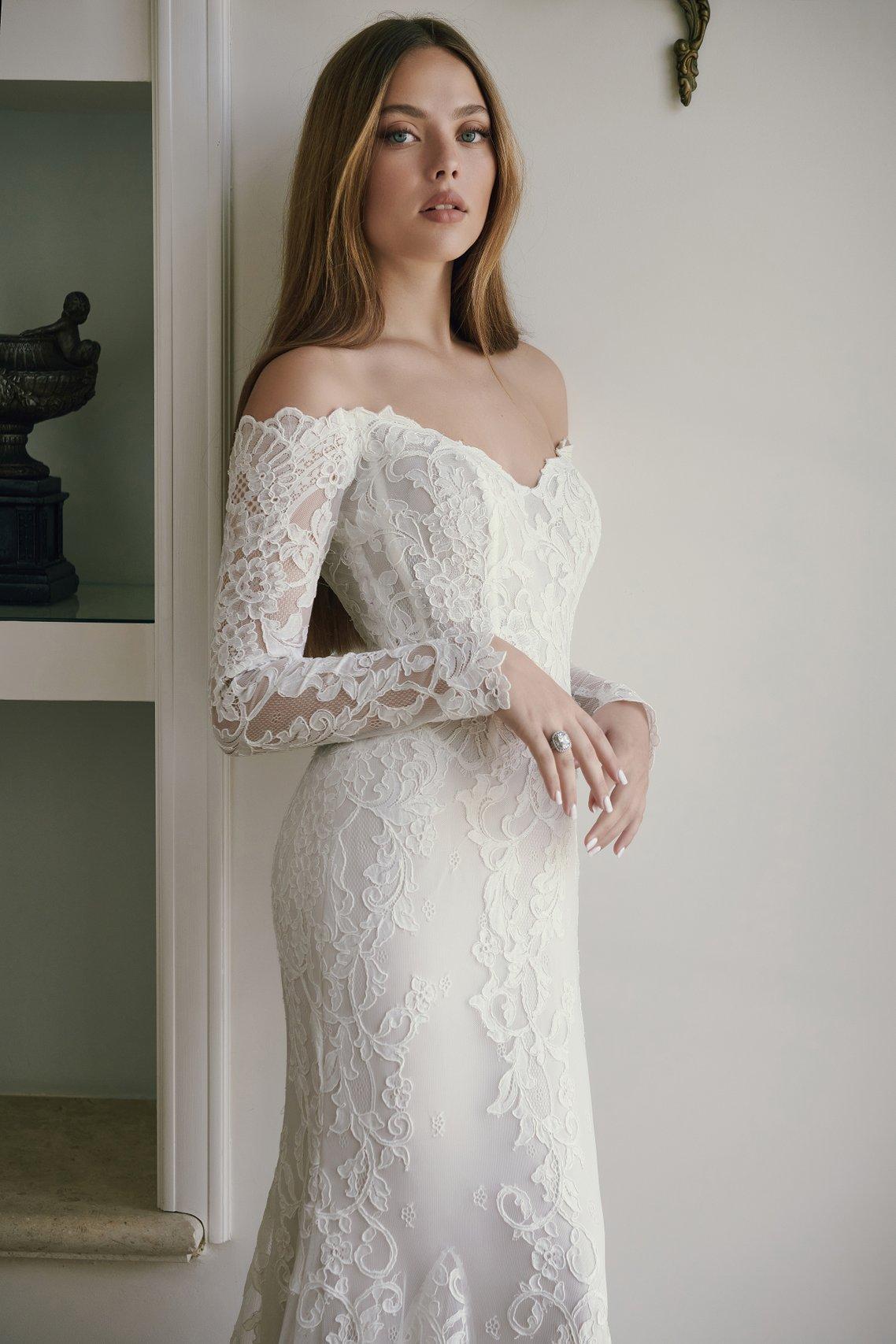 Dress by Lihi Hod
Lace wedding dress
For a bridal look that's timeless yet modern at the same time, we love this off-the-shoulder lace wedding dress.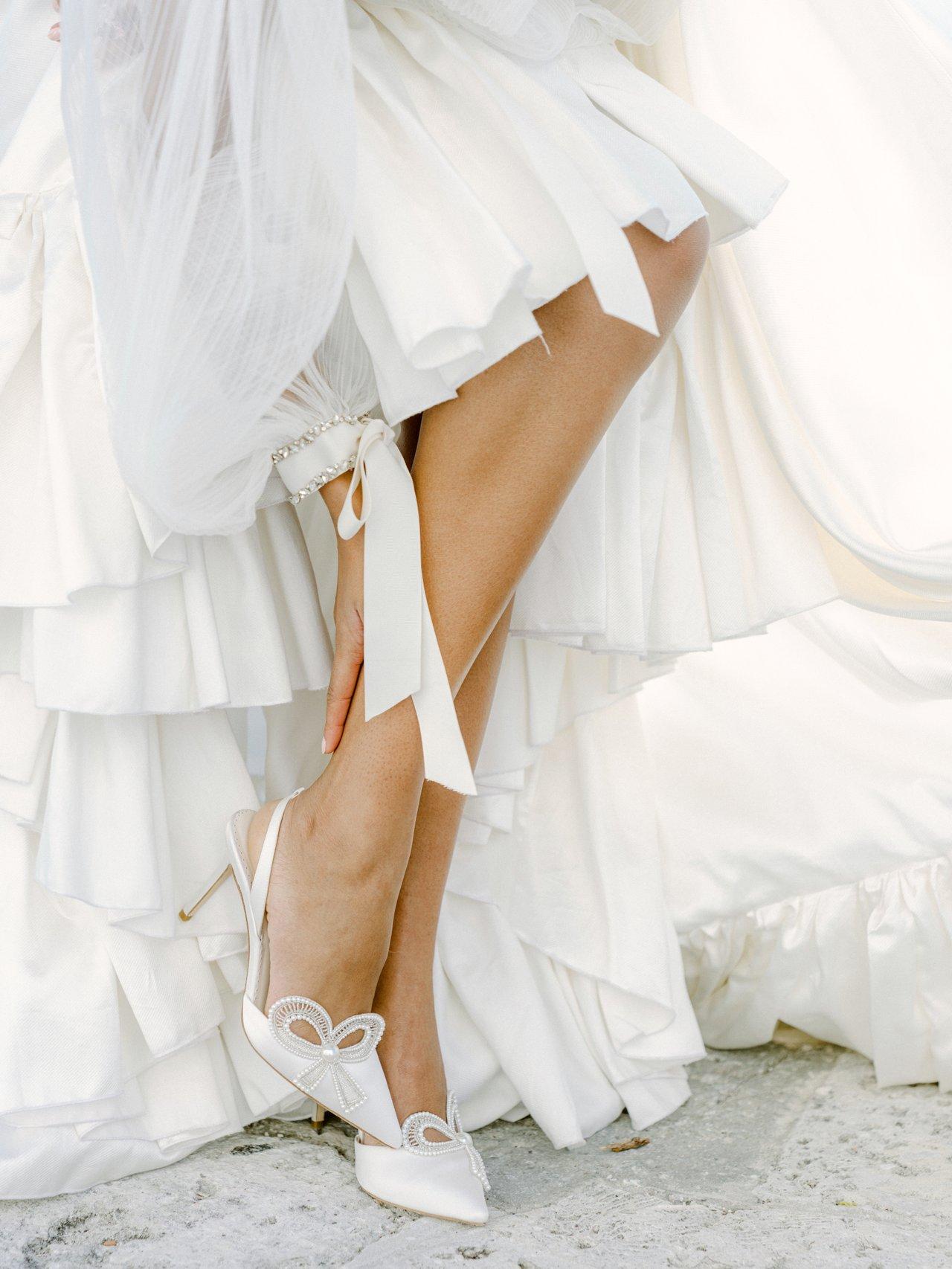 Shoes by Bella Belle Shoes
Classic wedding shoes
White shoes are the most traditional option when it comes to bridal high heels. Low slingback heels are chic and comfortable.
Hand-painted fan wedding favors
Looking for unique wedding favors that will stand out on the big day? Hand-painted palm fans will match a vintage wedding theme, especially if they're decorated with botanical or Audubon-inspired designs.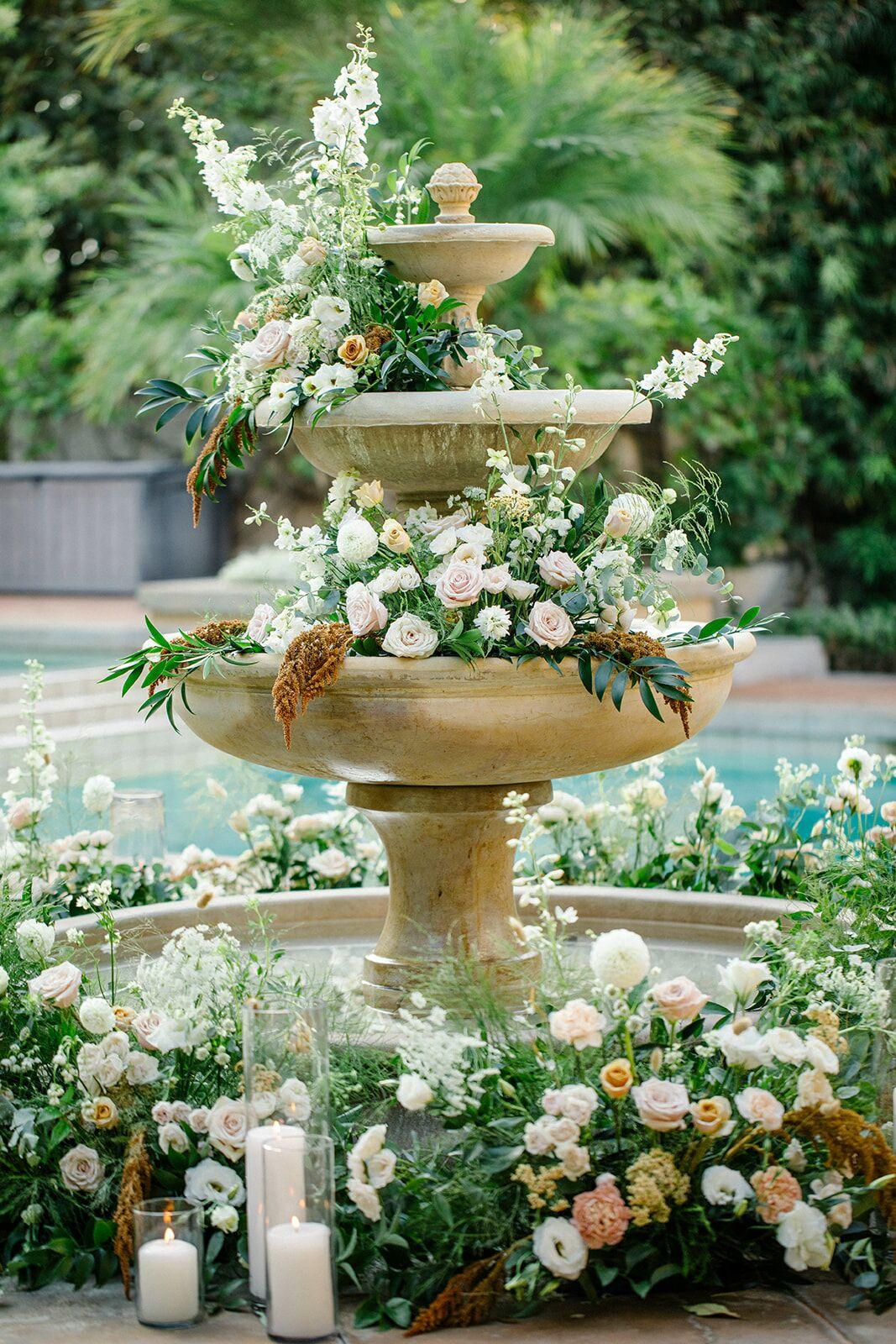 Flower-filled fountain
If your wedding venue has a stone fountain, turn it into a statement piece by decorating it with flowers and candles overflowing from all sides.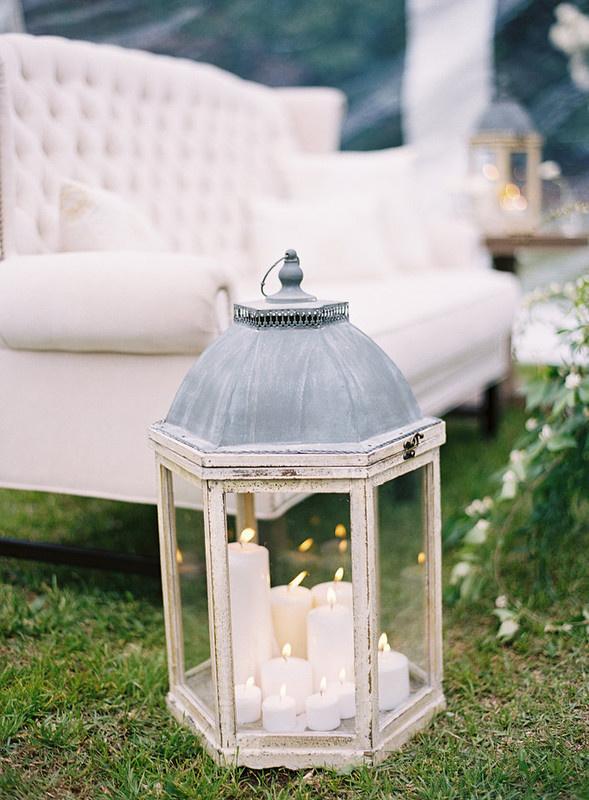 Candle wedding ceremony decor
What could be more romantic than exchanging your vows while surrounded by dozens of candles? Enclose assorted white pillar candles in glass hurricane lanterns for a clean look. P.S.: this looks just as pretty with battery operated candles if your venue doesn't allow open flames.

Wedding reception table
Decorate your tablescapes with low wedding centerpieces in ceramic vessels for an understated, garden-inspired effect.

Place settings
One of our favorite things about having a vintage wedding theme is the opportunity to use actual vintage china and flatware as part of your place settings. Reach out to local event rental companies to find decorative options that you like.

Vintage wedding cake display
A big component of vintage wedding style is embracing tradition, and that means serving a wedding cake. Create a drool-worthy dessert display by showcasing your wedding cake atop a vintage buffet adorned with greenery, flowers, and candles.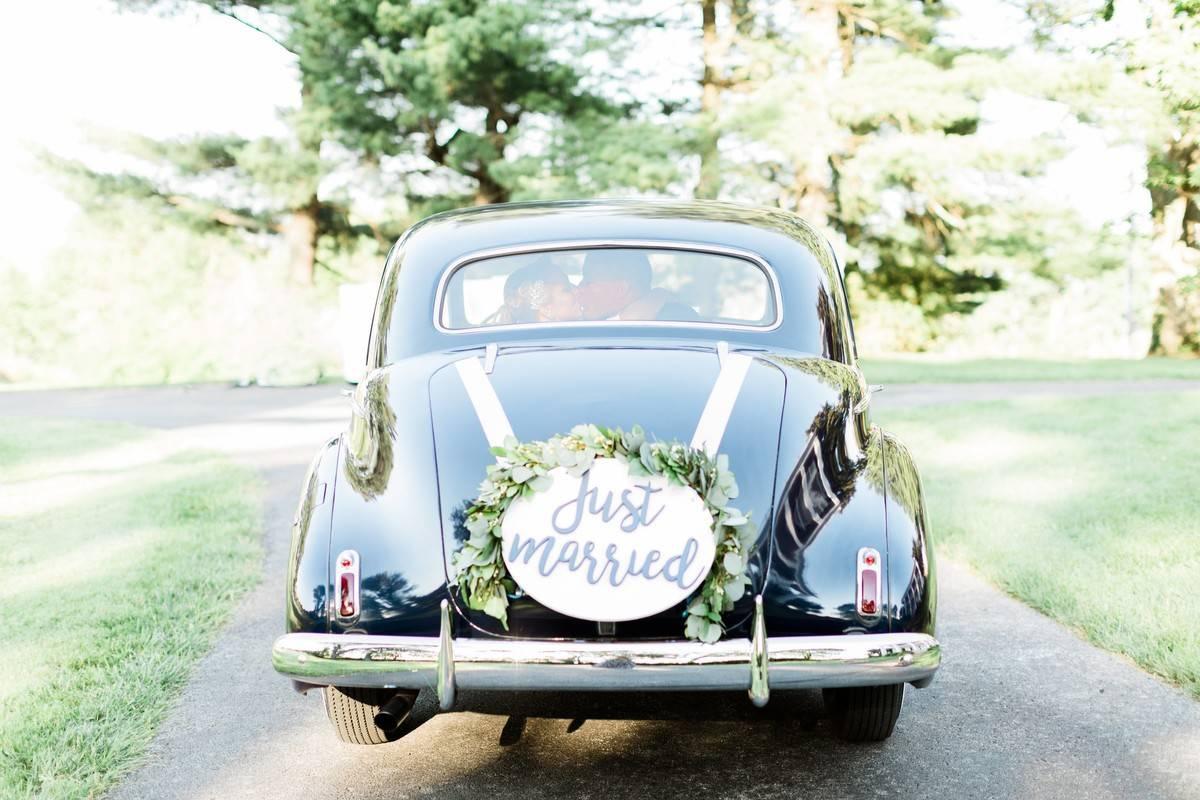 Grand exit
Hire a vintage car to whisk you away when the wedding is over—think of all those classic movies with the couple waving goodbye as they ride happily into the sunset. Not only will a vintage car be the finishing touch to your big day, but it makes a great "Just Married" photo op.